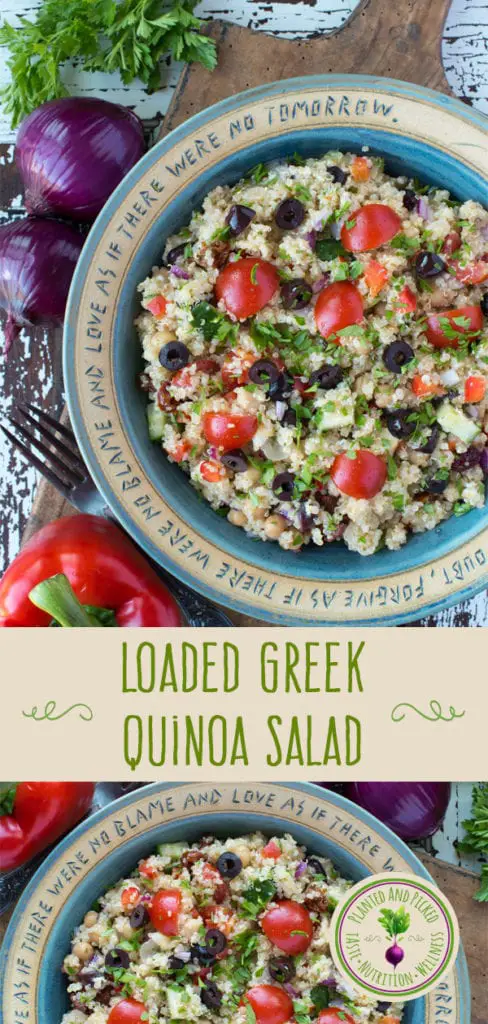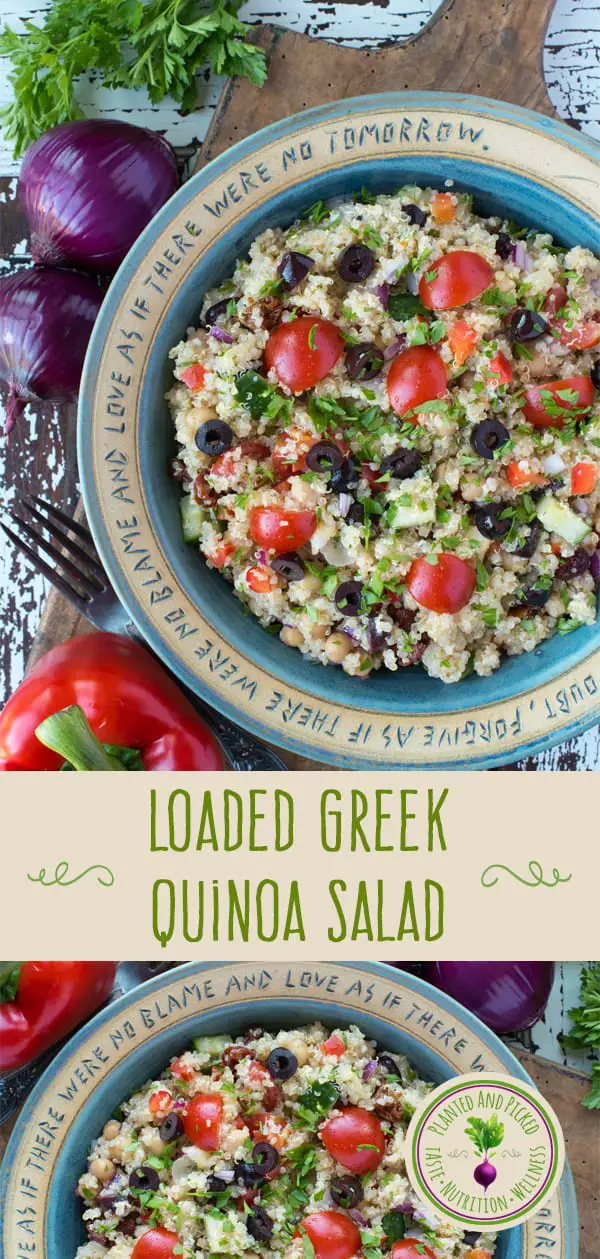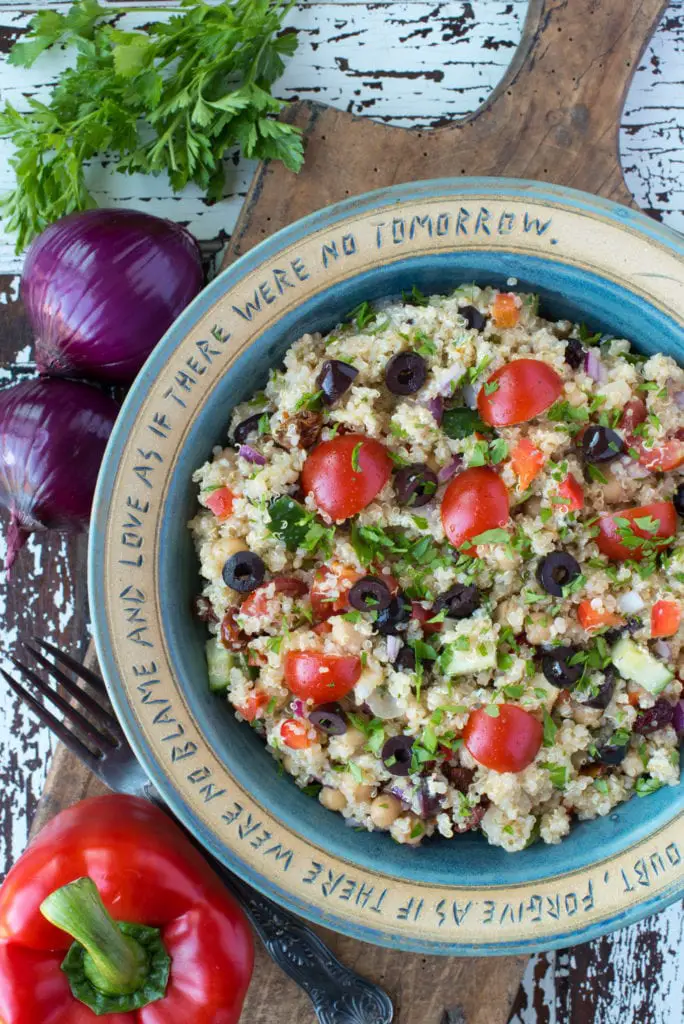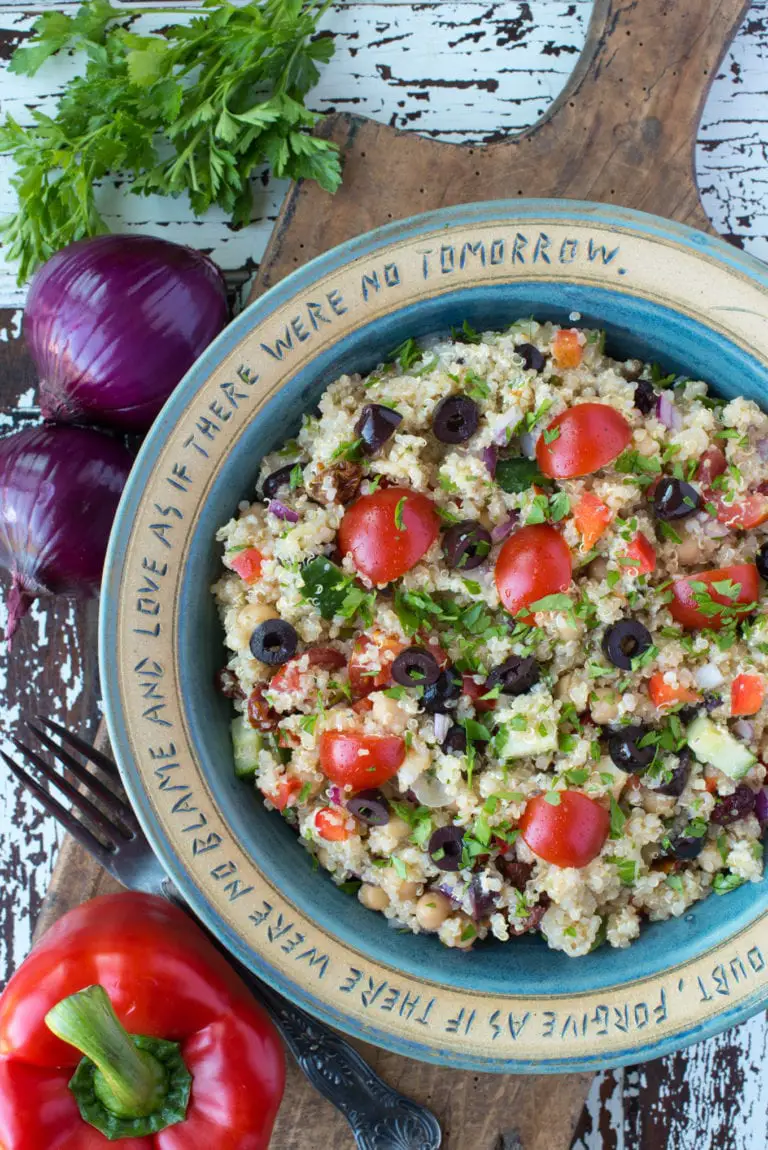 This Loaded Greek Quinoa Salad is a good one to prepare during the summertime for a meal or a side. The quinoa and chickpeas provide loads of protein and of course the salad contains loads of veg!
A lot of people think quinoa is a grain, but it's actually a seed and is great for sustained energy. It was cultivated 3 to 4 thousand years ago in south America. A single cup of cooked quinoa has over 8 grams of protein and 5 grams of fibre. It's a good source of iron, magnesium and B vitamins and naturally gluten free. Bring on the Quinoa Salad!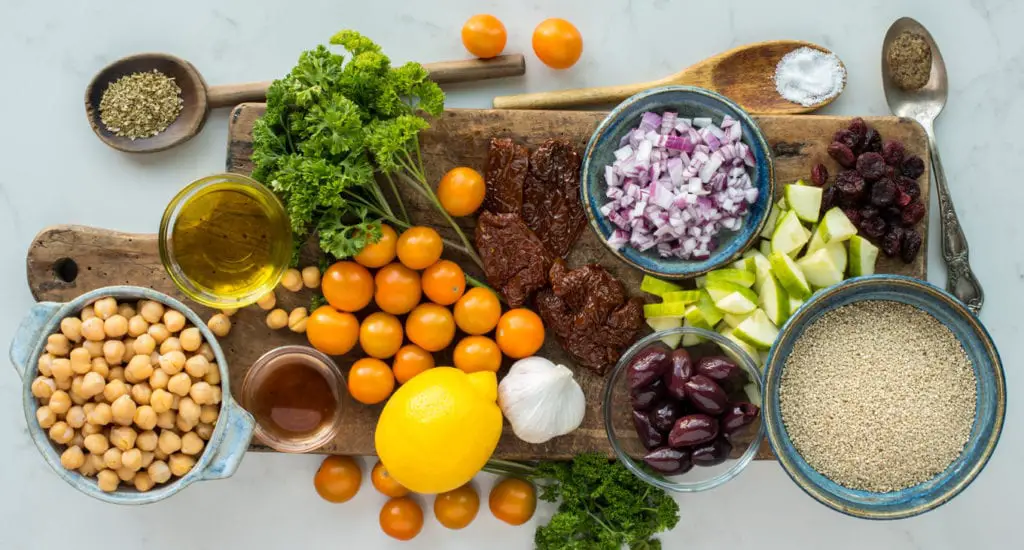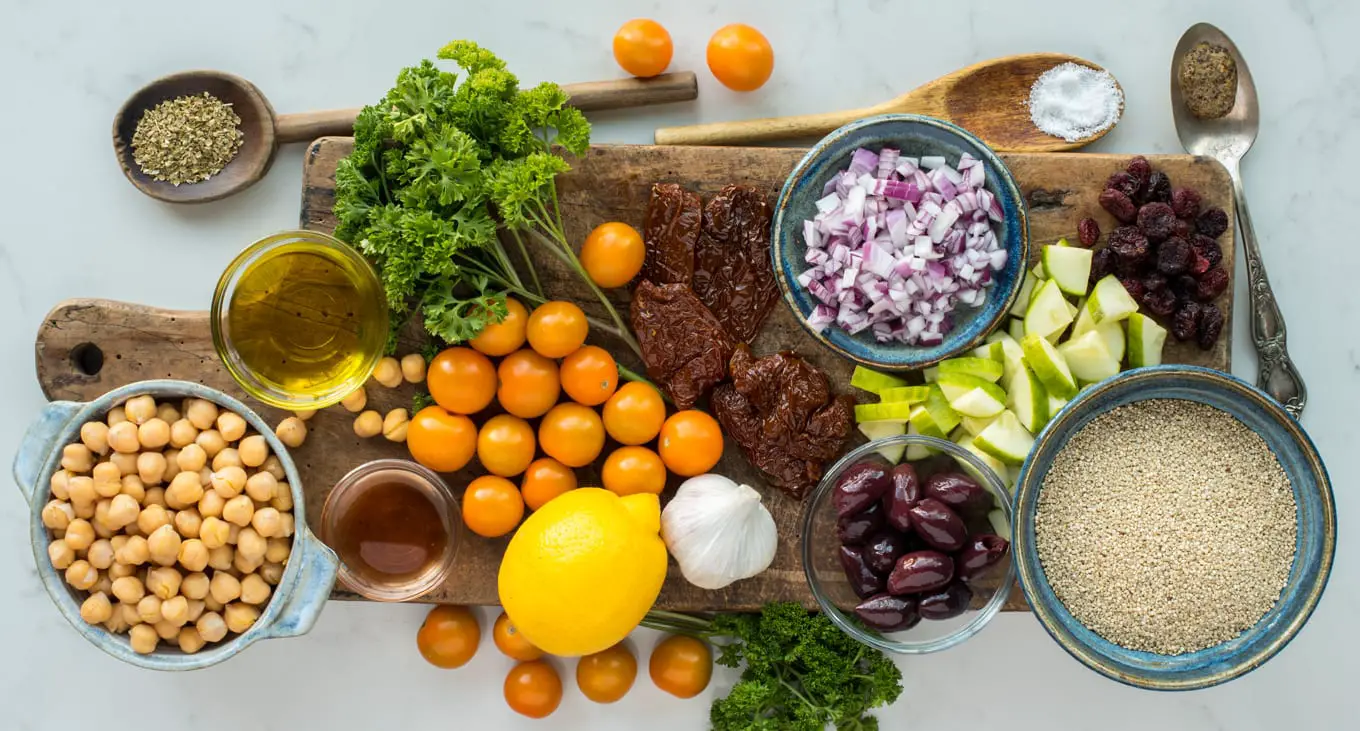 The rise in demand for quinoa has led to some less than desirable farming practices, including exploitation of workers in poor communities. Therefore, we always look for organic and fair trade products. We live in Canada and are lucky enough to find quinoa that is grown in Canada, therefore reducing the carbon footprint.
Quinoa can contain Saponin, which is a bitter compound that the plant produces as a natural and effective form of pest control. Typical processing removes a lot of the saponin. However, it never hurts to soak the quinoa for a few hours, drain and rinse it. This will help to remove the saponins and increase the digestibility of the quinoa.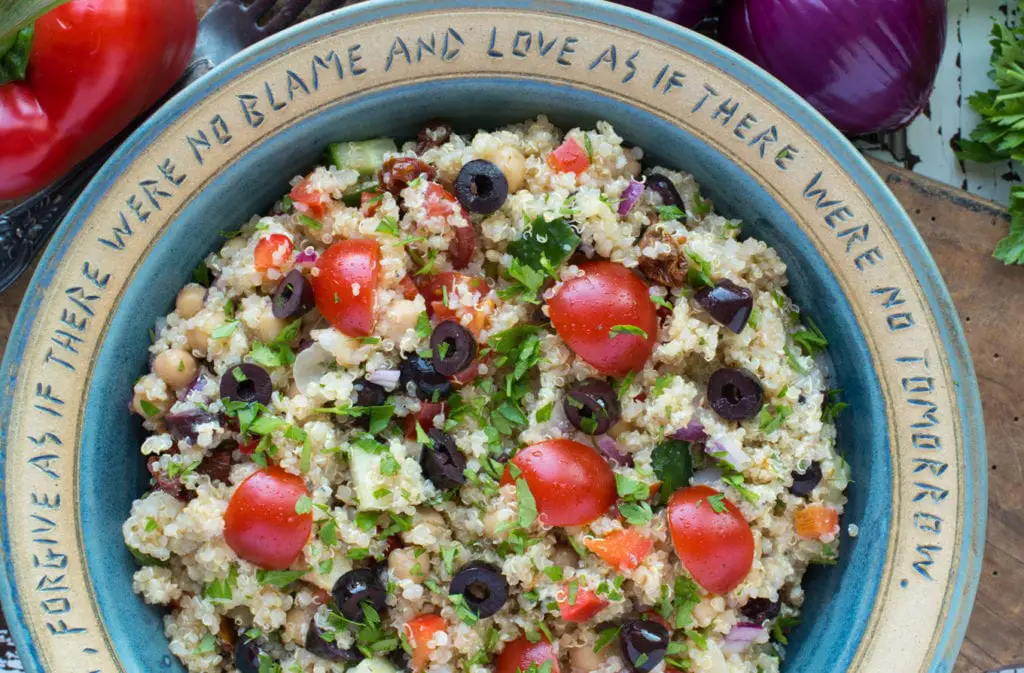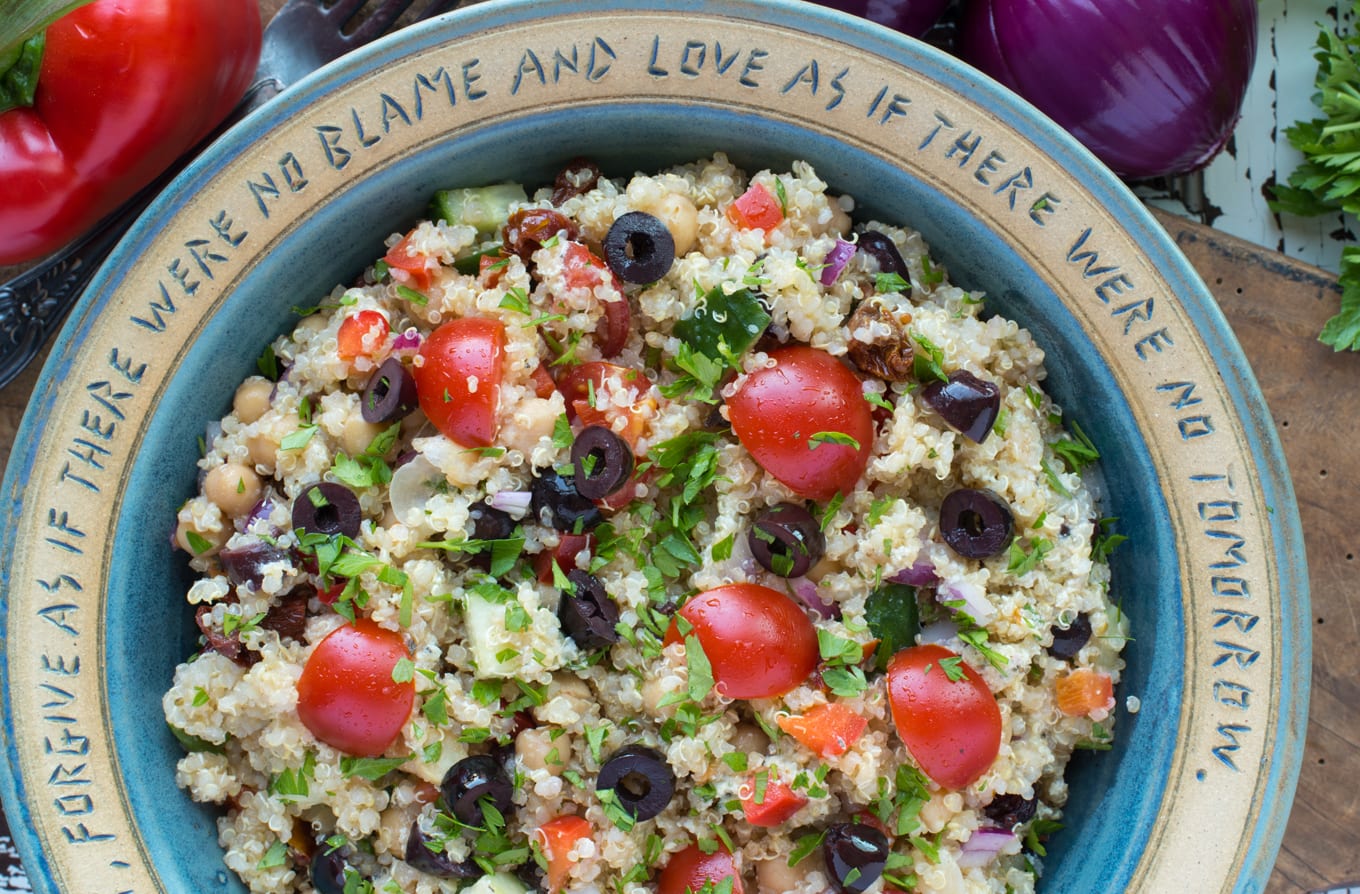 We love including quinoa in our diet in different ways. You can cook it as a porridge for breakfast, enjoy it as a side dish or include it in salads and soups. You can also include it under stir fries and in curry dishes, in baked goods and in Buddha bowls to name a few!
If you'd like to try out another salad, this Kale and Avocado Salad with Creamy Tahini Dressing will not disappoint. If you try out the Loaded Greek Quinoa Salad, let us know how you liked it and if you made any changes. We are always excited to get your feedback! Leave a comment and a rating and don't forget to tag us @plantedandpicked on Instagram and hashtag it #plantedandpicked. Enjoy!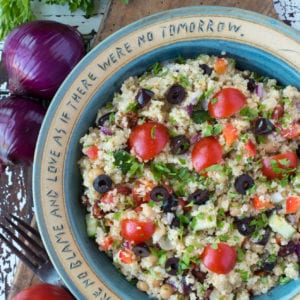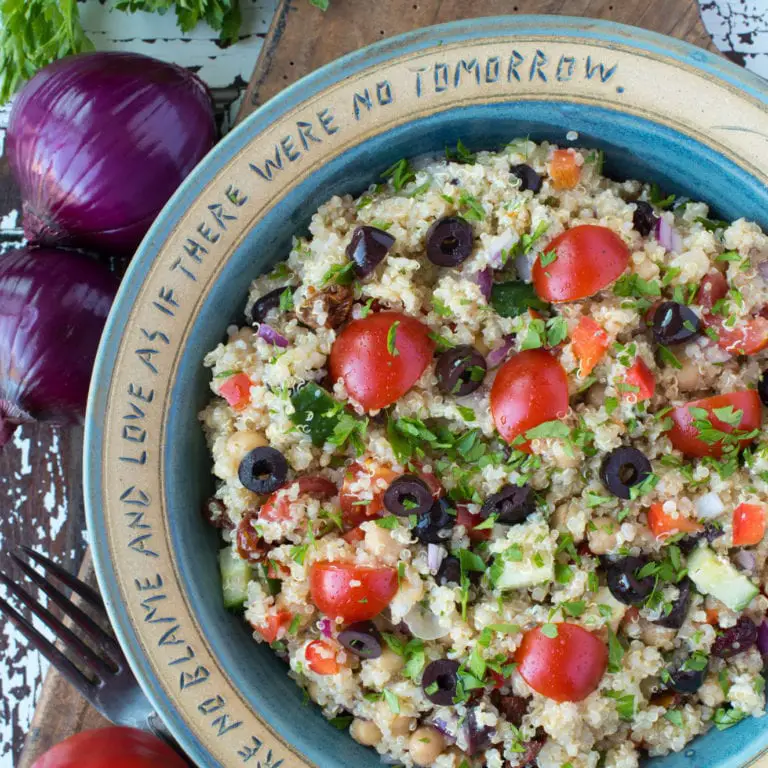 Ingredients
1

cup

quinoa

1 3/4

cup

water

2

tbsp

cold pressed olive oil

1

tbsp

lemon juice

1

tbsp

red wine vinegar

1

large garlic clove, crushed

1

tsp

dried oregano

1/4

tsp

sea salt

1/2

tsp

Dijon mustard

1/2

cup

grape tomatoes, halved

1/2

cup

cucumber, cubed

1/4

cup

red onion, diced

1/4

cup

Kalamata olives, sliced

1/4

cup

sundried tomatoes, sliced

2

tbsp

dried cranberries

1/4

cup

fresh parsley, chopped

1 1/2

cups

chickpeas (small can, 15oz)
Instructions
Quinoa: Rinse and drain quinoa. Place in a pot with the water. Bring to a boil, lower to very low simmer. Cover and cook 12 minutes. Remove from heat and let stand covered while preparing the rest of the salad (at least 10 minutes)

Dressing: Mix olive oil, lemon juice, vinegar, garlic, oregano, salt and mustard in bottom of a large bowl.

Drain and rinse chickpeas.

Chop tomatoes, cucumber, red onions, olives and sundried tomatoes and add to bowl. Add dried cranberries, chickpeas and parsley.

When the quinoa is ready, add to bowl and toss all ingredients together. Place in fridge for at least one hour.

This makes a complete meal or a smaller side dish. Great for pot lucks and summer BBQ's!