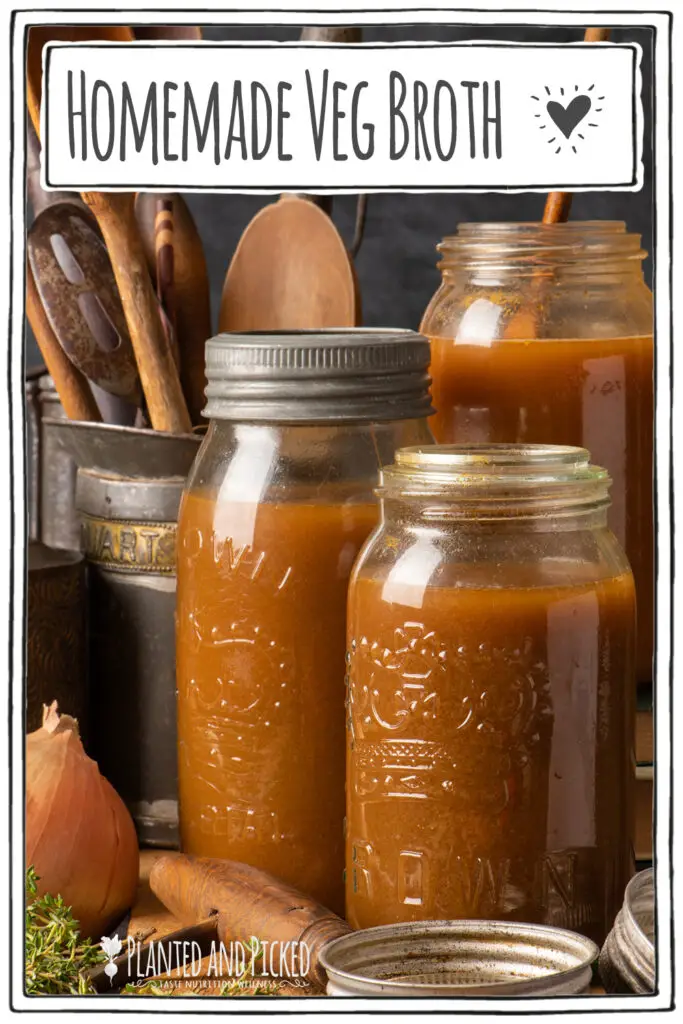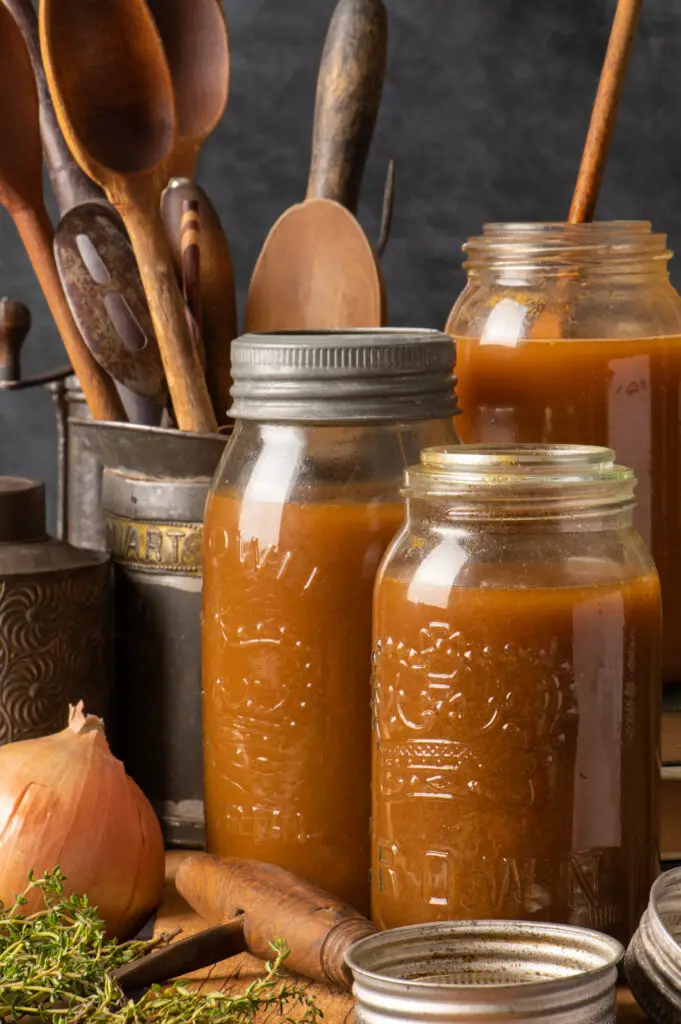 When you taste the flavour of an easy homemade vegetable broth, you will understand just why it's so much better than the boxed variety that we often resort to, to save time.
This broth has so much depth of flavour, it can be enjoyed on its own. All of this flavour will also find its way into your favourite soups and stews. It is also a perfect replacement for water when preparing grains. Your friends will be in love with you.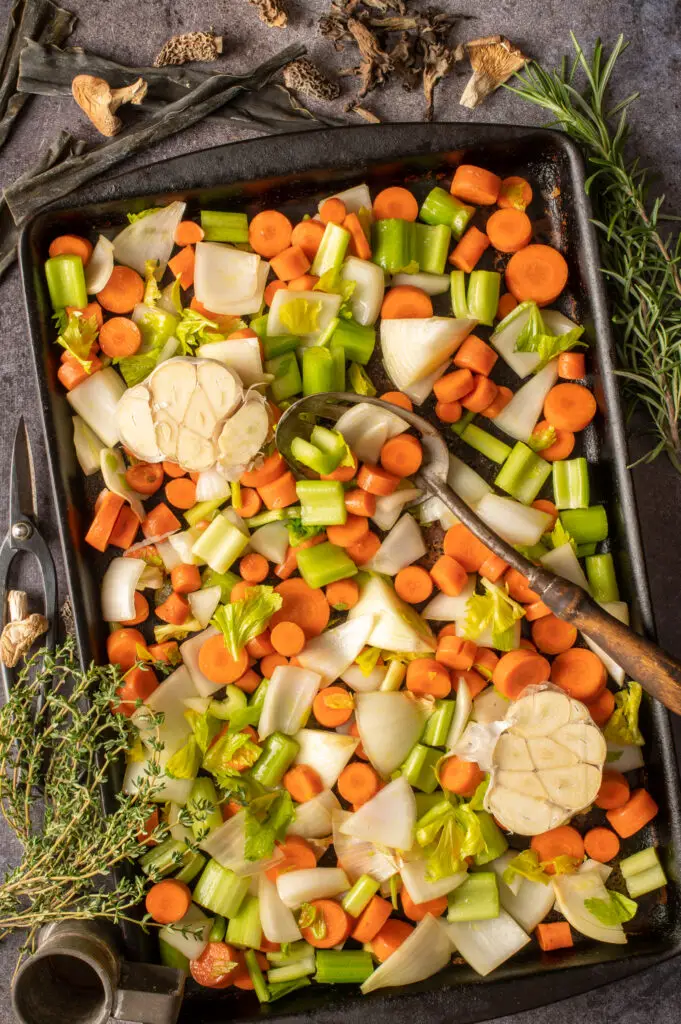 This vegetable broth is easy so to prepare. It can simmer away while you're working away at something else. You'll end up with 10 cups of rich golden brown flavourful broth that will not disappoint you. Use it straight away or store it in the fridge for up to a week. You can also keep it in the freezer for up to a few months.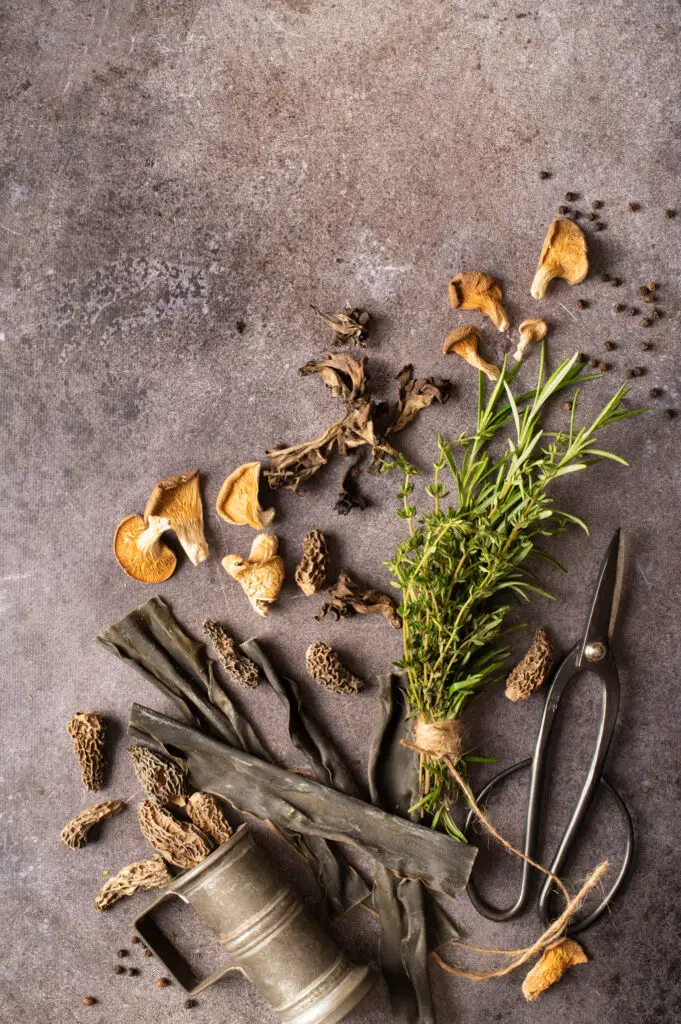 The rich umami flavour comes from the dried mushrooms, the fresh herbs, the miso and the coconut aminos. We used fresh rosemary, thyme and bay leaves in our vegetable broth. Don't fret if you can't find coconut aminos. Soy sauce or tamari are suitable alternatives, or you can just leave it out.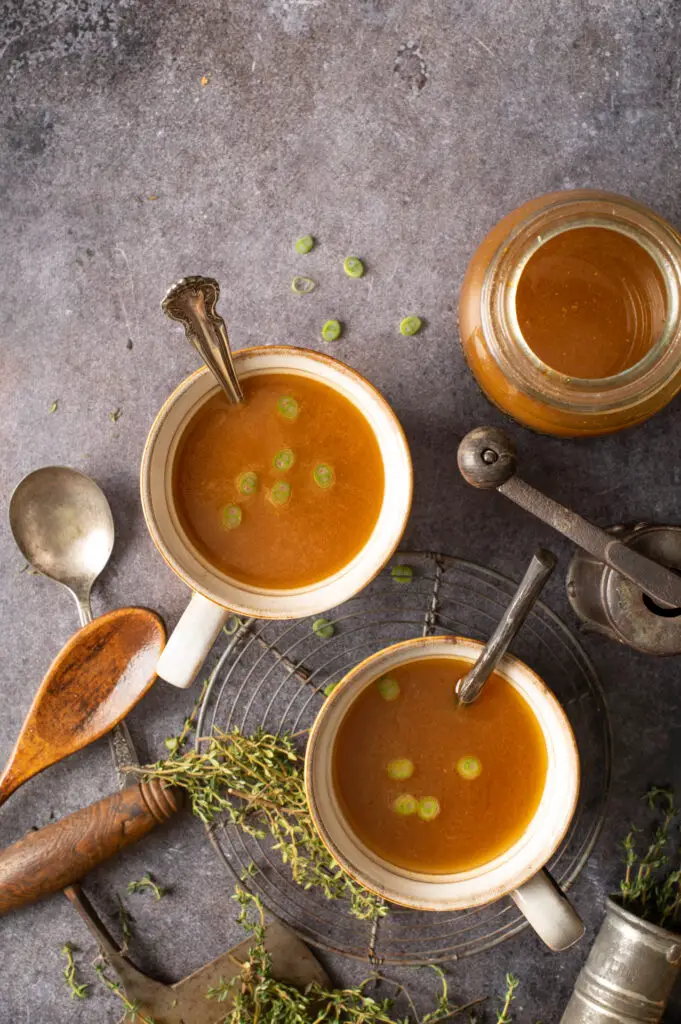 We also added some tomato paste for a little more depth and love how it adds to the colour of the broth and provides just a hint of sweetness. The Kombu (a type of seaweed), while certainly optional, also adds umami flavour and bumps up the nutrients and minerals in the vegetable broth.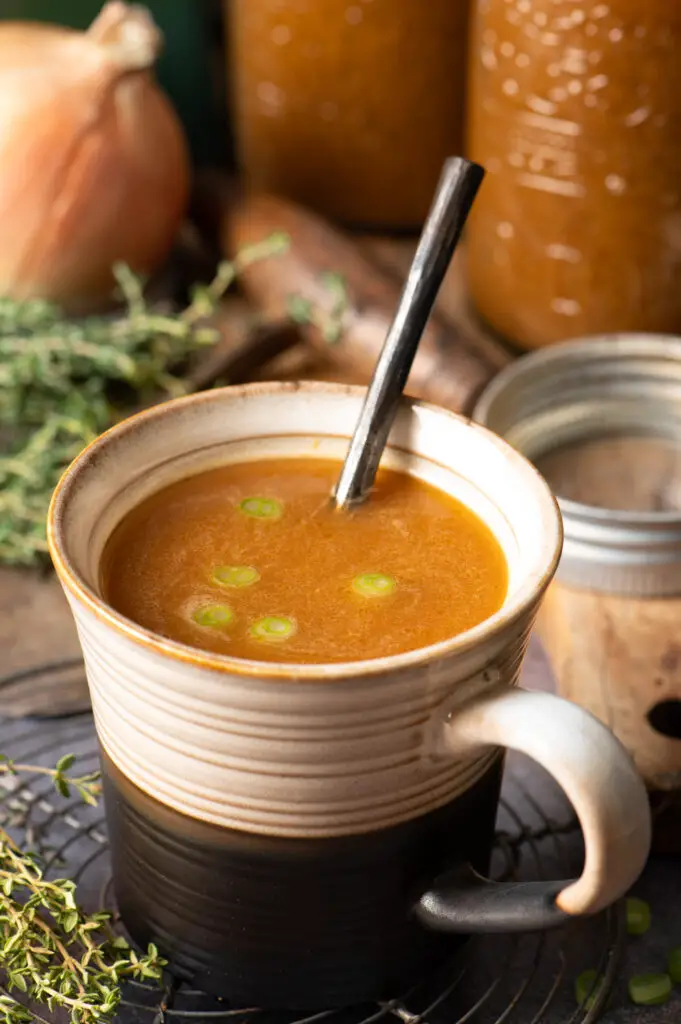 After bringing to a boil, we simmered the vegetable broth for about an hour and a half, to extract as much flavour as possible. You can simmer it longer, but we were perfectly content with the results. After letting the broth cool slightly, just strain it into some glass storage containers and you're set!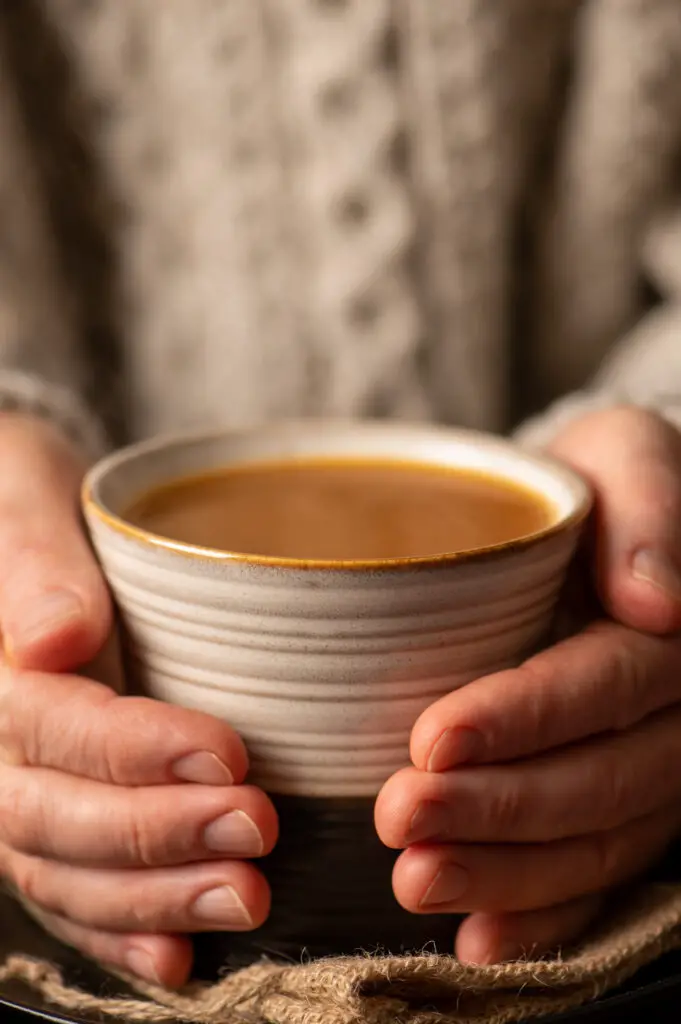 Try a cup of your easy homemade vegetable broth while it's still warm! You'll understand just why homemade is best. You can use it to make any recipe that calls for broth. You may like to try it in Creamy Vegan Corn Chowder, Curried Cauliflower and Wild Rice Soup, Homemade Mushroom Soup,  Italian Minestrone Soup, Spiced Red Lentil Soup, Fire Roasted Tomato Soup or Warming Carrot Ginger Soup.
This Easy Homemade Vegetable Broth will deliver all the depth you expect from a great broth. Try it and let us know in the comments below what you think. Don't forget to also leave a rating and snap a photo. Show us yours by tagging us @plantedandpicked on Instagram and hashtag it #plantedandpicked. "Soup puts the heart at ease, calms down the violence of hunger, eliminates the tension of the day, and awakens and refines the appetite" – Auguste Escoffier.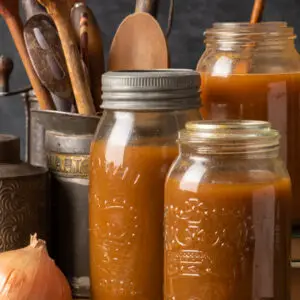 Ingredients
1½

lbs

onion peeled and cut in 1" chunks (about 5 cups / reserve skins)

680 g

1½

lbs

carrots scrubbed clean and cut in ¼" slices (about 5 cups / not peeled)

680 g

¾

lb

celery cut in 1" lengths (about 2½ cups)

340 g

1

head

garlic, sliced cross-wise with skin on

2

tbsp

olive oil

30 ml

1

tsp

sea salt

1

oz

mixed dried mushrooms (we used oyster, black trumpet and morel)

28 g

2

tbsp

white or brown miso

30 ml

1

tbsp

coconut aminos (or soy sauce / tamari)

15 ml

¼

cup

tomato paste

60 ml

10

sprigs

fresh thyme

3

sprigs

fresh rosemary

½

bunch

fresh parsley

about 75 g

4

bay leaves

½

tsp

whole black peppercorns

1

piece

dried kombu (optional)

about 25 g

4

quarts

water (preferably filtered)

3.8 L
Instructions
Roasted Vegetables
Pre-heat oven to 425°F and prepare a couple of rimmed baking sheets by lining then with parchment paper, if desired.

Prepare onion, carrots, celery and garlic as described in ingredients list and toss combined mixture with olive oil and sea salt in a large bowl.

Spread prepared vegetables over the two baking sheets and roast for 45 minutes or until all of the vegetables are tender. Stir the vegetables around after 20 to 25 minutes and switch the baking sheets on the two oven racks to ensure even roasting.
Prepare Vegetable Broth
While the vegetables are roasting, get the rest of your ingredients ready to add to the stock pot.

Transfer the roasted vegetables to a large stock pot and add all of the remaining ingredients, including the reserved onion skins and the water, and stir to combine.

Bring broth the broth to a boil, then reduce to simmer and cook, partially covered for 1½ hours.

Let cool partially before straining broth through a metal strainer or cheese cloth into suitable glass storage containers.

Either use immediately or store in the refridgerator for up to a week or in the freezer for up to a few months.