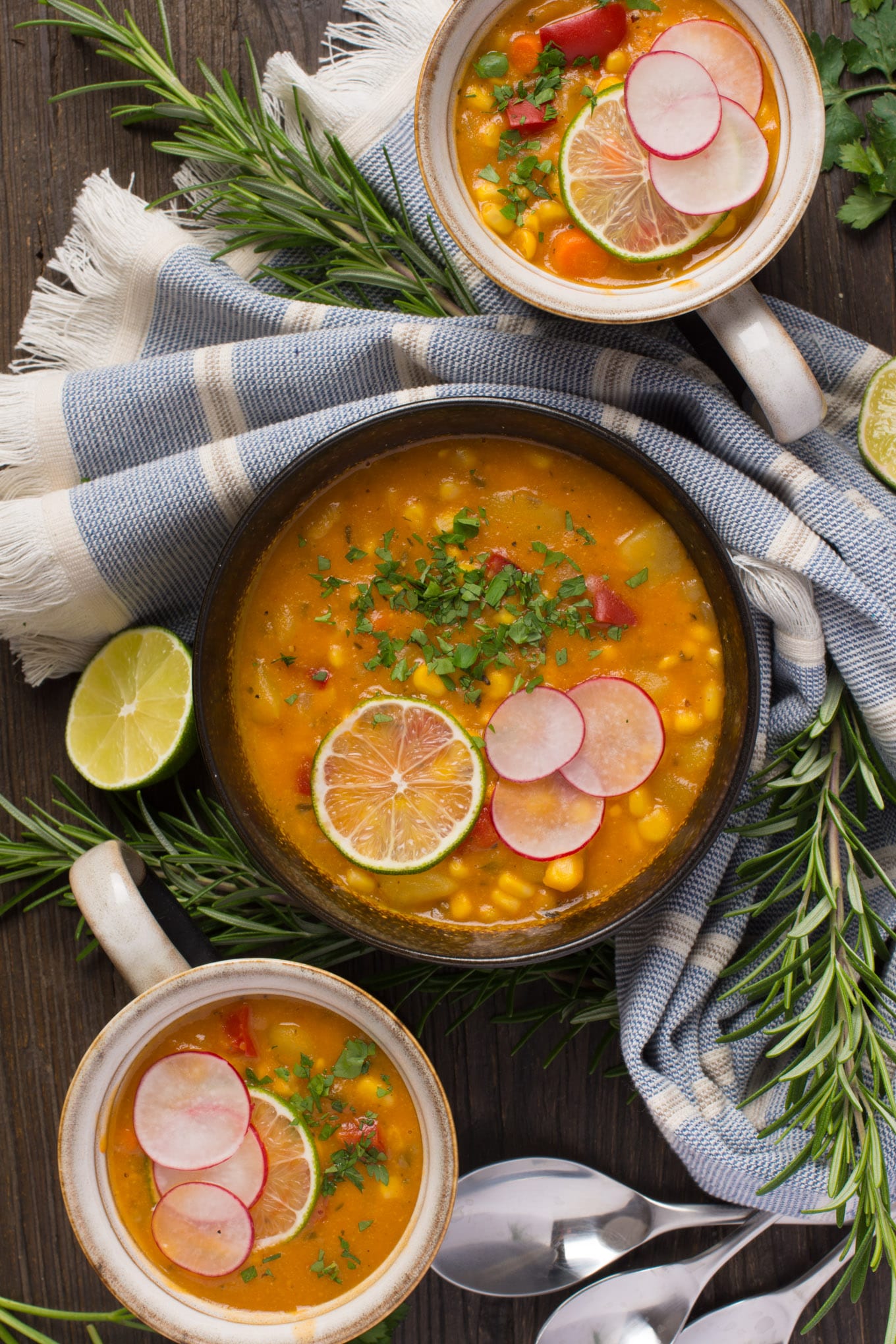 We were in the midst of a harsh Canadian winter when making this creamy vegan corn chowder. We were craving all things warm and comforting.  This deliciousness is thick and includes warming spices like smoked paprika and anti-inflammatory turmeric.

The Corn in this Creamy Vegan Corn Chowder
Corn is one of the top genetically modified foods and is heavily sprayed with pesticides and herbicides. We always use only organic corn, which is inherently GMO free. Corn sometimes gets a bad rap because it is associated with being high in sugar. This is primarily because it is the key ingredient in high fructose corn syrup. Corn syrup is most certainly high in sugar and it is not a health food by any stretch of the imagination. Corn in its whole form, however, is rich in flavonoids, antioxidants, fibre and vitamins A and B.
We used frozen corn in this creamy vegan corn chowder, but you can use fresh corn in the summer. Grilling the corn on the cob would bring added flavour to your bowl.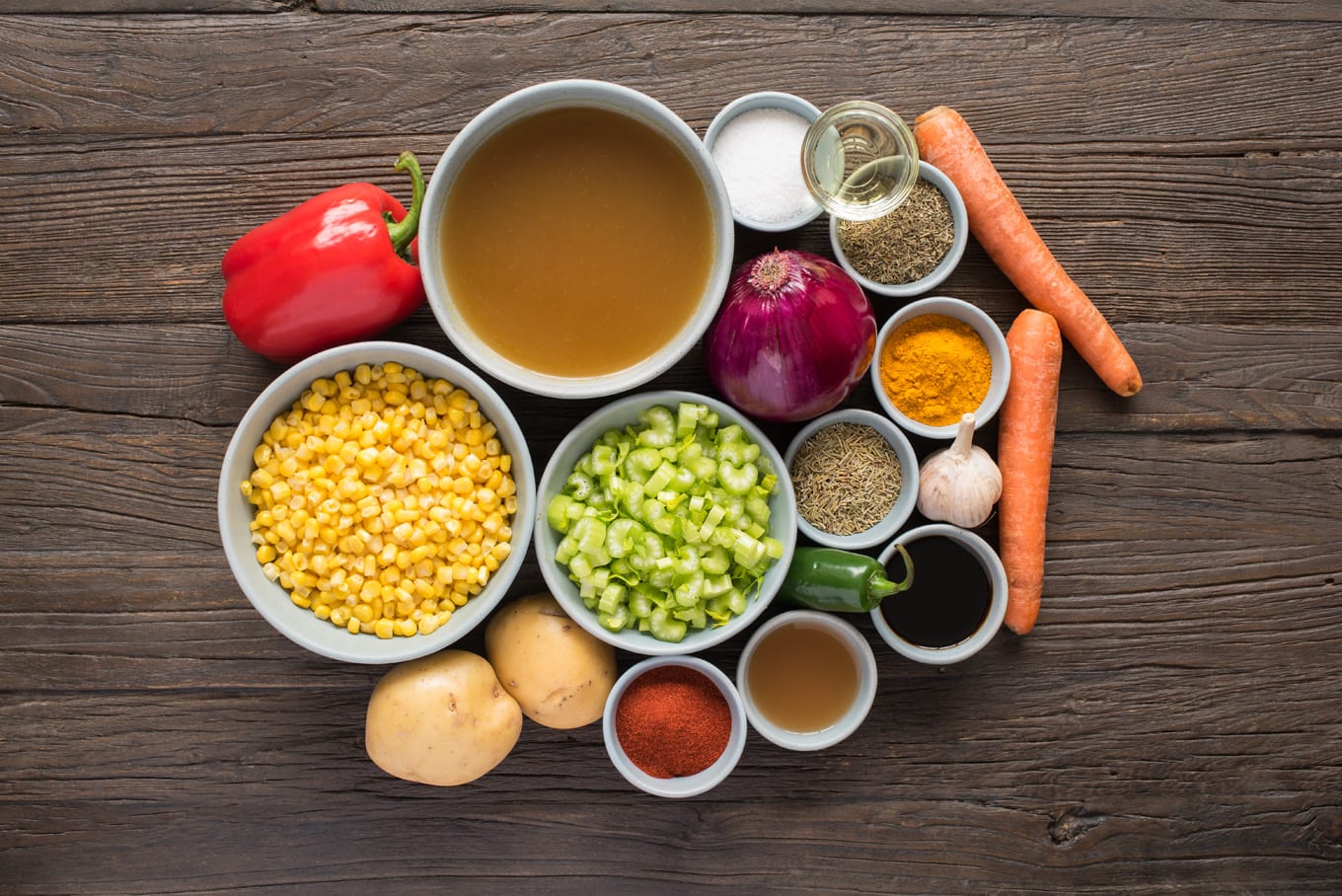 Preparing and Serving . . .
Rather than add more salt in this recipe, we use an organic tamari, which is wheat free and a traditionally prepared form of soy sauce. Tamari adds a umami flavour (richness and depth), but you can substitute an extra 1/2 tsp of sea salt (as per original recipe) if you do not have tamari on hand. We like to serve this creamy vegan corn chowder for lunch with some fresh seedy bread topped with hummus. The kids also like this chowder heated up in the morning and put into a thermos for a school lunch with some Mary's crackers and Creamy Roasted Garlic Hummus.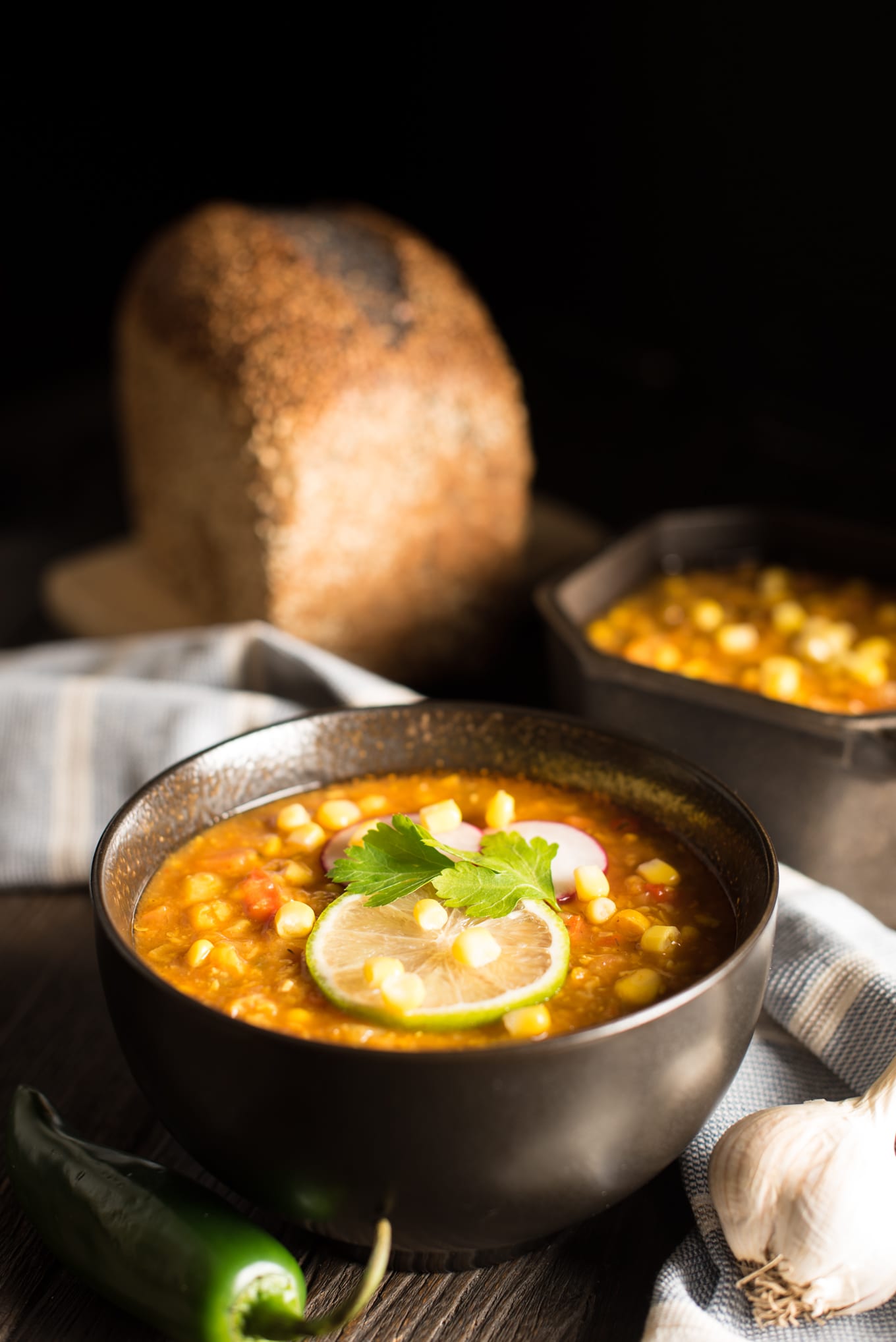 If you're looking for some other soup ideas, head on over to one of our other great choices . . . Quick and Easy Black Bean Soup, Roasted Squash and Pear Soup, Spiced Red Lentil Soup, Fire Roasted Tomato Soup or Classic Italian Minestrone Soup.
Let us know if you make this creamy vegan corn chowder. It's always nice to hear back from you. Leave a comment and a rating and don't forget to tag us @plantedandpicked on Instagram and hashtag it  #plantedandpicked. There's a seat at our table for all who are hungry!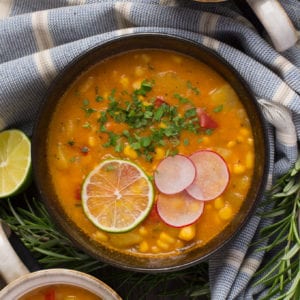 Ingredients
1

tbsp

avocado oil

1

medium red or yellow onion (about 1 cup diced)

1/2

tsp

sea salt

1

cup

carrots, diced

1

stalk celery, diced

1

jalapeno pepper, seeded and diced

2

garlic cloves, crushed

1

red pepper, diced

2

medium potatoes

1

tsp

smoked paprika

1

tsp

dried thyme

1/2

tsp

dried rosemary

1/2

tsp

turmeric

2

tsp

tamari (or 1/2 tsp extra sea salt)

4

cups

corn, fresh or frozen

3

cups

vegetable broth

1

tbsp

apple cider vinegaror lime juice
Instructions
In a large pot, heat the avocado oil on medium heat. Add the onion and sautee for about 5 minutes, until the onion is softening.

Add the carrots, celery, jalapeno pepper, garlic and red pepper. Sautee for about another 5 minutes

Add the paprika, thyme, rosemary and turmeric and continue to cook for about a minute.

Add the remainder of the ingredients (except the apple cider vinegar). Bring the soup to a boil, reduce heat to simmer, cover and cook for 20 minutes.

After 20 minutes, the vegetables should all be soft. With a hand blender, pulse about 1/3 of the soup. This will thicken the chowder but it should still be chunky. If you would prefer to use a blender, transfer about 1/3 of the soup to a blender once it has cooled. Blend and return the soup to the pot. If you have a ventilated blender like a Vitamix, you can blend while still hot.

Taste and adjust seasoning to your liking. Add the apple cider vinegar and stir to combine.