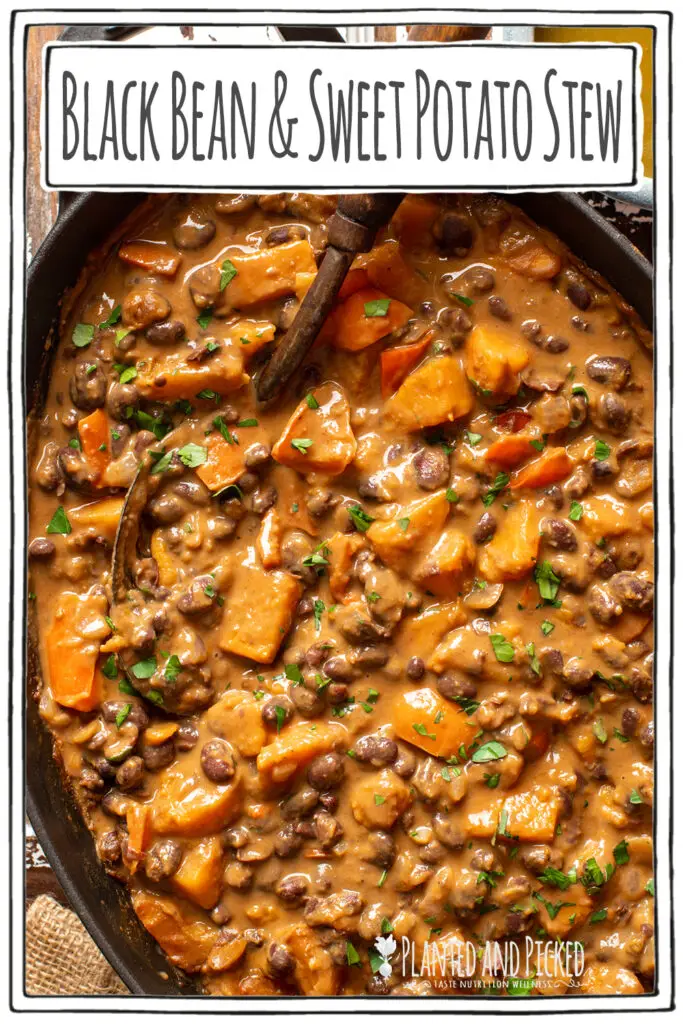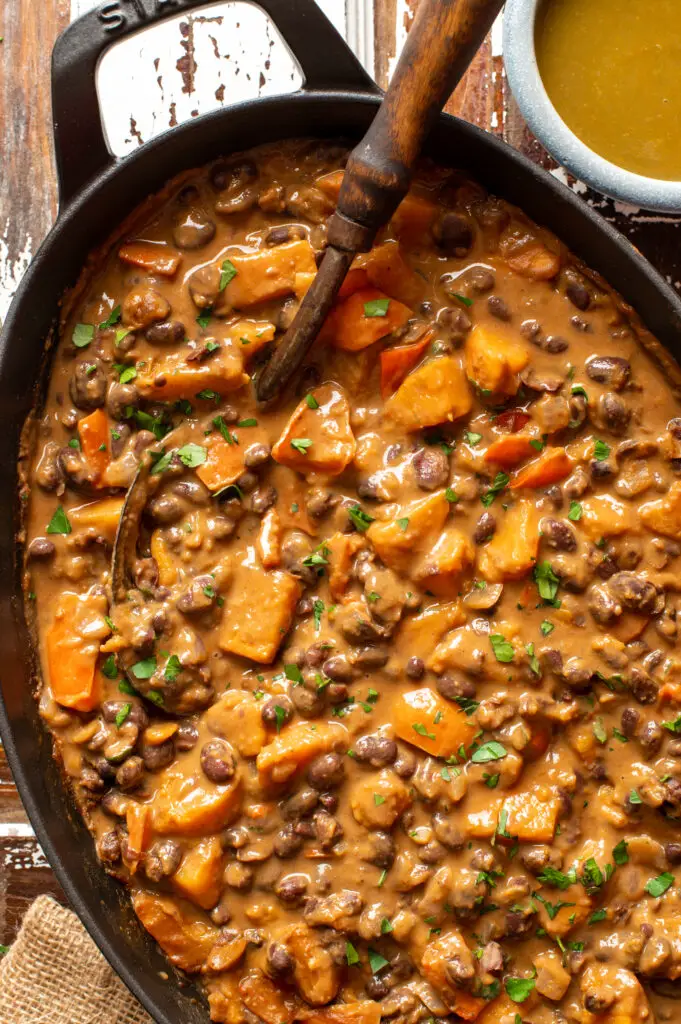 This Black Bean and Sweet Potato Stew is a total comfort food on a cold winter's day. It is super easy to make and delicious.
We love focusing on seasonal food and find that winter is the perfect time for heartier and warming foods like beans and root vegetables. In this recipe for Black Bean and Sweet Potato Stew, we used canned beans for convenience (honestly we forgot to soak the dry beans the night before…), but you can use fresh cooked beans as well. Just remember to prepare them in advance!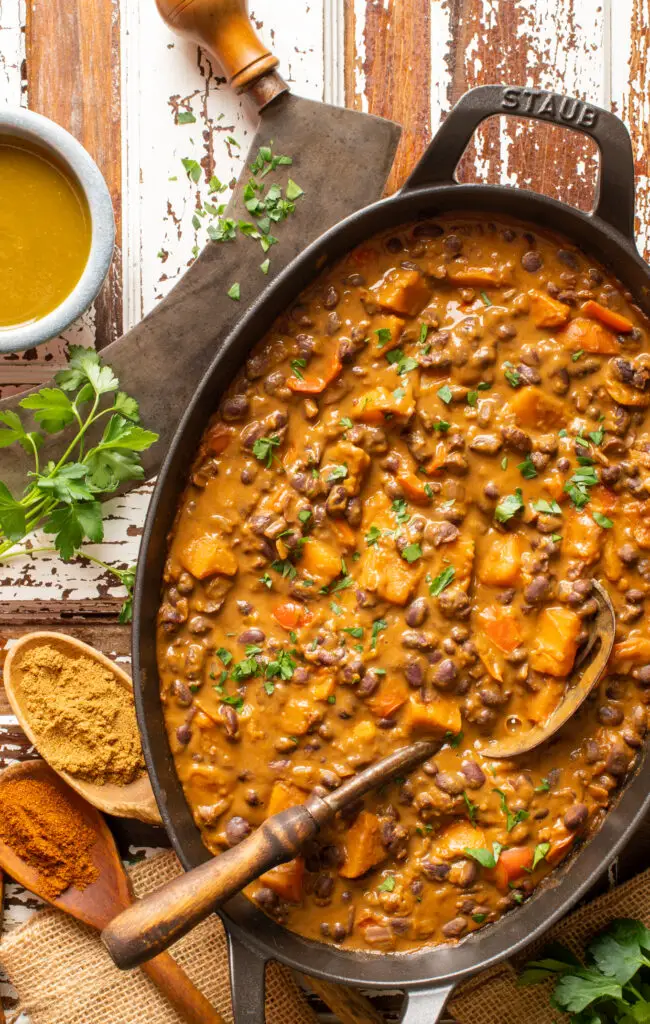 Beans are an excellent source of plant based protein and are rich in vitamins, minerals and antioxidants. They help to stabalize blood sugar, as well as lower blood pressure and cholesterol. Beans are also fibre rich and are excellent for feeding the beneficial bacteria in our gut. They have also been shown to help prevent cancers such as colon cancer, and are anti-inflammatory. To read more about this superfood, see our blog post on The Health Benefits of Beans.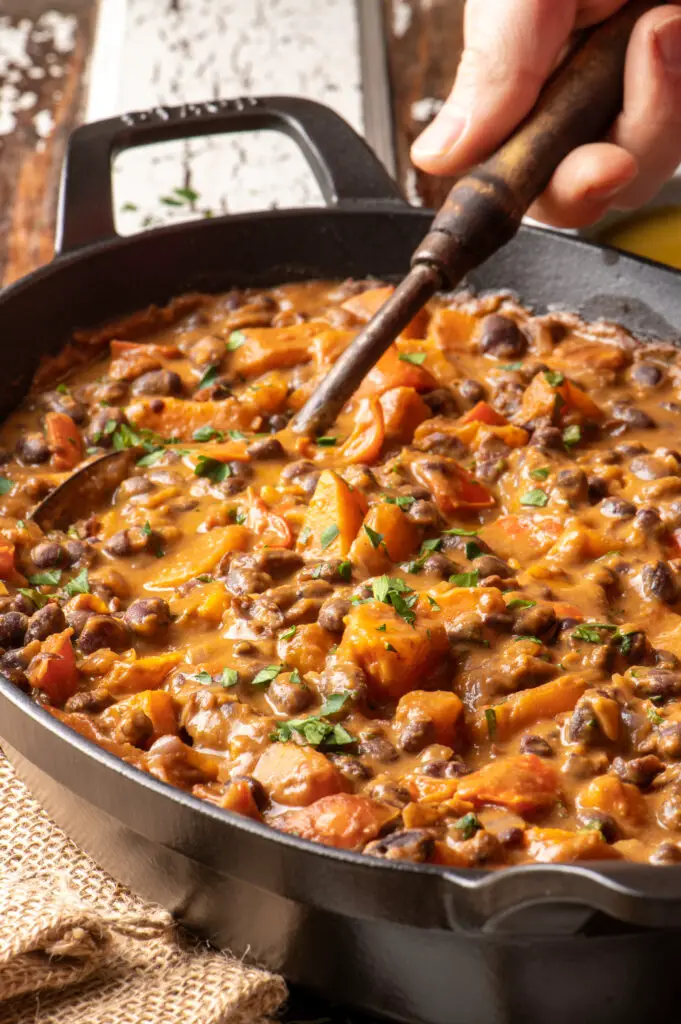 This stew is so easy to throw together and uses staples that we always have on hand in our kitchen. This includes onions, garlic, sweet potatoes, beans and canned coconut milk. We've got to say that the coconut milk makes this dish creamy and decadent. It's proof that plant based meals do not have to be complicated! You can enjoy this on it's own or with some brown rice and some steamed greens for extra nourishment.
This stew has become a staple in our house and is family friendly. We always make extra to have on hand for lunch the next day or another dinner during the week. Like all soups and stews, the flavour gets even better after a day.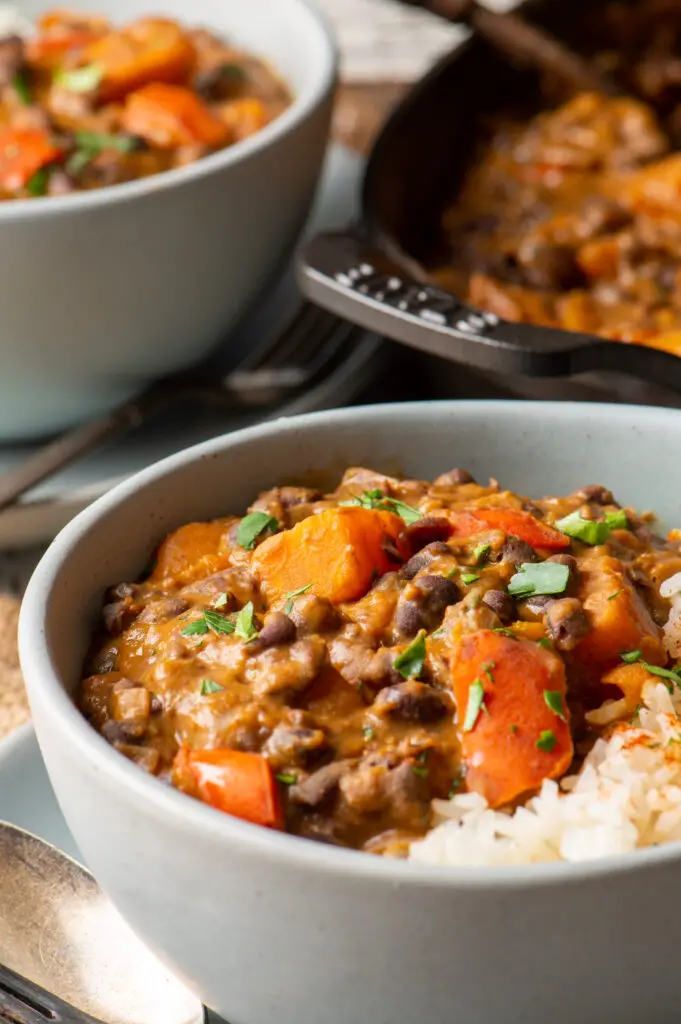 We add some hot sauce to the stew to enhance the flavour and to add a little zing. We prefer to use a milder hot sauce such as one made with jalapeños so that we can enjoy the flavour without any pain. But everyone's tolerance for hot sauce is different so you can add whatever hot sauce you prefer. You can also top the dish with a squeeze of lime and some fresh cilantro for a more refreshing taste.
If you're looking for some more delicious comfort foods, try our Hearty Vegetable Shepherd's Pie, Moroccan Chickpea Stew, Coconut Lentil Curry, One Pot Lentil Bolognese, or this Simple Weeknight Marinara Sauce.
If you try this Black Bean and Sweet Potato Stew, please do tell us about it. Your feedback helps us the whole community. Leave a comment and a rating and don't forget to tag us @plantedandpicked on Instagram and hashtag it  #plantedandpicked. Share great food with friends!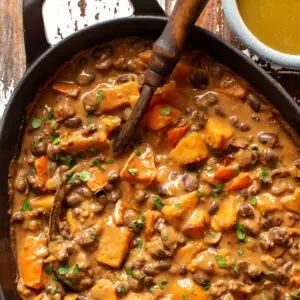 Ingredients
1

tbsp

avocado oil

1

cup

red onion, diced (about 1 medium onion)

½

tsp

sea salt

2

large

garlic cloves

3

cups

sweet potatoes, large dice (about 2 medium sweet potatoes)

2

398 ml

cans black beans, drained and rinsed (3 cups cooked)

1

tbsp

paprika

1

tsp

cumin powder

1

tsp

chili powder

1

400 ml

can full fat coconut milk

½

cup

vegetable broth (or filtered water)

1

tbsp

hot sauce (or to taste) We used Jalapeño hot sauce
Instructions
Start by prepping all the vegetables. Dice the onion and peel and mince the garlic. Peel and chop the sweet potatoes into medium sized chunks.

Heat a large pot over medium heat. Add the avocado oil to warm.

When the oil is warm, add the onion and garlic along with the sea salt. Sauté for about 5 to 7 minutes, stirring occasionally. Onions should be soft and slightly brown.

While the onions are cooking, drain and rinse the black beans in a colander. Open the can of coconut milk.

Measure the spices into a small bowl.

When the onions are ready, add the sweet potatoes, beans and spices and mix to combine. Cook for about a minute for the spices to start to release some of their flavour.

Add in the coconut milk, vegetable broth and hot sauce. We used a milder jalapeño hot sauce, which added a nice flavour without being overly spicy.

Bring the stew to a low simmer. Cover and cook for about 30 minutes, stirring occasionally.

This stew is nice paired with some brown rice or a piece of homemade sourdough or crusty bread. It is even more flavourful left over for lunch the next day.
Nutrition
Calories:
142
kcal
|
Carbohydrates:
25
g
|
Protein:
2
g
|
Fat:
4
g
|
Saturated Fat:
1
g
|
Polyunsaturated Fat:
1
g
|
Monounsaturated Fat:
3
g
|
Sodium:
562
mg
|
Potassium:
431
mg
|
Fiber:
4
g
|
Sugar:
6
g
|
Vitamin A:
14448
IU
|
Vitamin C:
11
mg
|
Calcium:
49
mg
|
Iron:
1
mg