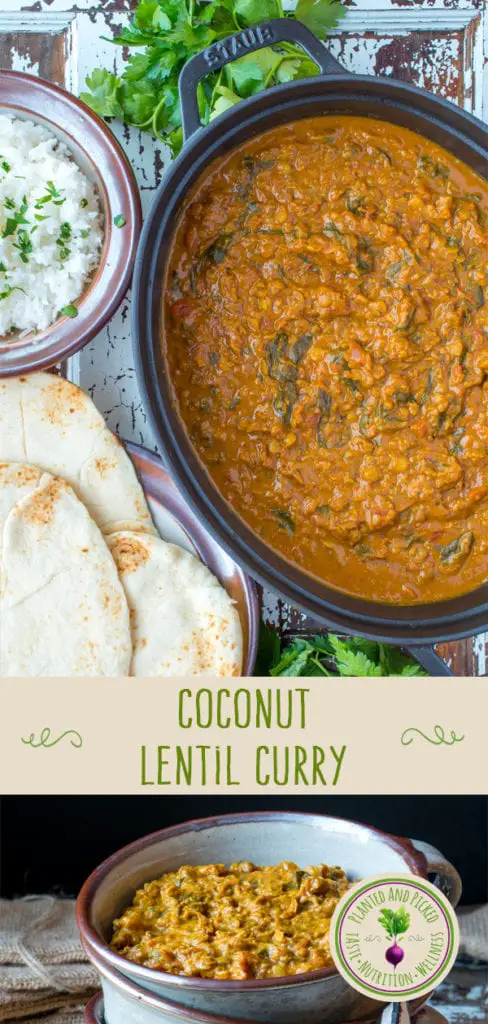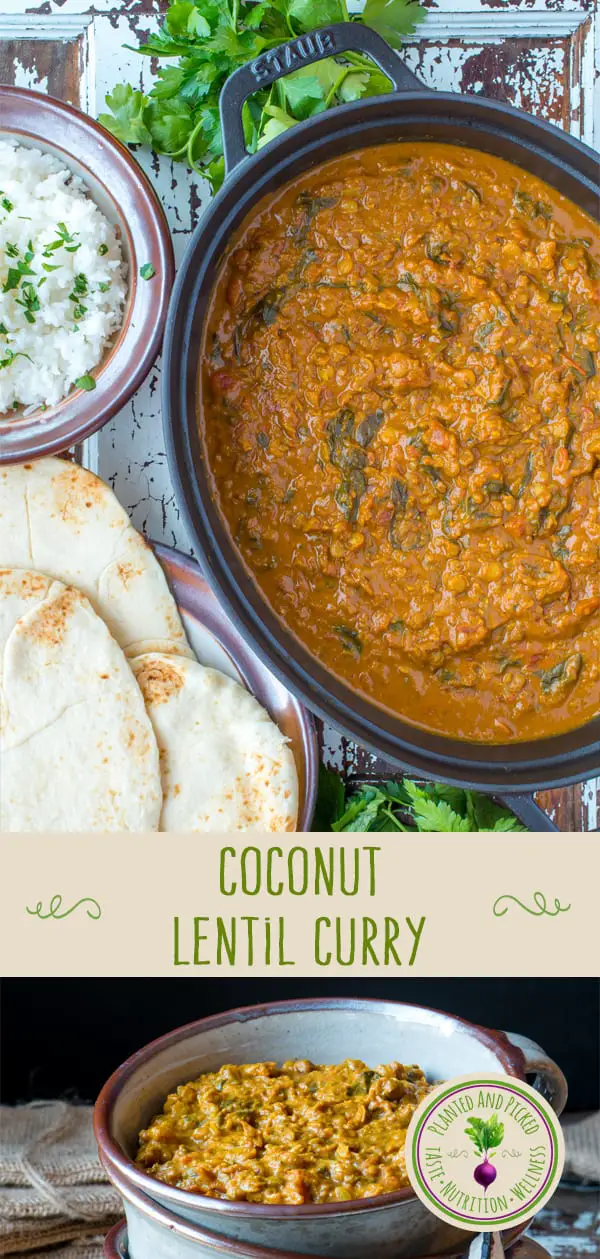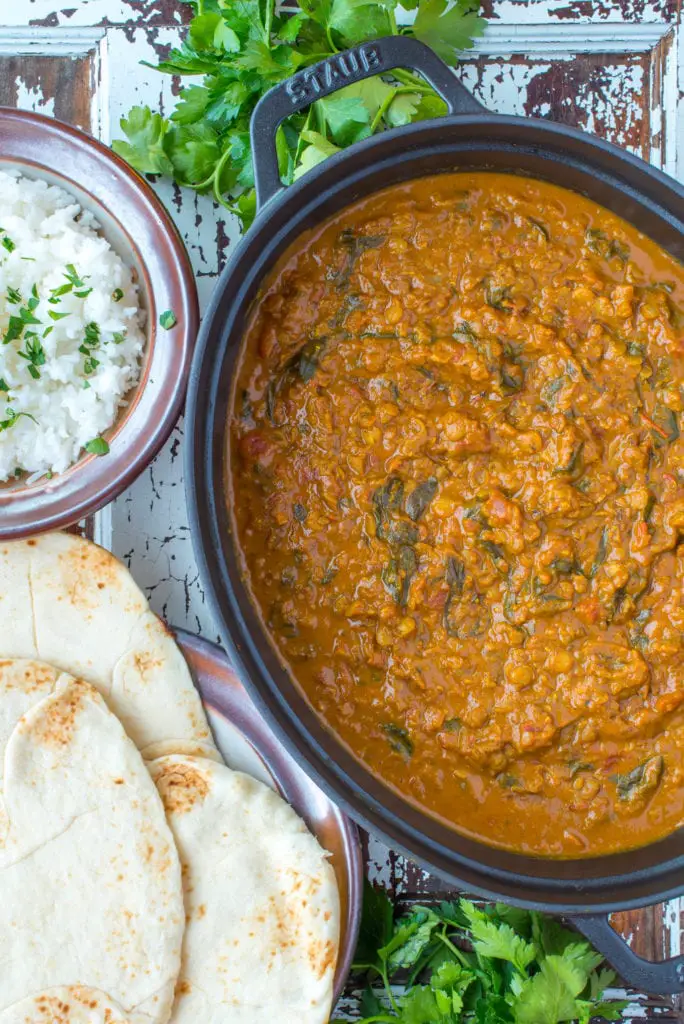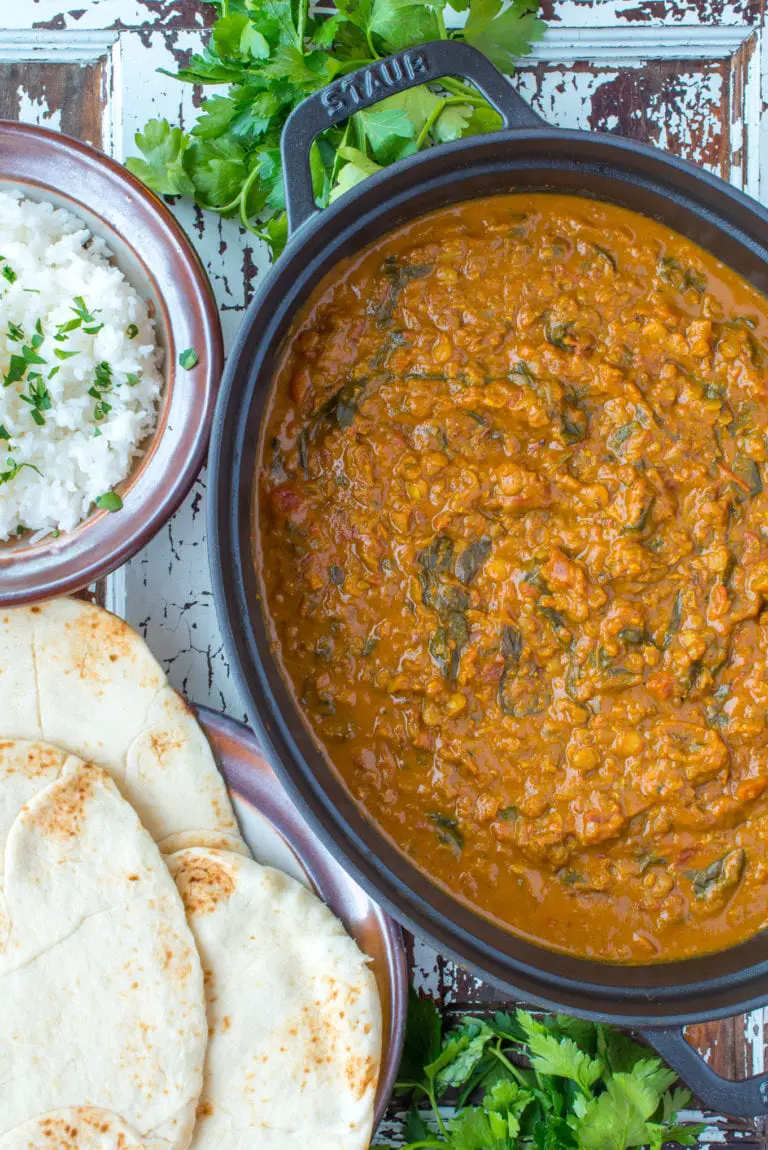 This Coconut Lentil Curry is a great dish to meal prep for later in the week. Just make a fresh batch of rice and dinner is ready in no time.
We are in love with the depth and intensity of flavour that Indian spices bring to a dish. Many Indian spices have so many health benefits! Cumin and coriander are a good household remedy for digestion. They also aid in assimilating other herbs. We included extra turmeric in this Coconut Lentil Curry recipe, which is of course a powerful anti-inflammatory spice. It works on all the tissues of the body. It also helps to strengthen digestion. We also include some black pepper, which helps to assimilate the turmeric more easily. Black pepper itself is good for the circulatory system and digestion.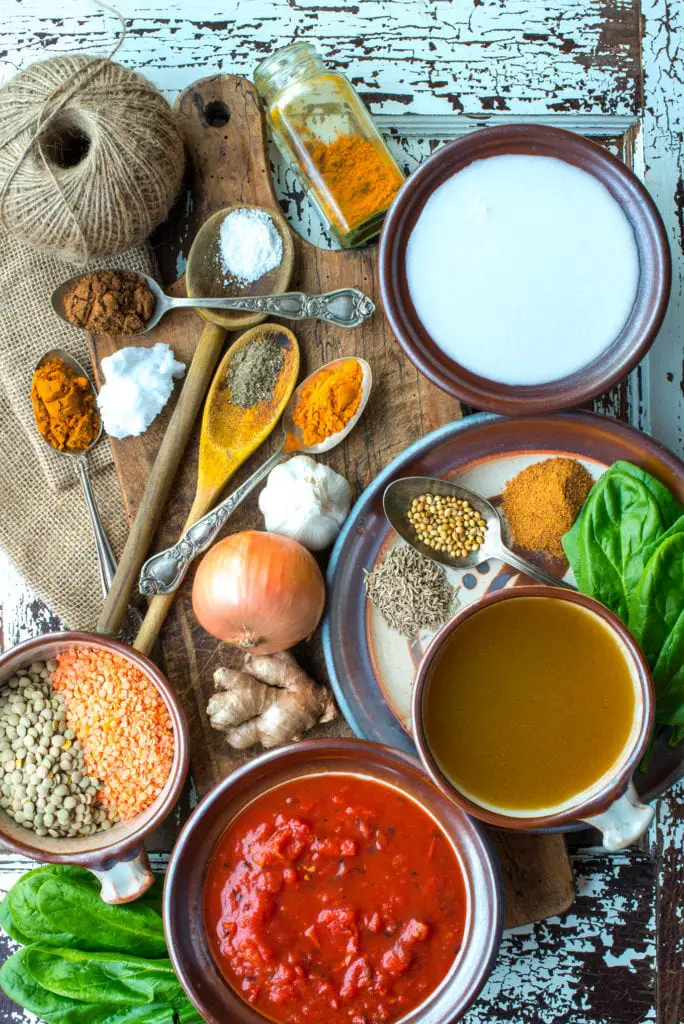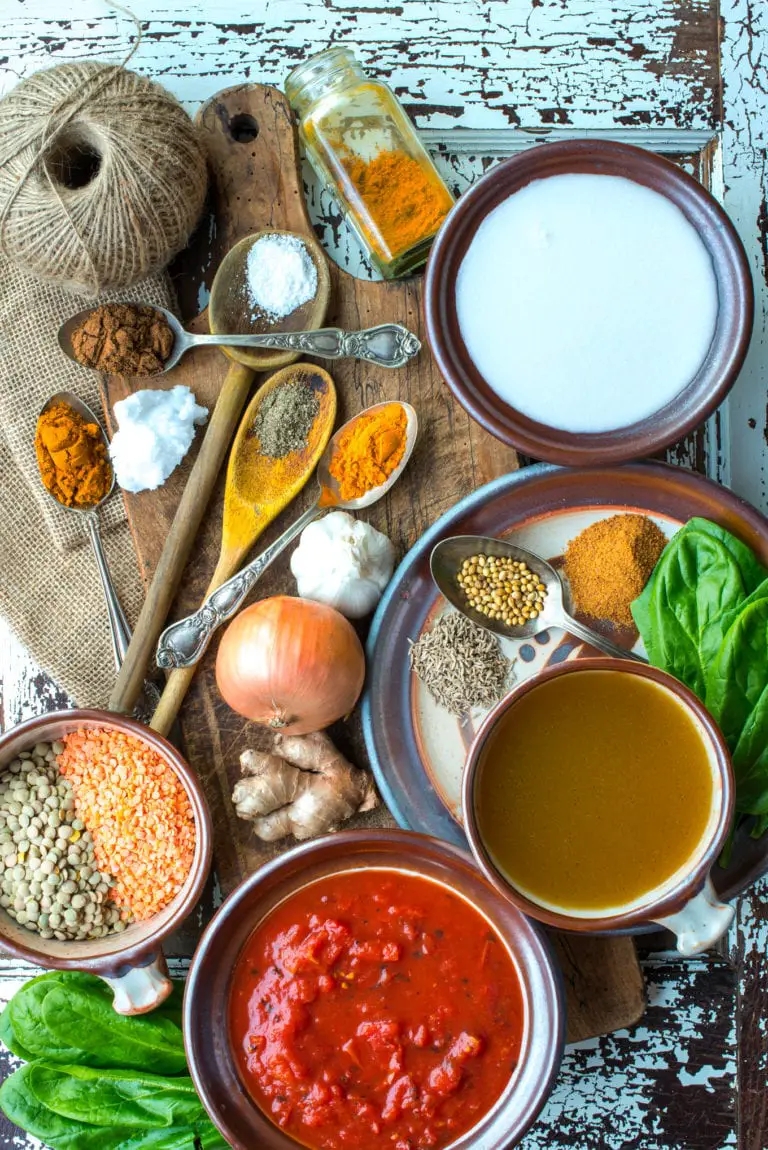 For people who have trouble digesting beans, lentils are a good alternative. Because they are smaller, they tend to be easier for people to digest. They are also lower in carbohydrates and higher in protein than most beans. Lentils are about 25% protein and are also packed with fibre. In fact, one cup has about 15 grams of fibre! Micronutrients are also prevalent, especially B vitamins. You can enjoy this Coconut Lentil Curry with any issues and the knowledge that it comes with lots of goodness!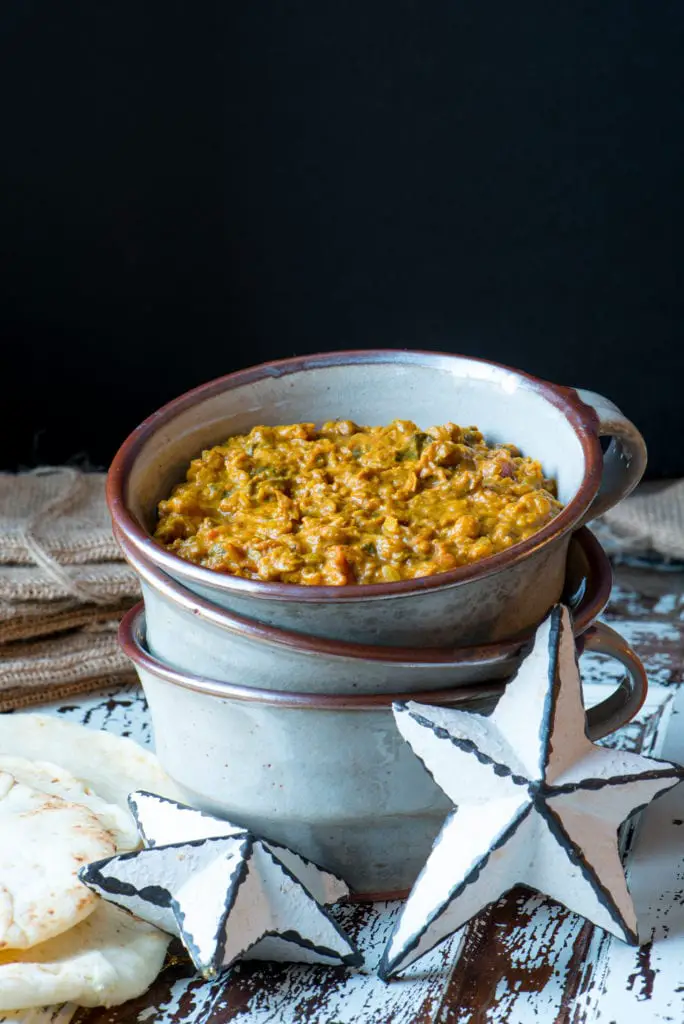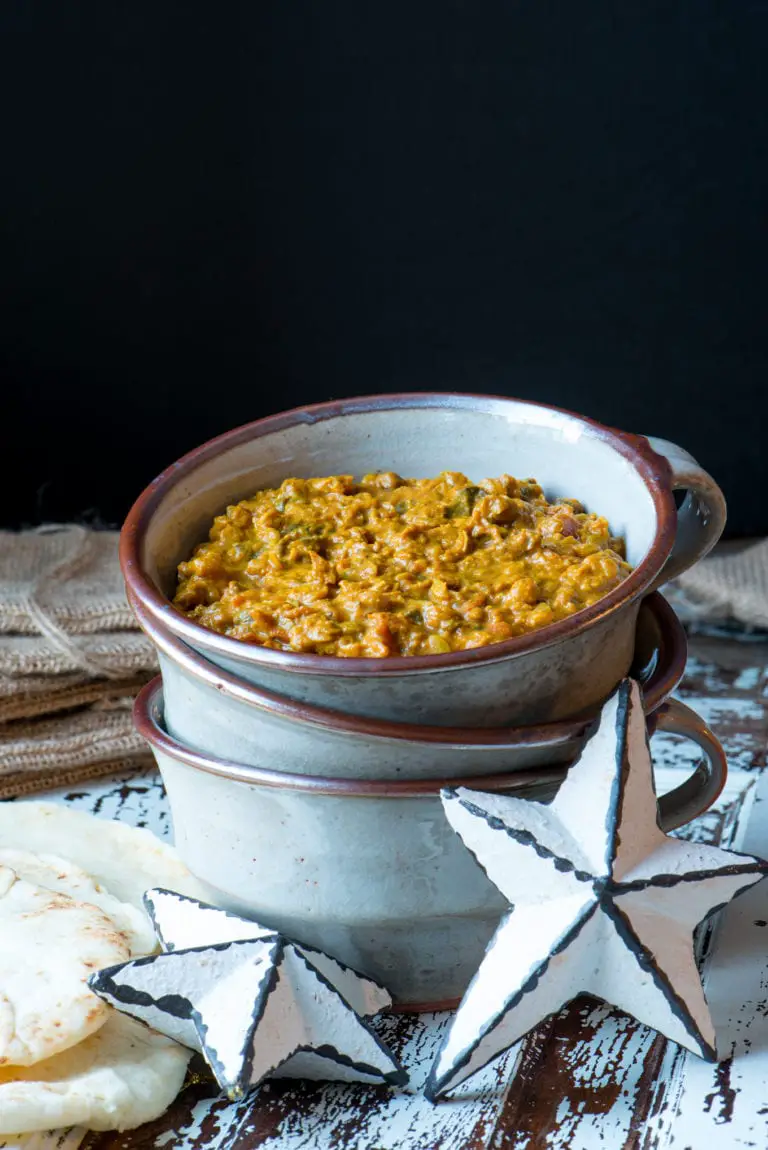 Try out this Coconut Chickpea Curry Masala, this Autumn Vegetable Stew or our Vegan Pumpkin Mac and Cheese for some other one pot weeknight meal ideas.
This Coconut Lentil Curry is a crowd pleaser. We look forward to your feedback. Leave a comment and a rating and don't forget to tag us @plantedandpicked on Instagram and hashtag it  #plantedandpicked. Thank you for checking it out.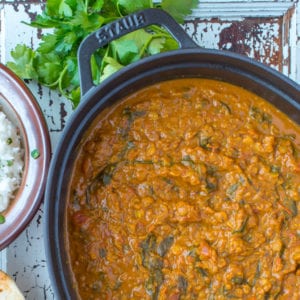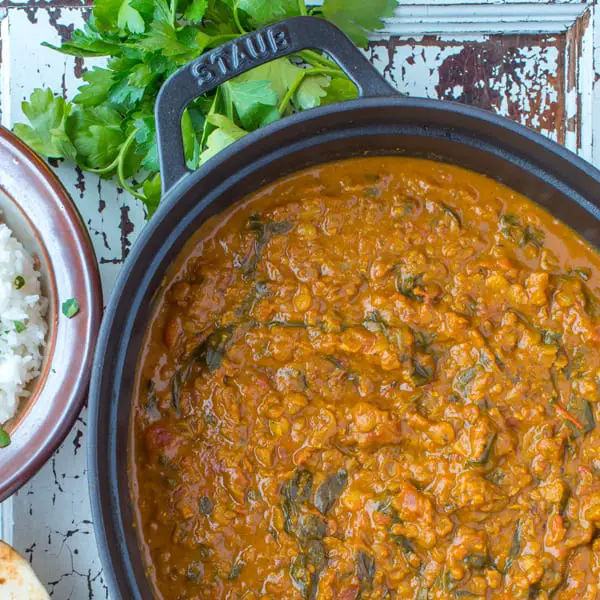 Ingredients
1

tbsp

coconut oil

¾

cup

onion diced finely

2

tbsp

garlic minced

1

tbsp

ginger grated

1

tsp

sea salt

1

tsp

cumin seed toasted and ground

½

tsp

corriander seed toasted and ground

1½

tsp

ground turmeric

¼

tsp

black pepper

2

tbsp

curry powder

1

tbsp

garam masala

½

cup

green lentils rinsed and drained

½

cup

red lentils rinsed and drained

2

cups

vegetable broth

1

28 oz can

crushed tomatoes

1

tbsp

coconut or cane sugar

1

14 oz can

coconut milk

2

cups

chopped spinach packed
Instructions
Melt coconut oil in heavy pot over medium heat and sauté onion, garlic and ginger with sea salt added, until onion is transparent, approximately 6 to 7 minutes

While arromatics are sautéing, heat a heavy skillet over medium heat and add cumin an corriander seed, toasting until fragrant. Be careful to remove seeds from pan into a dish to cool as soon as they are fragrant to prevent burning. Grind spices in a spice grinder, a small coffee grinder or with a mortar and pestle.

Add all spices, stirring to combine and continue to sauté for 1 to 2 minutes until fragrant.

Add vegetable stock and rinsed and drained lentils and stir to combine well. Bring to a boil, reduce to a simmer and cover for about 10 minutes to soften lentils.

Add crushed tomato, sugar and coconut milk and stir to combine. Bring back to a boil, reduce to a simmer and cover for 20 minutes to combine flavours.

Add chopped spinach and stir until wilted.

Serve with your choice of rice and enjoy.