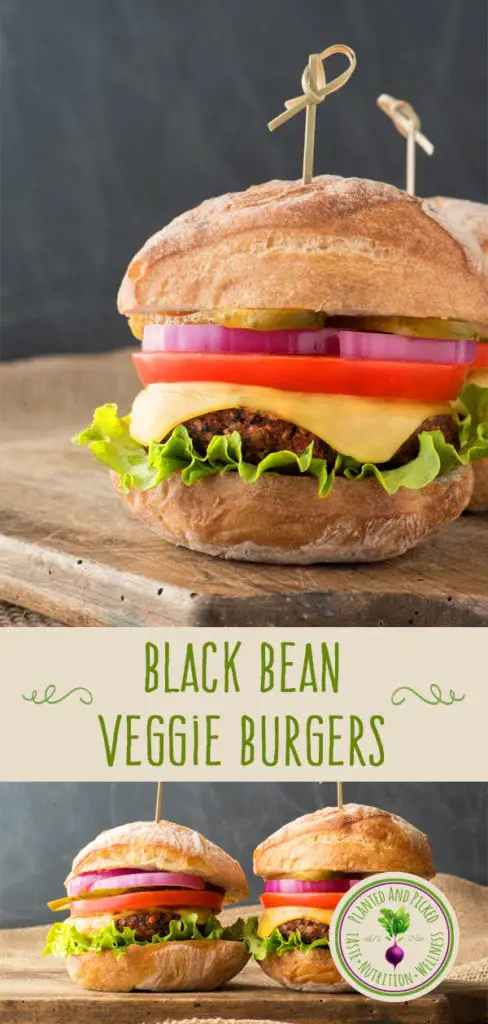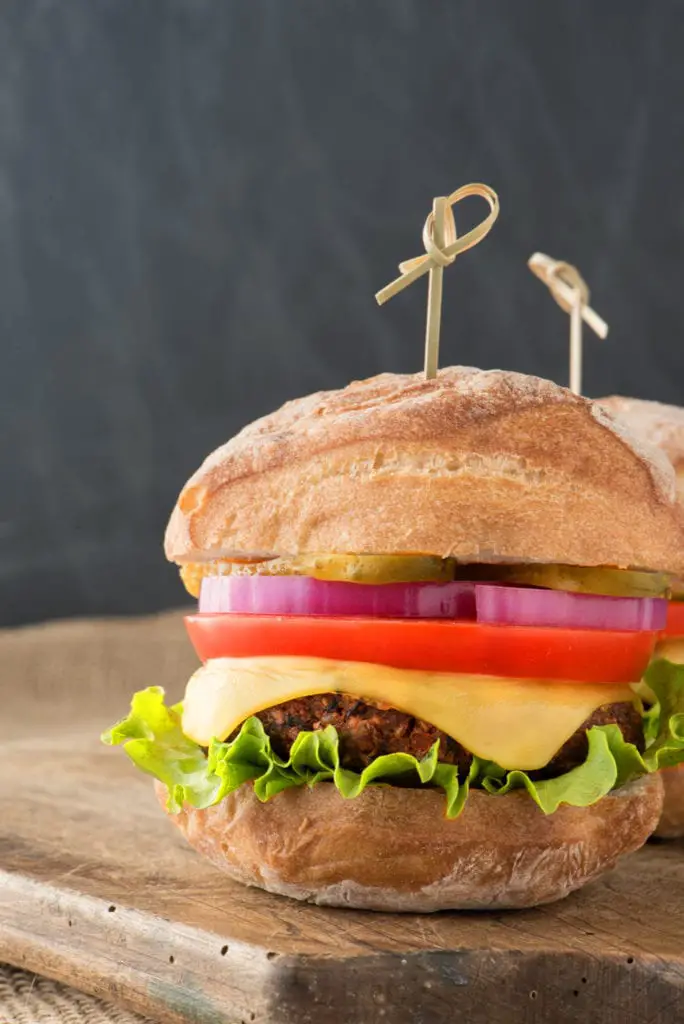 While a black bean veggie burger needs to be tasty . . . that's a given . . . it also needs to stay together. Binder is king when it comes to being able to hold and bite into a veggie burger that stays together. Sure, you buy those versions in the freezer section, but you can make this healthy version at home.
Veggie burgers are an easy meal-prep idea that can be healthy and doesn't have to come from a box. We all get busy despite our best intentions to slow down and take time for self-care. Having these patties ready to go, you can add some home-made fries or roasted potatoes and you have a nutritious meal with minimal weeknight effort. We've been working on this black bean veggie burger recipe to get just the right texture. The trick has been to incorporate the right amount and combination of binders to keep all the tasty stuff.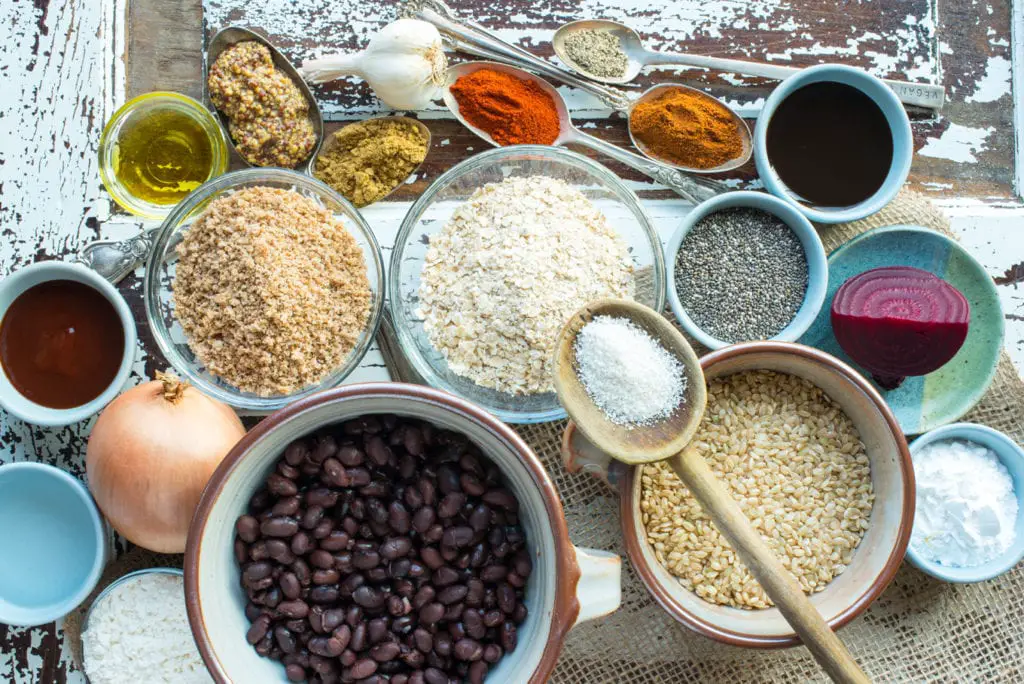 Grinding the chia seed boosts the binding properties of this well known egg replacer and including a small amount of flour, rolled oats and bread crumbs keeps it all together. Brown rice also provides binding strength and is nutritionally superior to white rice. It is a whole grain and retains the bran and germ, which contain a number of vitamins, minerals and antioxidants.
Beats add additional nutrition to this black bean veggie burger and are reported to have a number of health benefits. They also add some great colour to an otherwise bland looking patty! A few earthy spices, some grainy mustard and some barbecue sauce and you've got a satisfying patty to put your favourite toppings onto. The other trick to any veggie patty is to always pan-fry them cold to reduce the chances that they will stick to your pan. No one needs that frustration.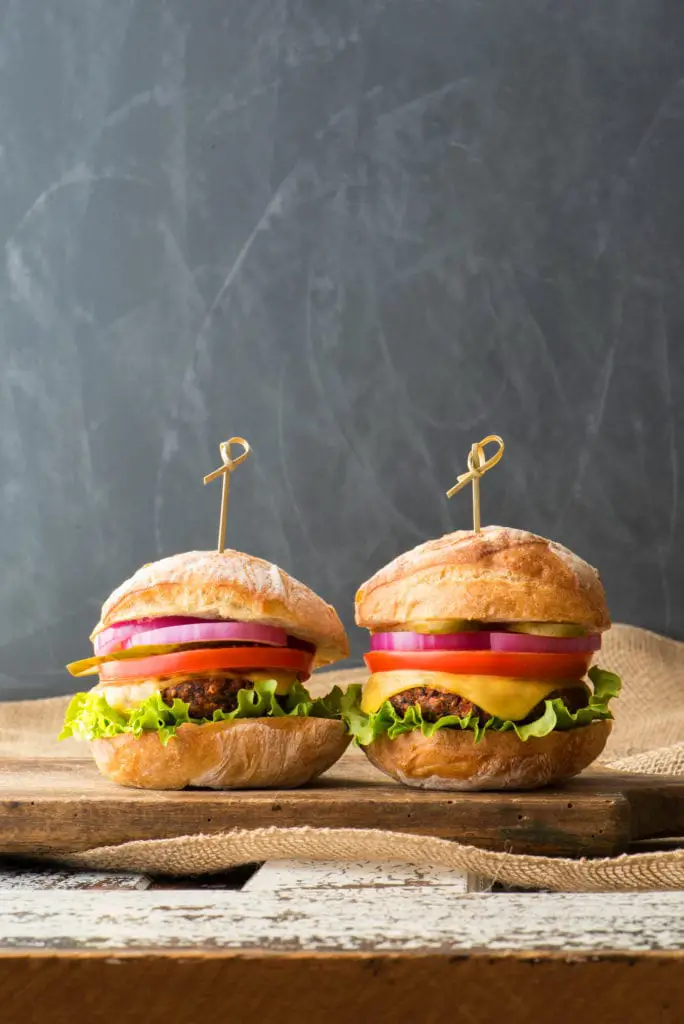 Our meatless Italian Style Lentil Meatballs are also a great meal-prep option for a quick weeknight meal. Add them to this Simple Weeknight Marinara Sauce or to this One Pot Lentil Bolognese for an extra boost of protein.
If you try this Black Bean Veggie Burger recipe, please let us know what you think. We are always eager to learn how our recipes work out for those that try them. Leave a comment and a rating and don't forget to tag us @plantedandpicked on Instagram and hashtag it  #plantedandpicked. Don't forget to make some fries too!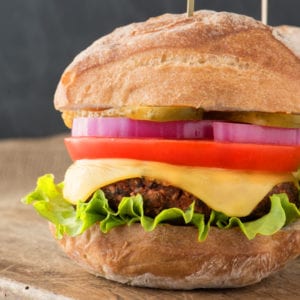 Ingredients
3

tbsp

beetroot minced

⅔

cup

short grain brown rice

2

14oz cans

black beans

2

tbsp

ground chia seed

6

tbsp

filtered water

1

tbsp

extra virgin olive oil

¾

cup

yellow onion diced finely

1

tbsp

garlic minced

1

tsp

sea salt

1½

tsp

smoked paprika

1½

tsp

ground cumin

1½

tsp

chili powder

¼

tsp

black pepper

2

tbsp

barbeque sauce

1

tsp

worcestershire sauce

2

tbsp

arrowroot starch

¼

cup

all-purpose flour

½

cup

bread crumbs

½

cup

rolled oats

avocado oil for pan-frying
Instructions
Place a small beat in a sauce pan and cover with water. Bring to a boil, reduce to a simmer and cover. Cook the beat for approximately 40 minutes or until fork tender.

Meanwhile, prepare the rice by placing it in twice as much cold water as rice (1⅓ cups of water as per original recipe). Bring to a boil, reduce to a simmer and cover. Cook for approximately 25 minutes or until water has been completely absorbed. Remove from heat, keeping covered for 10 minutes before removing lid and fluffing with a fork.

While the beat and rice are cooking, drain and rince the black beans and lay out on a clean kitchen towel. Pat dry with another towel and leave them until you are ready to prepare the patties.

Grind chia seed in a small coffee grinder or with a mortar and pestle and add to filtered water in a small dish. Set aside for a minimum of 10 minutes to gel. If unable to grind the chia seeds, simply place the whole seeds in the water and stir.

Sauté onion for approximately 3 to 4 minutes before adding the minced garlic and continuing to sauté for 3 to 4 minutes until onion is translucent.

Add all spices to the aromatics and continue to cook for 1 to 2 minutes until fragrant.

Place black beans and rice in a mixing bowl and get right in there to squeeze the mixture together for 3 to 4 minutes until beans are broken down. Add the onion mixture, barbecue sauce, Worcestershire sauce, and chia mixture, and continue to mix until incorporated.

Mix the arrowroot starch, flour, bread crumbs and oats in a separate mixing bowl and then add to the bean mixture. Using your hands, combine the ingredients until fully incorporated.

Divide mixture into 9 equal portions and roll these into balls before flattening into patties and refrigerating for at least 30 minutes or until ready to use.

Heat a heavy skillet and coat with avocado oil. Add as many chilled patties as manageable to the heated pan, shifting them around frequently to ensure that they do not stick. Once browned, flip the patties and brown the other side before baking in a 350°F oven for 10 minutes, to cook through.

Place the patties on fresh rolls and top with your favourite garnishes.