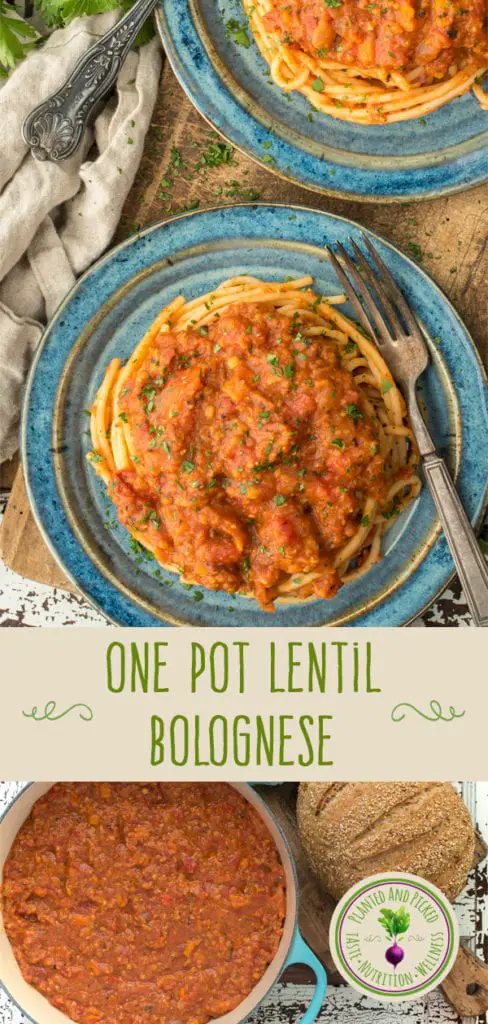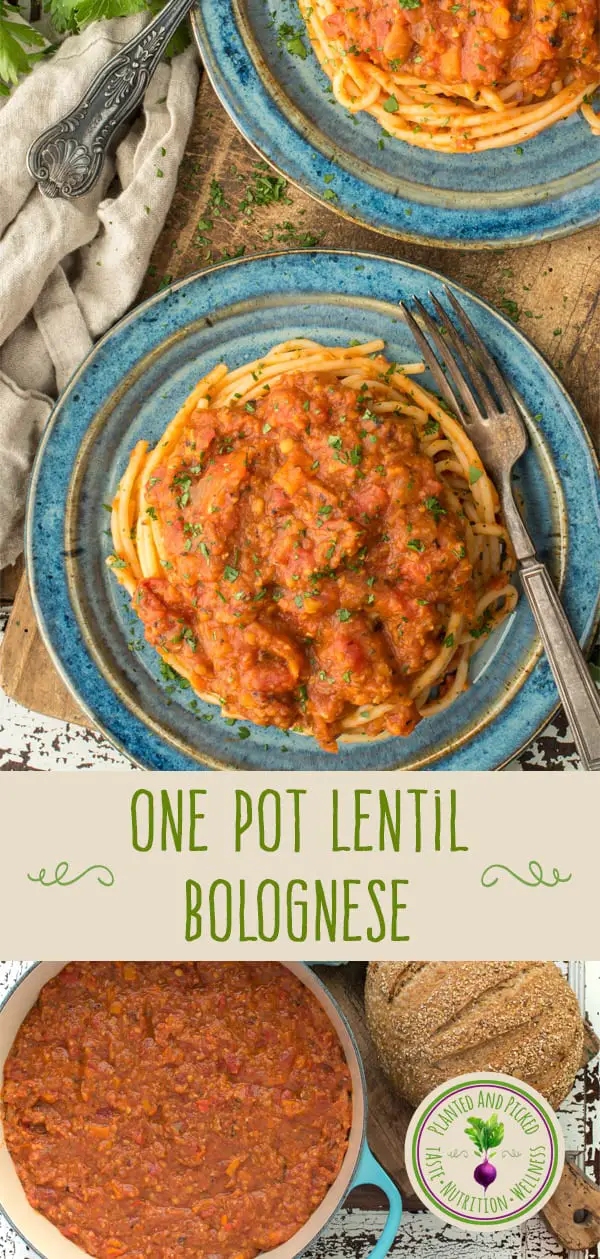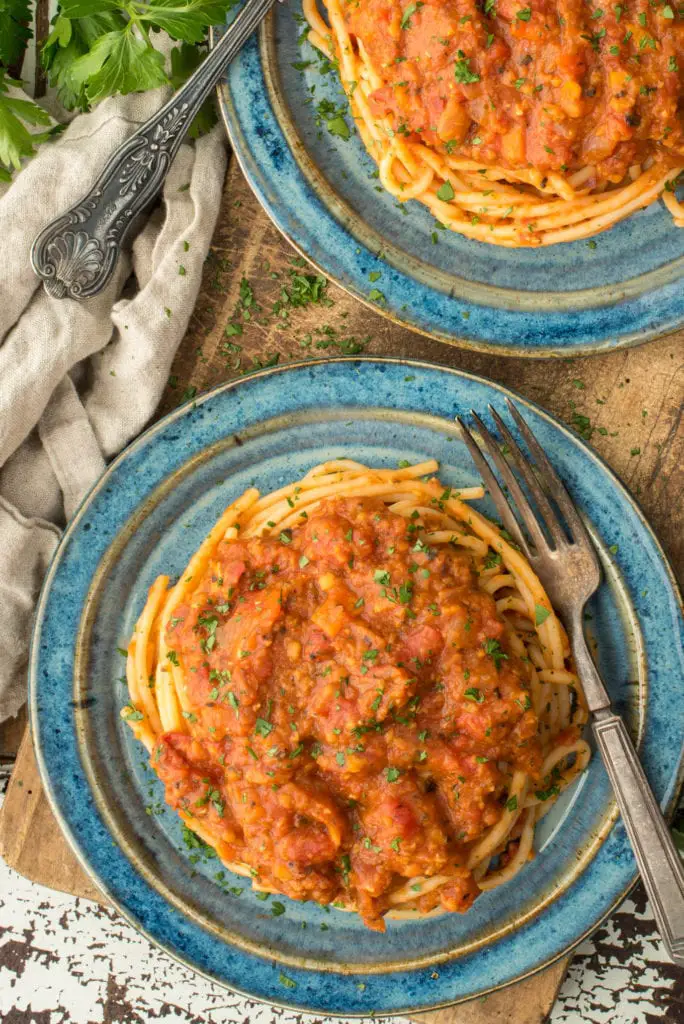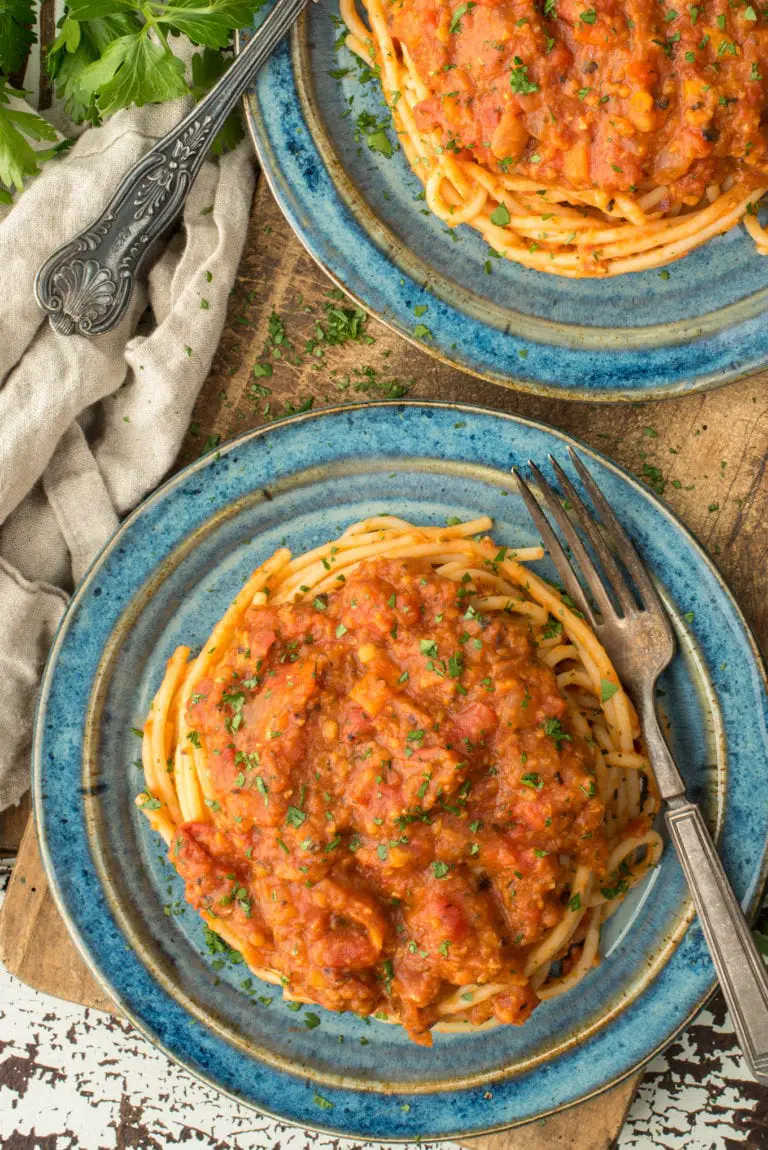 This one pot lentil bolognese is full of protein and is a go to in our house. We usually make it once a week. Enjoy it on pasta or a baked potato for an easy weekday meal.
Traditional Bolognese usually includes a combination of ground beef, pork and veal. This one pot lentil bolognese is cruelty-free with red lentils instead of meat. Lentils pack almost 18g of protein in a single cup without the saturated fat and cholesterol of meat. They also provide a host of nutrients such as folate, iron, zinc and manganese and contain over 15g of fibre. Meat provides zero fibre!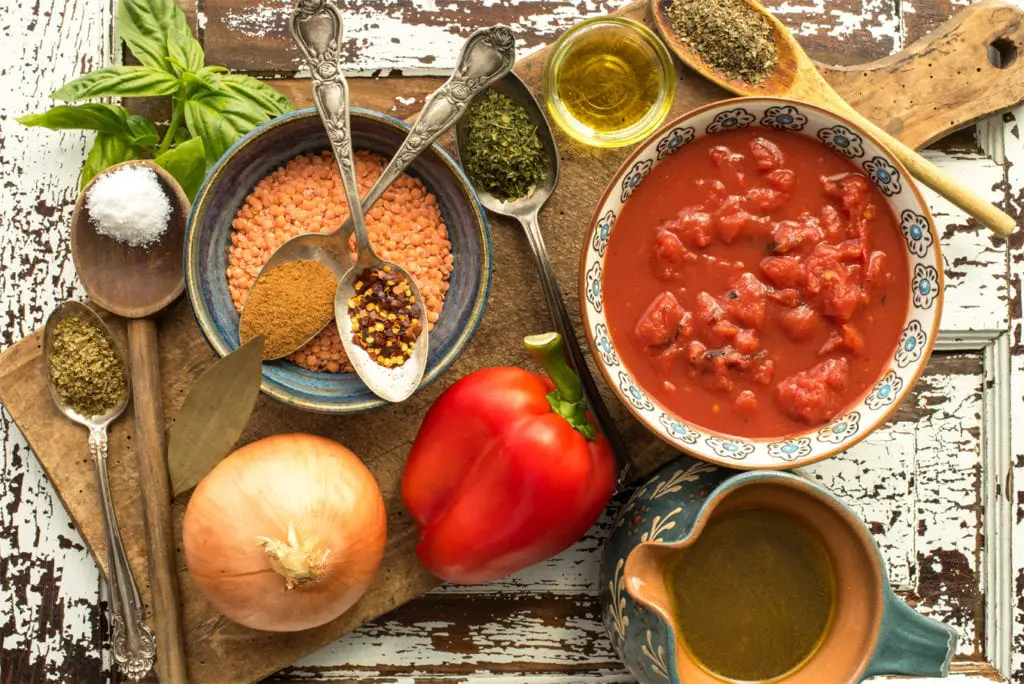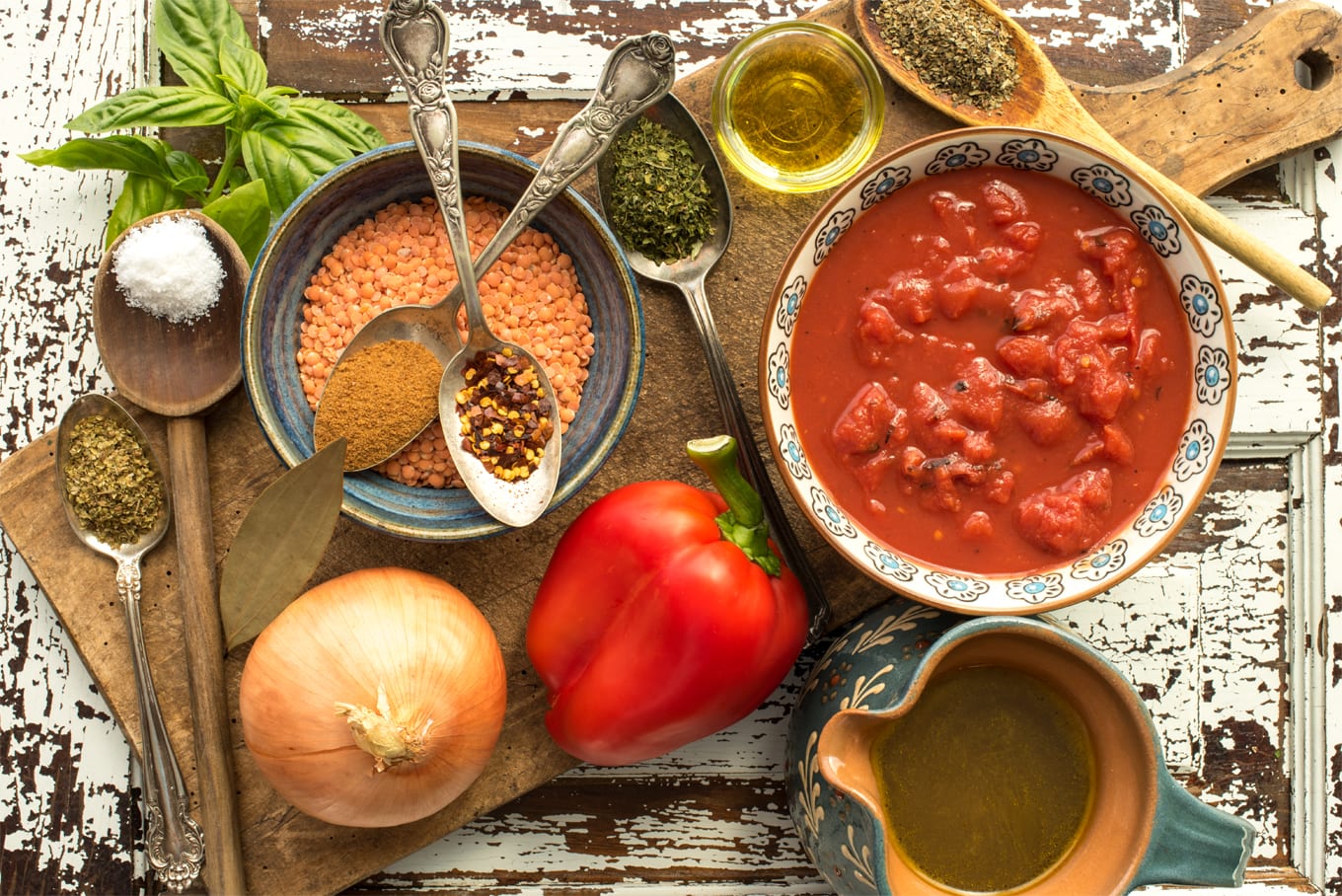 We try to incorporate tomatoes into our diet as much as possible, in all forms. In Dr. William Li's book, "Eat to Beat Disease", he rates tomatoes as one of the most powerful cancer fighting foods due to it's antiangiogenic properties. Here is some more information on this topic: Anti-Angiogenesis.
The main reason for the tomato's cancer-fighting properties is the presence of lycopene. Interestingly, there is three to five times more lycopene in the skin of a tomato than its flesh. Also notable is that cooking tomatoes releases more lycopene from the tomatoes cells so get cooking your tomatoes to reap the additional benefits. Lycopene is fat-soluble, which means that it is absorbed better with a little fat. We include a single tablespoon of olive oil in this one pot lentil bolognese recipe.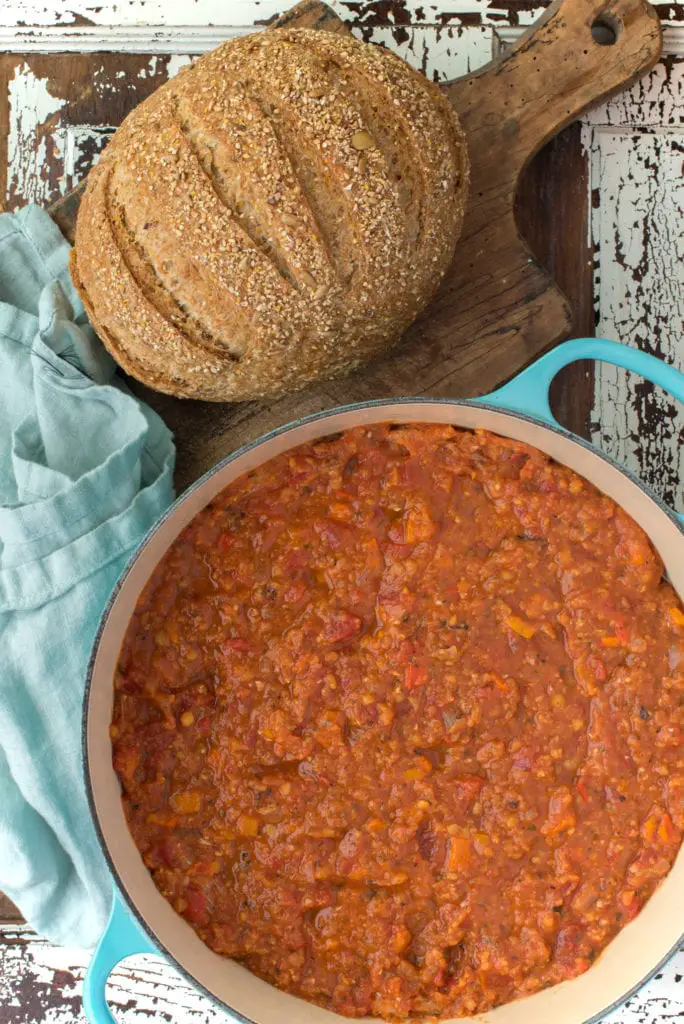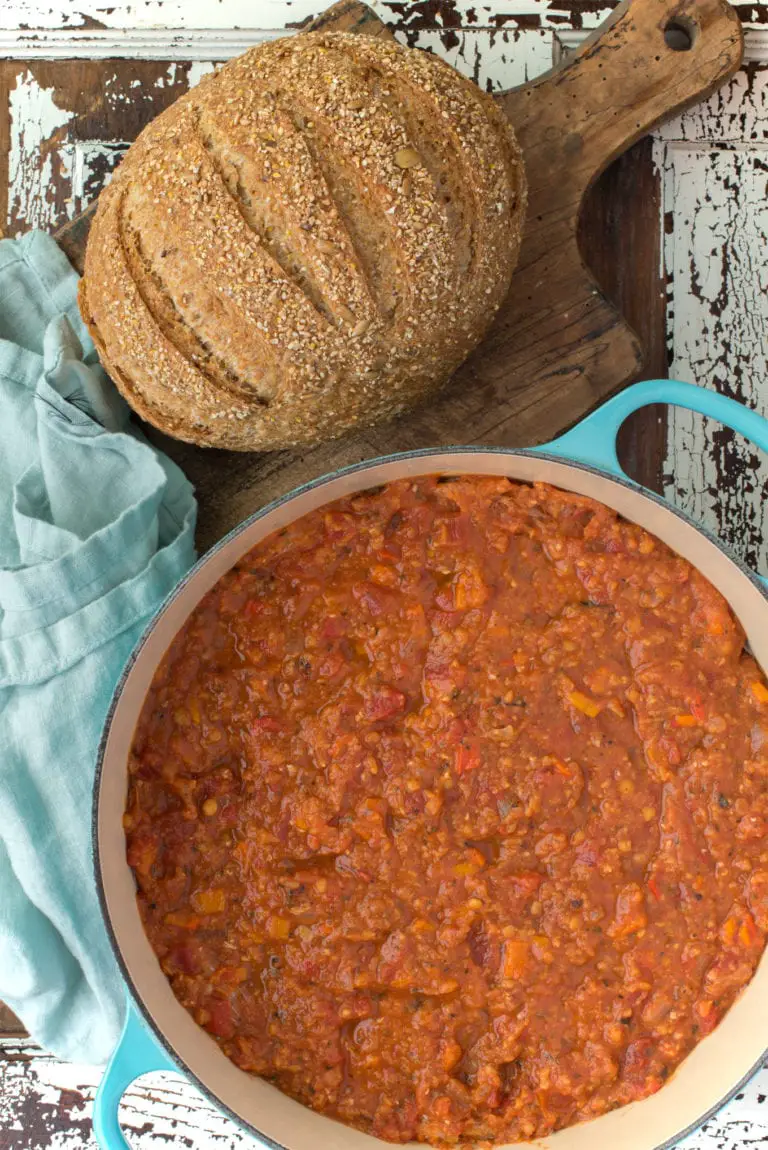 Through trial and error with this one pot lentil bolognese, we decided to cook the red lentils with some vegetable broth before adding the tomatoes. We found that if we tried to cook it all together, the lentils did not cook up as tender and would also stick to the bottom of the pot!
If you're looking for some other pasta sauce recipes, try out this Simple Weeknight Marinara Sauce or one of our favourites . . . Vegan Mushroom Cream Sauce with Truffle Oil.
Please let us know if you try out this one pot lentil bolognese! Leave a comment and a rating and don't forget to tag us @plantedandpicked on Instagram and hashtag it  #plantedandpicked. Enjoy a meal with friends and family and spread love!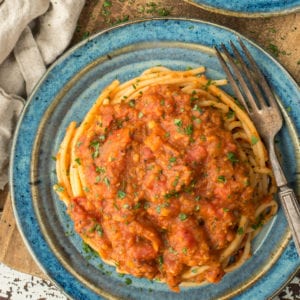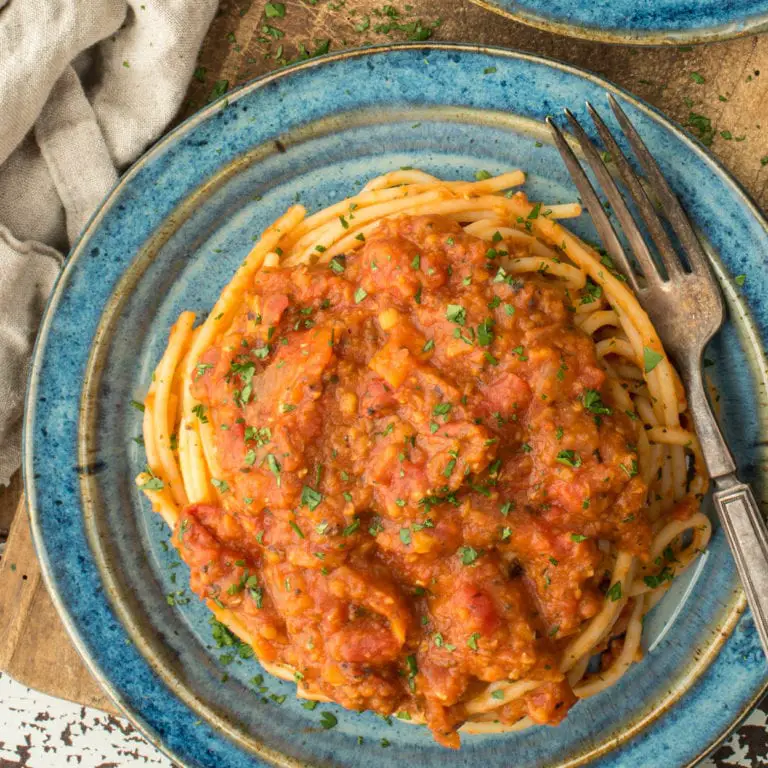 Ingredients
1

tbsp

olive oil

½

cup

onions, diced

½

cup

red peppers, diced (or other sweet pepper)

2

large garlic cloves

1

tsp

sea salt

pinch

crushed red chili peppers

½

cup

red lentils

1½

cups

vegetable stock or water

1

large

bay leaf (or 2 small)

1

28oz can

crushed tomatoes (preferably fire roasted)

2

tsp

dried oregano

1

tsp

dried basil

1

tsp

dried parsley (optional)

1

tbsp

coconut or cane sugar

¼

cup

fresh basil (optional)
Instructions
Heat the olive oil in a large pot.

Add onions, peppers, garlic, salt and crushed chilies. Sauté for 5 to 7 minutes, until translucent.

Add vegetable stock or water to the pot, along with the red lentils and the bay leaf. Bring to a boil. Return heat to medium low, cover and simmer for 15 to 20 minutes. The lentils should be soft. Stir occasionally to make sure that the lentils do not stick to the bottom of the pot.

When the lentils are cooked, add the rest of the ingredients, except the fresh basil. Bring back to a simmer, cover and cook for an additional 15 minutes. This should be enough to marry the flavours.

Once the sauce has finished cooking, turn off the stove and remove from the heat. UPDATE: we like to blend at least half of the sauce and add it back in to the pot for a great texture!

Add the basil if you are using it and stir to combine. The basil will wilt with the heat of the sauce without overcooking. Overcooking fresh basil can impart a bitter taste.