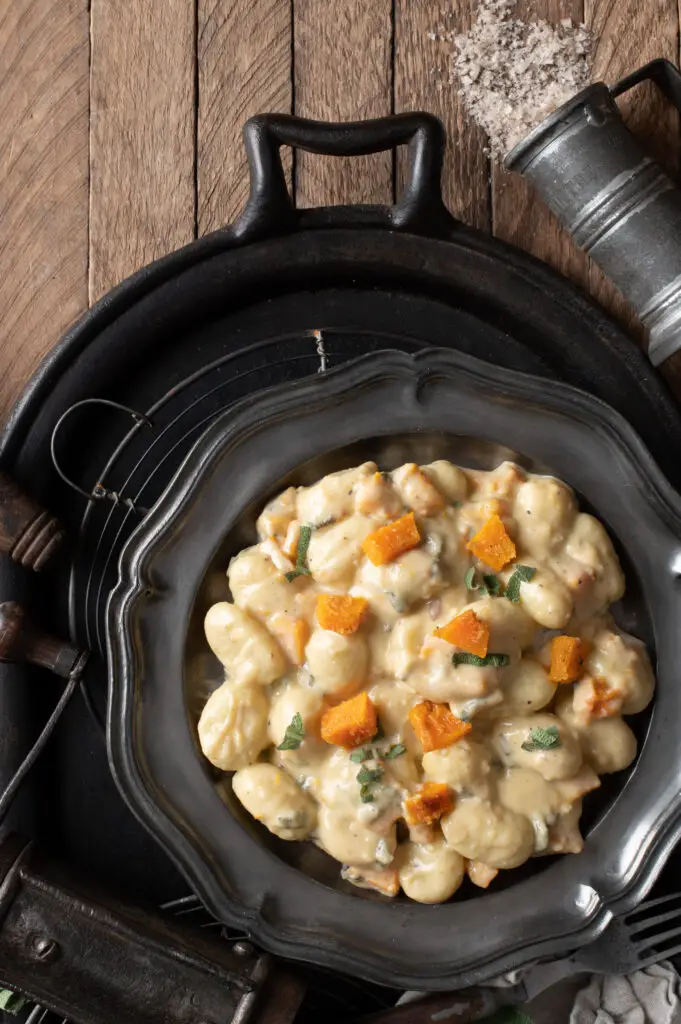 This Creamy Butternut Squash Gnocchi is healthy vegan comfort food that is a fall favourite. You can use home made gnocchi or store-bought, tossed with the creamy sauce we show you how to make here. Pre-soak the cashews and you'll have this wonderful meal on the table in about half an hour.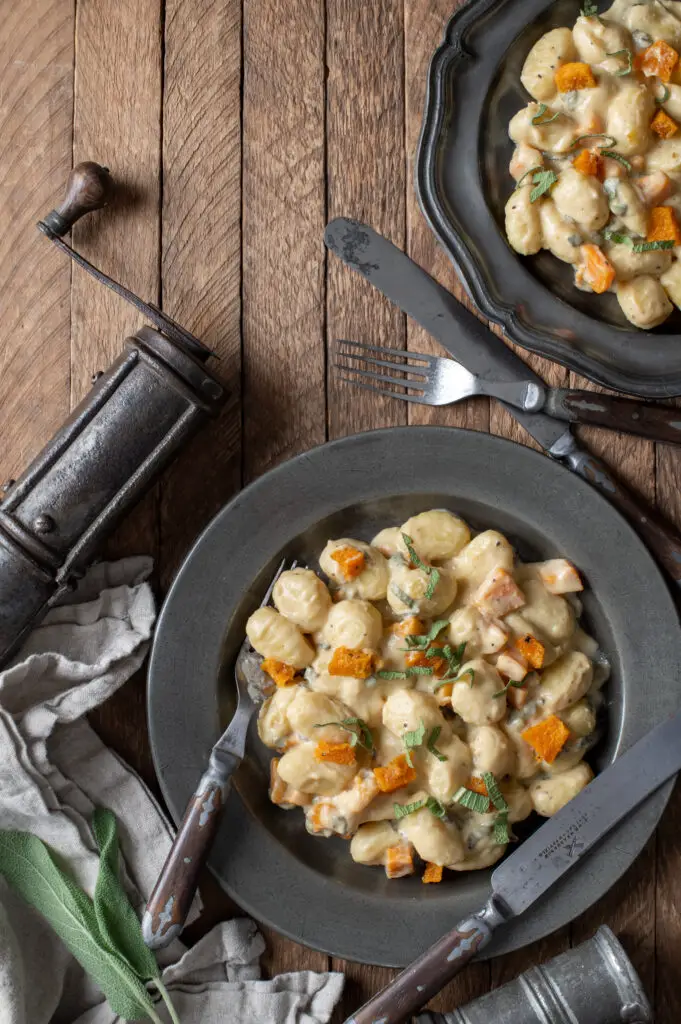 There is a connection to your food and to those you share it with when it's made from scratch. Making our potato gnocchi is pretty easy with just potato and flour. However, we also appreciate times when getting dinner together quickly is also a good thing and there's nothing wrong with using store-bought. Do what suits you and enjoy.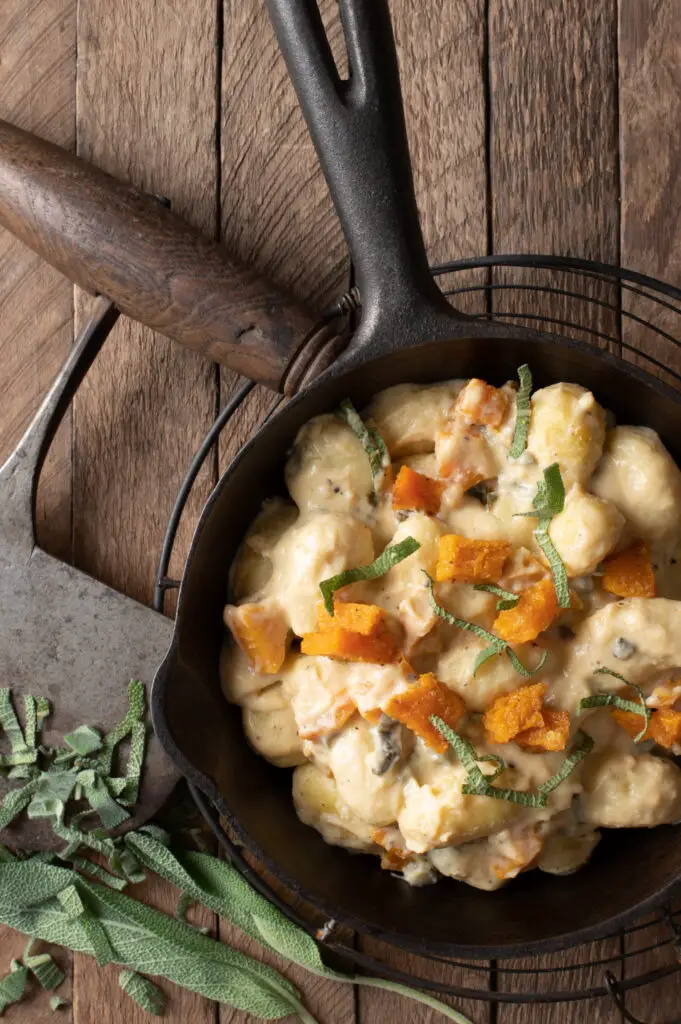 Gnocchi is a versatile dish where you can change the sauce and vegetables according to the season. Also, it picks up the flavours of whatever sauce you pair it with. In this Autumn version we use roasted butternut squash and sage to infuse Fall flavours. Adding a small amount of soaked cashews to the sauce adds some creaminess. In the Fall we crave more warming foods to offset the onset of the cool weather and this dish hits the spot.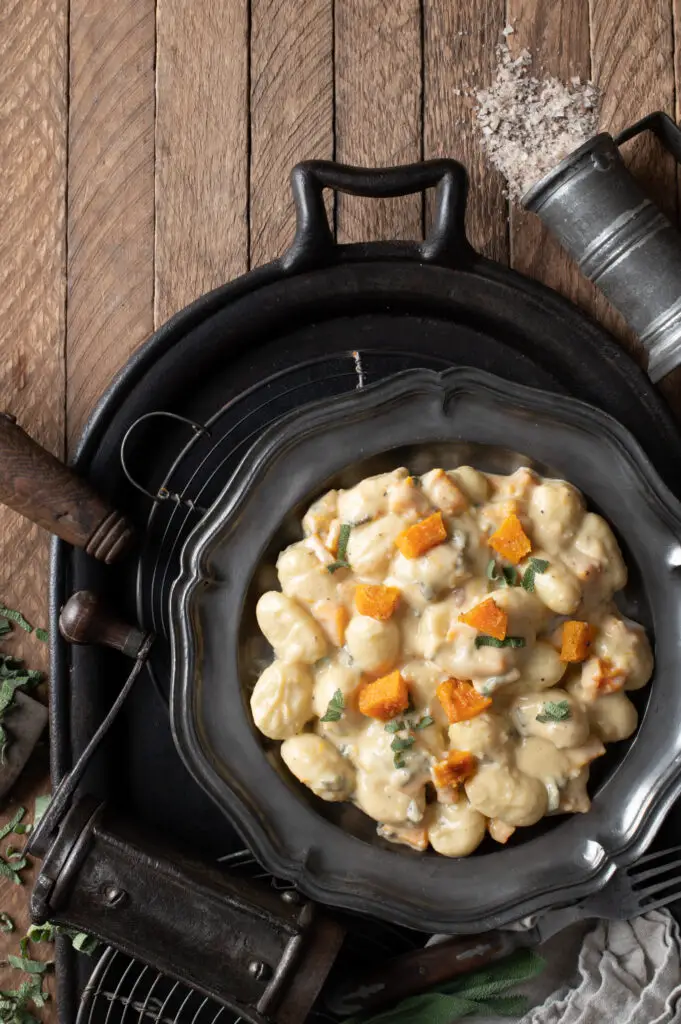 The word gnocchi means "lump" or "knot". There are variations of how to make gnocchi as it was largely dependent on what people had to make it with. However, the most common way to prepare gnocchi is to combine potatoes with flour, to form soft bite-size lumps of dough.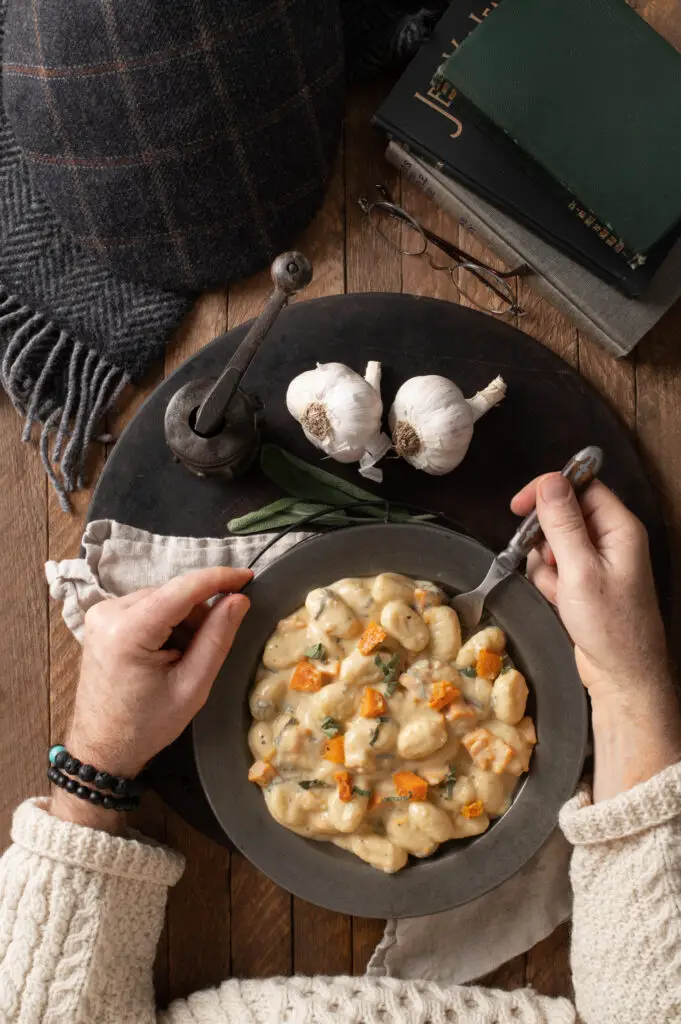 This gnocchi is perfect for a weeknight meal that comes together in half an hour if you pre-soak your cashews. You may also like to try this Creamy Roasted Red Pepper Pasta, this Vegan Pasta Alfredo, our Creamy Roasted Vegetable Pasta or our delicious version of Roasted Vegetable Lasagna! For a change, we make our own noodles in this flavourful Vegan Hungarian Tofu Paprikash.
If you make this Creamy Butternut Squash Gnocchi, we would love to see and hear how yours turns out. Leave a comment and a rating and don't forget to tag us @plantedandpicked on Instagram and hashtag it  #plantedandpicked. Remember that love is when you're sharing good food with someone and you give then the bigger half.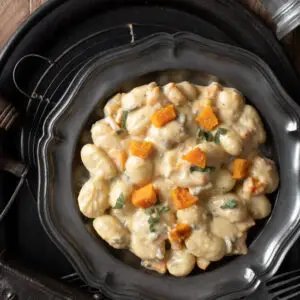 Ingredients
Roasted Butternut Squash
3

cups

butternut squash, diced

400 g

1

tbsp

olive oil

15 ml

1

tsp

garlic powder

5 ml

¼

tsp

sea salt

1 ml
Creamy Sauce
¼

cup

cashews (soaked 1 hour)

60 ml

2

tsp

vegan butter

10 ml

2

large

garlic cloves, minced

¾

cups

oat milk

180 ml

¾

cups

vegetable broth

180 ml

¼

cup

sage, chopped

60 ml

1

tbsp

lemon juice

15 ml

¼

tsp

sea salt

1 ml

pepper to taste
Instructions
Soak cashews in some water for about an hour to soften. Drain and set aside.

Preheat oven to 375°F. Cut the butternut squash in 1/2. Scoop out the seeds. Peel. Slice into strips lengthwise. Lay the strip flat and cut lengthwise again. The goal is to have about ½ inch strips.

Cut each strip widthwise to form ½ inch squares. Cut enough to make about 3 cups.

Place butternut squash, olive oil, garlic powder and sea salt in a bowl and stir to combine. Place the squash on a baking tray lined with parchment. Place in oven and bake for 30 minutes.

While the butternut squash is baking, add cashews to a high speed blender, along with the oat milk. Blend until creamy.

Mince garlic. Slice sage leaves into thin strips widthwise.

Heat 2 tsp vegan butter in a large pan. Add garlic and sage and sauté about 2 minutes.

Add the veg broth, lemon juice and cashew cream, sea salt and a few grinds of black pepper.

Heat gently and stir until sauce starts to thicken. Add cooked squash. Reduce heat to low to keep warm.

Cook gnocchi in boiling water for about two minutes – until it floats to the top.

Drain the gnocchi and add to the sauce. Stir to combine. Turn off heat.

Serve with some additional sage sprinkled over top.
Nutrition
Calories:
372
kcal
|
Carbohydrates:
65
g
|
Protein:
8
g
|
Fat:
10
g
|
Saturated Fat:
2
g
|
Polyunsaturated Fat:
1
g
|
Monounsaturated Fat:
5
g
|
Trans Fat:
1
g
|
Sodium:
933
mg
|
Potassium:
468
mg
|
Fiber:
6
g
|
Sugar:
7
g
|
Vitamin A:
11442
IU
|
Vitamin C:
24
mg
|
Calcium:
152
mg
|
Iron:
6
mg