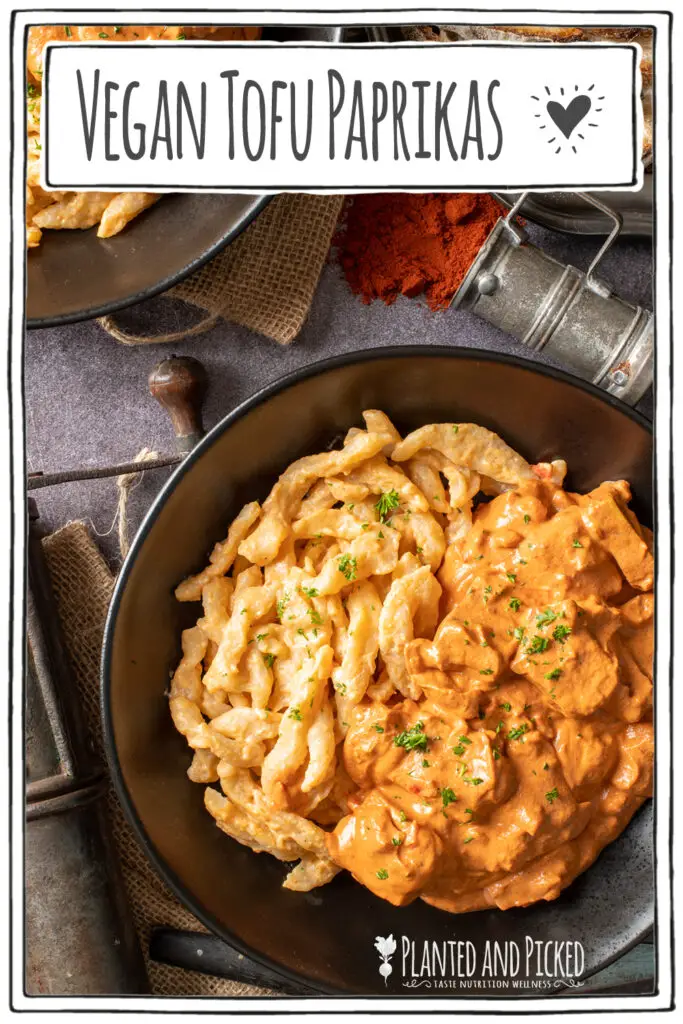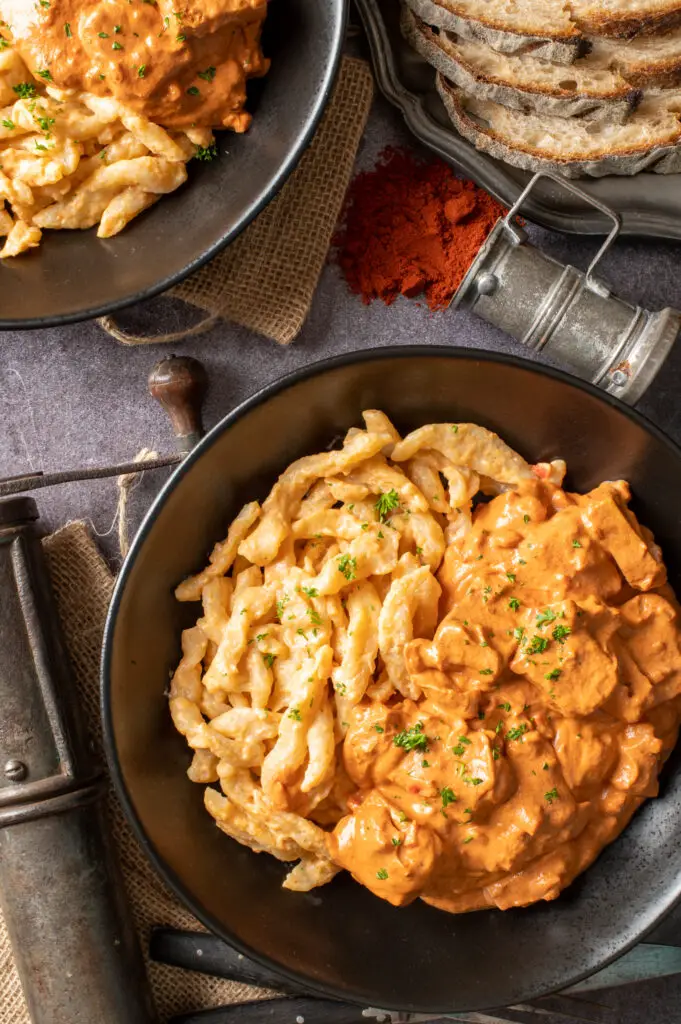 This Vegan Hungarian Tofu Paprikash is high on the comfort food scale and is so delicious. Admittedly, the photo shoot involved some dipping of sourdough in the sauce – we just couldn't wait!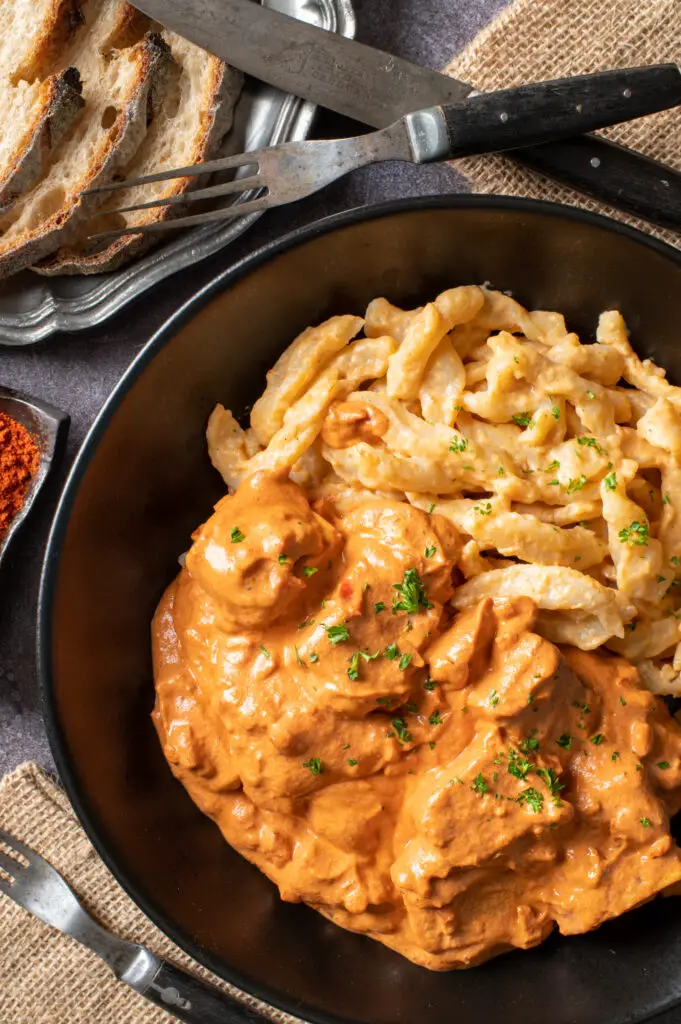 What Makes this Hungarian Paprikash So Good
We did not skimp on the sweet Hungarian paprika with this dish. While we always have sweet paprika in our pantry, we wanted to dive right in and find the Hungarian version. It is absolutely wonderful. The depth of the flavour is what makes this dish and if you can find it locally, we encourage you to pick some up. If not, don't despair, any sweet paprika will clearly deliver a great paprikash.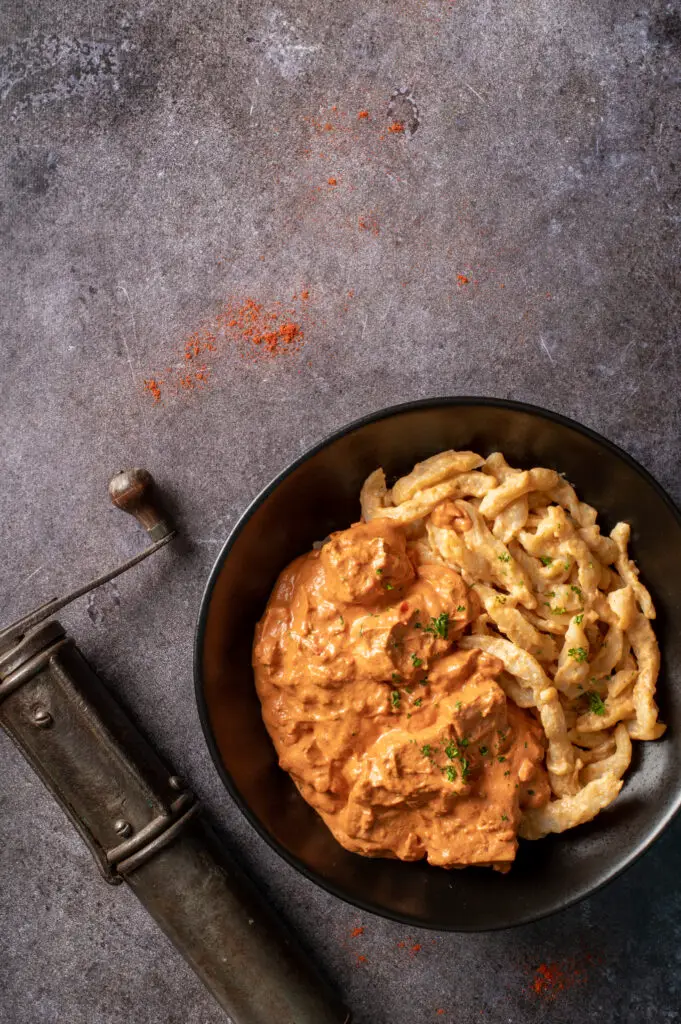 We prepared the tofu by coating it in a spice rub that included both the sweet Hungarian paprika as well as a little smoked paprika. We added a little cayenne and some black pepper to deliver just a little heat in the dish. It was just right, even for those of us who prefer to appreciate the flavour and not sweat through dinner!
Why Make Your Own Noodles or Nokedli?
You can certainly skip making your own Hungarian nokedli or noodles to make this paprikash come together quickly. If you have time though, trust us that you will not be disappointed. They take this traditional dish to the next level. They are so tender and really are easy to make if you have an extra half an hour to mix the dough and plop them in a pot of boiling water.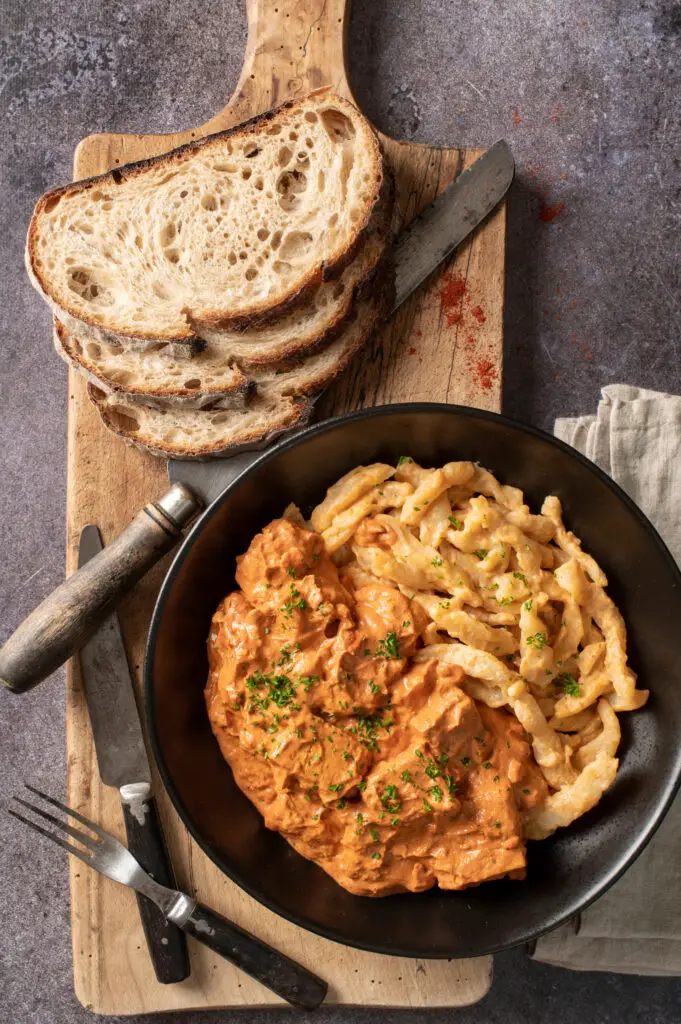 Making the Noodle Dough
Mixing the dough is easy. Just blend the flour, powdered egg replacer and fine sea salt with a whisk. Add the warm water a little at a time while stirring with a spatula or wooden spoon. The only thing to focus on is getting the correct consistency. The 1⅓ cups of water should be just fine, but all flours soak up water differently. You may need to add a little less or a little more water. The consistency you are looking for is a very loose dough, best described as half-way between pancake batter and bread dough.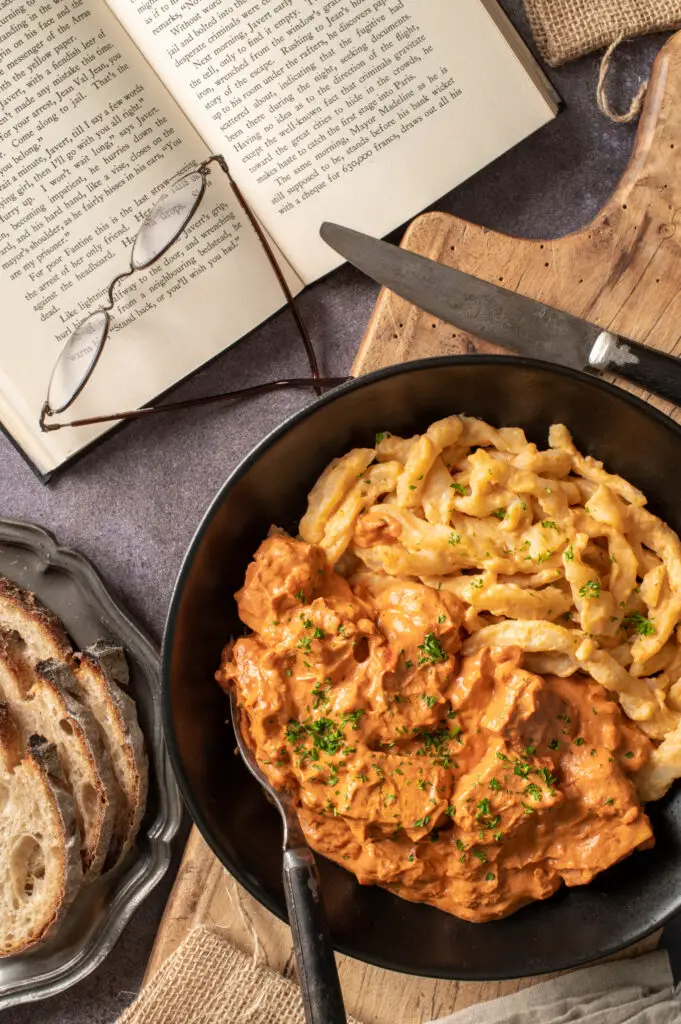 Cooking the Noodles for Your Paprikash
No fancy tools necessary! Place your wet dough onto one end of a small wet cutting board. Hold that end of the board over the edge of your pot of boiling water and simply scrape small bits of the dough into the pot using the dull side of a paring knife blade. The amount of dough should be roughly the length of penne, but not as big around. It will expand as it cooks. There are no hard and fast rules and larger noodles will just take a little longer to cook. Just the fact that you're making these nokedli will up your paprikash game!
The noodles will fall to the bottom of the pot and surface once they are nearly done. We dip the knife into the boiling water periodically to keep it wet and the noodles fall right off without any problems. There's no need to pull them out straight away. We scraped off and cooked the noodles in four batches.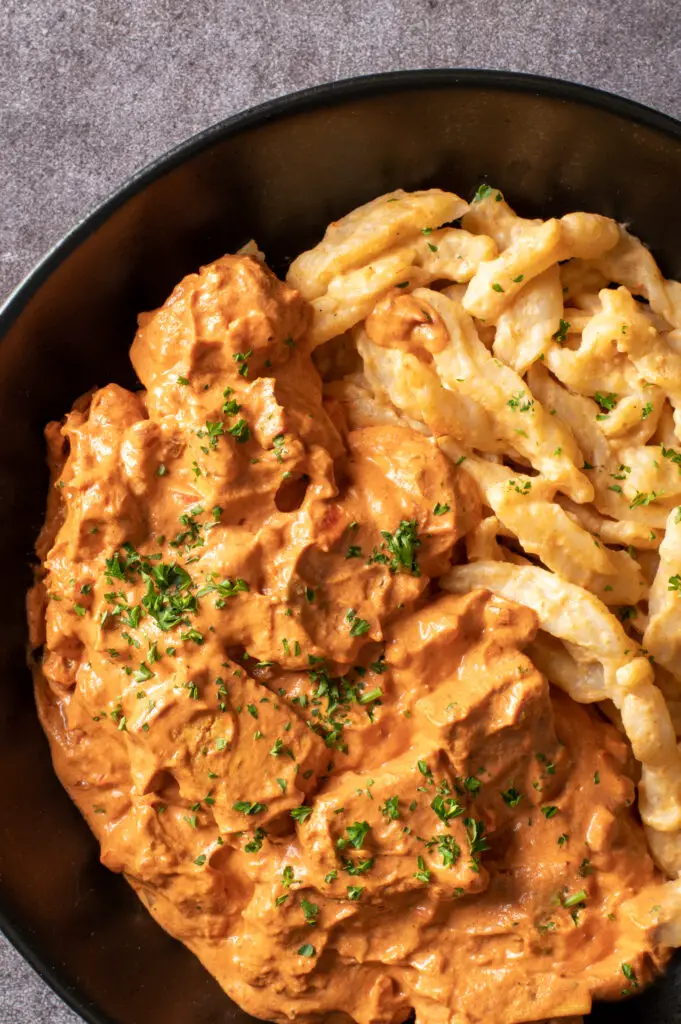 Try out this Vegan Pasta Alfredo for another wonderfully creamy comfort food. We're equally in love with this Vegan Mushroom Cream Sauce with Truffle Oil and this Vegan Butter Tofu for its deep Indian flavours.
Please let us know if you try out this Vegan Hungarian Tofu Paprikash because we just love it and hope you take the opportunity to experience all of the flavour this traditional dish offers! Leave a comment and a rating and don't forget to tag us @plantedandpicked on Instagram and hashtag it  #plantedandpicked. Remember that nothing brings people together like good food.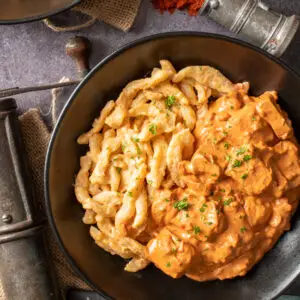 Ingredients
Tofu
8

oz

extra firm tofu

454 g

½

tsp

fine sea salt

3 ml

¼

tsp

black pepper, freshly ground

1 ml

2

tsp

sweet Hungarian paprika

5 ml

1

tsp

smoked paprika

5 ml

½

tsp

cayenne pepper

3 ml

1

tbsp

extra virgin olive oil

15 ml
Paprikas
2

tsp

extra virgin olive oil

10 ml

¾

cup

yellow onion, diced

180 ml

1

cup

red bell pepper, diced

240 ml

1

tbsp

garlic, minced

15 ml

¾

tsp

fine sea salt

4 ml

¼

tsp

black pepper

1 ml

3

tbsp

sweet Hungarian paprika

45 ml

14

oz

can of crushed tomatoes

400 ml

⅔

cup

vegetable broth

160 ml

1½

cup

vegan sour cream

home-made is best

½

cup

plant-based mylk

we used soy
Nokedli (Noodle) Dumplings
2

cups

all-purpose flour

340 g

2

tsp

powdered egg replacer

8 ml

1

tsp

fine sea salt

10 ml

1⅓

cups

warm water

300 ml
Instructions
Tofu
Drain and press block of tofu for a minimum of 30 minutes. Remove tofu from press and dry off with a clean towel. Cut into bite-sized peices and set aside. Rather than cube it, we like to cut it into about 1/2" thick rectangular pieces – thick Lego block size!

Mix sea salt, black pepper, Hungarian paprika, smoked paprika and cayenne pepper in a medium-sized mixing bowl and toss tofu to coat evenly.

Drizzle olive oil over seasoned tofu and sauté for 10-12 minutes in a heavy pan until surface starts to brown and remove from pan.
Vegetables
Sauté onion, red bell pepper and garlic with fine sea salt in olive oil over medium heat in the same pot used for the tofu, until tender and translucent (approximately 5 to 7 minutes)

Add black pepper and Hungarian paprika and continue to sauté for an additional 1 to 2 minutes until fragrant and then add the crushed tomatoes and vegetable broth, stirring to combine. Cook for approximately 15 minutes to develop flavours.

Add vegan sour cream and stir to incorporate. We add just enough plant-based mylk to give the paprikas a stew like consistency, not too thick and not too runny! The half cup in the recipe is usually the right amount, but adjust as necessary.

Add the prepared tofu to the pot and reduce heat to low to keep warm while you make the nokedli.
Nokedli (Noodle) Dumplings
Bring a large pot of generously salted water to a gentle boil.

Combine flour, egg replacer and salt in a large mixing bowl and slowly add the warm water while mixing to form a smooth wet dough with a consistency about half-way between that of pancake batter and bread dough. Add additional water if the dough is too thick and a little flour if it is too runny.

Place some of the dough on a small wet cutting board and use a paring knife to scrape off small strips into the gently boiling water. After the nokedli rise to the surface, they only need about about a minute to fully cook and they can be removed with a slotted spoon or a strainer and placed in in a colander to drain. Continue in batches until all of the nokedli have been prepared.

Place the nokedli in a serving bowl and spoon just a little of the paprikas sauce over and mix to prevent the nokedli from sticking.
Serving
Serve the paprikash over or beside the nokedli and garnish with fresh parsley, thyme (optional)
Nutrition
Calories:
633
kcal
|
Carbohydrates:
93
g
|
Protein:
17
g
|
Fat:
23
g
|
Saturated Fat:
7
g
|
Sodium:
2070
mg
|
Potassium:
738
mg
|
Fiber:
7
g
|
Sugar:
15
g
|
Vitamin A:
4894
IU
|
Vitamin C:
60
mg
|
Calcium:
127
mg
|
Iron:
7
mg