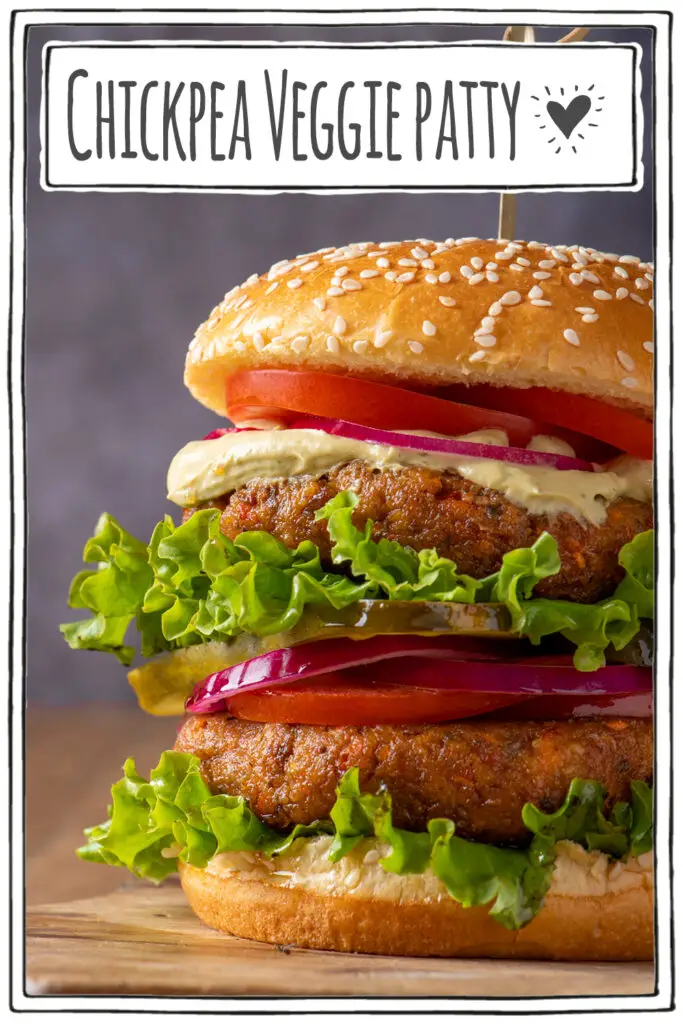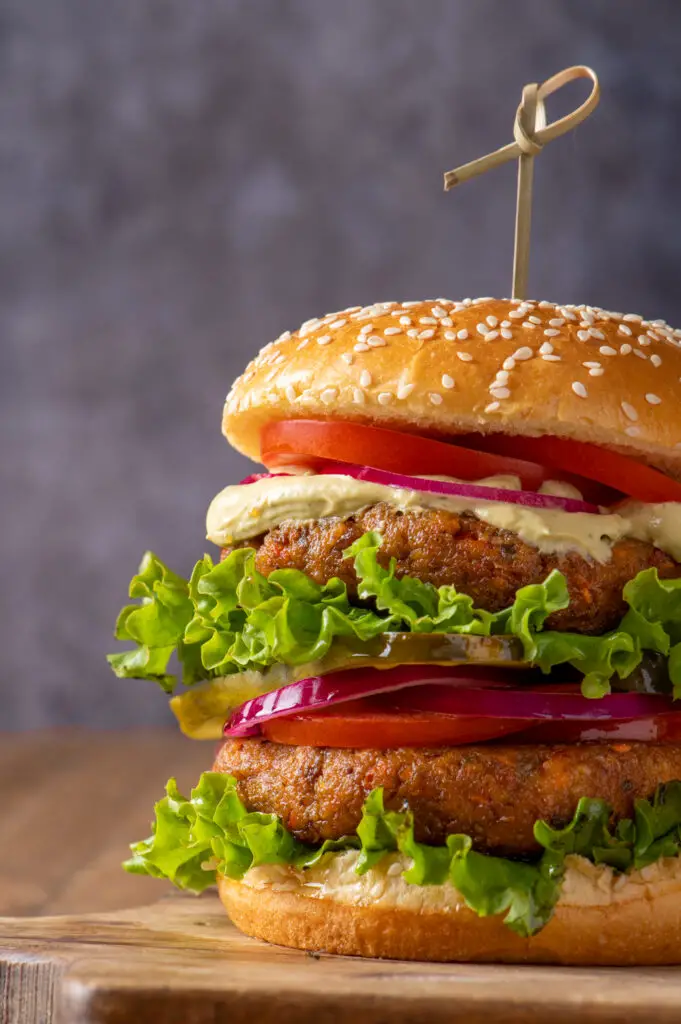 These flavourful vegan Chickpea Veggie Patties are great in a burger, with salads or as a side with your favourite vegetables. They are protein rich, healthy and flavoured by veggies, almond butter, herbs and spices.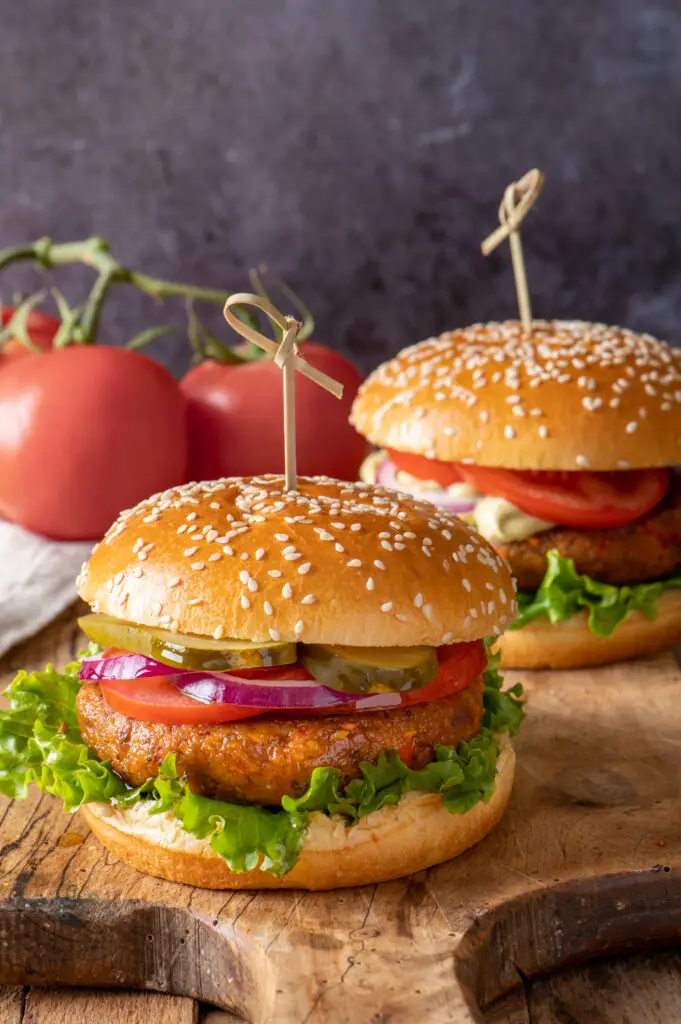 Many veggie burgers you buy at the supermarket can be filled with processed ingredients, added oils and preservatives so it is always good to have a good veggie patty recipe at your disposal.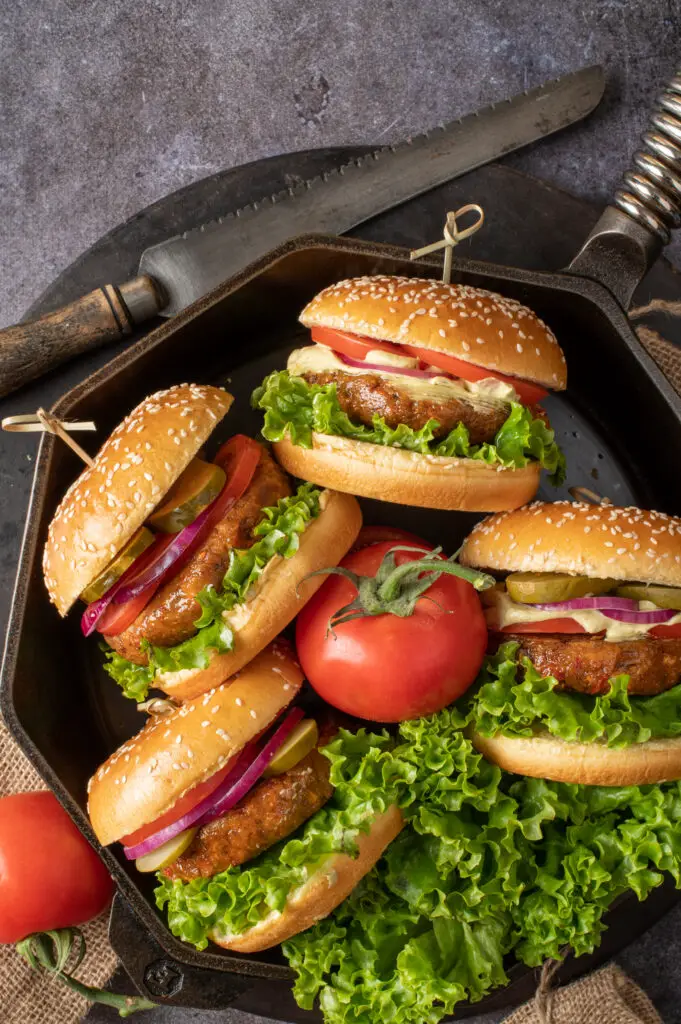 Chickpeas are the star of these Chickpea Veggie patties and are a powerhouse in nutrition. They are protein and fibre rich. Chickpeas contain both soluble and insoluble fibre. The insoluble fibre acts like a broom to sweep the intestines while the soluble fibre helps to bind LDL (bad) cholesterol as well as excess hormones, in your digestive system and removes it from the body.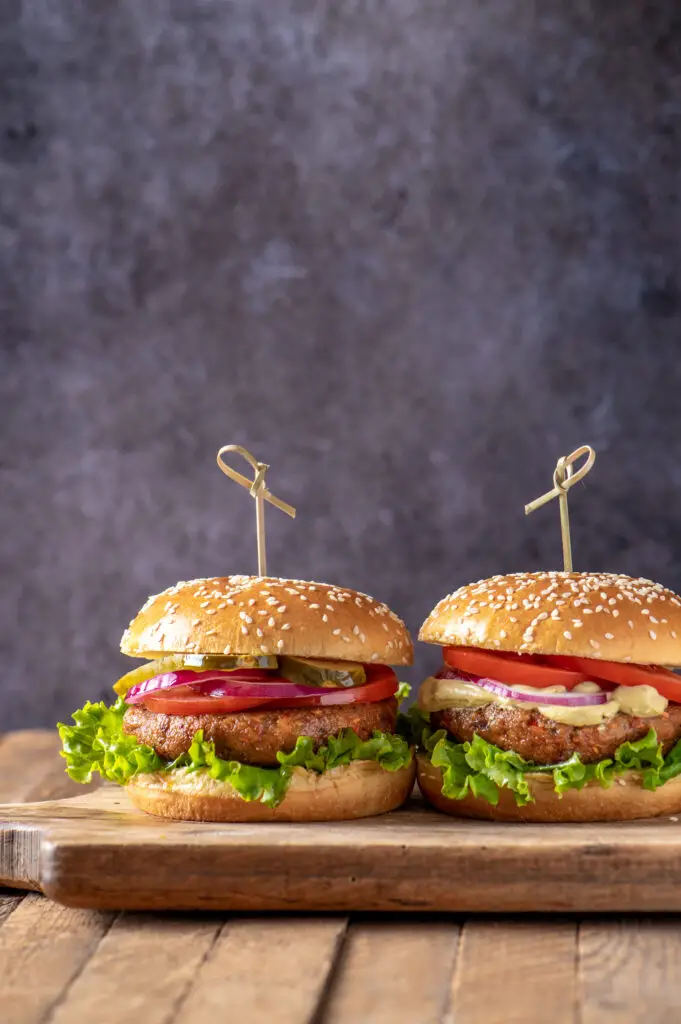 Chickpeas also contain many minerals such as iron and zinc which is key for a healthy immune system. For more information on the benefits of chickpeas and other legumes, see our Wellness Post The Health benefits of Beans.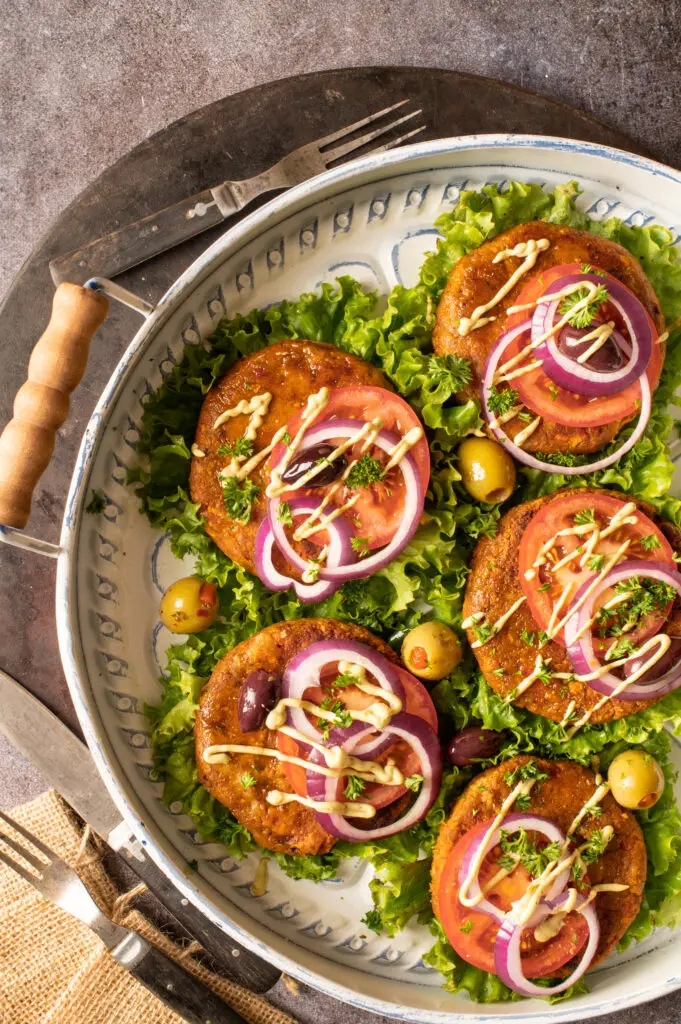 The raw almond butter in these chickpea veggie patties acts as a binder but also adds nutrition to this dish. Almonds are rich in monounsaturated fats which are heart healthy. They are also a very good source of magnesium, iron and vitamin E which is an antioxidant vitamin. We like to use Raw almond butter which means that is has not been heated or processed so retains more of the nutrients.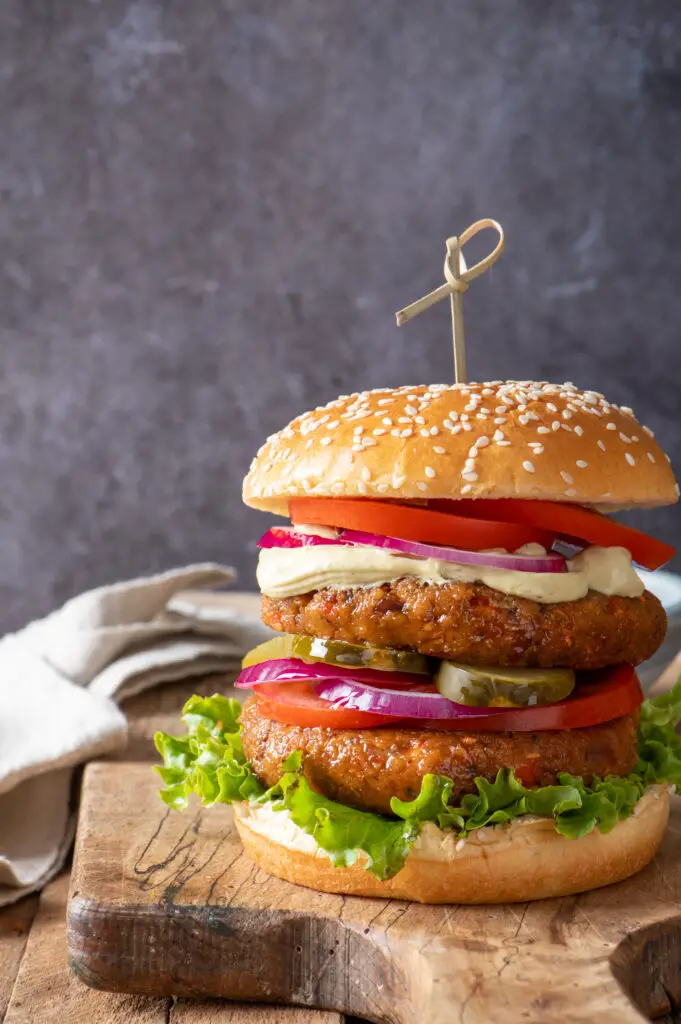 Our meatless Italian Style Lentil Meatballs are also a great meal-prep option for a quick weeknight meal. Add them to this Simple Weeknight Marinara Sauce or to this One Pot Lentil Bolognese for an extra boost of protein. If you are looking for more veggie burger inspiration, try this Black Bean Veggie Burger.
If you try this Chickpea Veggie Patty recipe, please let us know what you think. We are always eager to learn how our recipes work out for those that try them. Leave a comment and a rating and don't forget to tag us @plantedandpicked on Instagram and hashtag it  #plantedandpicked. Don't forget to make some fries too!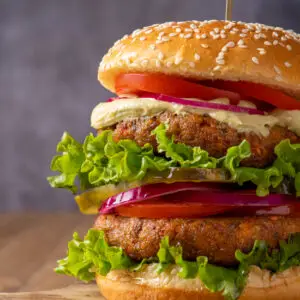 Ingredients
2

tsp

olive oil

½

cup

onions, diced

½

cup

sweet peppers, diced

1

cup

mushrooms, diced

2

large

garlic cloves

1

tsp

sea salt, divided

2

cups

cooked chickpeas (540ml can)

1

tsp

paprika

1

tsp

garlic powder

2

tsps

oregano

½

tsp

ground cumin

1

tbsp

tamari

¼

cup

gluten free flour blend (or other flour such as rice or spelt)

½

cup

sweet potato, grated

½

cup

raw almond butter
Instructions
Dice onions, peppers and mushrooms. Mince garlic.

Peel and grate sweet potato.

If using canned chickpeas, drain and rinse the chickpeas. Choose chickpeas that are salt free and in a BPA free can such as the Eden Organic brand.

Heat oil in a medium pan. You can water sauté if you prefer.

Add the onions, peppers, mushrooms and garlic to the pan. Add 1/2 tsp sea salt. Add paprika, cumin and oregano. Sauté, stirring frequently for about 7 minutes or until the moisture from the mushrooms evaporates.

Turn off heat and set aside.

In a food processor, pulse the chickpeas. They should still have some texture.

Add the flour, tamari, 1/2 tsp sea salt, flour, garlic powder, almond butter and veggies. Pulse again until the mixture comes together.

Scoop chickpea mixture into 5 patties of about ½ cup each. You can also make these patties smaller if you would like to use them with salads etc.

These patties can be baked at 375°F for about 15 minutes or Sautéed in a frying pan with a little oil.

If frying, heat enough oil on medium heat to coat the pan. Add the patties. Fry for about 4 minutes on each side.

If baking in the oven, bake for about 15 minutes, turning over about halfway through.

You can make these patties in advance as part of meal prep and reheat them to add to meals throughout the week.
Nutrition
Calories:
336
kcal
|
Carbohydrates:
36
g
|
Protein:
13
g
|
Fat:
18
g
|
Saturated Fat:
1
g
|
Sodium:
483
mg
|
Potassium:
585
mg
|
Fiber:
10
g
|
Sugar:
9
g
|
Vitamin A:
2420
IU
|
Vitamin C:
24
mg
|
Calcium:
152
mg
|
Iron:
4
mg