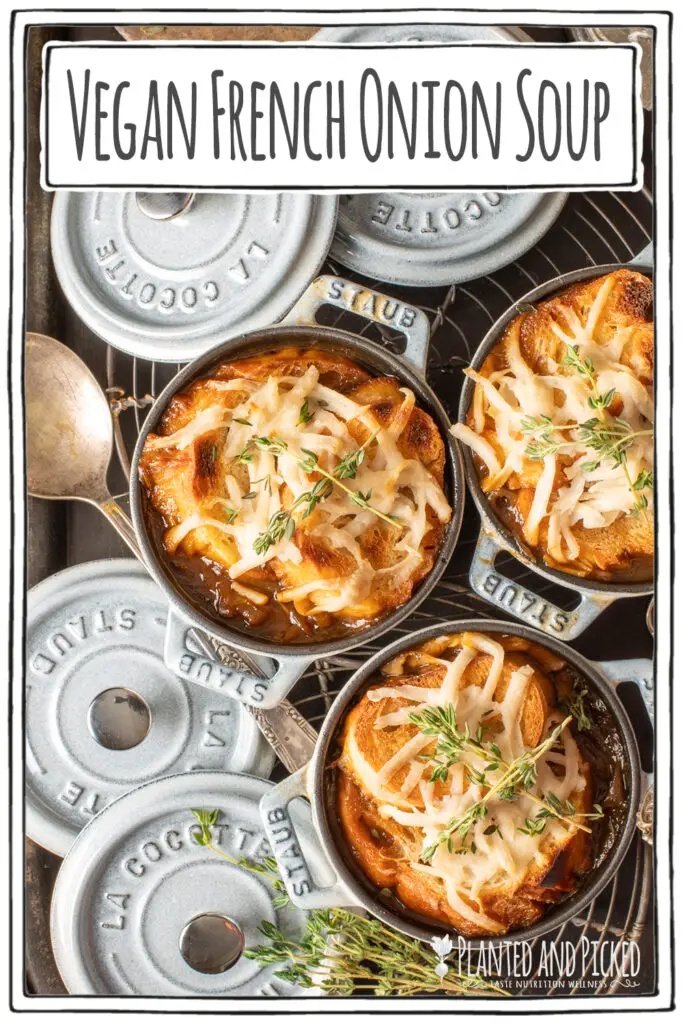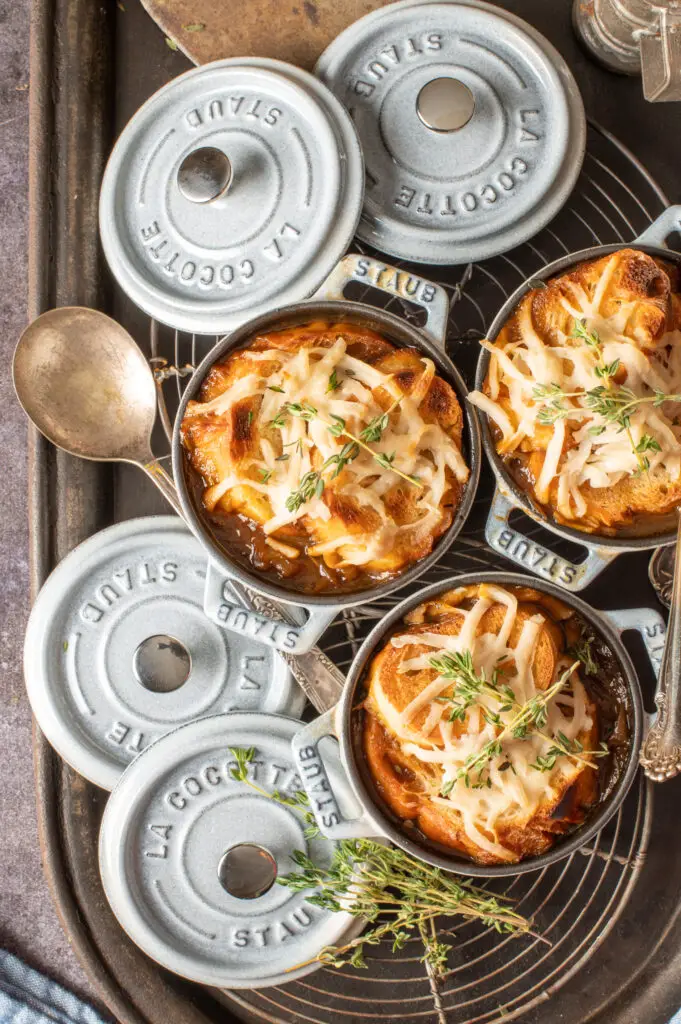 This Vegan French Onion Soup will warm you up as we enter into the cooling days of fall. If you're like us, you probably love the warm, comforting taste of a hot bowl of soup when it's cool outside. We love making soups and homemade is really the best way to enjoy them.
The Broth in our Vegan French Onion Soup
Julia Child said to her viewers in her 1960's television cooking show, The French Chef, that if you are going to use store-bought stock to make your french onion soup, you may as well just buy french onion soup. We often use a good quality vegetable stock from the grocer when we're preparing soups and stews. However, the stock is often not such a key part of the flavour profile. It's a much different story with french onion soup. Your soup will only taste as good as your both and the caramelized onions that you take the time that is necessary to prepare.
You can certainly use store-bought vegetable stock in a pinch. However, we highly recommend that you consider making our Easy Homemade Vegetable Broth, pictured below, that we put up on the blog just recently. Prepare it a day (or more) ahead and your french onion soup will be next level!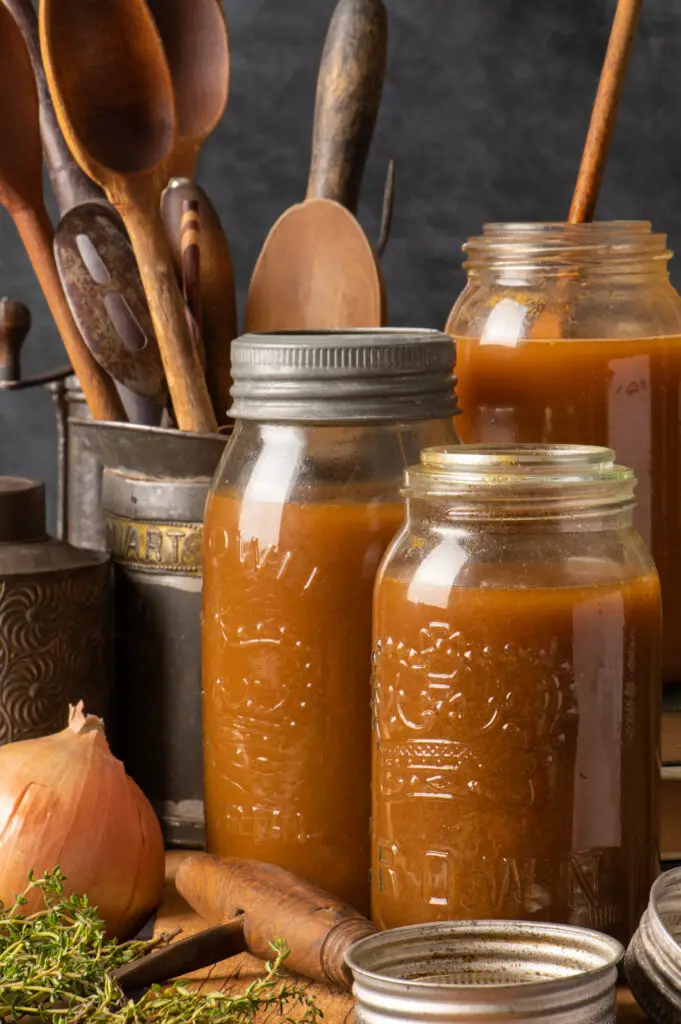 Caramelizing Onions
If you are looking at recipes for french onion soup that suggest that onions can be caramelized in 30 minutes, please look a little further. Caramelizing onions requires a minimum of 45 minutes and up to 1 hour and 15 minutes. The length of time really does depend on how browned and how sweet you would like them to be. For this soup, we would suggest a minimum of 1 hour. The process slowly brings out the deep, rich and sweet flavour as the natural sugars in the onions caramelize. There is no need to add refined sugar. With a little patience and 4 tbsp of vegan butter, we caramelized 3 lbs of onion in two iron skillets in 1 hour and 15 minutes. The results are shown below.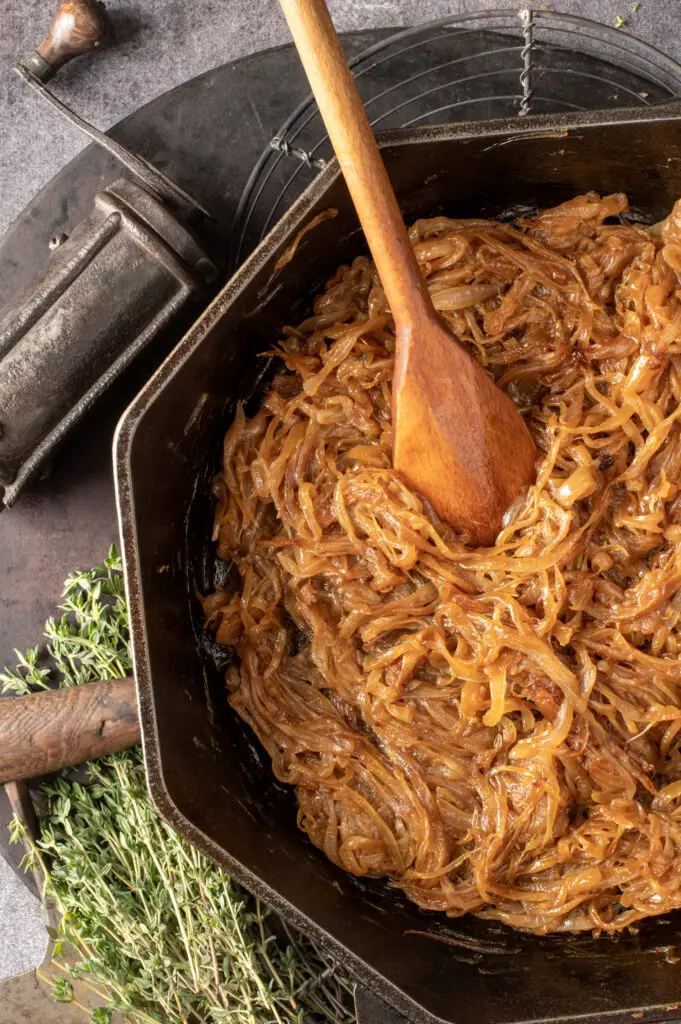 Simmering to Develop Flavours
We deglazed with white wine to loosen any browned onion sticking to the skillets, before transferring the contents of both skillets to a dutch oven or 'cocotte'. We then added 8 cups of our prepared and re-heated vegetable broth to the soup pot. Tie the springs of fresh thyme together as a 'bouquet garni' and add these to the pot as well. This makes it easier to remove the stalks when the soup is done. Finally, we tossed in 2 bay leaves. After bringing the soup to a slow simmer over about 10 minutes, we covered the pot and left it for 30 minutes to further develop the flavours and infuse the herbs.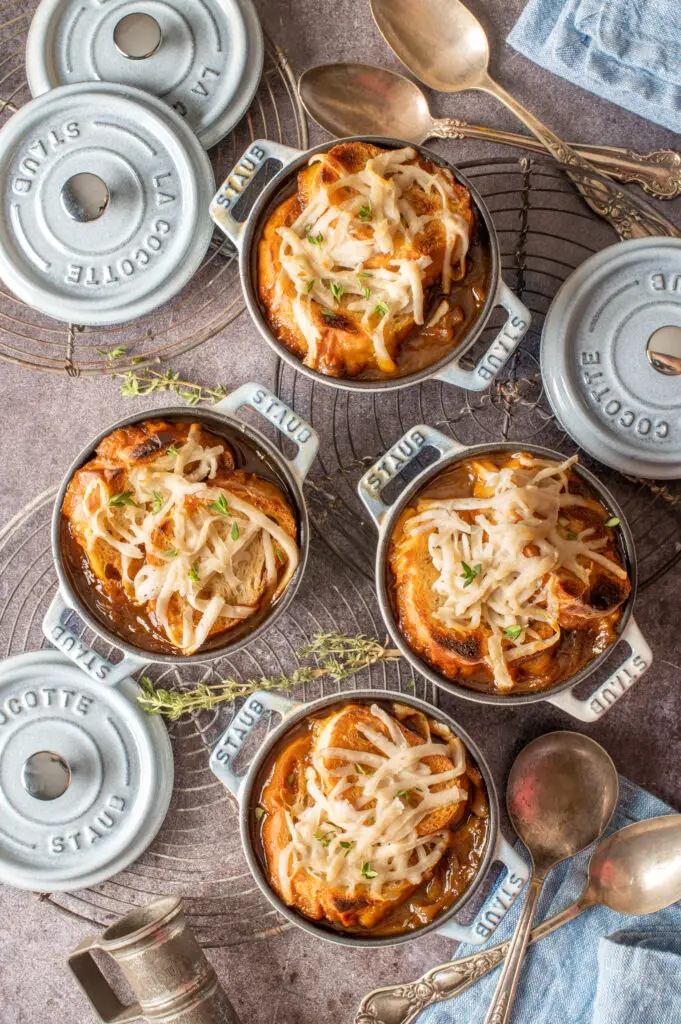 Topping off Your French Onion Soup
We used some toasted baguette slices and some cashew based mozzarella to top off our french onion soup in typical fashion. Grate the cheese over the toasted baguette slices sitting atop the soup and place under the broiler. We totally splurged on these miniature cast iron cocottes to serve the soup. Just make sure that whichever bowls you serve your soup in are also oven safe.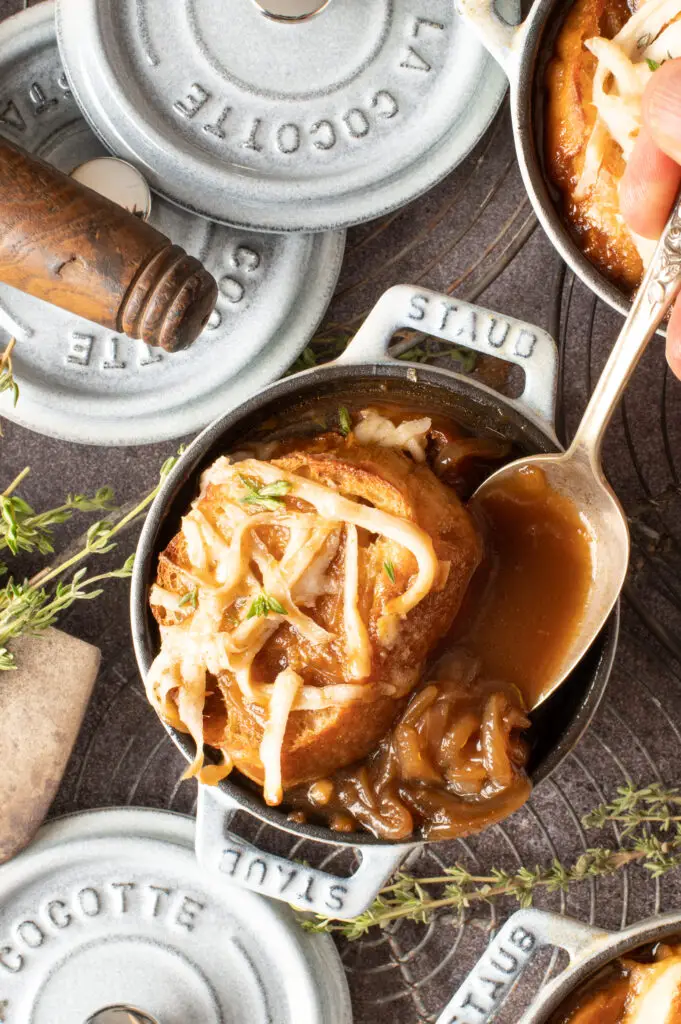 If you're in soup mode, try this warming Creamy Vegan Corn Chowder or one of our other favourite soups . . . Curried Cauliflower and Wild Rice Soup, Homemade Mushroom Soup,  Velvety Beet Soup, Italian Minestrone Soup, Roasted Squash and Pear Soup, Spiced Red Lentil Soup, Fire Roasted Tomato Soup or Warming Carrot Ginger.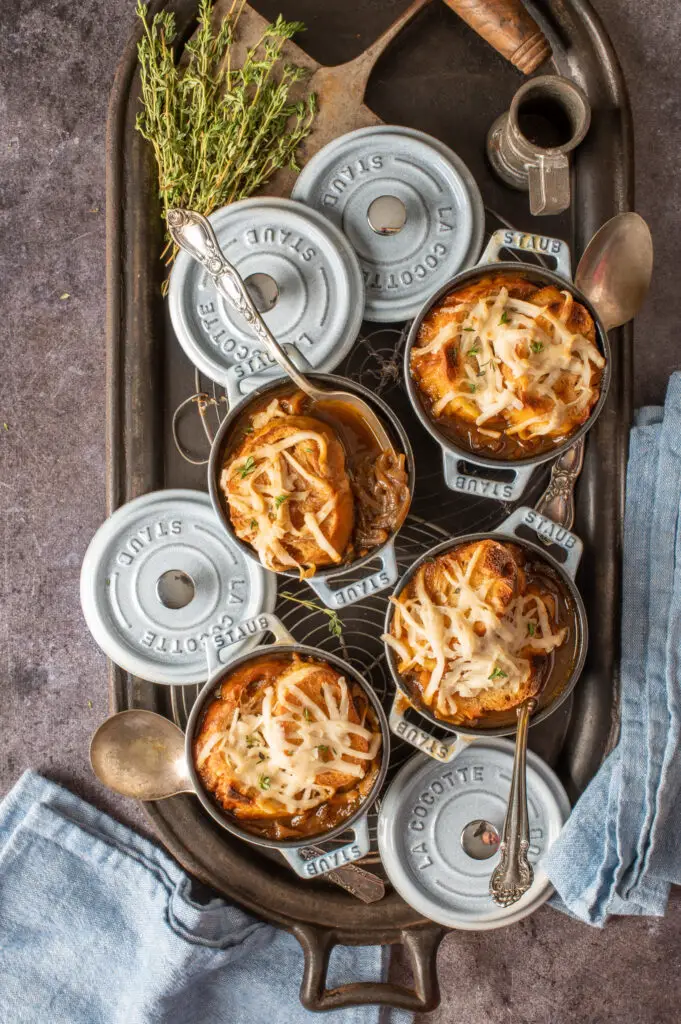 This Vegan French Onion Soup is full of depth and richness! Try it and let us know in the comments below what you think. Don't forget to also leave a rating and snap a photo. Show us yours by tagging us @plantedandpicked on Instagram and hashtag it #plantedandpicked. "Cooking is like love. It should be entered into with abandon or not at all" – Harriet Van Horne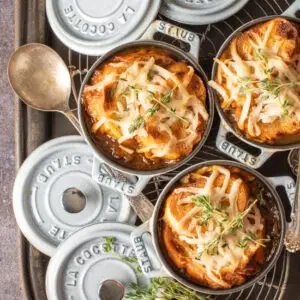 Ingredients
3

lbs

yellow onions

1.36 kg

¼

cup

vegan butter

60 ml

¾

tsp

fine sea salt

3 ml

¾

cup

dry white wine

180 ml

8

cups

vegetable broth

1.92 L Homemade is best

5

sprigs

fresh thyme

2

bay leaves

1

tbsp

vegan Worcestershire sauce (optional)

15 ml

baguette slices, toasted (optional)

vegan cheese, grated (optional)
Instructions
Peel and halve onions through the core and slice the halves in ¼" wedges, removing the core at the root end.

Heat the vegan butter, split between two skillets or heavy pans, over medium heat. Add the onions to the pans and season with the sea salt. Using a couple of wooden spoons, toss the onions to evenly coat them in the vegan butter.

Stir the onions occasionally to ensure that they are not sticking and to evenly cook all of the onions.

As the onions begin to release water and brown or caramelize, you will need to reduce the heat to medium-low and stir more often. If necessary, sprinkle a little water in the pans to prevent sticking and burning.

While the onions are caramelizing, heat your vegetable broth and prepare your fresh thyme and bay leaves. As indicated in the post, homemade vegetable broth results in the best flavour.

After caramelizing the onions for at least an 1 hour, but up to 1 hour 15 minutes, deglaze the skillets for about 5 minutes, with the wine split between the two pans.

Transfer the contents of the skillets to a heavy soup pot or dutch oven and add the warmed vegetable broth, fresh thyme, bay leaves and Worcestershire sauce, if using.

Bring the soup to a simmer and cover for approximately 30 minutes before tasting.

You can portion the soup into individual soup bowls and top with toasted rounds of baguette and vegan cheese and place these under a broiler to melt the cheese. Alternatively, you can place the toasted baguette rounds and cheese atop the soup in the pot and place this under the broiler. Simply serve the soup from the pot with a ladle, into bowls as soon as it is ready.
Nutrition
Calories:
189
kcal
|
Carbohydrates:
27
g
|
Protein:
3
g
|
Fat:
6
g
|
Saturated Fat:
2
g
|
Polyunsaturated Fat:
2
g
|
Monounsaturated Fat:
2
g
|
Trans Fat:
1
g
|
Sodium:
1643
mg
|
Potassium:
383
mg
|
Fiber:
4
g
|
Sugar:
13
g
|
Vitamin A:
1075
IU
|
Vitamin C:
19
mg
|
Calcium:
62
mg
|
Iron:
1
mg