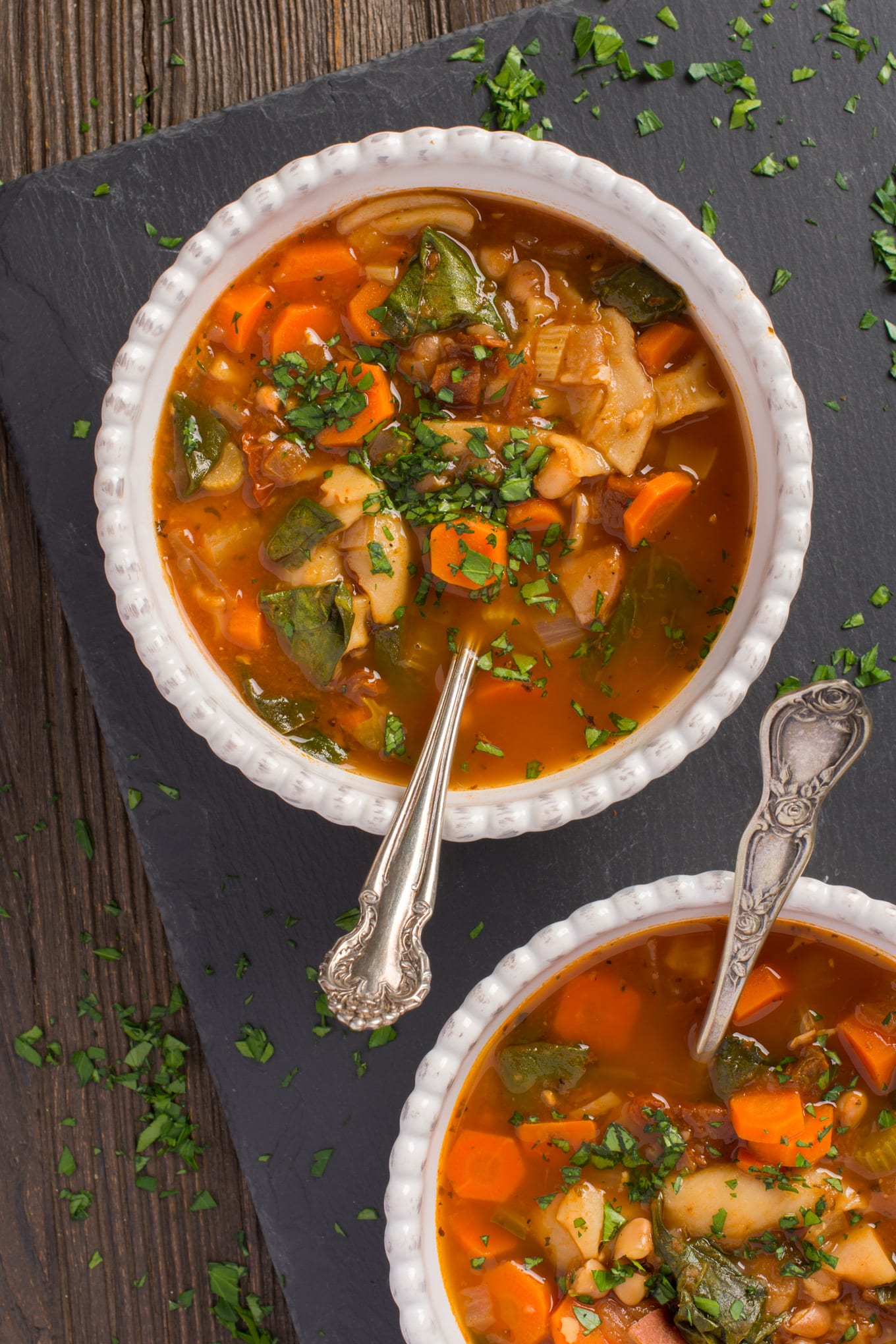 This classic Italian minestrone soup is true comfort food and is packed with antioxidant rich vegetables, plant protein and healthy greens. Therefore, it's one of our go-to soups for lunch or light dinner.
Pasta Choices For This Classic Italian Minestrone Soup
You can make this classic Italian minestrone soup gluten free by using your favourite gluten free (GF) pasta in the recipe. Our favourite GF pasta brand is GoGo Quinoa. Depending on the type of pasta that you use, it may affect the liquid content in the soup as some pastas tend to absorb more of the broth. We suggest holding back one cup of the broth and checking at the end whether to add it in. It also depends on how thick you like your soup. We prefer ours on the thinner side. You can also leave the pasta out completely if you prefer a lighter soup. Sometimes we do this and reduce the vegetable broth by 1 cup.
About the Veg . . .
This recipe includes sun-dried tomatoes, which add flavour and richness to this soup. We also use Muir Glen organic fire roasted crushed tomatoes in this soup because they add a little more depth of flavour than just plain tomatoes. If you are making this classic Italian minestrone soup in the summer and have ripe fresh tomatoes, feel free to use those instead. You can also make this soup a little more summery by substituting zucchini for the potato. Instead of spinach, feel free to substitute any of your favourite greens such as swiss chard or kale. We make this soup a lot and we typically use whichever greens we have on hand.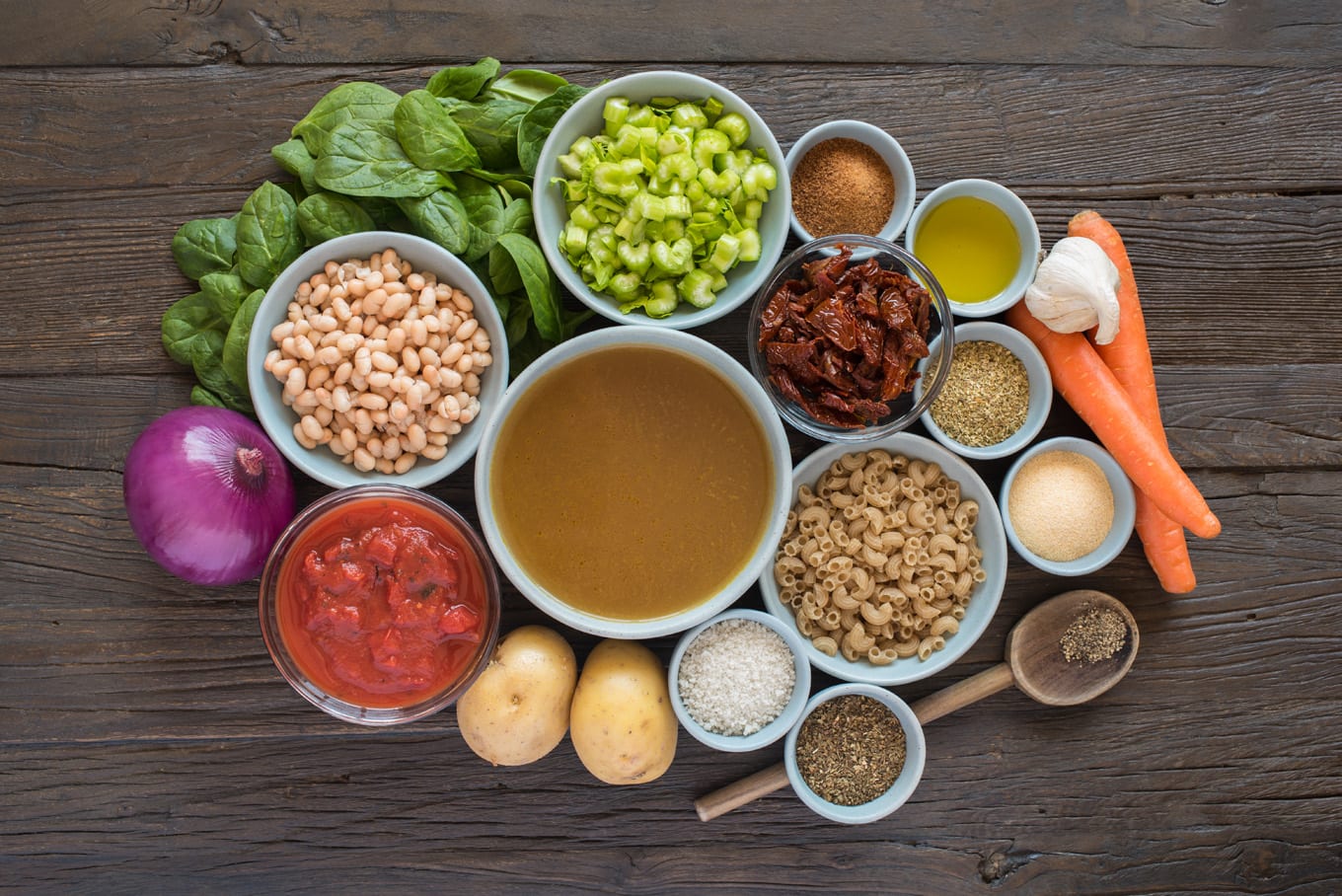 We like to top this classic Italian minestrone soup with some Nut free Vegan Parmesan Cheese. Our version is also full of healthy fats and vitamin B12 rich nutritional yeast.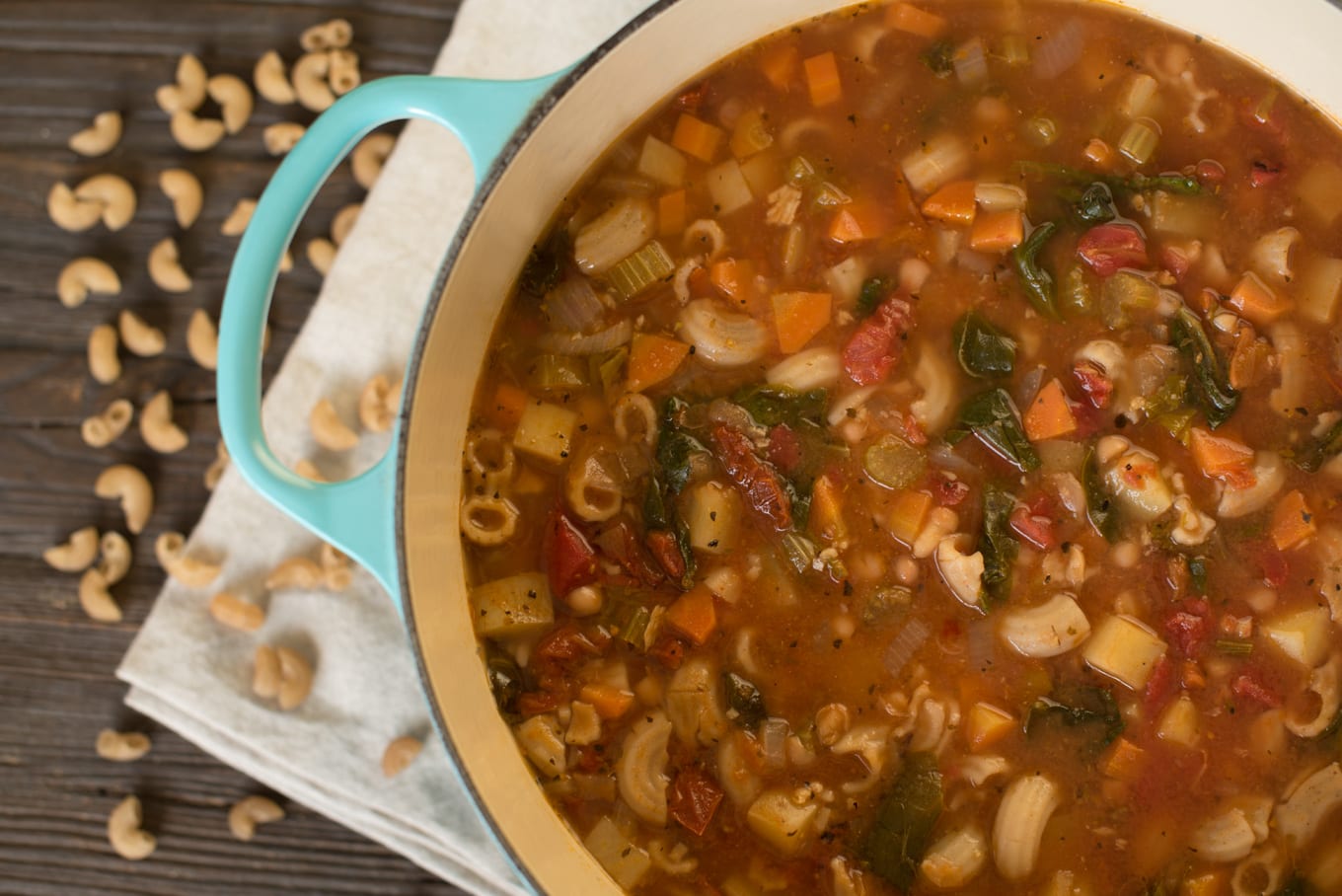 If you liked this classic Italian minestrone soup and you're looking for some other ideas, head on over to one of these great choices . . . Quick and Easy Black Bean Soup, Roasted Squash and Pear Soup, Spiced Red Lentil Soup, Fire Roasted Tomato Soup or Creamy Vegan Corn Chowder.
Let us know if you make bowl of comfort. It's always nice to hear from our readers. Leave a comment and a rating and don't forget to tag us @plantedandpicked on Instagram and hashtag it  #plantedandpicked. There's a seat at our table for all who are hungry!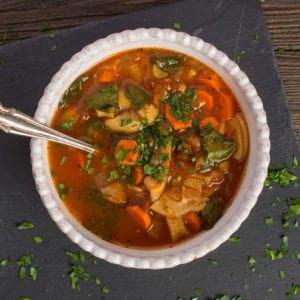 Ingredients
1

tbsp

extra virgin olive oil (EVOO)

1

cup

red onion, diced

1½

tsp

sea salt

¼

tsp

black pepper

2

garlic cloves, minced

1½

cups

carrots, diced

1

cup

celery, diced

1

28oz can

crushed fire roasted tomatoes or diced tomatoes

6

sundried tomatoes, sliced

1

tbsp

tomato paste

1

tbsp

oregano

1

tsp

basil

1

tsp

garlic powder

1

bay leaf

1

pinch

red chilli flakes (optional)

6

cups

organic vegetable stock divided

1

14 oz can

navy beans

½

cup

small pasta such as shells or elbows

1

tsp

coconut sugar

2

cup

spinach, firmly packed
Instructions
Heat olive oil over medium heat.

Add onions, salt and pepper and cook for about 5 minutes.


Add garlic, celery and carrots and cook for another 5 minutes. They should be slightly soft. Add tomato paste and cook for one minute longer.


Add the rest of the ingredients, holding back 1 cup of the vegetable broth and the spinach. Bring to a boil. Turn back heat to simmer, cover and simmer for about 20 minutes. Stir occasionally to ensure pasta doesn't stick to the bottom of the pot. Taste the pasta and vegetables to ensure they are soft. If not, simmer for about another 5 minutes. Taste and adjust seasoning. If you overcook the soup, the pasta will overcook.


Add the spinach and heat until wilted (a couple of minutes). If your soup is thick, add the additional cup of vegetable broth. Keep in mind, this soup will also thicken up when left over.


Optional: Serve with some vegan parmesan on top!