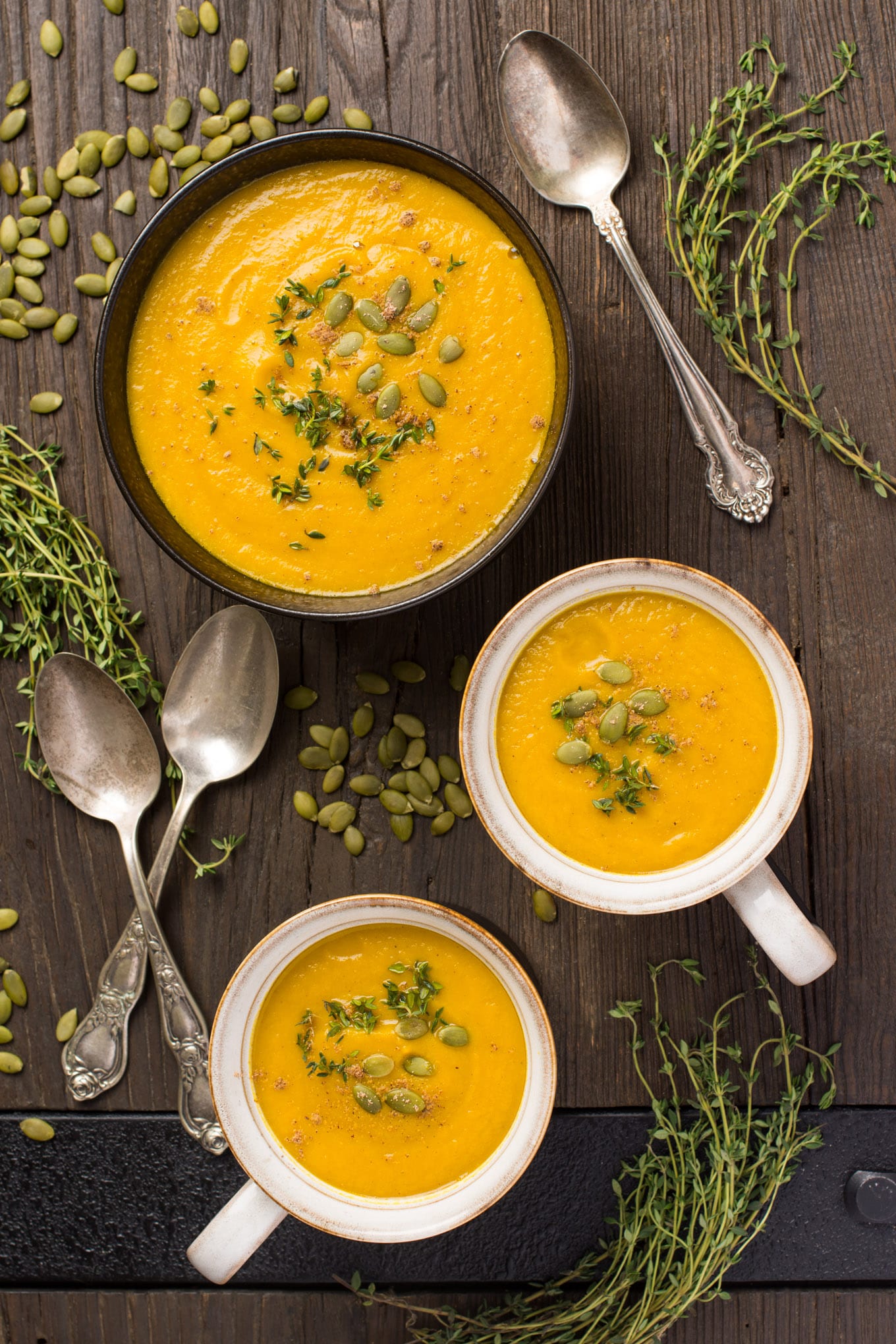 This roasted squash and pear soup boosts your immune system because the squash is an excellent source of vitamins A and C. It's perfect for a cold day and makes a hearty lunch or dinner with a toasted sandwich.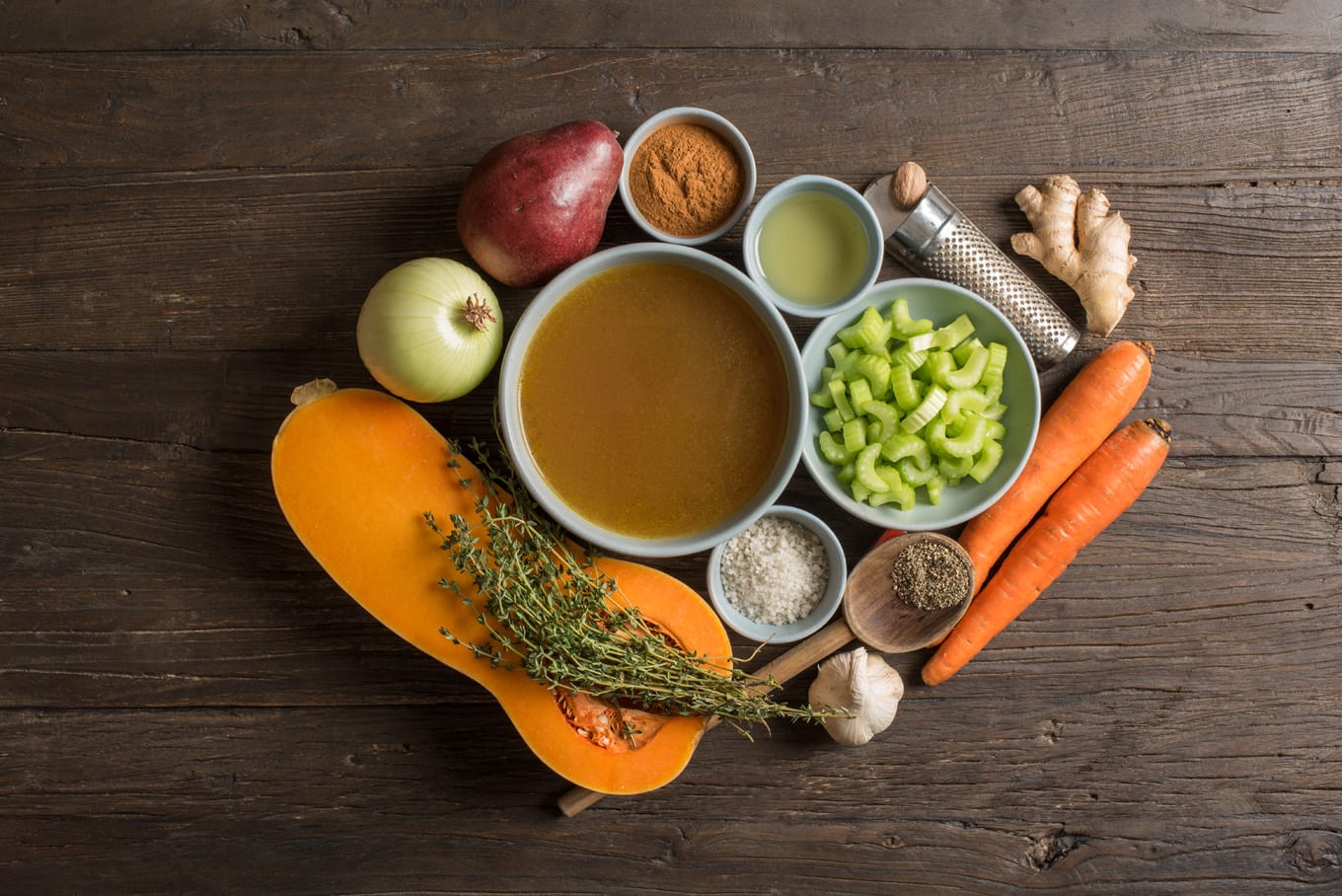 Butternut Squash Straight to Your Door
We have a standing weekly order for a basket of local organic fruits and vegetables. We belong to a farm-share because we want to put our food dollars into local farms. In this manner, they can continue to produce nutritious organic food and preserve local farmland. This is how it is meant to be.  A bin gets delivered straight to our door and the contents are always a surprise. This is because participants don't typically choose what they receive with farm shares. This week, there was a butternut squash in our bin and so this go-to roasted squash and pear soup was on the menu.
What's in this Roasted Squash and Pear Soup for You
Antioxidants help to reduce the risk of inflammation-related disorders. Squash has high levels of antioxidants and, therefore, is beneficial in managing this risk. Review our post discussing Antioxidants and Foods Containing Them for more information in this regard. On to the soup!
Roasting root vegetables and squash releases the natural sugars in the vegetables and this caramelization leads to more complex flavours and wonderful aromas. Try substituting roasted buttercup or acorn squash and using a tart apple instead of a pear to balance the sweetness of the squash in your soup.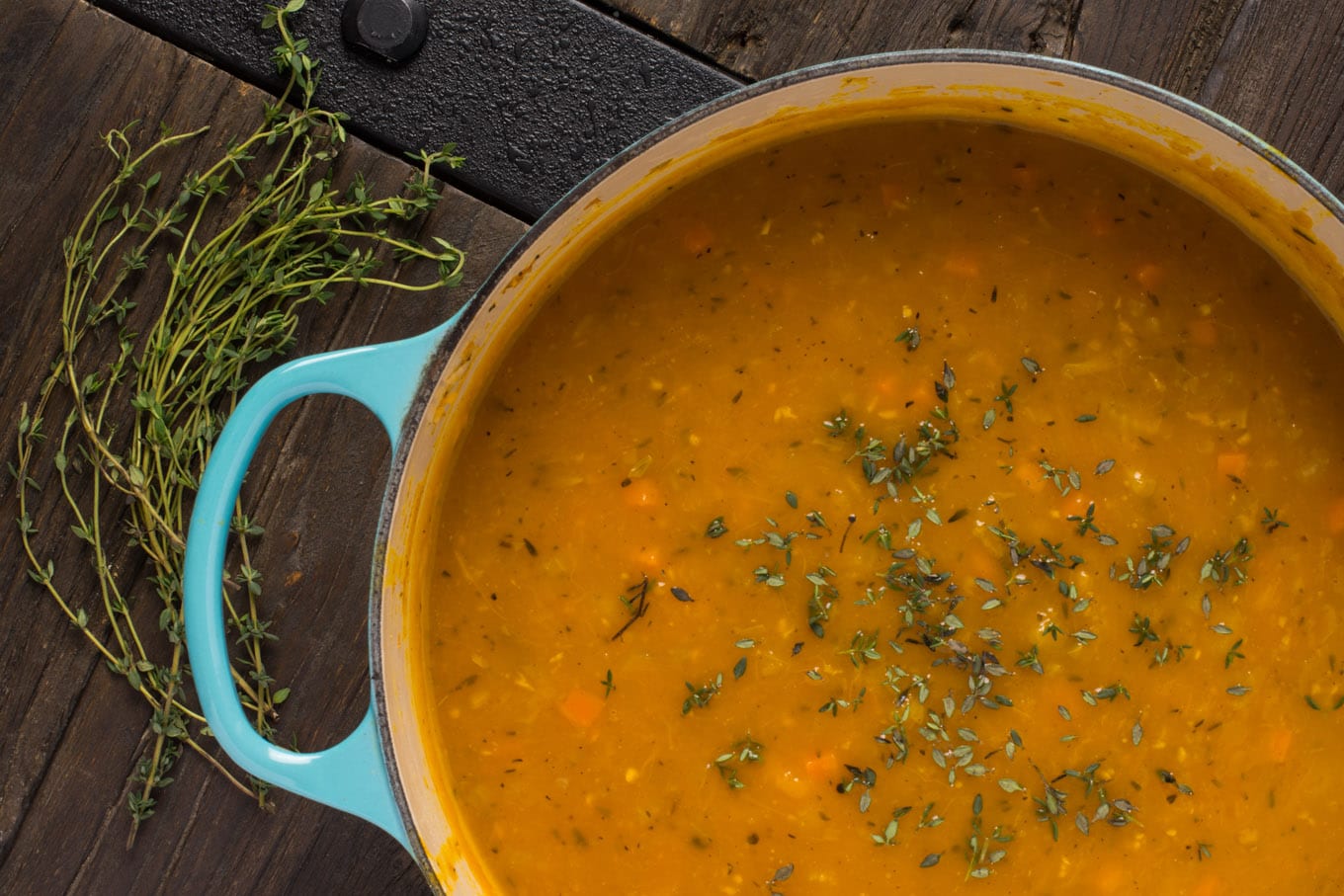 You'll be all warmed up inside with the savoury tastes of this roasted squash and pear soup that really is delicious all year round. So go ahead and get out your pot and get your soup on!
If you're craving some other soup ideas, then try one of these . . . Quick and Easy Black Bean Soup, Classic Italian Minestrone Soup, Spiced Red Lentil Soup, Fire Roasted Tomato Soup or Creamy Vegan Corn Chowder.
Let us know if you make this lovely roasted squash and pear soup. We enjoy receiving your feedback! Leave a comment and a rating and don't forget to tag us @plantedandpicked on Instagram and hashtag it  #plantedandpicked. Pull up a chair and enjoy a bowl of soup!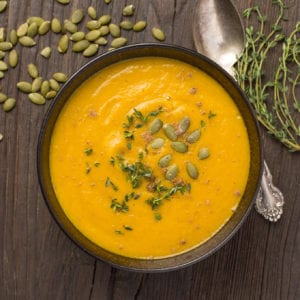 Ingredients
1

large

butternut squash

4

tsp

avocado oil divided

2

cups

yellow onion diced

1

cup

carrot diced

1

cup

celery diced

3

tsp

garlic minced

1.5

tsp

fresh ginger grated

1.5

tsp

sea salt

1/4

tsp

freshly ground black pepper

6

cups

vegetable broth

1

pear peeled cored and diced

1/2

tsp

cinnamon

2

tbsp

fresh thyme leaves (or one-third amount if using dried)

1/2

tsp

grated nutmeg
Instructions
Preheat oven to 350 degrees.

Cut squash lengthwise and remove all seeds and dark orange stringy pulp. Rub insides of squash with approximately one fourth of the avocado oil (1 tsp as per the original recipe) and season with salt and pepper. Roast squash cut side down for up to an hour or until fork tender. Spoon squash flesh into a bowl when cooled slightly and set aside.

While squash is roasting, prepare the mirepoix, the french name given the common soup base of 2 parts onion, 1 part carrot and 1 part celery.

Heat the remaining avocado oil (3 tsp as per the original recipe) over medium heat in a heavy pot. Add the onion, carrot and celery dice together with the minced garlic and grated ginger to the heated oil and season with one third of the sea salt (1/2 tsp as per the original recipe). S

auté for 8 to 10 minutes or until the mirepoix is tender and the onions are translucent.

Add all remaining ingredients, including the remaining sea salt to the pot with the sautéed vegetables and bring to a boil before reducing heat to medium low and simmering for 20 minutes.

Blend the soup in batches in a blender and return to pot. While you could use an immersion blender, we prefer the smoother texture resulting from the use of a blender.

Taste and adjust seasoning, adding a little sea salt if necessary. As different vegetable stocks have varying amounts of sodium, this may be necessary. We use a low sodium variety and did not find it necessary.

You can garnish your soup with some freshly ground nutmeg and a dollop of our vegan sour cream when serving, if desired.