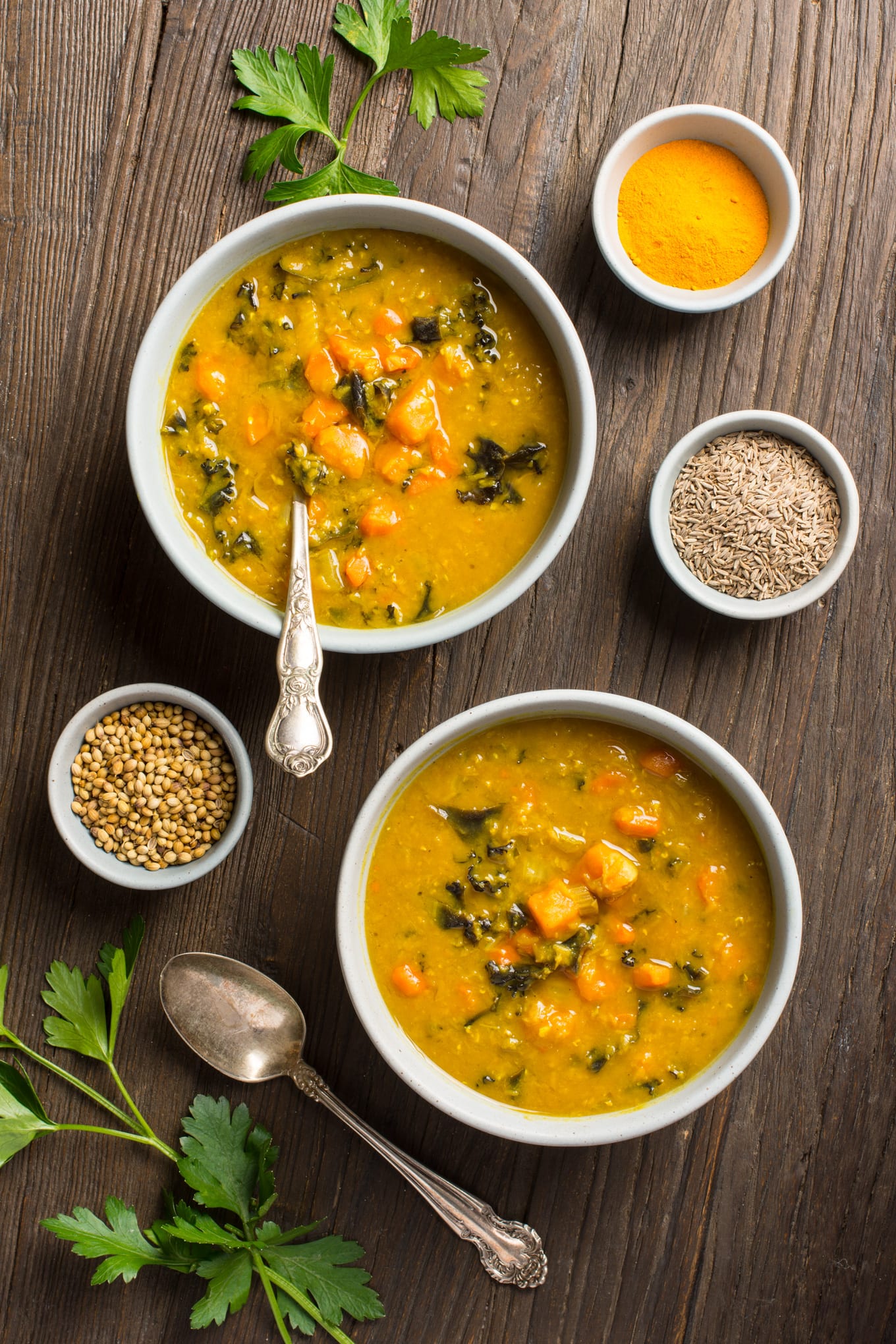 Let's have a bowl of this spiced red lentil soup to warm our souls with immune-boosting, protein and fibre-packed deliciousness.
 What's in it for You With this Spiced Red Lentil Soup?
Lentils are high insoluble fibre and are, therefore, effective in lowering blood cholesterol levels. Also high in folate and magnesium, they can contribute to improved heart health. The sweet potatoes in this spiced red lentil soup are high in beta-carotene, which can boost your immune system. The turmeric is a fantastic anti-inflammatory and pairing it with a little black pepper enhances turmeric's absorption and benefits. As a result, this soup is not only great-tasting, it checks lots of boxes on the health charts.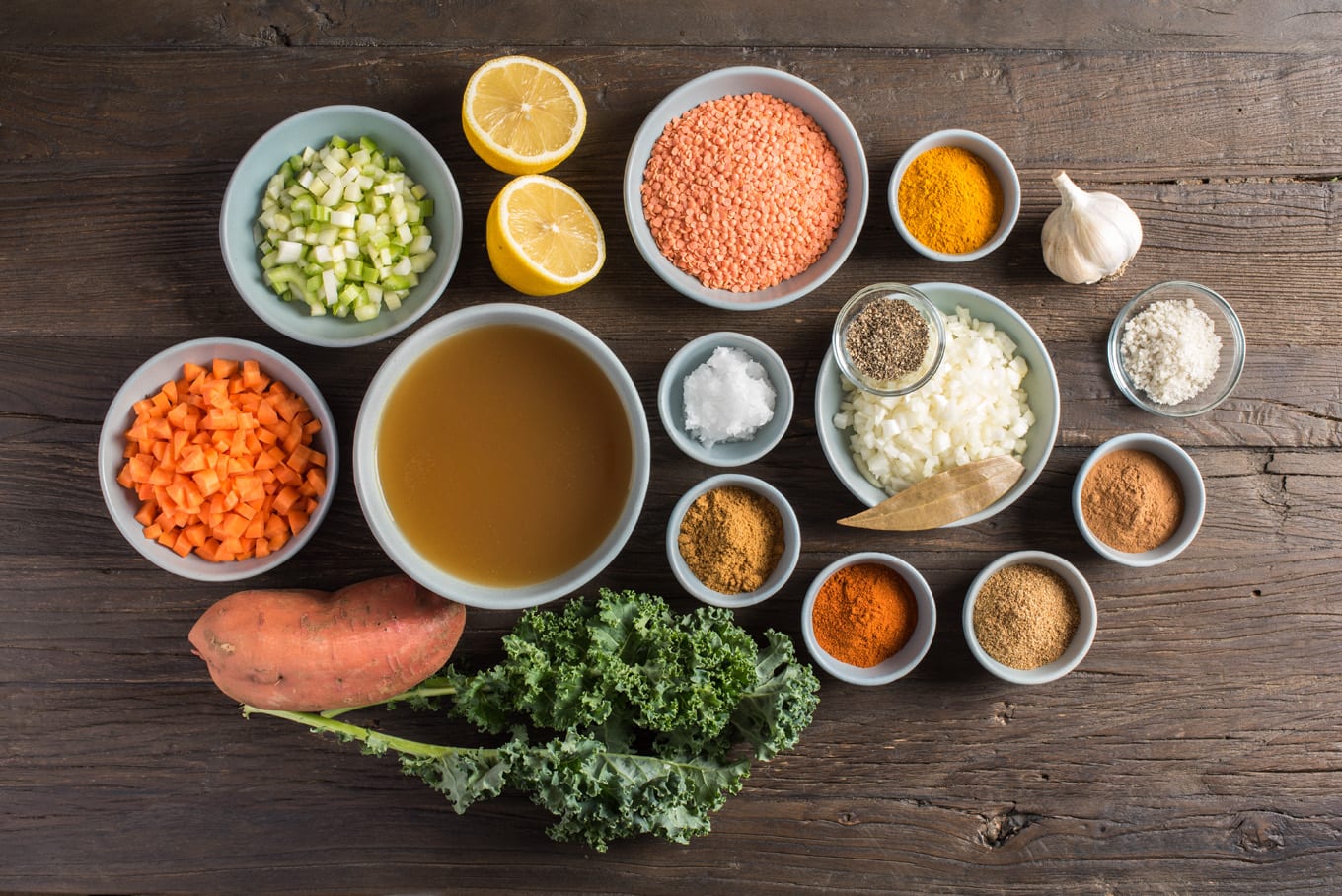 Healthy and Convenient . . .
We love this spiced red lentil soup with a big slice of sourdough bread. We like to make a couple a soups on weekends, particularly during the cooler months. They can be stored in the refrigerator in mason jars and pulled out for lunch during the week. With busy schedules, the kids have access to soup to warm up and take to school in their thermos and we can enjoy a warm bow over a lunch break when we're working at home. Just put it in a small pot, warm it up and we have instant comfort and nutrition.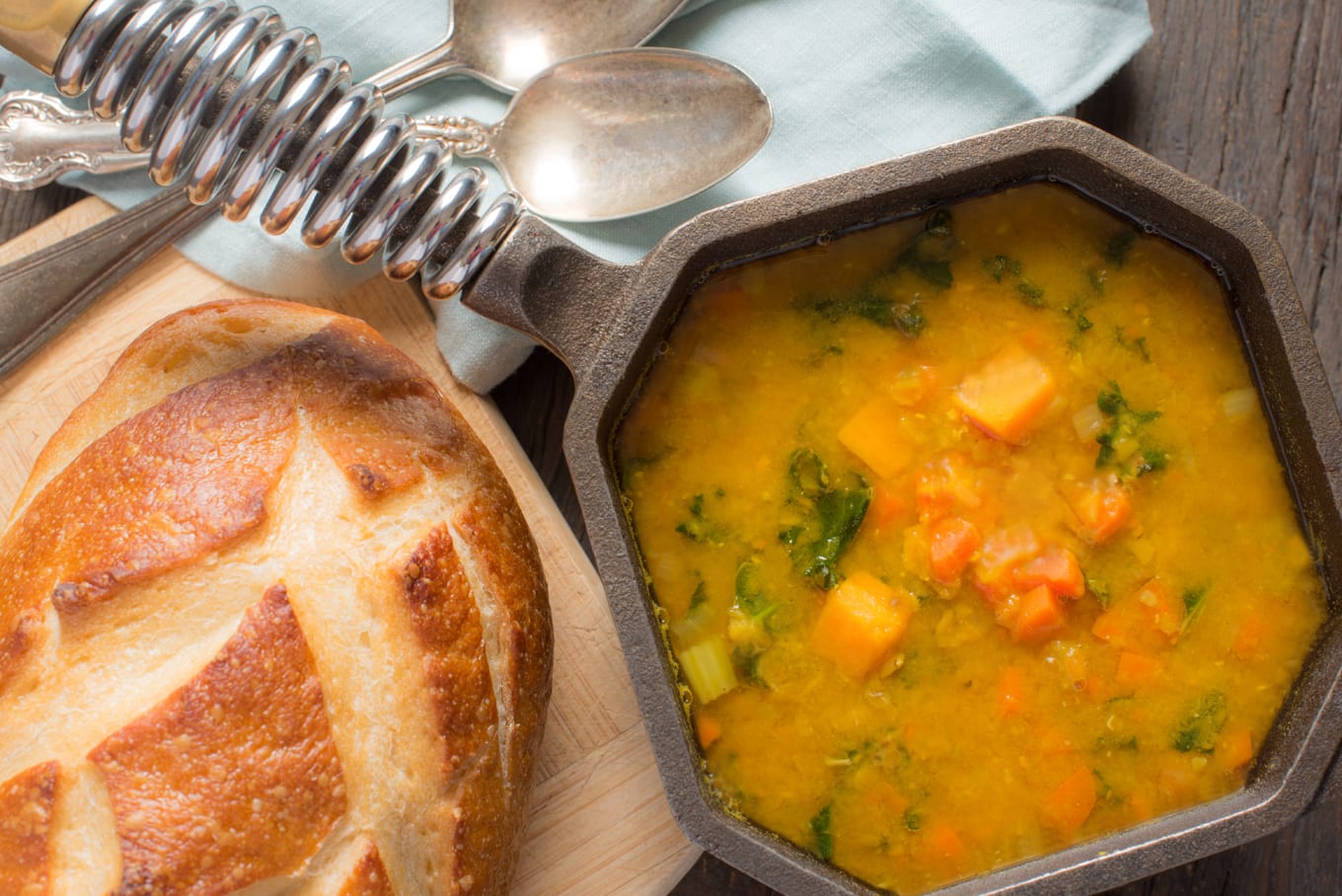 If you liked this Spiced Red Lentil Soup and you're looking for some other ideas, head on over to one of our other great choices . . . Quick and Easy Black Bean Soup, Roasted Squash and Pear Soup, Classic Italian Minestrone Soup, Fire Roasted Tomato Soup or Creamy Vegan Corn Chowder.
Let us know if you make this warming soup. We look forward to hearing from you. Leave a comment and a rating and don't forget to tag us @plantedandpicked on Instagram and hashtag it  #plantedandpicked. If you like the sounds of this, pull up a chair!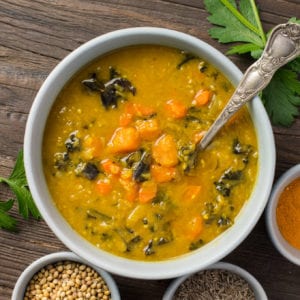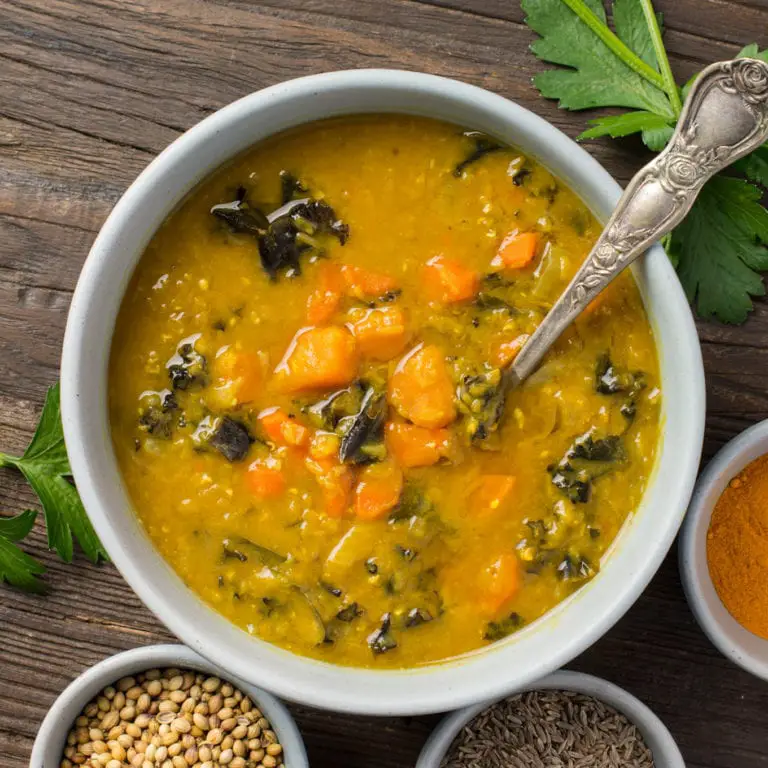 Ingredients
1

tbsp

coconut oil

1

cup

onion, diced

1

cup

carrots, diced

1/2

cup

celery, diced

2

large garlic cloves, minced

2

tsp

ground coriander

1

tsp

ground cumin

1

tsp

ground turmeric

1/2

tsp

paprika

1/4

tsp

cinnamon

1

tsp

sea salt

1/8

tsp

ground black pepper

1

cup

sweet potato, 1/2" cubed

1

cup

red lentils rinsed and drained

1

bay leaf

6

cups

vegetable stock

1

cup

kale chopped/packed

2

tbsp

lemon juice, about 1/2 a lemon
Instructions
Heat coconut oil in a heavy soup pot and sauté onions, carrot, celery and garlic for 5 to 8 minutes or until onion is transparent.

Mix coriander, cumin, turmeric, paprika, cinnamon, salt and pepper in a small bowel and then add to the pot. Continue to cook for 2 to 3 minutes, until fragrant.

Add the cubed sweet potato and rinsed/drained lentils and stir to combine with the sautéed vegetables.

Add the bay leaf and vegetable stock and bring to a boil. Reduce heat, cover and simmer for 20 minutes or until the sweet potato is cooked. While the soup is simmering, chop the kale into bite sized pieces and juice the lemon.

Remove the bay leaf and use an immersion blender to partially purée soup to yield a creamy, yet rustic texture (about 1/2 of the soup). Alternatively, transfer one third of the soup to a blender, blend and return to pot for mixing. If you are not using a vented blender such as a Vitamix, you will need to let the soup cool first so that it doesn't explode in the blender!

Add the kale and lemon juice. Heat for about another 5 minutes. Kale should be wilted. Ladle into bowls and enjoy!