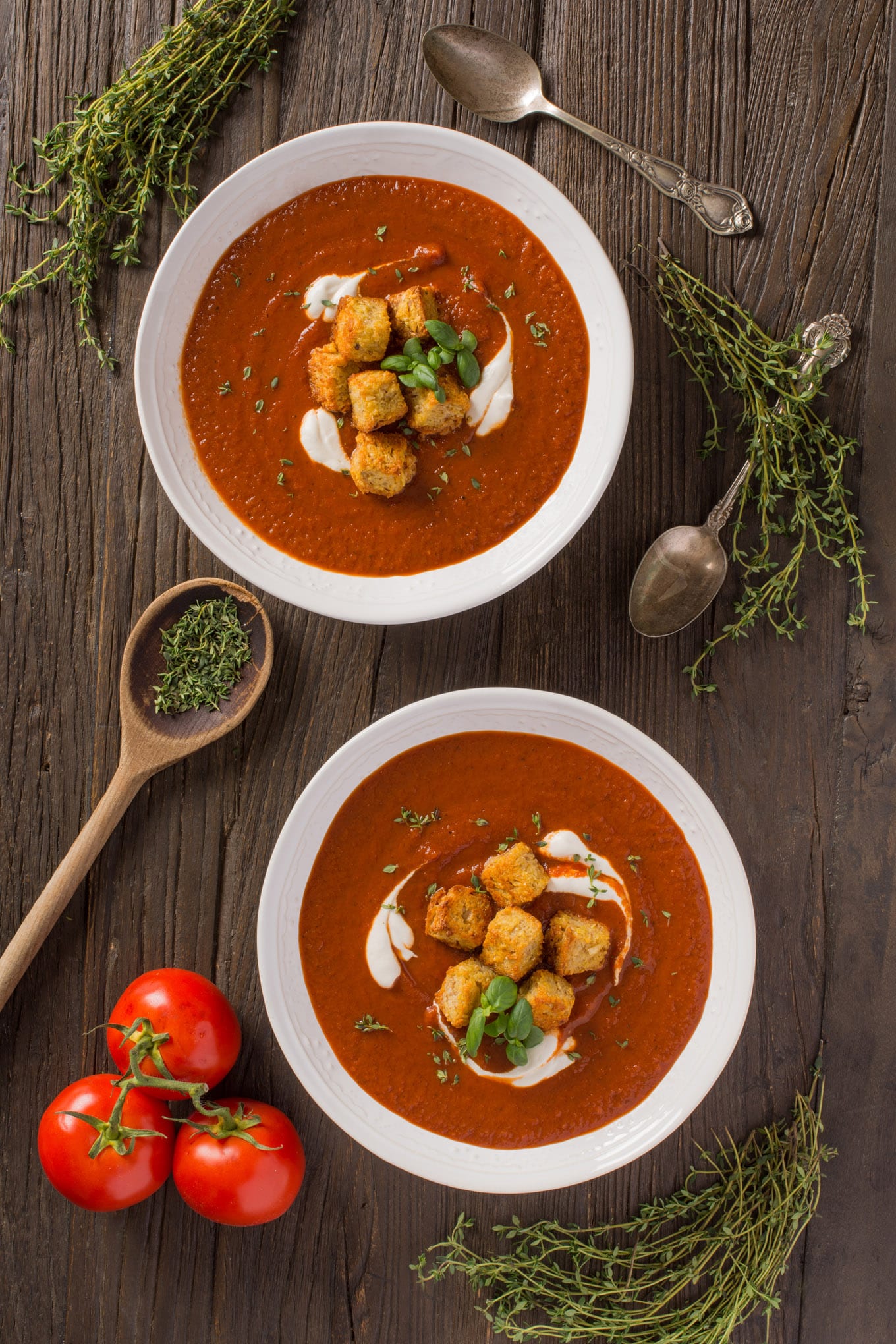 Doesn't it just sound good? Fire.Roasted.Tomato.Soup. Great for a weekend lunch, packed with nutrients and high in lycopene. Enjoy it with homemade croutons and a dollop of our Vegan Cashew Sour Cream!
Why We Love this Fire Roasted Tomato Soup
One or our favourite comfort foods growing up was tomato soup. It is what we craved when we were sick and it still is. Back then, the tomato soup came from a can and contained less than healthy ingredients. Doses of high fructose corn syrup and almost 500 mg of sodium in a half cup of the concentrate were not on our mind. Luckily, today we make this fire roasted tomato soup at home using all organic ingredients.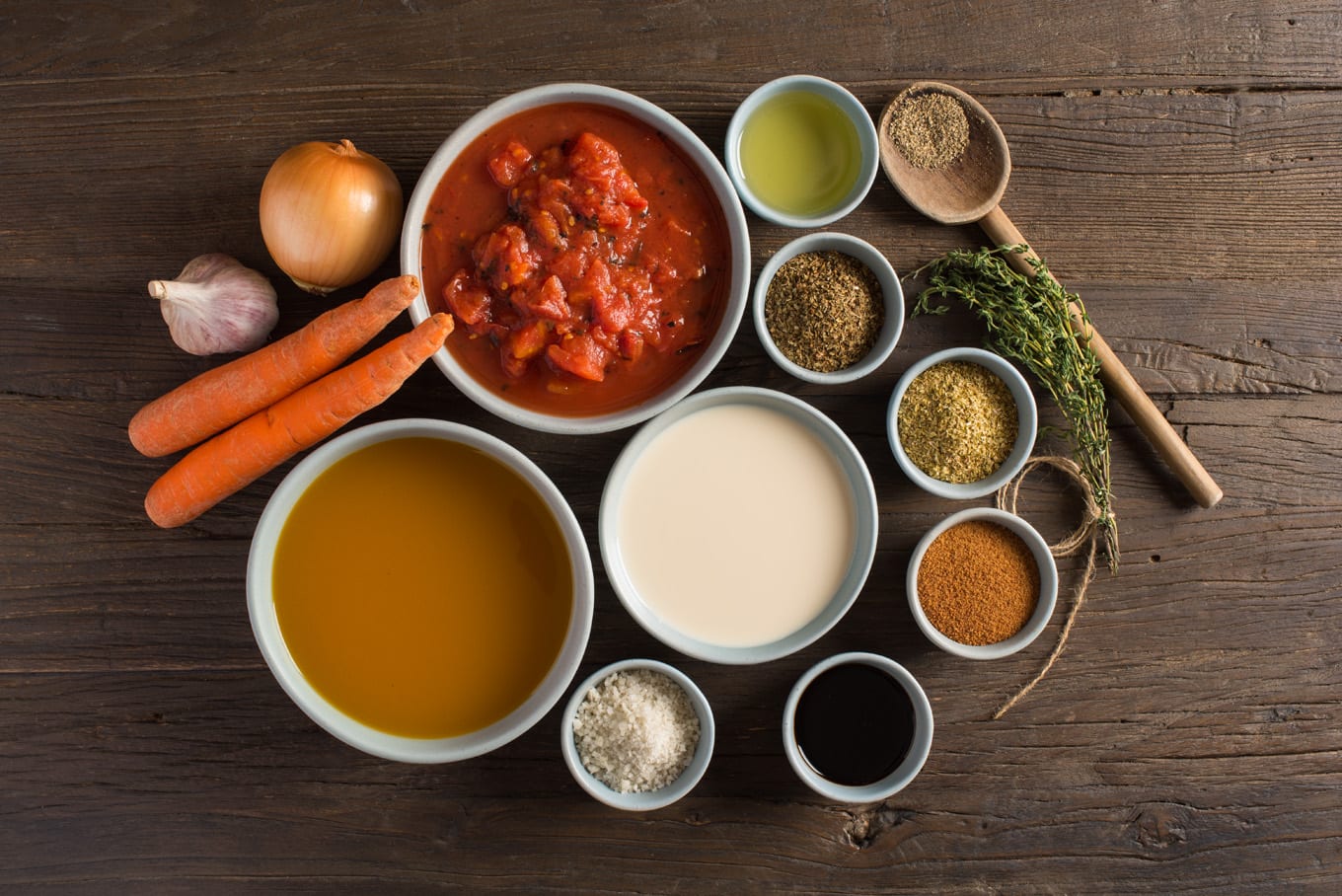 Not only is this fire roasted tomato soup delicious and comforting, it is very nutritious. Tomatoes are a rich source of lycopene and the benefits of lycopene increase when the tomatoes are cooked. Lycopene is a powerful antioxidant with many health benefits. These include sun protection, improved heart health and lowering the risk of some types of cancer. Refer to our blog post on Antioxidants and Foods Containing Them.
Preparation Tips . . .
We roast the carrots in a cast iron pan in the oven, but a baking sheet would work just as well. The carrots came to us in our weekly delivery of local organic foods from area farmers. We like to support local farmers and minimize our impact on the planet. We also get the added benefit of getting the most nutrient dense produce available.
Once all of the ingredients are in the soup pot with the exception of the soy milk, we tie the thyme sprigs with some twine. This way they are easily removed once the soup is ready for blending! We have all spent time trying to find herb sprigs or bay leaves in our soups and sauces!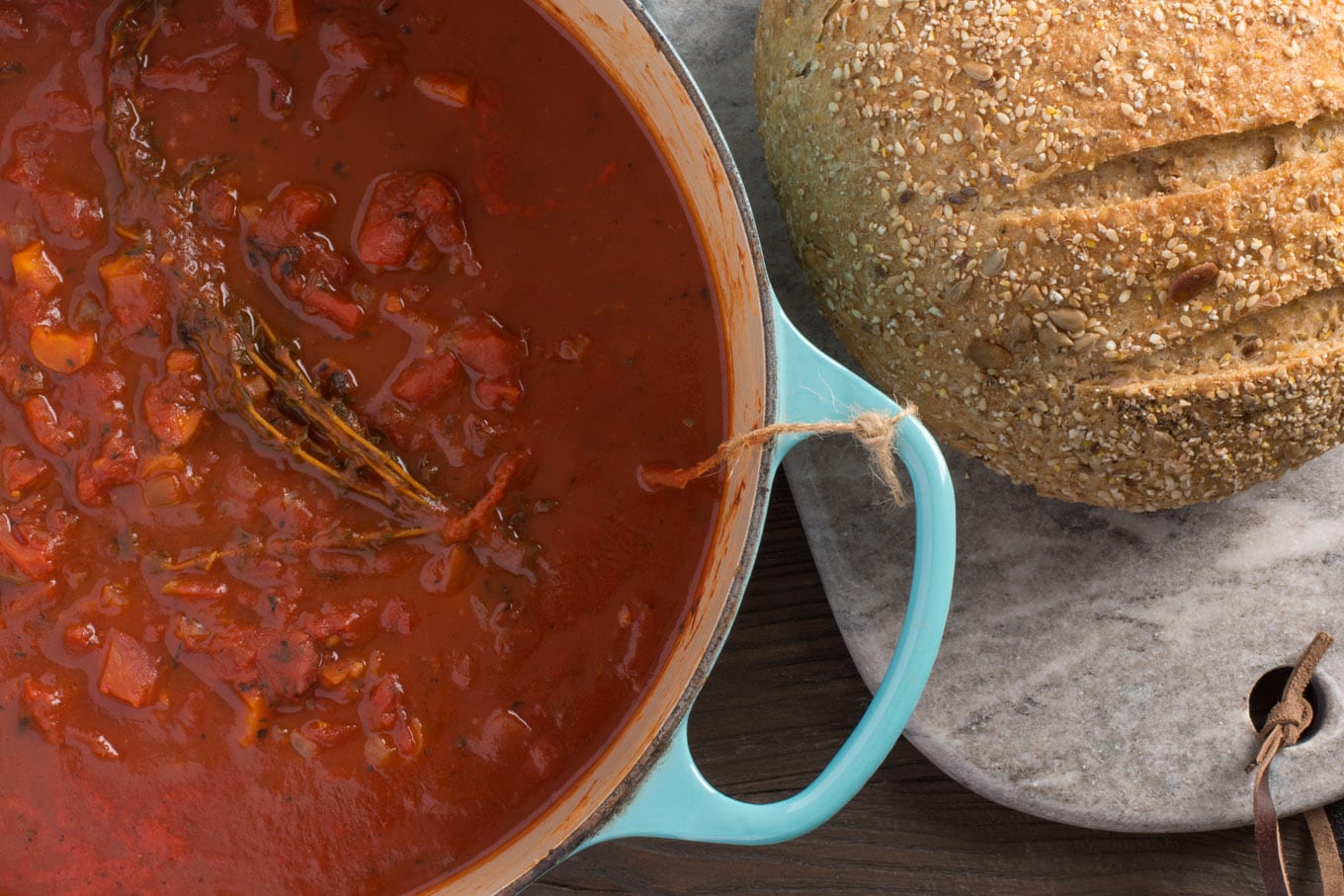 We maintain some of the fire roasted tomato soup's texture by not over-blending. It helps to provide sufficient sweetener to cut the acid of the tomatoes. The recipe includes some coconut sugar for this purpose, but you can add more if you find the soup too acidic for your taste.
We garnish our soup with some homemade garlic and olive oil croutons. Bake them in a toaster oven for 15 minutes and pop them on top of the soup just before serving! We included instructions in the recipe, but be as creative as you'd like to be with your own crouton recipe!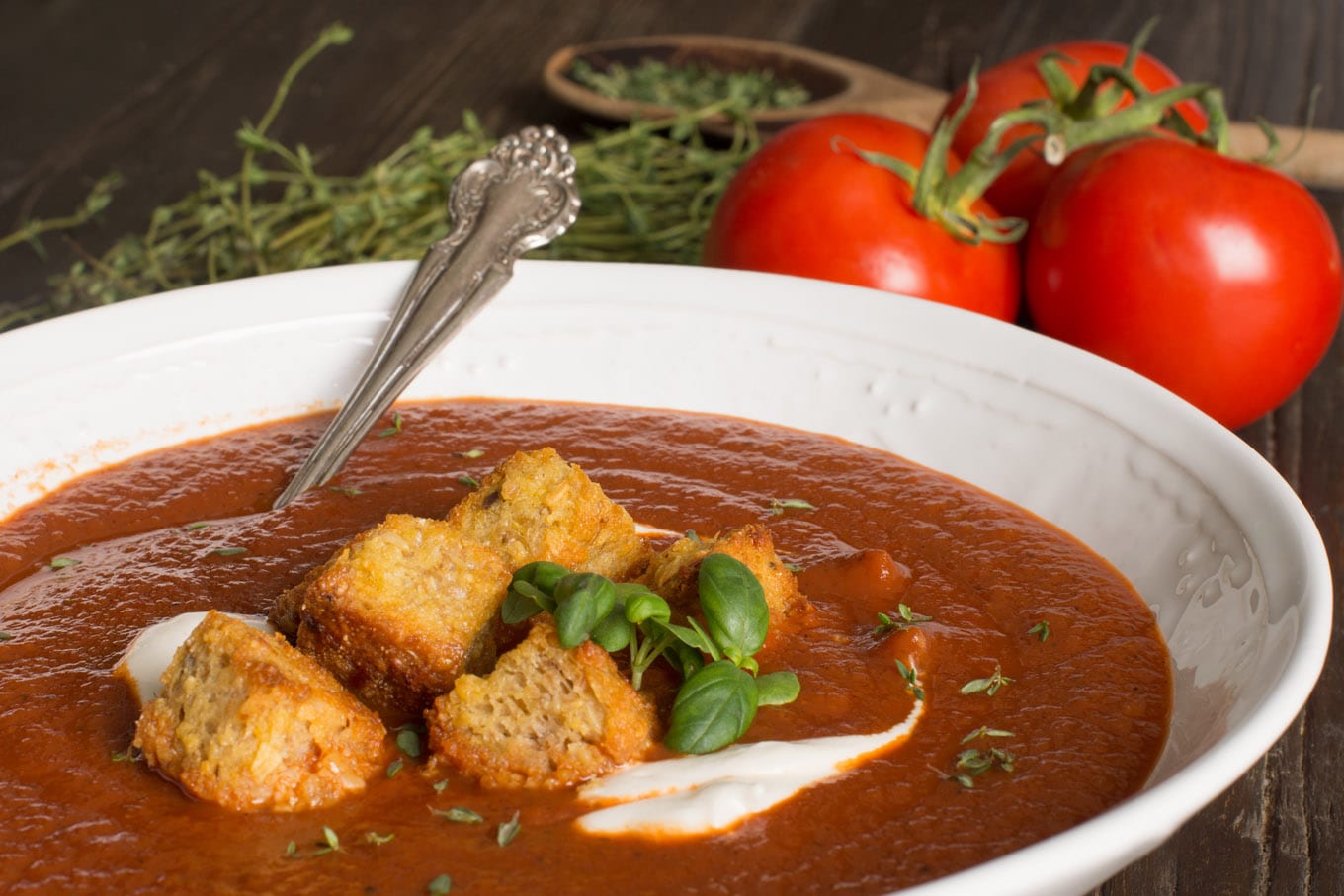 If you like this fire roasted tomato soup and you're looking for other soup ideas, try these out . . . Quick and Easy Black Bean Soup, Roasted Squash and Pear Soup, Spiced Red Lentil Soup, Classic Italian Minestrone Soup or Creamy Vegan Corn Chowder.
Let us know if you make this soup, we love to have your feedback! Leave a comment and a rating and don't forget to tag us @plantedandpicked on Instagram and hashtag it  #plantedandpicked . You're always welcome at our table!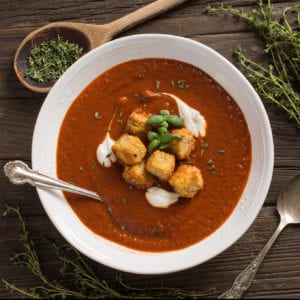 Ingredients
Tomato Soup
2

large

carrots thickly sliced into medallions

3

tsp

avocado oil (divided)

1

cup

onion finely diced

2

large cloves

garlic minced

2

tsp

balsamic vinegar

1

tsp

sea salt

1

tbsp

dried oregano

1

tsp

dried basil

2

28 oz cans

crushed fire roasted tomatoes

4

cups

vegetable broth

8

sprigs

fresh thyme tied

1/2

tsp

freshly cracked black pepper

1

tbsp

coconut sugar

1

cup

soy milk
Garlic Croutons (Optional)
3

thick slices

sourdough bread cut in 1 inch cubes

1

tbsp

olive oil

2

large cloves garlic minced
Instructions
Tomato Soup
Preheat oven to 350℉.  Toss sliced carrots in one third of the avocado oil (1 tsp as per the original recipe) and season lightly with sea salt and pepper and lay flat in iron skillet or on a baking sheet. Place in oven and roast for 20 minutes.

Heat the remaining avocado oil (2 tsp as per the original recipe) in a heavy pan and sauté onion over medium low heat until translucent (5 to 6 minutes) and add minced garlic, sautéing for an additional 3 to 4 minutes, being careful not to brown.

Add the roasted carrots to the pan and add balsamic vinegar to deglaze the pan and reduce heat to low.

Add sea salt, dried oregano and basil and stir to combined.

Add all remaining ingredients with the exception of the soy milk and bring to a boil before reducing to simmer for 30 minutes.

Remove thyme sprigs and blend soup using an immersion blender for easy clean-up or transfer to a blender in batches. Add soy milk and stir to mix.

Taste soup and adjust seasoning to taste. If you find that there remains some acidity, add a small amount of additional coconut sugar and heat/stir to dissolve.
Garlic Croutons (Optional)
Toss cubes of bread in olive oil and garlic and bake in a 350℉ oven for 15 minutes or until lightly toasted. We added a little of our vegan sour cream together with the croutons to garnish the soup just before serving.