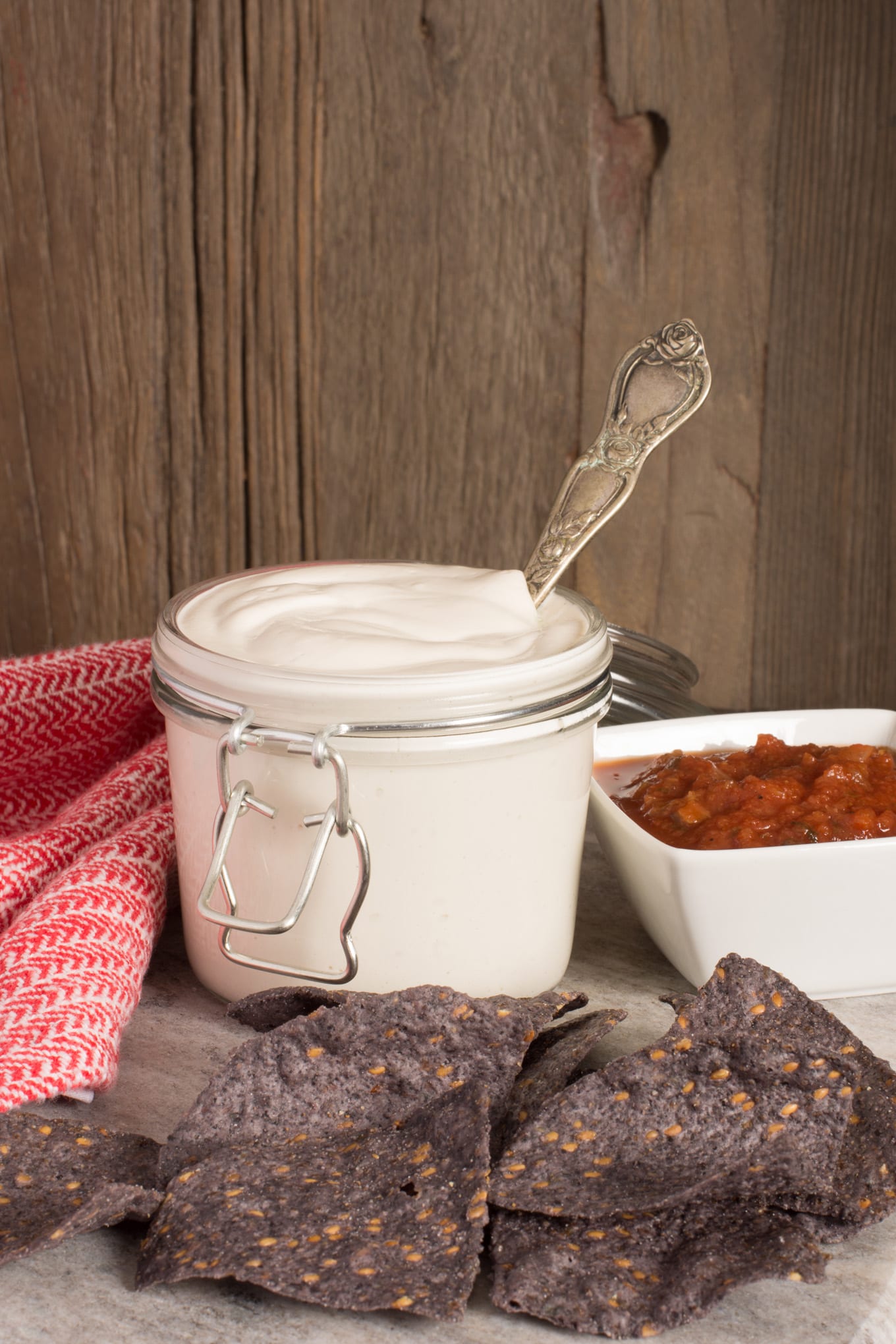 We love adding a dollop of this vegan cashew sour cream to our soup or chili, quesadillas, nachos or pierogies. We use just a little more lemon juice than some others, but we believe that you'll think it's just right.
Delicious and Versatile Vegan Cashew Sour Cream
We love all things creamy! Thank.You.Cashews. Cashew cream forms the base for this super smooth and creamy, rich and tangy sour 'cream'. You are sure to fall in love with it. It is just as wonderful as the real deal and equally versatile. You can prepare wonderfully creamy dips by blending it together with ingredients such as avocado, roasted red peppers, roasted garlic and so much more. This vegan cashew sour cream will be your new go-to when it comes to dips and toppings.
You can make this in less time than it takes to get your coat on and back out of the driveway to pick some up at the grocery shop. Are you ready? Let's get to it.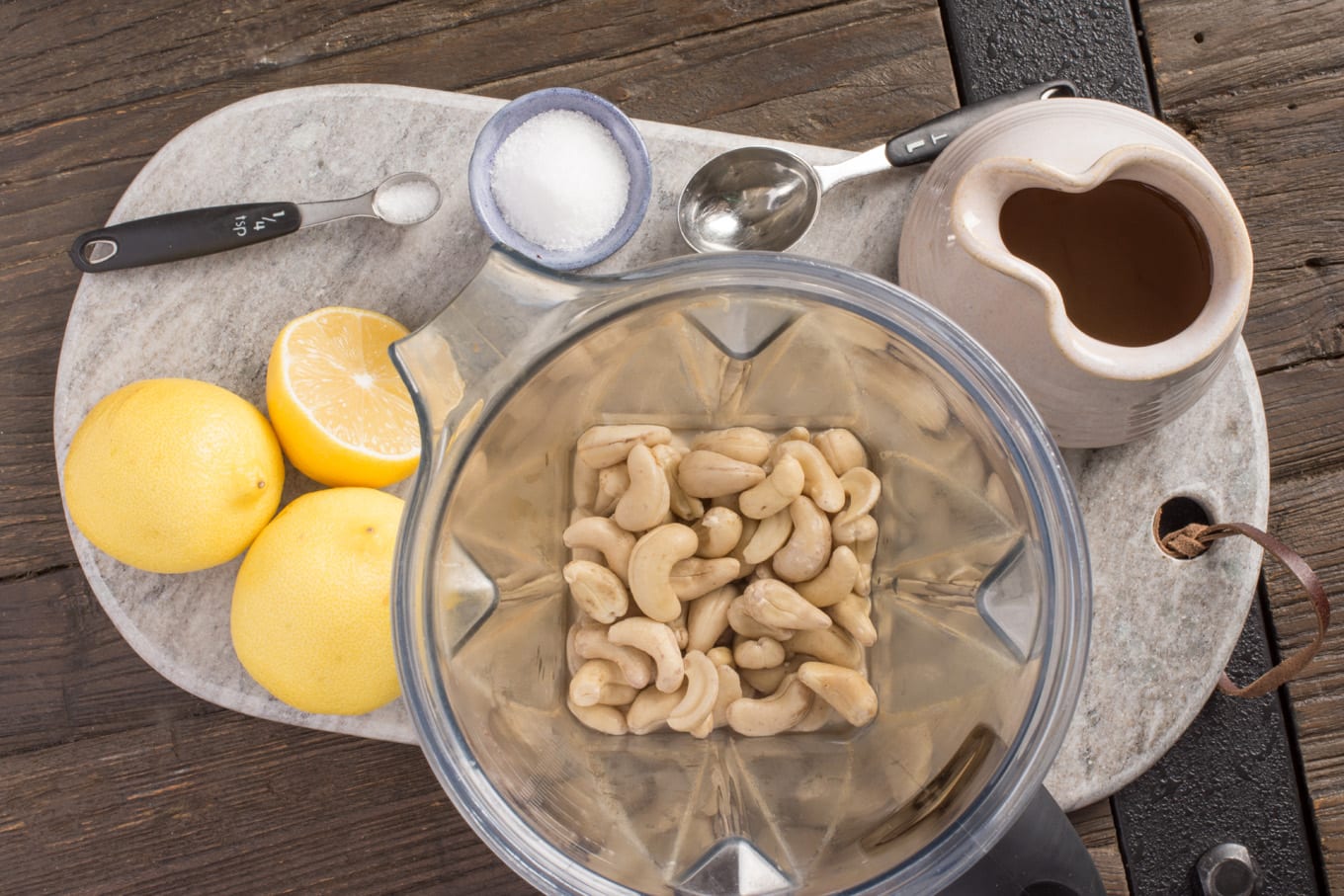 Preparation Tips . . .
This vegan cashew sour cream is so easy to make. A high-powered blender will make little work of giving your cashews a perfectly smooth and creamy texture right before your eyes. Don't worry if you have a less powerful blender because soaking the cashews helps tremendously.
Soaking the cashews for as little as 15 to 30 minutes is sufficient for consistency if you have a high-powered blender. However, soak them in a salt solution for 4 to 6 hours if you have time because this makes the many minerals more bio-available. The longer soak time is also helpful if your blender is not a powerhouse. We soak the cashews in a solution of filtered water and 1 teaspoon of sea salt for each cup of nuts. Some sources indicate that over-soaking can lead to bitterness and reduced flavour.
This vegan cashew sour cream will thicken in the refrigerator over time. You can simply whisk in a small amount of filtered water or plant-based milk to change the consistency.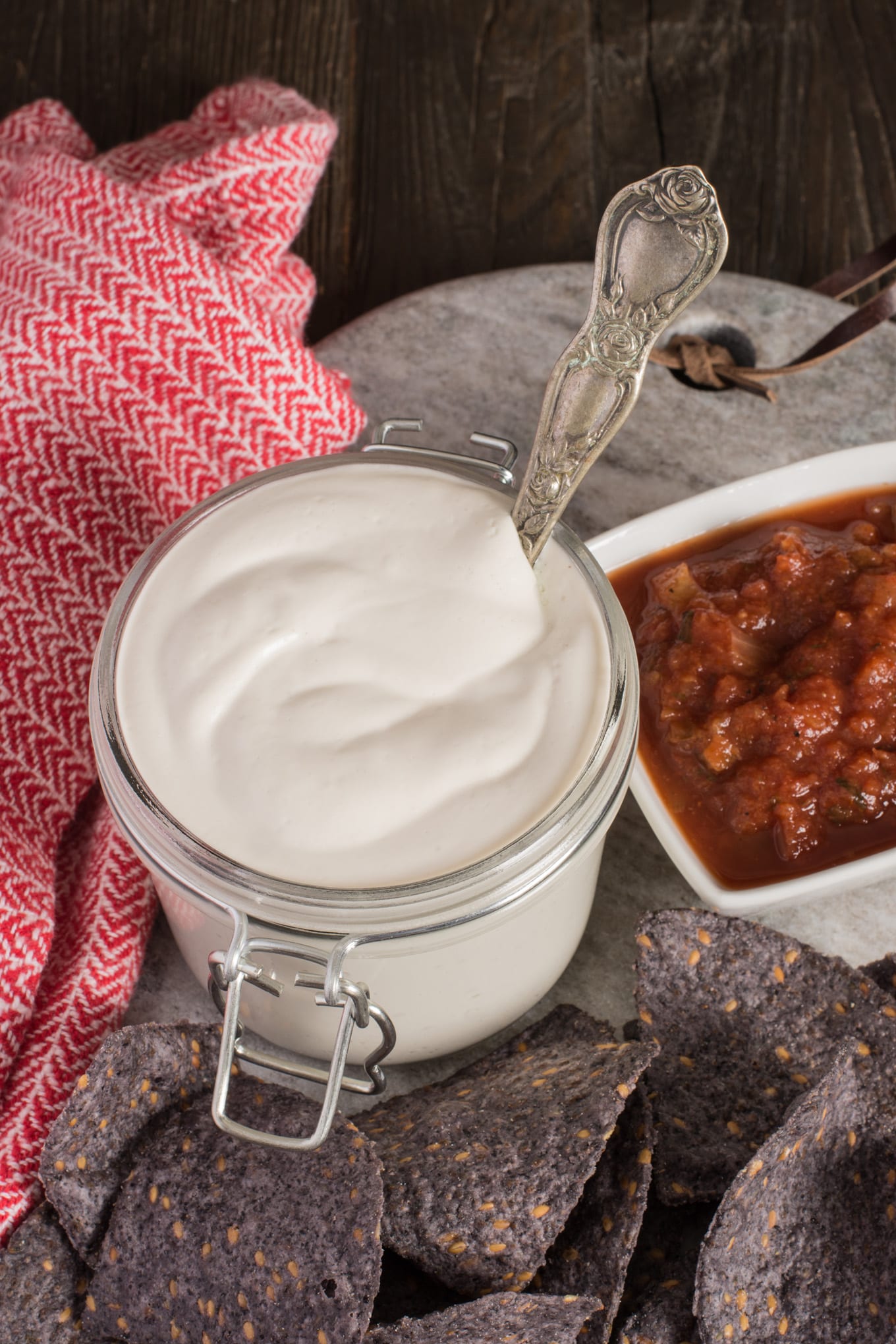 You can enjoy your sour cream with your favourite tortilla chips and salsa. We love these organic blue corn chips for a light snack. Try this vegan cashew sour cream on our Vegan Mexican Stuffed Peppers, our Vegan Mexican Chili with Real Chilis, our Vegan Red Lentil Chili or just a little as a garnish on our Fire Roasted Tomato Soup!
Let us know if you make this vegan sour cream. We are always interested in your feedback! Leave a comment and a rating and don't forget to tag us @plantedandpicked on Instagram and hashtag it  #plantedandpicked. Pull up a chair and enjoy!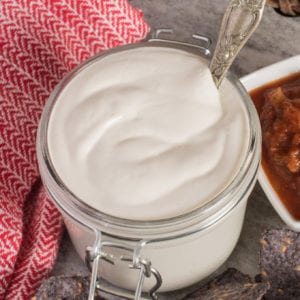 Vegan Sour Cream
This vegan sour cream is a great condiment to top off your chili or a bowl of soup, but goes just as well with nachos as the real thing! 
Print
Pin
Rate
Ingredients
1

cup

raw cashews

1/2

cup

filtered water

1/4

cup

lemon juice freshly squeezed

1

tbsp

apple cider vinegar

1/4

tsp

fine sea salt
Instructions
Soak cashews in filtered water (this soaking water is in addition to that shown in the ingredients) for at least 30 minutes or up to overnight and drain. Note that if you have a high powered blender, 30 minutes is sufficient, but that longer periods may be required for less powerful blenders.

Add cashews, the filtered water, lemon juice, cider vinegar and sea salt to a blender and blend to produce a smooth creamy consistency. Place in a suitable container and store in the refrigerator. The sour cream will thicken in the refrigerator.