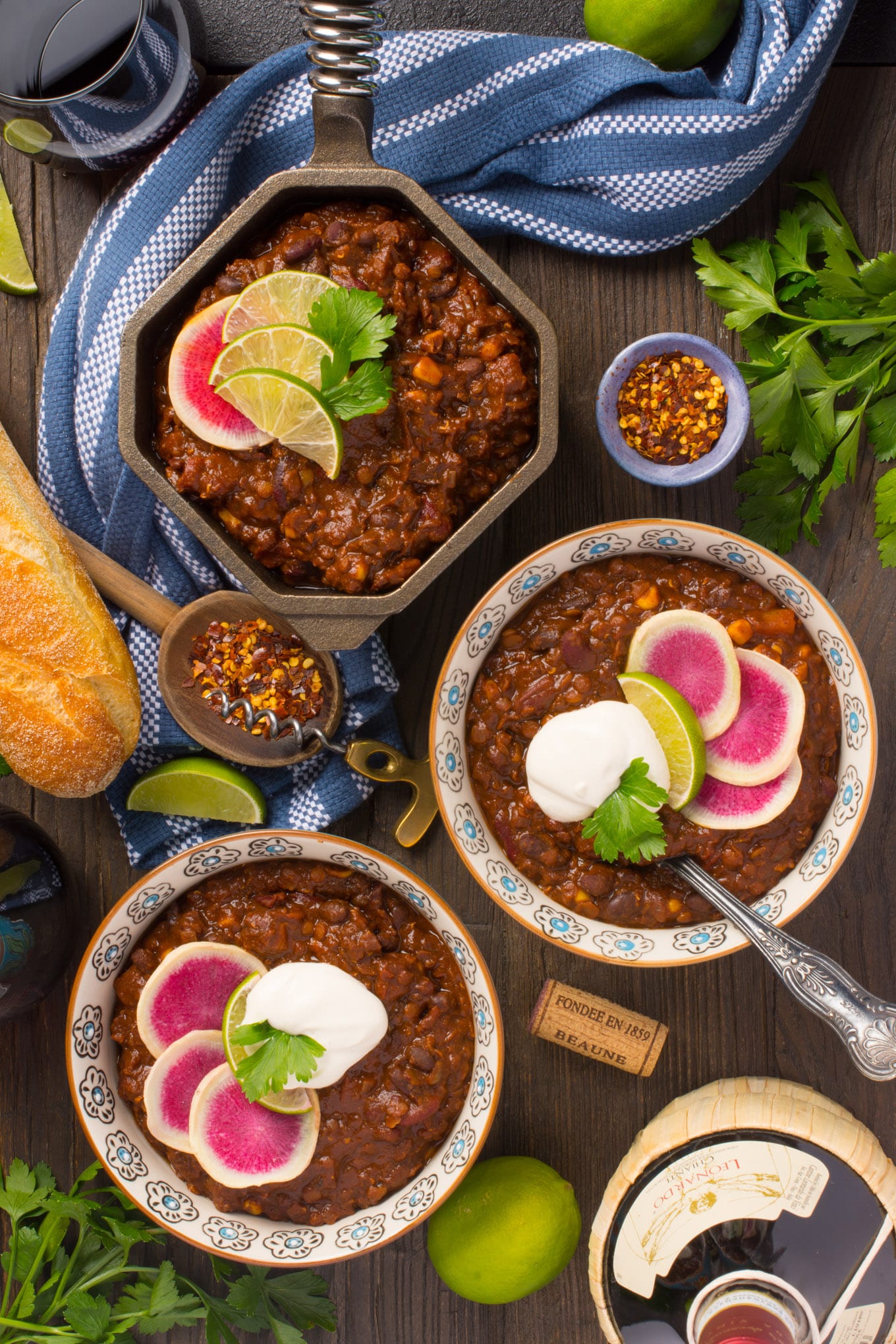 Making this vegan Mexican chili with real chilis will impart a depth that can only come from layering flavours. Be prepared for your taste buds to dance if this is what you are craving. If you don't have as much time on your hands, try our Vegan Red Lentil Chili.
Welcome once again to our table! We believe that achieving depth, complexity and richness of flavour can only come from building those flavours in layers. Throwing everything into a pot at once and hoping for the best will never achieve that feeling you experience when each mouthful excites you and makes you want to take your time and enjoy your dish to it's completion.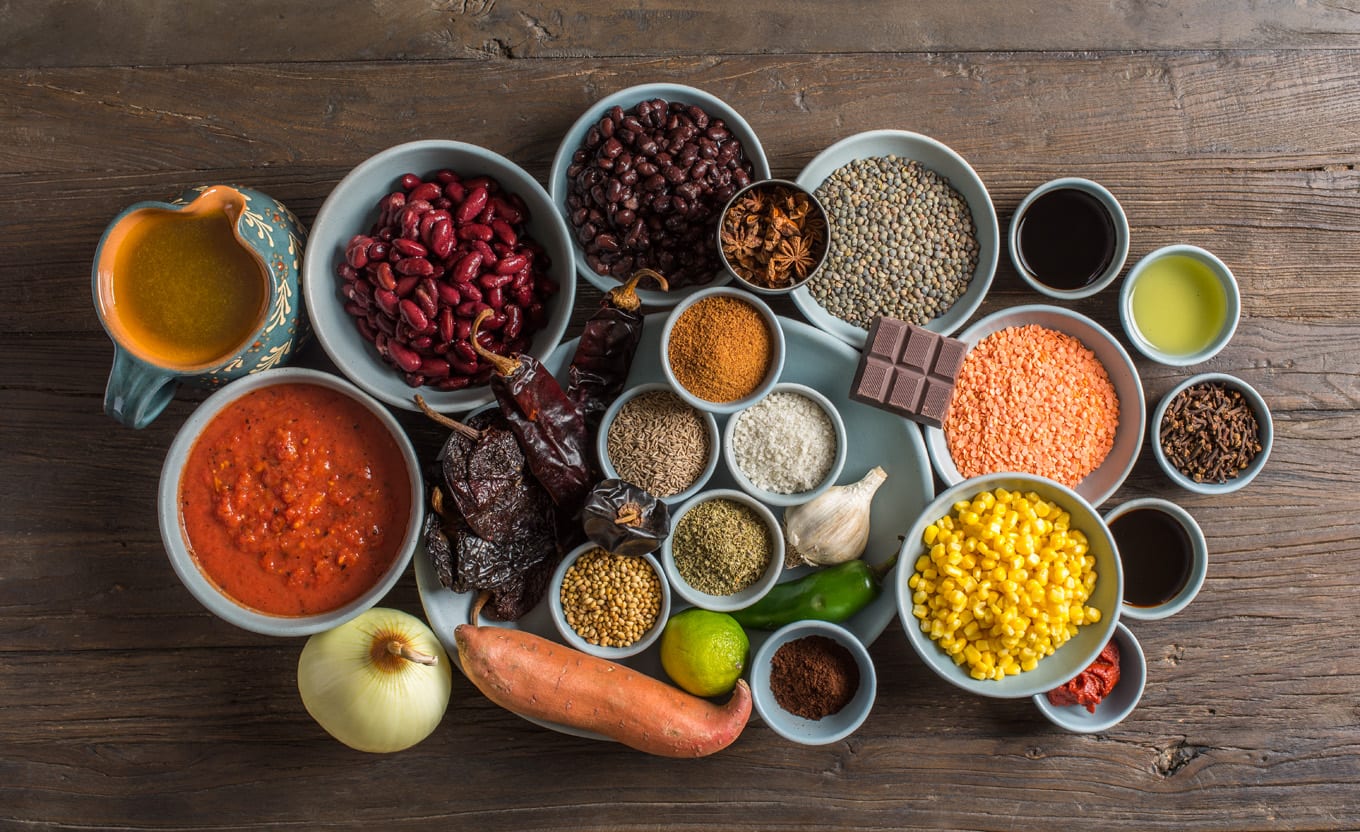 The Key to Success for this Vegan Mexican Chili
The flavours of this vegan Mexican chili are rooted in a wonderful paste that starts with toasting whole dried chilis. You will start by toasting three Ancho Chiles (dried Poblanos), two dried New Mexico (Guahillo) Chilis and a single dried Cascabel Chili. Simmer them gently afterwards in a small sauce pot with the vegetable broth. After also toasting and then grinding whole cumin, coriander, star anise and cloves, blend the spices and chili pepper reduction with tomato paste, tamari, finely ground coffee and unsweetened chocolate. The additional ingredients contribute further to the depth and smooth richness of flavour. Set aside the paste while preparing the vegetables.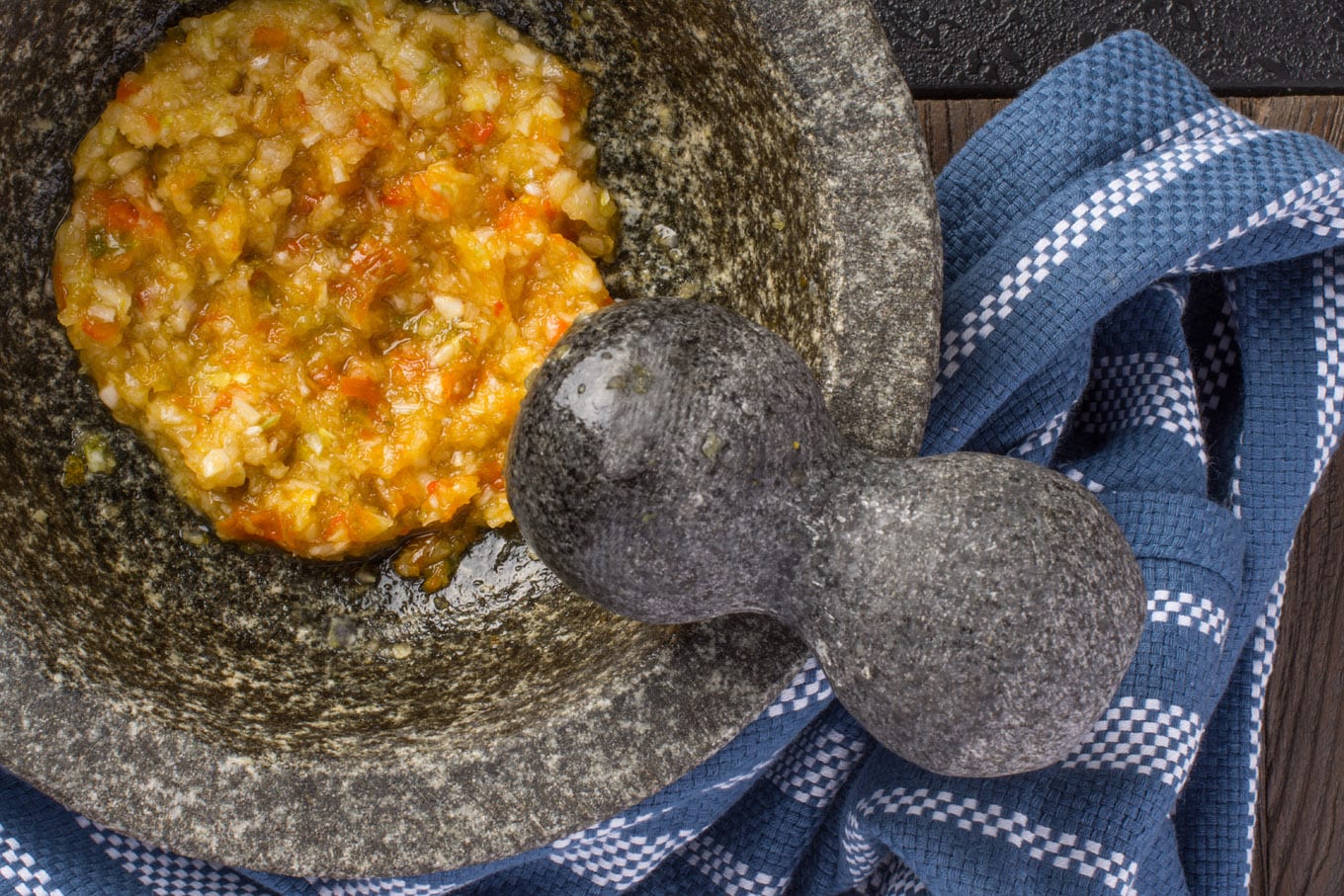 Vegetable Preparation . . .
Mince chopped garlic and jalapeño pepper in a molcajete (mortar) and tejolete (pestle) together with some coarse sea salt.  These utensils have been used for thousands of years. We feel that mincing the garlic and pepper in this way draws out greater flavour as you build this vegan Mexican chili. Alternatively, you can mince the garlic through a garlic press and chop the pepper finely. Continue by sautéing the minced garlic and pepper with the onion.
Slow and Steady Simmer . . .
Combine the paste created from the dried peppers with the vegetable sauté and continue to simmer for approximately 15 minutes. Add the vegetable broth, lentils and sweet potatoes and continue to simmer until these are near tender. This should take approximately 20 minutes once the mixture has come to a boil and reduced to simmer. The aromas of this vegan Mexican chili should begin to excite your senses by this point. The last cooking stage for this dish includes the addition of crushed tomatoes, black beans, kidney beans, corn, balsamic vinegar and salt to taste. Feel free to omit the corn if you prefer your chili without.
We simmer the chili for another hour to allow the vegetables to both absorb and contribute to the flavours of the dish. Your vegan Mexican chili is nearly ready. Add a small amount of lime juice afterwards to brighten the flavour slightly and a little coconut sugar to balance the acidity of the tomatoes with a little sweetness. A brief note here about the sugar: taste your chili first as properly sautéed onions may have a similar effect and sugar may not be required, unless of course, you prefer your chili on the sweeter side.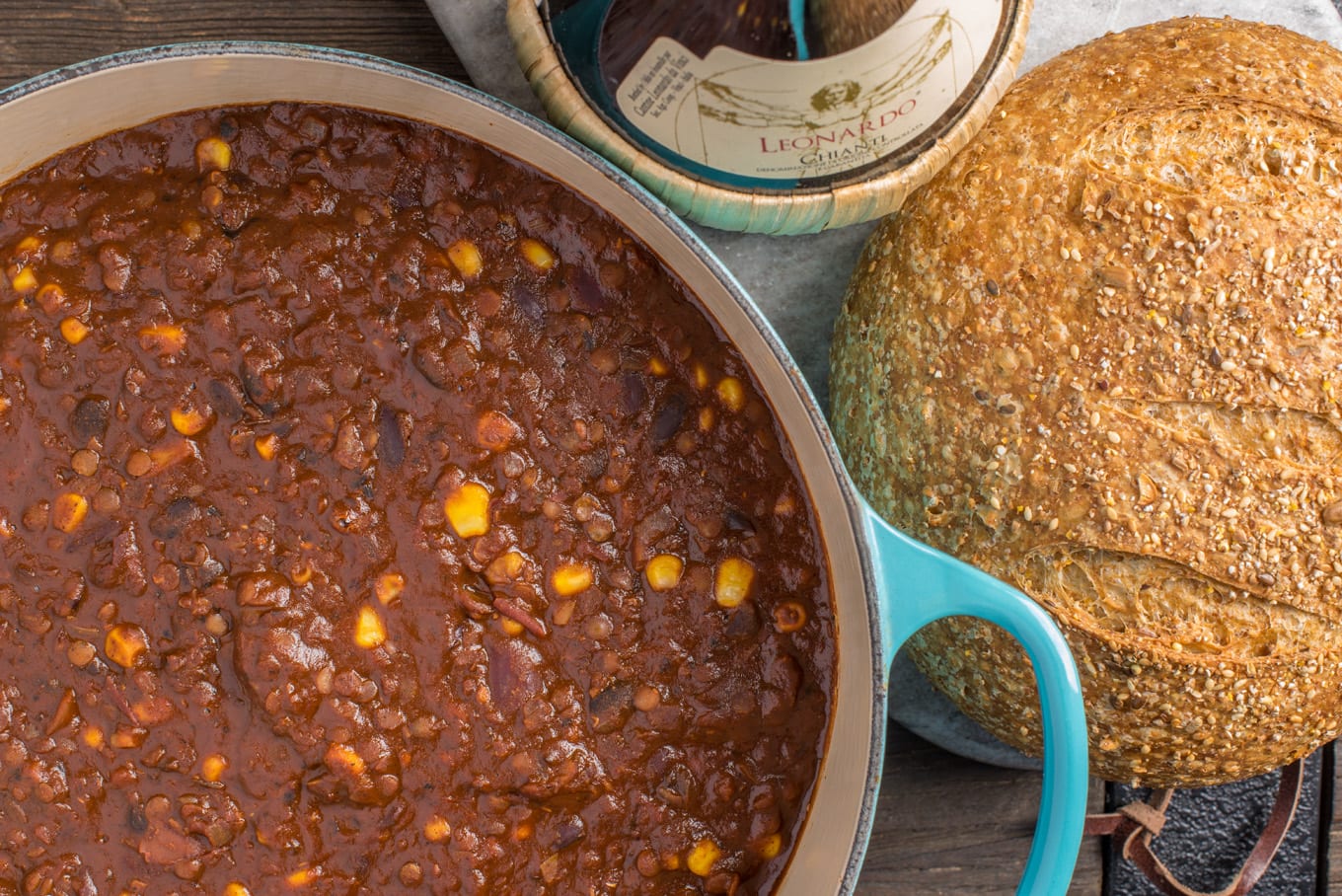 Buen provecho! We hope that you can take the time to enjoy this vegan Mexican chili and the depth of the flavours it rewards you with. A little Vegan Cashew Sour Cream on top is an excellent compliment.
Let us know if you try it out – we look forward to hearing from you! Leave a comment and a rating and don't forget to tag us @plantedandpicked on Instagram and hashtag it  #plantedandpicked. Looking forward to having you at our table again soon!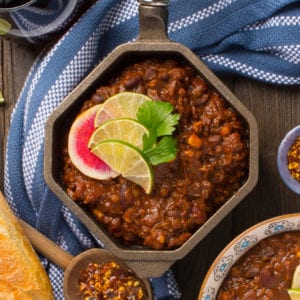 Mexican Chili
A deeply flavourful and layered approach to preparing chili from whole dried chilies
Print
Pin
Rate
Ingredients
3

Ancho Chilis (dried Poblano Chilies)

2

New Mexico (Guajillo) Chilis (dried)

1

Cascabel Chile (dried)

3.5

cups

vegetable broth (divided)

1.5

tbsp

cumin seeds

1.5

tbsp

coriander seeds

1

star anise

2

cloves

1

tbsp

finely ground coffee

1

oz

unsweetened chocolate chopped

2

tsp

tamari

2

tbsp

tomato paste

1

jalapeño pepper

5

large cloves

garlic

1.5

tsp

coarse sea salt (divided)

1.5

tbsp

avocado oil

1.5

cups

yellow onion diced

1

tbsp

dried Mexican oregano (or common Greek oregano)

1/2

cup

red lentils

1/2

cup

brown lentils

1.5

cups

sweet potato - 1/2 inch cubes

1

14 oz can

crushed tomato

1

14 oz can

black beans

2

14 oz cans

kidney beans

1

cup

corn kernels

2

tbsp

balsamic vinegar

2

tbsp

fresh lime juice

1.5

tbsp

coconut sugar
Instructions
Seed the chiles and tear into approximately 1" pieces. Pre-heat a heavy pot (preferably cast iron) large enough to spread the peppers out. Toast the peppers for 3 to 4 minutes or until fragrant, stirring frequently and taking care not to let the peppers smoke or burn. 

Remove the peppers from the pan and place in a small sauce pot with approximately 40% of vegetable stock (1.5 cups as per original recipe). Simmer for approximately 15 minutes to soften peppers and until at least one third of the liquid remains.


Meanwhile, toast the spices (cumin, coriander, star anise and cloves) over medium heat for 3 to 4 minutes or until they are fragrant, in the same pan that the chilis were toasted in. Remove from the pan and finely grind spices in a mortar and pestle or a spice grinder. A small coffee grinder works well for grinding spices. 

Place the pepper mixture in a blender together with the ground spices, ground coffee, chocolate, tamari and tomato paste and blend to make a uniform paste. Set aside.

Mince seeded jalapeño pepper and garlic in a mortar and pestle together with 1 tsp of the coarse sea salt.

Heat the heavy pot used to toast the peppers and spices over medium heat and add oil. Once the oil is heated (shimmering), add the onion, garlic and jalapeño pepper mixture and oregano and sauté until the onion is translucent. The time to achieve this will vary depending on the depth of the onions in the pot, how heavy the pot is and the specific temperature, but will likely range between 5 and 10 minutes.

Reduce heat to medium-low and add the pepper paste to the pot, stirring well to combine. Continue to simmer for approximately 10 minutes, stirring periodically to ensure that the mixture does not stick to the pan and burn. 

Add the remaining vegetable stock to the pot together with the lentils and sweet potatoes and bring to a boil before reducing heat to a simmer and covering, cooking until the lentils and potatoes are near tender (approximately 20 minutes).

Add the tomatoes, beans, vinegar and remaining salt (1/2 tsp as per the original recipe) to the pot and simmer over low heat for approximately an hour. Add corn during the last 15 minutes.

Add the lime juice and sugar to taste as the sautéed onions may have developed sufficient sweetness, depending on your taste and preference for a sweeter chili.