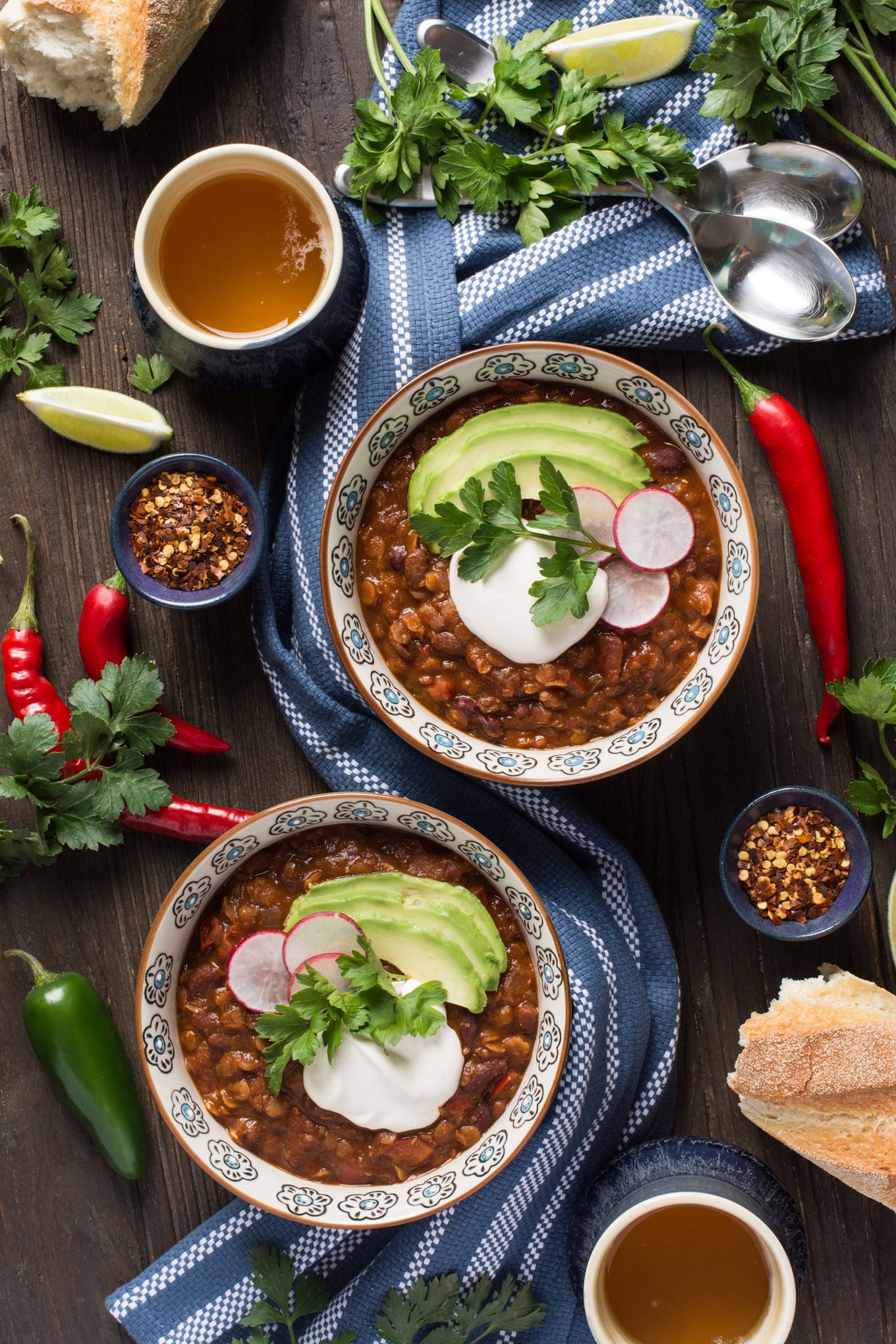 This vegan red lentil chili is easy because it uses ground spices and many on-hand pantry items. We frequently batch cook chili on the weekend for a quick weeknight meal because it reheats well. If you have some extra time on the weekend, try this Vegan Mexican Chili with Real Chilis that starts with whole dried chilis for even greater depth of flavour. We promise you that it is worth the extra few steps!
When it's cold outside or you have friends coming over and want something easy that will please everyone, vegans and non-vegans alike, this vegan red lentil chili is a simple and straightforward dish that all goes into one pot. Serve it with a nice loaf of bread, tortilla chips or rice and everyone is happy. Easy.Peasy.
A Note about Sugar . . .
We use an unrefined organic muscovado brown sugar in this vegan red lentil chili because the producers use traditional methods to prepare this sugar in small batches. Most commercial brown sugars on the market are actually refined white sugar with added molasses. Note also that producers typically bleach the sugar with bone char (from the spines of cows!) during the refinement process! As a result, it is not vegan. There is also zero nutrition in refined white sugar. We use the muscovado sugar here to balance the acidity of the tomatoes. However, you could also substitute coconut sugar here.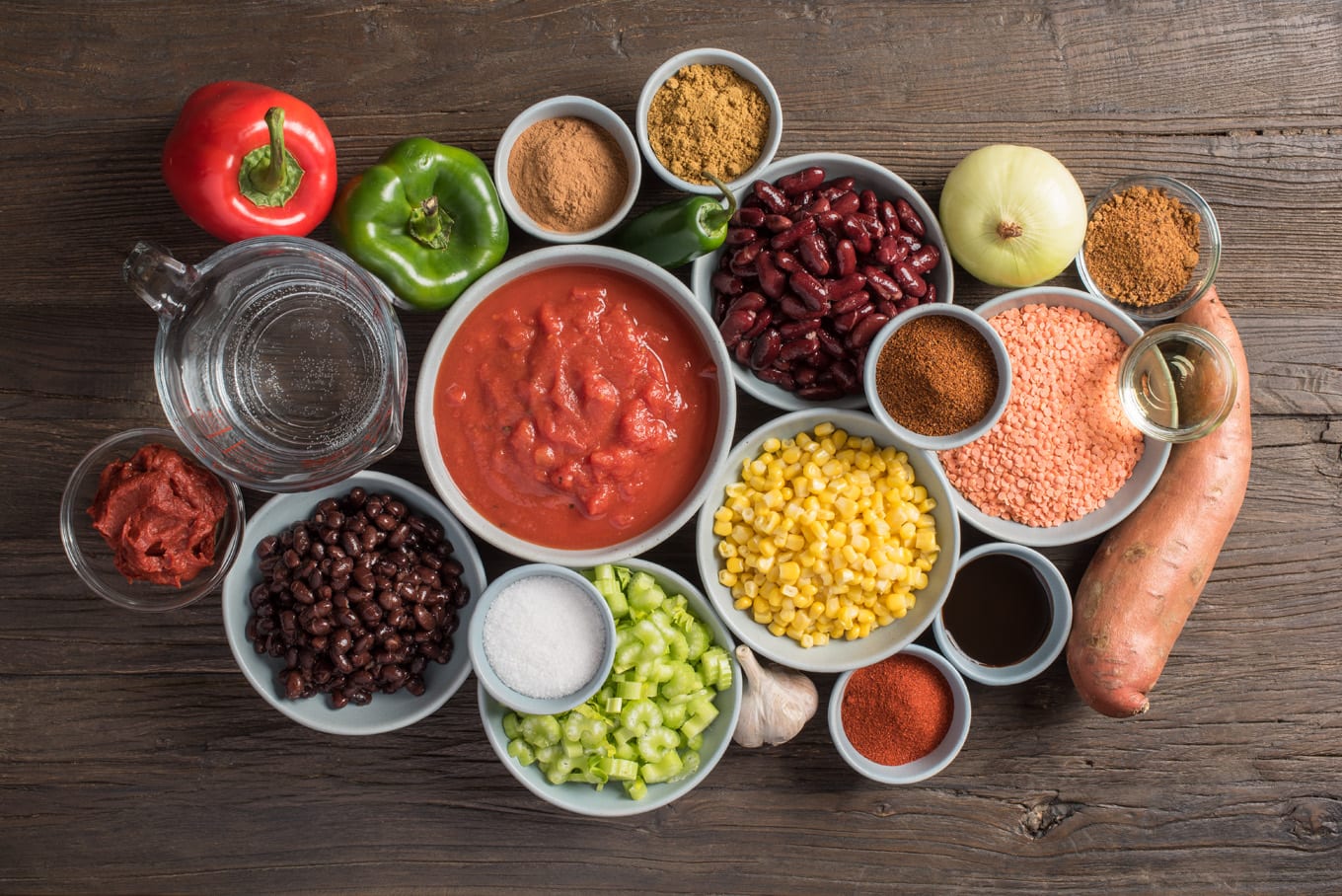 A Note about the Beans in this Red Lentil Chili . . .
This recipe contains A LOT of beans, which are high in fibre and resistant starch. Many studies indicate that beans have positive results in preventing and treating many chronic diseases such as diabetes, heart disease and colon cancer. Dr. Michael Gregor (Nutritionfacts.org) includes beans as one of his daily dozen foods to eat EVERYDAY. If you have trouble digesting beans, start with smaller servings and gradually increase them. Try having a couple of tablespoons a day and gradually work up to half a cup. You can also try taking a digestive enzyme with galactosidase, which may help to break down the complex carbohydrates in the beans. See our wellness post on the Health Benefits of Beans and enjoy the vegan red lentil chili.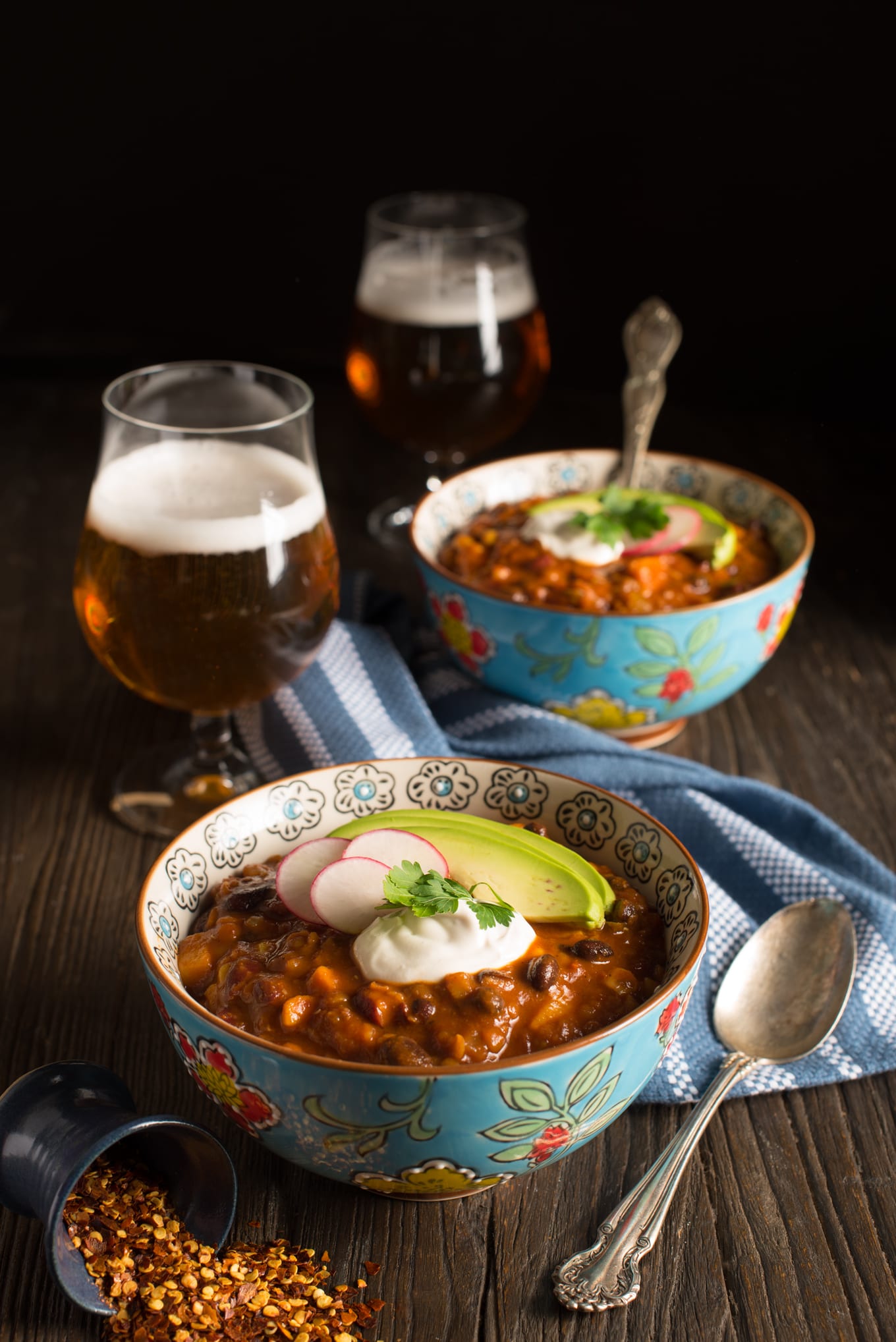 If you're into a little topping on your chili, try our Vegan Cashew Sour Cream with some ripe avocado and green onions. We sometimes like to add some hot brown rice to a bowl, a handful of spinach and layer the chili on top.
Let us know if you make this. We look forward to your feedback. Leave a comment and a rating and don't forget to tag us @plantedandpicked on Instagram and hashtag it #plantedandpicked. Enjoy!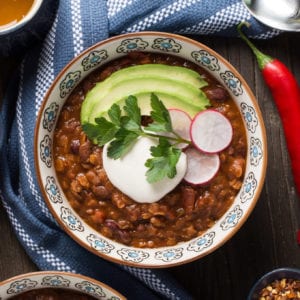 Ingredients
2

tbsp

avocado oil

1

c

yellow onion diced

4

large garlic cloves minced

1

c

bell peppers diced (red and green mixed)

1

c

celery diced

1

jalapeño pepper finely diced

1

tsp

sea salt

1.5

cups

sweet potato 1/2" cubed

4

tbsp

chili powder

1

tbsp

smoked paprika

2

tsp

ground cumin

1/2

tsp

ground cinnamon

1

cup

red lentils rinsed and drained

1

28 oz can fire-roasted tomatoes

2.5

cups

filtered water

1/4

cup

tomato paste

2

14 oz cans kidney beans

1

14 oz can black beans

1

cup

corn kernels

1

tbsp

vegan Worcestershire sauce

1

tbsp

unrefined brown sugar or coconut sugar
Instructions
Heat avocado oil in a heavy pot and sauté onion, garlic, peppers, celery and sweet potato with the salt for about 10 minutes or until onion is translucent and potato has begun to soften.

Add chili powder, smoked paprika, cumin and cinnamon and continue to sauté for 3 to 4 minutes to release flavours.

Add lentils, tomatoes, water and tomato paste and stir to combine. Bring to a boil, cover and reduce heat to simmer for 20 minutes.

Add beans, corn, Worcestershire sauce and brown sugar and stir to combine. Cook covered for an additional 30 minutes. Be sure so stir periodically as the lentils tend to sink to the bottom and may stick.