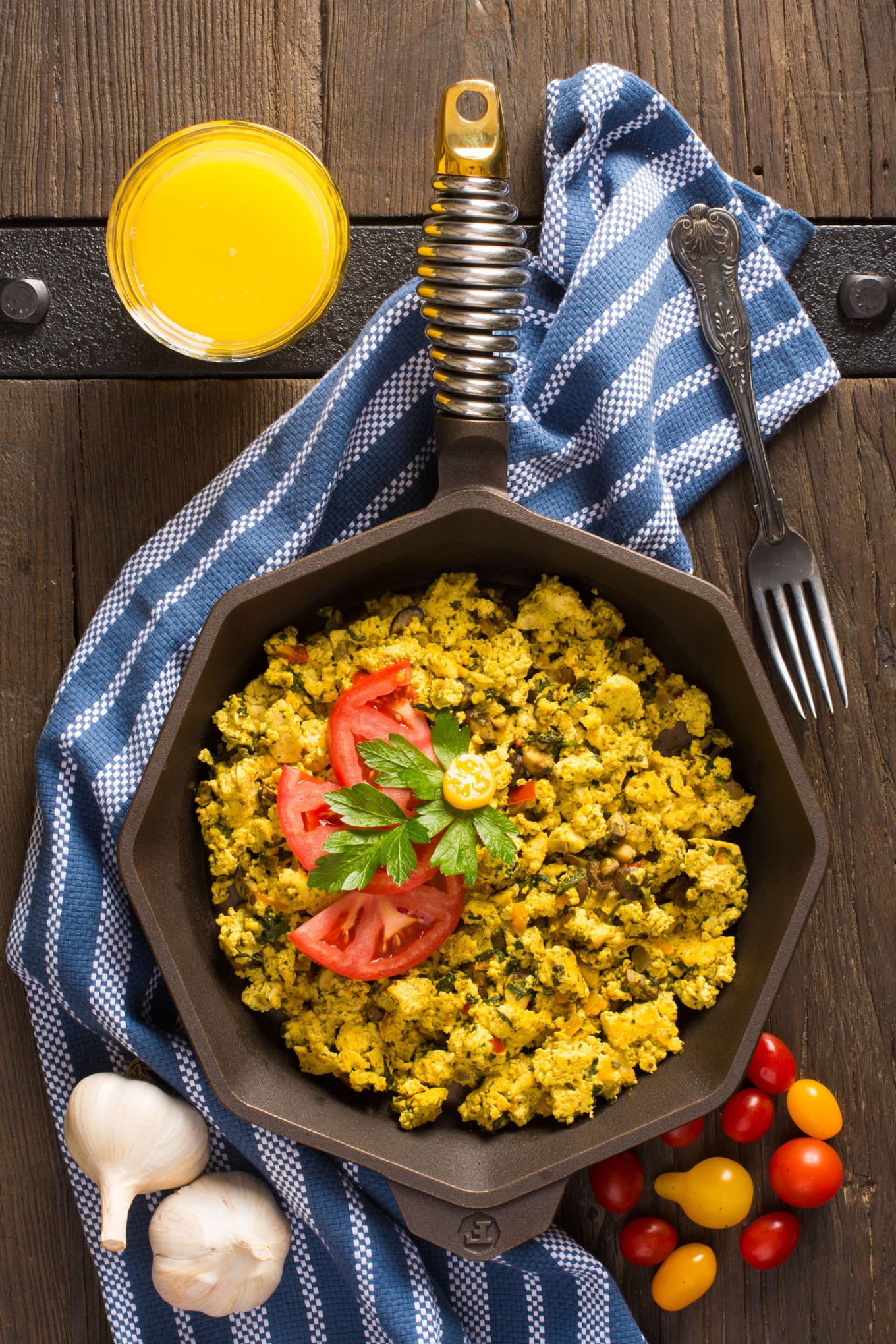 The Himalayan black salt or Kala Namak included in this breakfast dish is definitely the 'Eggy' in this Super Eggy Tofu Scramble.
This tofu scramble is a good substitute for eggs for a weekend breakfast. We paired ours with some bakery fresh toast and jam and a grapefruit (plus a little organic ketchup ?). This is a very versatile dish because you can add any veggies you like really.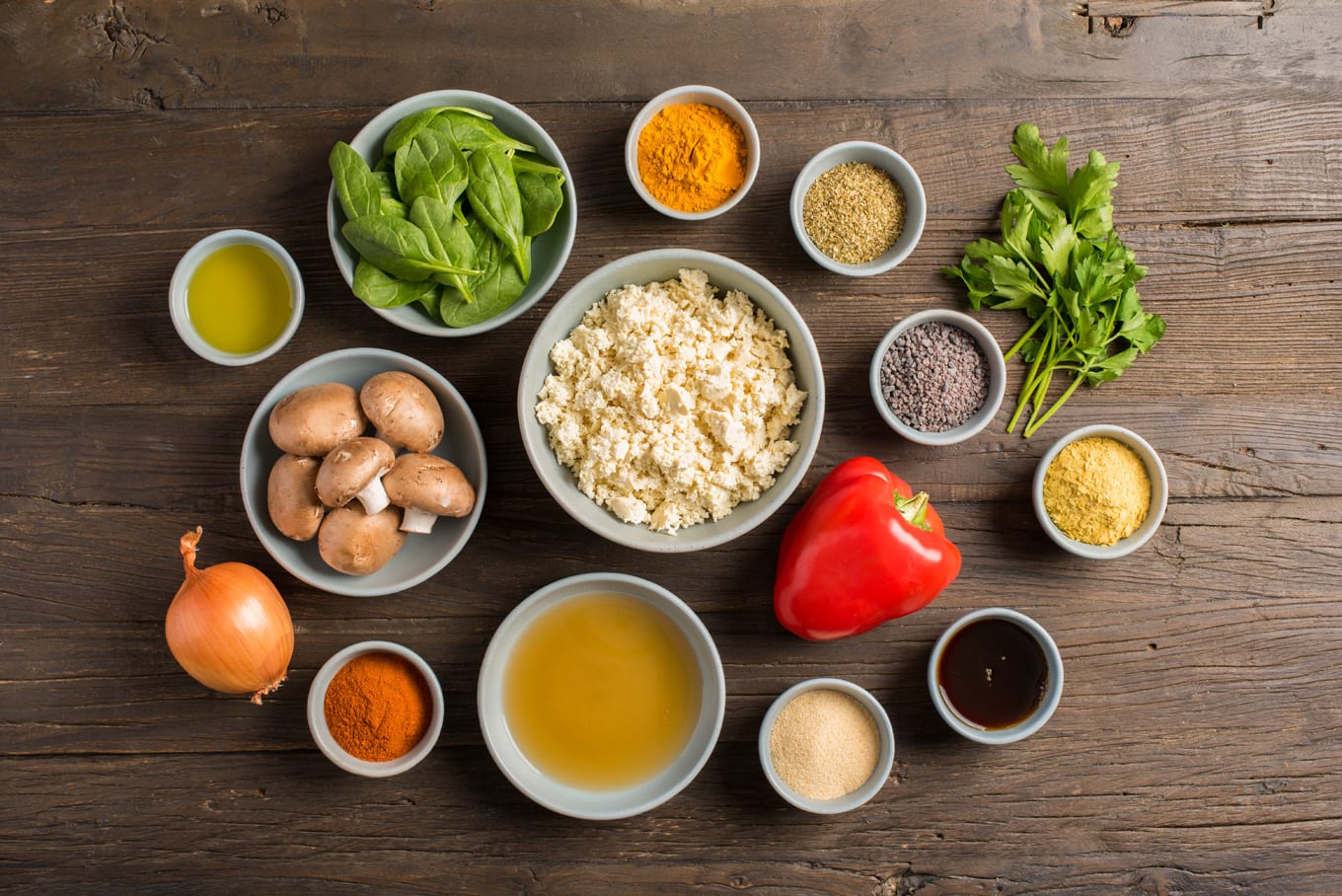 About the Tofu in this Super Eggy Tofu Scramble . . .
Tofu has 9 g of protein, almost 20% of the RDA for calcium and 7% of the RDA for iron in just 3 oz! Soy also contains isoflavones, which are antioxidants that have health benefits for the body, such as helping to reduce cholesterol.  
We prefer sprouted tofu in our super eggy tofu scramble because it provides more bioavailable nutrients and is easier to digest. However, if you can't find sprouted tofu, feel free to use any organic brand. Always choose organic when buying soy products to ensure that they are not genetically modified and are pesticide free.
A Note About the Salt . . .
The trick to giving this super eggy tofu scramble its distinctive 'eggy' flavour is the black salt. Kala Namak is a kiln-fired rock salt used in South Asia. It has a sulphurous, pungent smell and is undeniably the key ingredient. It is also a very effective seasoning in 'eggless' egg salad recipes. We ordered this from Amazon.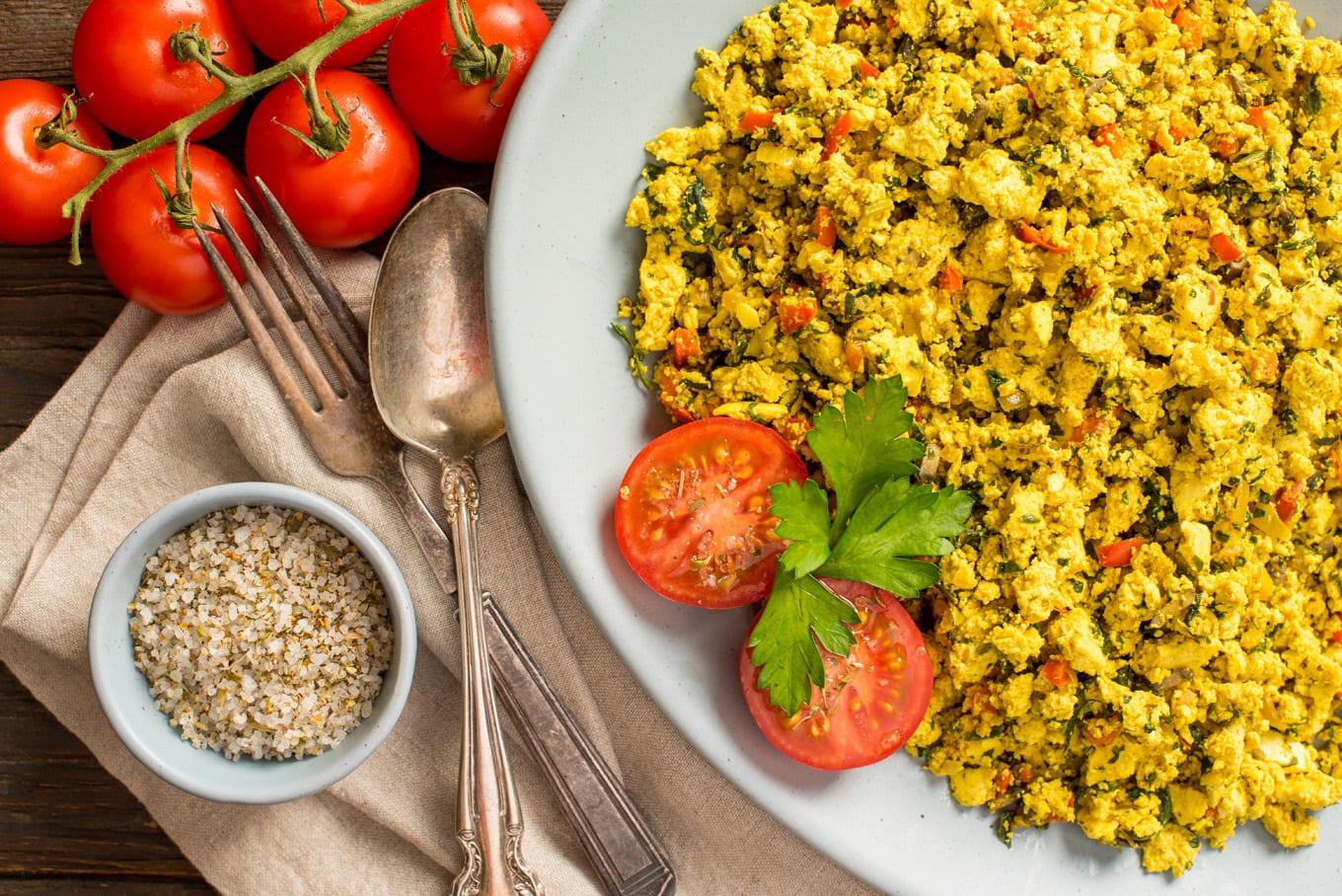 Depending on your hunger level, the recipe may offer two larger portions, but we have indicated three assuming that you'll be having it with toast, some grilled tomatoes or perhaps some grapefruit. You can also fold this scramble up for a breakfast burrito or include it in your next batch of fried rice. Try out our Nut Butter Overnight Oats if you're looking for another breakfast idea.
Let us know if you try this super eggy tofu scramble. We do love to hear from you! Leave a comment and a rating and don't forget to tag us @plantedandpicked on Instagram and hashtag it  #plantedandpicked . Eat well and be well!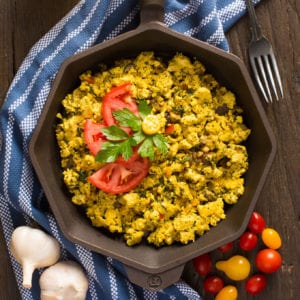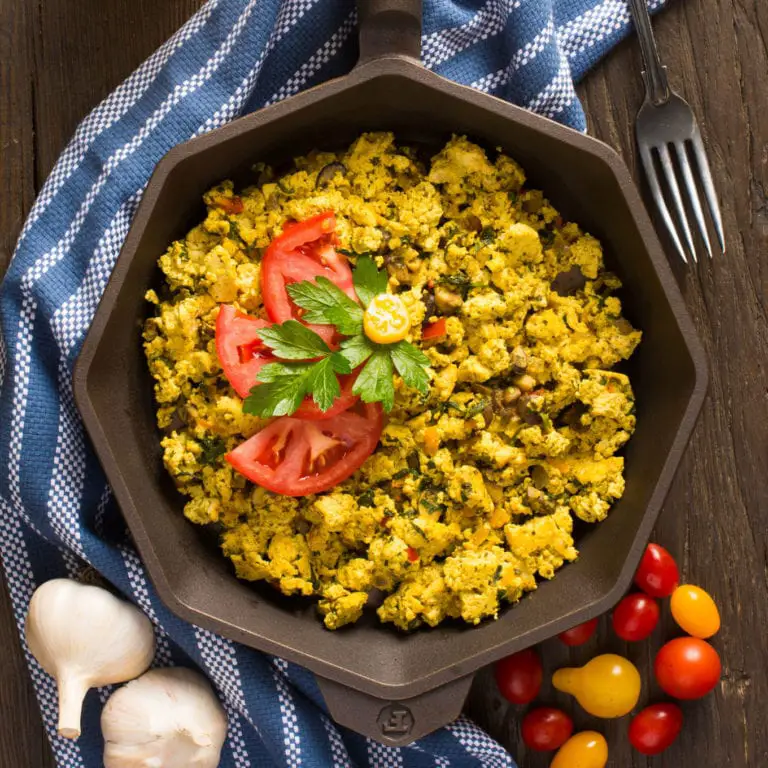 Ingredients
Tofu Mixture
1

block

firm organic sprouted tofu, crumbled

2

tsp

extra virgin olive oil

1/4

cup

onion diced

1/4

cup

bell peppers diced

1/2

cup

mushrooms diced

1

cup

firmly packed spinach chopped

1/4

cup

vegetable broth

1

tsp

maple syrup
Seasoning
1

tbsp

nutritional yeast

1

tsp

garlic powder

1

tsp

dried oregano

1

tsp

dried parsley or 3 times the amount if using fresh

1/2

tsp

paprika

1/4

tsp

turmeric

1/2

tsp

Kala Namak (Himalayan black salt)
Instructions
Start by pressing your tofu in order to remove the moisture. We use a tofu press but you can also wrap it in a kitchen towel, put it on a plate and place a weight on top. Leave for about 30 minutes. Squeeze out the moisture and then crumble it into a bowl.

Dice the onions, peppers and mushrooms.

Combine the nutritional yeast, garlic powder, oregano, parsley, paprika, turmeric and black salt. Set aside.

Heat the olive oil in a frying pan. Add onions, peppers and mushrooms and sauté for about 5 minutes, until vegetables are tender.

Add spices and sauté for 1 to 2 minutes to release flavours.

Add spinach and vegetable broth and sauté for a couple of minutes more until spinach is wilted and vegetable broth has cooked off.

Add crumbled tofu and maple syrup and cook for about 8 minutes, until tofu has released its moisture and you are happy with the texture.