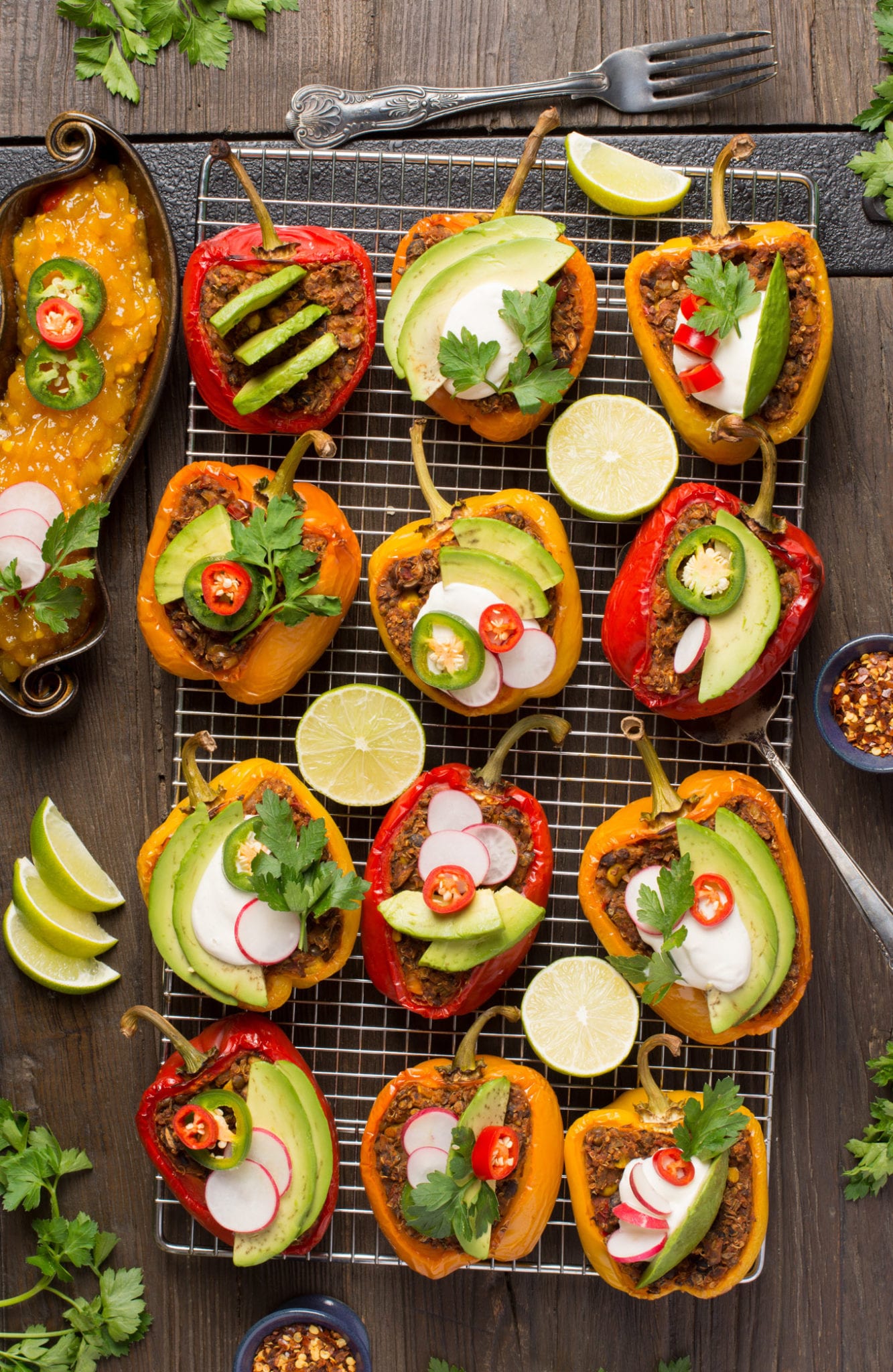 We just love these vegan Mexican stuffed peppers and they are super popular with the kids. Plan to make these on the weekend when you have time to pour some love into this recipe!
The Goodness in these Vegan Mexican Stuffed Peppers
These stuffed peppers are hearty and full of flavour and each pepper contains about 8 g of protein and 8 g of fibre from all ingredients combined. Lentils have one of the highest levels of plant-based protein and are great as part of a vegan diet. Lentils and black beans are two of the highest sources of fibre amongst fruits, vegetables, grains, legumes, nuts and seeds.
Quinoa is an equally great source of protein and fibre and is also a complete protein. This means that it contains all nine essential amino acids that our bodies cannot make on their own. Note that while beans alone are not a complete protein, eating them together with rice makes that combination a complete protein. Lets get on to the peppers and start stuffing!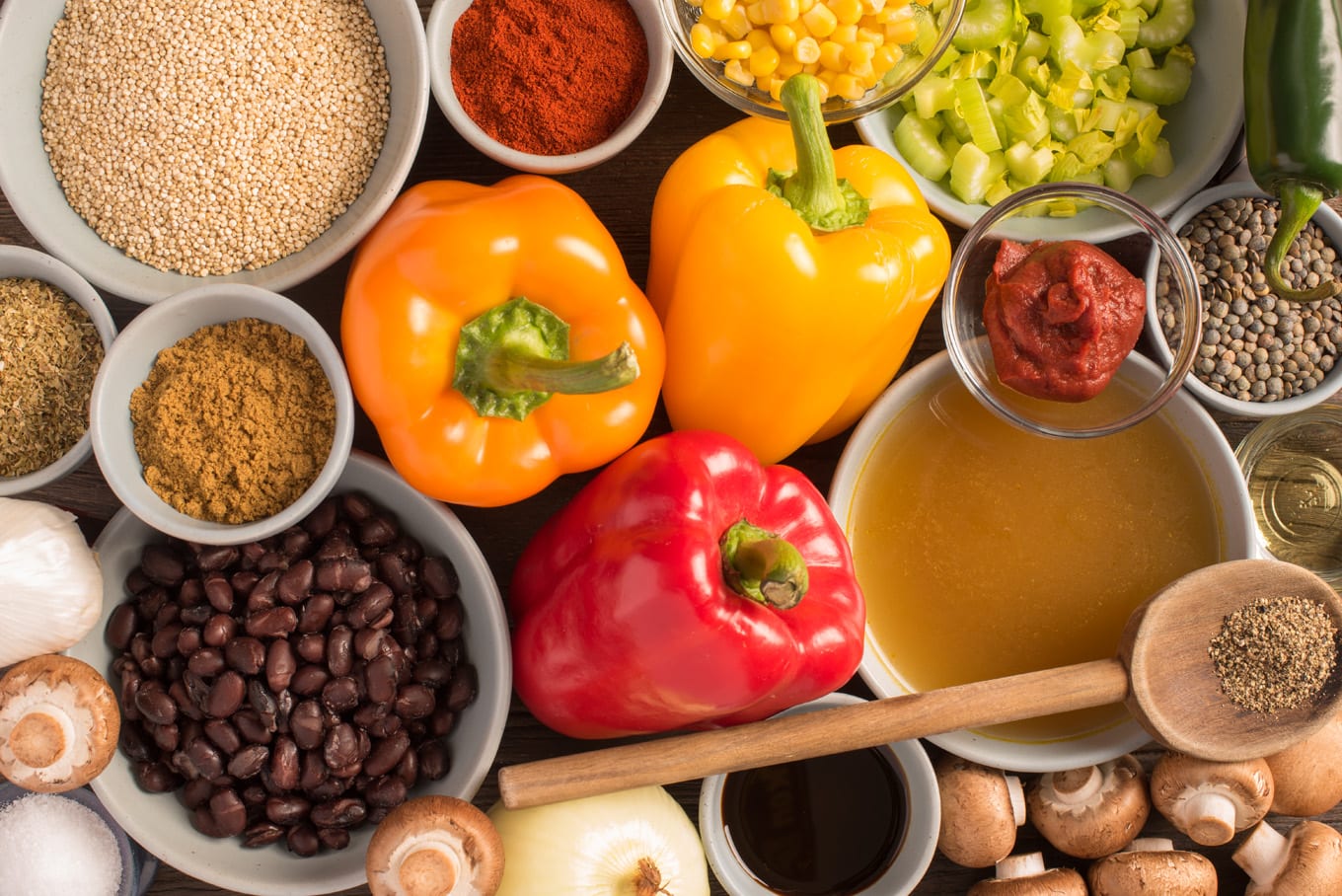 Preparation Tips . . .
We prefer to cut the peppers by slicing off a side from the top to the bottom. This is great for presentation and we find them easier to eat too. We also pre-bake the peppers so that they are deliciously tender after baking them with the filling. We made a double batch this time around, but we've provided the recipe for six. Feel free to double up too if you'd like to have leftovers. These vegan Mexican stuffed peppers are surprisingly filling, but they are delicious, so don't be surprised if you want two . . . maybe that double batch is a good idea!
We like to top our peppers with some Vegan Cashew Sour Cream and a few slices of avocado and some mango chutney, but go ahead and use your favourite toppings to complement the savoury flavour of the stuffed peppers. When we have extras, we enjoy them warmed up for a nutritious lunch with a side salad like our Kale and Avocado Salad with Creamy Tahini Dressing.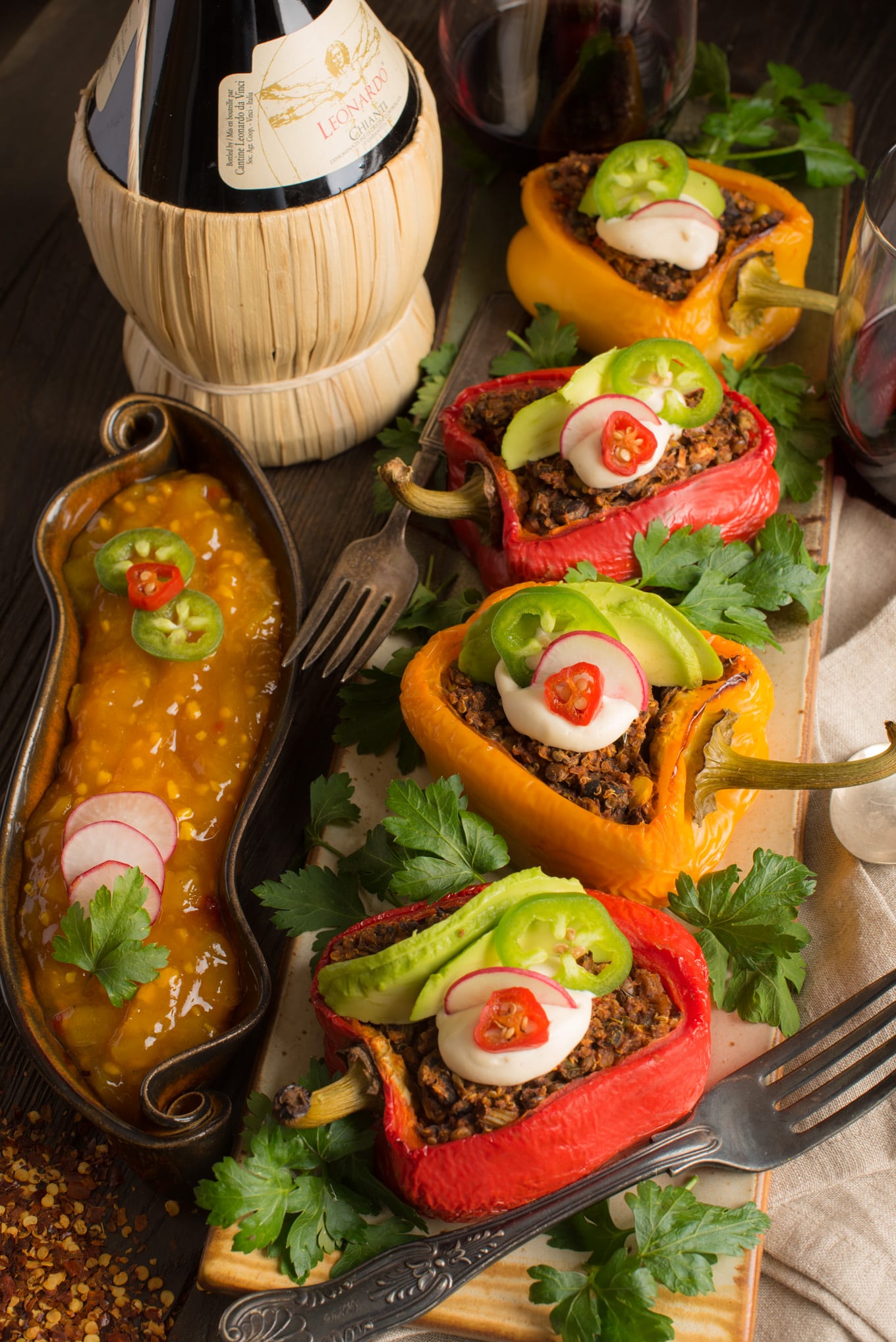 Let us know if you get the chance to enjoy these. We look forward to hearing from you! Leave a comment and a rating and don't forget to tag us @plantedandpicked on Instagram and hashtag it  #plantedandpicked. Eat well and enjoy the deliciousness!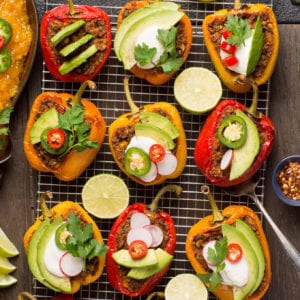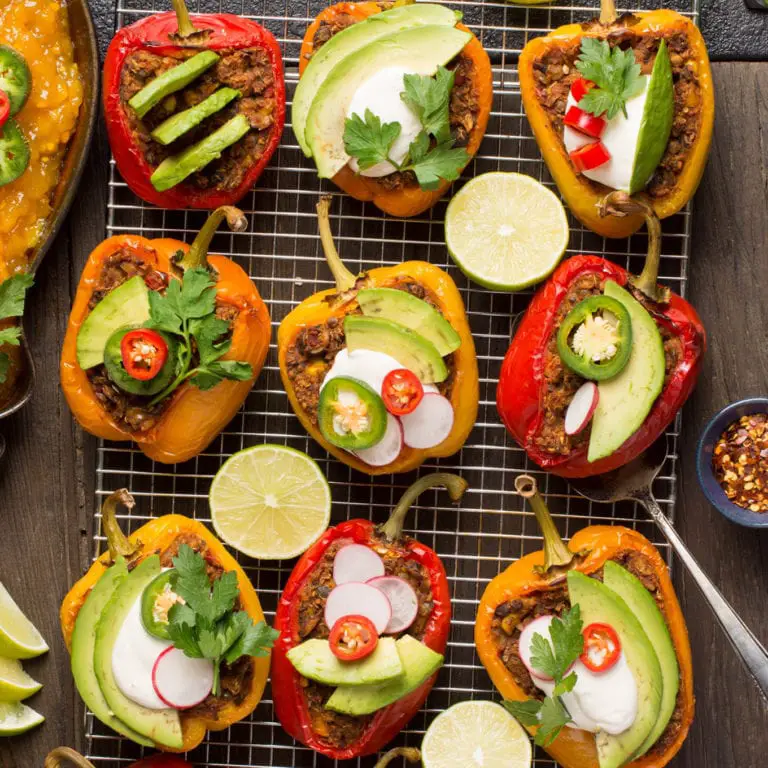 Ingredients
6

medium bell peppers

mix of colours

1/4

cup

dry quinoa

1/2

cup

vegetable broth

1/4

cup

dry green or brown lentils

1

14 oz can

black beans

1

tbsp

avocado oil

1/2

cup

onion diced finely

1/2

cup

celery diced finely

1/2

cup

mixed bell peppers diced finely

from pieces removed from peppers

1

jalapeño pepper seeded and finely chopped

2

large garlic cloves minced

1

tsp

sea salt

1/2

tsp

cracked black pepper

1

tbsp

vegan Worcestershire sauce

4

oz

mushrooms diced

1.5

tsp

smoked paprika

1.5

tsp

dried oregano

1/2

tsp

ground cumin

2

tbsp

tomato paste

1/4

cup

corn kernals
Instructions
Holding each pepper upright, slice approximately one third of the pepper off lengthwise. Remove seeds and web from the peppers and place the sliced off pieces aside.

Place the peppers cut side down on a parchment-lined baking sheet and bake for 25 minutes at 375ºF to soften flesh. Remove from oven and cool completely.

Place rinsed quinoa into vegetable broth in a small saucepan and bring to a boil. Cover and reduce heat to simmer for 10 minutes before removing from heat. Let sit covered for 5 to 10 minutes before removing lid and fluffing with fork. Set aside.

While quinoa is cooking, place rinsed lentils into a pot of water and bring to a boil. Cover and reduce heat to simmer for 20 to 30 minutes until lentils are tender. Drain and set aside.

Mash half of the beans and place in a bowl with the remaining beans and cooked quinoa and lentils. Set aside.

Heat oil in a large pot and sauté onion, celery, mixed peppers, jalapeño pepper and garlic until vegetables are tender (approximately 5 to 7 minutes), seasoning with salt and pepper. Add diced mushrooms and Worcestershire sauce and continue to sauté until mushrooms have released their moisture (approximately 5 minutes).

Reduce heat to medium low and add smoked paprika, oregano, cumin, tomato paste and corn, stirring to combine and release flavour. Remove from heat after 1 to 2 minutes. 

Combine vegetable mixture with the quinoa, lentils and beans and mix thoroughly.

Stuff peppers with mixture and place on a parchment-lined baking sheet. Bake at 350ºF for 40 minutes or until heated through.

Garnish with sliced avocado and vegan sour cream and serve with your favourite relish! Enjoy!