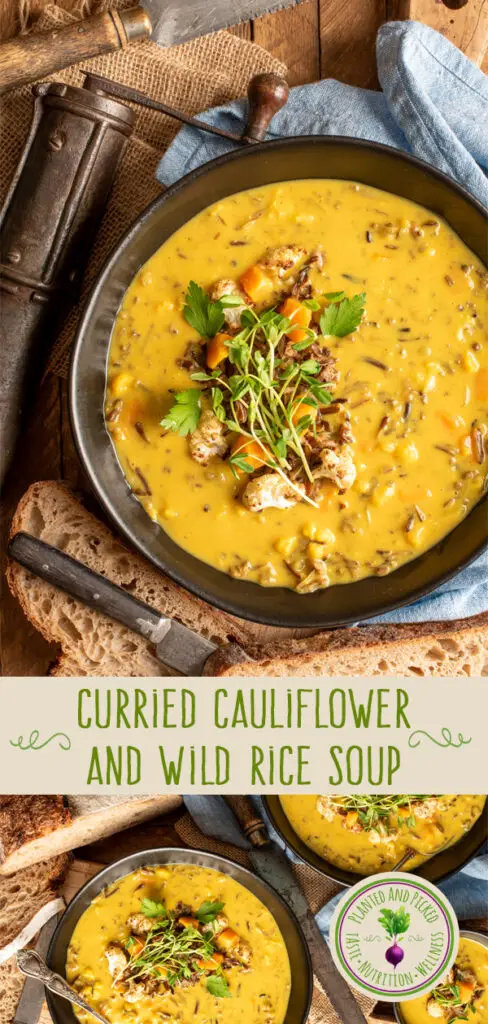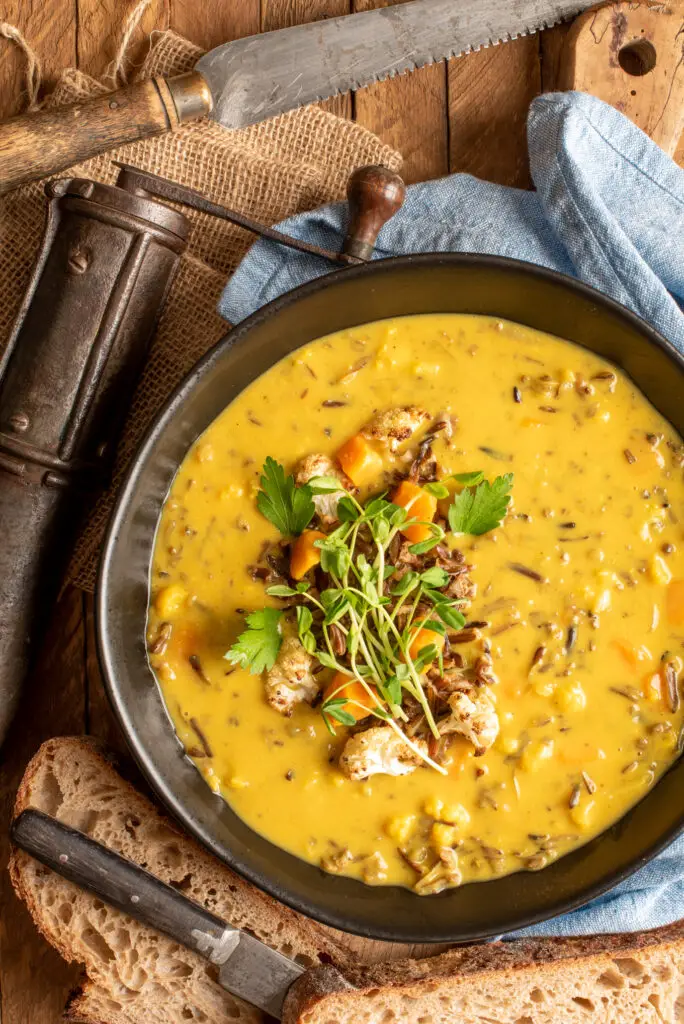 This Curried Cauliflower and Wild Rice Soup brings friends and family together in community, at the harvest table. With crispness in the air, we find joy in the classic comfort of a well seasoned bowl of soup and the simplicity of a freshly baked loaf of whole grain sourdough bread.
Why We Love Cauliflower
We love including cruciferous vegetables in our diet as much as possible and soups are always a good way to pack a lot of nutrition into a one pot meal. We also consider cauliflower to be a low cost superfood and it is readily available for most people. It is high in vitamins and fibre. It also contains high concentrations of antioxidants and sulforaphane – both of which have have anti-cancer properties. Sulforaphane is also beneficial for detoxification. For more information on detoxification, see our post on how it works here. Other beneficial detoxifying and cancer fighting ingredients in this Curried Cauliflower and Wild Rice Soup include onions, garlic and turmeric. Food is medicine!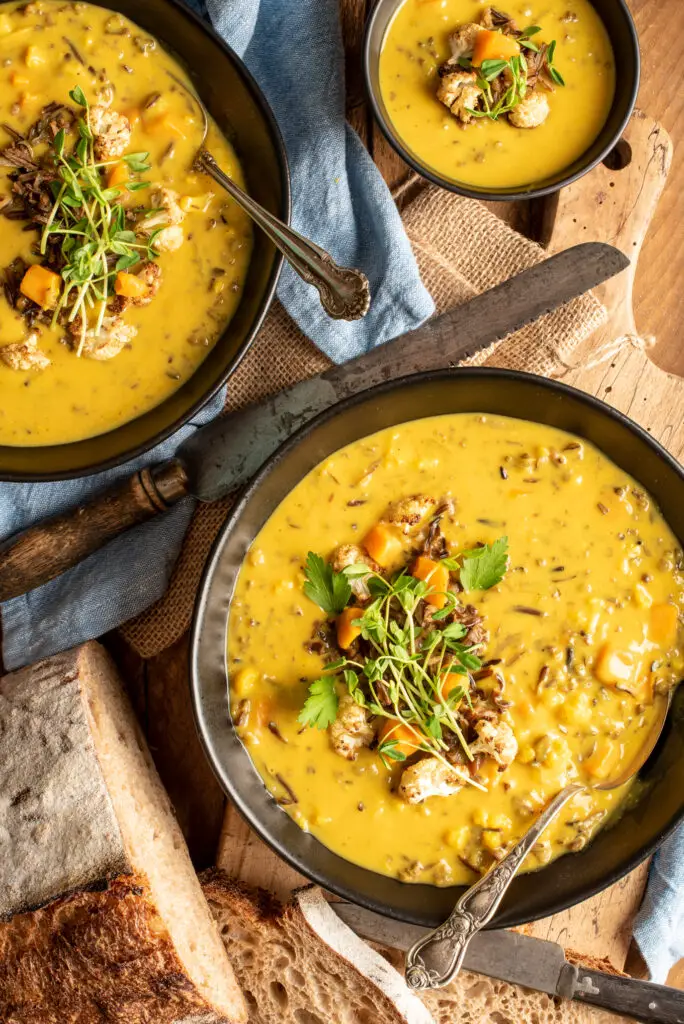 To make this soup a little hardier, we also added some wild rice and sweet potato. The wild rice adds some chewy texture to the soup. The combination is a nourishing and satisfying meal on a cool fall or winter day.
Healthy Habits
One of the universal habits of health in ayurveda is to eat an earlier, lighter dinner. Soup, along with a piece of sourdough bread or side salad is often supper at our house. In fact, 'supper' is derived from the word 'supplemental' after all! Supper was originally a secondary, lighter evening meal. The main meal of the day, called dinner, used to be served closer to what is known as lunchtime, around the middle of the day. This results in better digestion and energy through the day. It also aids in having a better night sleep. Enjoy a bowl of Curried Cauliflower and Wild Rice Soup for your supper tonight!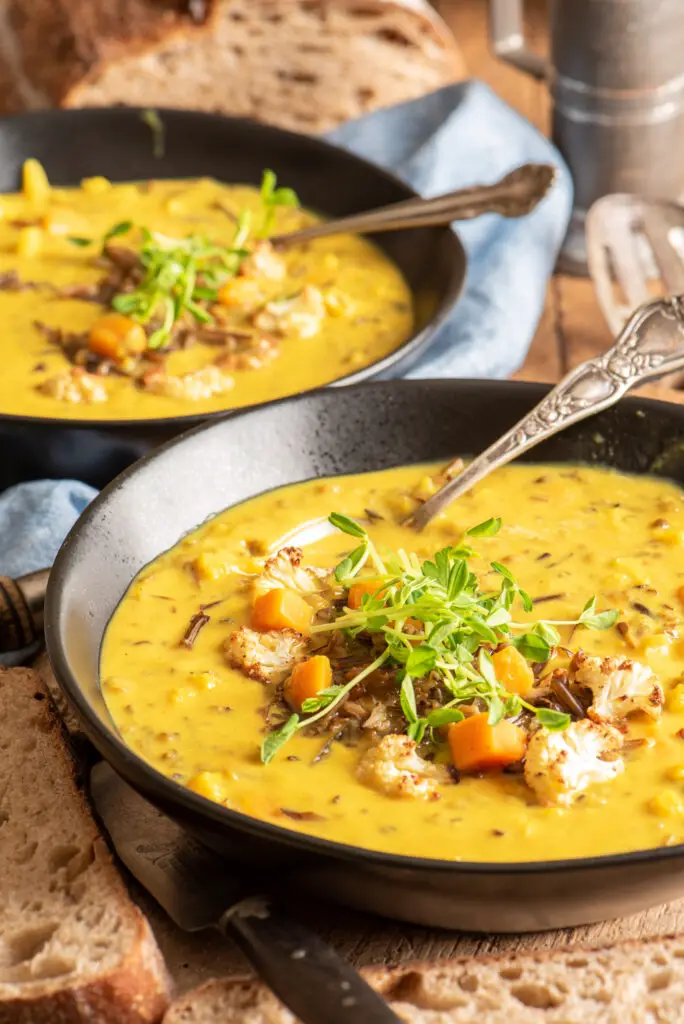 If you are looking for some other soup ideas, try out one of these other soups . . . Classic Italian Minestrone Soup, Roasted Squash and Pear Soup, Spiced Red Lentil Soup, Fire Roasted Tomato Soup or Warming Carrot Ginger.
Let us know if you make this nutrient rich and satisfying Curried Cauliflower and Wild Rice Soup because we always love to read your comments and follow up! Leave a comment and a rating and don't forget to tag us @plantedandpicked on Instagram and hashtag it  #plantedandpicked. Eat tasty plant-based food and experience wellness!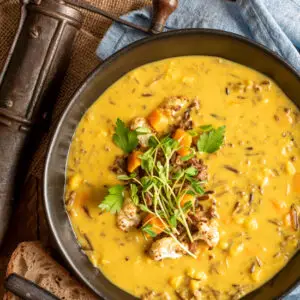 Ingredients
Wild Rice
½

cup

wild rice

2

cups

vegetable stock

homemade is best
Soup
4

cups

cauliflower florets

2

cups

sweet potato, peeled and cubed

2

cups

yellow onions, sliced in thin wedges

1½

tbsp

garlic, minced

1

tbsp

olive oil

1

tsp

sea salt

2

tsp

curry powder

½

tsp

freshly grated turmeric

Alternatively ¼ tsp ground

1

tsp

ground cumin

¼

tsp

black pepper, freshly milled

4

cups

vegetable stock

2

cups

cooked wild rice

1

cup

full fat coconut milk
Garnish
roasted cauliflower

pea shoots
Instructions
Preparing Wild Rice
Rinse the rice well in a strainer, to remove the surface starch and add to a medium sauce pan together with the 2 cups of vegetable stock (or water).

Bring the rice to a boil, reduce to a steady simmer and cover. Depending on your particular wild rice, cooking time will likely range between 45 and 60 minutes. The rice will be ready when it is tender and the kernels have popped open. While rice is cooking, prepare soup.

Once cooked, remove the cover and fluff it with a fork. Simmer an additional few minutes, stirring occasionally before removing from the heat and draining off any excess liquid. Set aside.
Soup
Prepare the cauliflower by cutting into small florets and peel and cut sweet potato into 1 cm cubes. Set aside.

Slice onion thinly in wedges and mince garlic. Heat olive oil over medium heat in a large heavy sauce pan and add the onions, garlic and sea salt. Sauté over medium heat until soft and translucent. This should take approximately 5 to 7 minutes.

Add the curry powder, turmeric, cumin and black pepper to the pot and sauté for another minute or so, stirring often, until aromatic.

Add the prepared cauliflower and sweet potato to the pot and stir together to coat vegetables with the seasoning. Add the vegetable stock and bring to a boil before reducing to simmer, covering and cooking for approximately 15 minutes or until vegetables are tender.

Transfer approximatley one half of the soup into a blender and purée until smooth and creamy. Return the blended soup to the pot and stir to mix well. Add the prepared wild rice and coconut milk.