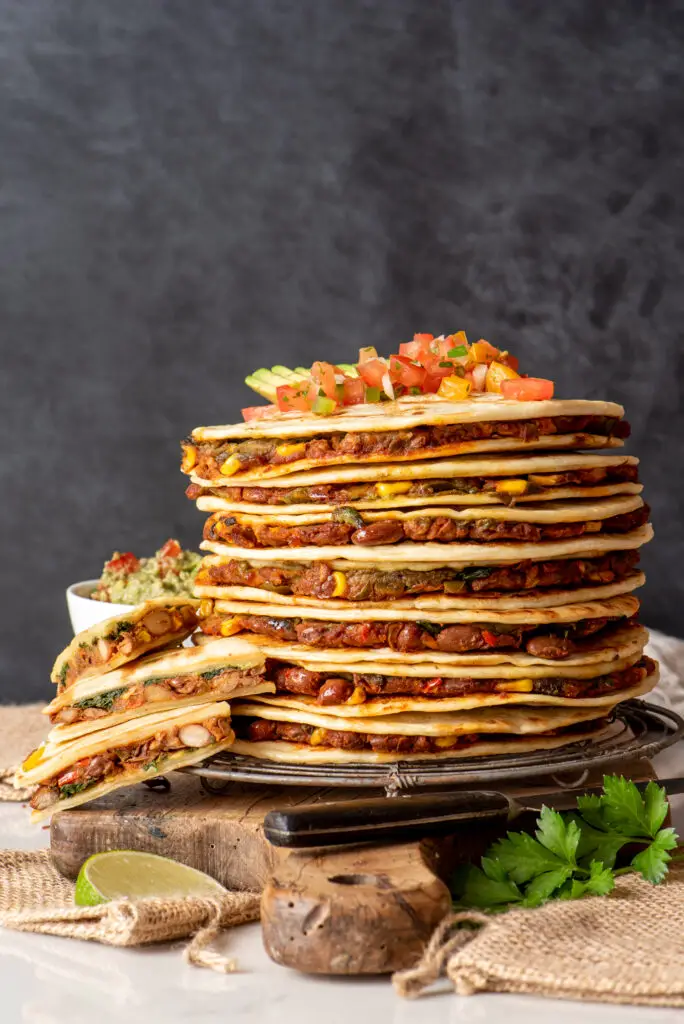 A Pinto Bean and Greens Quesadilla is sure to be a family favourite. Full of plant-based whole foods nutrition in one package! They can also be prepared in advance and refrigerated for a quick meal on a week-day.
Quesadilla with Homemade Tortillas
We usually make a double batch of our Homemade Flour Tortillas and keep them in the freezer for when quesadilla hunger strikes. You can certainly use a store-bought version, but if you have the time, you've got to try them out. You'll not want those ones from the store again. Just pull them out of the freezer to thaw while you prepare the filling and you're all set. It's highly likely that you'll have all the filling ingredients already on hand.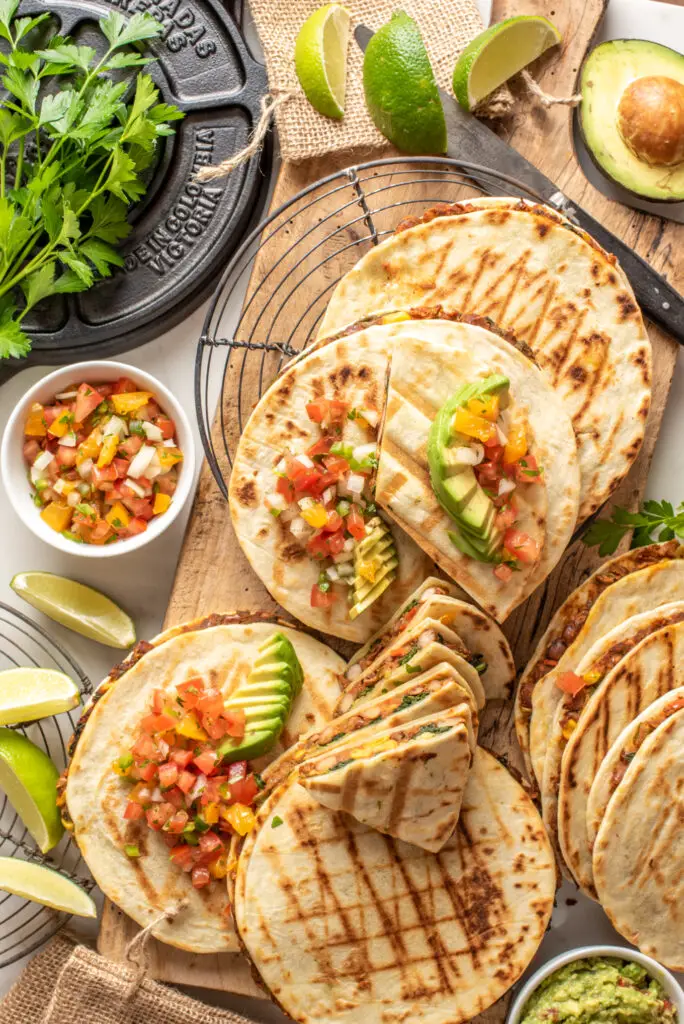 Beans should be an integral part of a whole foods plant-based diet (WFPB). Even if you are not vegan, everyone should try to include beans in their diet on a daily basis. Read more about the health benefits of beans on our wellness page. They're a beautiful blend of carbohydrates, protein and fibre and also contain a powerhouse of nutrients.
Instead of using cheese, we include heart healthy avocados to add creaminess. Including greens also increases the health benefits of this dish. Just sauté your vegetables and the rest all comes together quickly in a single pan. After filling each quesadilla, we like to grill them in a grill pan on the stove top. It's super quick and they can be kept warm in the oven until they're ready to eat.
Sometimes we prep these quesadillas on the weekend and store them in the fridge for a quick meal during a weeknight. Just pull them out and complete the final step of grilling or baking them. They're a favourite with our kids.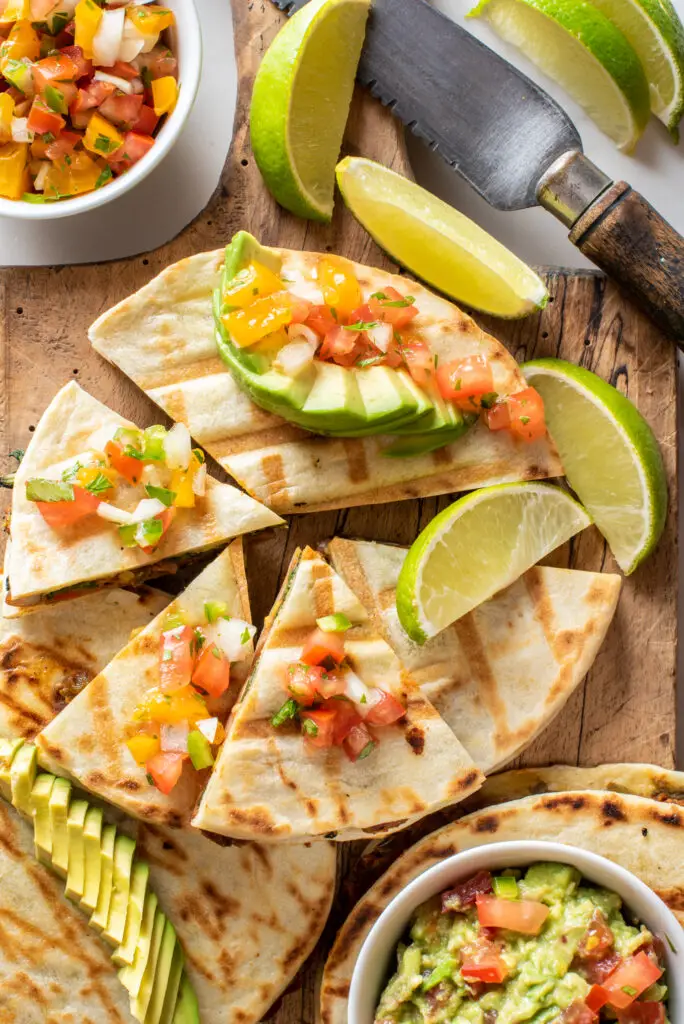 Buen provecho! More Ideas?
We hope that you're not too hungry and leave a Pinto Bean and Greens Quesadilla for your friend because it's always nice to share! Perhaps a little Vegan Cashew Sour Cream would go well on top with some Homemade Guacamole on the side. Looking for more? Try out these Vegan Scallop Tacos, these Mexican Stuffed Peppers or this Vegan Mexican Chili with Real Chilis. They're all so good!
Let us know if you try these out! We really do look forward to hearing from you. Please leave a comment and a rating and don't forget to post a photo of yours and tag us @plantedandpicked on Instagram using the hashtag  #plantedandpicked. There is always enough for one more person at our place!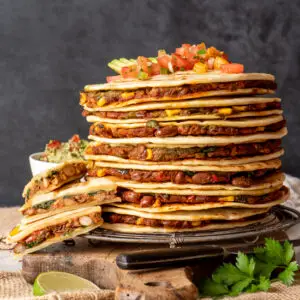 Ingredients
1

tbsp

avocado oil

½

cup

onions, diced

½

cup

peppers, diced

2

large

garlic cloves, minced

½

cup

frozen corn (or from cob)

1

14oz

can organic pinto beans (1 1/2 cups cooked)

¼

cup

salsa

¼

cup

vegetable broth

8

oz

baby kale, Swiss chard or spinach, roughly chopped

8

6 inch

tortilla shells

2

avocados

½

lime, juiced
Seasoning
1

tbsp

smoked paprika

1

tbsp

chili powder

1

tsp

coriander

1

tsp

garlic powder

½

tsp

sea salt
Instructions
Bean Mixture
Mix all seasoning ingredients in a small bowl; set aside.

Measure corn into a bowl and set aside.

Open a can of pinto beans. Drain and rinse them in a colander. Add them to a bowl and mash them with a fork until the beans are roughly mashed.

Wash, dry and roughly chop greens into bite sized pieces.

Heat a large frying pan over medium heat. Add avocado oil and heat for about a minute.

Add onions, peppers and garlic. Sauté for 5 to 7 minutes, stirring often. Onions should be soft and slightly browning.

Add corn, beans and spice mixture. Cook, stirring frequently, for about a minute to enhance the flavour of the spices.

Add the salsa, vegetable broth and greens. Stir to combine.

Cover the pan with a lid, reduce heat to medium-low and cook gently until the greens are wilted (up to 5 minutes). Check and stir the mixture a few times to ensure it doesn't burn.

The moisture should be evaporated and the mixture should be a nice soft paste. If not, continue to cook for a minute or two more, uncovered.

Turn off the heat and set aside.
Avocado Mash
Scoop out the flesh of the avocados into a bowl and mash them. Squeeze the lime into the bowl and stir to combine. Set aside.
Quesadillas
Set all the tortilla shells onto a clean counter top in groups of two.

Divide the avocado mixture into 4 servings and spread 1 serving on each of 4 shells (about 2 tbsp each).

Divide the bean mixture into 4 servings (about 1/2 cup each) and spread onto the other 4 shells.

Place one of the shells with avocado on top of a shell with the bean mixture and gently push together.

Heat a grill pan frying pan over medium heat and brush with a little avocado oil. Add a quesadilla and cook for a couple of minutes. Turn over a cook for a few minutes on the other side. You want the outside to be a little crispy and the inside to be warmed through.

You can also use a panini press or bake them in an oven on about 375°. If you bake them, they will not be as crispy.

Place the quesadilla on a cutting board and cut into 4 equal pieces. Each quesadilla is typically one serving per person.