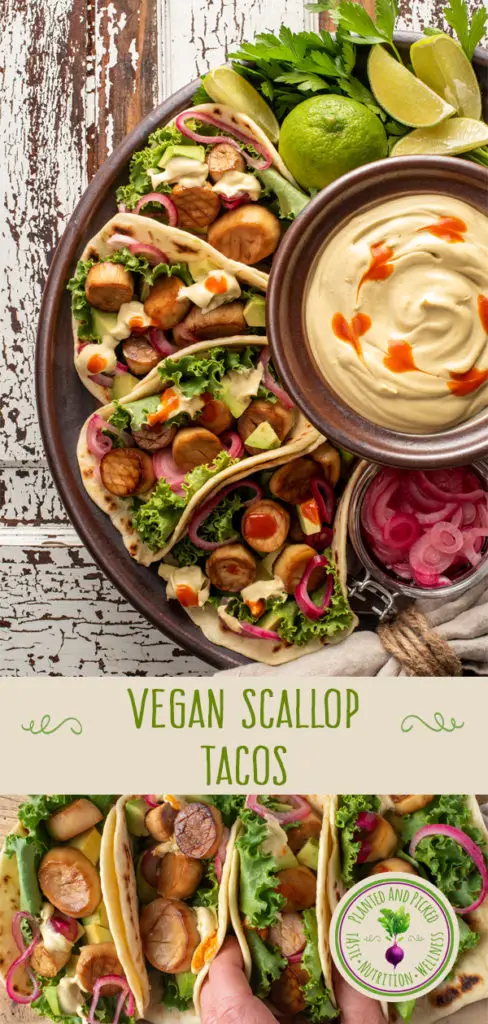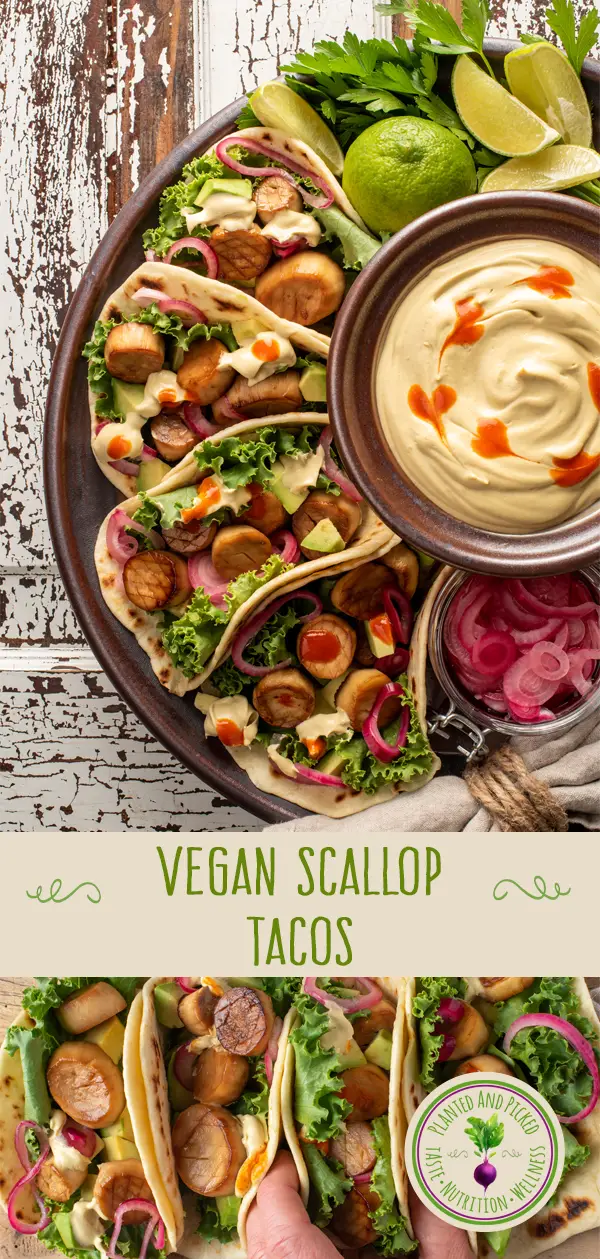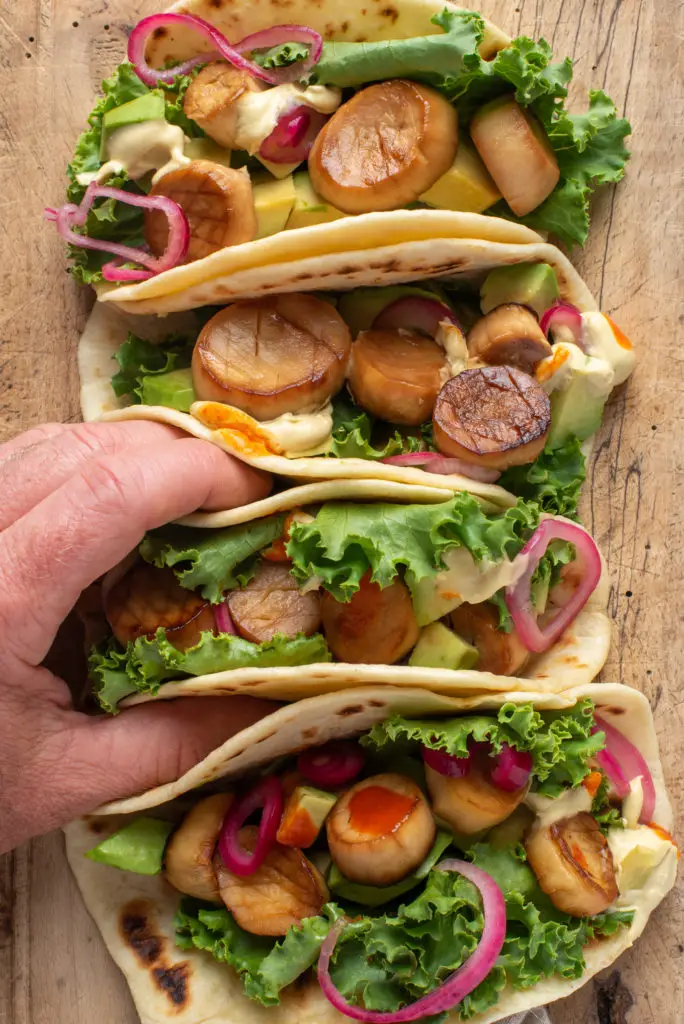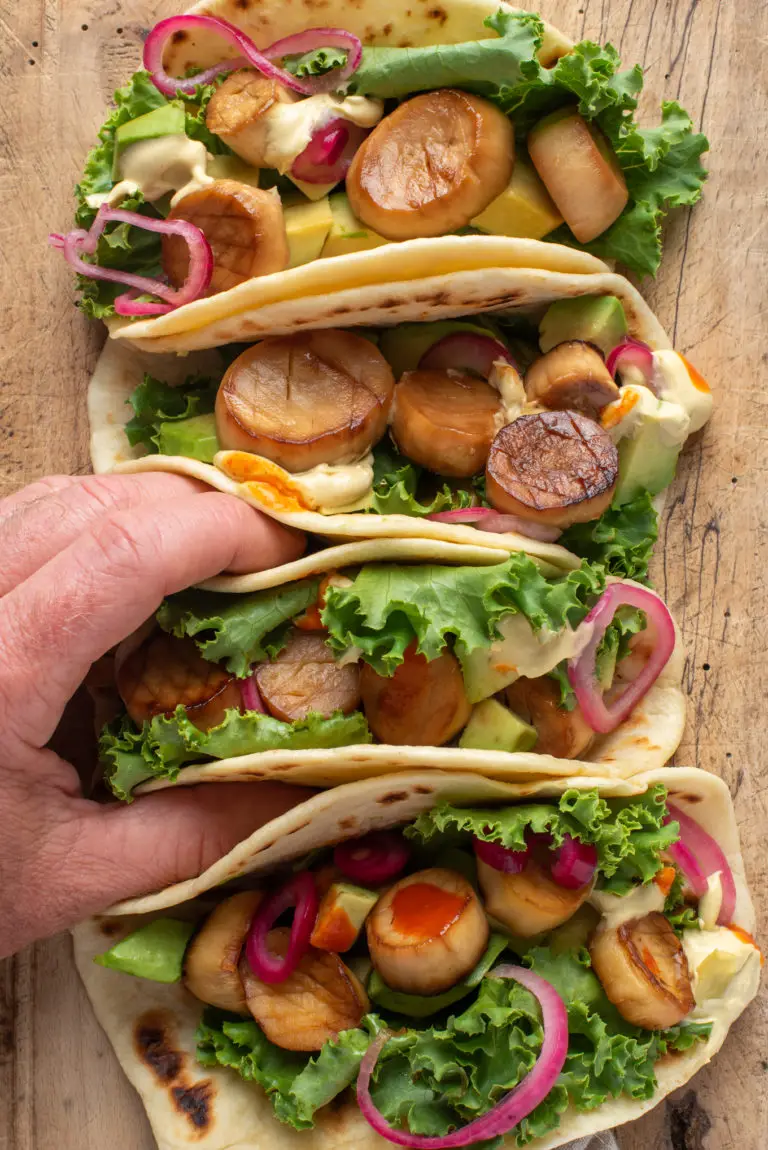 These vegan scallop tacos are not just delicious, they're freakishly similar to the real thing! It really is intriguing how similar the texture and structure of a king oyster mushroom is to that of a scallop. Add the right flavours and cooking technique and BAM, scallop tacos for lunch or dinner. Buen Provecho!
The Marinade
There are a number of different versions of these seafood lookalikes. Some say marinate and some don't. Others say marinate for 20 minutes and some say marinate as long as overnight. Some even say only soak in hot water.
We are all about flavour and texture for these vegan scallops. Therefore, the soak in water only or 20-minute marinade are not our thing. We have experimented with marinating for a few hours and even overnight. Our verdict was that 3 to 4 hours is the sweet spot. The 'scallops' became rubbery when marinated overnight, but were just right after 3 to 4 hours. We cut a cross-hatch pattern slightly into each flat end of the 'scallops' for aesthetics and to help absorb the marinade.
Our marinade includes some wine and lemon juice for the familiar flavours often associated with scallops. It also includes brown rice miso for it's salty and earthy umami-rich flavour. Tamari also has a pleasant savoury flavour, but is lighter on the salt than miso. It's therefore a good choice for this marinade in combination with the brown rice miso. A piece of Kombu, which is an edible kelp, adds nutrients and minerals to the marinade and is mildly salty and subtly sweet. Finally, we also use garlic because, well, when don't you!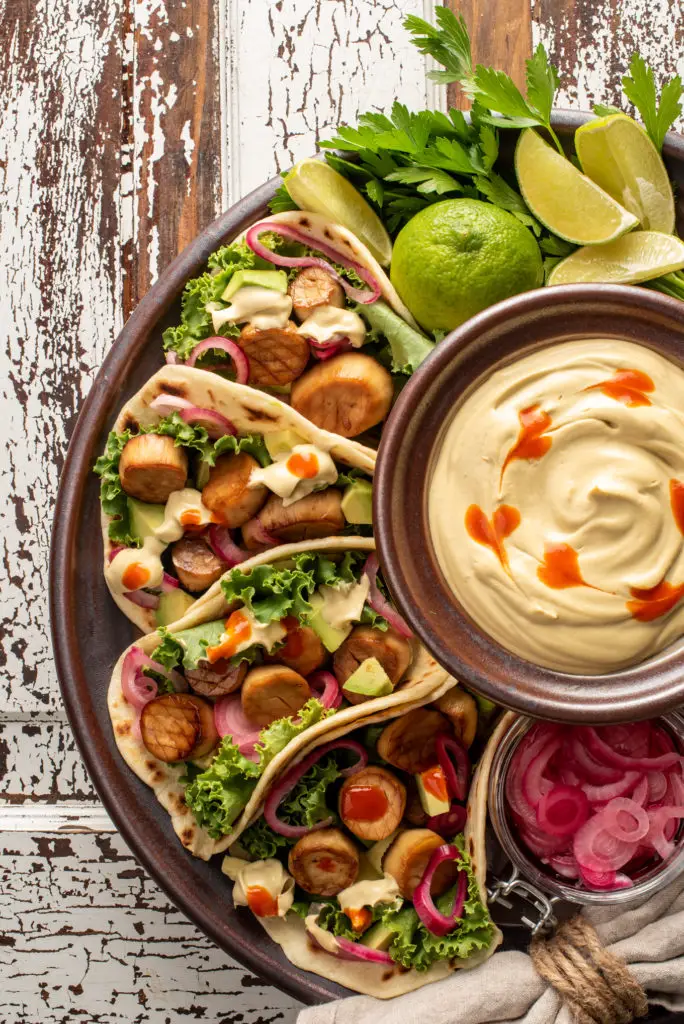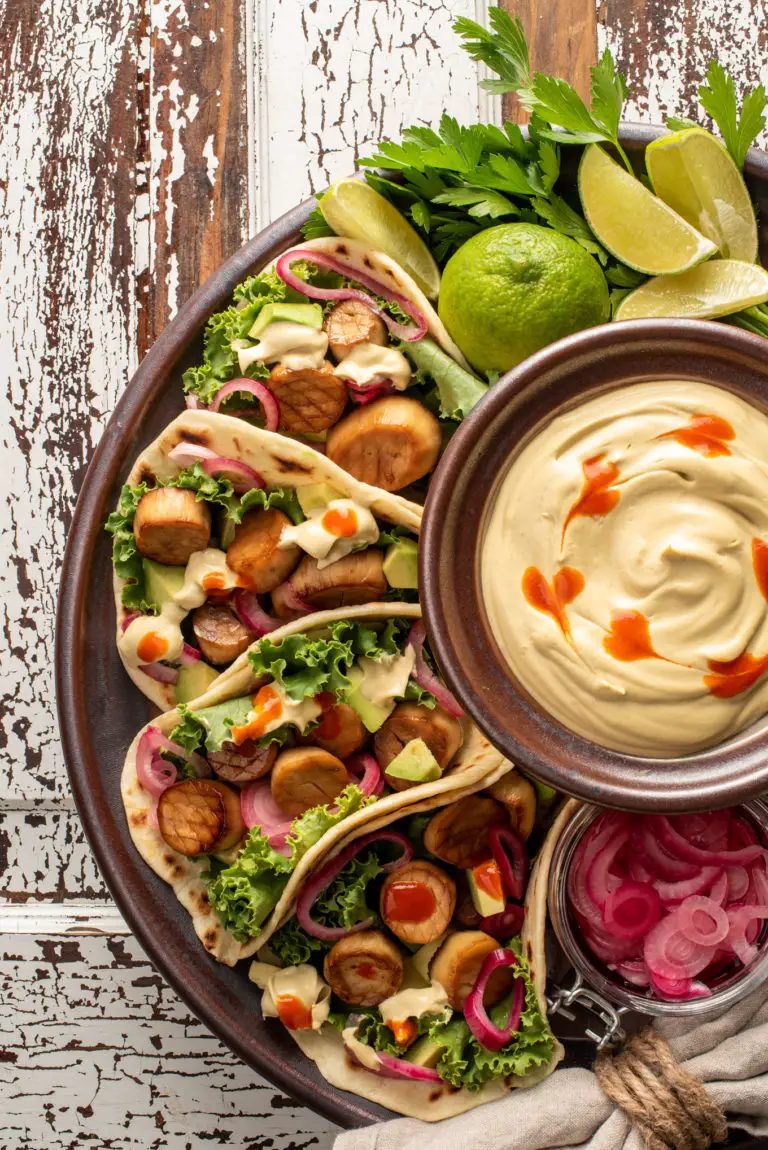 Searing these Vegan Scallops
A good sear really adds to the texture and familiar look of these vegan scallops. We can say without hesitation or reservation that you don't even think about mushrooms when you're devouring these guys. It really is quite extraordinary.
We use a heavy cast iron skillet and bring it to a medium heat with about 2 tablespoons of avocado oil. Refined avocado oil has a high smoke point of about 500°F or about 260°C and is ideal for pan-searing these vegan scallops. It is super important to ensure that you don't reach the smoke point. If you do, let the pan cool, remove the oil and start again. You just don't need the health risks associated with free radicals that are released when the oil breaks down past its smoke point.
It's important to dry your 'scallops' as best as possible with paper towel so that they sear rather than steam in the marinade that they were soaking in. Spread them out in the pan to also minimize any steaming effect and leave them for 3 to 4 minutes before checking them. Once they have a nice sear, flip them over for another few minutes. We then add about a tablespoon of vegan butter, leave them for about a minute before finishing with a squeeze of lemon juice and removing them from the pan.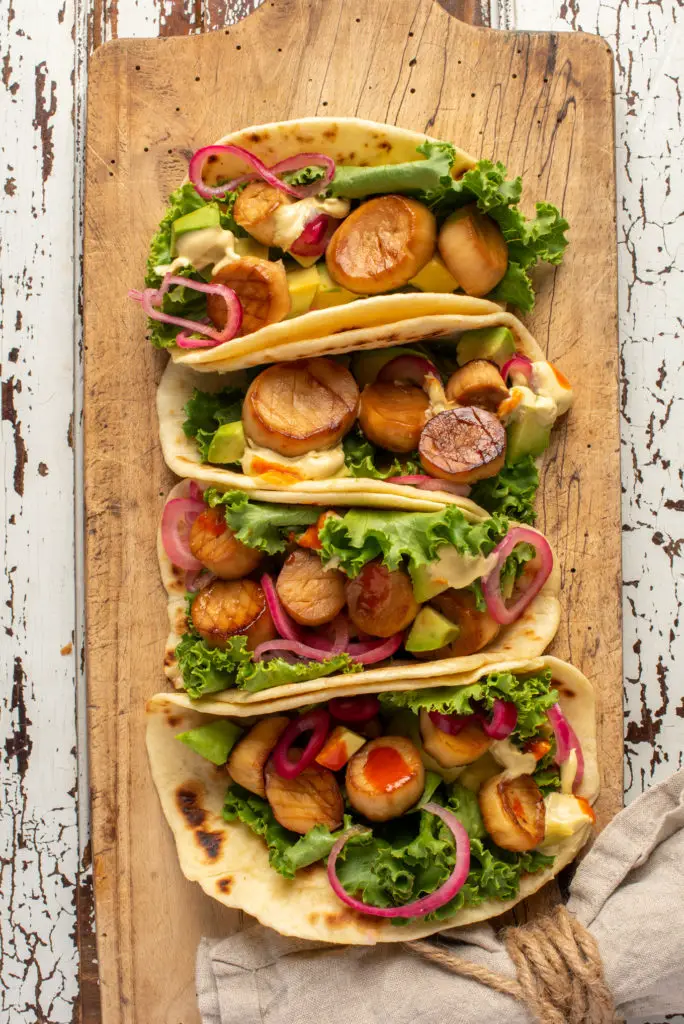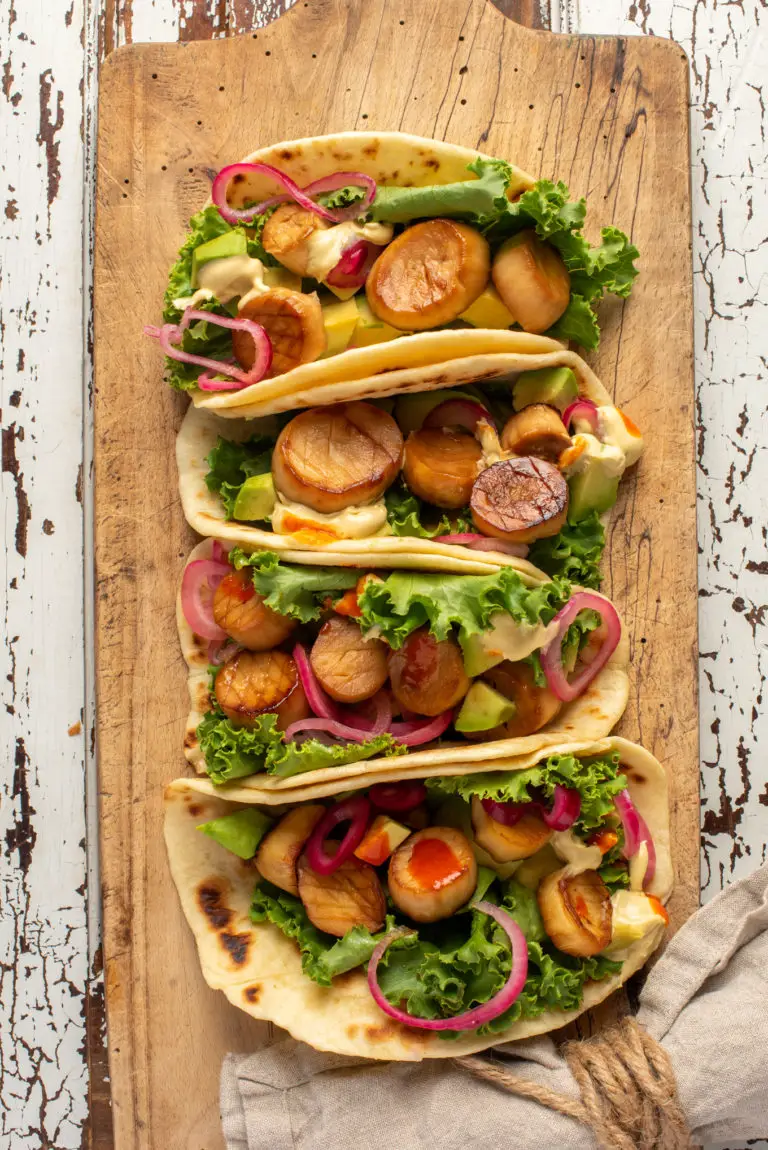 The Vegan Scallop Taco Assembly Line!
These tacos are all about the vegan scallops, but there's more to it than that. They come together in a soft tortilla wrap with some leaf lettuce, diced avocado, some vegan mayo, quick pickled onion and a dash of sriracha sauce. We make our own flour tortillas and we're telling you, once you've done this once, you will not want to turn back to store bought. Not only do most store-bought tortilla wraps have a mile-long list of (not so great) ingredients, they just do not rise to the level of homemade. We have a post coming up with our version of this wonderful flat bread. You can also try our Spicy Cashew Avocado Mayo for extra creamy deliciousness.
Want some more Mexican treats? Try out this Vegan Mexican Chili with Real Chilis and one of our house favourites – Homemade Guacamole!
You will not be disappointed with these on Taco Tuesday or any other taco day! Try them and let us know in the comments below what you think. Don't forget to leave a rating and snap a photo. Show us yours by tagging us @plantedandpicked on Instagram and hashtag it #plantedandpicked. Buen Provecho!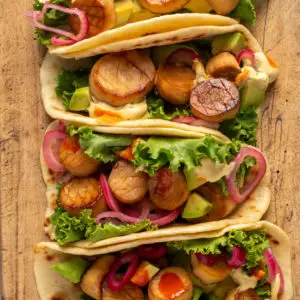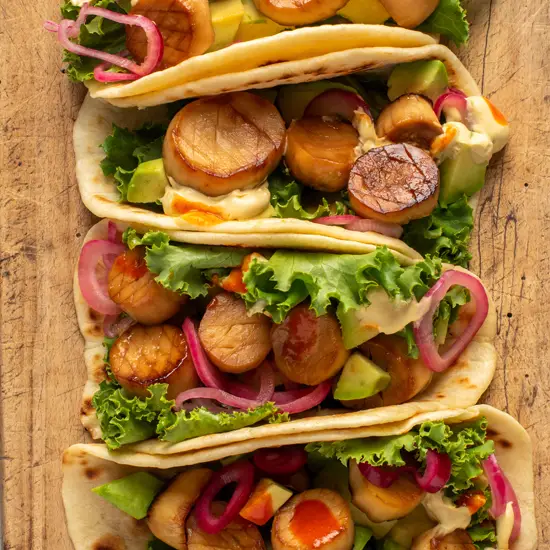 Ingredients
Marinaded Vegan Scallops
6

large king oyster mushrooms

1½

cups

vegetable broth

6

tbsp

dry white wine

6

tbsp

freshly squeezed lemon juice

1½

tbsp

minced garlic

1½

tbsp

tamari

5

g

Kombu

(6 inch strip)

1½

tbsp

brown rice miso

1½

tsp

vegan Worcestershire sauce

1½

tsp

maple syrup
Searing Ingredients
2

tbsp

refined avocado oil

1

tbsp

vegan butter

2

tbsp

freshly squeezed lemon juice

(Half lemon)

salt and pepper to taste
Taco Assembly
4

soft tortilla shells

(Homemade is best!)

1

avocado diced

4

leaf lettuce leaves

vegan mayo to taste

(Try our Spicy Cashew Avocado Mayo)

sriracha sauce to taste

vegan scallops!
Instructions
Marinating
Remove top cap and rough bottom end of each king oyster mushroom and cut remaining stalk into approximately 3/4" or 2 cm thick slices. Keep the top caps for another favourite mushroom dish!

Cut a diamond cross-hatch pattern in the top and bottom of each 'scallop', being careful not to cut too deeply and set aside while preparing marinade.

Combine all marinade ingredients in a small sauce pot and bring to a boil before reducing to a simmer and covering for about 10 minutes. Let cool completely before pouring into a bowl just big enough to hold all of the 'scallops' and the marinade.

Add the 'scallops' to the marinade bowl and place a smaller bowl or plate (that fits inside the bowl) on top of them to make sure they are submerged in the marinade. Leave on the counter for 3 to 4 hours.
Searing the 'Scallops'
Remove 'scallops' from the marinade and dry them as best as you can with some paper towel so that they will sear well instead of steaming. Season the tops and bottoms with salt and pepper to taste.

Add the avocado oil to a heavy skillet over medium heat and place the scallops in the pan flat-side down. Sear for 3 to 4 minutes before checking for a good sear without burning. Flip them over to sear the other side.

Reduce heat and add vegan butter to the pan to coat the 'scallops'. Squeeze the juice from half a lemon over the 'scallops' and remove them to a warm plate.
Assembling the Vegan Scallop Tacos
Prepare four tortilla wraps by filling with leaf lettuce, diced avocado and 'scallops' and garnishing with Spicy Cashew Avocado Mayo and sriracha sauce. Really, though, get creative!