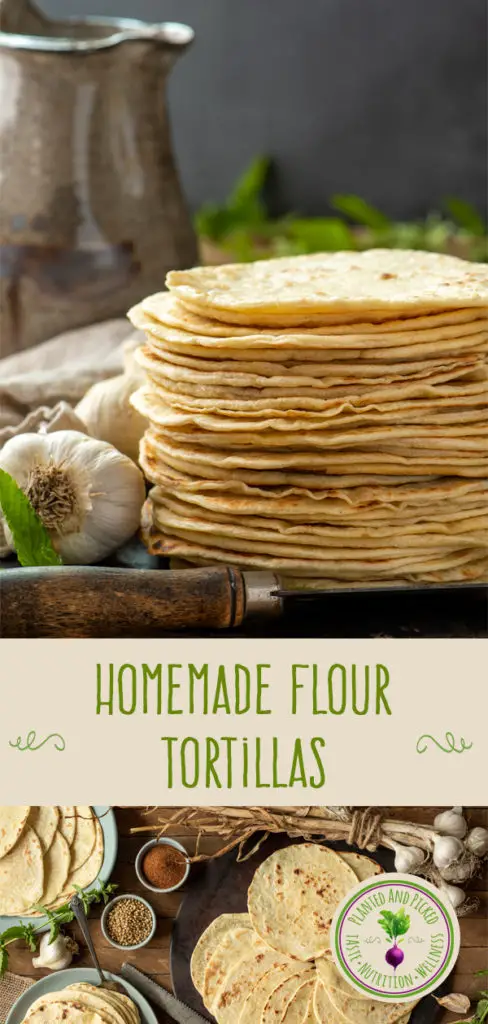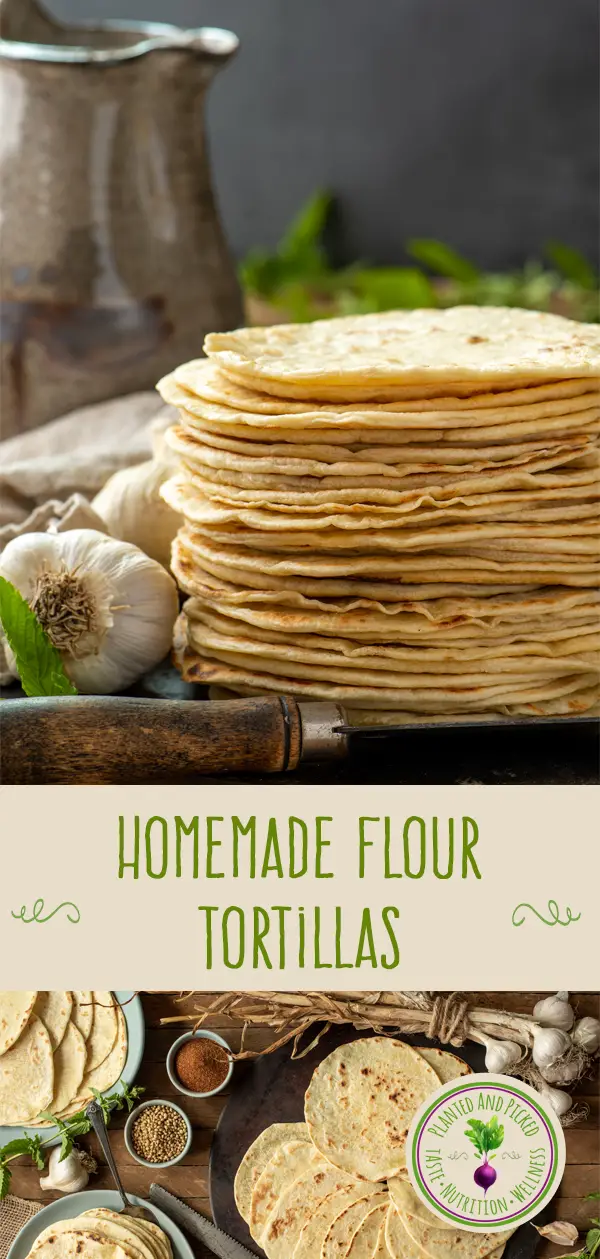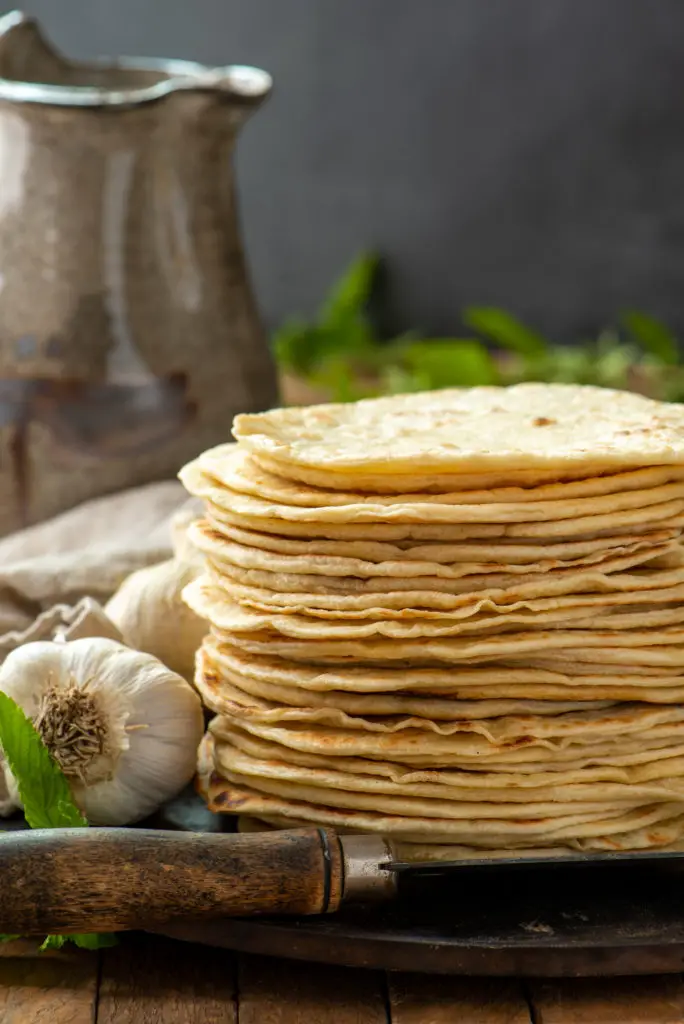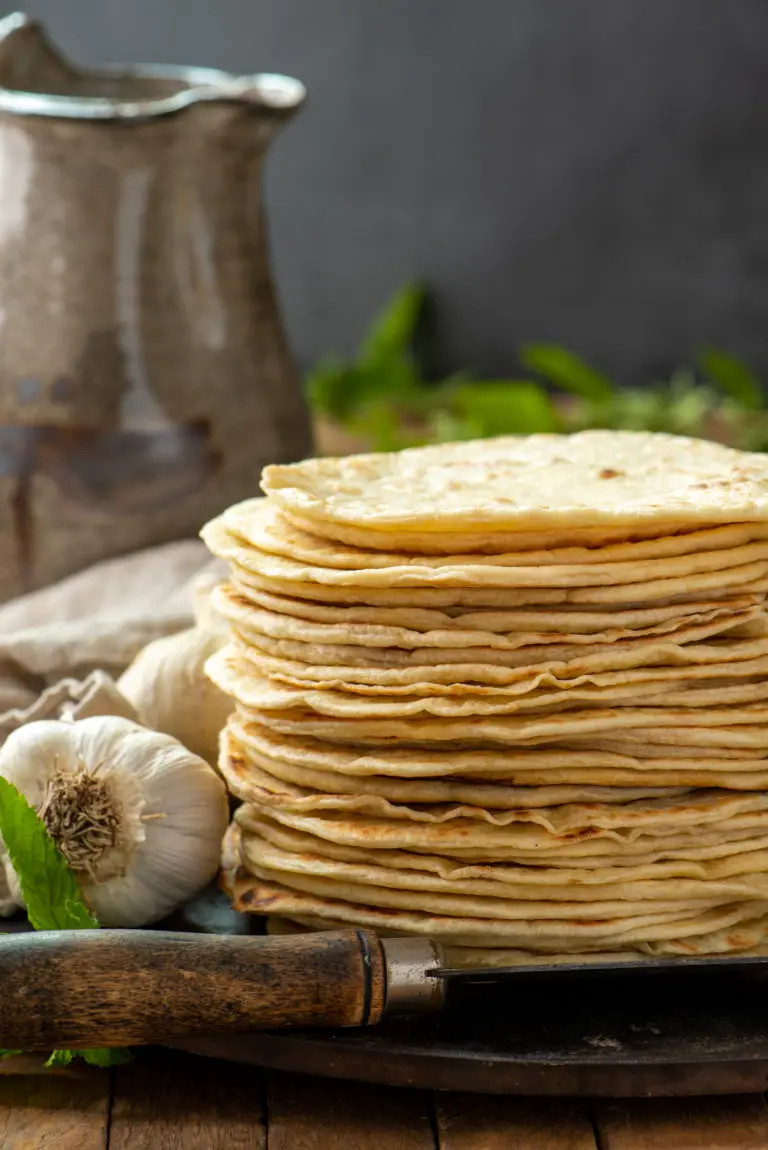 Homemade flour tortillas are the best. They taste amazing. We're telling you, once you make these the first time, be prepared to make them again . . . and again. Seriously, we can't bring ourselves to eating the dryer store-bought version with a mile-long ingredients list that's hard to pronounce.
Why Make Your Own Flour Tortillas?
One brand of flour tortillas we looked at randomly included enriched wheat flour, water, baking soda, salt, canola and modified palm and palm kernel oils, sugar, sodium phosphate, fumaric acid, calcium propionate, soy monoglycerides, potassium sorbate, guar gum, modified cellulose and L-cysteine hydrochloride. Our version includes organic flour, organic baking powder, sea salt, organic olive oil and spring water. That's it, five good ingredients. No bad oils, no sugar, no nasty preservatives. Would you like to come to our place for dinner or wherever those other tortillas are being served. We thought so; how many spots should we set for you?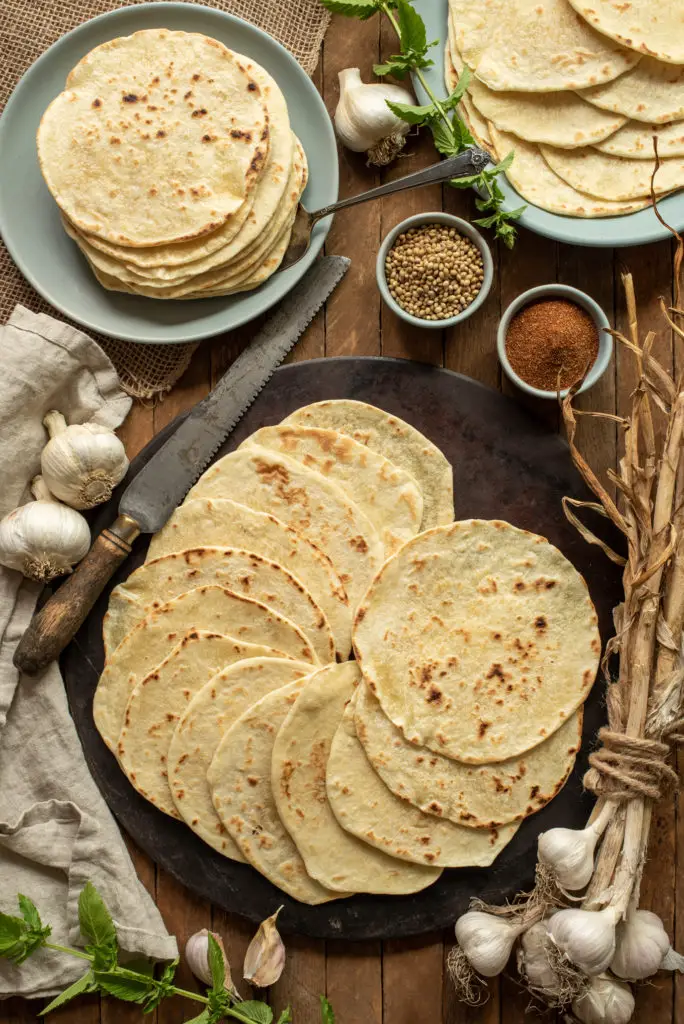 What to Use Your Homemade Flour Tortillas For
Tortillas are totally versatile. We use them at home for taco shells because we're definitely in the soft taco camp and not the hard shell. They were also part of our recent post for Vegan Scallop Tacos. We also use them regularly for quesadillas and flautas. Try filling your flour tortillas with our vegan Super Eggy Tofu Scramble and grill them in a pan for breakfast because there just isn't anything yummier! Burritos are another great way to fill up on your choice of vegan protein, rice and roasted or grilled vegetables.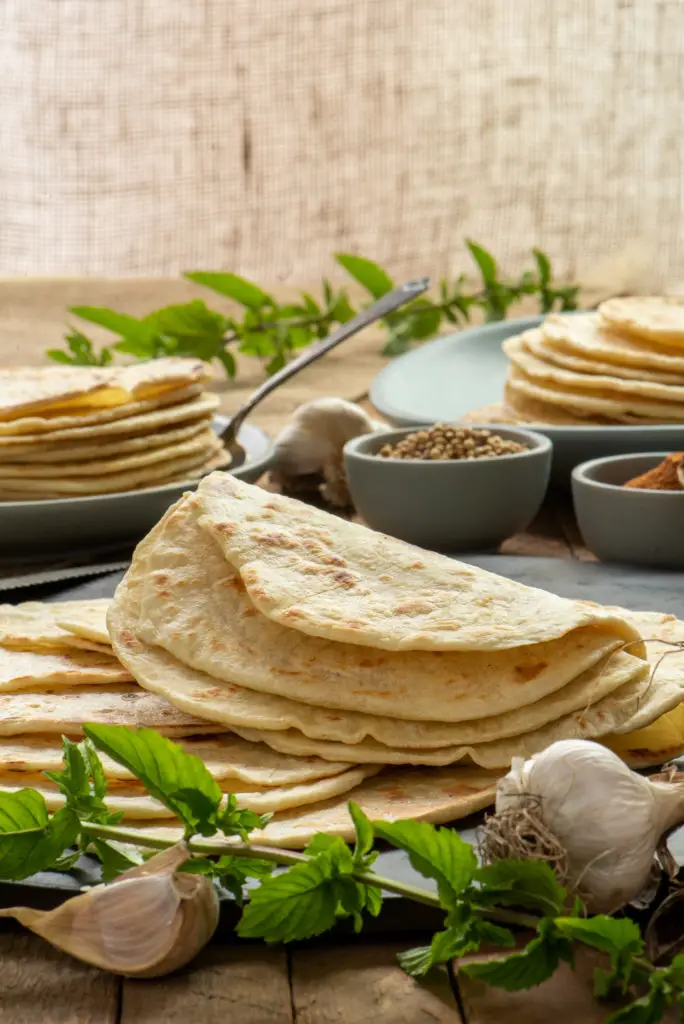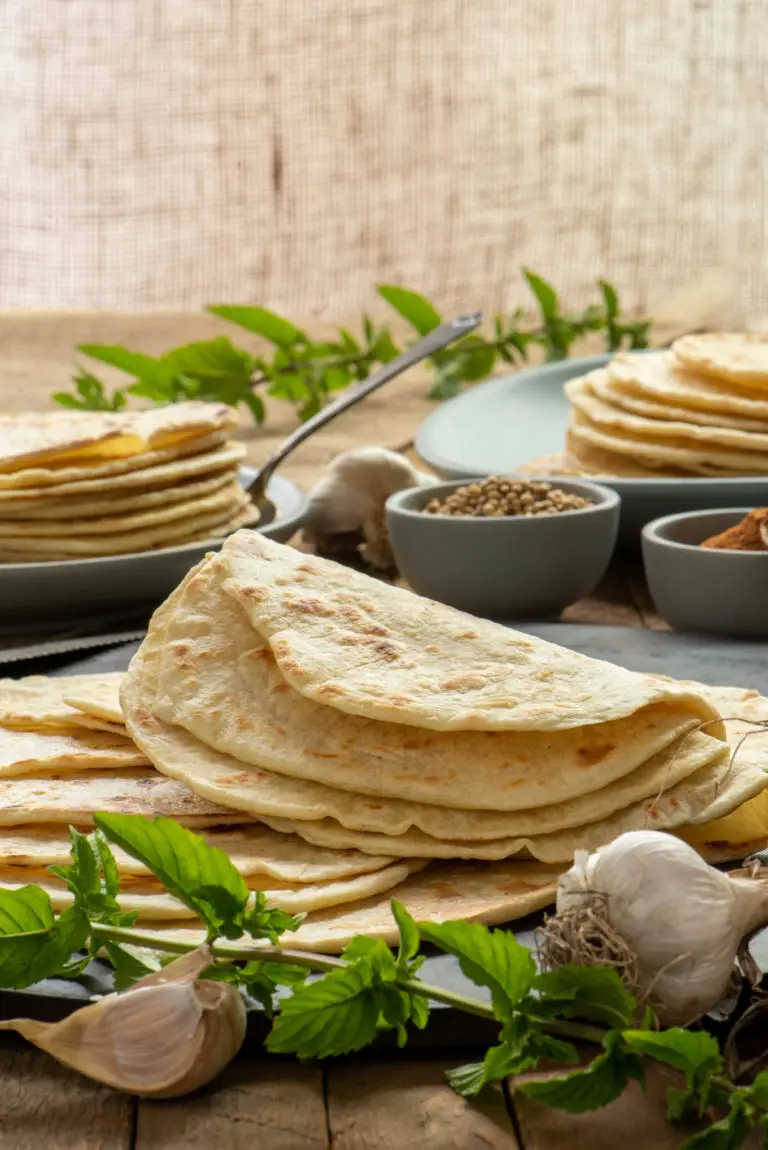 Important Tips and Tricks
We use a tortilla press to make our flour tortillas just because we like traditional food prep methods and just because it was an excuse to get a gadget! It's not absolutely necessary because a rolling pin with get the job done with just a little extra effort.
Once you've let your dough rest so that you can press or roll it without it springing right back on you, we split the flattened ball into 8 pieces pie-style. We than take each piece and make a smaller flattened ball and split each of those in two to create 16 mini dough balls. Then we roll these in our flattened palms in a circular motion, forming a flattened patty shape. We find this results in the most even circular tortillas, but it's not super important.
Want some more Mexican treats? Try out our recent recipe for Vegan Scallop Tacos and make your own tortilla shells! This Vegan Mexican Chili with Real Chilis and this Homemade Guacamole are also favourites with our family!
These flour tortillas are so easy to make and are so much nicer than store-bought! Try them and let us know in the comments below what you think. Don't forget to leave a rating and snap a photo. Show us yours by tagging us @plantedandpicked on Instagram and hashtag it #plantedandpicked. Buen Provecho!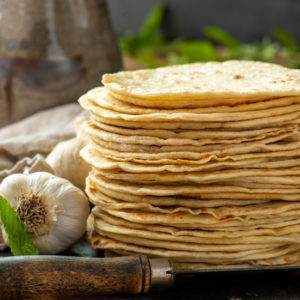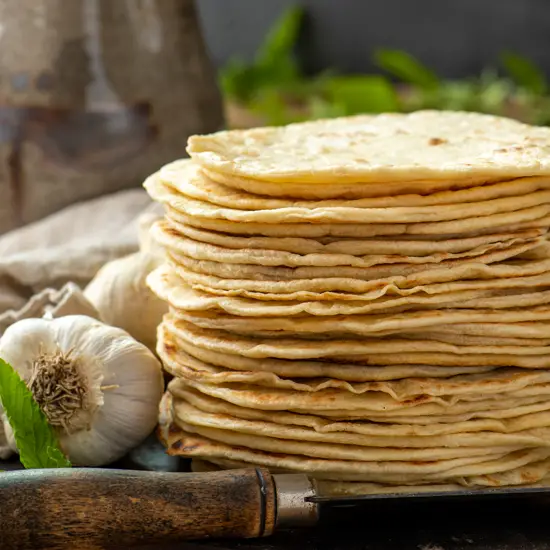 Ingredients
3

cups

all purpose flour

1

tsp

baking powder

1

tsp

sea salt

¼

cup

olive oil

1

cup

filtered water
Instructions
Measure out flour, salt and baking powder into a mixing bowl and whisk to combine.

Add water and olive oil together on top of dry ingredients and stir with a fork or spatuala to combine into a rough dough ball.

Remove dough from mixing bowl onto the counter and knead for 7 to 10 minutes or until you have a smooth ball that is not sticky. We keep a spray bottle handy to mist the dough if it seems dry at all before continuing to knead.

Flatten the ball of dough slightly on the counter and cover with a damp cloth to prevent the surface from drying out while the dough rests for approximately 30 minutes.

Use a bench scraper or knife to cut the flattend dough round into 8 equal wedges. Flatten each wedge into a smaller flattened ball and cut these in half so that you have 16 equally sized pieces of dough.

Form each of the pieces of dough in to a disc by rolling and pressing between your flattened palms. This helps to ensure that when you roll out your tortillas or flatten them in a tortilla press, they are as round as possible. Cover the 16 flattened discs with the damp cloth while you prepare your skillet to cook them.

We wipe our cast iron skillet with a paper towl with a very small amount of refined avocado oil. We use less than a ¼ tsp of oil on the paper and wipe the pan as though we were removing the oil from the pan. It is important to use an oil with a high smoke point as described in the blog, to prevent it from breaking down.

Preheat the pan on medium high. All stoves and burners are different and, therefore, it make take some time to get the temperature as hot as possible without burning the oil. If it smokes, cool and wipe the pan clean and start again at a slightly lower setting. Once you have your setting, just remember it for the next time around.

Use a tortilla press or a rolling pin to turn each disc into a thin 6 to 7" (15 to 18 cm) tortilla between two sheets of parchment paper. Peel one sheet off and place the tortilla, paper side up, into the hot pan, letting it cook for 10 seconds or so before carefully peeling off the paper and shifting the tortilla to ensure that it is not sticking. We find that the paper helps to prevent shrinkage.

Cook each tortilla for about 45 seconds or until there are light brown spots on the underside. Flip and cook for another 30 to 45 seconds until there are light brown spots as for the first side. If your tortilla start to burn, reduce the heat slightly.

Remove tortilla with a spatula to a damp towel and spritz lightly with a spray bottle before covering with cloth.

Repeat the cooking process for all tortillas. We typically press or role the next tortilla while we keep and eye on the one cooking. Once you are done, they're ready to serve fresh.

If you don't plan to use them straight away, you can let them cool before transferring them to a sealable reusable container and storing them in the fridge or freezer.