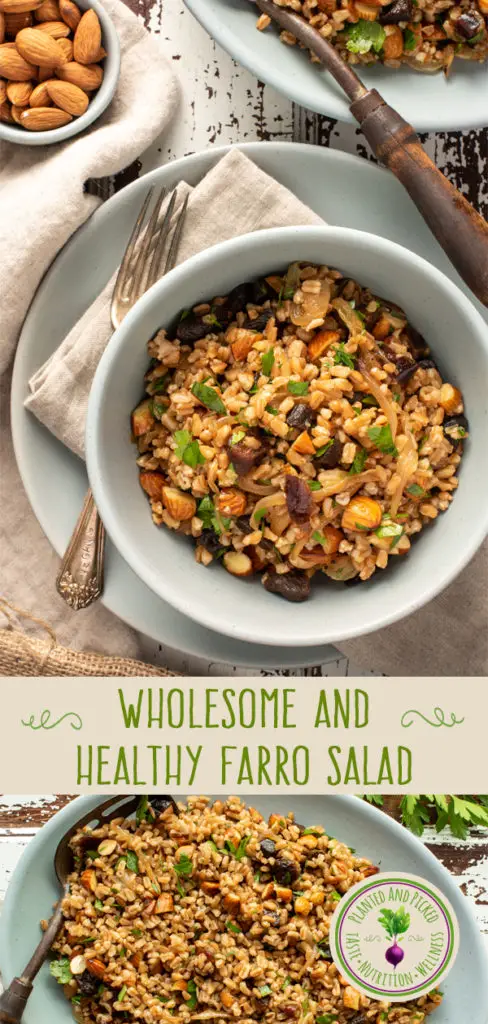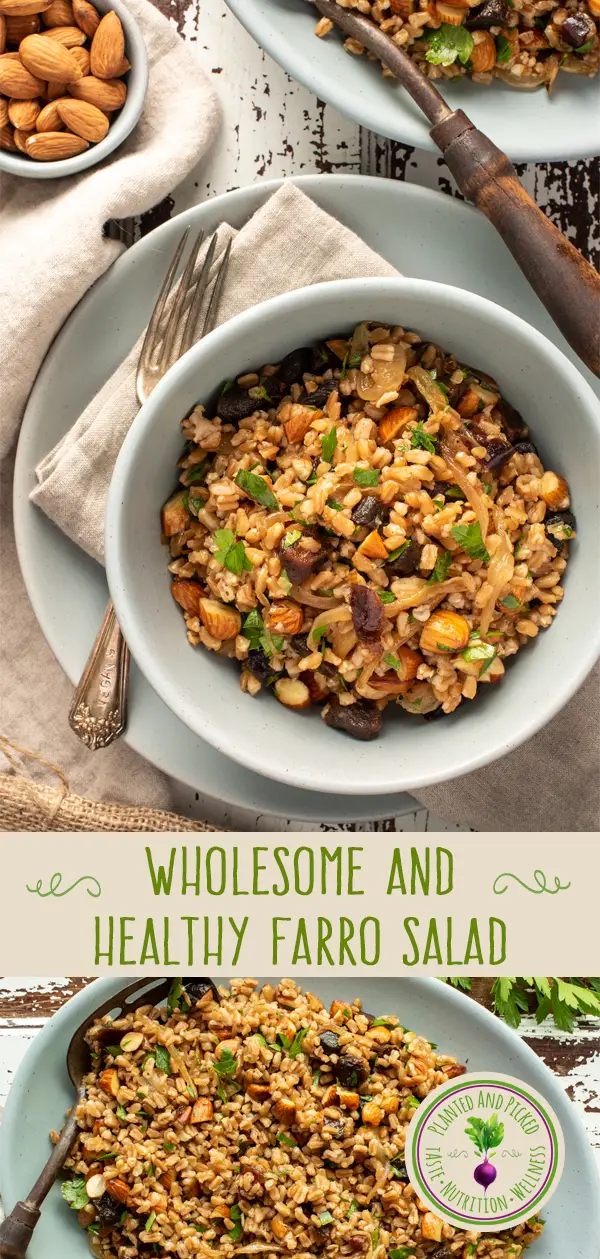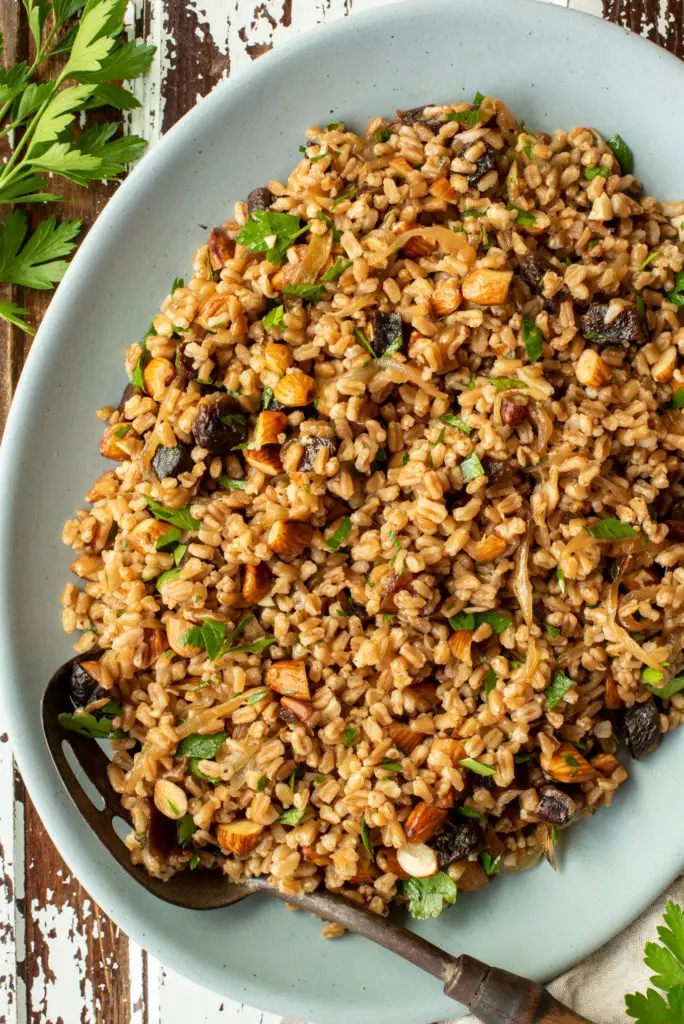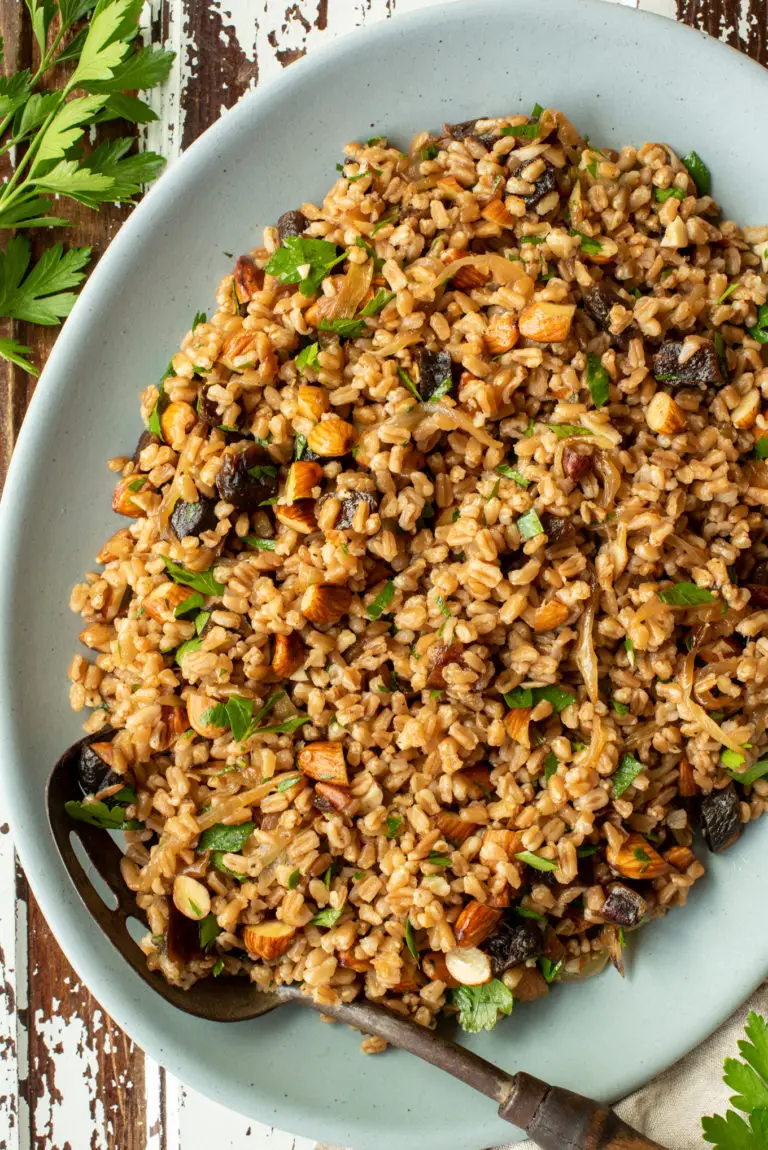 This Wholesome and Healthy Farro Salad is bursting with flavours of the Middle East! Sun kissed apricots, sweet dates, almonds and parsley. Try this ancient grain – you won't regret it!
What the Heck is Farro?
Farro is an ancient wheat grain that typically refers to a few different varieties such as Einkorn, Emmer or Spelt. It has a nutty flavour and is chewy when cooked. Interestingly, Farro is different from modern wheat in that it has not been hybridized and retains a lot of its vitamins and minerals. These include magnesium, zinc, selenium, B-vitamins and fibre. It also includes a variety of antioxidant compounds, which include polyphenols and carotenoids.
According to Dan and Ayesha Sherzai's research for "The Alzheimer's Solution", whole grains are one of the top 20 brain nourishing foods. The fibre in whole grains feeds the good bacteria in your gut and, therefore, provide a source of sustained energy for the brain. Echoing the benefits of whole grains to the microbiome is Dr. Will Bulsiewicz in his book "Fiber Fueled". Accordingly, the more diversity you include in your plant foods, the better your overall health.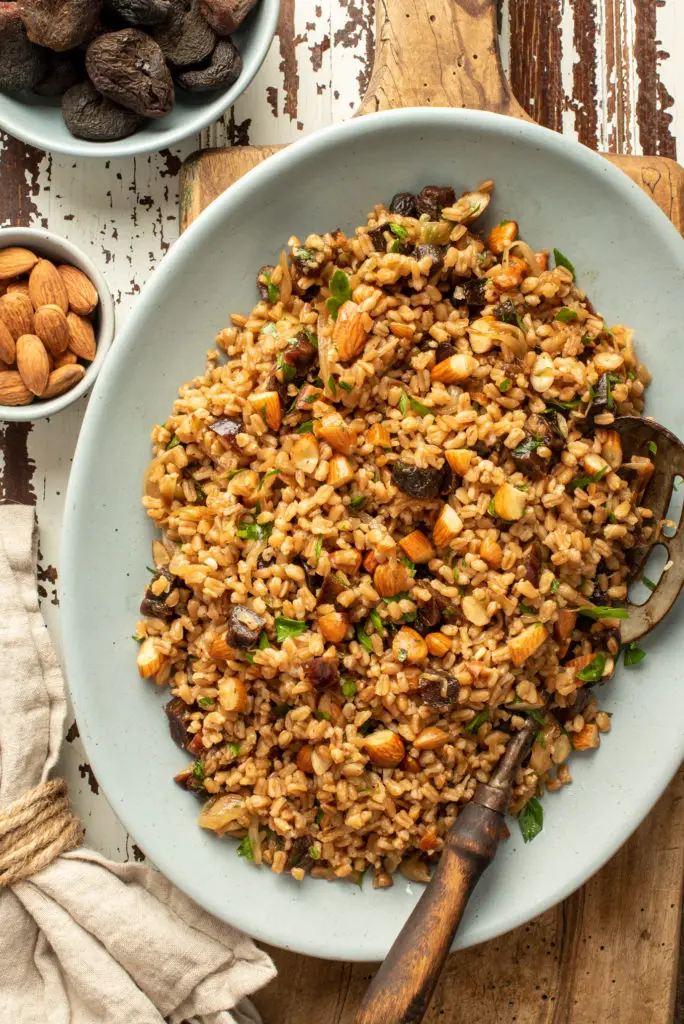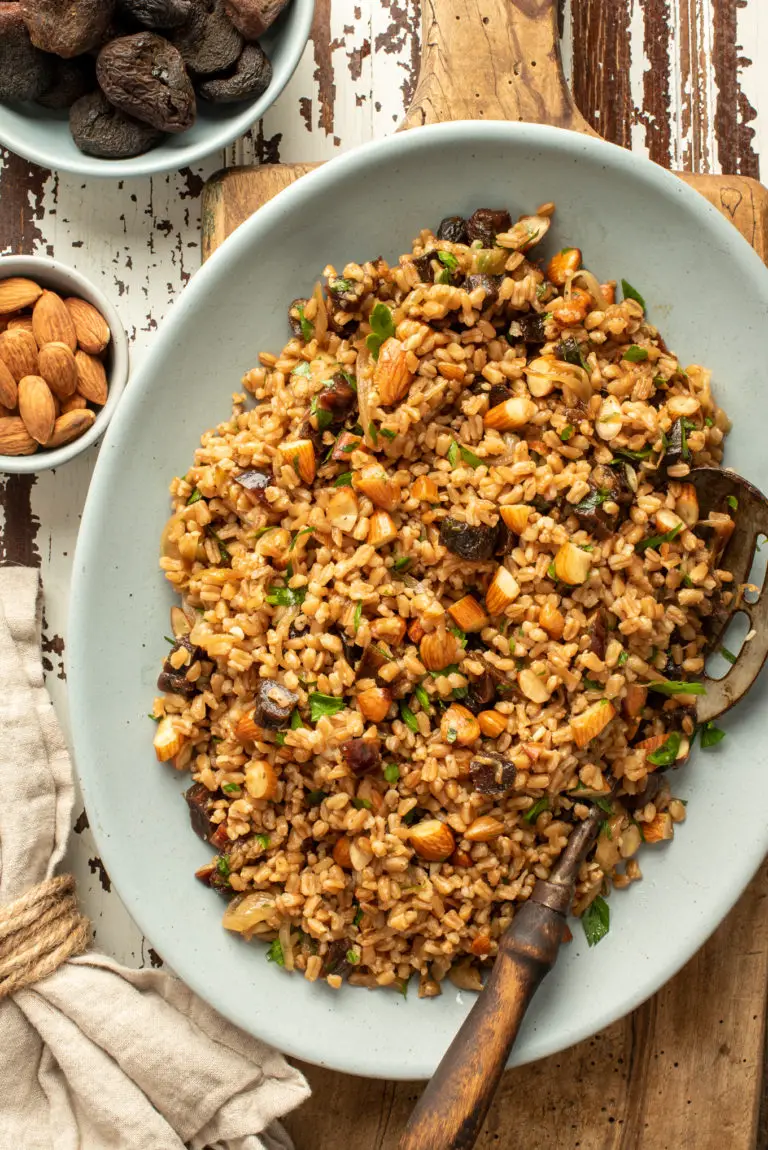 The Supporting Cast for this Farro Salad
To make this Wholesome and Healthy Farro Salad, we added Middle Eastern inspired flavours and ingredients. These include dried apricots. Many varieties of dried apricots in the store contain sulfites, which is what causes the apricots to stay a bright orange colour. Dried apricots that do not contain sulfites will be brown and, therefore, we always buy the non-sulfite ones. Many people react negatively to sulfites, which are a preservative. Reactions can include such things as skin rashes and allergic reactions.
For the seasoning in this Wholesome Farro Salad, we use lemon juice, parsley and a dry spice combination called Zataar. Zataar is a blend that contains thyme, oregano and marjoram (or some combination of them). This blend is then then mixed with toasted sesame seeds and salt. Often times, it will also contain other spices such as sumac. Sumac is made from drying and grounding berries of the wild sumac flower. It is a tangy spice with a sour, acidic flavour, similar to lemon juice. If you don't have Zataar, we would suggest adding a little dried oregano and marjoram and possibly a little lemon peel.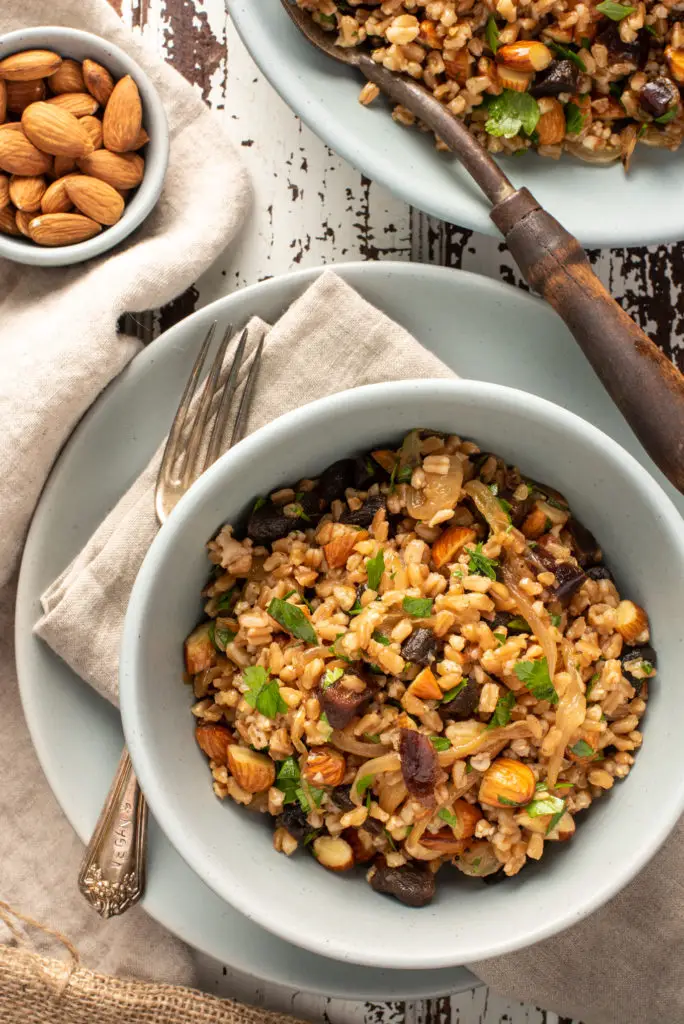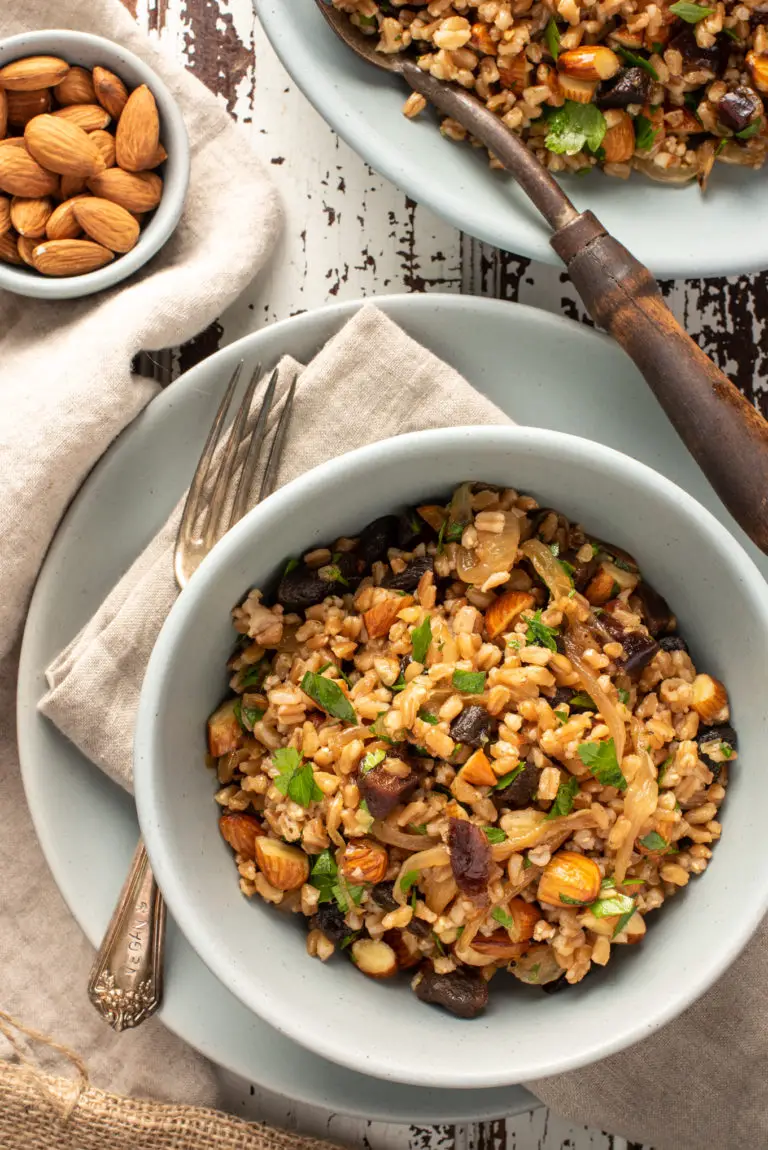 For other salad inspirations, you can also try our Greek Chickpea Salad, this Kale and Avocado Salad with Creamy Tahini Dressing, this Loaded Greek Quinoa Salad or this Ratatouille Pasta Salad. Perhaps you're in the mood for a caesar salad with our Oil-Free Caesar Salad Dressing.
This Wholesome and Healthy Farro Salad will debut nicely on your next picnic. It's also great to have in your fridge to take along for lunch on a work day. If you make this, we would love your feedback. Leave a comment and a rating and don't forget to tag us @plantedandpicked on Instagram and hashtag it #plantedandpicked.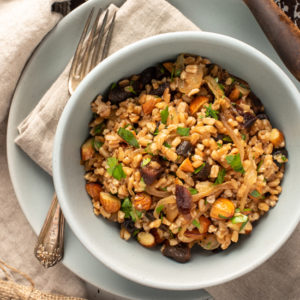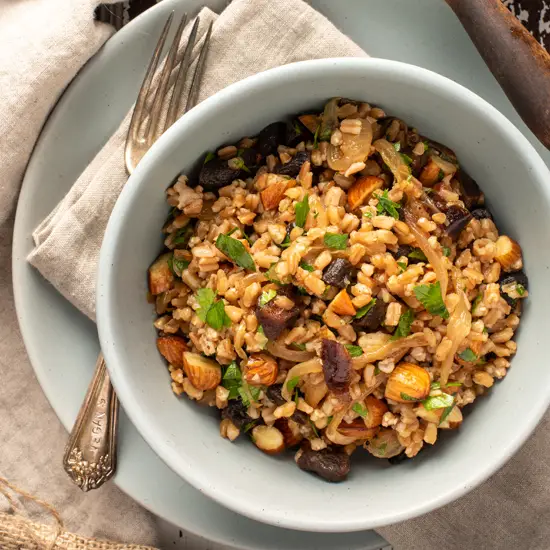 Ingredients
Caramelized Onions
2

tsp

extra virgin olive oil

2

cups

sliced yellow onions

¼

tsp

sea salt
Salad
1

cup

Farro

4

cups

water

½

cup

almonds, roughly chopped

⅓

cup

dried apricots, diced

¼

cup

dried dates, diced

⅓

cup

flat parsley leaves, chopped
Dressing
1

tbsp

extra virgin olive oil

3

tbsp

lemon juice

1

large

garlic clove, minced

1

tsp

coconut nectar (or honey if not vegan)

¼

tsp

sea salt

1

tsp

zataar (optional) * See note in post
Instructions
Add about 4 cups of water to a medium sized pot and bring to a boil. Add Farro. Simmer on medium high heat for about 25 minutes. Note this is similar to cooking pasta.

While you are waiting for the water to boil, Peel and slice the onions.

Add 2 tsp of olive oil to a large pan over medium heat. Once the pan is heated, add onions and 1/4 tsp of sea salt. Cook and stir for a couple of minutes until the onions start to brown. Turn down heat to medium low and continue cooking onions for about 25 minutes, stirring occasionally. The onions should be very soft and brown in colour. The 2 cups of onions will reduce to about 1/3 cup when cooked.

While the onions and farro are cooking, prep the remaining ingredients for the salad.

In a large bowl, add the dressing ingredients and whisk to combine.

Once the farro is cooked, drain it in a strainer and run a little cold water over it.

Add the drained farro to the large bowl with the dressing.

Add the remaining salad ingredients to the bowl and stir to combine.

We suggest refrigerating this salad for alt least an hour to let the flavours blend.

This salad will hold up well so it can be be made the day before you intend to eat it. This makes a great side dish or as a base for lunch.