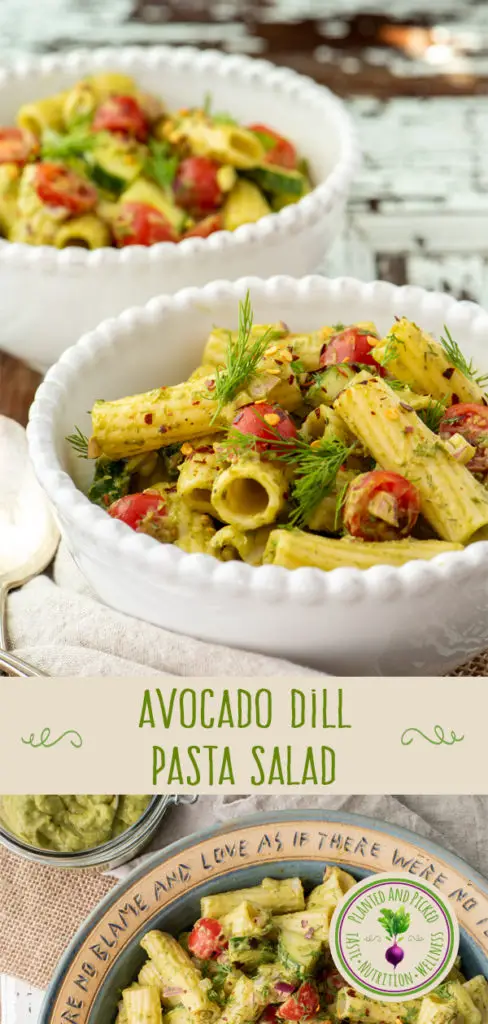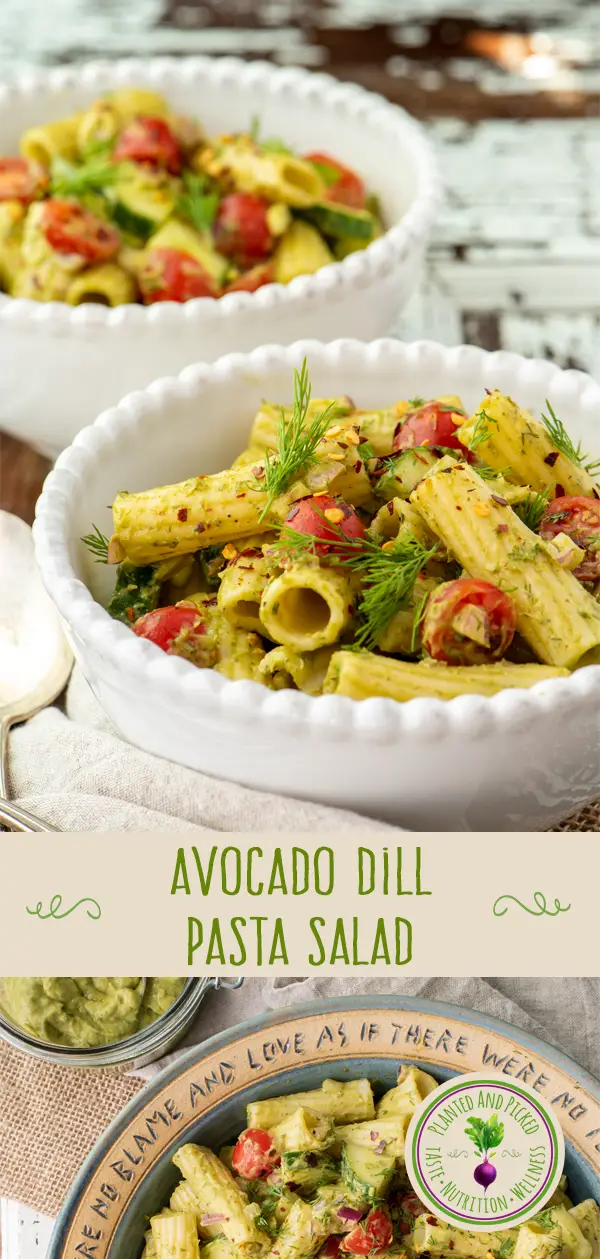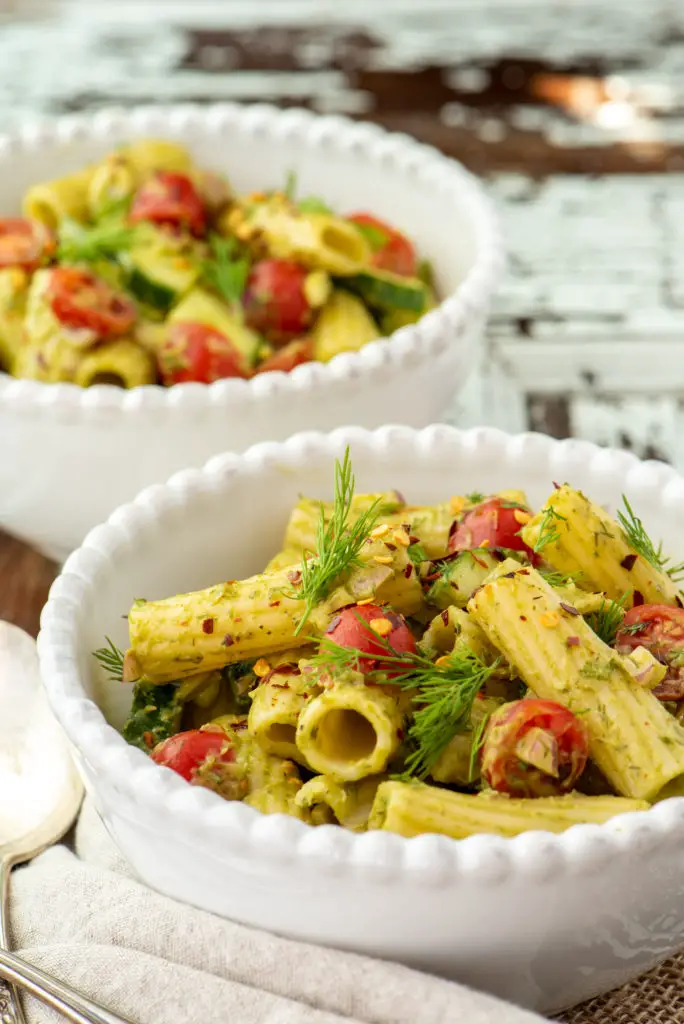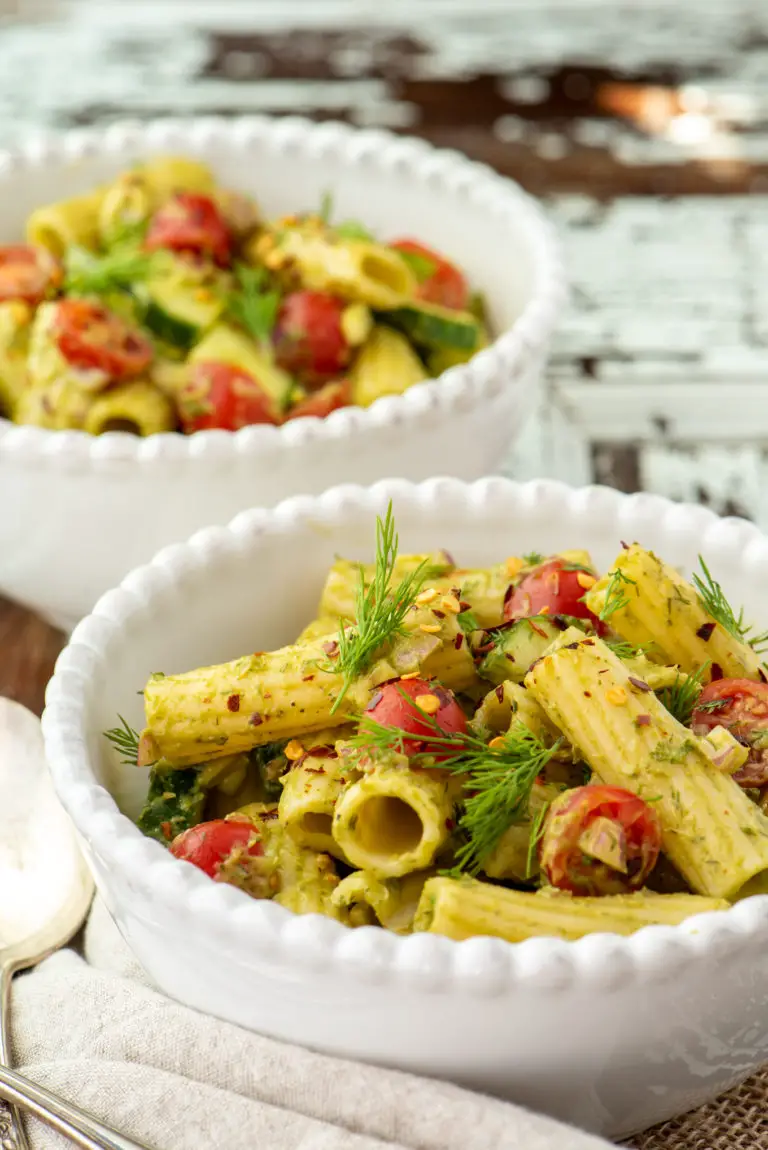 With warmer weather on the horizon, we're thinking of picnic season and this Avocado Dill Pasta Salad will be on our menu for sure!
Picnic Time with Avocado Dill Pasta Salad
When the warmer weather soaks the landscape of southern Ontario, we love to head to a park. What's better than to sit under a tree, spread out your blanket and open up your picnic basket? We purchased an amazing picnic basket a couple of summers ago. It contains all of the dishes, cutlery, wine glasses and a vegan cheese board and knife! Well, it has a cheese board and we love our vegan cheese. We always take some along some as part of our picnic lunches!
When we make a picnic lunch, it's full of homemade, whole foods plant-based yumminess from start to finish. There is no reason why healthy meals cannot be part of a delicious picnic. If you like dill, then this Avocado Dill Pasta Salad should will not disappoint you. Homemade is best, without all of the ingredients that you can't pronounce and that you simply don't need floating around in your body.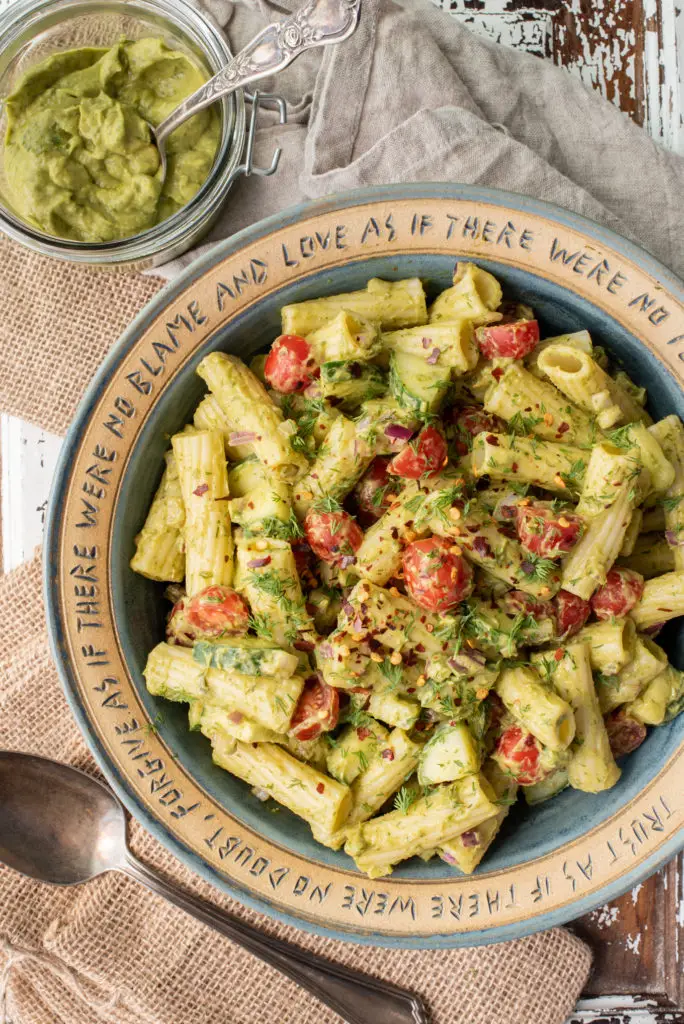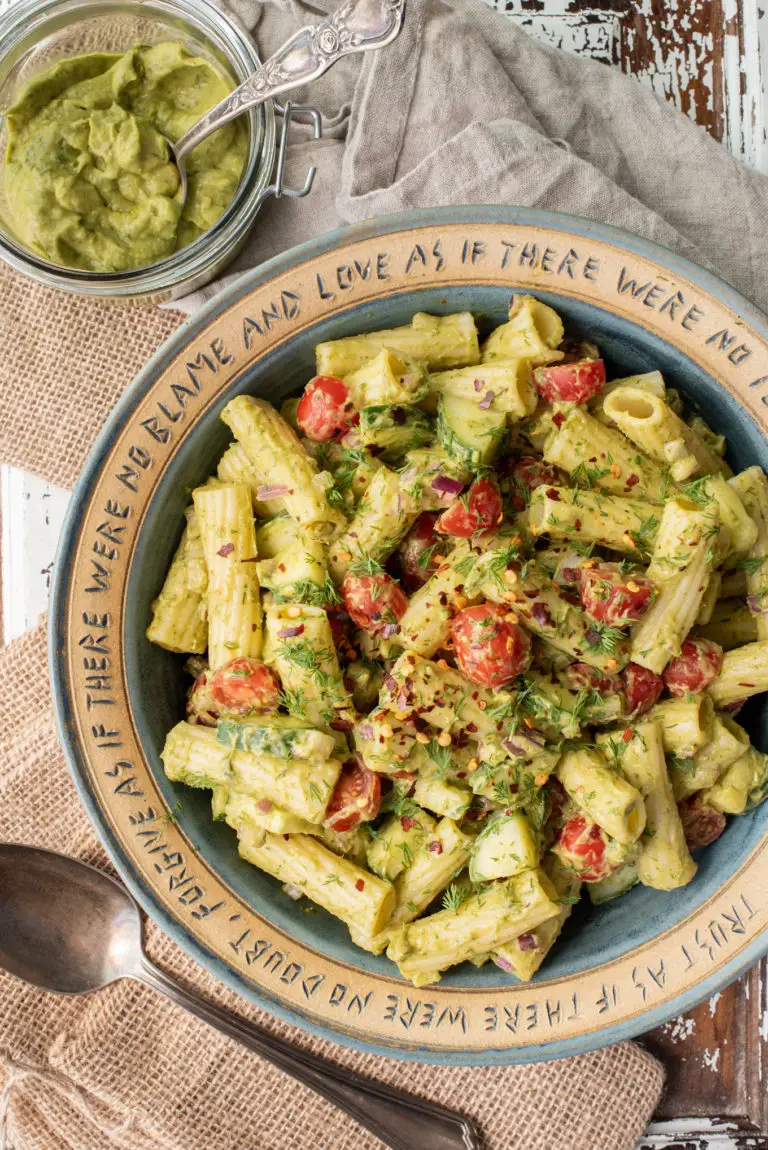 Benefits of Dill
Both the seeds and leaves of the dill plant are rich in several plant compounds with antioxidant properties. Dill is also a good source of fibre, folate, calcium, riboflavin, manganese and iron. You may not be consuming large enough amounts to provide therapeutic benefits. However, culinary herbs such as dill do add to the nutritional value of the foods we eat.
Dill's common use in Ayurvedic medicine is for abdominal discomfort, infant colic and for promoting digestion. The leaves, seeds and oil of dill can also be used to calm the digestive tract and relieve bloating and gas. A few drops of oil of Dill in a glass of water or an infusion of the seeds in boiling water are each effective. Chewing dill seed is also effective in calming hiccups or soothing an upset stomach.
On a lighter side, several sources suggest that dill was also used in the Middle Ages by magicians against witchcraft! According to one mystical belief, it helped to hang stalks of dill over your baby's cradle to keep away bad dreams and calm your child. Several other sources also tout its powers of attraction and suggest adding dill seed to your bath water or putting it in a sachet hung from your shower head, to attract a suitor. We're not promising that noshing on this Avocado Dill Pasta Salad is going to have the same effect, but it can't hurt!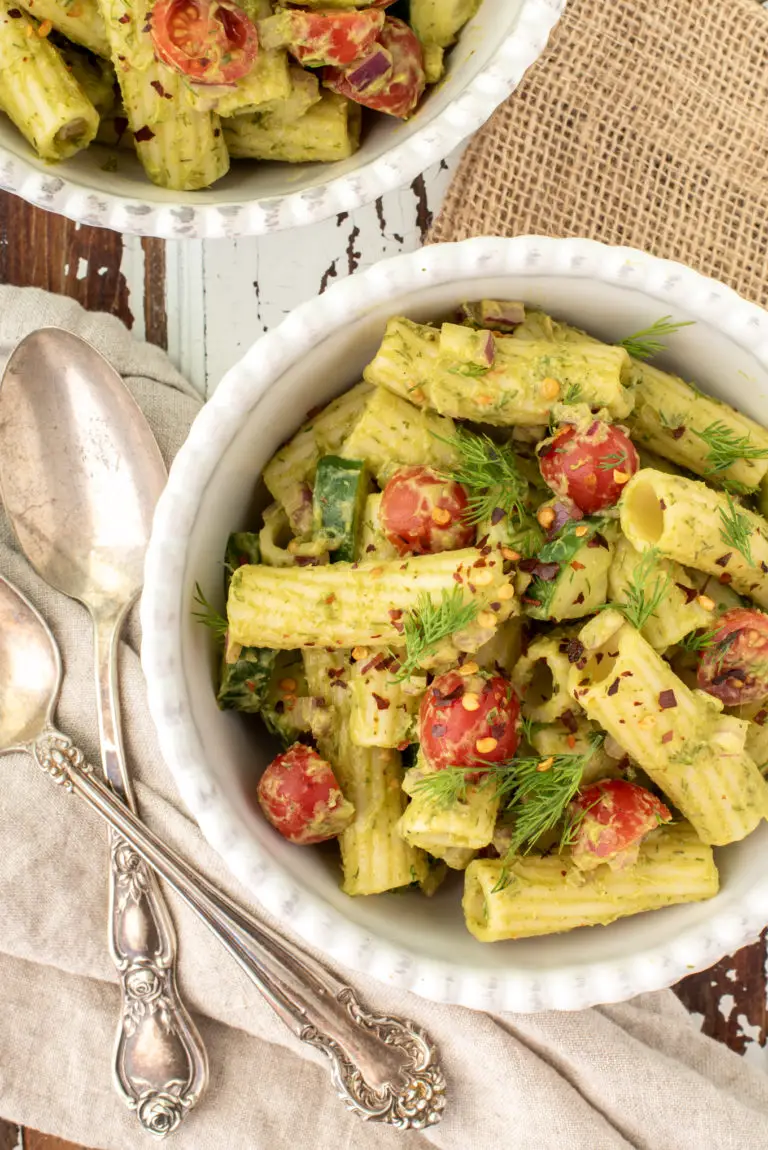 More Salad Ideas?
You may also like to try our Greek Chickpea Salad, this Kale and Avocado Salad with Creamy Tahini Dressing, this Loaded Greek Quinoa Salad or this Ratatouille Pasta Salad. Perhaps you're in the mood for a caesar salad with our Oil-Free Caesar Salad Dressing.
This Avocado Dill Pasta Salad will debut nicely on your next picnic. It's also a great to have in your fridge to take along for lunch on a work day. If you make this, we would love your feedback. Leave a comment and a rating and don't forget to tag us @plantedandpicked on Instagram and hashtag it #plantedandpicked. Happy Picnicing!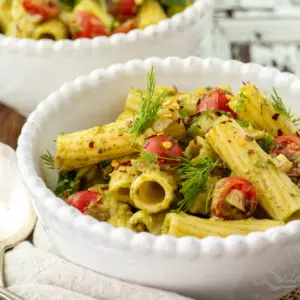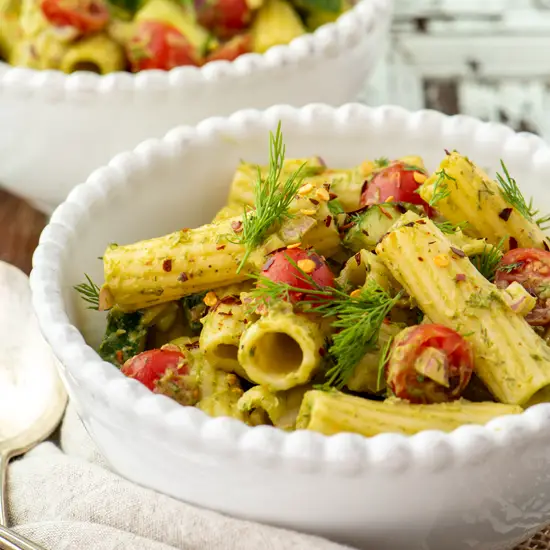 Ingredients
½

cup

red onion, diced finely

1½

cups

cucumber, quartered and sliced

1½

cups

grape or cherry tomatoes, halved

300

g

rigatoni, dry
Dressing
2

avocados

3

tbsp

white wine vinegar

¼

cup

freshly squeezed lemon juice

1

tbsp

garlic, minced

1

tsp

Dijon mustard

¼

tsp

sea salt

¼

tsp

freshly ground black pepper

¼

tsp

red pepper flakes

1

cup

fresh dill, plucked from the main stock
Instructions
Bring a pot of salted water to a boil and cook the pasta according to the product directions, drain and cool in the refrigerator for a minimum of 30 minutes.

While the pasta is cooking, cut avocados in half lengthwise, remove the pits and scoop the fruit out and place in a blender.

Mince the garlic and place in a small bowl with the freshly squeezed lemon juice to mellow the garlic. Leave for approximatey 10 minutes while preparing the remainder of the ingredients.

Add the wine vinegar, Dijon mustard, sea salt and pepper to the blender.

Chop the fresh dill and place half of it in the blender, reserving the other half.

Add the lemon juice and minced garlic to the blender and blend to a creamy consistency.

Remove the dressing from the blender, fold in the red pepper flakes and reserved dill and chill in the refrigerator for a minimum of 30 minutes. You can also make both the pasta and the dressing a day ahead and mix and dress the salad the following day.

While the pasta and dressing are chilling, prepare the red onion, cucumber and tomatoes.

Add the red onion, cucumber, tomatoes and pasta to a mixing bowl and dress with approximately ⅔ cup of the dressing. The amount of dressing is always a personal choice, so add more or less, according to your taste. The recipe yields about 1½ cups of dressing and, so, there will be extra to keep in the fridge for dipping your fresh veg in as a snack!

Garnish with additional fresh dill and red pepper flakes (optional)