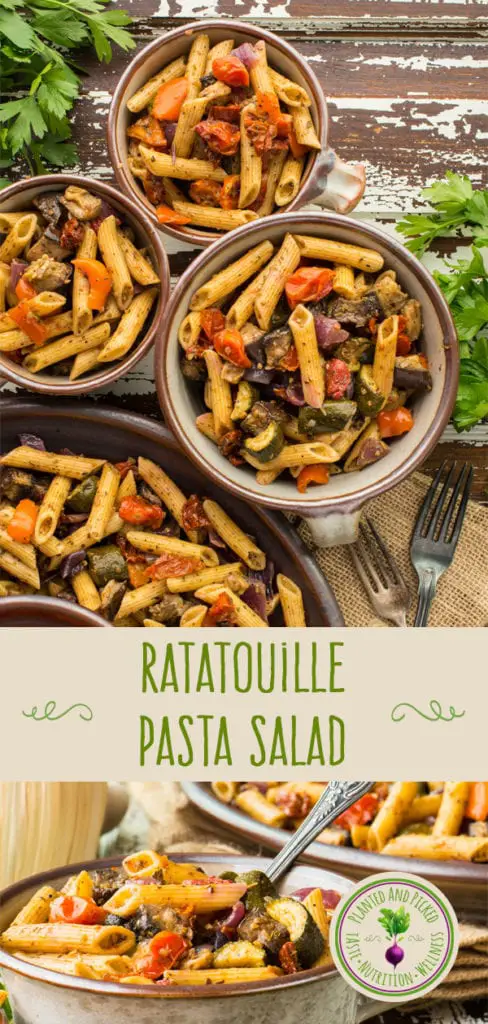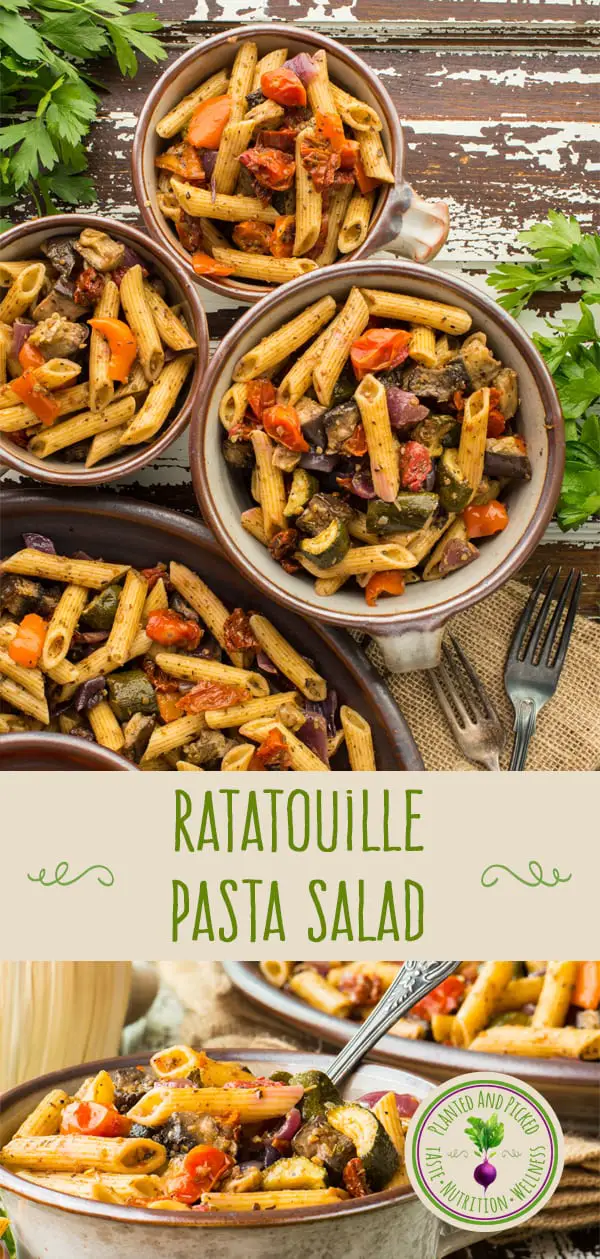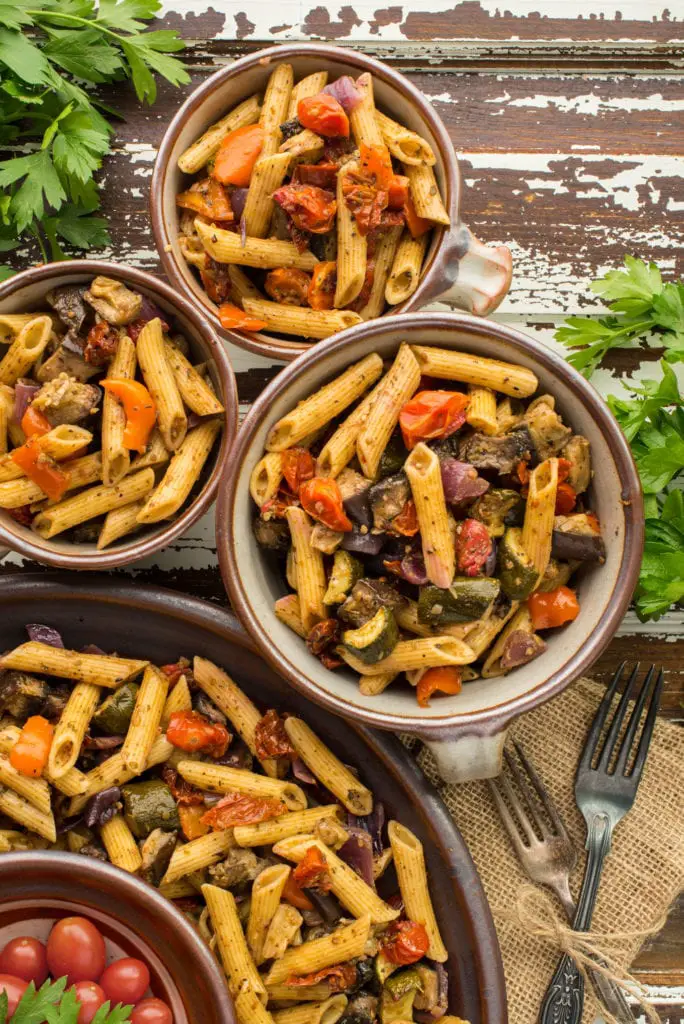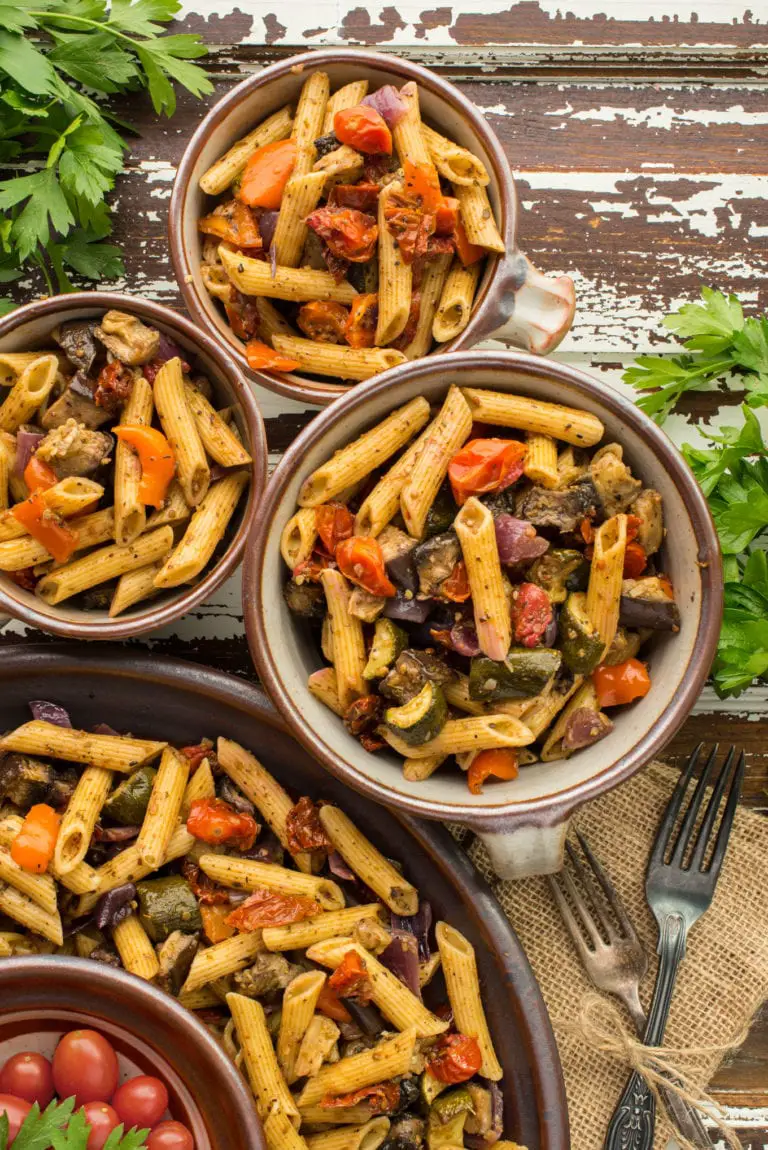 We love this pasta salad in the fall, using end of summer vegetables. It has all of the flavours of ratatouille, but in a pasta salad. Roasted eggplant, zucchini, tomatoes, peppers and onions provides a wonderful savoury base to this favourite of ours.
When you buy pasta salads, you tend to get a lot of pasta and only a minimal amount of vegetables. In this pasta salad, vegetables are the star! We'll be honest with you – this dish is a little labour intensive. However, after you have roasted the vegetables, the salad comes together very easily. We made this salad for a pot luck. You can make it in advance and store it in the fridge for to 5 to 7 days.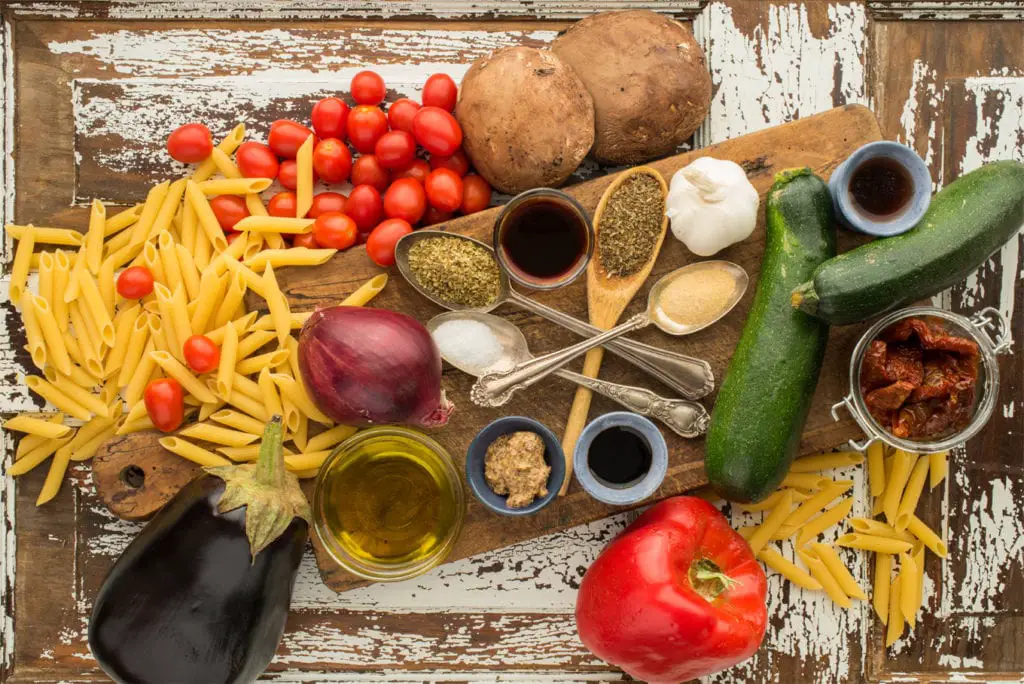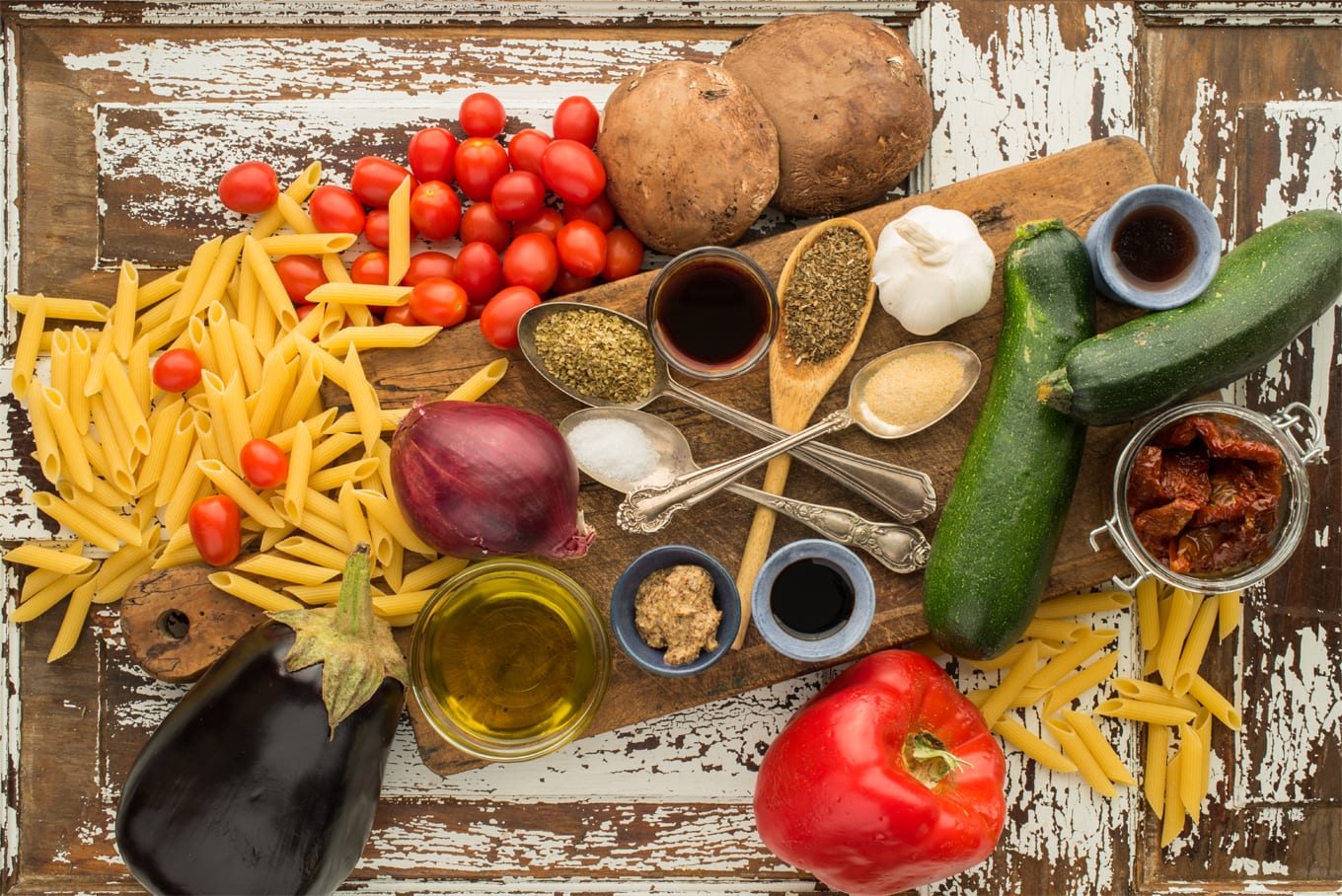 This ratatouille pasta salad is nutrient dense with a variety of vegetables. When preparing traditional ratatouille, which originates in France, the vegetables are simmered to form a stew. We roast the vegetables for this recipe to release the moisture so that the pasta salad does not become watery. We also added lots of antioxidant-rich herbs for flavour. You could also add some fresh basil at the end for even more flavour and nutrients.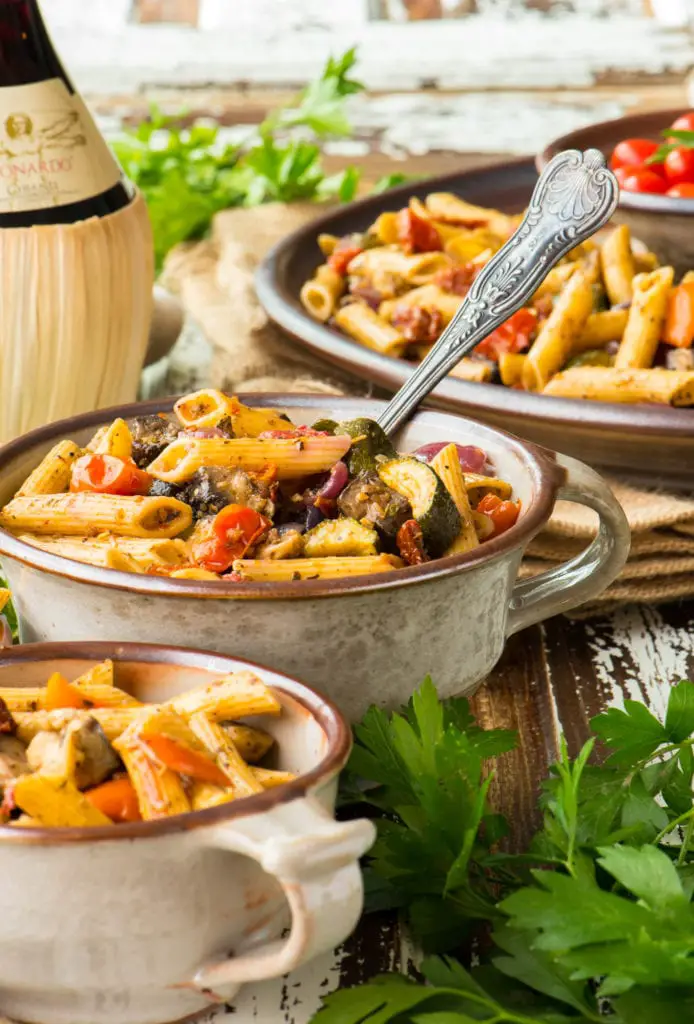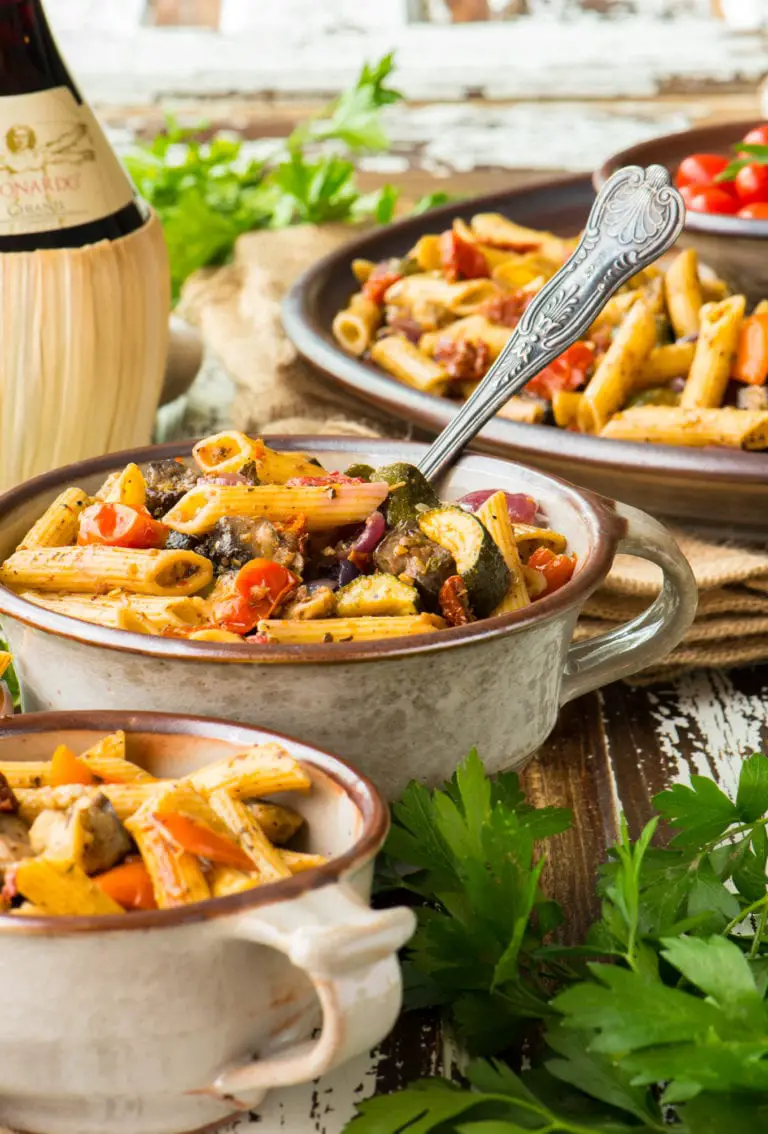 You may also like to try our Kale and Avocado Salad with Creamy Tahini Dressing, this Loaded Greek Quinoa Salad or a caesar salad with our Oil-Free Caesar Salad Dressing. We love this ratatouille pasta salad as a switch up to traditional warm ratatouille and are always excited to get your feedback! If you try it out, leave a comment and a rating and don't forget to tag us @plantedandpicked on Instagram and hashtag it #plantedandpicked. Enjoy!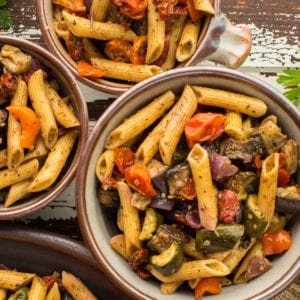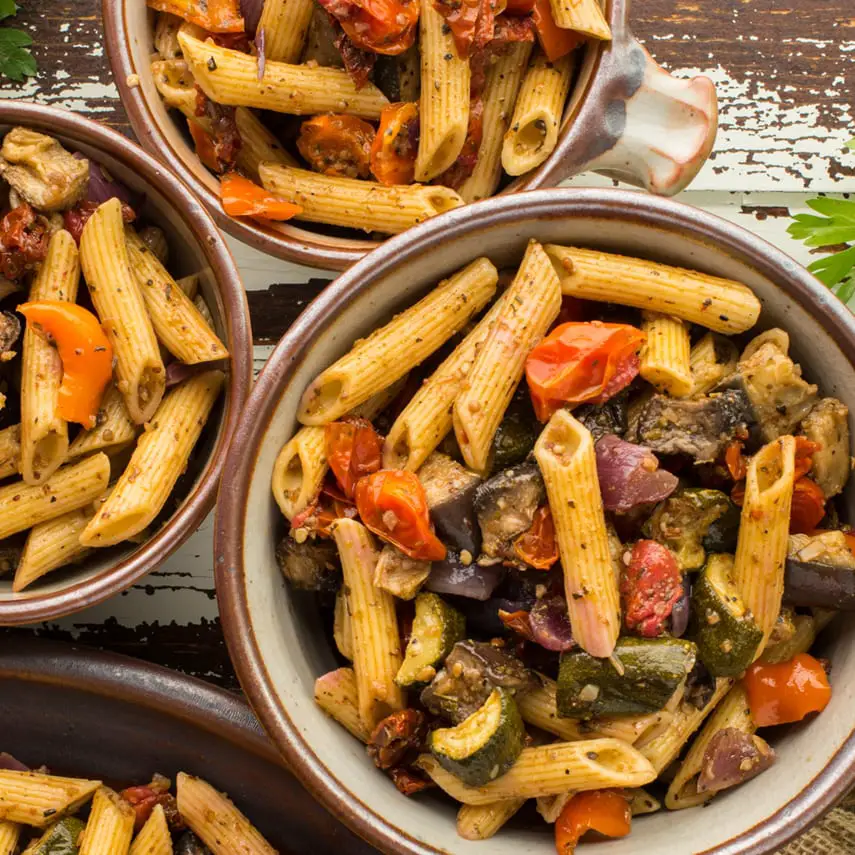 Ingredients
Vegetable Marinade:
2

tbsp

good quality balsamic vinegar

2

tsp

oregano or Italian seasoning

1

tsp

garlic powder
Vegetables:
1

red onion, medium, diced

1

bell pepper, large, diced

2

cups

zucchini, diced

2

cups

eggplant, diced

2

portobello mushrooms

1

pint

grape tomatoes, halved (or quartered if cherry using cherry tomatoes)
Dressing:
1/4

cup

olive oil

2

tbsp

red wine vinegar

2

tbsp

balsamic vinegar

2

large garlic cloves, minced

2

tsp

oregano, dried

1

tsp

basil, dried

1

tbsp

tamari

1

tbsp

dijon mustard

1/2

tsp

sea salt
Other:
450

g

penne pasta (or other desired shape)

1/2

cup

sundried tomato in oil, drained and diced
Instructions
Preheat oven to 375 degrees.

Mix vegetable marinade ingredients in a bowl. Put aside.

Dice all vegetables to large bite sized pieces (they will shrink as they cook). Place vegetables onto 2 baking trays. Drizzle marinade over vegetables. Using your hands or a spoon, toss to distribute the marinade. Sprinkle with salt and pepper to taste. Place in oven on two racks.

Cook for 40 minutes. Halfway through cooking time, turn vegetables over.

Put large pot of water on stove to boil for pasta. Add 1 tbsp of salt to water and cook pasta according to package directions.

Prepare dressing ingredients in large bowl. Drain and chop sundried tomatoes. Add to bowl.

Once pasta is ready, drain and rinse. Place pasta in bowl with dressing and combine.

Once vegetables are cooked, add to bowl. Toss all ingredients together. Refrigerate.

Pasta salad will last up to a week in the fridge.