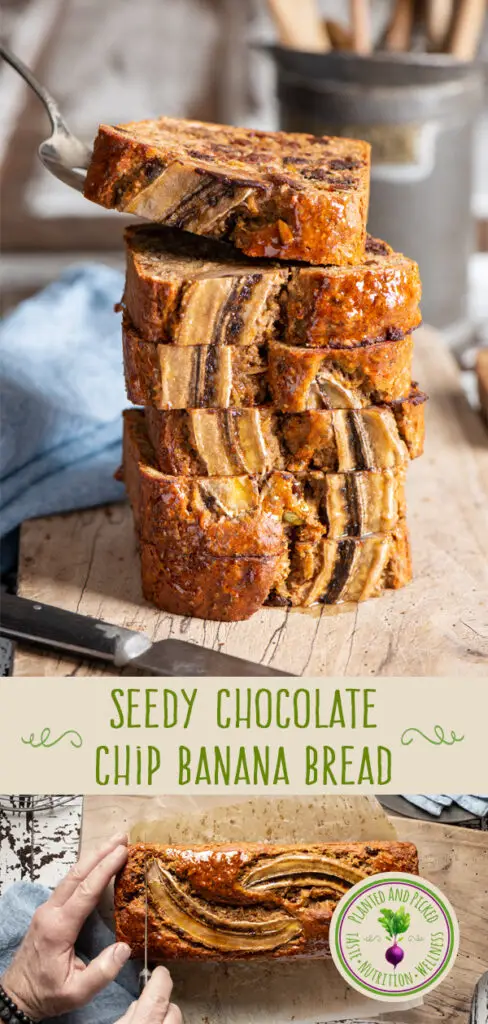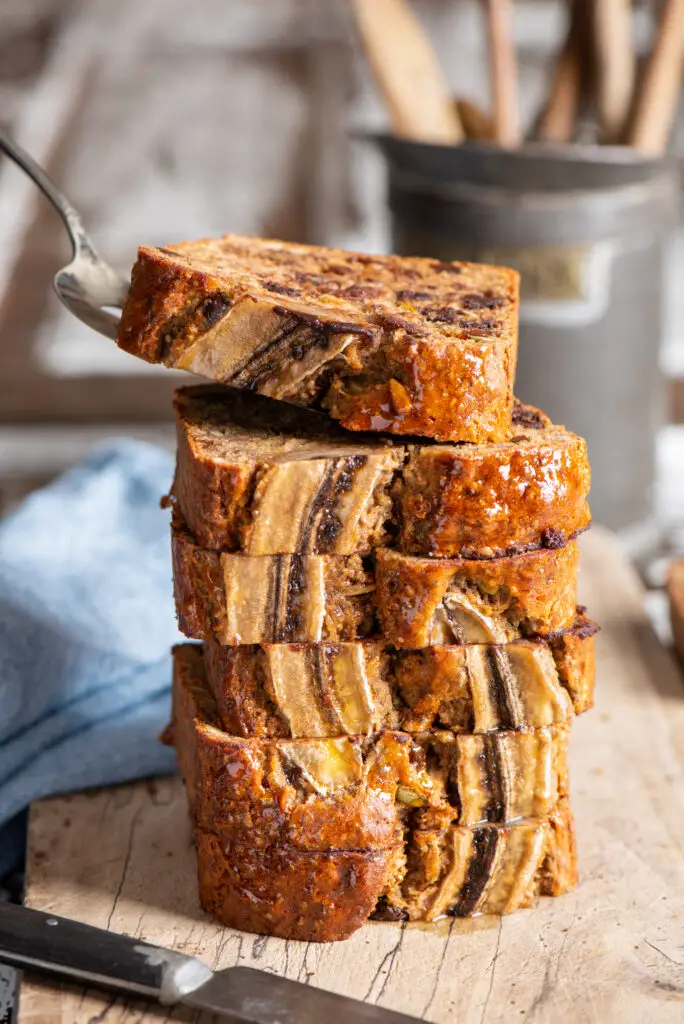 This Seedy Chocolate Chip Banana Bread can be found sitting comfortably beside your cup of coffee or tea when you're just chilling. Banana bread serves us all well. It offers a second act to those ripened bananas and balances their sweetness with warming spices and seeds on our pallet.
Staying Warm in Bonavista!
We're enjoying self-isolation in the community of Bonavista, Newfoundland this week before we visit family in Gander. We brought some of this banana bread on the trip with us and it's a wonderful nutrition bomb of deliciousness. We're enjoying the last couple of slices with our matcha tea lattes. We'll need to make some more once we get to Gander. It's a warming treat and it's snowy white in Gander at the moment . . . . actually, probably for the next six or seven months!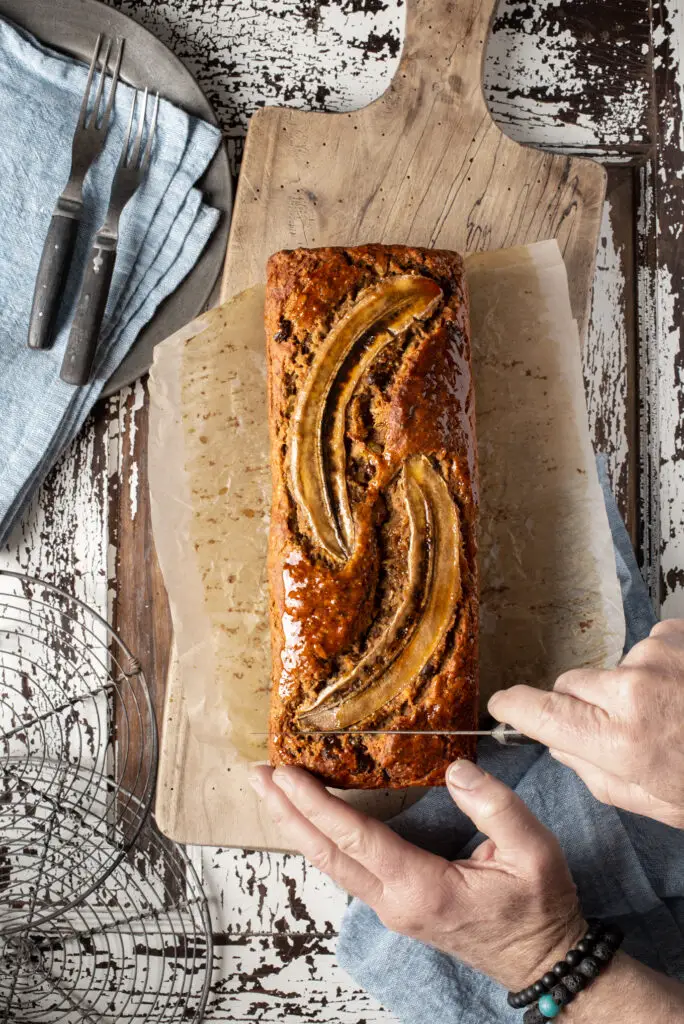 Seedy Chocolate Chip Banana Bread & Healthy Ingredients
More than half the flour in this banana bread is either spelt or almond flour. Spelt flour is an ancient grain and, even though not gluten free, it contains only moderate amounts of gluten. It is more water soluble and easier to digest than wheat. Modern wheat has been hybridized, making it harder to digest.
Replacing some of the wheat flour with almond flour results in a lower glycemic index, which has an improved impact on blood sugar levels. Including almond flour also adds more protein and healthy fats to your afternoon snack. The sunflower, pumpkin and chia seeds provide an additional source of healthy fats and fibre in their whole form. This is a bonus because they're tasty and add wonderful texture to the banana bread!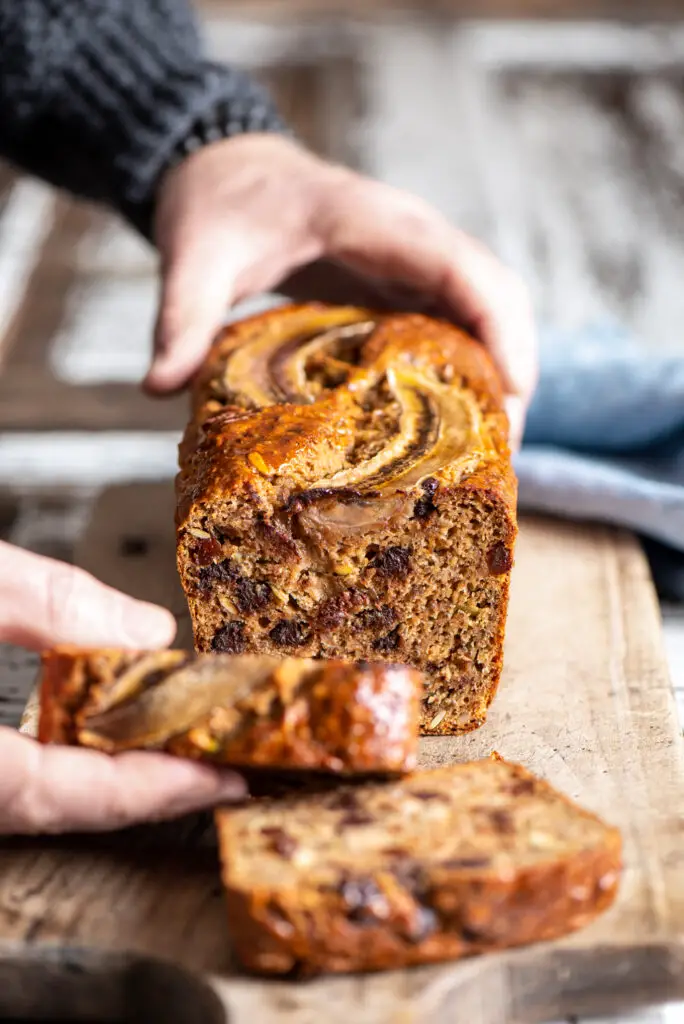 This is always important . . .
It's also important to note that when using organic baking powders, they are typically only single-acting. This means that the reaction starts when combined with moisture. While a second reaction occurs with double-acting baking powders once exposed to heat, this requires chemical agents. We just prefer to keep these out of our bodies. Given the reliance on only the single reaction, it's necessary to pop your banana bread into the oven straight after you mix the wet and dry ingredients. The bubbles of carbon dioxide produced by the reaction will otherwise disappear. The result is a banana bread that just won't rise quite as much!
If you like the sound of this Seedy Chocolate Chip Banana Bread, check out our Lemon Strawberry Loaf and this Maple Almond Coffee Cake. For some even quicker to make snacks, try these Oatmeal Cranberry Muffins, Blueberry Oatmeal Muffins and Banana Raspberry Muffins!
If you make the Banana Bread, we'd love to hear what you think – just comment below! Don't forget to also share a picture on Instagram . . . tag us @plantedandpicked and hash tag it #plantedandpicked. Always share and eat with friends!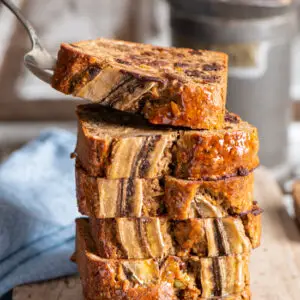 Ingredients
Dry Ingredients
1

cup

all-purpose flour

175 g

¾

cups

whole grain spelt flour

105 g

½

cup

almond flour

65 g

1

tbsp

organic baking powder

½

tsp

organic baking soda

¼

cup

raw sunflower seeds

¼

cup

raw pumpkin seeds

¼

cup

chia seeds

½

cup

raisins

⅓

cup

non-dairy chocolate chips or chunks

1½

tsp

pumpkin pie spice

See recipe link below

½

tsp

fine sea salt
Wet Ingredients
¾

cup

plant-based milk

Soy works best

1

tbsp

cider vinegar

1½

cups

mashed overripe banana

About 3 medium bananas

½

cup

maple syrup

⅓

cup

plant-based yogurt
Topping
1

whole banana sliced lengthwise for top of loaf

Optional
Instructions
Grease or line a loaf pan with parchment paper.

Pre-heat oven to 350°F with rack in the middle of the oven.

Add cider vinegar to plant-based milk (soy), stir to combine and thicken and let rest while preparing the dry ingredients.

Combine all dry ingredients in a large mixing bowl.

Combine mashed banana and maple syrup with the soy milk mixture.

Stir wet ingredients ingredients into dry ingredients until combined ONLY once oven has pre-heated. If using organic baking powder, it is typically only single-acting (activated by moisture) rather than double-acting (also activated by heat). You will want to place the loaf pan in the oven as soon as you have mixed the wet and dry ingredients to avoid the bubbles escaping before the loaf has started to bake!

Add the mixed batter to the loaf pan and top with sliced banana if doing so, before placing in the oven to bake straight away.

Bake for 55 to 60 minutes or until an inserted skewer or toothpick is removed cleanly. Add an additional 5 minutes, as required. We baked ours for 55 minutes, but how hot your oven is and your particular flours can always influence baking time requirements.

Let banana bread cool completely before slicing.