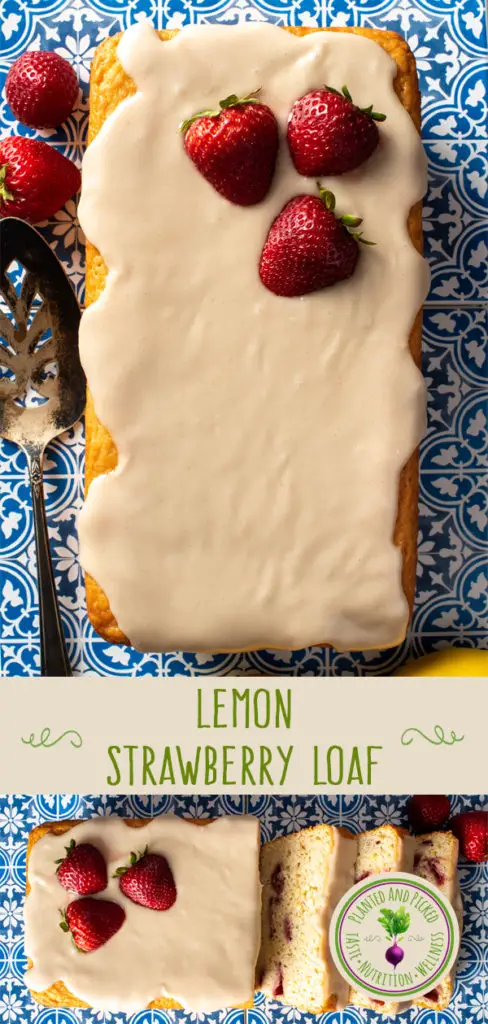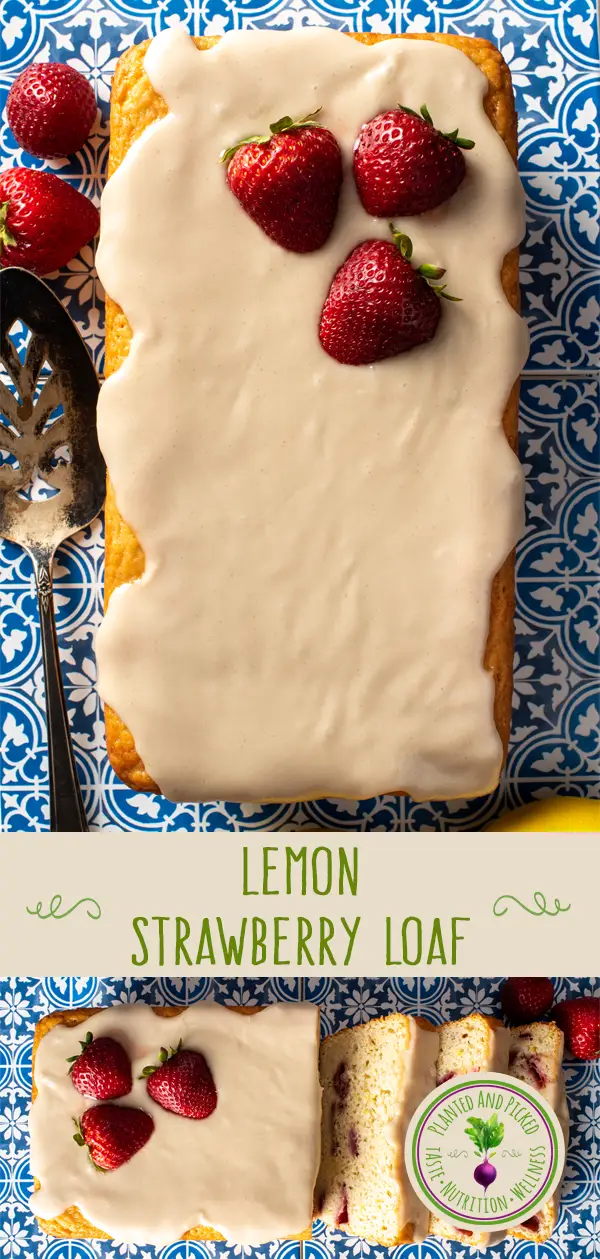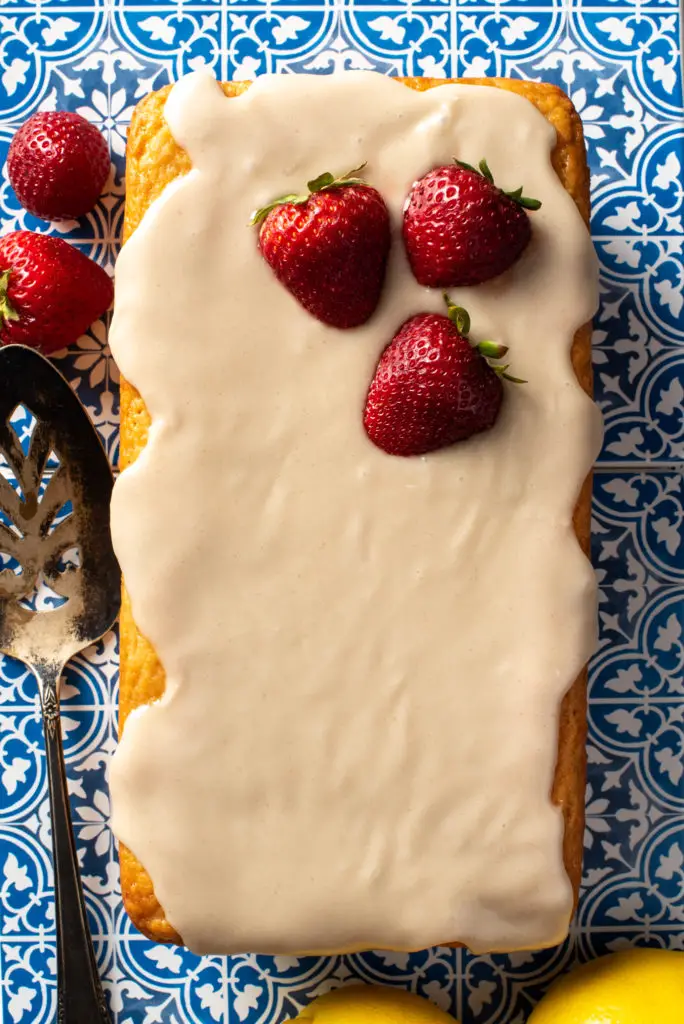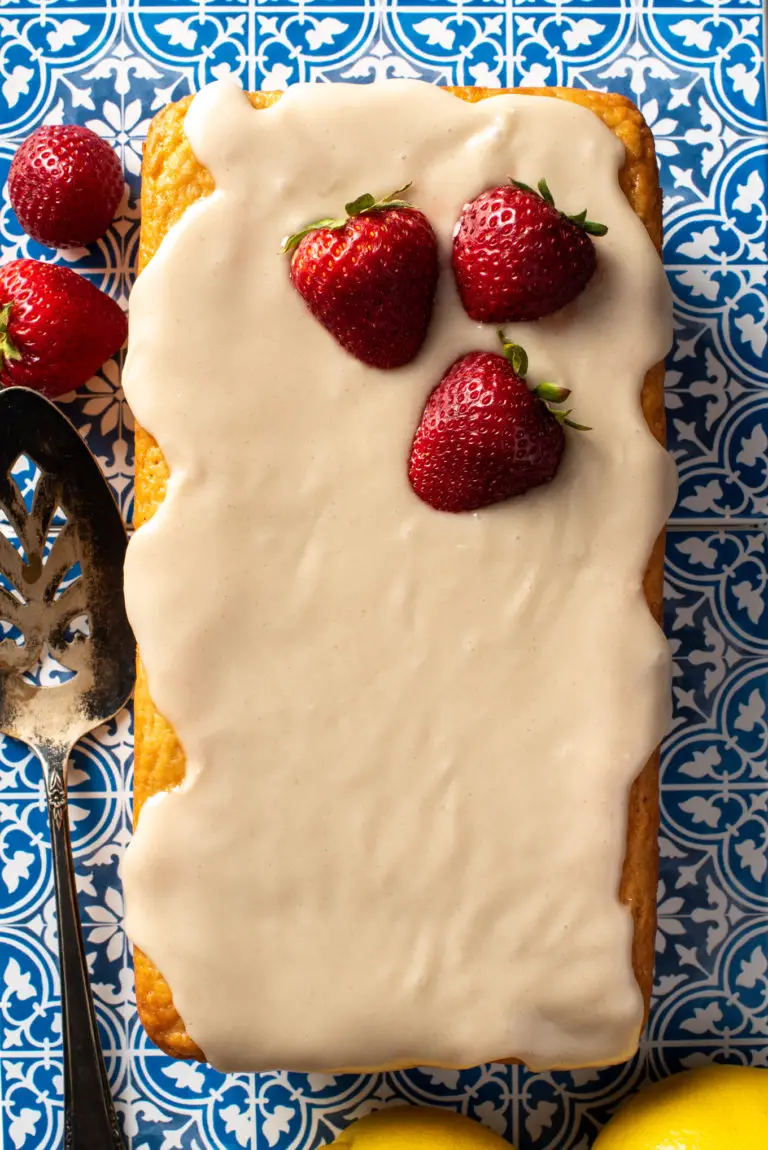 This Lemon Strawberry Loaf tastes as refreshing as it sounds and looks. We start picking local strawberries towards the end of June here in Southern Ontario. Red, juicy and ripened on the plant is the way fruit is meant to be enjoyed!
Strawberries in this Lemon Loaf!
We are anxious for a trip to our go-to organic berry farm at Organics Farm in Markam. Hat's, sunscreen and baskets and we're ready when they open! Your local farms may be opening up soon too, so have this recipe close by! In the meantime, we've used some store-bought organic strawberries because if there were only one food you were to buy organic, strawberries would be it.
We like our lemon loaf, with or without strawberries, to be super moist, much like a pound cake. The lemon flavour needs to shine without making us pucker. The strawberries also provide a great complementary punch of flavour . . . strawberry lemonade anyone?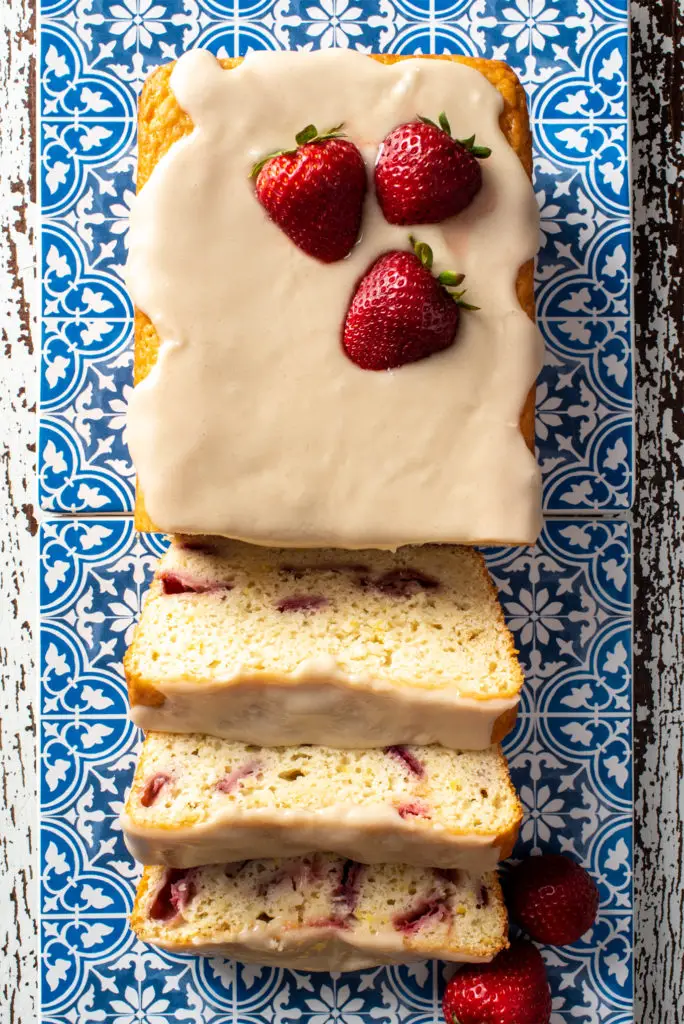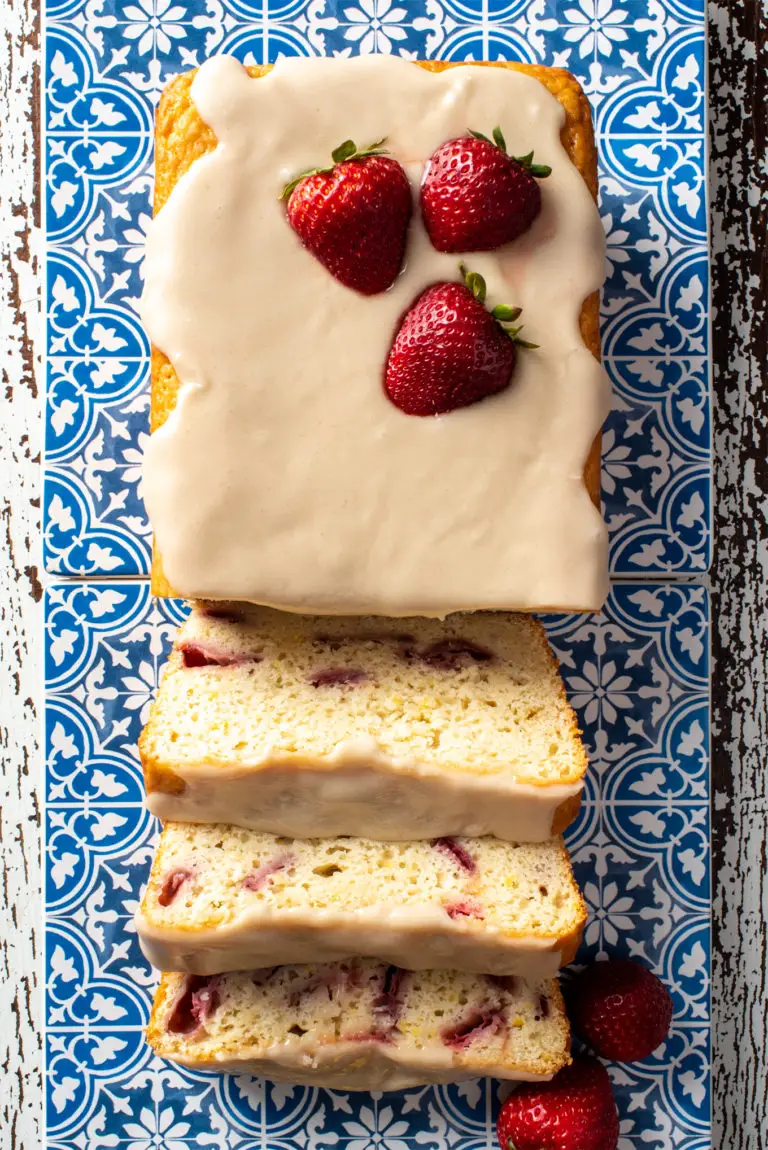 Creating Structure in Vegan Baking
This vegan version of a lemon strawberry loaf eliminates the eggs without eliminating the structure and moistness characteristic of a pound cake. Without eggs, developing structure relies on gluten and a less runny consistency than a typical cake batter. You cannot add a similar amount of liquid to that included in a batter that also includes eggs. You'd be setting yourself up for a potential collapse . . . lesson learned!
A Note about Baking Powder
We have said in other posts that many commercial baking powders are double acting. This means that part of the leavening occurs when you mix the wet and dry ingredients together. A second leavening stage is triggered by the heat of the oven. This is great for your lemon strawberry loaf, but not so good for you. Unfortunately, the agent that triggers the second leavening stage typically contains aluminum. We prefer to keep aluminum out of our foods because of its known risks. Your option is to use a single acting baking powder without aluminum. If you purchase an organic brand, you can be sure that this is what you are getting.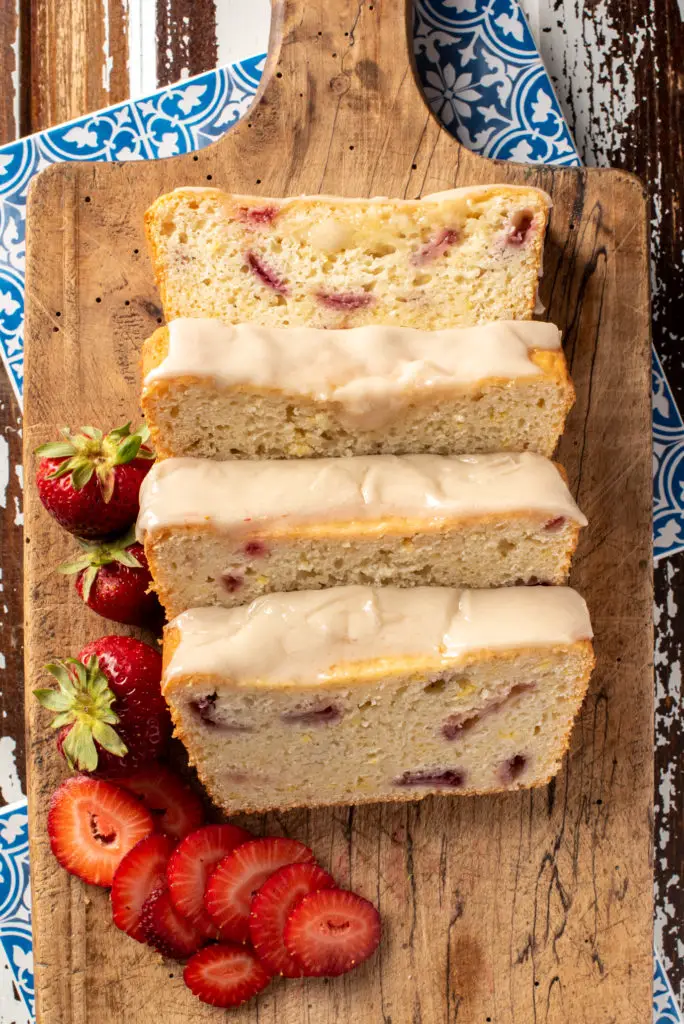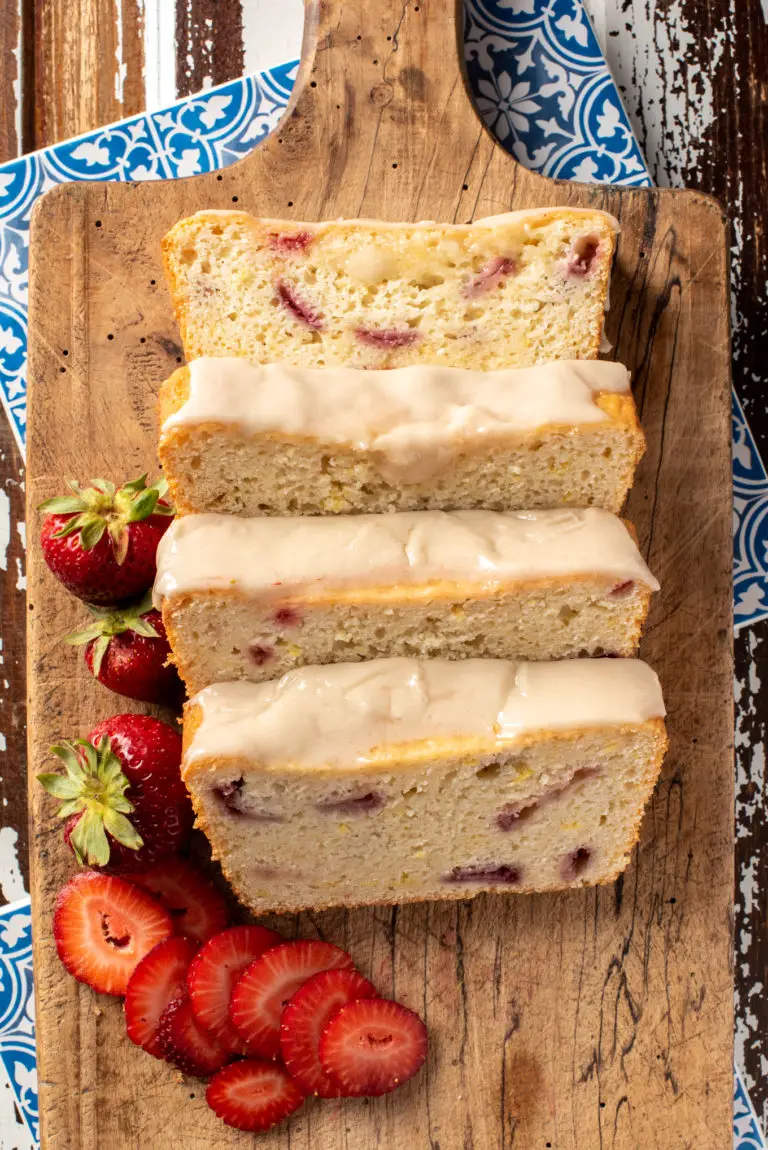 The catch when you use single acting baking powder is that you need to get your loaf pan in the oven as soon as you possibly can after mixing the wet and dry ingredients. Otherwise, the 'bubbles' created by the leavening will escape out of the pan before it goes in the oven and your loaf will not rise. This is a small price to pay to avoid toxicity!
If you like the sound of this Lemon Strawberry Loaf, you might also like to try out our Maple Almond Coffee Cake. For some even quicker to make snacks, try these Oatmeal Cranberry Muffins, Blueberry Oatmeal Muffins and Banana Raspberry Muffins!
If you make this Lemon Strawberry Loaf to go with your tea or coffee, we'd love to hear your comments. Don't forget to also share a picture on Instagram . . . tag us @plantedandpicked and hash tag it #plantedandpicked. Don't forget . . . life is a piece of cake!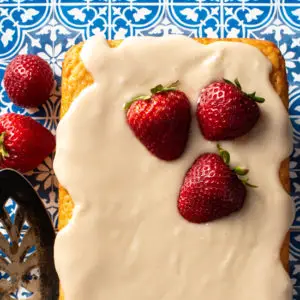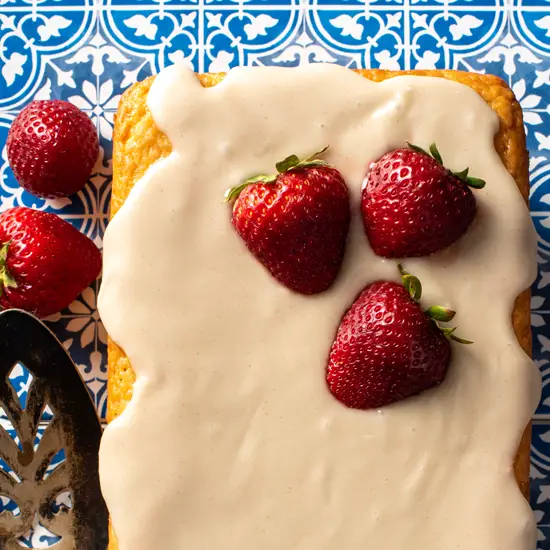 Ingredients
Dry Ingredients
1¾

cups

all-purpose flour sifted (290 g)

3

tsp

organic baking powder

½

tsp

organic baking soda

½

tsp

sea salt

¾

cup

cane sugar (165 g)

⅔

cup

fresh strawberries sliced
Wet Ingredients
¾

cup

plant-based milk

(soy is best)

3

tbsp

lemon juice

¼

cup

coconut oil melted

2

tbsp

fine lemon zest

1

tsp

vanilla extract

½

cup

plain coconut yogurt
Glaze
½

cup

cane sugar

2

tbsp

plant-based milk

(soy is best)

1

tsp

lemon extract
Garnish
2

strawberries sliced (optional)

1

tbsp

fine lemon zest (optional)
Instructions
Measure out and place all dry ingredients (excluding strawberries) in a large mixing bowl and whisk together to combine.

Stir sliced strawberries into the dry ingredients to coat well.

Stir 3 tbsp of lemon juice into plant-based milk in a medium sized mixing bowl and let sit. As you stir the mixture, it will thicken to a consistency similar to that of buttermilk.

Melt coconut oil in a small saucepan and pour into milk mixture together with the lemon zest, vanilla extract and plain coconut yogurt.

Pour wet ingredients into dry ingredients and stir to combine just until all dry ingredients are moistened and pour batter into a parchment lined loaf pan. We typically cut a strip of parchment that is runs across the bottom of the pan and up two sides. This is enough to ensure that the loaf is easily removed. Immediately place the pan in the pre-heated oven to ensure that loaf begins to bake before the 'bubbles' from the active baking powder do not escape. Further information as to why this is important is provided in the post above.

Bake the loaf for approximatley 55 minutes and let cool in the pan for about 10 minutes.

Use a wooden skewer or a toothpick to create three rows of five holes straight through to the base of the loaf and drizzle 2 tbsp of freshly squeezed lemon juice over the top of the loaf and let cool completely on the counter.

Add the half cup of cane sugar to a high power blender and blend for about 30 seconds to produce a fine confectionary consistency sugar.

Add the lemon extract and 2 tbsp of plant-based milk create the desired glaze consistency. You want the glaze to flow sufficiently to drizzle over the loaf, but not flow right off! You may have to add a few extra drops on plant-based milk at a time to reach the desired consistency.

Spread the glaze over the loaf. Alternatively, you needn't cover the whole surface. We sometimes like to add just a little additional sweetness by drizzling it over the loaf.

Sprinkle a little additional lemon zest over the finished loaf and refrigerate to allow the glaze to set.