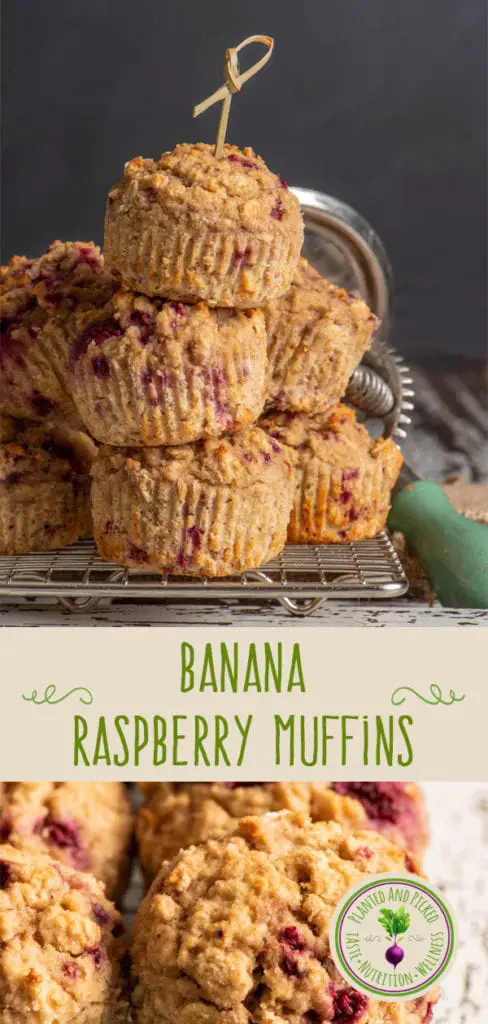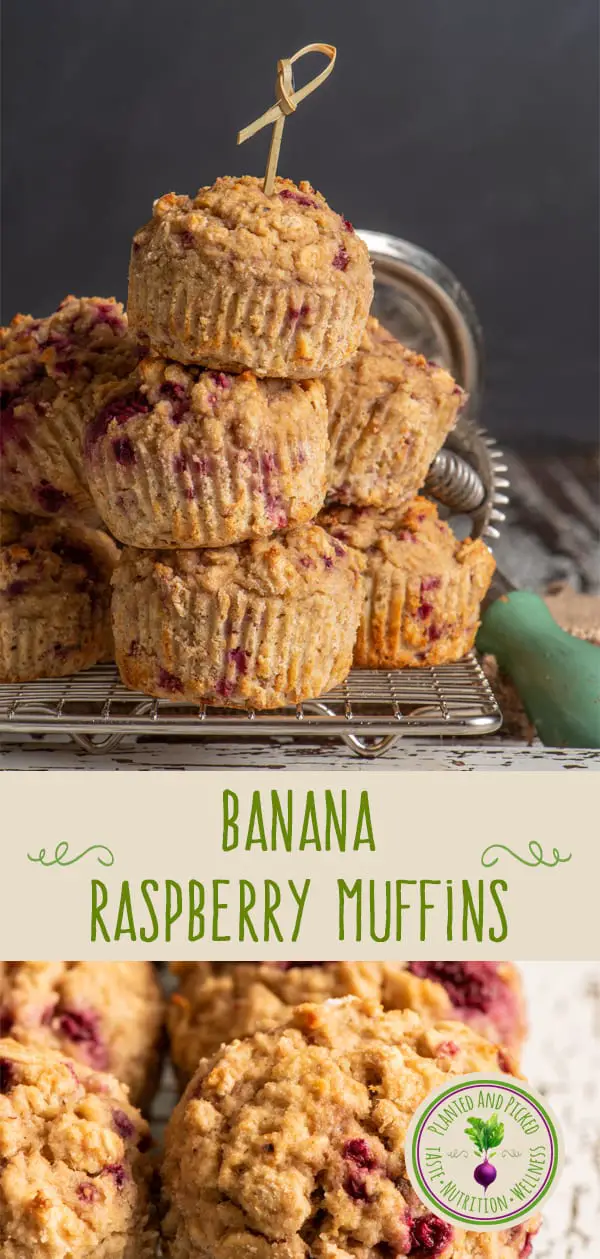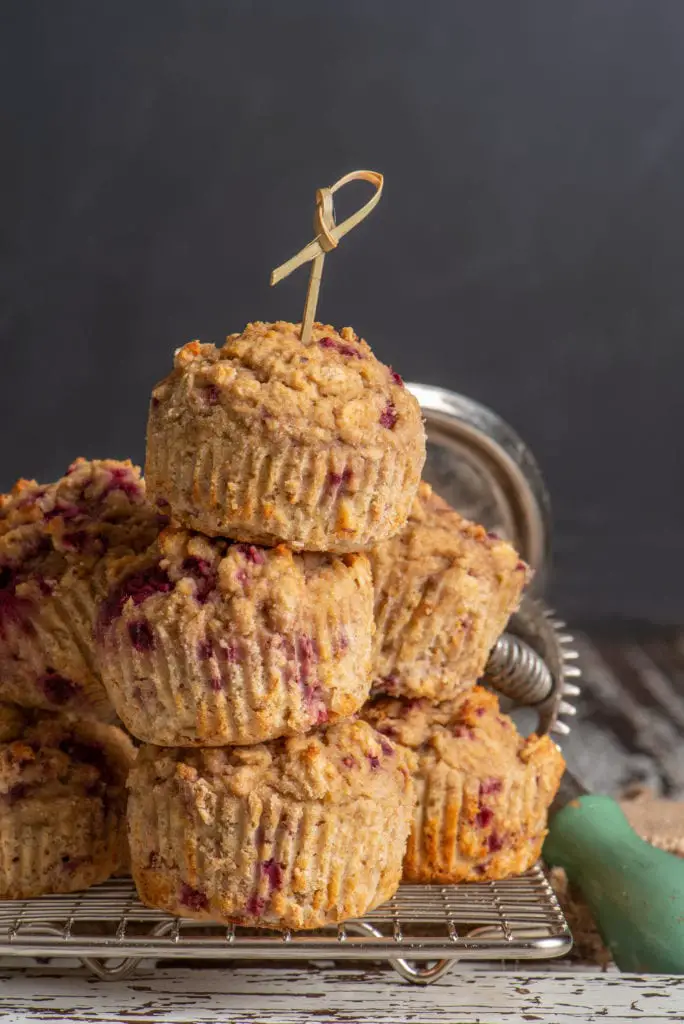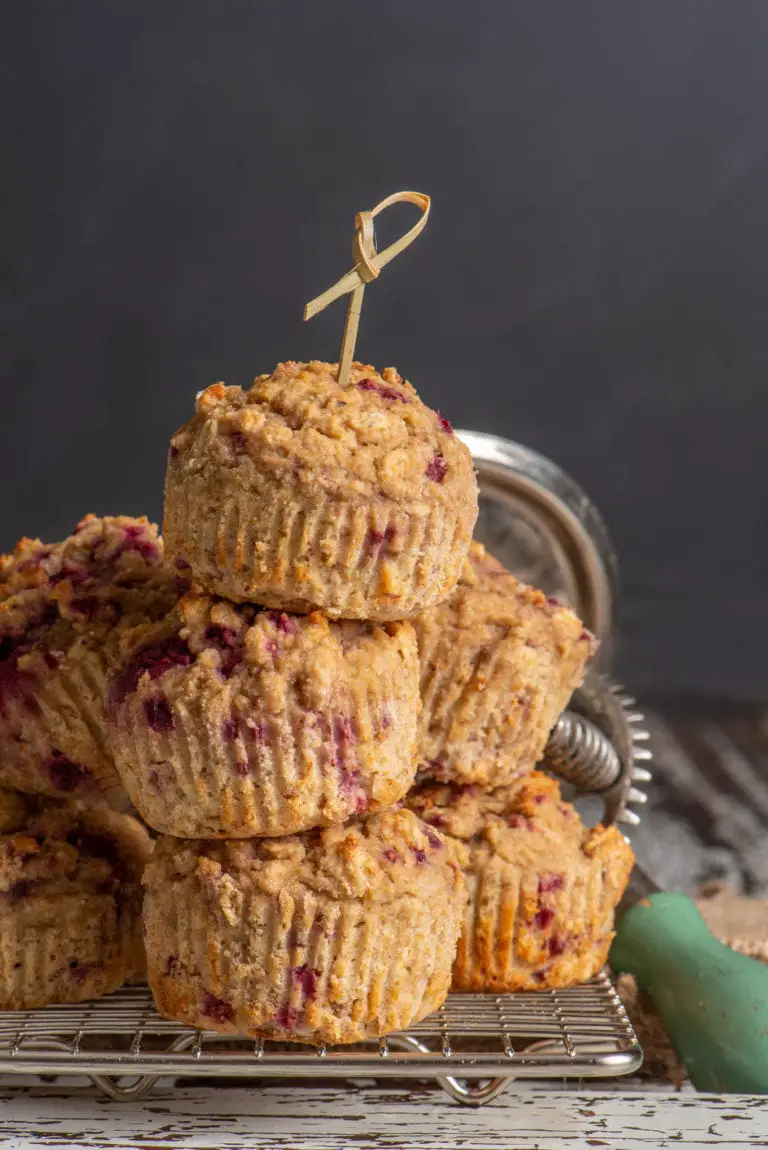 These gluten free banana raspberry muffins are great to make when you have some very ripe bananas that you need to use. Perfect for a morning coffee break or with some plant-based yogurt for breakfast.
We include a combination of gluten free flours in this recipe, along with oats for a dense and hardy muffin. When you are baking using gluten free (GF) flours, it's best to use a combination of different flours. Otherwise, the flavour of one flour may be too prominent. Feel free to experiment with using different flours that you like. These muffins will not rise as much as if you were using regular flour and that is completely normal.
Although no one in our household has Celiac disease, we do try to reduce our intake of gluten. These banana raspberry muffins are a great alternative. We know that the wheat of today is harder to digest than the wheat that our parents ate. It has been bred to be hardier and generally contains more gluten. Many people find it harder to digest, and gluten sensitivities are on the rise. When we do eat gluten, we try to choose easier to digest versions such as authentic sourdough bread, Ezekial sprouted grain bread or breads made with organic spelt flour.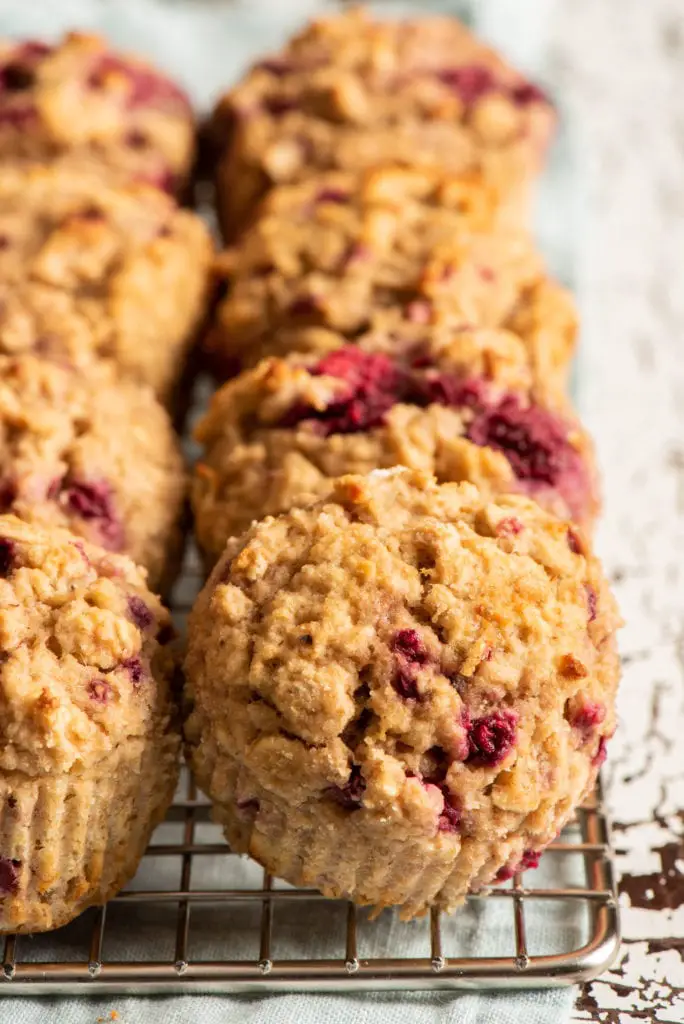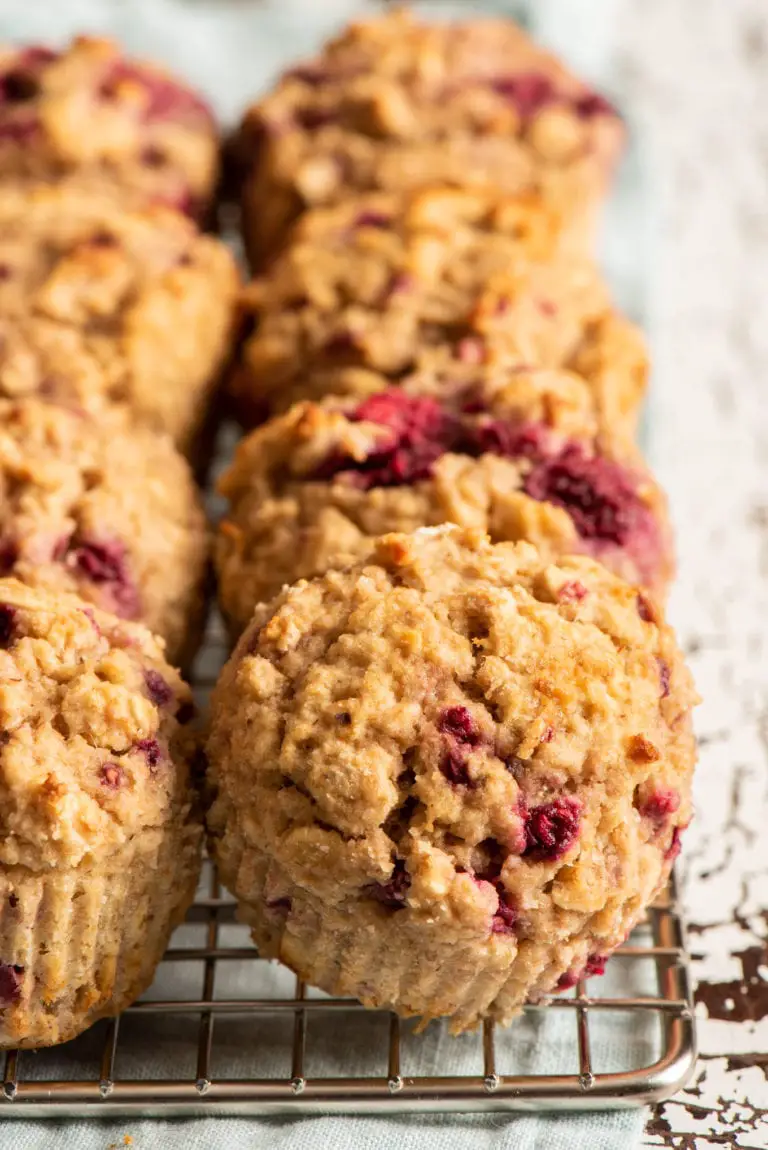 We often use blueberries as our berries of choice but only had raspberries on hand when we made these muffins. You really can use any fruit or berry when making muffins. Although fresh berries work best in muffin recipes, frozen also works in a pinch. We used frozen berries in this banana raspberry muffin recipe since we are at the tail end of winter and berries are not yet in season. Keep in mind that frozen berries add a little more moisture to the batter and, therefore, the muffins may require a little more cooking time.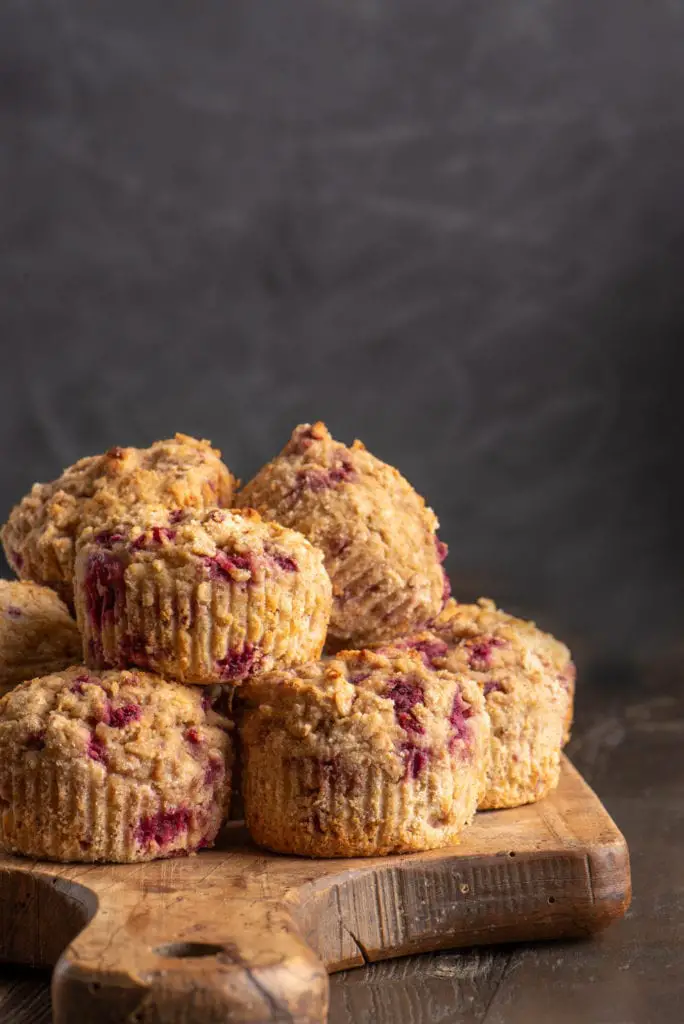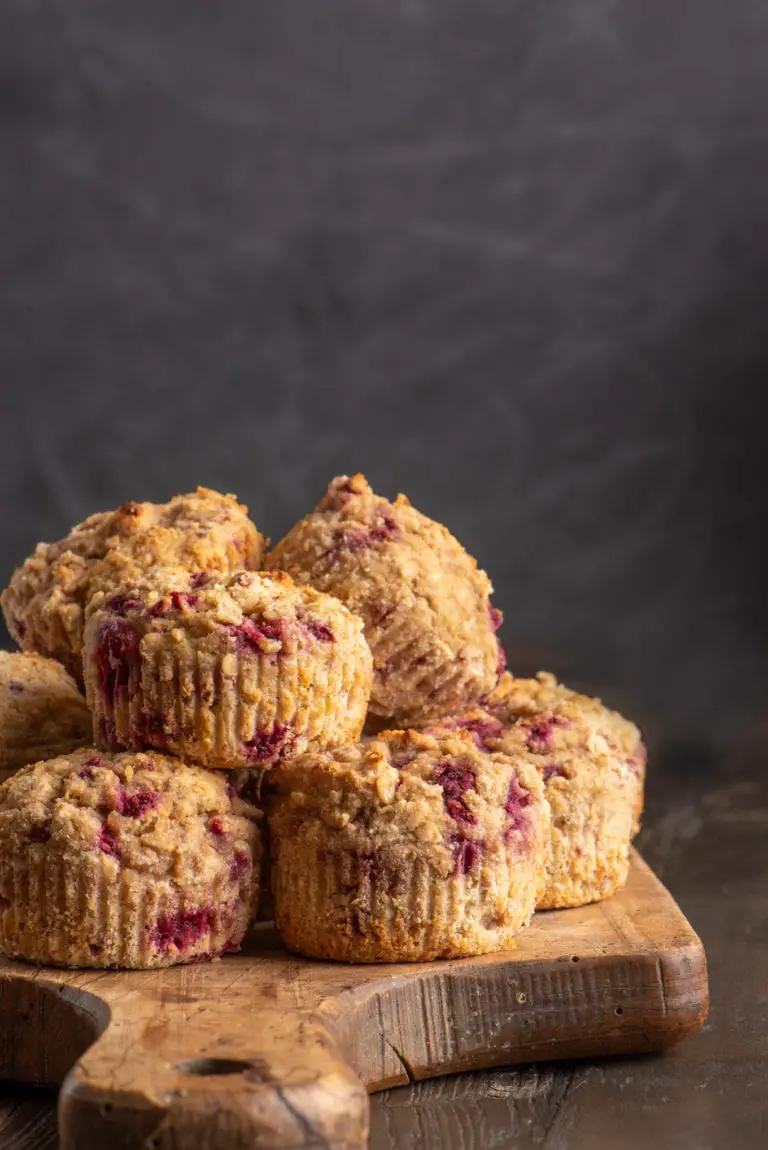 Raspberries are an excellent source of fibre, antioxidants and Vitamin C – an immune system favourite. Vitamins C and E, alpha and beta carotene, lutein, zeaxanthin, choline, and selenium are just some of the antioxidants that raspberries contain.
If you love muffins, try out these Oatmeal Cranberry Muffins, these Pumpkin Spice Muffins or these Blueberry Oatmeal Muffins. The Oatmeal Cranberry Muffins and the Blueberry Oatmeal Muffins are also gluten-free.
If you make these Banana Raspberry Muffins, please let us know how you like them by leaving a comment and a rating. Don't forget take a picture of yours and tag us @plantedandpicked on Instagram and hashtag it  #plantedandpicked .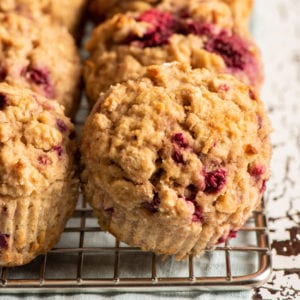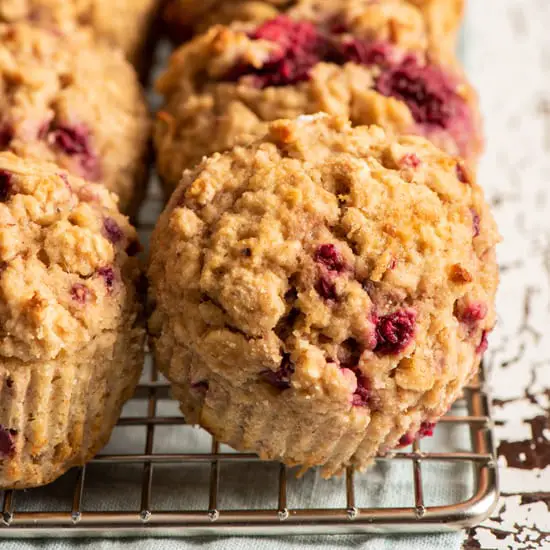 Ingredients
Wet Ingredients
1

chia egg (see notes)

3

medium

very ripe bananas (about 1 cup)

1/4

cup

coconut yogurt

1/4

cup

plant based milk (we used almond milk)

1/3

cup

maple syrup

1

tsp

pure vanilla extract
Dry Ingredients
1/2

cup

rolled oats

1/2

cup

almond flour

1/2

cup

coconut flour

1

cup

oat flour

2

tsp

baking powder

1

cup

raspberries, fresh or frozen
Instructions
Preheat oven to 375 degrees.

Use a muffin tin that makes 12 regular sized muffins. Line the muffin tin with bleach free muffin liners.

To make the chia egg, ground 1 tbsp chia seeds (we use a coffe grinder reserved for spices). Add to a small bowl with 3 tbsp of filtered water. Stir and let sit for about 10 minutes while you are making the rest of batter. The 'egg' should be gelatinous.

In a medium sized bowl, mash bananas well. Add yogurt, milk, maple syrup and vanilla. Put aside and add the chia egg once ready.

In a large bowl, mix flours, oats and baking powder. Add in raspberries and mix to combine.

Add wet ingredients to the dry ingredients and stir with a wooden spoon or spatula until just combined.

Divide the batter among the 12 muffins. We use a spring form ice cream scoop to make this job easier.

Place in oven and bake for about 22 minutes. Check the muffins doneness by placing a toothpick or metal skewer in the center of one of the muffins. If some batter sticks to it, leave the muffins in the oven for a couple of minutes more and check again until done.

Remove the tray from the oven. Remove the muffins from the tray and place them on a metal rack to cool. If you leave the muffins in the tray, they will sweat and the bottoms will become soggy.