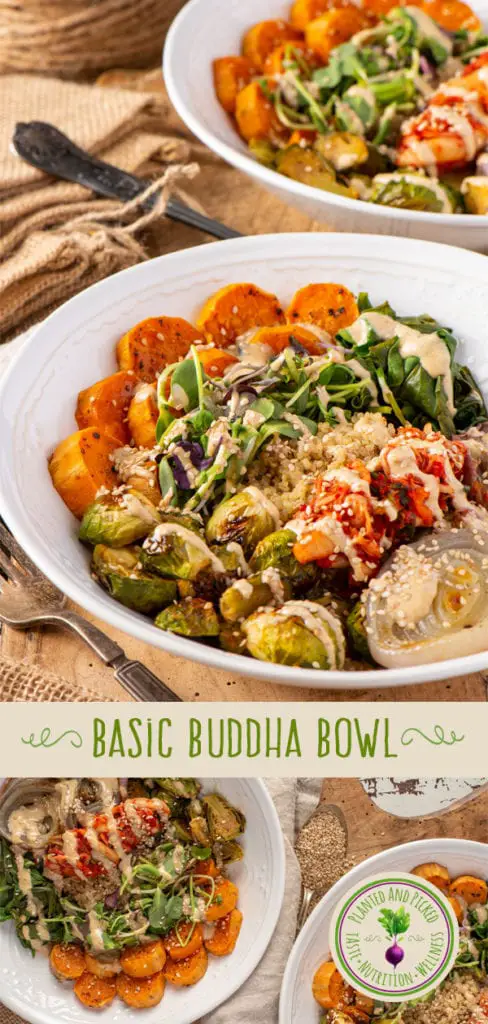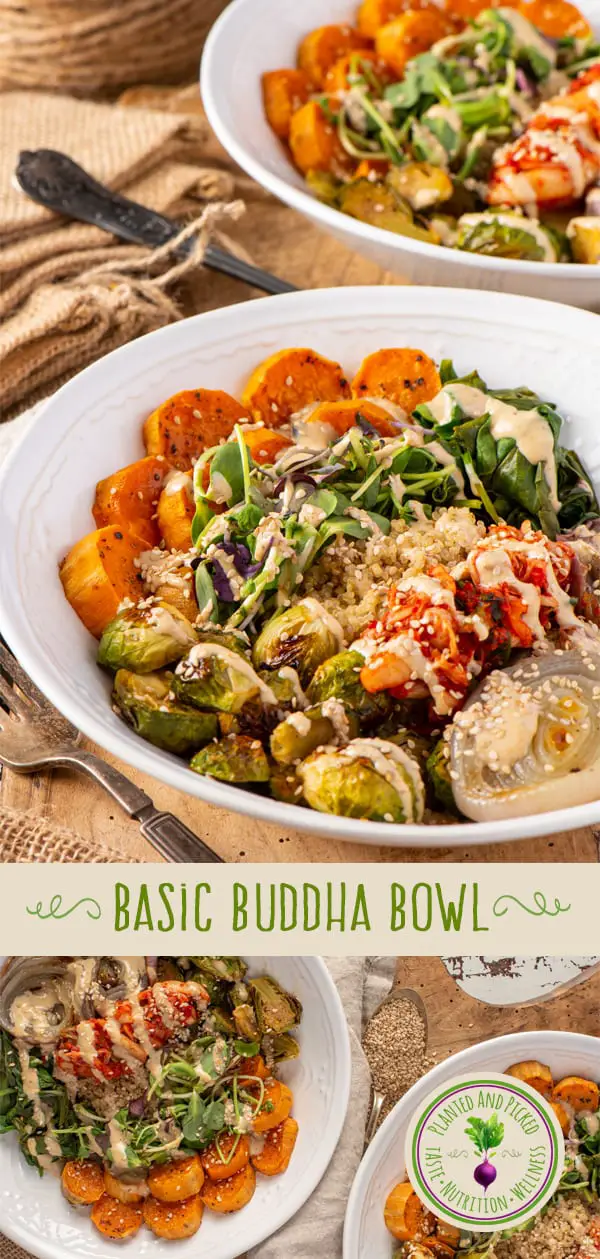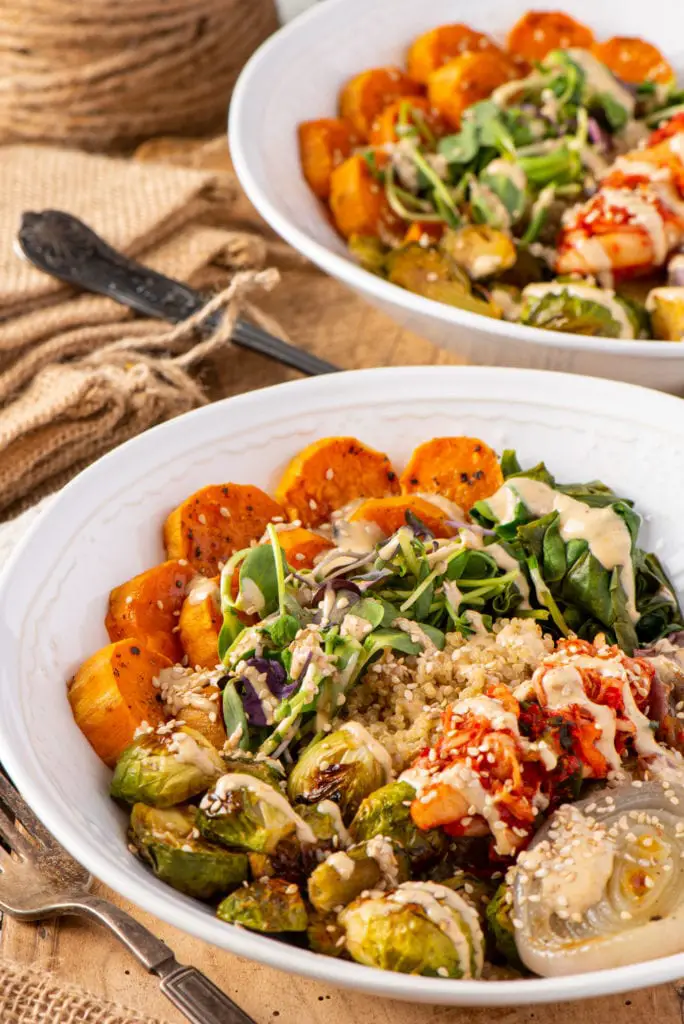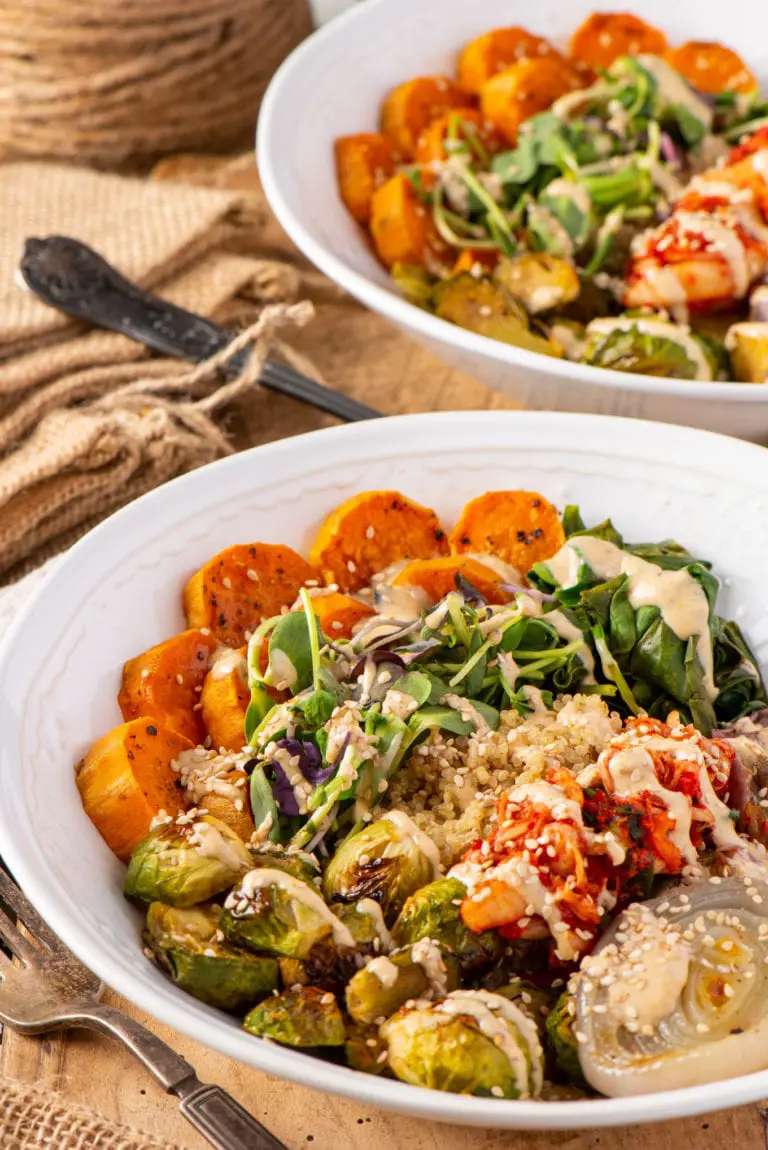 During times of stress and anxiety, it is nice to come back to grounding, nourishing food. This Basic Buddha Bowl brings together a variety of nourishing foods in an easy to assemble fashion.
As we are writing this, we are in the midst of the Coronavirus pandemic. People are experiencing a lot of stress and uncertainty. This affects the nervous system and can influence a chronic state of 'fight or flight' response. In Ayurveda (the sister science of yoga), this can be expressed as an imbalance of Vata dosha, in which the nervous system responds to stressors with fear.
Reducing Stress with Food
To reduce stress in the mind and body, you can include foods in your diet that will help to bring Vata dosha back into balance. These include: warm, grounding, cooked foods; foods that are naturally sweet, sour and salty; and spices that are Vata pacifying spices such as cinnamon, ginger and cumin.
Particular foods that can assist with lowering stress hormones include: probiotic rich foods such as plant-based yogurt and miso; foods containing complex carbohydrates, such as oatmeal and brown rice; omega 3 rich foods such as ground flax, chia and hemp seeds; edamame beans, which are a good source of tryptophan; magnesium-rich green leafy vegetables; nuts and seeds for zinc and selenium; and vitamin C rich foods such as bell peppers, strawberries, oranges and broccoli. Bringing various foods together in a buddha bowl is a great way to have a nourishing and healing meal.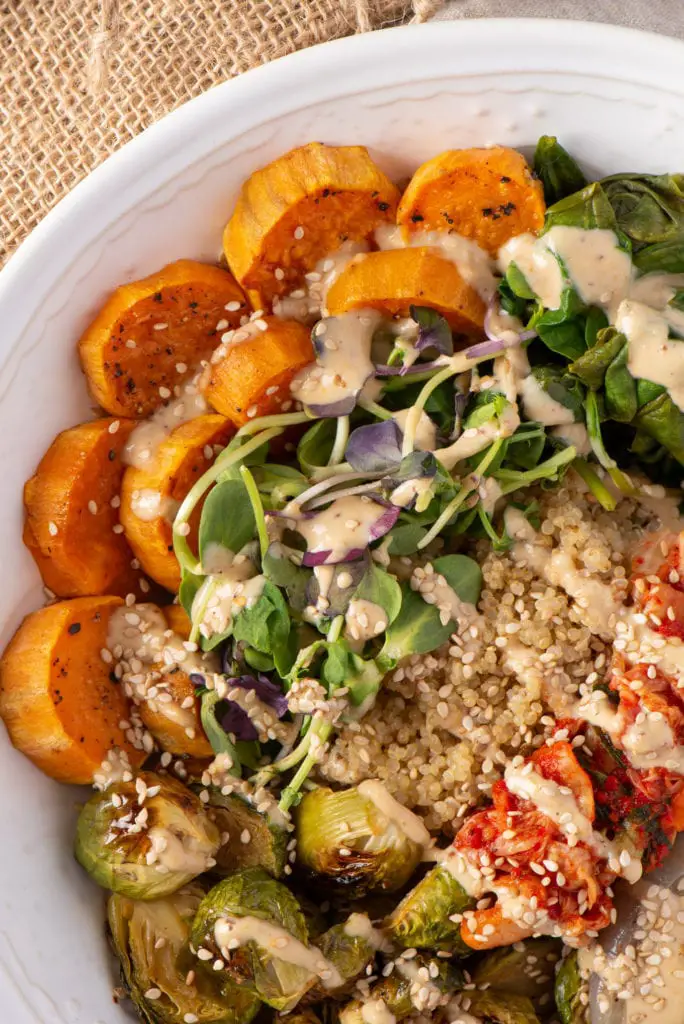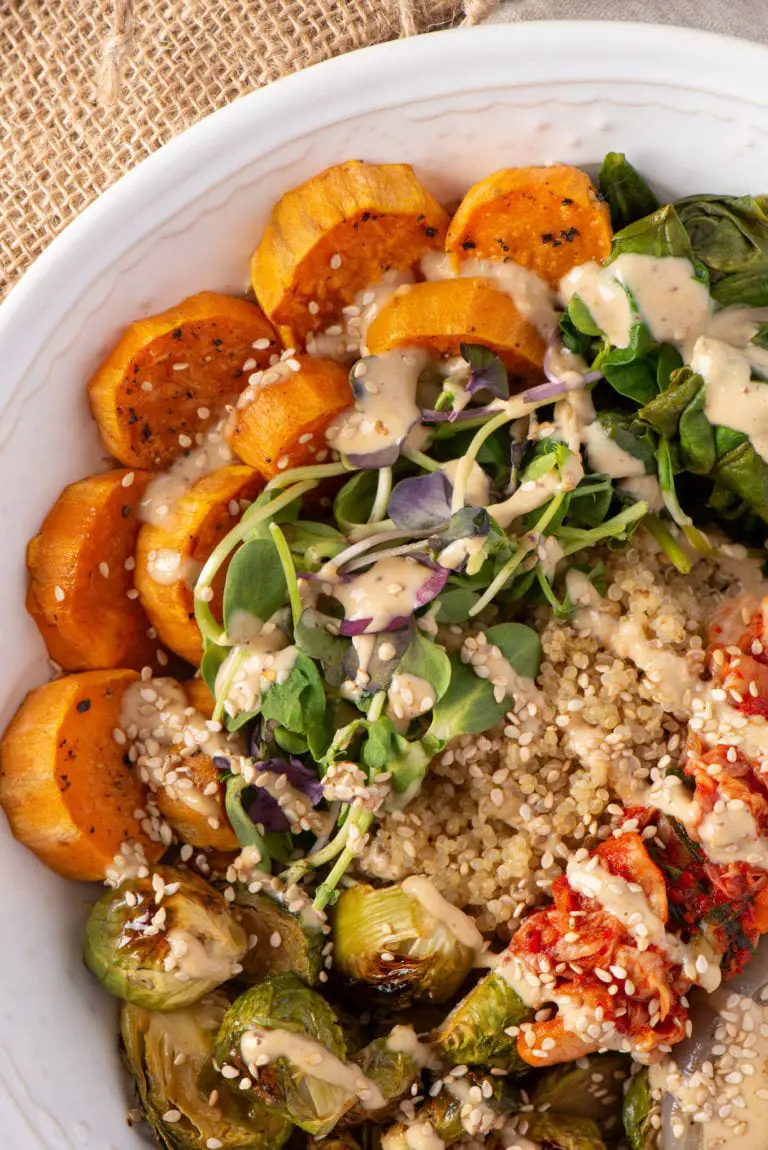 Basic Buddha Bowl Building Tips
The best thing about building a nourishing buddha bowl is that you can choose options from different categories and create completely different meals, depending on what you have on hand.
Here are some basics in building a nourishing bowl:
Choose a base such as brown rice, quinoa, wild rice, soba noodles or millet
Add one green leafy vegetable such as spinach, kale, swiss chard or bok choy
Add a member of the cruciferous family such as broccoli, cauliflower or brussels sprouts
Throw in a hearty vegetable such as sweet potato, squash or carrots
Add a plant protein option if desired such as tofu, tempeh or beans
Add any other raw or cooked vegetables such as asparagus, onions, zucchini, sprouts or pickled veg
Top the buddha bowl with a sauce such as lemon tahini sauce or keep it simple by using things in the pantry such as toasted sesame oil, tamari, coconut aminos, sea vegetables, nuts and seeds, fresh herbs and nutritional yeast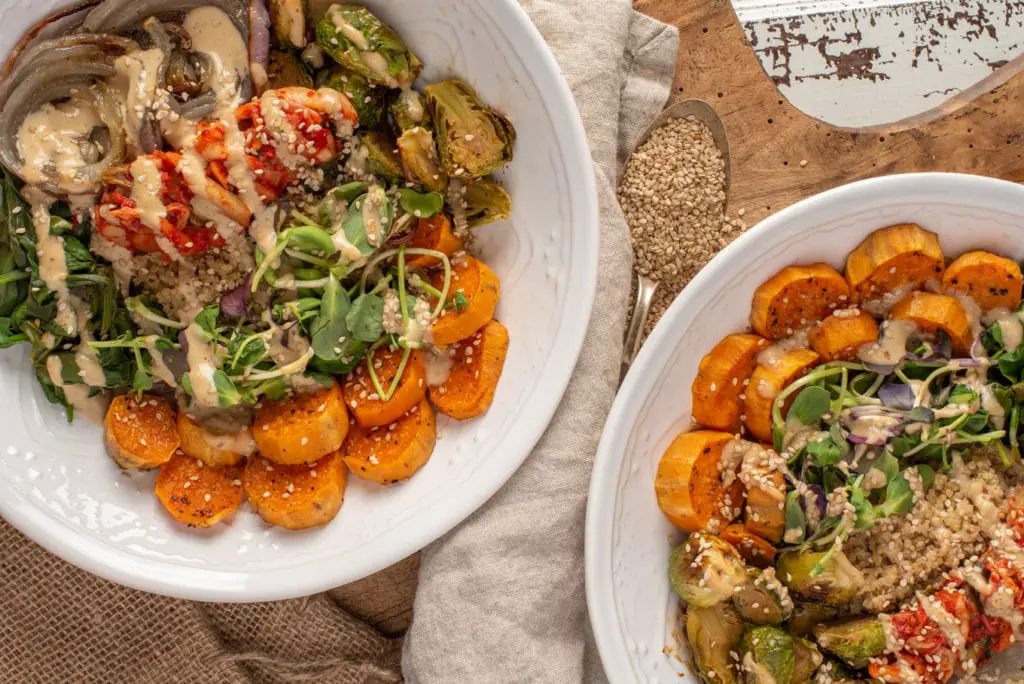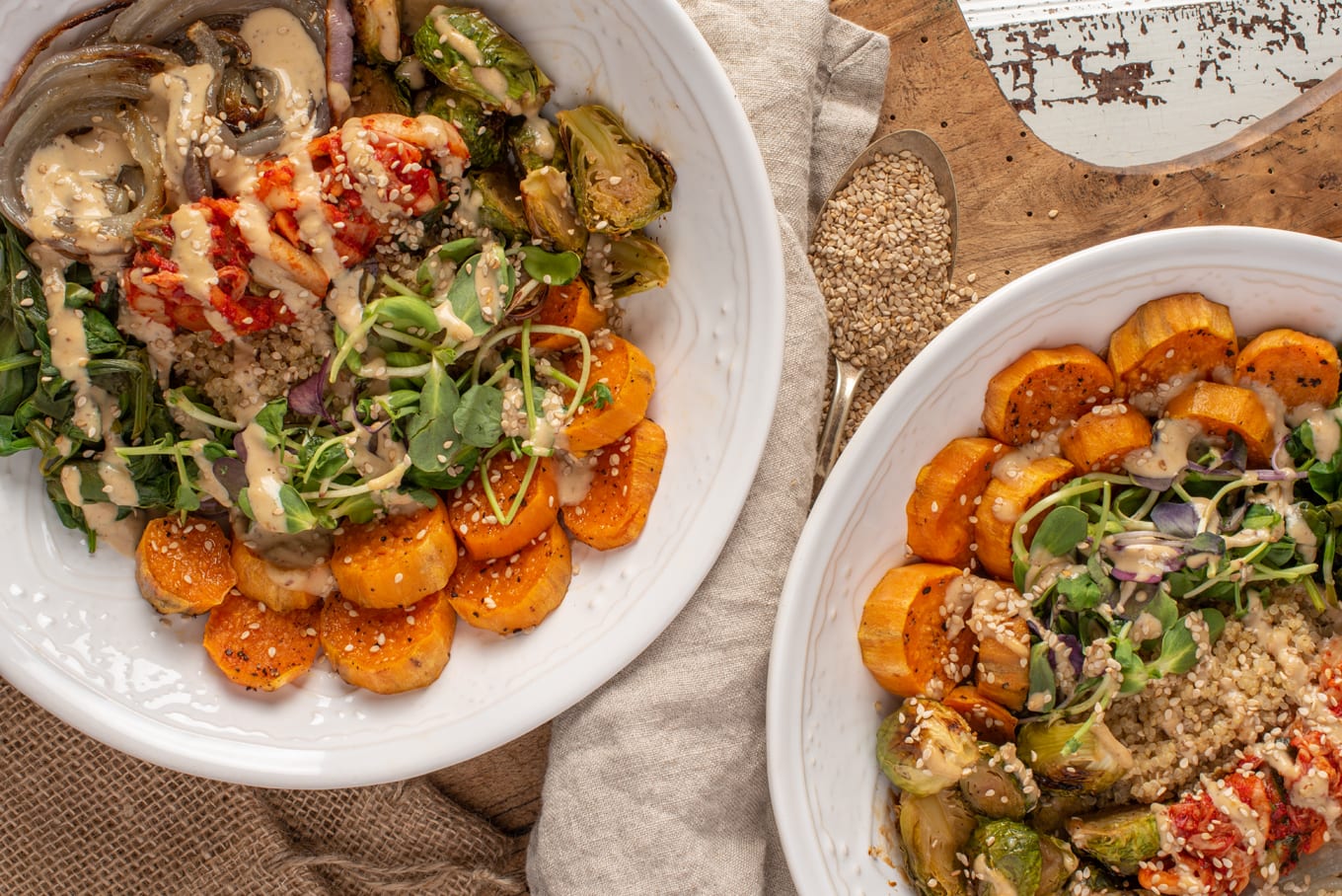 This Basic Buddha Bowl is just one of the endless combinations you can come up with, with just a little imagination. Try out this recent recipe post for our Bánh Mì Inspired Bowl or for other comfort foods, try out our Vegan Mexican Stuffed Pepper or these Spinach Stuffed Portobello Mushrooms.
Let us know if you do try out this Basic Buddha Bowl in the comments and give it a rating. Show us yours on Instagram and don't forget to tag us @plantedandpicked and hashtag it  #plantedandpicked.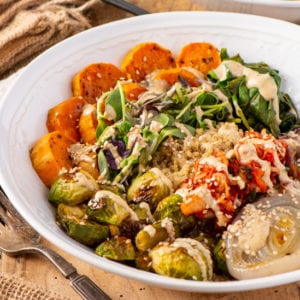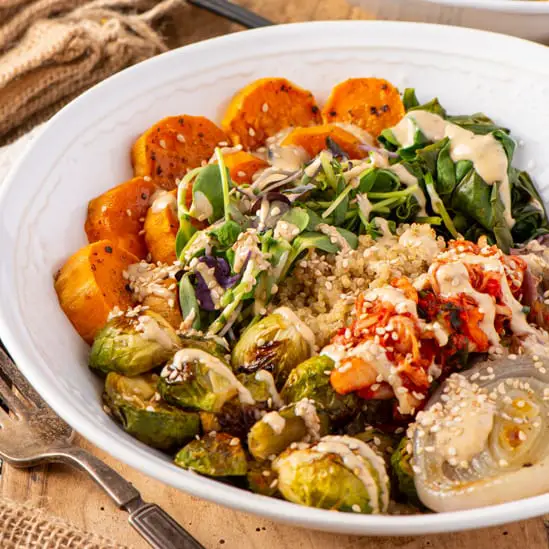 Ingredients
¾

cup

quinoa

1½

cups

water or vegetable broth

150

g

brussels sprouts

1

clove

garlic, minced

1

tbsp

maple syrup

1

medium

sweet potato

1

red onion

2

tbsp

olive oil

2

cups

spinach or other leafy green

sprouts (optional)

2

tsp

sesame seeds (optional)

4

tbsp

kimchi or saurerkraut (optional)
Tahini Dressing
¼

cup

tahini

2

tbsp

lemon juice

1

tbsp

maple syrup or other liquid sweetener

1

tbsp

dijon style mustard

1

tsp

tamari

½

tsp

grated ginger
Instructions
Buddha Bowl
Slice red onion (widthwise) into thick rings (about ½ an inch). Arrange on parchment-lined baking tray. Brush with oil and sprinkle with salt and pepper. Turn the onion rings over and repeat on the other side.

Slice the ends off the sweet potatoes and peel them. Slice them widthwise, into ½ inch thick rounds. Arrange them on a parchment-lined baking tray. Brush with oil and season with salt and pepper. Turn the sweet potato slices over and repeat on the other side.

Wash brussels sprouts and pat dry. Trim the ends off the brussels sprouts and slice in half lengthwise (through the stem). Toss in maple syrup, garlic and salt and pepper to taste.

Place the onions, sweet potato and brussels sprouts in the oven for 30 minutes, turning half-way through.

Rinse quinoa in a mesh strainer. Add to a medium-sized pot with 1 cup of water or vegetable broth. Bring to a bowl, reduce heat, cover and simmer gently for 12 to 15 minutes. Turn off burner and let sit for 10 minutes. Fluff with fork.

Place spinach in steamer basket and steam for approximately 5 minutes, until wilted.

Divide cooked quinoa into two bowls. Divide the onions, sweet potato, brussels sprouts and spinach between the bowls. Add 2 tbsp of kimchi or sauerkraut to each bowl (optional). Drizzle the tahini dressing evenly over each bowl and top with sesame seeds and sprouts (optional).
Lemon Tahini Dressing
Whisk together all of the ingredients for the dressing and thin out with a tablespoon or two of filtered water.

Dressing can be stored in a glass jar for up to a week in the refrigerator.