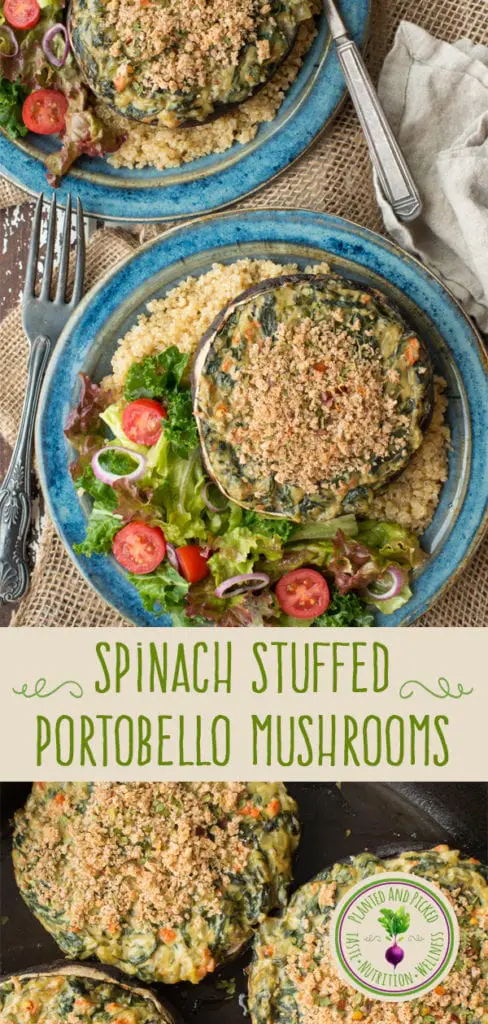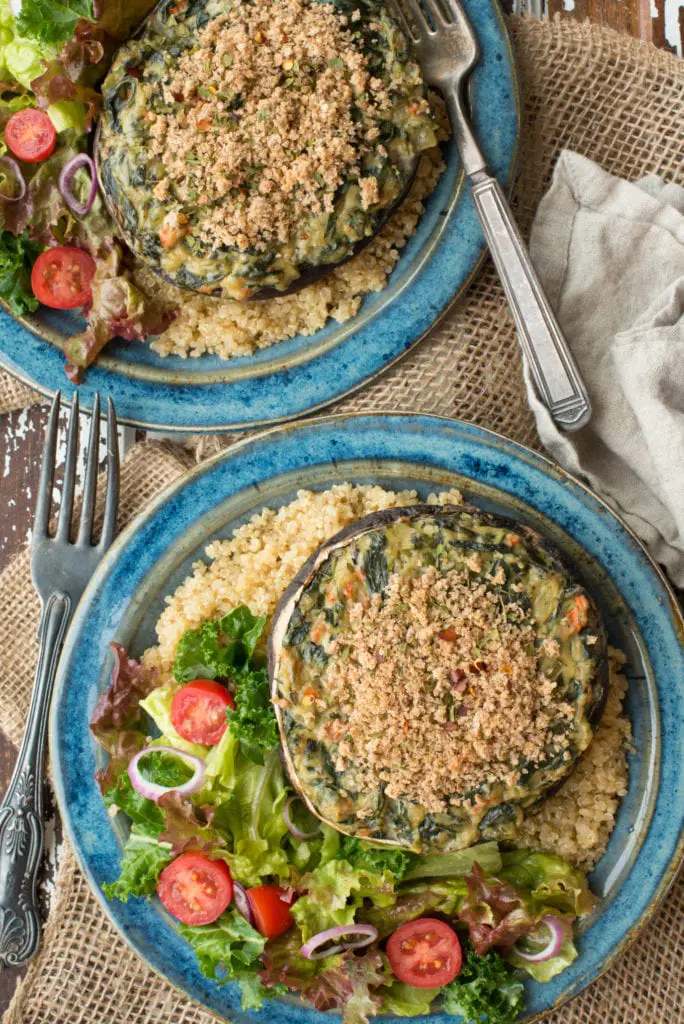 These creamy spinach stuffed portobello mushrooms are just in time for your New Years celebration! They're so easy to make, packed with nutrient rich spinach and are made creamy with cashews.
We decided to make these this week as the entrée to include for our New Years celebration. These stuffed mushrooms are a great choice if you are hosting dinner. They're also great to bring along and reheat if you need to substitute for the meat served at dinner parties.
These spinach stuffed portobello mushrooms utilize simple ingredients. So many good things start with onions and garlic. However, the stars of this dish are spinach, cashews and, of course, the mushrooms.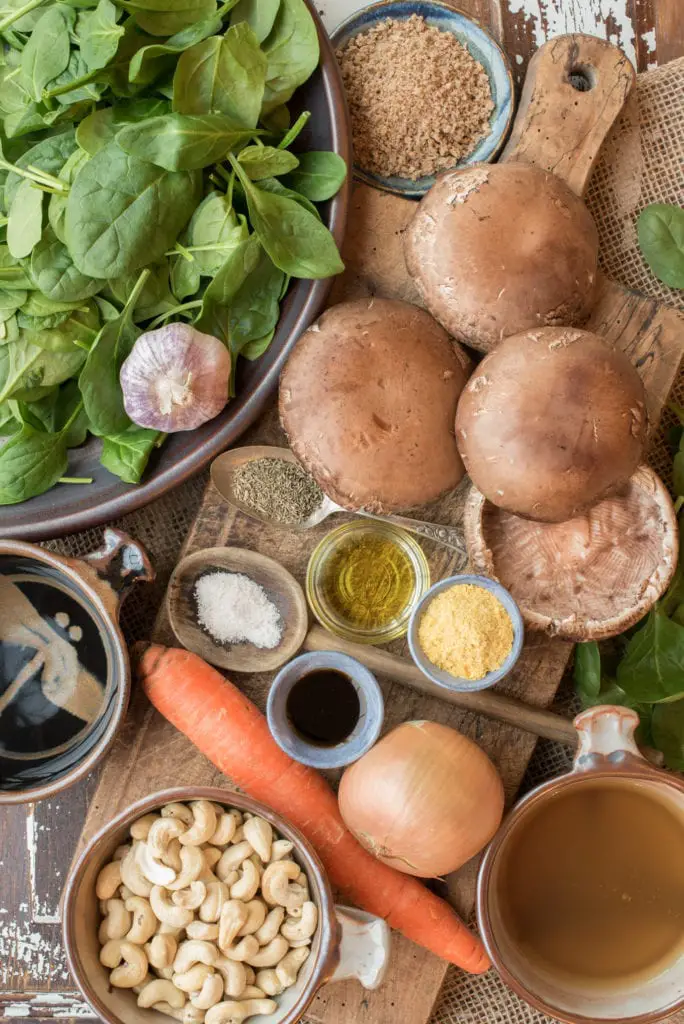 Spinach, being a green, is a great anti-inflammatory food. Heading out of the holiday season, most people are more inflamed than normally. This is due to extra alcohol, sugar and processed foods. Ramping up your intake of anti-inflammatory food is a great start to the new year. This is, of course, in addition to eliminating the inflammatory ones. Spinach offers a host of vitamins and minerals such as calcium, iron and folic acid and antioxidants. These lower the oxidative stress in your body from too much Christmas Cheer!
This spinach stuffed portobello mushrooms dish utilizes cashews for the 'cream'. Using whole food fats is always preferable over processed oils because the fibre remains in tact. Also, the vitamins and minerals do not get stripped away. Cashews are rich in an essential fatty acid known as oleic acid (OA). This essential fatty acid can actively inhibit the transport of cholesterol into your bloodstream and reduce LDL cholesterol (the bad kind). Cashews are also high in the mineral magnesium, which is your body's best friend when it comes to handling stress and anxiety. You can check out other simple ways to cope with anxiety in this blog post. Magnesium is also a critical component for hundreds of other reactions in your body. Prolonged stress, chronic disease, age, alcohol and high levels of exercise can result in the need to increase your magnesium intake.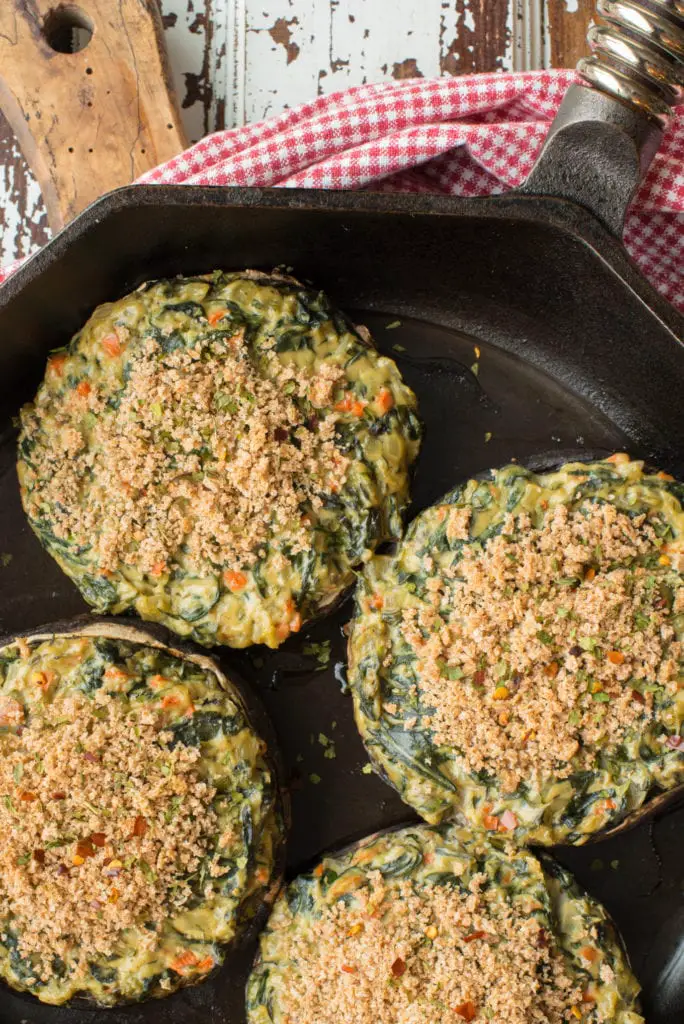 Of course, the star of this dish is the mushrooms. We've talked about the benefits of mushrooms before in our post for Homemade Mushroom Soup. One of the key things that mushrooms are know for is their positive effect on the body's immune system. Portobello's, in particular, are high in minerals selenium (can aid in thyroid health) and potassium. They are also anti-inflammatory . . . can you see sense a theme here?
We just love the smell of mushrooms cooking and we hope you try these out. If you love mushrooms too, you should check out this delicious Vegan Mushroom Cream Sauce with Truffle Oil.
Let us know if you do try out these spinach stuffed portobello mushrooms and if you think you'd eat two! Leave a comment and a rating and don't forget to tag us @plantedandpicked on Instagram and hashtag it  #plantedandpicked . Happy New Year!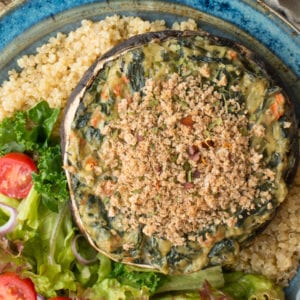 Ingredients
1

tbsp

olive oil

½

cup

onions, diced finely

¼

cup

carrots, diced finely

2

large garlic cloves

½

tsp

sea salt

1

tsp

dried thyme

¼

cup

vegetable stock (or water)

4

cups

spinach, chopped

1

tbsp

coconut aminos (or tamari)

1

tsp

lemon juice

4

portobello mushrooms (medium to large)

¼

cup

dried breadcrumbs
Cashew Cream
½

cup

raw cashews

½

cup

filtered water

2

tbsp

nutritional yeast
Instructions
Place cashews in a bowl and cover with water. Let the cashews soak for one hour.

After an hour, drain the cashews. Add to a high speed blender along with ½ cup of filtered water and the nutritional yeast. Blend on high until creamy. Stop and scrape down the sides of the blender, as required.

Prepare the onions, garlic and carrots and have the rest of the ingredients on hand.

Prepare the mushrooms by removing the stems and scraping out the gills (the dark part). This should leave enough room to hold the filling.

Place the mushrooms, top side down, in a heavy slillet or glass pan and set aside.

Heat olive oil in a large pan. Add the onions, garlic, carrots, sea salt and thyme to the pan sauté on medium heat, stirring occasionally for about 7 minutes. You can also add a small amount of pepper if you wish.

While the aromatics are cooking, wash, chop and dry the spinach.

Once the vegetables are tender, add ¼ cup of the veg stock and cook for another minute.

Add the spinach and cook until the spinach is wilted (about 4 minutes), stirring frequently.

After a minute, add the cashew cream, lemon juice and coconut aminos. If you do not have coconut aminos, you can swap with tamari. The coconut aminos, in addition to adding a Unami flavour, also adds a little bit of sweetness. The tamari will be saltier.

Cook the mixture for a couple of minutes, stirring often. This mixture should be fairly thick – thick enough to hold together when placed in the mushrooms.

Divide the spinach mixture over the four mushrooms. Sprinkle the dried breadcrumbs evenly over the mushrooms.

Place the mushrooms in the oven and bake for 30 minutes.

These mushrooms are great served over a grain such as Farro or quinoa with a side vegetable such as broccoli or green beans to complete your meal.