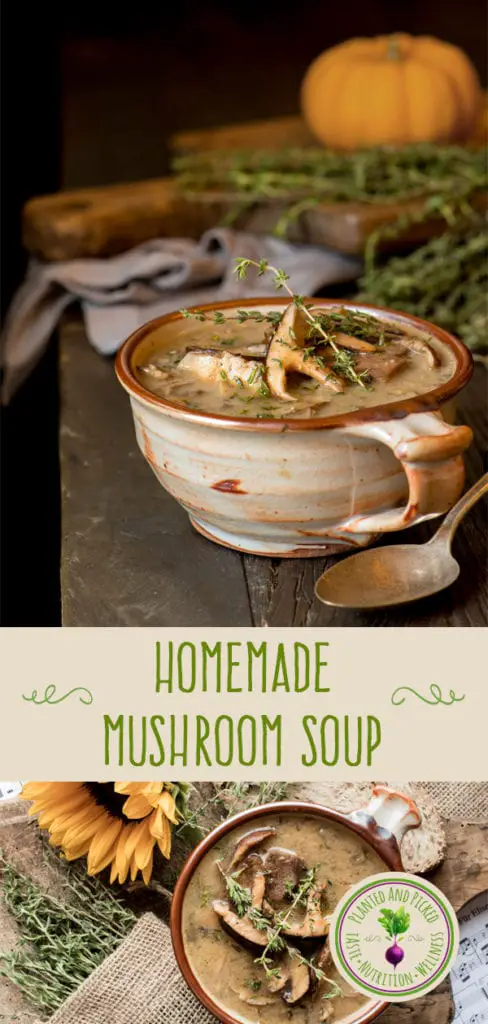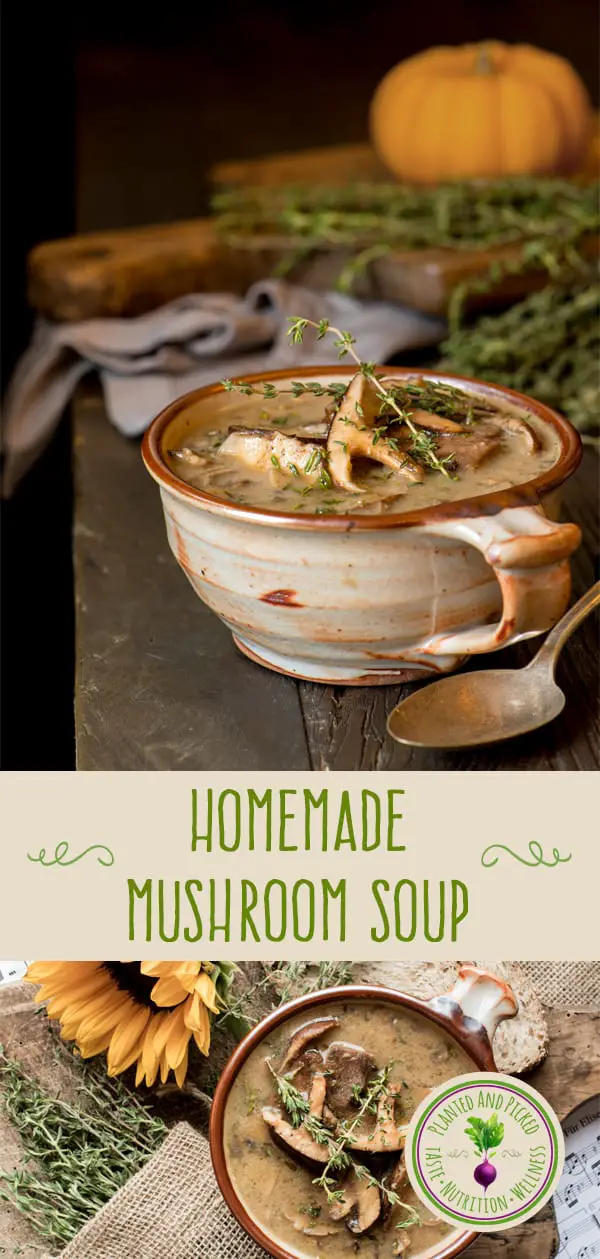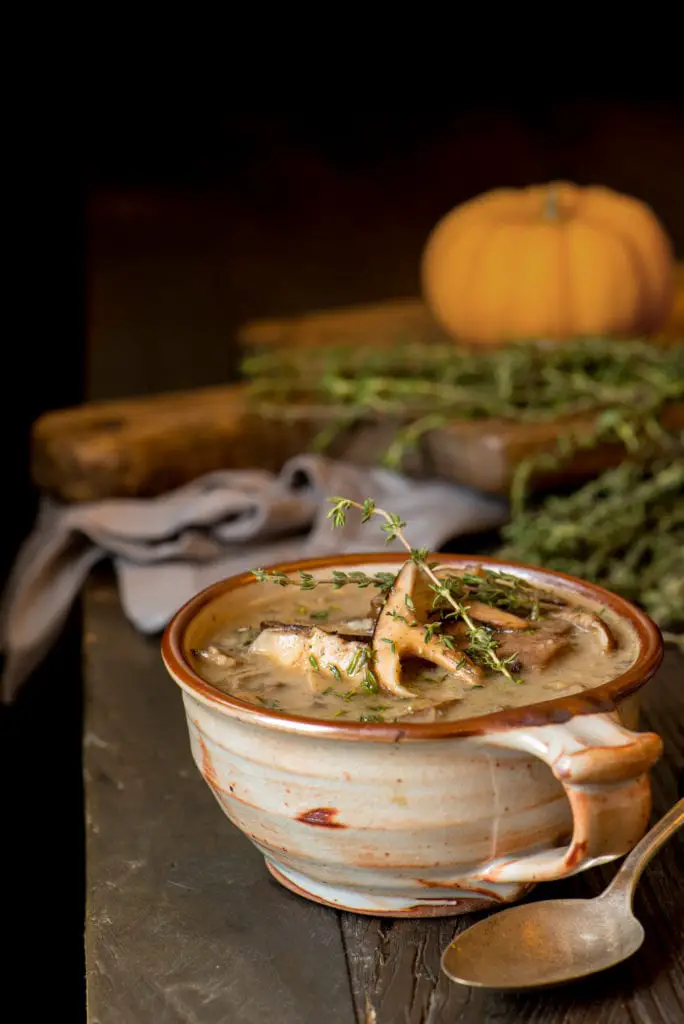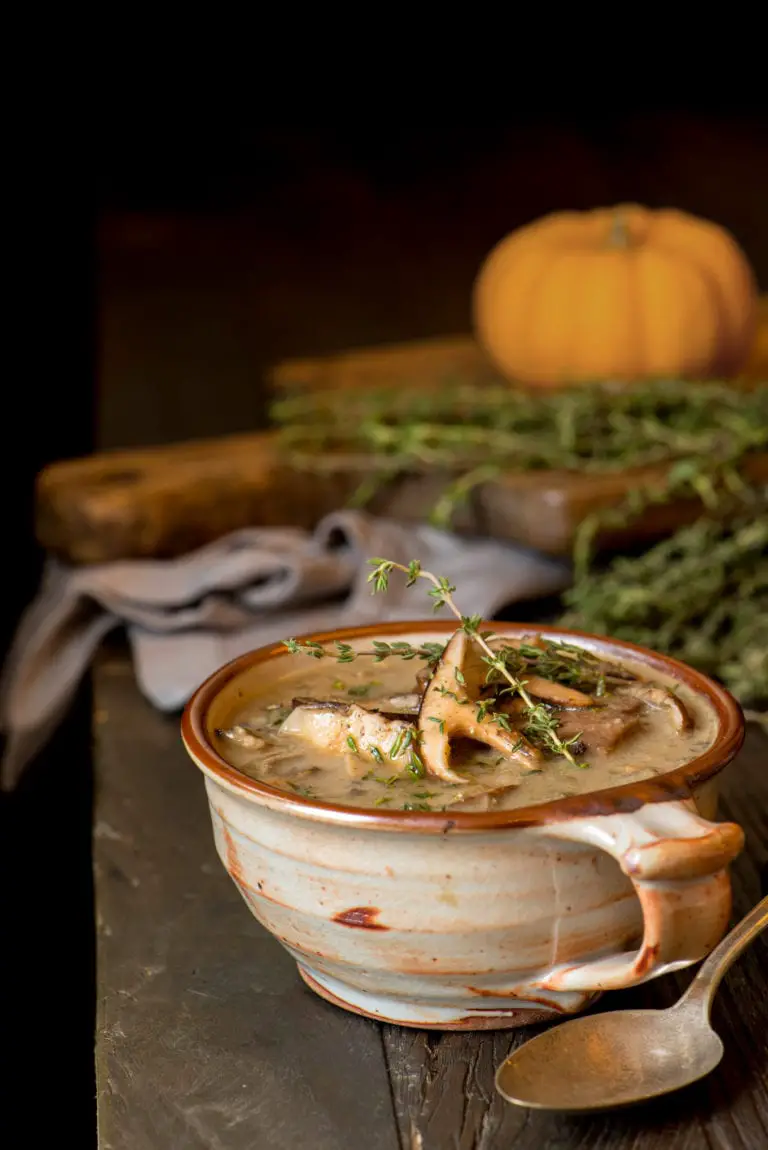 Move over canned soup! This is a basic homemade mushroom soup recipe that is full of earthy flavours. Perfect for those cool fall and winter months.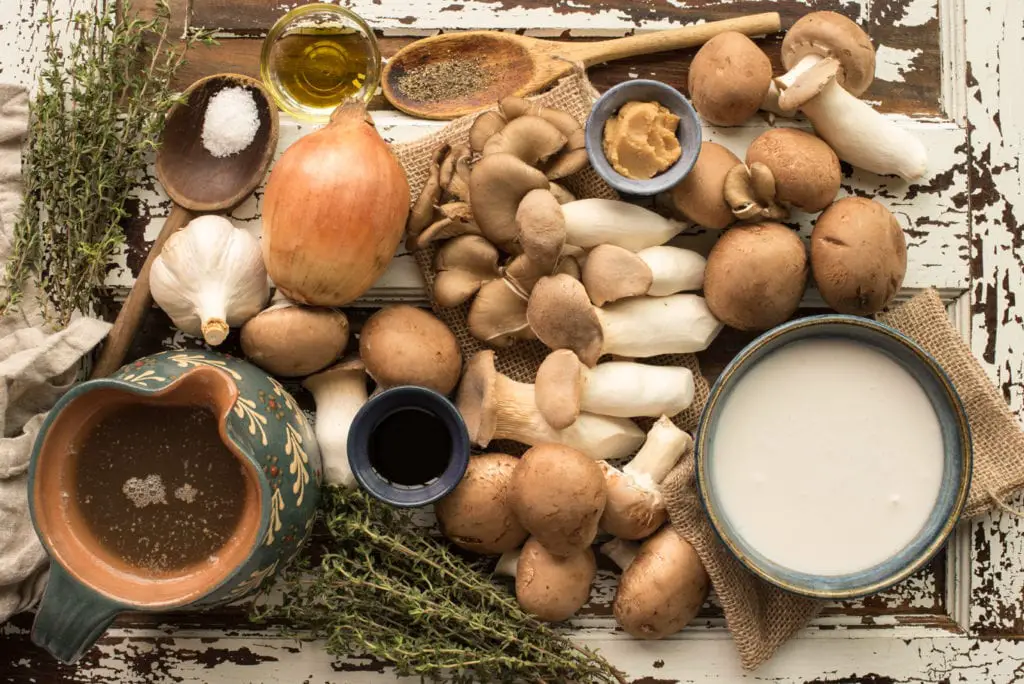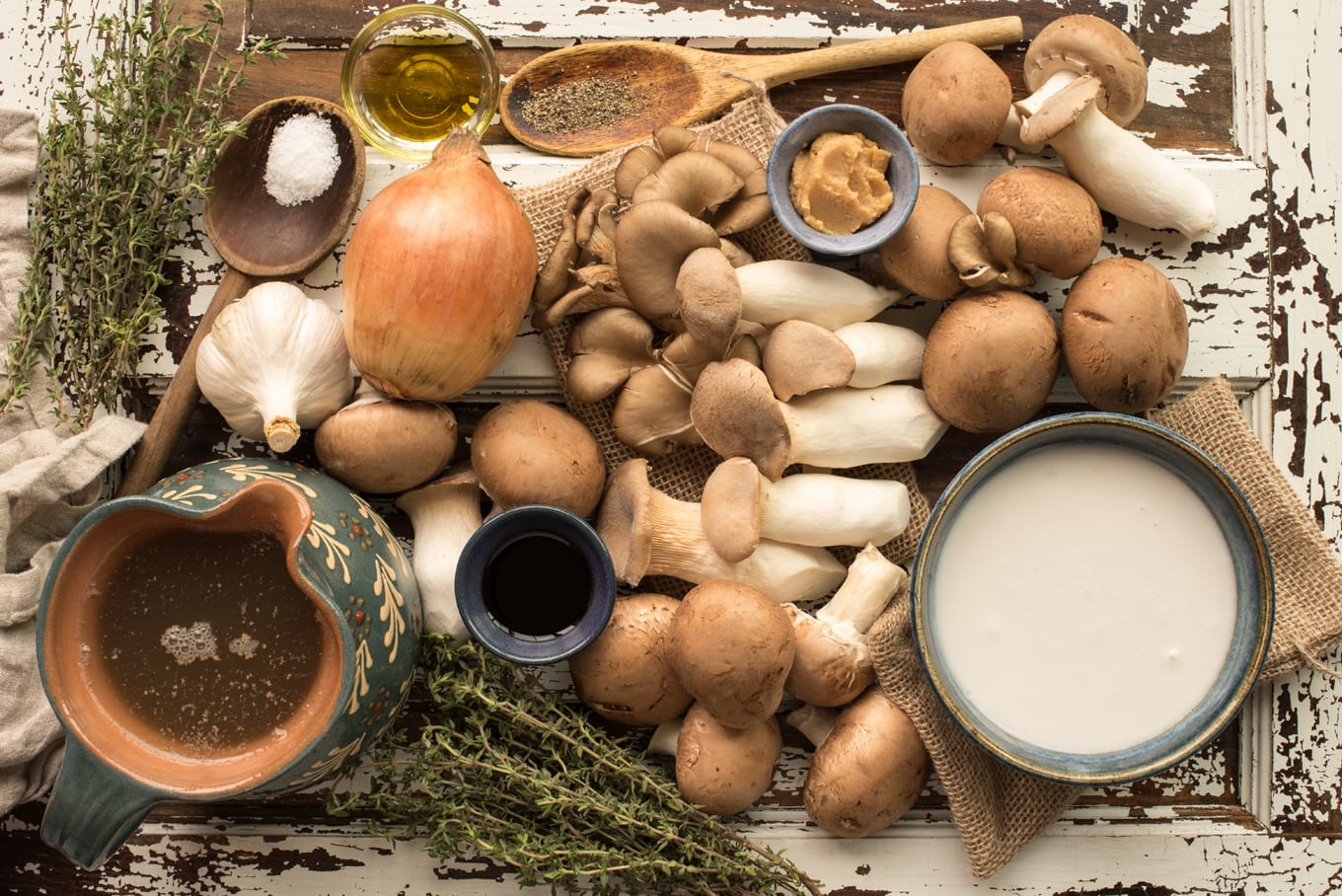 We love to include a wide variety of mushrooms in our diet in the fall because of their strong immune boosting properties. Although a medicinal mushroom such as Reishi has exceptional positive benefits to the body, even the lowly Cremini's have some immune boosting goodness in them!
The main bio-active compounds found in mushrooms are polysaccharides (mostly beta-glucans). Polysaccharides stimulate immune system function without actually causing any harm to the body.
Try to include a few varieties of mushrooms in this homemade mushroom soup to bump up the flavour and texture. Some good choices that are more easily found are Cremini, Portobello (diced small), Shitake and Chanterelles. If you have access to some more exotic medicinal mushrooms such as Lion's Mane, Reishi and Maitake, try including one of those as well. If you use any dried mushrooms, you will have to rehydrate them ahead of time.
You can also include a tablespoon or so of a good quality mushroom powder in this mushroom soup. We often add this to broths to boost the health benefits. We buy a 5 mushroom powder blend on-line from Harmonic Arts.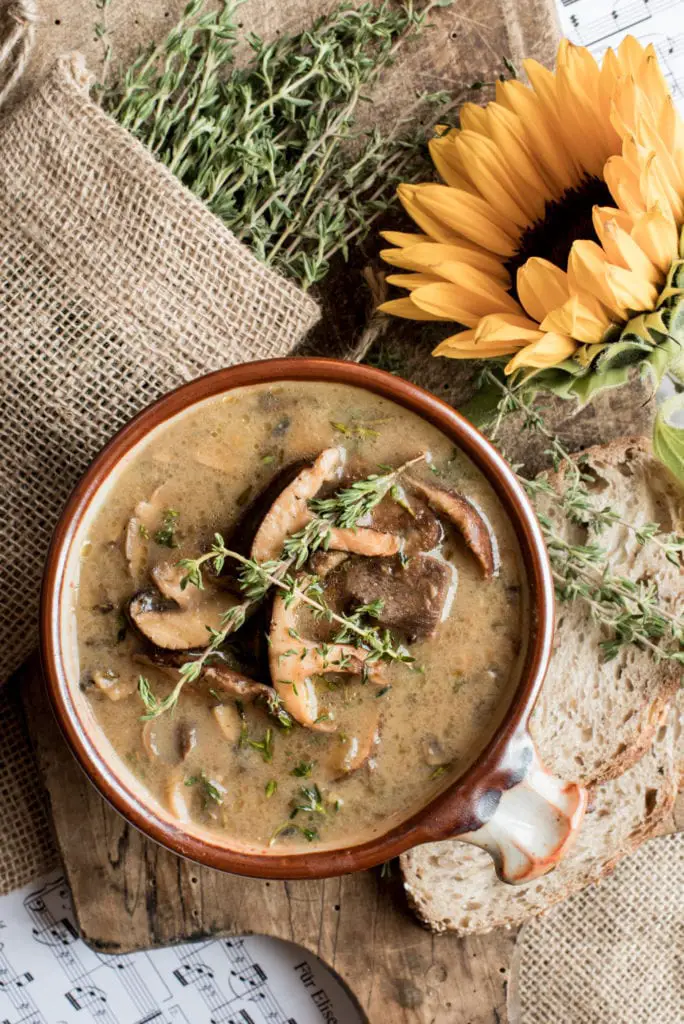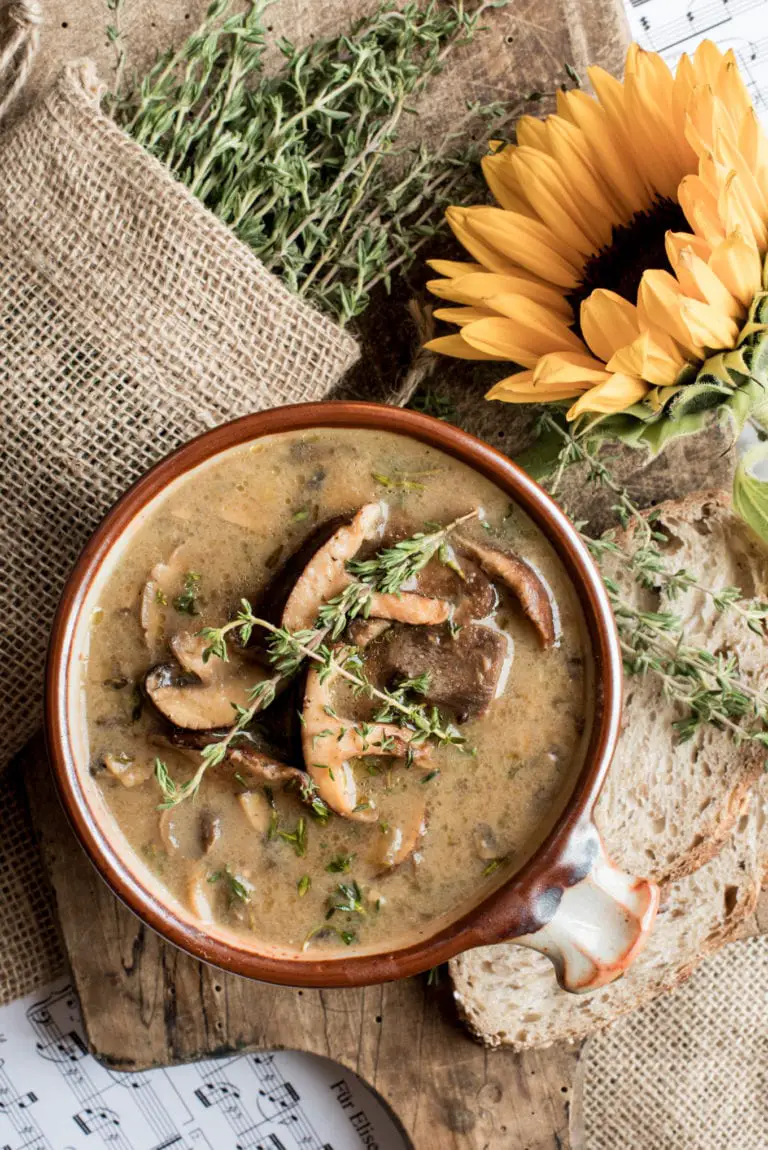 If you're loving soups, try out one of these others . . . Warming Carrot Ginger Soup, Classic Italian Minestrone Soup, Roasted Squash and Pear Soup, Spiced Red Lentil Soup, Fire Roasted Tomato Soup or Creamy Vegan Corn Chowder.
Let us know if you make this Homemade Mushroom Soup. We alway love to read your comments and follow up! Leave a comment and a rating and don't forget to tag us @plantedandpicked on Instagram and hashtag it  #plantedandpicked. Eat tasty plant-based food and experience wellness!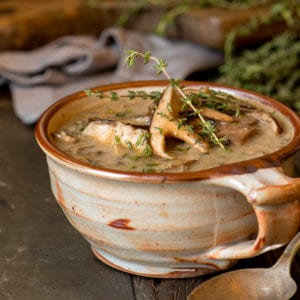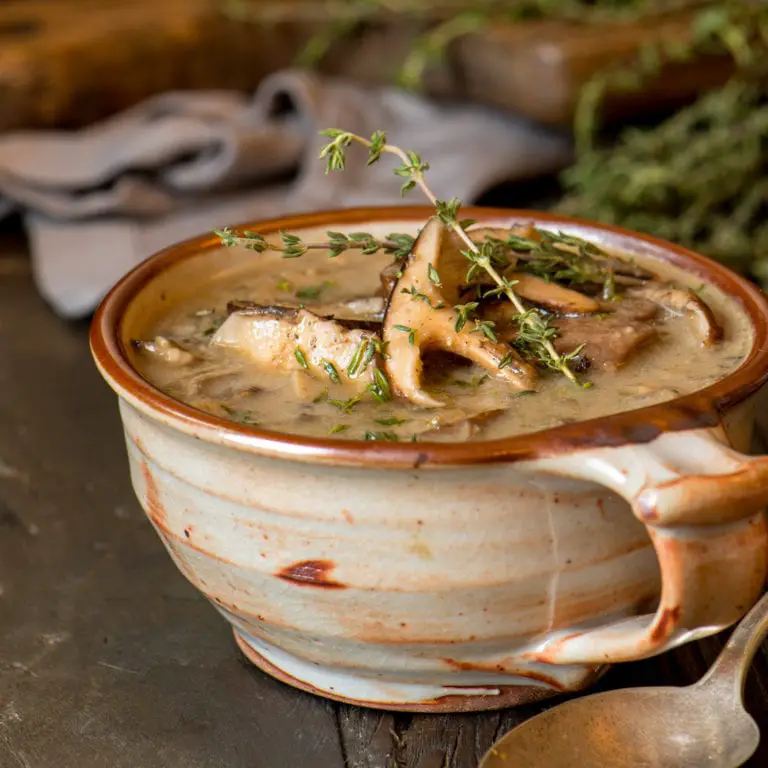 Ingredients
1

tbsp

olive oil

1

medium

onion, diced

4

cloves

garlic, minced

½

tsp

salt

pinch

pepper

1½

lbs

assorted mushrooms, diced

1

tbsp

tamari

2

tbsp

fresh thyme leaves

4

cups

mushroom broth or good vegetable broth

1

cup

coconut milk (from can)

1

tbsp

white miso (optional)
Instructions
Begin by dicing the onion into a small pieces. Peel and mince garlic cloves.

Trim thick stems off mushrooms. Wipe gently with a mushroom brush or damp cloth. We used 1/2 cremini mushrooms and some shitake and oyster mushrooms.

Heat olive oil in large pot on medium heat. Add onions, garlic, salt and pepper. Saute for about 5 minutes, stirring occasionally.

While the onions and garlic are cooking, dice the mushrooms into very small pieces. Add to the pot along with the tamari. Turn up the heat slightly and continue to cook, stirring often, for about 10 to 15 minutes. The water that gets extracted from the mushrooms should be mostly evaporated.

While the mushrooms are cooking, strip the leaves from the thyme stems by pulling down the stem in the opposite direction of the direction that leaves grow.

Add the mushroom (or vegetable) broth, thyme and coconut milk to the pot. Bring the soup to a boil, reduce heat and simmer covered for about 20 minutes. Check on the soup and stir it a few times during this time.

Remove 1½ cups of the soup into a Blender and process until smooth. Return to the soup pot. This will thicken the soup. Add the miso paste if using and stir. This will add more depth of flavour to the soup and some probiotic goodness. Serve and Enjoy!

Note – if you do not have a vented blender such as a Vitamix, you will need to wait until the soup cools before blending.