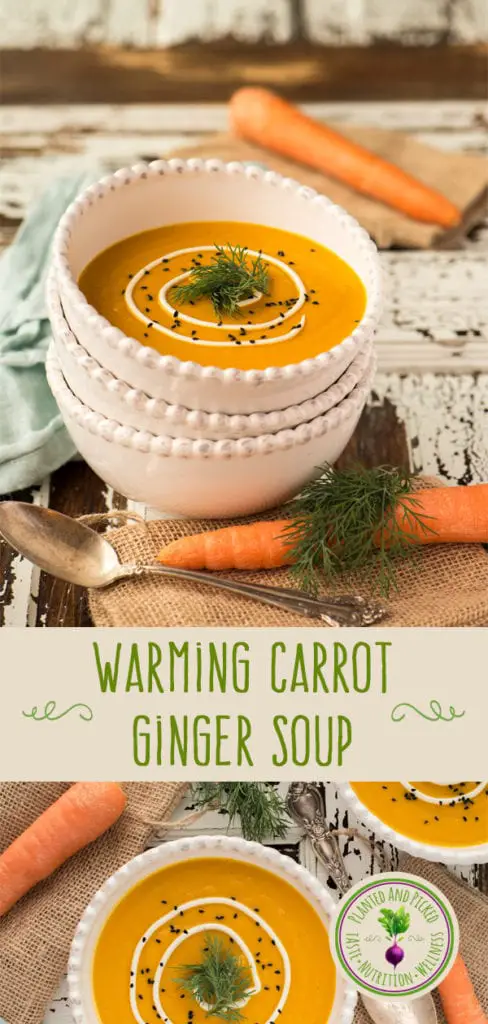 Not only is this Warming Carrot Ginger Soup comforting, it's also hardy and protein rich with the inclusion of red lentils. Make it a complete meal with a fresh slice of seedy bread.
Just looking at the colour of this carrot ginger soup, you know that it is full of healthy ingredients. Carrots are best known for their concentration of the antioxidant, beta-carotene. Beta-carotene is also a precursor to vitamin A, meaning that it is converted to Vitamin A in the body. This compound helps maintain healthy skin and also plays a vital role in eye health. In addition to beta-carotene, carrots contain other antioxidant compounds such as lutein and lycopene.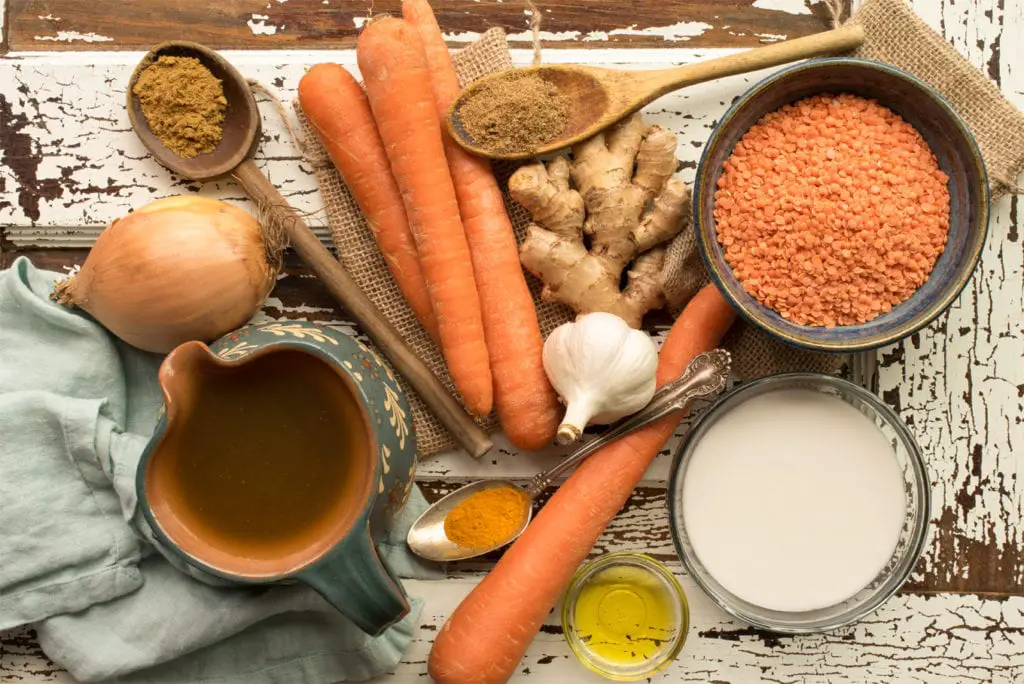 Did you know that carrots are also a good source of potassium, vitamin C and many of the B vitamins, including biotin, which is great for your skin? The carrots and lentils also make this dish a great source of fibre, which your friendly gut microbes will love!
We bake the carrots prior to simmering, which enriches the flavour by concentrating the natural sugars. The spices in this carrot ginger soup are warming and the turmeric adds some anti-inflammatory goodness! We love making this soup in the Fall when the carrots are local and fresh.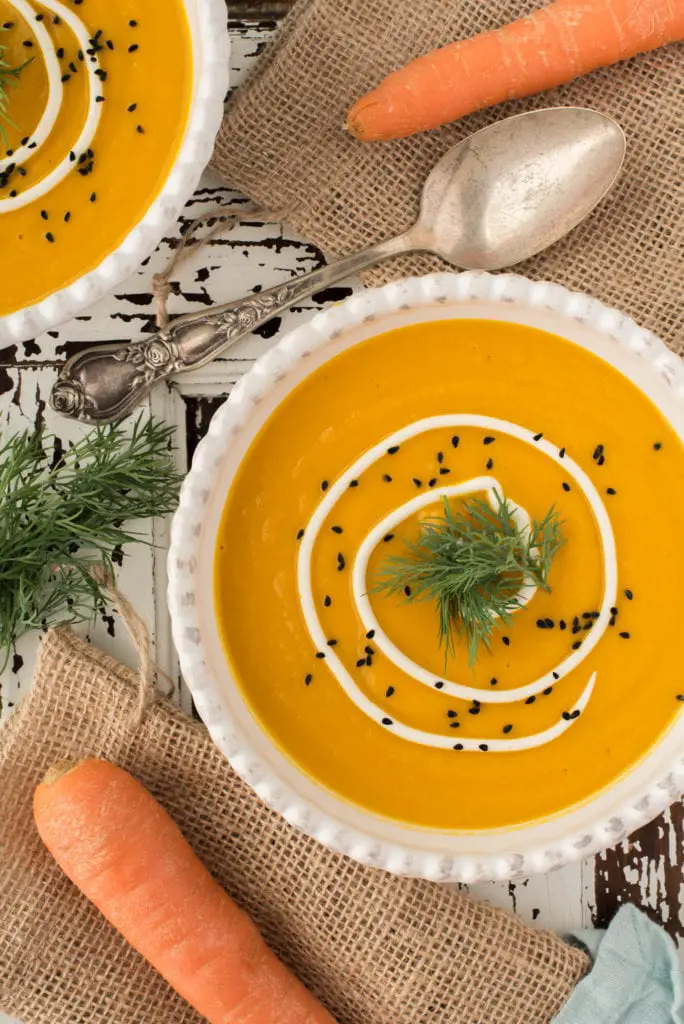 If you'd like to top your Carrot Ginger Soup the way we did, try our Vegan Cashew Sour Cream. If you're looking for some other soup ideas, try out one of these other soups . . . Classic Italian Minestrone Soup, Roasted Squash and Pear Soup, Spiced Red Lentil Soup, Fire Roasted Tomato Soup or Creamy Vegan Corn Chowder.
Let us know if you make this nutrient and protein rich Carrot Ginger Soup. We alway love to read your comments and follow up! Leave a comment and a rating and don't forget to tag us @plantedandpicked on Instagram and hashtag it  #plantedandpicked. Eat tasty plant-based food and experience wellness!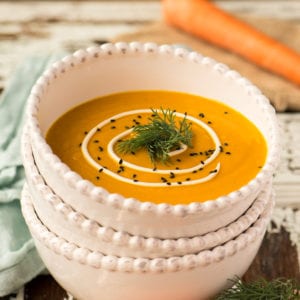 Ingredients
1½

tbsp

olive oil, divided

2

lbs

carrots, roughly chopped

1

large

onion, diced

4

garlic cloves, minced

3

inch

piece of ginger, minced

½

tsp

sea salt

½

cup

red lentils

2

tsp

ground cumin

1½

tsp

ground coriander

½

tsp

ground turmeric

5

cups

vegetable broth (divided)

1

cup

coconut milk (from can)
Instructions
Preheat oven to 350°F. Chop carrots roughly and spread on a baking tray. Add about ½ tbsp olive oil and a pinch of salt and pepper. Stir together and bake in the oven for 30 minutes, stirring halfway through.

While the carrots are roasting, prepare the remaining vegetables and spices.

Heat the remaining olive oil (1 tbsp as per original recipe) in a large pot over medium heat. Add the onion, garlic, ginger and sea salt and sauté for about 5 minutes or until the onions are translucent.

Add lentils, cumin, coriander, turmeric, carrots and 4 cups vegetable broth. Cover and simmer for 30 minutes, stirring occasionally.

At the end of the cooking time, add the coconut milk and stir again before turning off the heat.

Use either a hand blender or a blender to purée the soup (in batches) to your desired consistency. Note that using a blender will result in a creamier consistency. If you do not have a vented blender such as a Vitamix, you will need to let the soup cool down before blending. Otherwise, the heat from the soup may build up in the blender and cause it to explode!

Add the blended soup back into a pot. Add additional vegetable broth if required to the desired consistency. Taste and adjust seasonings.