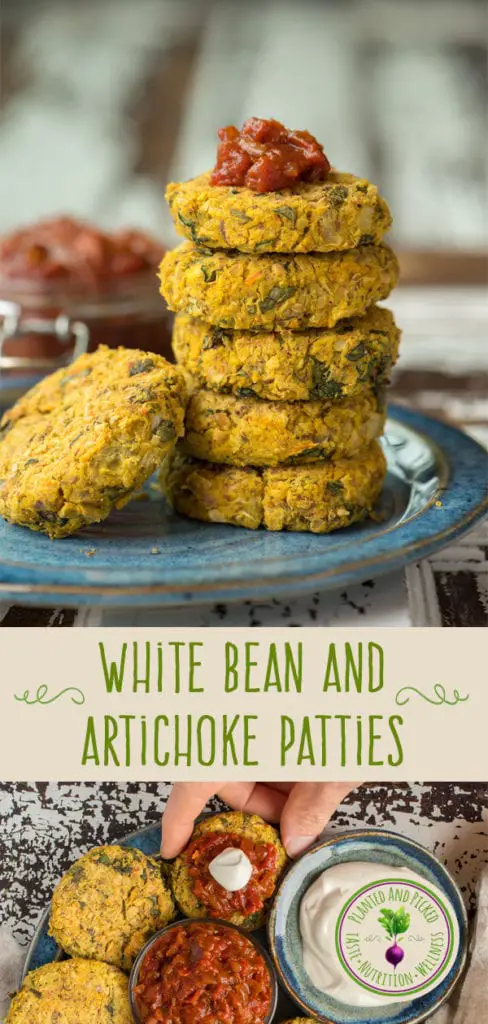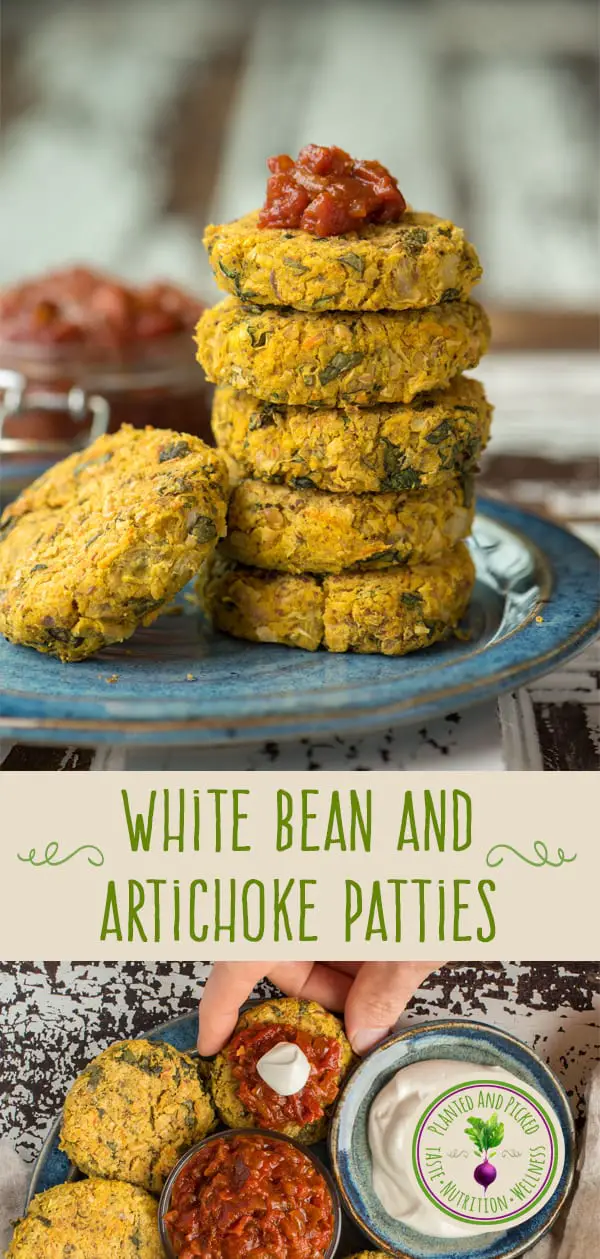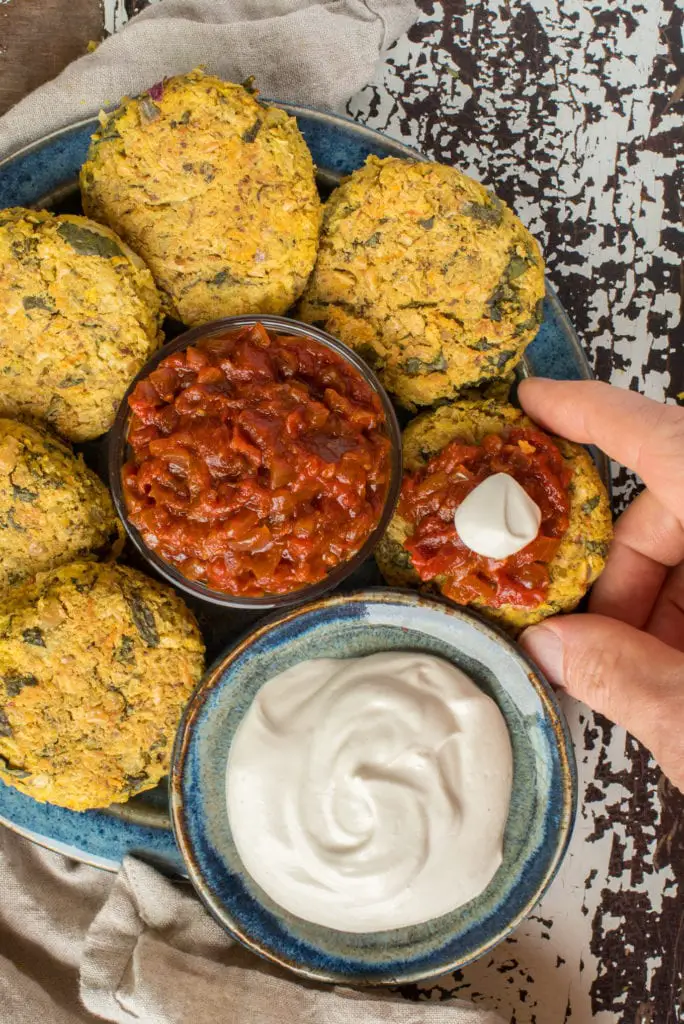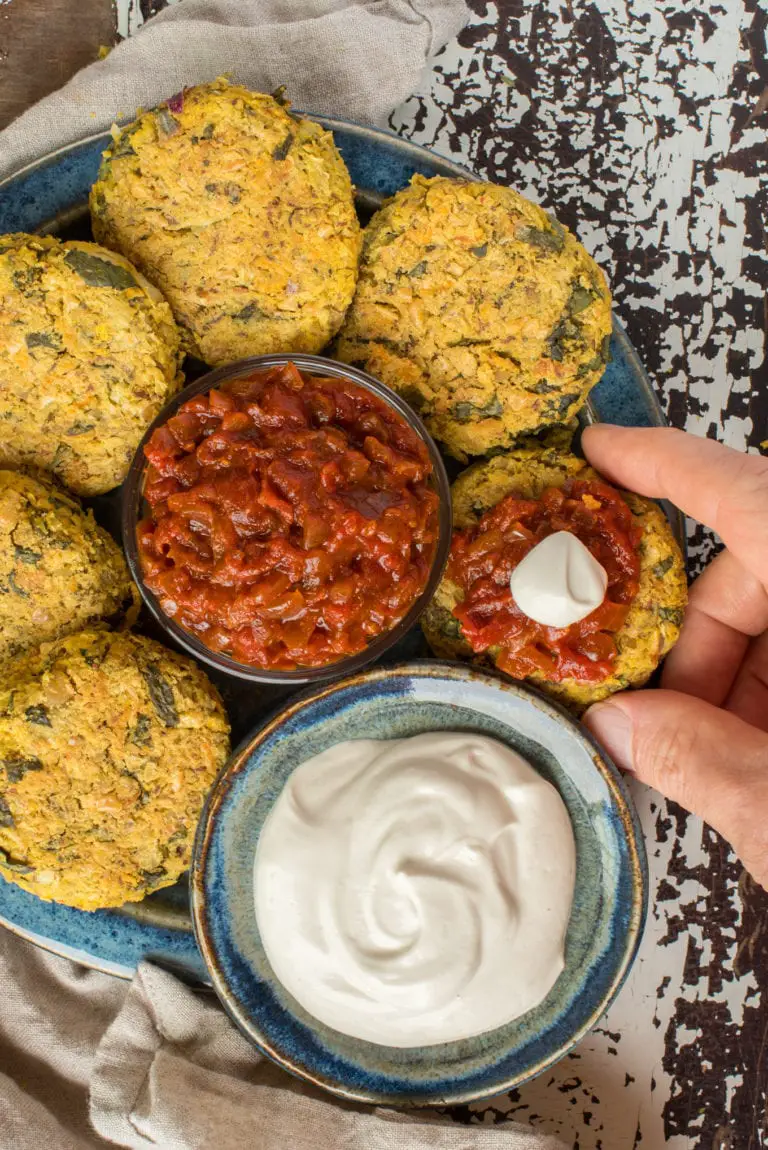 These flavourful and nutritious White Bean and Artichoke Patties are great for including in your weekend meal prep. Store them in the fridge and reheat them during the week for a quick lunch or dinner. You could also serve them as an appetizer when entertaining.
What Beans to Use?
Our preferred brand of canned beans is Eden Organic. They come in a BPA free can and are free of sodium. They are cooked with Kombu (seaweed), which helps to increase their digestibility (see our post on the Health Benefits of Beans). Feel free to cook your own beans if you have time. You will need about a cup and a half of cooked beans. We have used cannellini beans for these White Bean and Artichoke Patties. However, you could substitute any white bean such as Navy or Butter beans in this recipe.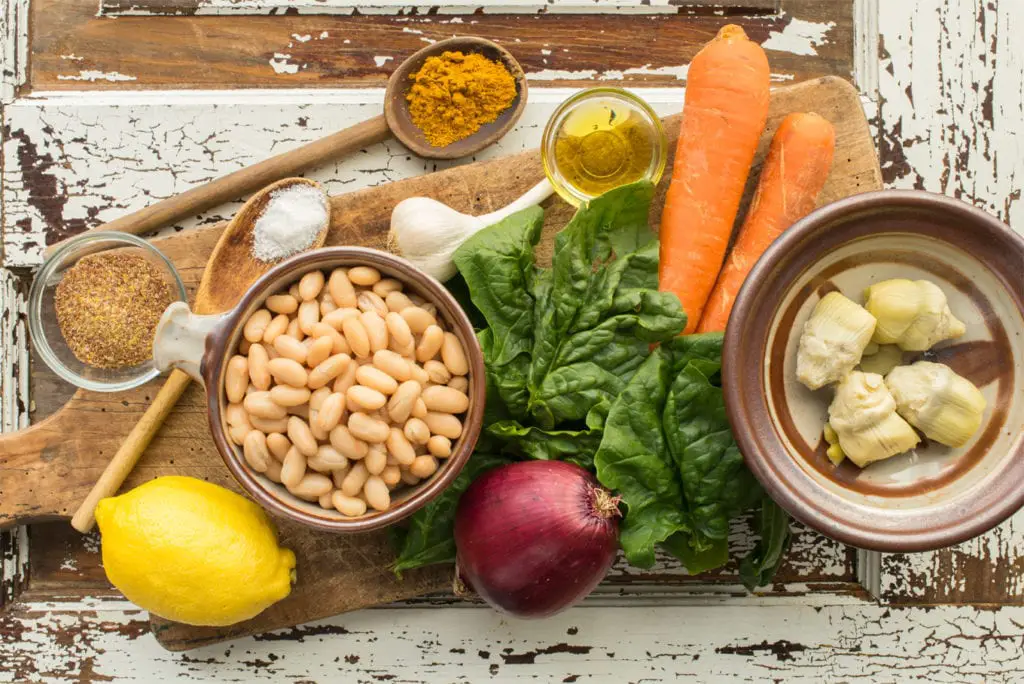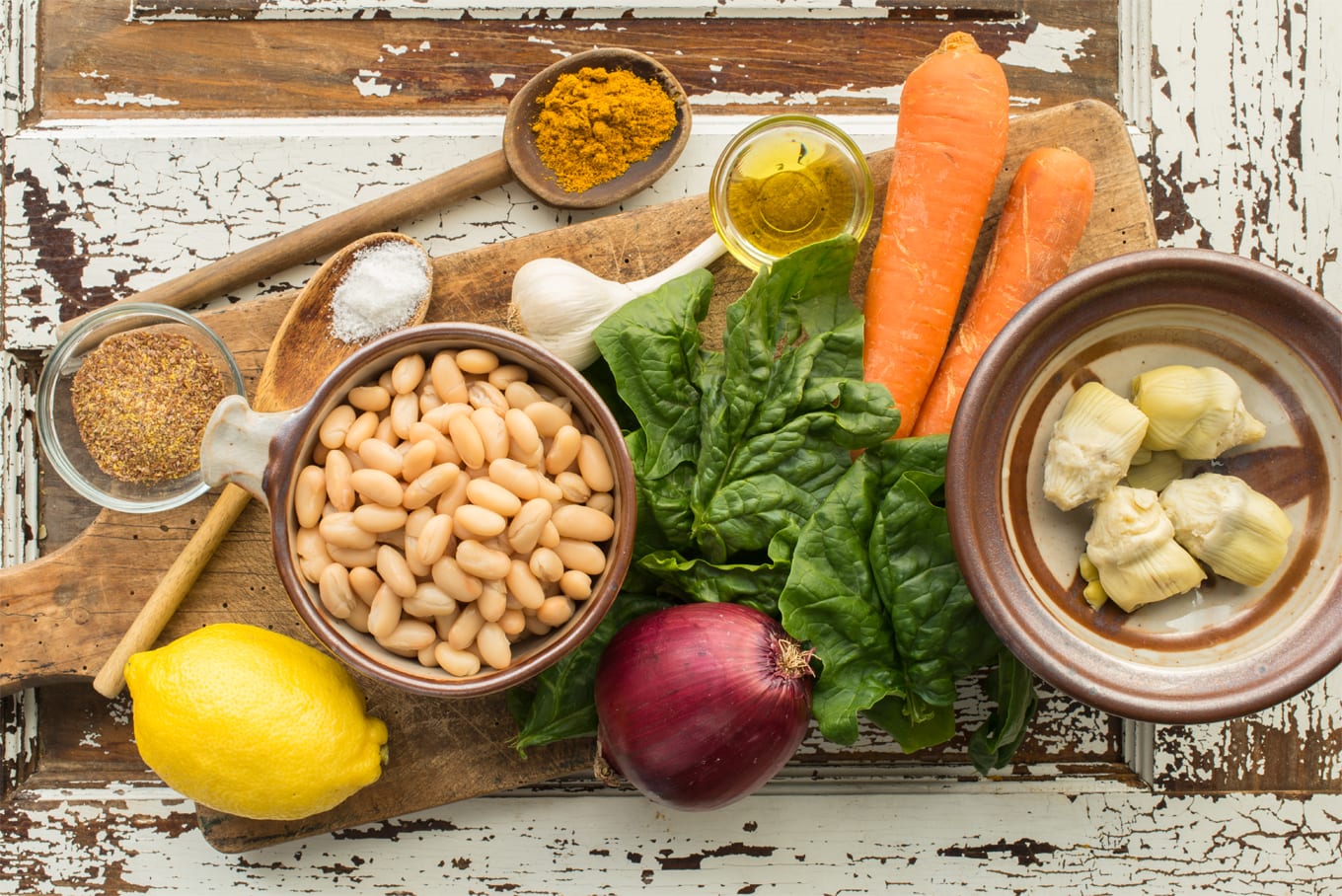 Flavouring in These White Bean and Artichoke Patties
With minimal additional flavouring in these White Bean and Artichoke Patties, be sure to use a good quality curry powder, or make your own. Be aware that not all curry powders are created equal! When buying curry powder, ensure that it comes from a reputable spice provider and that the product is fresh. Many spices bought in a grocery store may have been sitting on the shelf for a long period of time. They become stale over time and the flavour intensity is dramatically reduced. Herbs and spices typically last for about six months in a dry, dark cupboard.
Grinding your spices from seed and making your own blends provides the best flavour. However, we don't always have time for that! One of the spice blends that we prefer is Arvinda's (Canadian). Another good online website that has quality spices is Spices and Tease. We have visited their shop in the Chelsea Market in New York City. What a treat it is for the senses. So the message here is that you should search for a quality local spice purveyor if you can.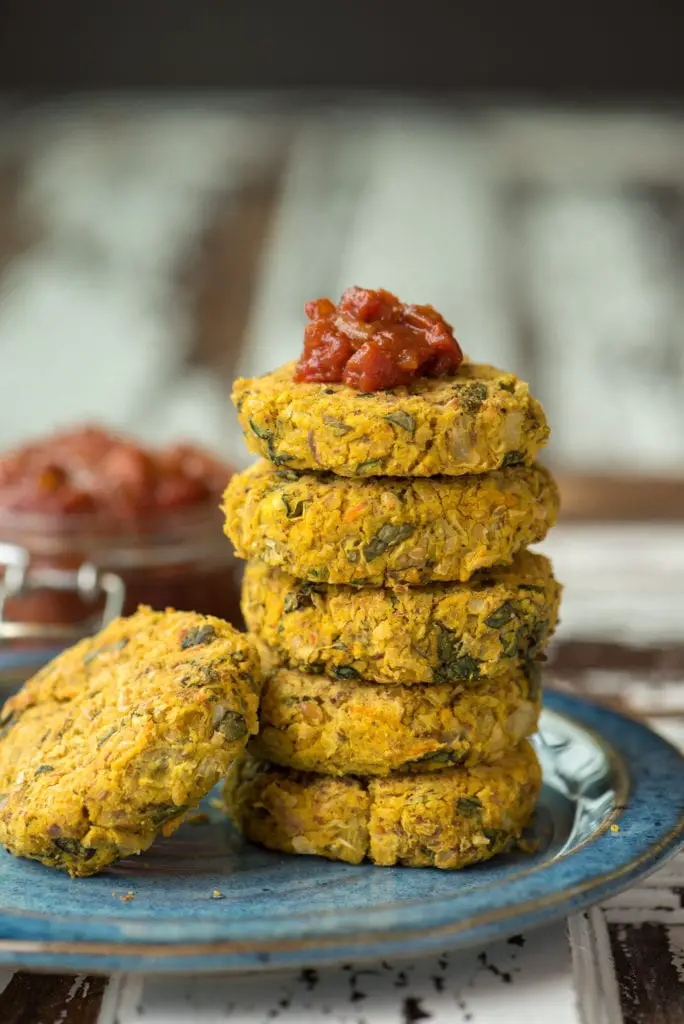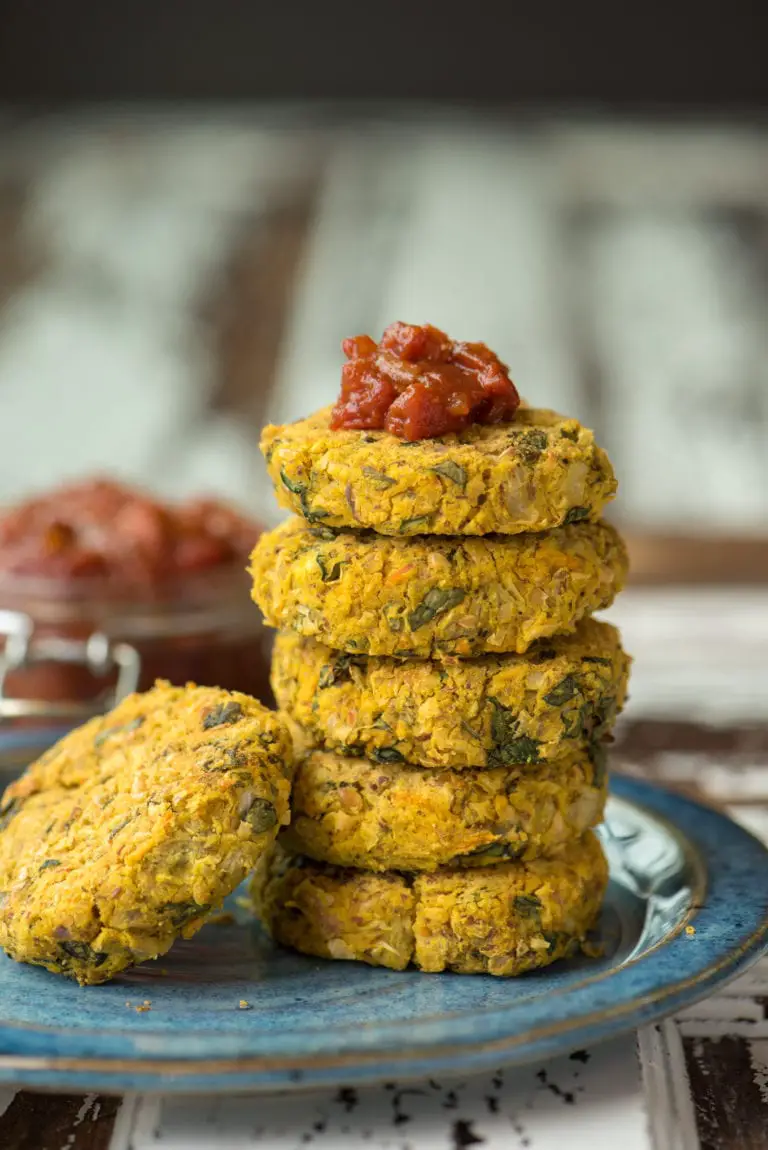 How about Italian?
You can also make an Italian version of these White Bean and Artichoke Patties by substituting an Italian seasoning blend for the curry powder. You can also add a couple of tablespoons of chopped sun-dried tomatoes for some great flavour depth. The combinations are endless!
If you're looking for more snacks and appetizers, you should also try our Creamy Roasted Garlic Hummus or this Vegan Cashew Queso Dip. Some Vegan Cashew Sour Cream with come chutney or salsa is a great addition to these White Bean and Artichoke Patties. We'll have the recipe for the Indian Spiced Tomato Chutney pictured in the photos next week, so stay tuned!
These White Bean and Artichoke Patties are a super nutritious snack. Try them out and let us know how you like them. Your feedback is part of the exchange that drives us! Leave a comment and a rating and don't forget to tag us @plantedandpicked on Instagram and hashtag it  #plantedandpicked. Pull up a chair and enjoy!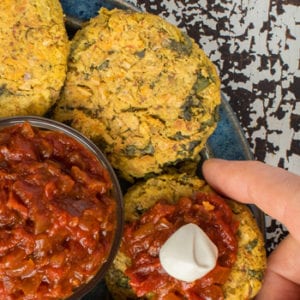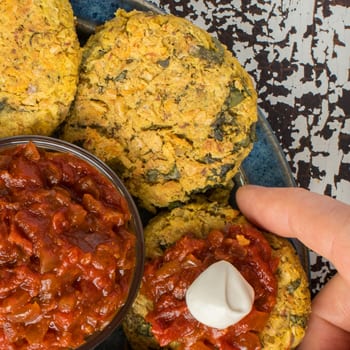 Ingredients
2

tsp

olive oil

1

398 ml can

Cannellini beans

1/4

cup

red onion, finely diced

1

large

garlic clove, minced

1/4

cup

grated carrot

4

artichoke hearts (from jar), diced

1

tsp

curry powder (good quality)

1/2

tsp

sea salt

1

tbsp

ground flaxseed

1/2

tsp

lemon zest

1

cup

spinach, chopped
Instructions
Drain and rinse cannellini beans. Either mash with a fork in a large bowl or pulse them in a food processor. You want them to still have texture (not mushy).

Finely dice red onion and mince garlic and add to bowl. Grate carrot and add to bowl.

Place artichoke on some paper towel and squeeze gently to remove most of the moisture. Roughly chop and add to bowl. You will want to maintain some chunkiness for texture.

Finely chop the spinach to make 1 cup. Using a tool such as a microplane or zester, zest 1 tsp of lemon rind.

Add the curry powder, salt, ground flaxseed, lemon zest and spinach to the bowl with the rest of the ingredients. Stir gently until well combined.

Evenly divide the mixture into 6 portions and form into patties. We like to use a large ice cream scoop with a spring for this. If using the ice cream scoop, the mixture will be level. Each patty is approximately 1/4 cups.

Place olive oil in a pan over medium heat. Once heated, place patties in pan. Cook for about 7 minutes per side.

These are good served with toppings such as tomato chutney or cashew sour cream. Also good served with a side salad or bowl of soup to complete a meal.