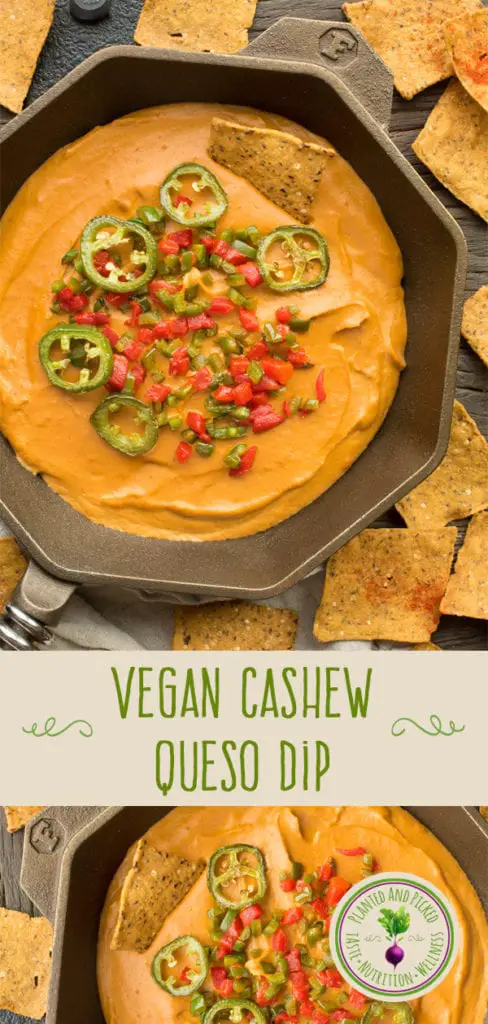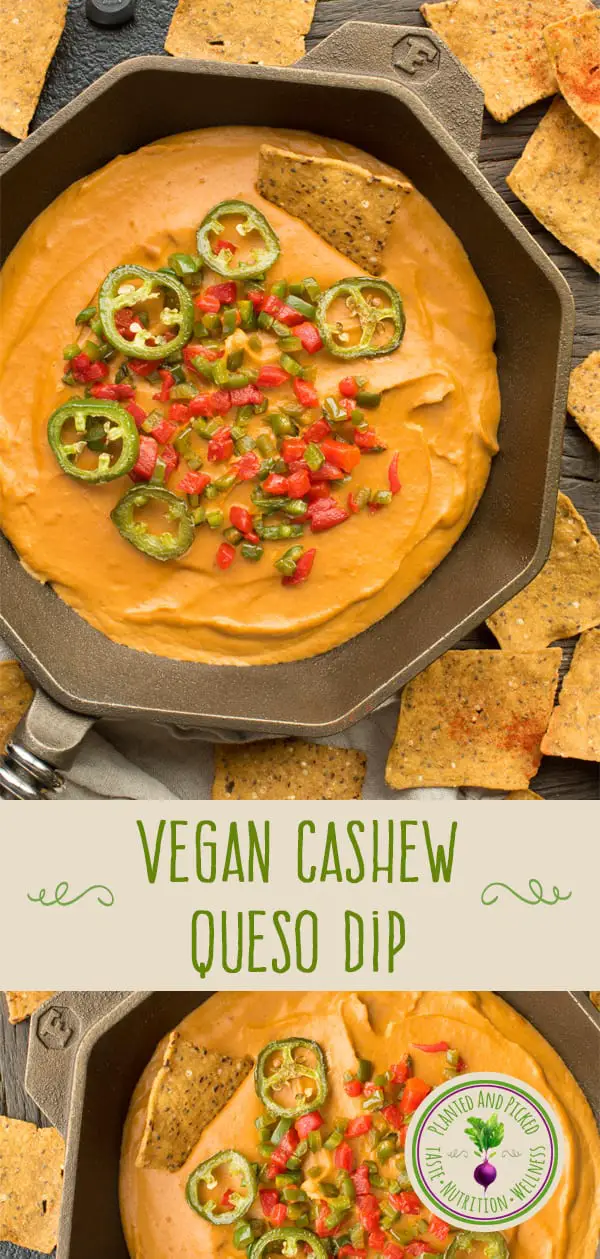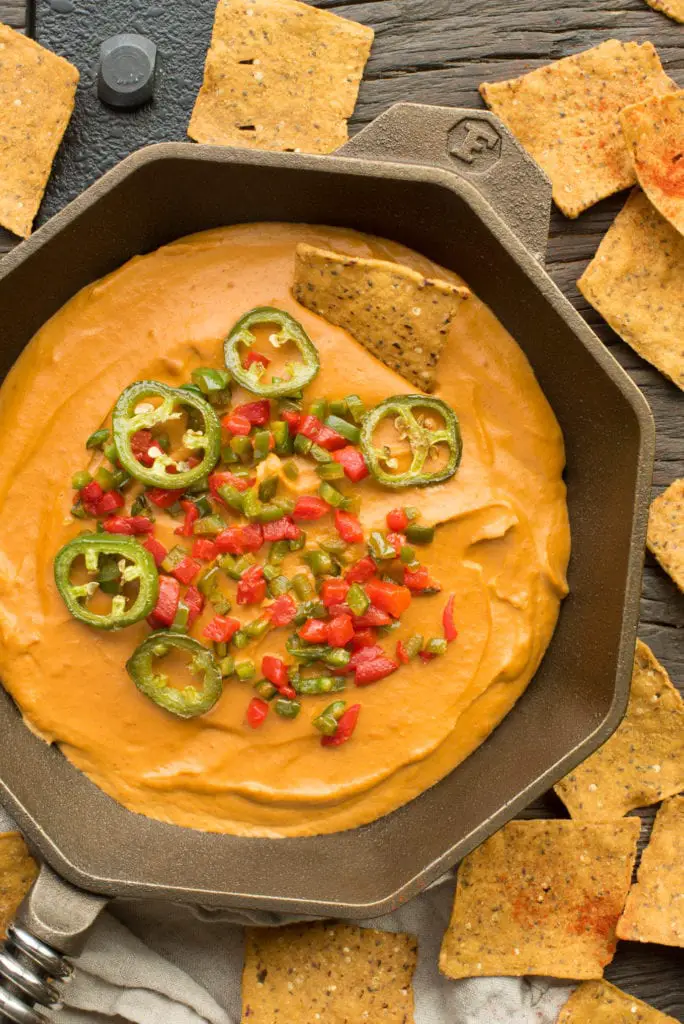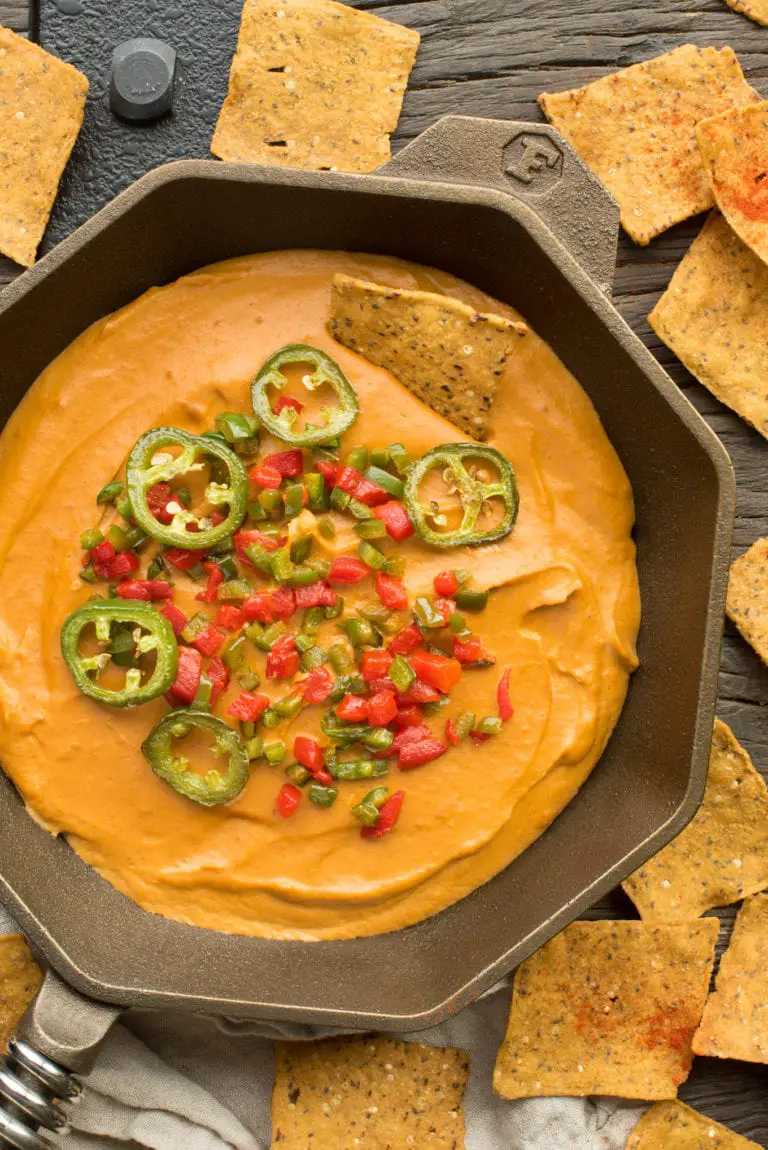 This creamy Vegan Cashew Queso Dip is savoury and cheesy. It has just the right amount of smokiness you expect from queso. Use it as a dip or pour it over your nachos or burritos. It will please vegans and non-vegans alike.
Why Homemade Queso Dip?
We've tried some store-bought vegan queso dip, but found it lacking in flavour. We wanted a queso that would wow our taste buds and by WOW, we mean taste like the real deal. This dip includes aromatics, earthy and smokey spices with just the right amount of heat. Lemon juice provides just a little acidity to give it the tang of an older cheese. In addition to the umami flavour that comes from included nutritional yeast, we include sun-dried tomato and pimento.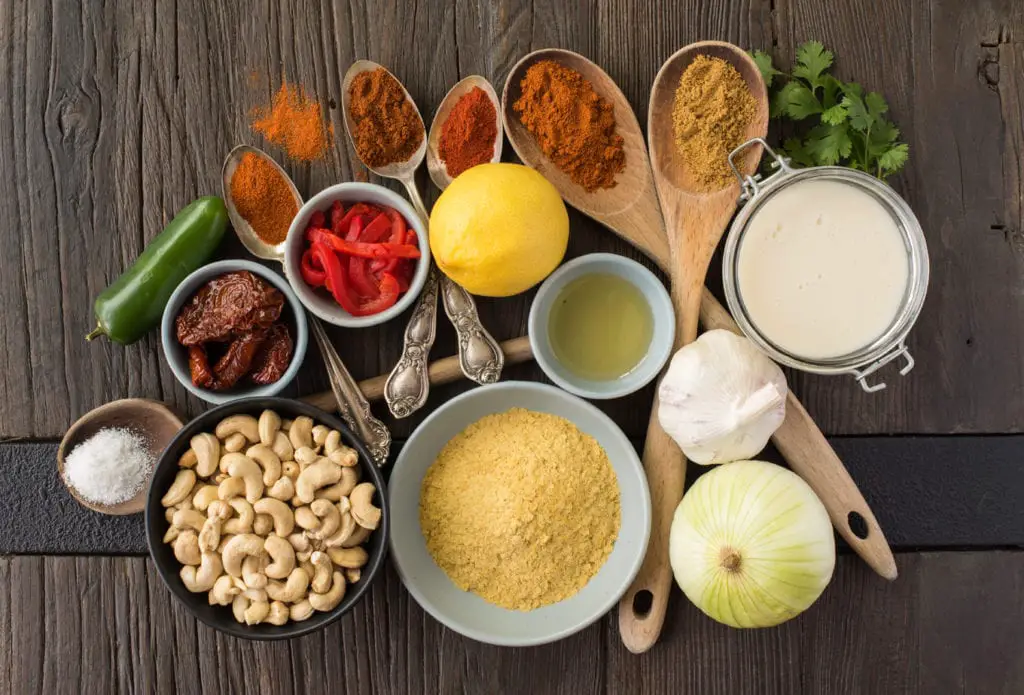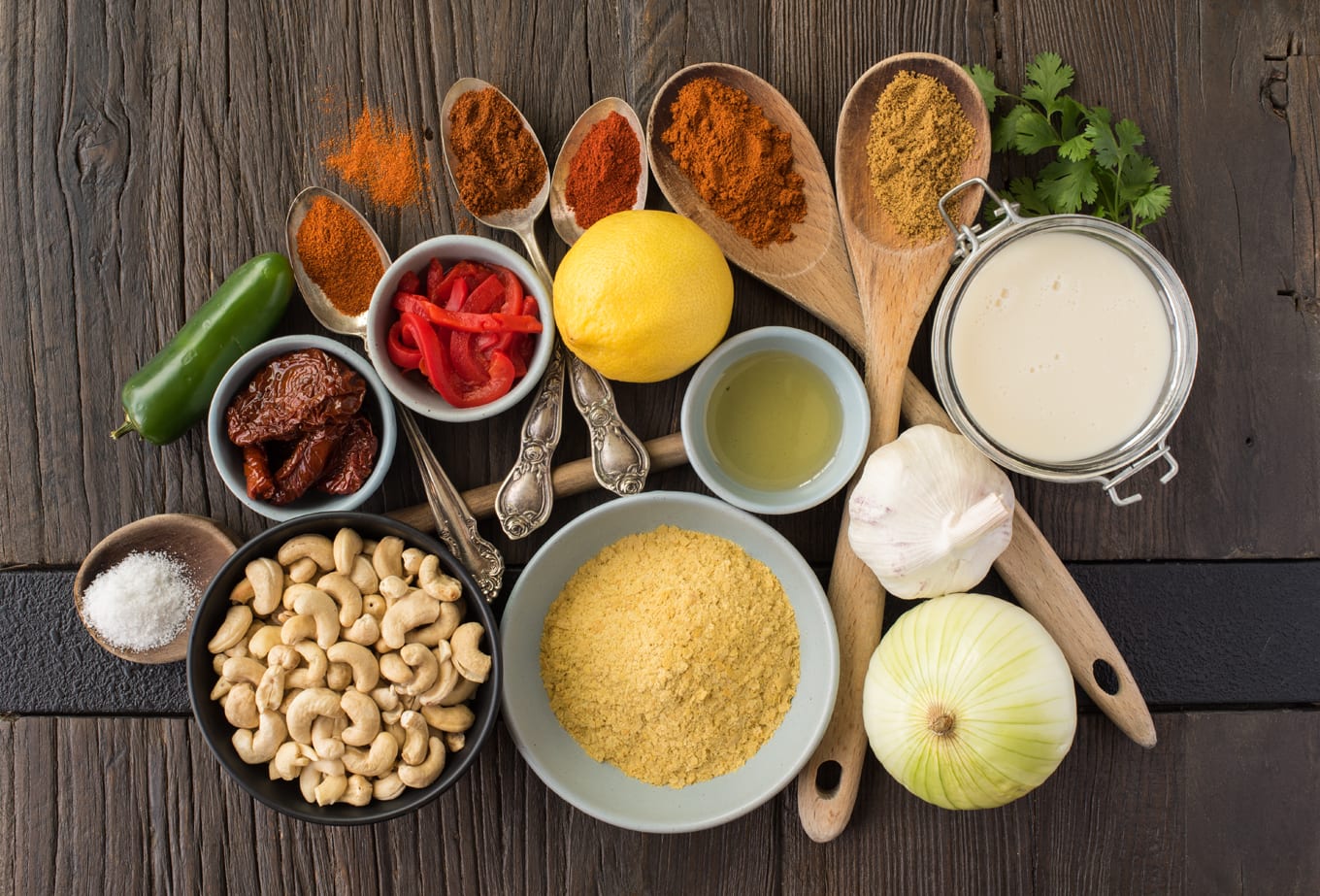 Building Flavours . . .
The flavours of this savoury vegan queso develop in the pan by first sautéing onion, jalapeño pepper and garlic. So many flavourful dishes start this way as the aromatics impart depth and this queso is no exception. Adding the spices next also continues to build the flavours. After the spices become fragrant, we add the sun-dried tomatoes and nutritional yeast for umami flavour. Your cheesy queso loving friends will not be able to resist it when gathered round the table.
A great tasting creamy and savoury queso dip made with healthy non-dairy ingredients is always in the middle of the table at our kitchen parties. This one is also kid-approved judging from the way the dish is wiped clean by the last nacho chip!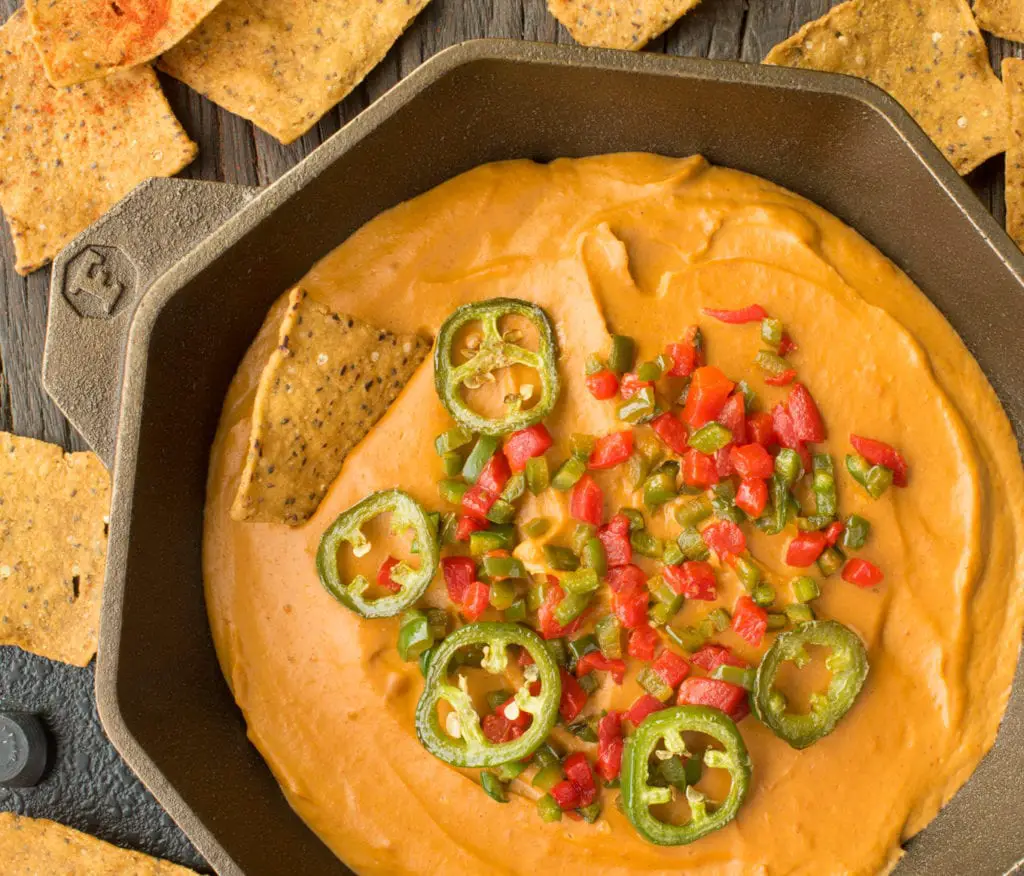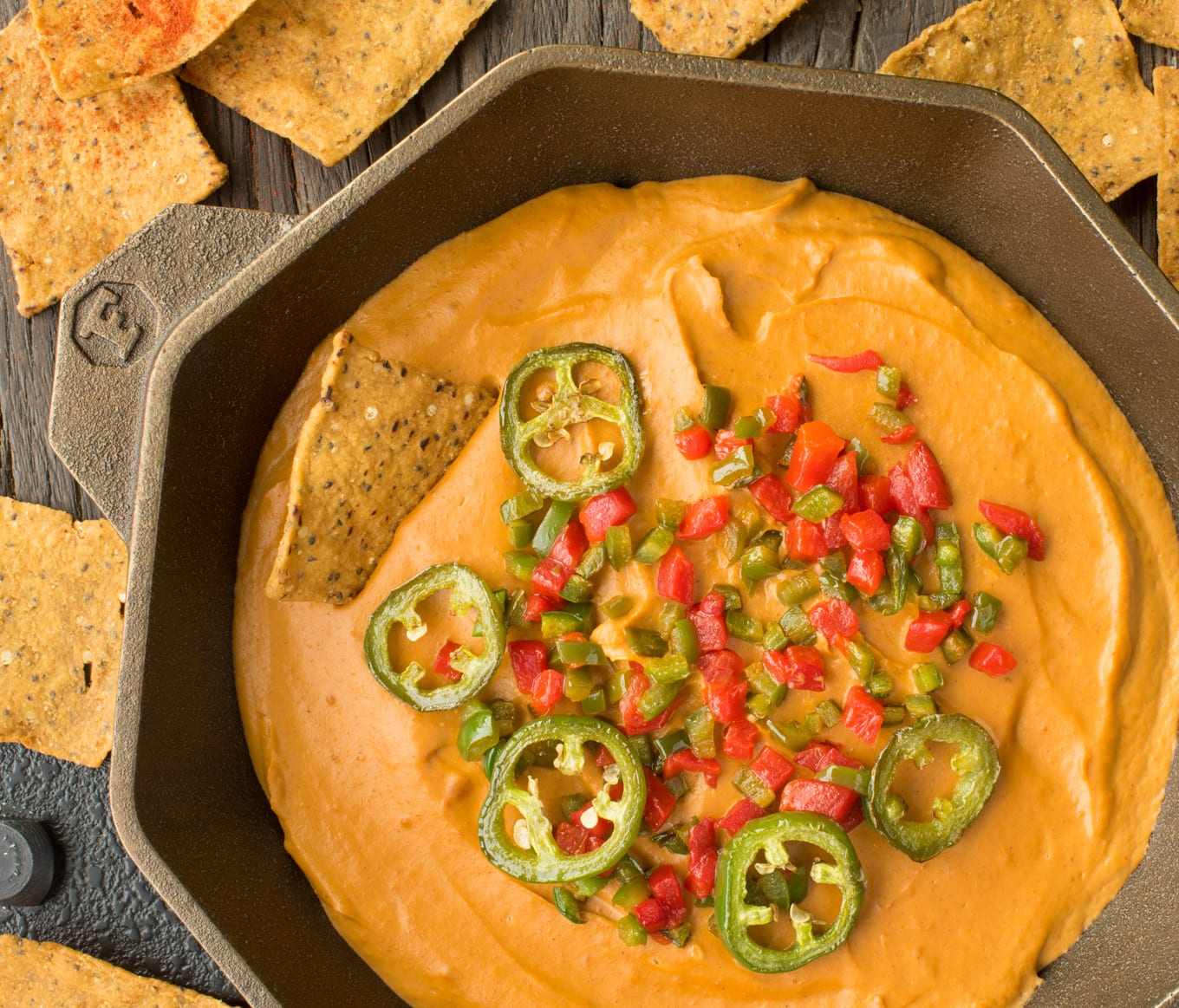 If you love dips and would like to try something that turns out so much better than the store-bought version, try our Creamy Roasted Garlic Hummus and indulge. If you try out the queso dip, why not add some Vegan Cashew Sour Cream and salsa on the side to round out your nacho plate.
We are absolutely sure that you will LOVE this Vegan Cashew Queso Dip because it's the BOMB. Try it out and let us know how you liked it and if you made any changes. We love sharing with you and are always interested in your feedback! Leave a comment and a rating and don't forget to tag us @plantedandpicked on Instagram and hashtag it  #plantedandpicked. Pull up a chair and enjoy!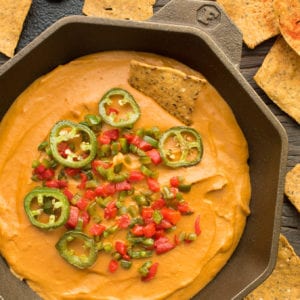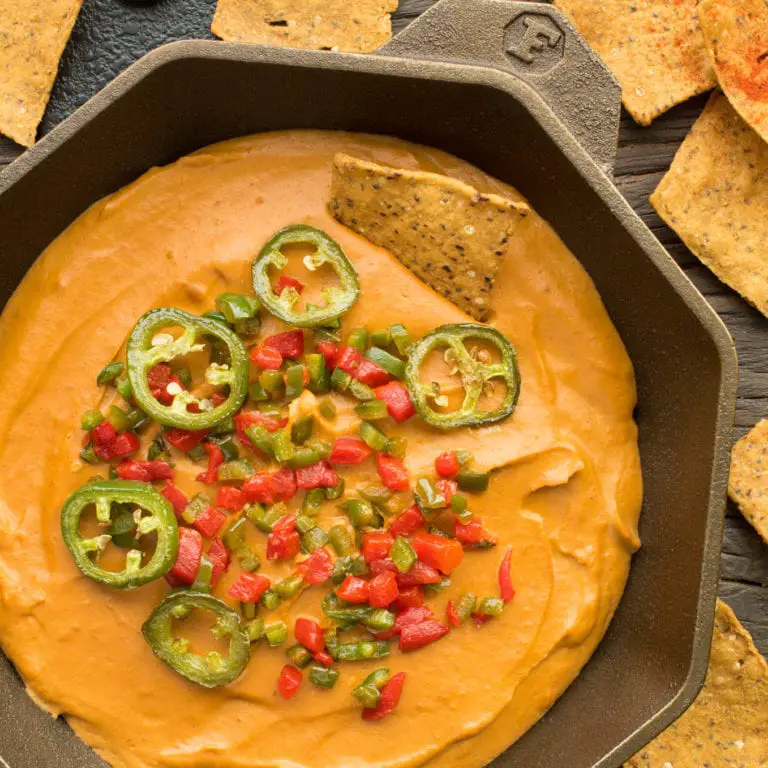 Ingredients
Queso Dip
1

cup

raw cashews

2

tsp

avocado oil

½

cup

vidalia or other sweet onion

4

garlic cloves minced

1

jalapeño pepper

½

tsp

sea salt

½

tsp

ground cumin

¼

tsp

smoked paprika

¼

tsp

paprika

½

tsp

chili powder

¼

tsp

cayenne pepper

1

tbsp

lemon juice freshly squeezed

2

tbsp

chopped pimento pepper (bottled)

2

tbsp

oil-packed sun dried tomato rinsed and dried

¾

cup

unsweetened almond milk

⅓

cup

nutritional yeast
Garnish
1

tsp

fresh cilantro coarsely

1

tsp

chopped pimento pepper (bottled)

1

tsp

jalapeño pepper seeded and diced
Instructions
Soak cashews in filtered water for at least 30 minutes or up to 4 hours and drain. Note that if you have a high powered blender, 30 minutes is sufficient, but that longer periods may be required for less powerful blenders.

Heat avocado oil in heavy pan and sauté onion and jalapeño pepper for approximately 6-7 minutes over medium heat, seasoning with sea salt.

Add minced garlic and continuing to sauté for an additional 3 to 4 minutes until garlic is fragrant.

Add all of spices and continue to sauté until for less than a minute until fragrant.

Add pimento, sun dried tomato and lemon juice to the pan and stir to combine before removing from heat.

Add cashews and almond milk to a high-powered blender and blend on high until consistency is smooth.

Add nutritional yeast and vegetable mixture to blender and continue to blend until consistency is smooth.

Place queso mixture into a small sauce pan and heat to serve.

Garnish with cilantro, pimento and jalapeño (optional) and enjoy