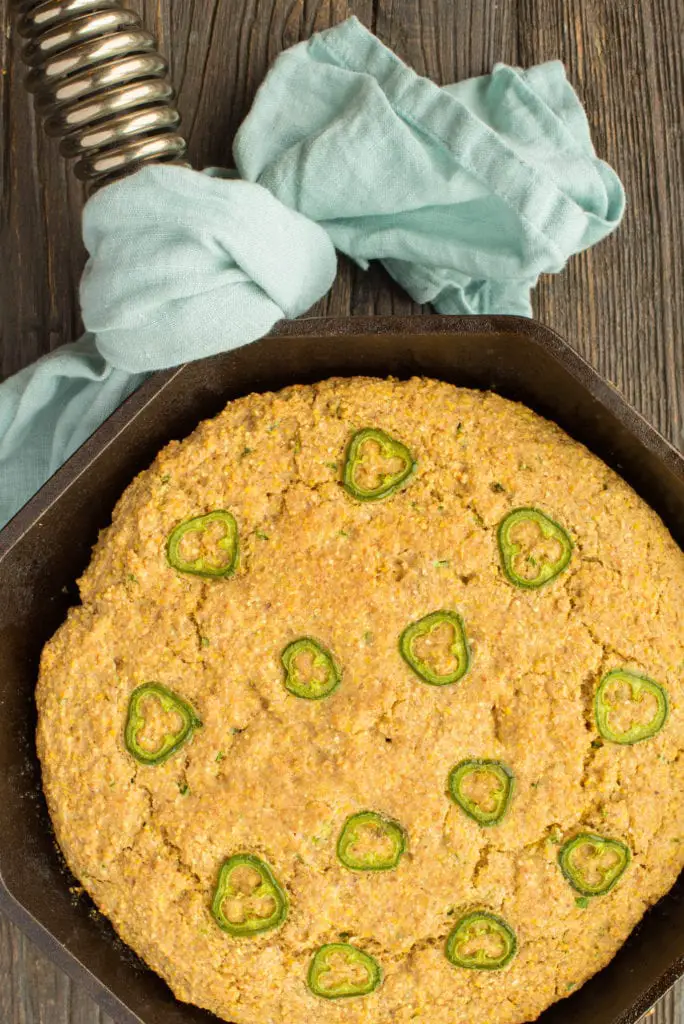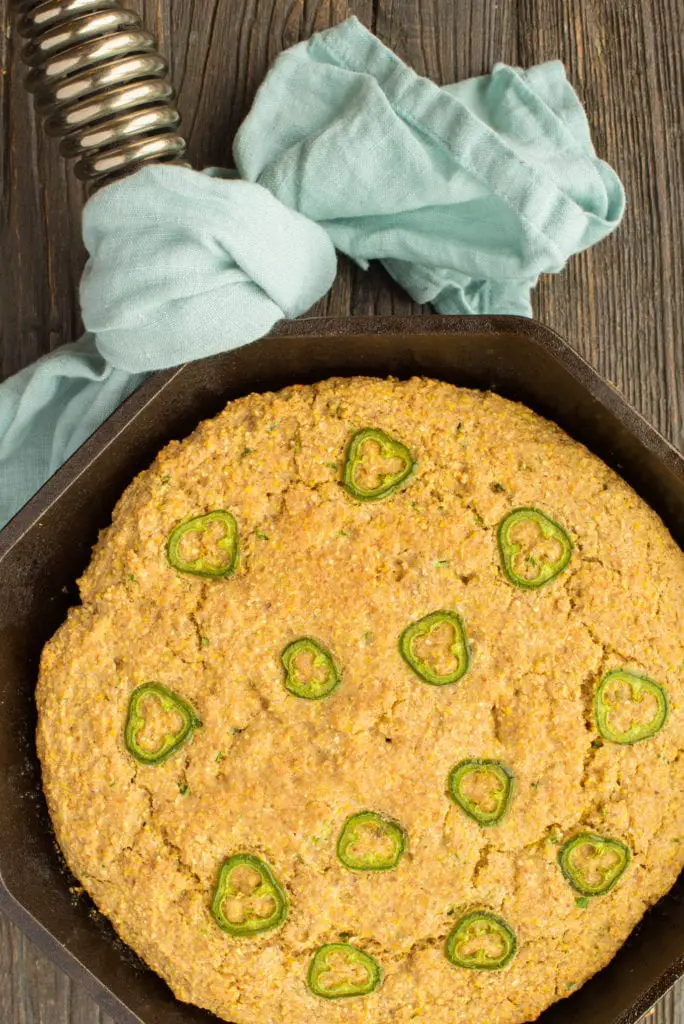 We grew up with cornbread alongside a bowl of chili. We still enjoy a piece today, but our vegan Jalapeño Skillet Cornbread recipe omits the eggs and all the butter and cuts way back on the sweetener and it still checks all of the taste boxes!
Ingredients Tips . . .
Many commercial baking powders are double acting. This means that part of the leavening occurs when you mix the wet and dry ingredients together. A second leavening stage is triggered by the heat of the oven. This is great for your jalapeño skillet cornbread, but not so good for you. Unfortunately, the agent that triggers the second leavening stage typically contains aluminum. We prefer to keep aluminum out of our foods because of its known risks. Your option is to use a single acting baking powder without aluminum. If you purchase an organic brand, you can be sure that this is what you are getting.
We also use soy milk to make vegan buttermilk for our jalapeño skillet cornbread. This results in a creamier mix and a more tender cornbread. If you try using almond milk for example, you will see that the result is more watery.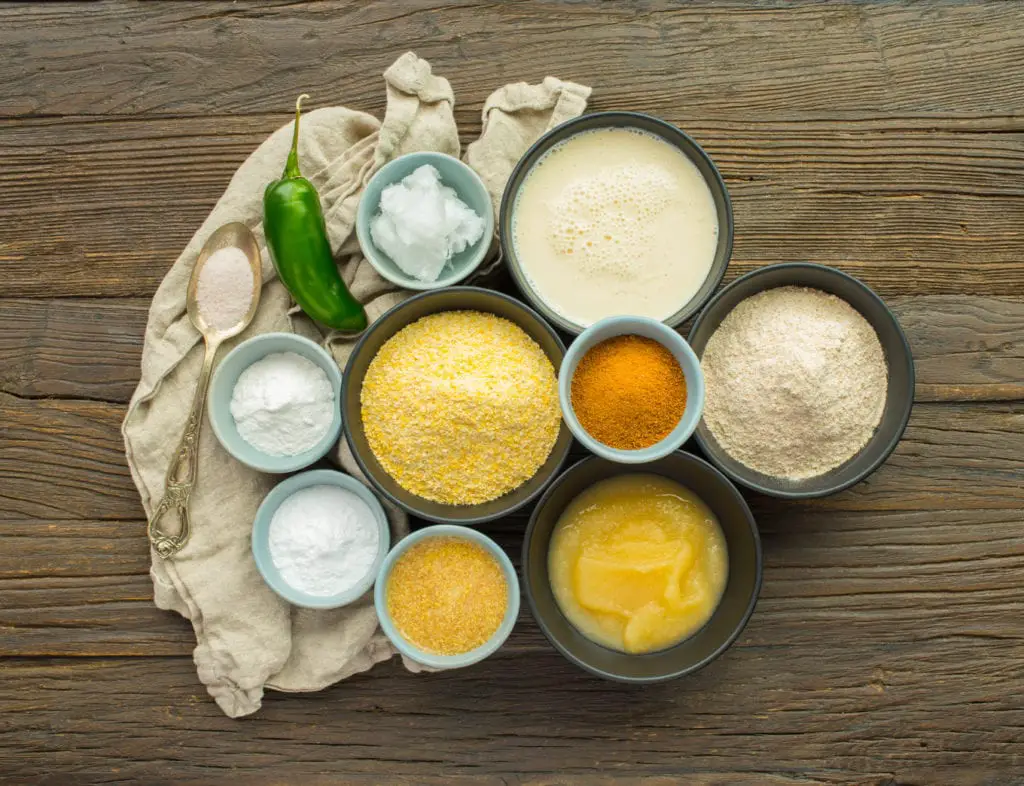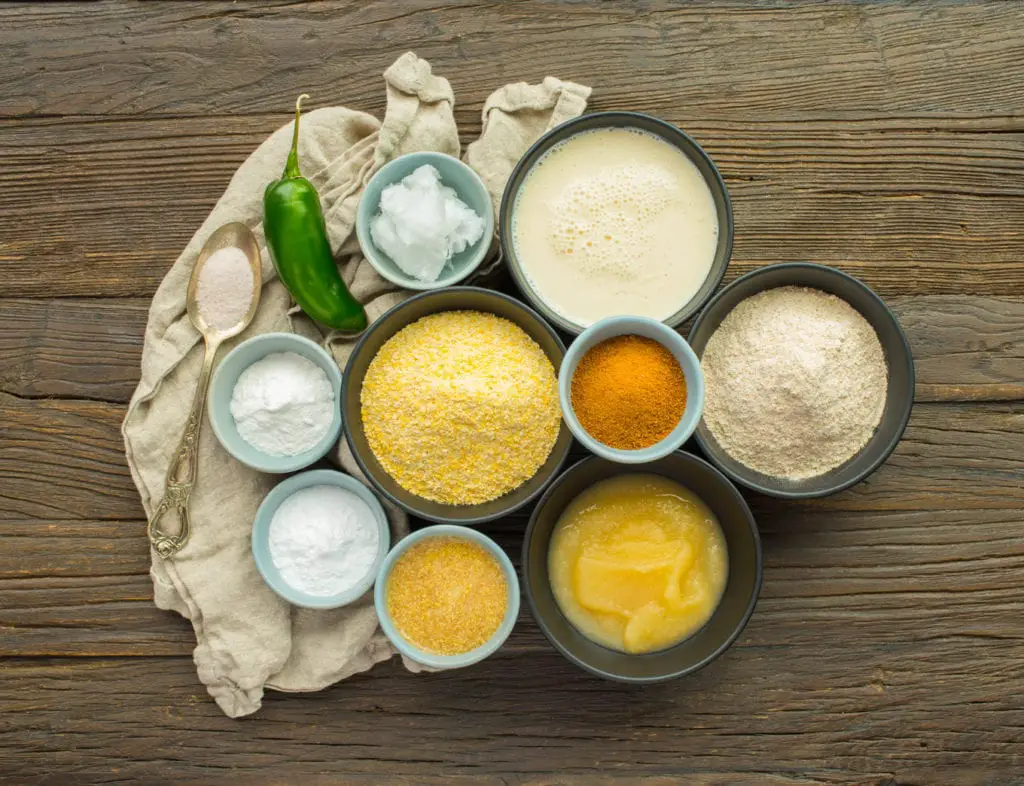 Skillet Cornbread Baking Tips . . .
Baking in a cast iron skillet requires some pre-heating because the pan is very heavy and thick and takes time to heat up. Pre-heating it while your oven rises to temperature will help your cornbread to bake evenly.
Popping your jalepeño skillet cornbread into the oven as soon as you can after mixing your wet and dry ingredients is also very important. The leavening starts as soon as you mix the wet and dry ingredients with single-acting baking powders. Therefore, you don't want to lose all of those little air pockets before cornbread has a chance to bake.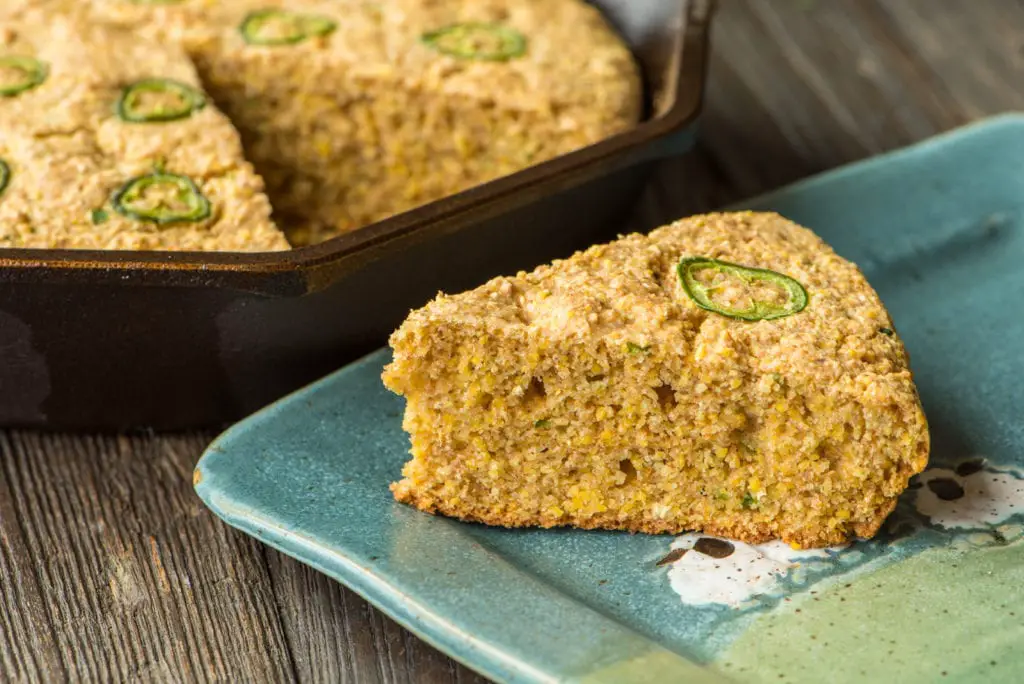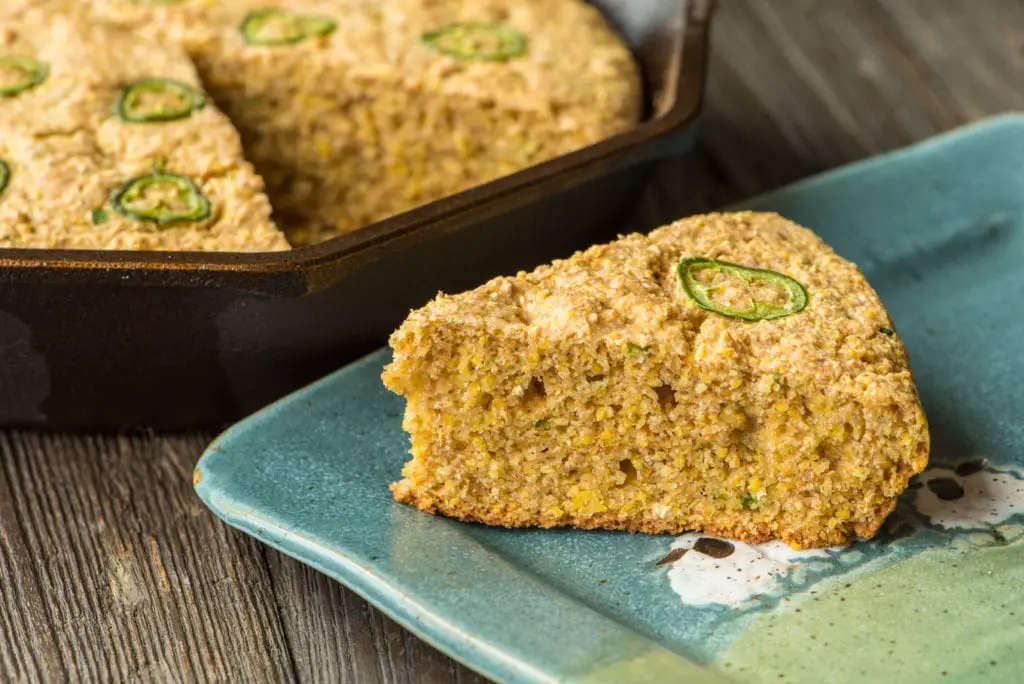 Enjoy a wedge of cornbread with a bowl of our Vegan Mexican Chili with Real Chilis or our Vegan Red Lentil Chili. Don't stop there though because the cornbread would even complement a bowl of Quick and Easy Black Bean Soup.
Please let us know if you tried this Jalapeño Skillet Cornbread. We like sharing with our community and are always interested in what you think! Leave a comment and a rating and don't forget to tag us @plantedandpicked on Instagram and hashtag it  #plantedandpicked. Pull up a chair and enjoy!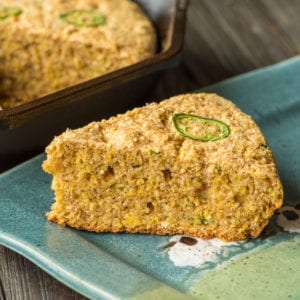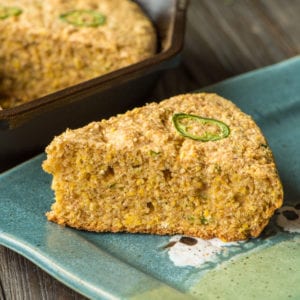 Ingredients
Dry Ingredients
1

cup

spelt flour

1¼

cup

corn meal (medium grind)

1

tbsp

raw cane sugar

1

tsp

sea salt

1

tbsp

baking powder

½

tsp

baking soda
Wet Ingredients
1¼

cup

vegan buttermilk

3

tbsp

coconut oil (divided)

⅓

cup

apple sauce

1

flax egg

1

jalapeno pepper
Flax Egg
1

tbsp

ground flax

3

tbsp

filtered hot water
Vegan Buttermilk
1¼

cup

soy milk

1

tbsp

cider vinegar
Instructions
Place the cast iron skillet in the oven and pre-heat to 400°F

Add the cider vinegar to the soy milk and stir to create the vegan buttermilk and set aside for 5 minutes or so

Stir the ground flax in the filtered hot water to create the flax egg and set aside for 5 minutes or so. Hint: boil the water in a kettle and pour 3 tbsp into a dish with the flax seed straight away as this will help to speed up the thickening

Mix all dry ingredients together and whisk well to ensure that baking powder is evenly distributed to ensure air pockets in corn bread are uniform

Melt two-thirds of the coconut oil (2 tbsp as per originigal recipe) in a small pan or pot and let cool slightly for a few minutes

Dice jalapeno pepper very finely and mix into dry ingredients to distribute evenely.

Make a well in the dry ingredients and add in the wet ingredients, mixing just enough to combine

Add the remaining 1 tbsp of coconut oil to the hot skillet and spread evenly around the pan before pouring the cornbread batter into the pan. Spread the batter evenly and bake for 20 to 25 minutes or until a tester comes out cleanly. As explained in our post, it is important to get the batter into the oven as quickly as possible after the wet and dry ingredients have been mixed.

When cornbread is baked, set pan aside to cool for 10 to 15 minutes before slicing into portions.