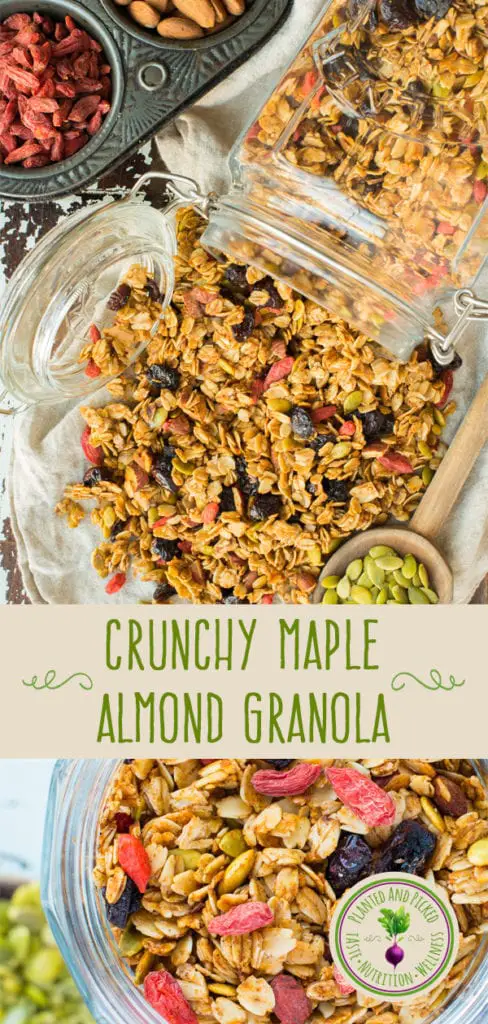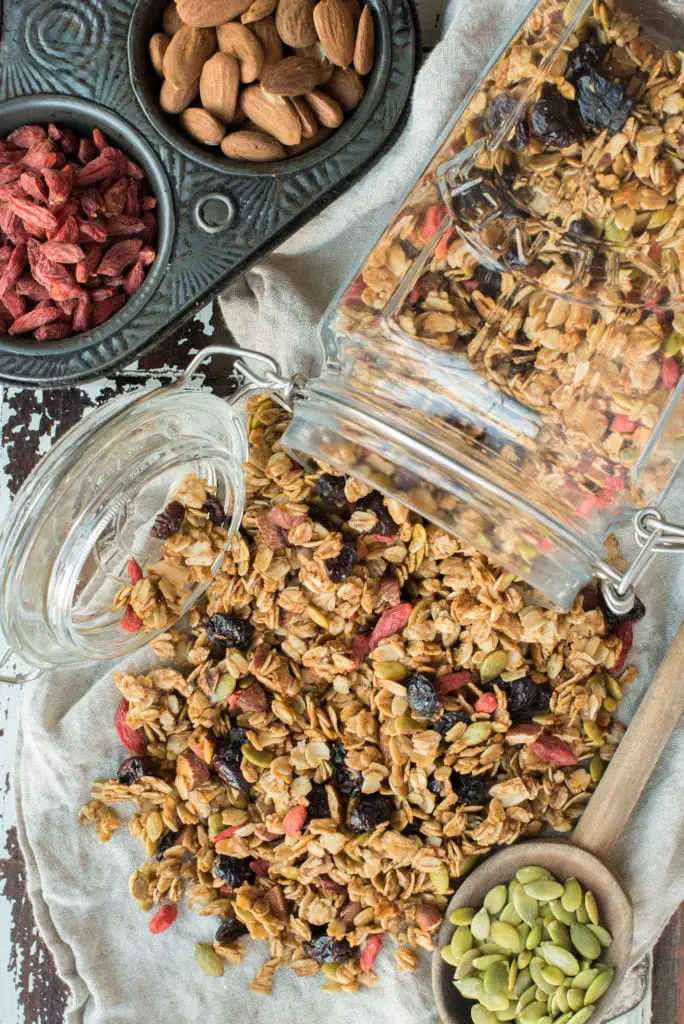 You can use this Crunchy Maple Almond Granola as a template for many granola variations. This is a pantry staple. It can be used as a cereal, a topping for vegan yogurt or as a healthy and energizing snack!
This recipe is for a smaller batch but you can double it if you will be enjoying it more frequently. The ratio that we like to follow is: 2 to 3 cups of oats; 1 cup of nuts and/or seeds; 1/2 cup wet ingredients (combination of fat and liquid sweetener); a couple of tablespoons of flavouring; 1/4 to 1/2 a cup of dried fruit. The dried fruit should be added after the maple almond granola is baked or it can burn. This also helps to retain more of the nutrients in the fruit.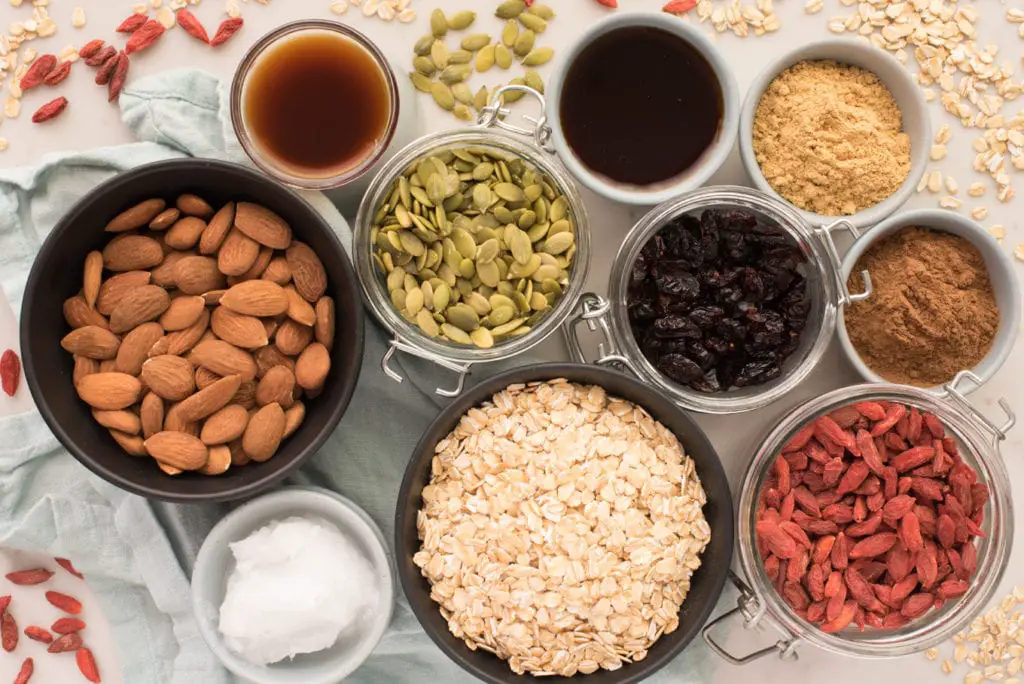 Granola is a great staple to have in your kitchen. It is so much less expensive to make your own than it is to buy small bags of artisan granola from the grocery store or farmers market. Once you have a basic recipe, the combinations are endless. You can make a batch on a weekend in under an hour and it will last for weeks in an airtight container. It is a balanced combination of macronutrients (carbohydrates, protein and fat) as well as a healthy dose of vitamins and minerals.
We like to enjoy this Crunchy Maple Almond Granola as part of a breakfast with vegan yogurt (probiotic goodness!) berries and coconut flakes. We mostly make our own yogurt using organic soy or coconut milk using the Euro Cuisine Yogurt Maker. It is inexpensive to buy and we can prep the yogurt in under 10 minutes. It then just sits in the yogurt maker for 8 to 10 hours at the right temperature to culture. You can make yogurt without a machine, but be careful about the room temperature.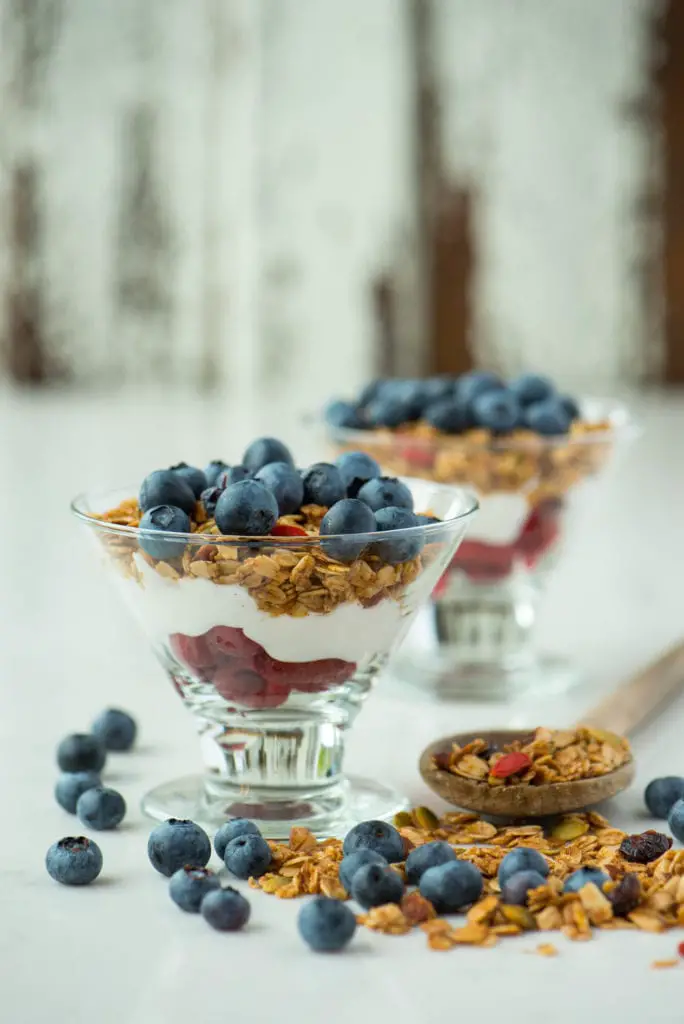 If you try the Crunchy Maple Almond Granola and you enjoy oats, also try out our Nut Butter Overnight Oats. If savoury is your thing for breakfast today, try out this Super Eggy Tofu Scramble or some Baked Tempeh Bacon Strips . . . yum!
Let us know if you make this breakfast favourite – we like to hear how the recipes work out for our readers! Leave a comment and a rating and don't forget to tag us @plantedandpicked on Instagram and hashtag it  #plantedandpicked. Looking forward to having you at our table again soon!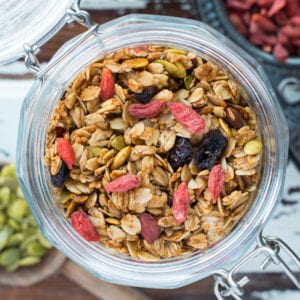 Ingredients
3

cups

rolled oats

1/4

cup

raw pumpkin seeds

1/4

cup

raw whole almonds, chopped

1/4

cup

melted coconut oil

1/4

cup

maple syrup

1

tsp

cinnamon

1

tsp

vanilla

1/2

tsp

ground ginger

1/4

cup

unsweetened dried cranberries

2

tbsp

goji berries
Instructions
Preheat oven to 325 degrees.

On a cutting board, chop whole almonds into about 1/4 pieces.

In a large mixing bowl, combine oats, almonds, pumpkins seeds, cinnamon and ginger.

Heat coconut oil just enough to melt it. Add coconut oil, maple syrup and vanilla to the oat mixture and stir.

You can line a baking sheet with a silpat or parchment paper if desired. Lay granola mixture on tray. Spread it out in a single layer and press down slightly. Place in oven and set timer for 15 minutes.

After 15 minutes, gently turn granola over with a spatula and press down gently again. Place back in oven for another 15 minutes.

Check granola to see if it is brown. You want the colour to be brown and not burnt. If it is not quite brown enough, cook for about another 10 minutes. Ovens may vary so keep an eye on it.

Remove from oven and let cool for at least 30 minutes. The granola will get crunchier as it cools.

Add dried fruit to the top (in this case cranberries and goji berries) and gently combine with a spatula.

Granola can be stored in an airtight container and used as a cereal, a topping for vegan yogurt or a snack!