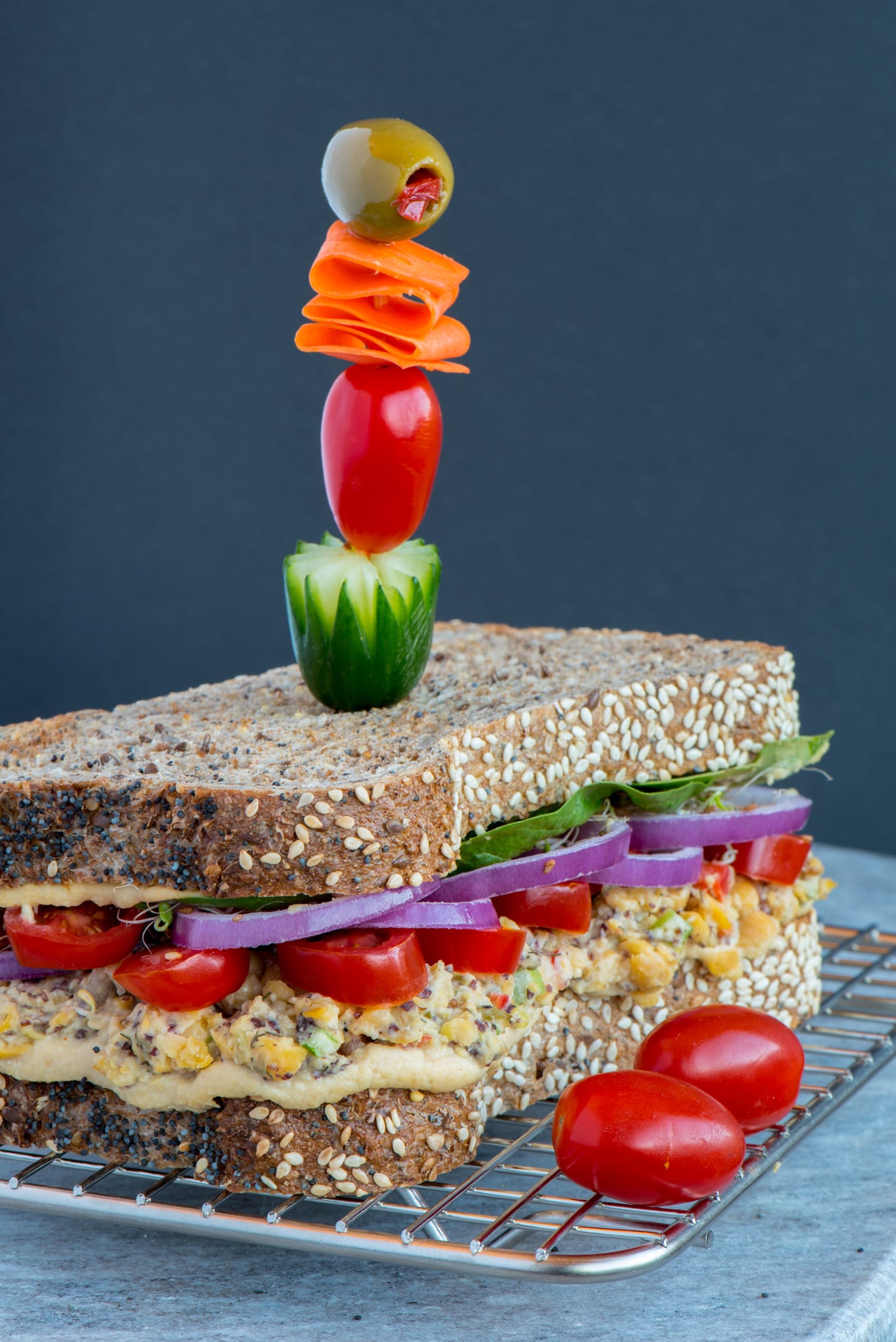 This vegan chickpea tuna sandwich is a great-tasting healthy option for lunches.  The sandwiches are also perfect to take along on picnics. You can pack the sandwiches pre-made or take the filling along and spread it on a freshly sliced baguette. The filling is creamy and a perfect plant-based stand-in for that sandwich that so many of us packed in a brown paper bag in high school. While chickpeas do not taste like fish, the capers and dulce in the filling make it tuna-esque.
What's So Good About This Vegan Chickpea Tuna Sandwich?
The filling is loaded with protein and fibre without the mercury and other heavy metals that are known to be found in tuna. One cup of chickpeas contain about 12g of fibre per cup! Chickpeas are also a rich source of antioxidants, vitamins and minerals. They are known to improve digestion, boost heart health and lower inflammation. We eat a lot of these in our house.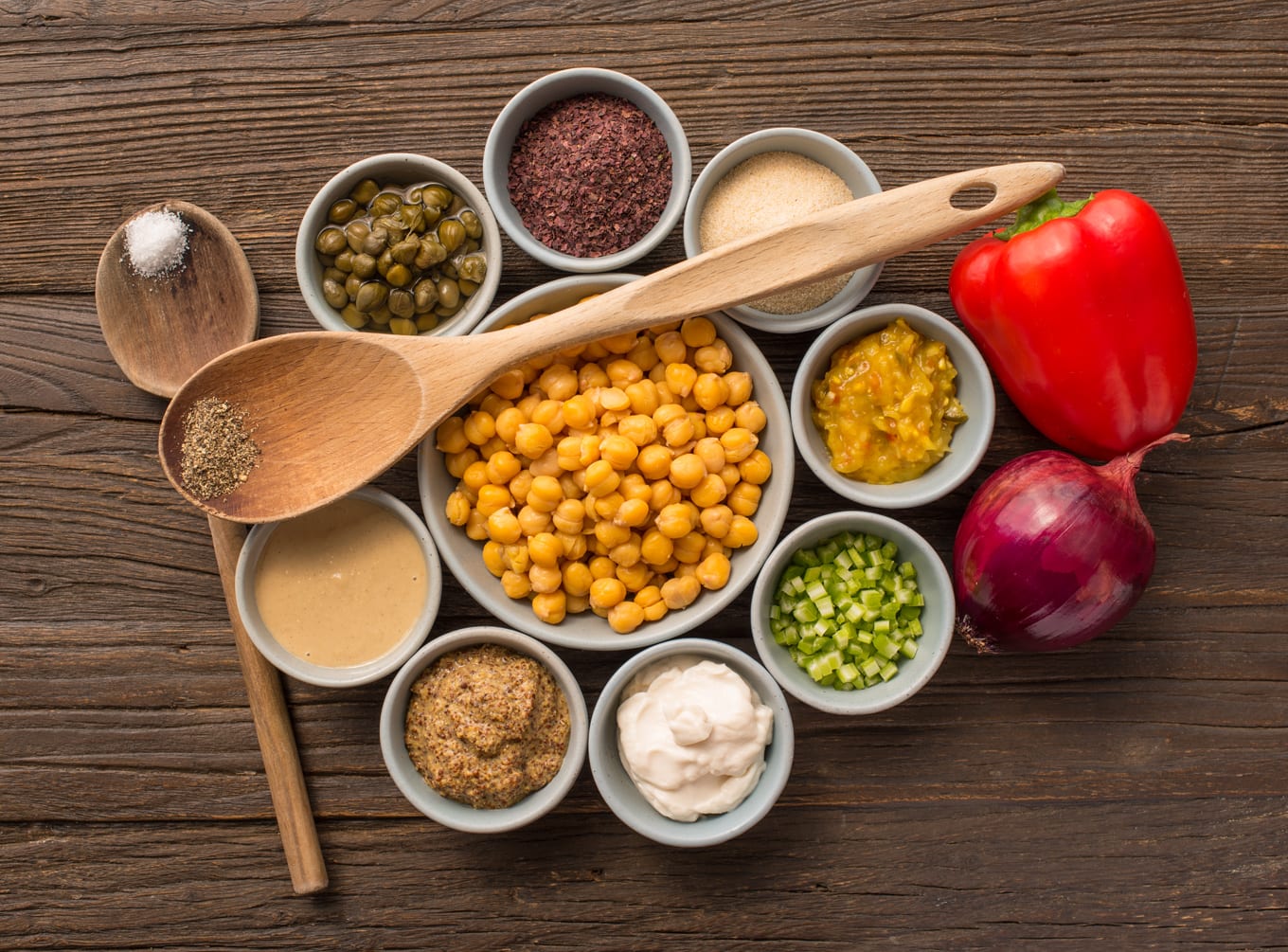 Pulling the Sandwich Together . . .
The vegan chickpea tuna is just the start to this sandwich because the topping options are endless. We like to start by spreading some creamy roasted garlic hummus on a couple of slices of fresh whole grain bread. Some greens, fresh sprouts, red onion and sliced tomato add even more freshness to this go-to sandwich. You can also drizzle some mango lime hot sauce over your sandwich to add a little zest.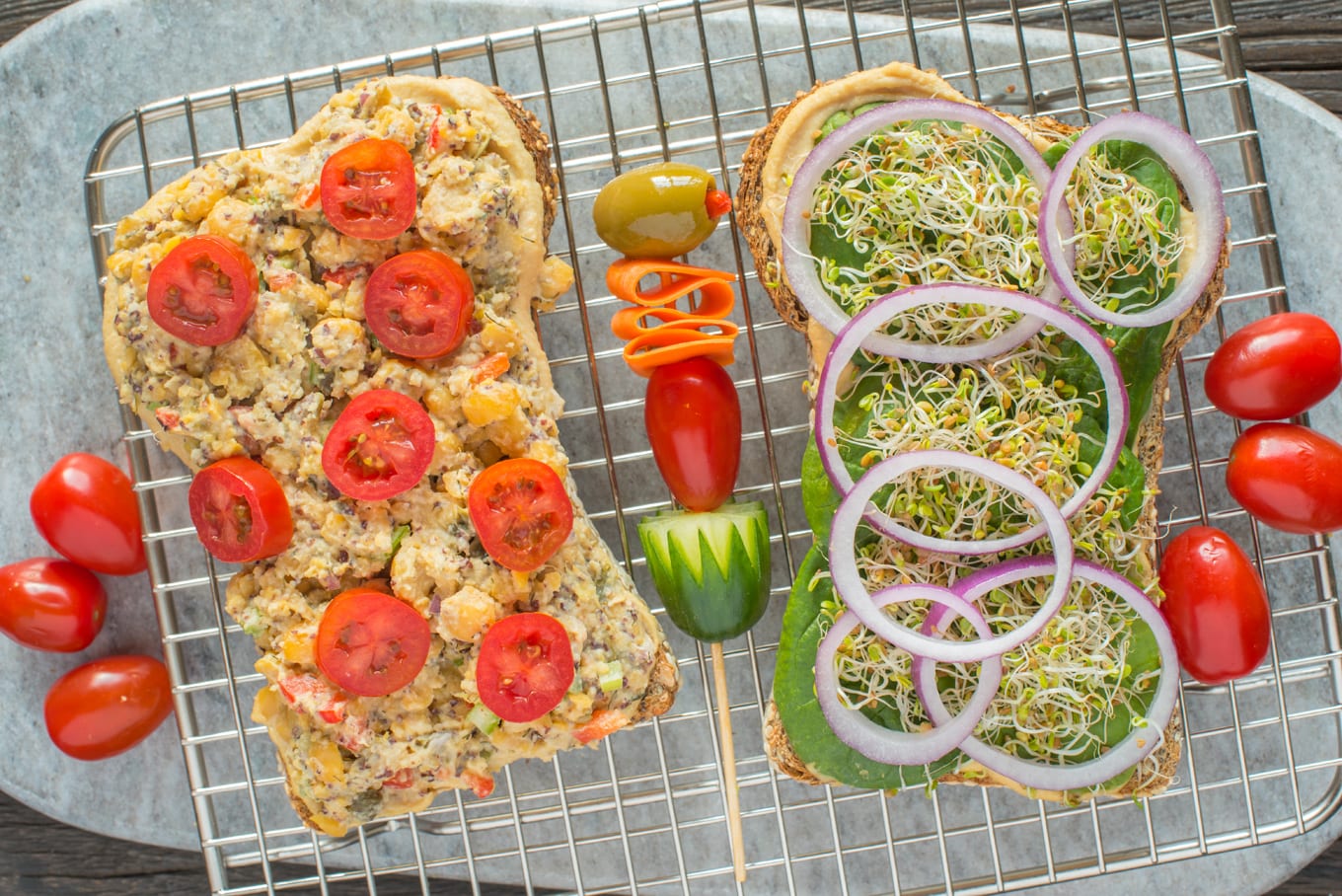 For another great sandwich, try out our savoury Baked Tempeh Bacon Strips with your favourite fixings. If you make this creamy chickpea tuna sandwich, please let us know how you enjoyed it. We always look forward to reading all of your remarks. Leave a comment and a rating and don't forget to tag us @plantedandpicked on Instagram and hashtag it  #plantedandpicked. Thanks for dropping by!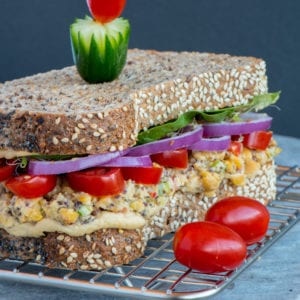 Ingredients
1½

cups

chickpeas (or one 15 oz can)

1

tbsp

organic vegan mayo

1

tbsp

good quality tahini

1

tbsp

capers + 1 tbsp caper juice

1

tsp

dijon mustard

2

tsp

dulse flakes

½

tsp

garlic powder

1

tbsp

sweet relish or chopped sweet pickle

2

tbsp

red onion, small dice

2

tbsp

celery, small dice

2

tbsp

red pepper, small dice

salt and pepper to taste
Instructions
We like to remove the skins from the chickpeas but this is optional. To remove the skins, gently sqeeze the chickpea between your thumb and forefinger. The chickpea should pop out of the skin. Deskinned chickpeas make for a more creamy  consistency.

Put the chickpeas in a bowl and mash with a fork or potato masher until there are no whole chickpeas but they should still have texture.  Dice the red onion, celery and red pepper. 

Combine all of the ingredients and stir together. We like using some vegan mayo because it is reminiscent of the taste of tuna sandwiches when had when we were growing up. However, feel free to omit it if you prefer to avoid processed oils. You may need to add some extra tahini or some hummus to bind the mixture together. 

We make this mixture on the weekend for a go to snack with crackers or to make a quick sandwich or wrap with all your favourite toppings!