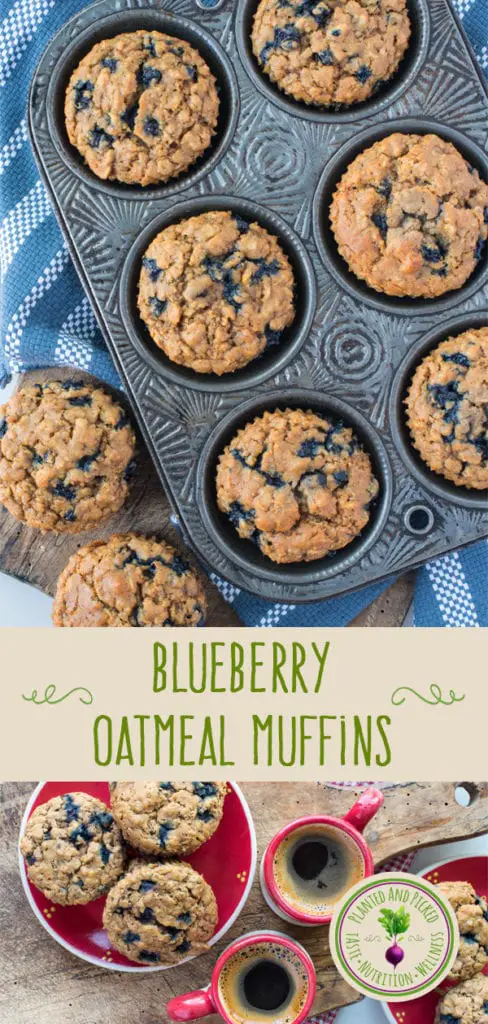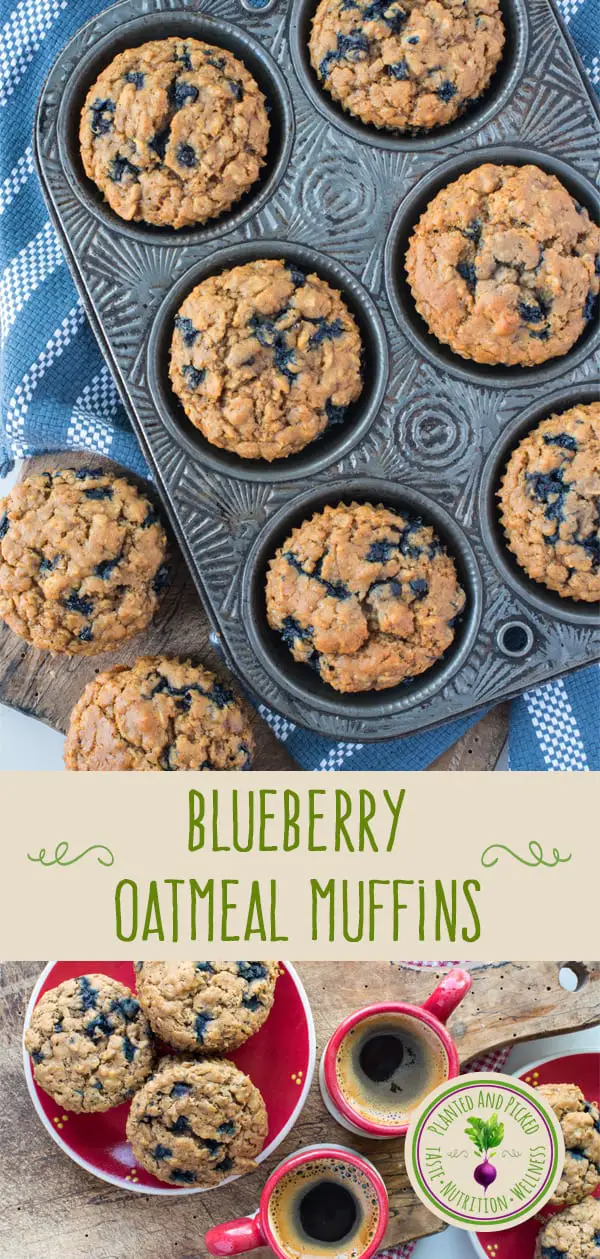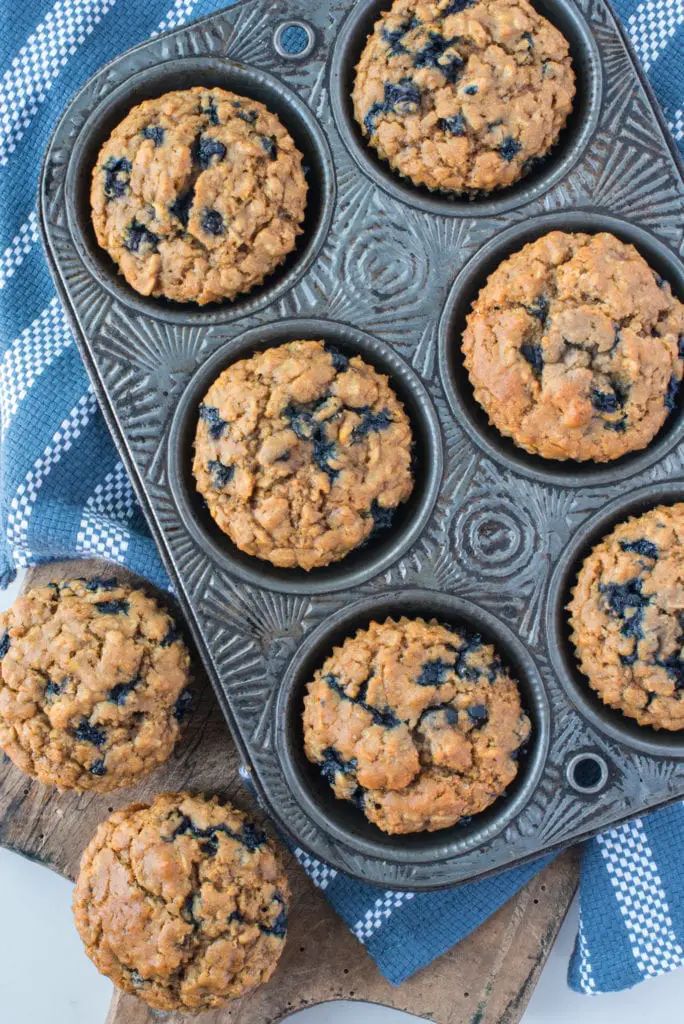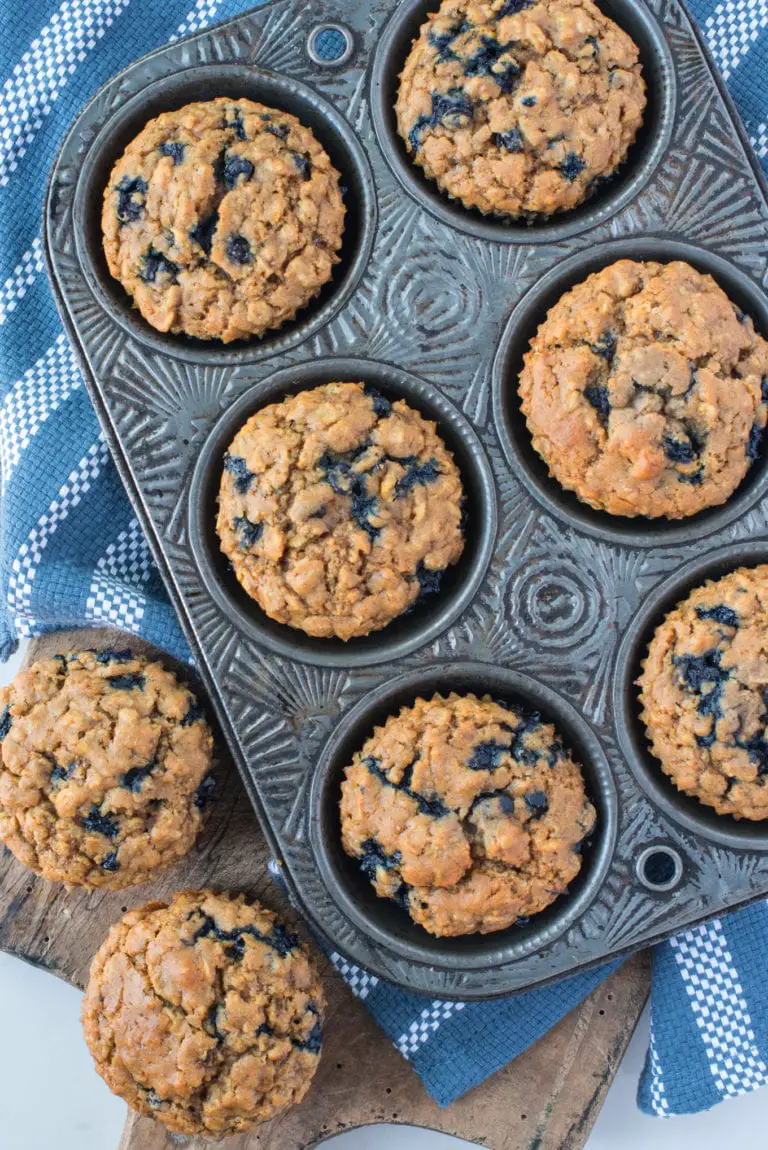 Move over oatmeal . . . but just temporarily! Have these wonderfully satisfying blueberry oatmeal muffins for breakfast instead. They're gluten free and just as delicious.
These gluten free blueberry oatmeal muffins make a great breakfast or snack. They are nutritious and delicious with whole grain oats and antioxidant rich blueberries. Soaking the rolled oats in 'buttermilk' softens them prior to baking. After about 30 minutes of soaking, the oats should have absorbed a lot of the milk. You want the retain some of the liquid though, so best not to leave these soaking for too long.
Blueberries are a 'superfood' and readily available to most people when in season. The term 'superfood' refers to food with high nutrient values and many heath benefits. Blueberries have one of the highest antioxidant levels of all common fruit and vegetables. Antioxidants protect your body from free radicals. These are unstable molecules that can damage your cells and contribute to aging and diseases such as cancer. For more information on antioxidants, check out our post on Antioxidants and Foods Containing Them. The best superfoods are the ones that are local to you!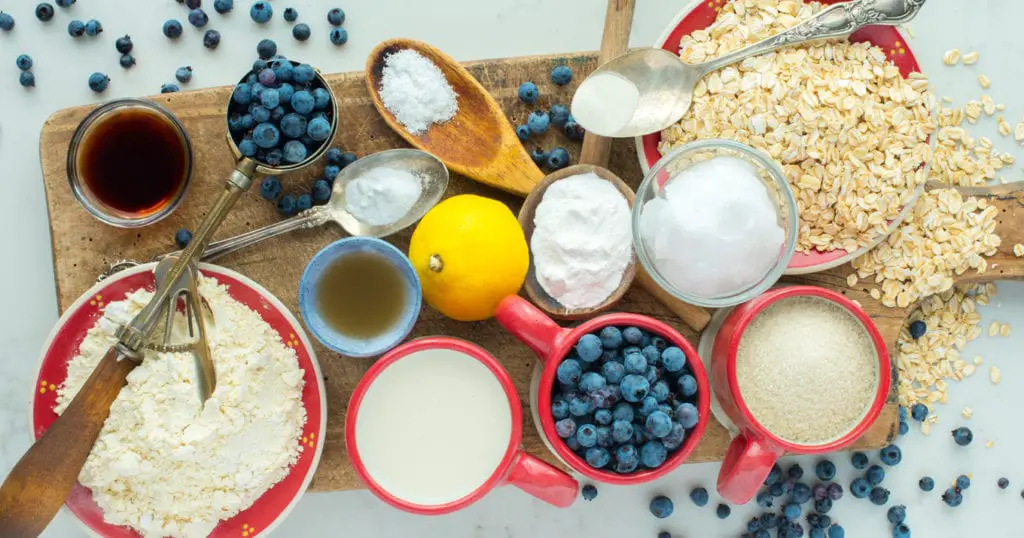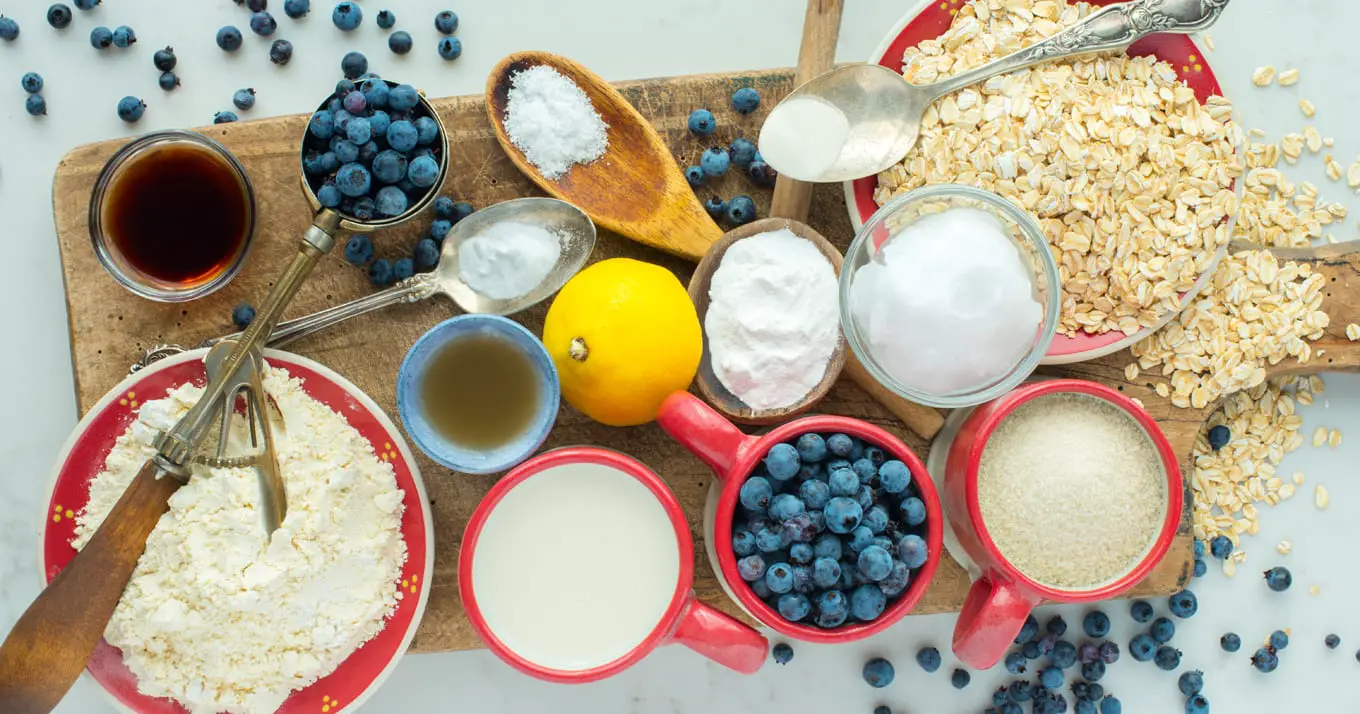 It is best to use fresh berries in these blueberry oatmeal muffins. Frozen berries will make the muffins soggier, even if you thaw them first. We were lucky enough to score some local wild blueberries – so good! We made these muffins using a gluten free flour blend, but you can substitute another flour such as Spelt if you prefer. Omit the xanthan gum if you do as it is used in GF baking to mimic some of the work that gluten does already.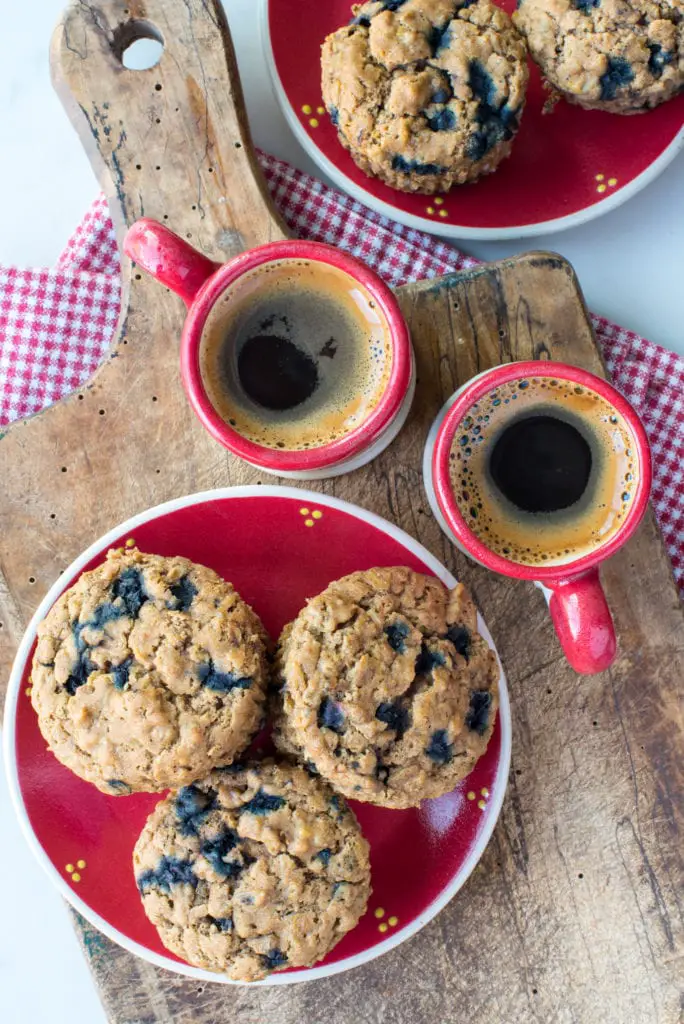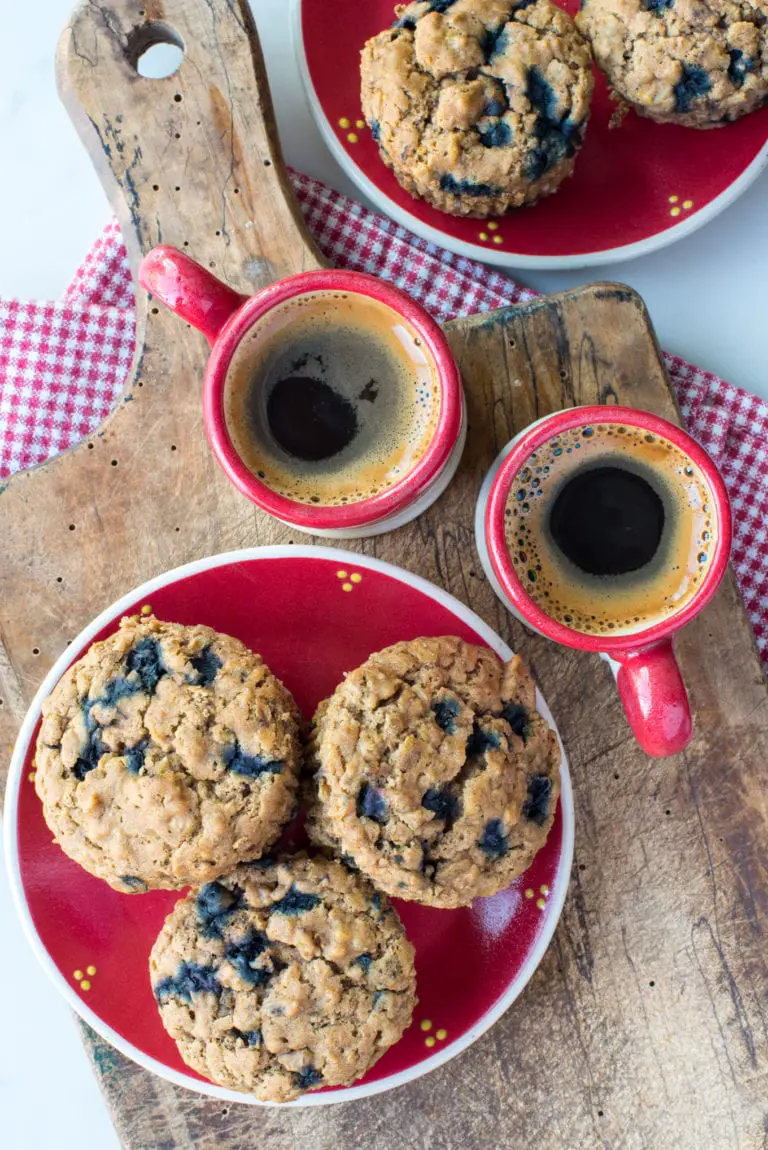 Breakfast or snacks on your mind? Try out these Pumpkin Spice Muffins, Oatmeal Cranberry Muffins, Nut Butter Overnight Oats, Raspberry Chia Pudding, or this Crunchy Maple Almond Granola!
If you make these Blueberry Oatmeal Muffins, we'd love to have your feedback! Leave a comment and a rating and don't forget to tag us @plantedandpicked on Instagram and hashtag it  #plantedandpicked . Healthy can always be delicious!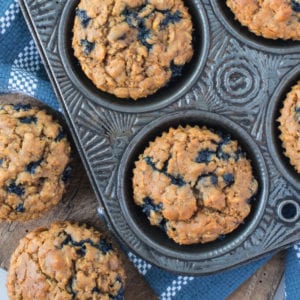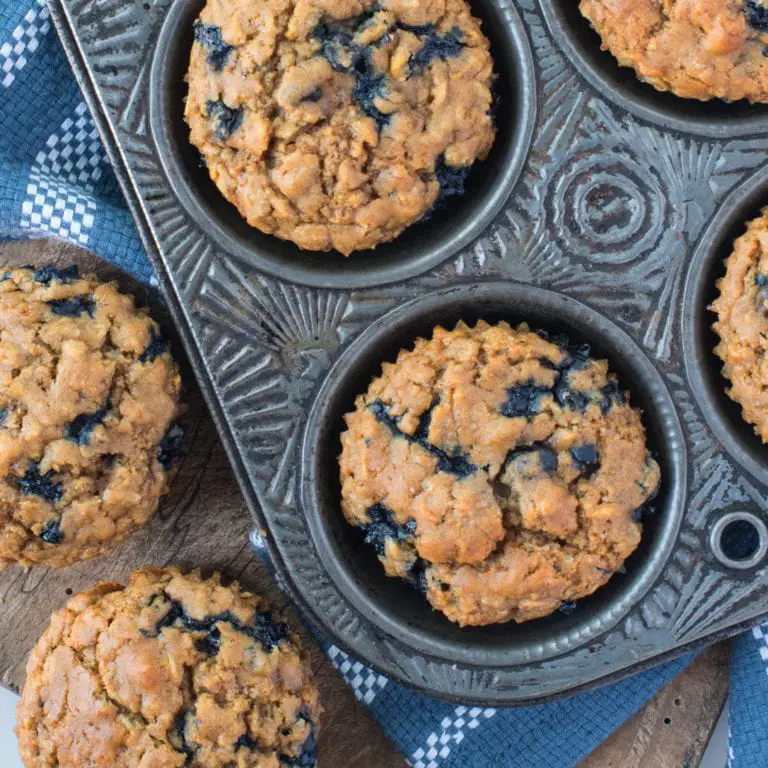 Ingredients
1

cup

slow cooking rolled oats

1

cup

plant based milk

1

tbsp

apple cider vinegar

1

cup

gluten free flour blend (we used Bob's Red Mill)

1/4

tsp

xanthan gum

2

tsp

baking powder

1/2

tsp

baking soda

1/2

tsp

sea salt

1/2

cup

organic cane sugar

2

tsp

vanilla

1

tbsp

grated lemon rind

1/4

cup

avocado oil or coconut oil (melted)

1

cup

fresh blueberries (preferably wild)
Instructions
Preheat oven to 425 degrees.

Add the apple cider vinegar to the plant based milk. We used organic soy milk. Oat milk would be good too. Let sit for 10 minutes. It will curdle and turn into 'buttermilk'.

Put oats into a medium sized bowl. Add the milk and combine Let sit for 20 to 30 minutes. This will soften the oats.

In another bowl, combine the GF flour blend, xanthan gum, baking powder, baking soda, sea salt, cane sugar.

After the oats have soaked, add the vanilla, lemon rind and oil. Stir to combine.

Add the flour mizture to the oat mixture. Stir just to combine. Stir in the blueberries.

Line muffin tin with bleach free liners. Fill muffin cups to about 3/4 full. This should make 12 muffins. Place in oven and set timer for 5 minutes.

After 5 minutes, set temperature back to 375 degrees and bake for another 15 minutes. Test with a skewer to see if they are done. The skewer should come out clean. If not, continue to cook, checking every couple of minutes. Depending on how dense the GF flours are that you use, it may take a longer time.

Remove tray from oven. Remove the muffins and place on wire rack to cool (if you leave them in the muffin tin, they will condense and get soggy on the bottom).