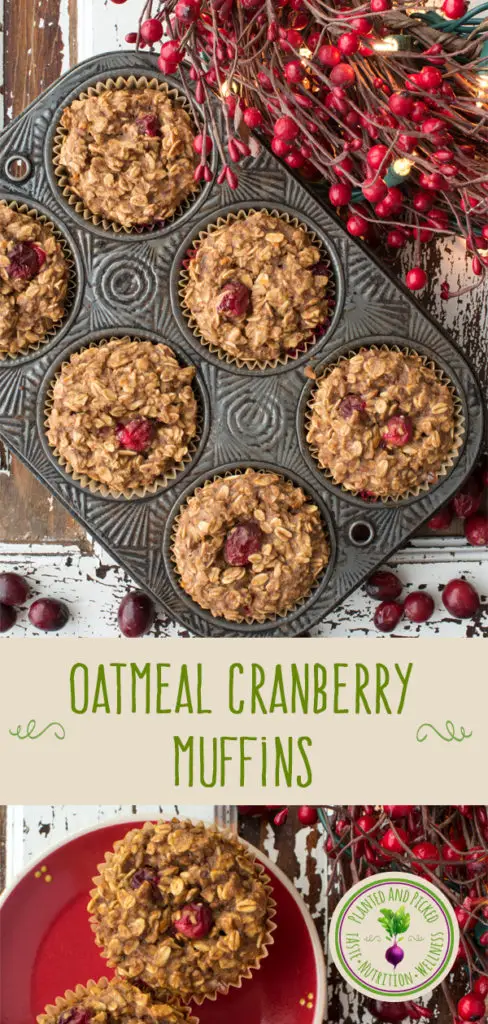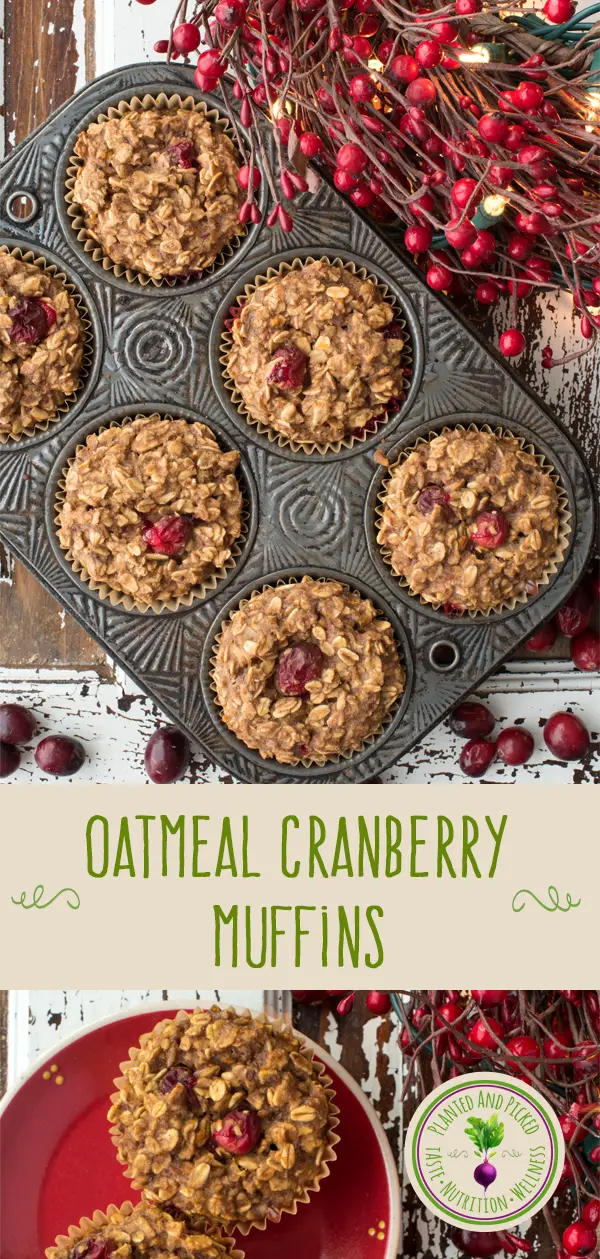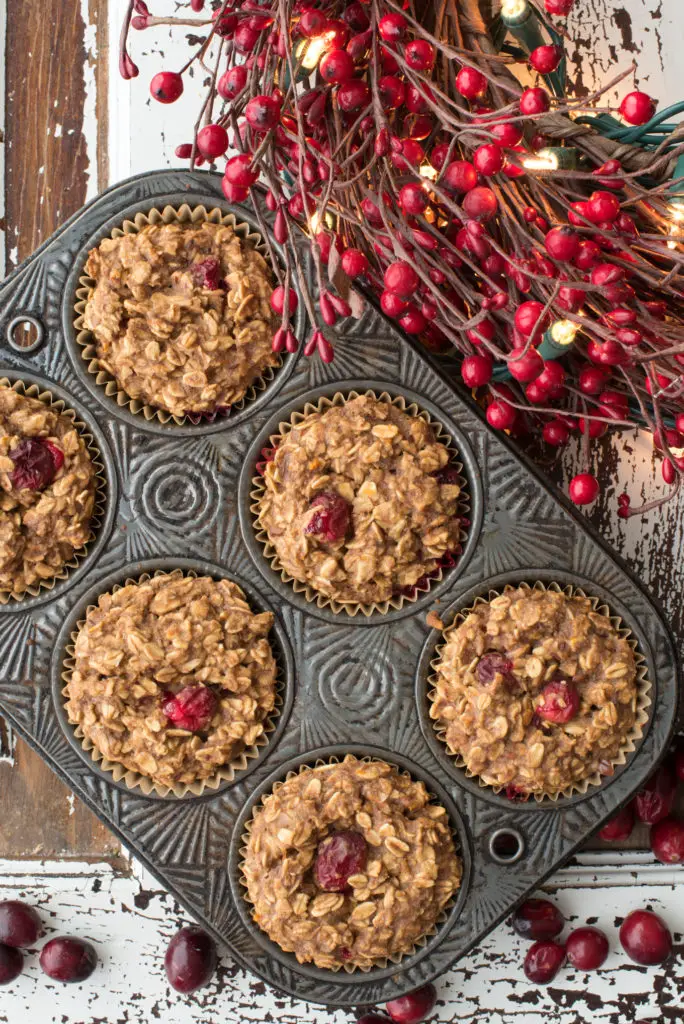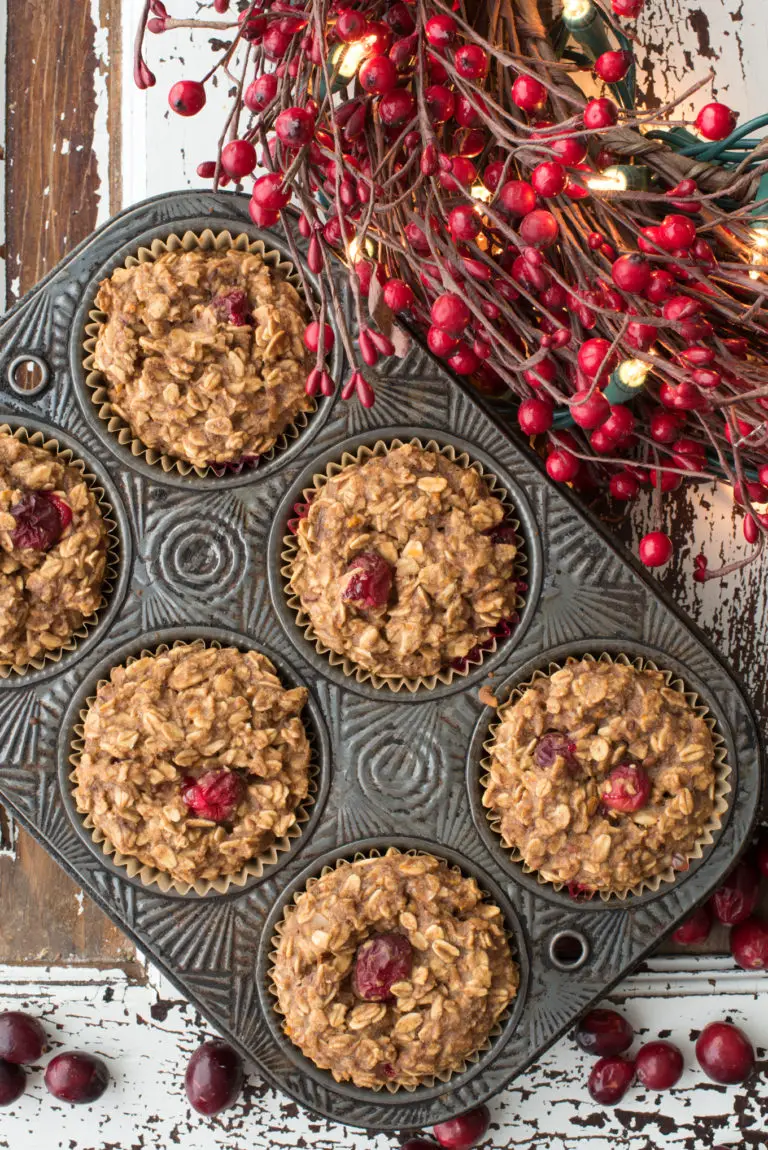 These Oatmeal Cranberry Muffins cover all the bases. They're gluten free, vegan, sugar free, wholesome and wonderfully satisfying!
At this time of year (December), we love cooking with cranberries because fresh cranberries are easy to find in the grocery store. We always look for organic berries when possible, to try to reduce our toxic load. Cranberries are abundant in phytochemicals (predominately anthocyanins) that may give the immune system a big boost. They are also a rich source of vitamin C – another immune supporter. For most people, cranberries come with a lot of sugar . . . cranberry sauce anyone? We try to enjoy them a little more naturally. That said, they are on the sour side, so they do require some sweetness to balance the flavour.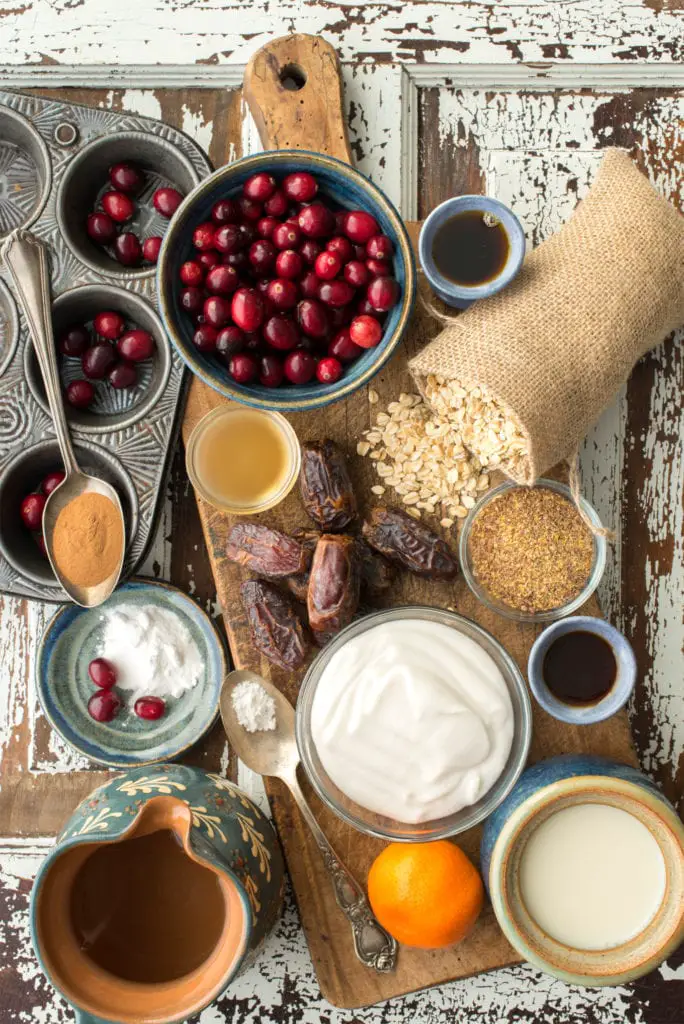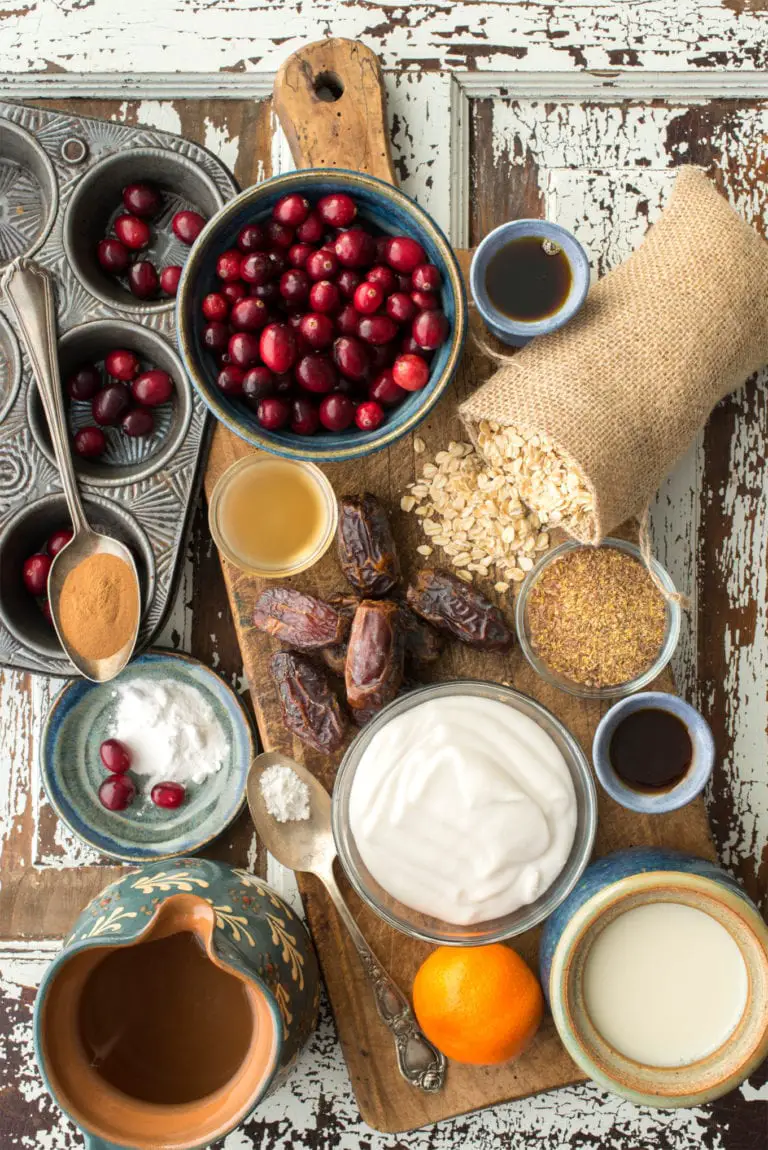 We use a date paste, instead of sugar, to add sweetness to these Oatmeal Cranberry Muffins. Because we are using the whole fruit, the fibre remains in tact, along with the sugar, which helps to moderate any negative blood sugar effect. The dates also provides the benefit of additional phytonutrients that help reduce inflammation as well as minerals such as potassium. You can make a batch of date paste and store it in the fridge for a couple of weeks. It makes a good replacement for added sugar in recipes. Just keep in mind that it will also add more moistness so you may have to reduce liquids slightly in some cases.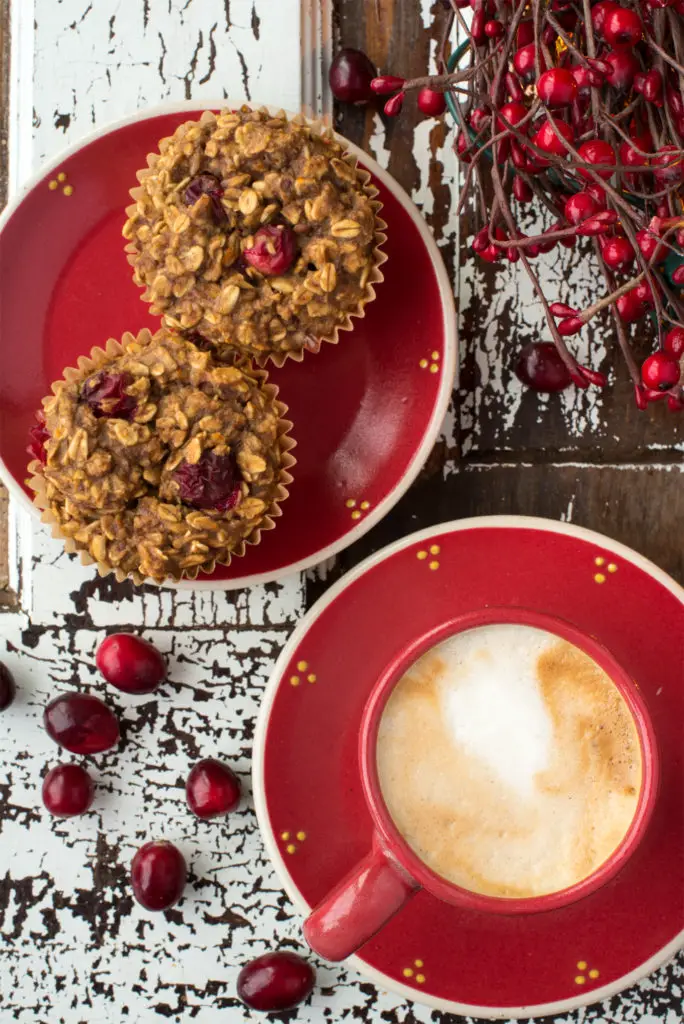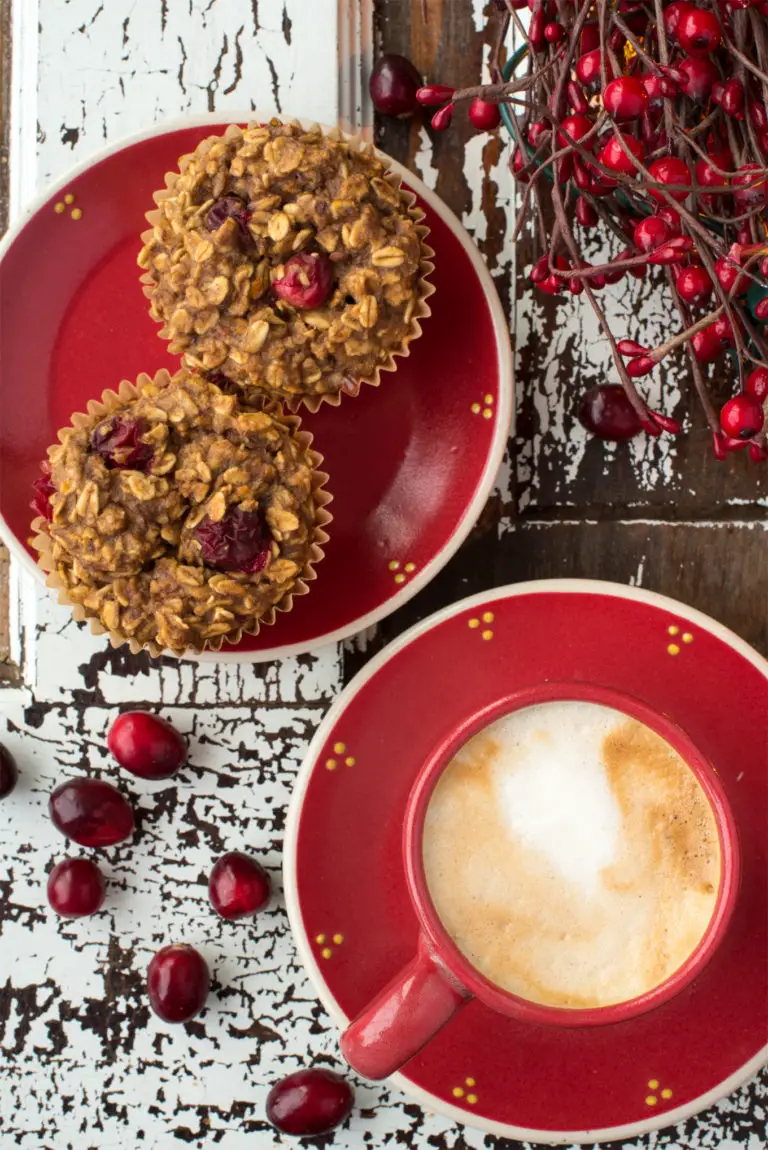 If you have the date paste prepared ahead of time, this recipe for Oatmeal Cranberry Muffins comes together quite quickly. Just ensure that you give yourself some time to soak the oats before baking in order to soften them a little. These muffins are more on the rustic side because there is no flour to make them 'fluffy', but they are wholesome and can provide part of a nutritious breakfast with a piece of fruit or some plant based yogurt. They also make a guilt-free snack.
If you love muffins, try out these Pumpkin Spice Muffins or these Blueberry Oatmeal Muffins. The Blueberry Oatmeal Muffins are also gluten-free.
If you make these Oatmeal Cranberry Muffins, let us know how you like them. Leave a comment and a rating and don't forget to tag us @plantedandpicked on Instagram and hashtag it  #plantedandpicked . Healthy and delicious in a muffin cup!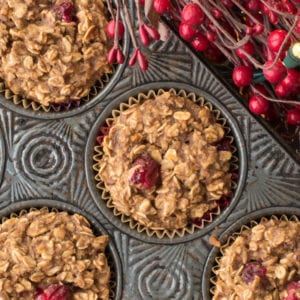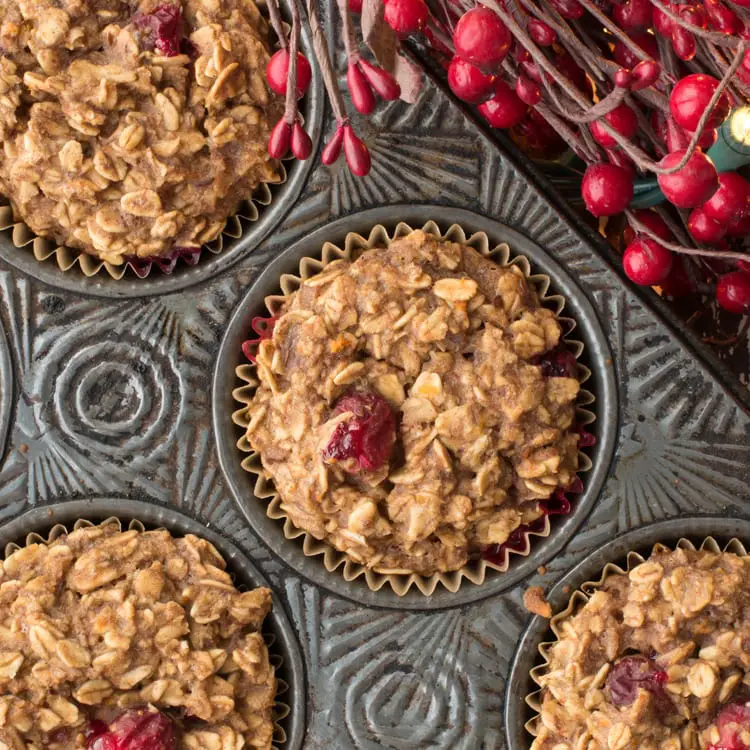 Ingredients
Date Paste
1

cup

medjool dates, pitted

1

cup

boiling water
Soaked Oats
3

cups

rolled oats

1

cup

plant based 'milk'

1

tbsp

apple cider vinegar
Flax 'Egg'
2

tbsp

ground flax seed

6

tbsp

water
Rest of Muffin Ingredients
1

cup

plant based yogurt (we use coconut)

1

cup

fresh cranberries (preferably organic)

⅓

cup

maple syrup

1

tbsp

orange zest

1

tbsp

ceylon cinnamon

2

tsp

baking powder

1

tsp

vanilla

¼

tsp

sea salt
Instructions
Preheat oven to 425°F and line 12 muffin cups with bleach free liners.

To prepare the date paste, remove the pits from the dates and place the dates into a medium sized bowl. Pour the boiling water over the dates and let sit for 1 hour.

Measure 1 cup of plant milk into a large bowl and add the apple cider vinegar. Stir and let sit for at least 10 minutes.

Add the oats to the bowl with the milk. Stir and let sit for about 30 minutes to soften the oats.

Add flax seed and water to a small bowl and stir to combine. Let sit for about 10 minutes. This will thicken up as it sits.

After the dates have sat for about an hour, place them (with the water) into a high speed blender and blend until smooth.

Add a ½ cup of the date past to the oats. The rest can be stored in an airtight container in the refrigerator for about 2 weeks.

Add the flax egg and rest of the muffin ingredients to the oats and stir to combine.

Scoop equal amounts of the batter into 12 muffin cups.

Place the loaded muffin tins into oven and turn temperature back to 350°F. Bake for 30 minutes.

Place skewer or toothpick in center of muffin and remove. It should come out clean (no wet batter). If the muffins are not quite done, leave them in for another few minutes and check again.

Remove from oven and remove the muffins from the tin straight away, placing them on a wire rack to cool further. This will prevent condensation from forming around the base of the muffins.