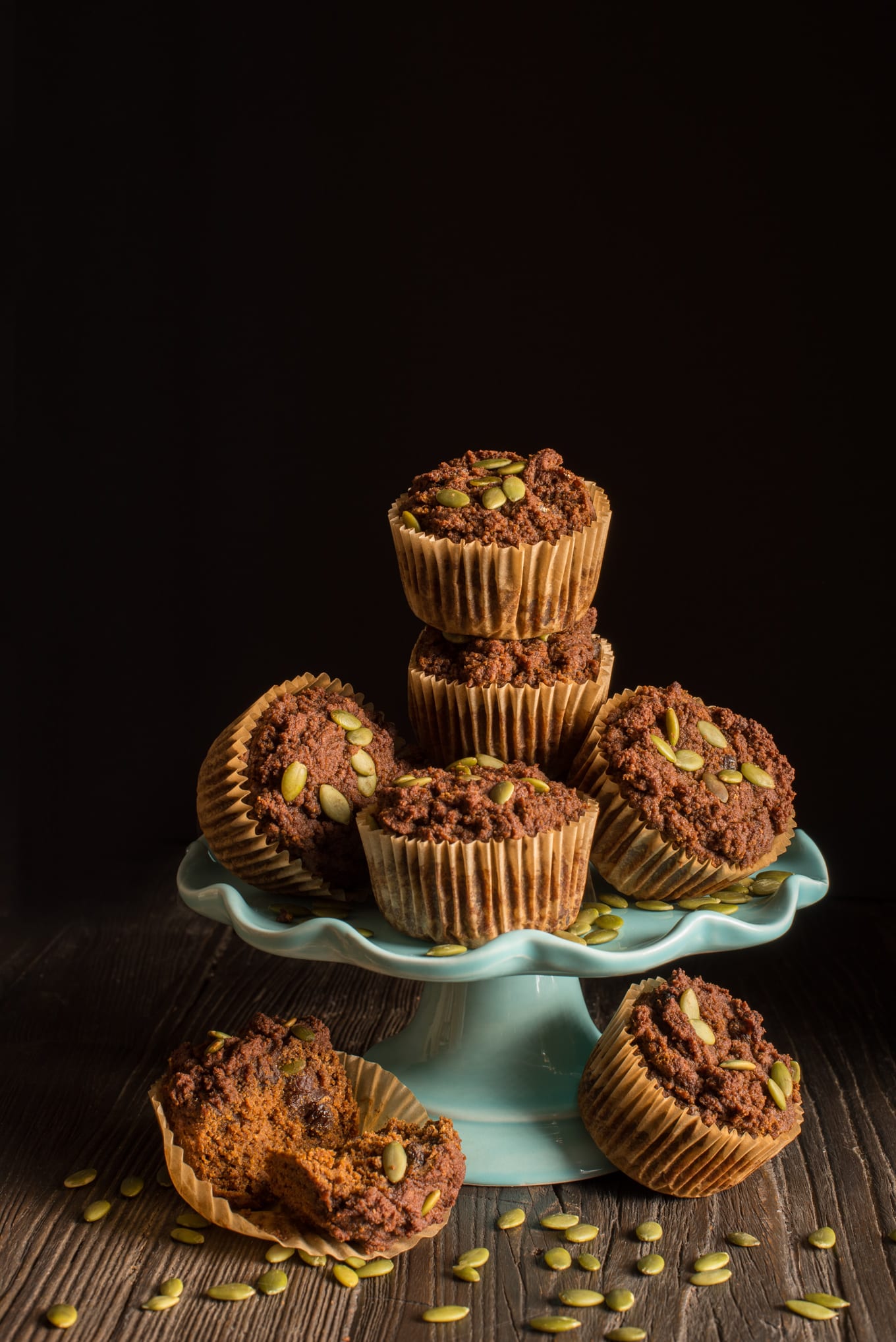 We jump on the pumpkin bandwagon in the autumn with foods such as pumpkin muffins, smoothies, soup and pumpkin spice lattés.  These muffins are dense and have loads of flavour. Above all, they are nutritious and are perfect for a quick breakfast with some fruit or as a mid-morning snack.

Why are these Pumpkin Spice Muffins So Healthy?
You will find loads of white sugar, oils and white flour in most of the muffins that you buy.  This recipe includes a combination of spelt flour and coconut flour. Spelt tends to be easier on your digestion as it is not hybridized like most wheat flours and contains less gluten than wheat. The only oil in these pumpkin spice muffins is a small amount of coconut oil. Coconut oil is a medium chain fatty acid that your liver converts readily into energy. However, if you prefer to skip the oil, try substituting apple sauce instead.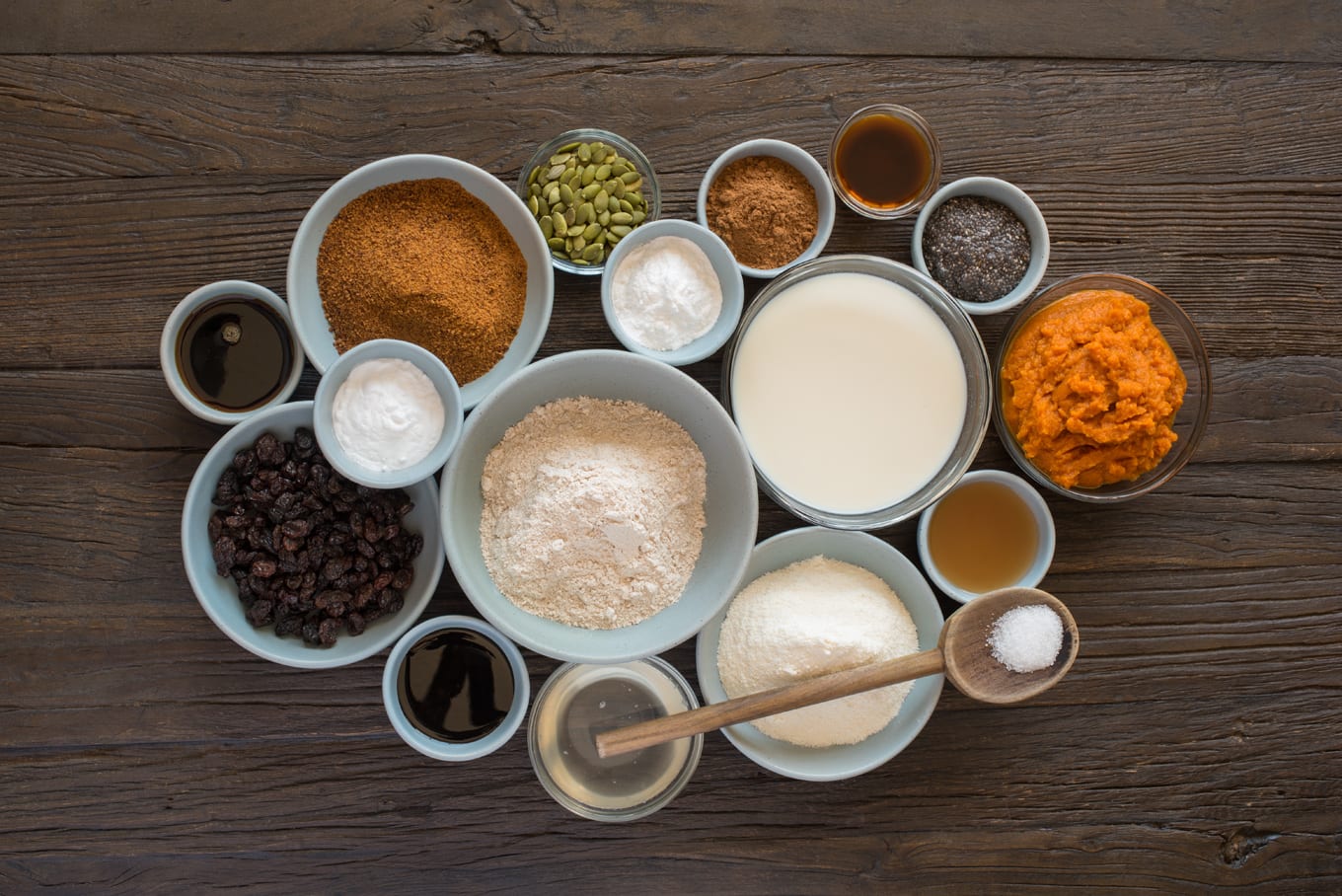 What about the Sugar?
We use an unrefined organic muscovado brown sugar in these pumpkin spice muffins. Traditional methods are used to prepare this sugar in small batches.  Most commercial brown sugars on the market are actually refined white sugar with added molasses. Note also that  producers typically bleach the sugar with bone char (from the spines of cows) during the refinement process!  As a result of the processing, there is zero nutrition in refined white sugar. You could also substitute coconut sugar here if you prefer.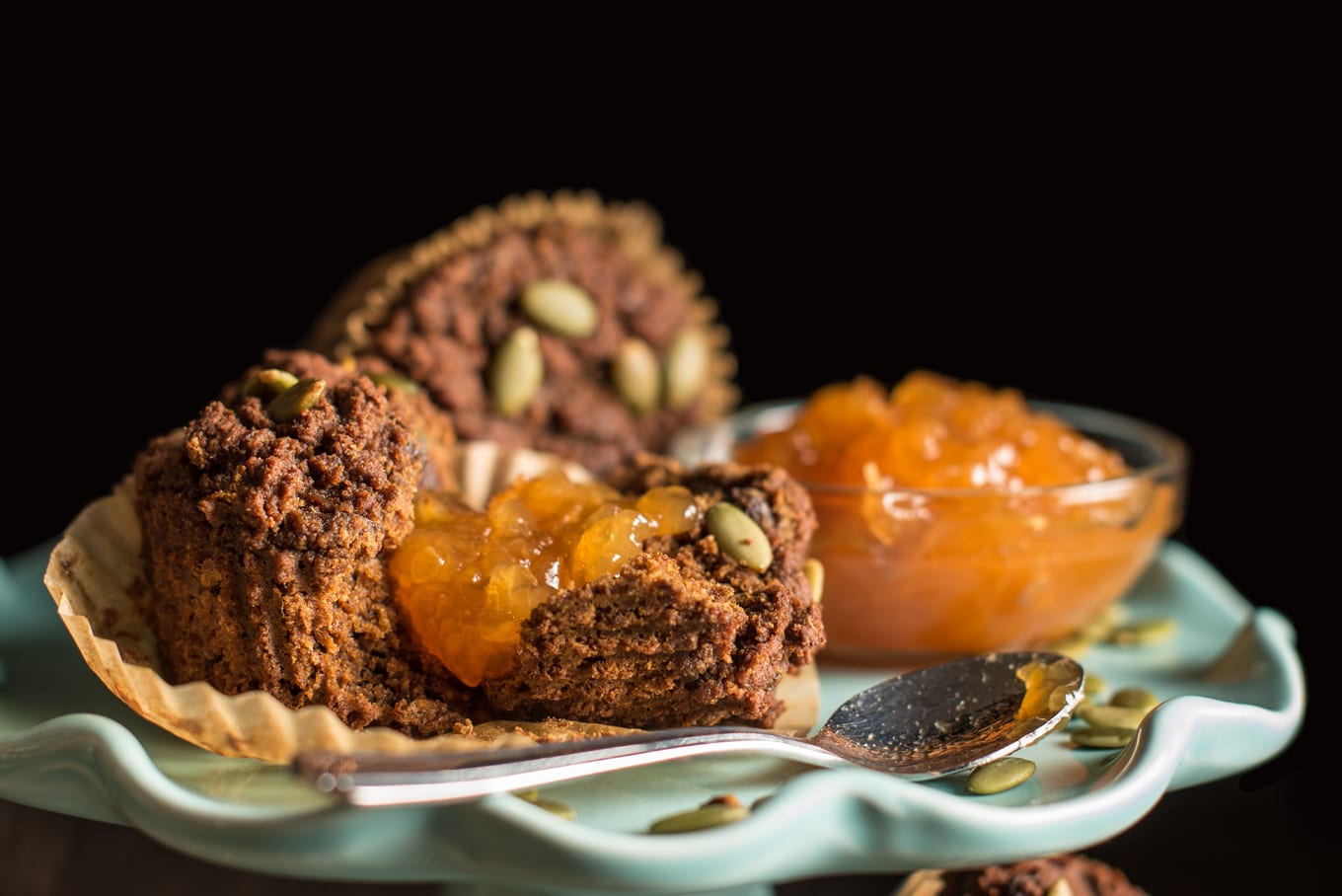 Nutrition abounds in these pumpkin spice muffins, with pumpkin, molasses, cinnamon, raisins and pumpkin seeds. If you have a well-stocked plant-based pantry, you will have most of these ingredients on hand. See our blog on Plant Based Pantry Staples if you would like to see what's in our pantry. Enjoy these muffins guilt free because they are nutritious and delicious! Try out these Oatmeal Cranberry Muffins or these Blueberry Oatmeal Muffins for some gluten-free, but just as tasty, options.
If you make these muffins, we'd love to have your feedback! Leave a comment and a rating and don't forget to tag us @plantedandpicked on Instagram and hashtag it  #plantedandpicked . Make it delicious and healthy!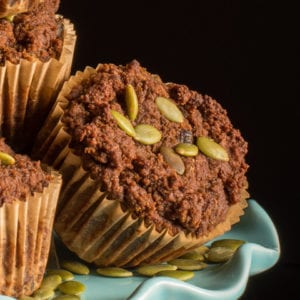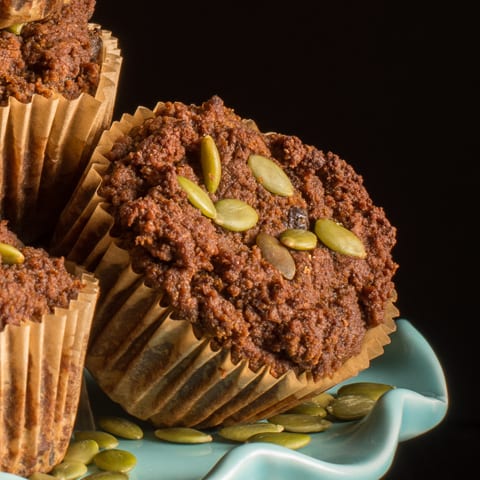 Ingredients
Muffin Ingredients
1

cup

spelt flour

1/2

cup

coconut flour

1

tsp

baking soda

2

tsp

baking powder

1/2

tsp

sea salt

2

tbsp

prepared pumpkin spice blend (or recipe below)

1/2

cup

unrefined brown sugar

1/4

cup

maple syrup

3

tbsp

molassas (unsulfered)

1/4

cup

coconut oil melted

1

chia 'egg' (1 tbsp chia seeds mixed with 3 tbsp water for each 'egg')

1

cup

canned pumpkin (unsweetened)

1

tsp

vanilla

3/4

cup

plant based milk

1

tbsp

apple cider vinegar

1

cup

raisins

pumpkin seeds for the top (optional)
Pumpkin Spice Blend
3

tbsp

ground cinnamon

2

tsp

ground ginger

2

tsp

ground nutmeg

1

tsp

ground allspice
Instructions
Preheat the oven to 400°F. Fill a 12 cup muffin tin (for the amount of mix made from the original recipe) with liners or grease with coconut oil. Set aside. Combine the chia seeds and water (1 tbsp of chia seeds and 3 tbsp water as per original recipe) in a small bowl and set aside for at least 5 minutes. Combine plant based milk and apple cider vinegar in a bowl or measuring cup and set aside for at least 5 minutes.

In a large bowl, mix the flours, baking soda, baking powder, sea salt and pumpkin spice blend. For the pumpkin spice blend, you can purchase one or make your own using the ingredients shown for the blend above. The nice thing about making your own is that you can omit any spices that you don't like or adjust quantities depending on which flavours you prefer.

In a separate bowl, mix the brown sugar, maple syrup, molassas, coconut oil, canned pumpkin and vanilla until combined. Add chia 'egg' and mix. 

Pour pumpkin mixture into flour mixture and add the plant based milk which should have curdled to become 'buttermilk'. Add the raisins and stir mixture to combine.

Add pumpkin mixture evenly to muffin cups. Using an ice cream scoop with spring helps to measure out the right amount for each cup and makes it easy to get the batter out. Top with pumpkin seeds if desired, pressing them slightly into the batter so that they don't fall off after baking. Bake for 20 minutes. Let muffins cool for about 5 minutes before removing them from the muffin tin and cooling them on a wire rack.