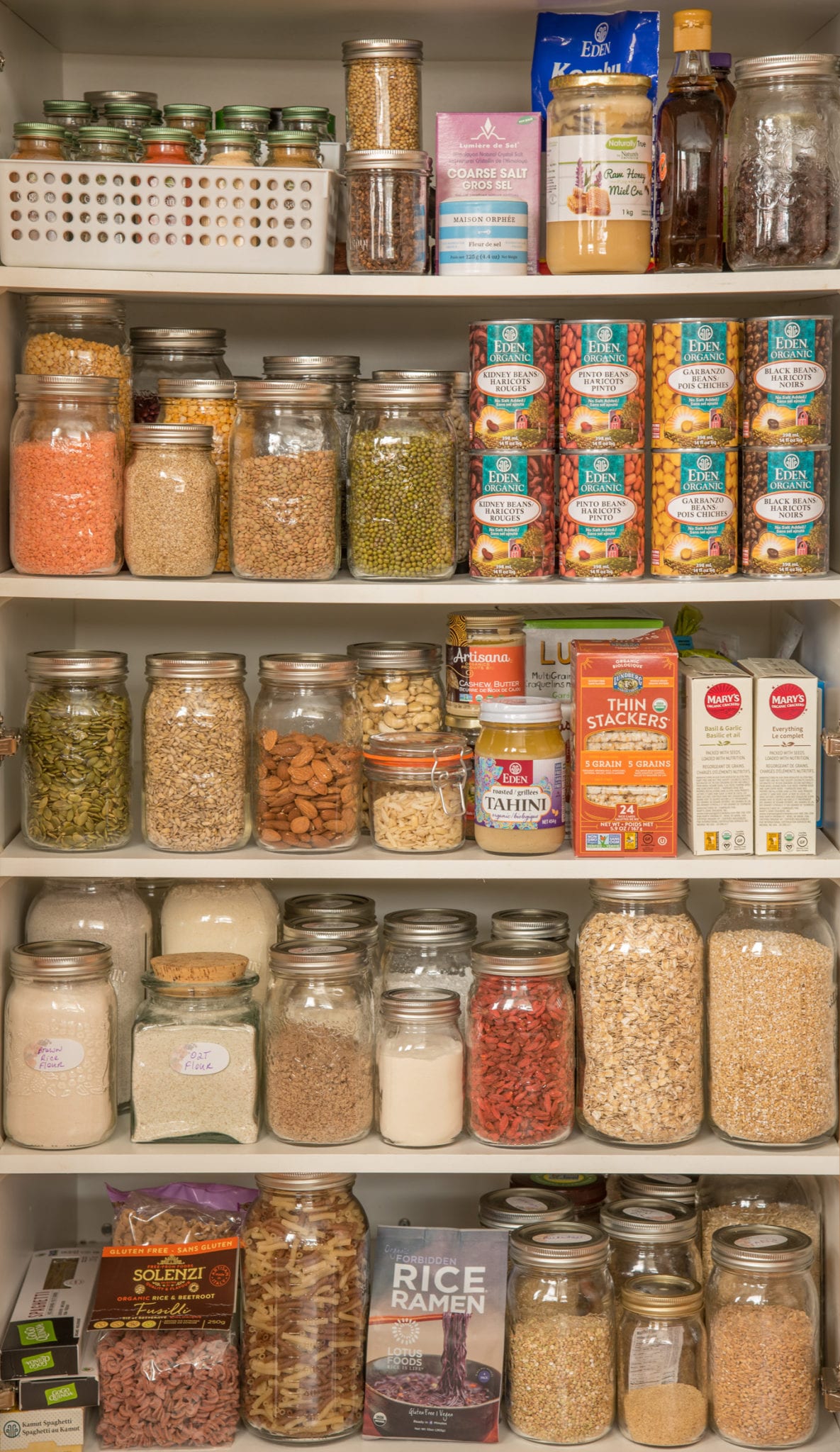 Stocking a Plant Based Pantry
Welcome to our pantry and all of the plant-based pantry staples within! When you start eating more plant-based foods and cooking more whole food plant-based recipes, you inevitably start to see ingredients that you may not have heard of or used before, such as tamari, coconut aminos, raw cacao powder and apple cider vinegar. When I first started progressing towards a plant-based diet, it took a while to stock my pantry and I started by slowly replacing ingredients with upgraded ingredients like tamari and Bragg's liquid aminos instead of soy sauce (with ingredients such as genetically modified soy, sodium benzoate and caramel colour).
Quality Ingredients . . .
When shifting to this lifestyle, it is also important to start looking at the quality of the ingredients that you are using and, as much as possible, move towards organic, GMO-free and free of preservatives and chemicals. The cleaner your diet, the better you will feel and, hopefully, the healthier you will be.
The Plant Based Pantry Staples Behind our Cupboard Doors
After a number of years of cooking with more whole foods, our pantry is bursting at the seams because we have gradually accumulated many, many ingredients and we do a lot of cooking at home. We dream of having a huge pantry with pull-out shelves and an open wall shelf where we can line our mason jars. Instead, we find ourselves often on hands and knees digging into the back of the cupboard . . . luckily, we know exactly where everything is. Don't be intimidated. You can start smaller and slowly start by replacing items with healthier alternatives or add an extra item or two to your grocery list when you want to try a new recipe.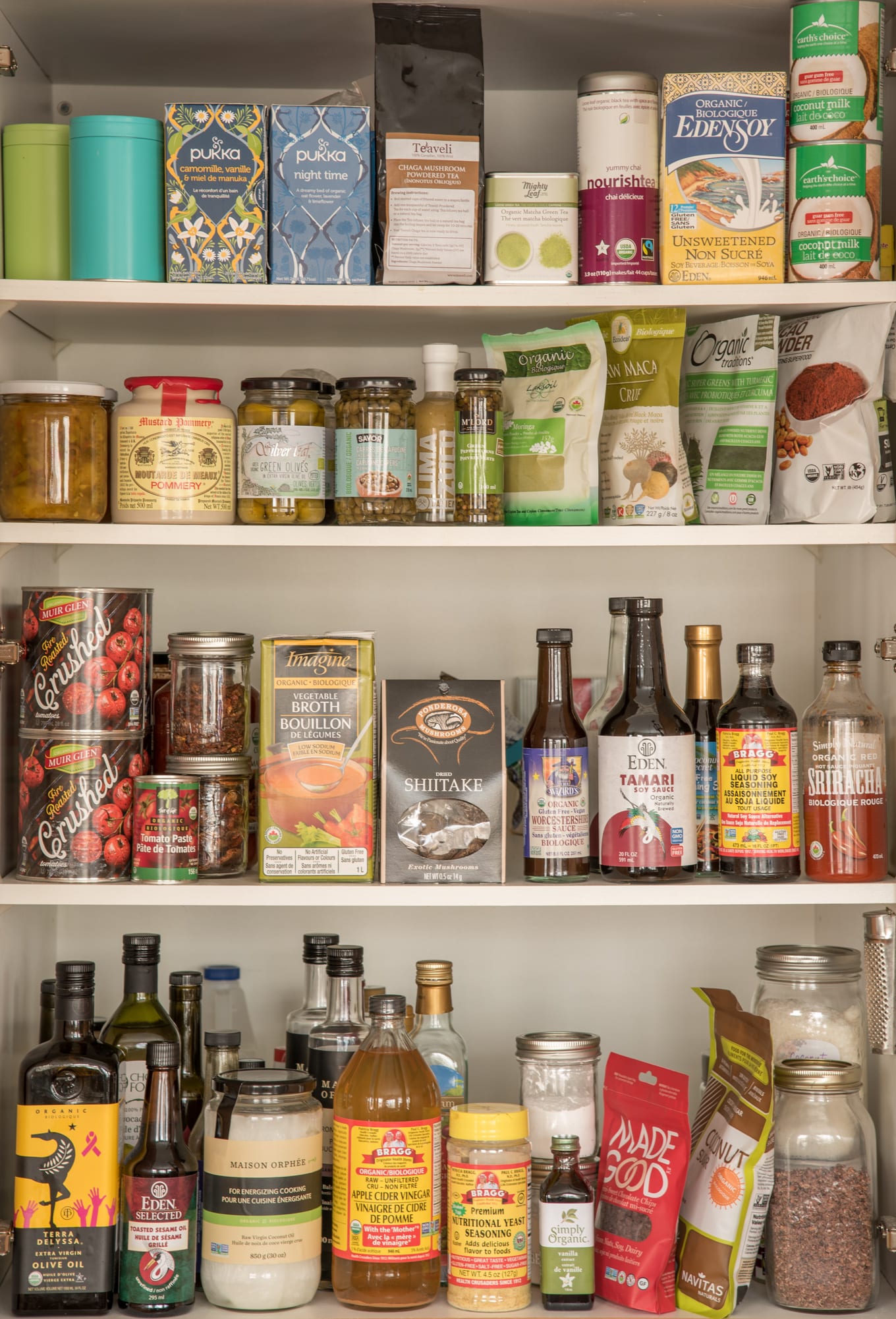 Other Considerations
We have a combination of whole and gluten-free grains because I have a gluten sensitivity and, therefore, try to avoid gluten if I can.  Too much gluten, especially from hybradized wheat, can be hard for some people's digestive systems. We also try to choose canned foods that come in BPA-free cans or prefer to buy in bottles if available (e.g. tomato sauce). We keep some nuts and seeds in the pantry because we store small quantities and go through them quickly. If you are going to have them for a few months, you can store them in the refrigerator to keep them fresh or even in the freezer for over 6 months. Dried beans should be used within a few months. If they are older, the beans may not soften up enough during cooking. We also try to  buy sprouted flours and grains which are easier to digest.
Some of My Recommendations for Plant Based Pantry Staples
In addition to giving you a peak inside our pantry, we have listed below some of the must-haves in our pantry. These are shown for ten categories below.
Whole Grains and Sprouted Flours
Quinoa
Brown rice
Spelt flour
Gluten-free flour blend (such as Bob's Red Mill or you can make your own)
Oat, coconut, almond and buckwheat flours
Oats, such as steel-cut or long-cooking rolled oats
Whole grain crackers, such as Mary's crackers or raw crackers
Whole grain pastas and gluten-free pasta (we like the GoGo Quinoa brand)
Lots of Canned and Dried Beans and Legumes!
Kidney, Navy, Black and Pinto beans
Chickpeas and yellow split peas
Green and red lentils
Organic prepared baked beans (for a quick lunch or breakfast)
Nuts and Seeds

Almonds, cashews and walnuts

Sunflower, sesame and pumpkin seeds
Chia, ground flax and hemp seeds (we keep these stored in the refrigerator because this maintains freshness)
Nut butters like Almond and Sunflower, Tahini
Seasonings, Condiments and Vinegars
Tamari (gluten-free) and Bragg's liquid aminos
Vegan Worcestershire sauce
Coconut aminos
Siracha sauce (if you like a little heat)
Sun-dried tomatoes
Organic Kalamata olives
Balsamic, red wine and apple cider vinegars
Superfoods
Oils
(Look for cold-pressed and expeller pressed oils because these oils are not chemically treated)
Extra virgin olive oil and avocado oil
Unrefined extra virgin coconut oil
Toasted sesame oil
Cold-pressed flax oil (keep this in the refrigerator because this will slow down the process of going rancid)
Seaweeds . . . yes, Seaweeds
Kombu and Arame
Nori sheets
Agar Agar
Miscellaneous
BPA free Canned and bottled tomatoes (crushed, diced and whole)
Tomato paste
Vegetable broth
Coconut milk
Nutritional yeast (Good source of B12)
Dried mushrooms
Variety of teas, such as green, camomile, peppermint and dandelion
Dried Herbs and Spices
We use a LOT of herbs and spices in our recipes because of their antioxidant benefits and, of course, for their flavours! Spices lose there flavour intensity after about 6 months. Therefore, you should buy them in small quantities so that you will use them within that period of time.
Basil
Bay leaves
Black pepper
Black salt (Kala Namak)
Chili powder
Cinnamon
Coriander
Crushed chili flakes
Cumin
Curry powder
Garam masala
Nutmeg (whole)
Oregano
Paprika (sweet and smoked)
Garlic powder
Thyme leaves
Turmeric
Baking
Arrowroot starch (as a thickener instead of corn starch)
Baking powder
Baking soda
Unsweetened coconut
Cocoa powder
Brown rice syrup
Maple syrup
Medjool dates
Molasses
Coconut sugar
Brown sugar
Raw honey (Omit if vegan)
Dried fruit, such as raisins, unsulfured apricots
Vanilla extract
Dairy free dark chocolate (chocolate chips and bars)