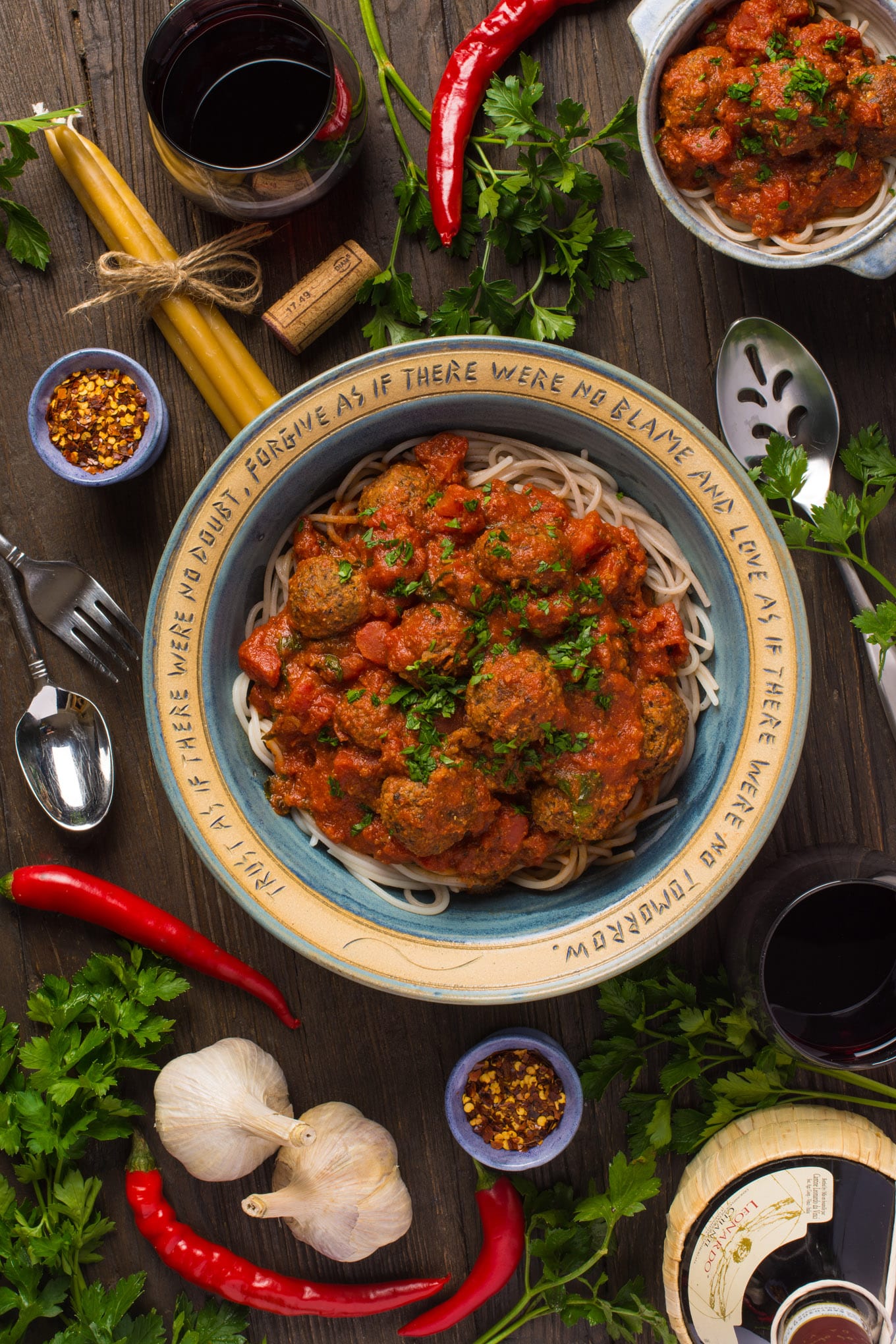 These Italian style lentil meatballs pair well with our simple marinara sauce. You can eat them as an appetizer or on top your favourite pasta as a main course.  You could even warm them up and dip them in a savoury sauce as a snack because they are that good.
Texture, Flavour and Nutrition
We have made lentil meatballs using a number of different ingredients to find a combination that results in a texture that yields slightly to the bite without being too 'mushy' or too dry. We found that the oats contribute to a good balance in this regard while having the added benefit of being gluten-free. While these Italian style lentil meatballs include oregano and basil, you could change the spice combination to suit other flavours. There are so many healthy ingredients in this recipe with lentils, vegetables, oats and herbs. Feel free to use the smaller French green lentils in lieu of the regular ones shown here. If doing so, reduce the cooking time slightly as the smaller lentils will take less time to reach tender.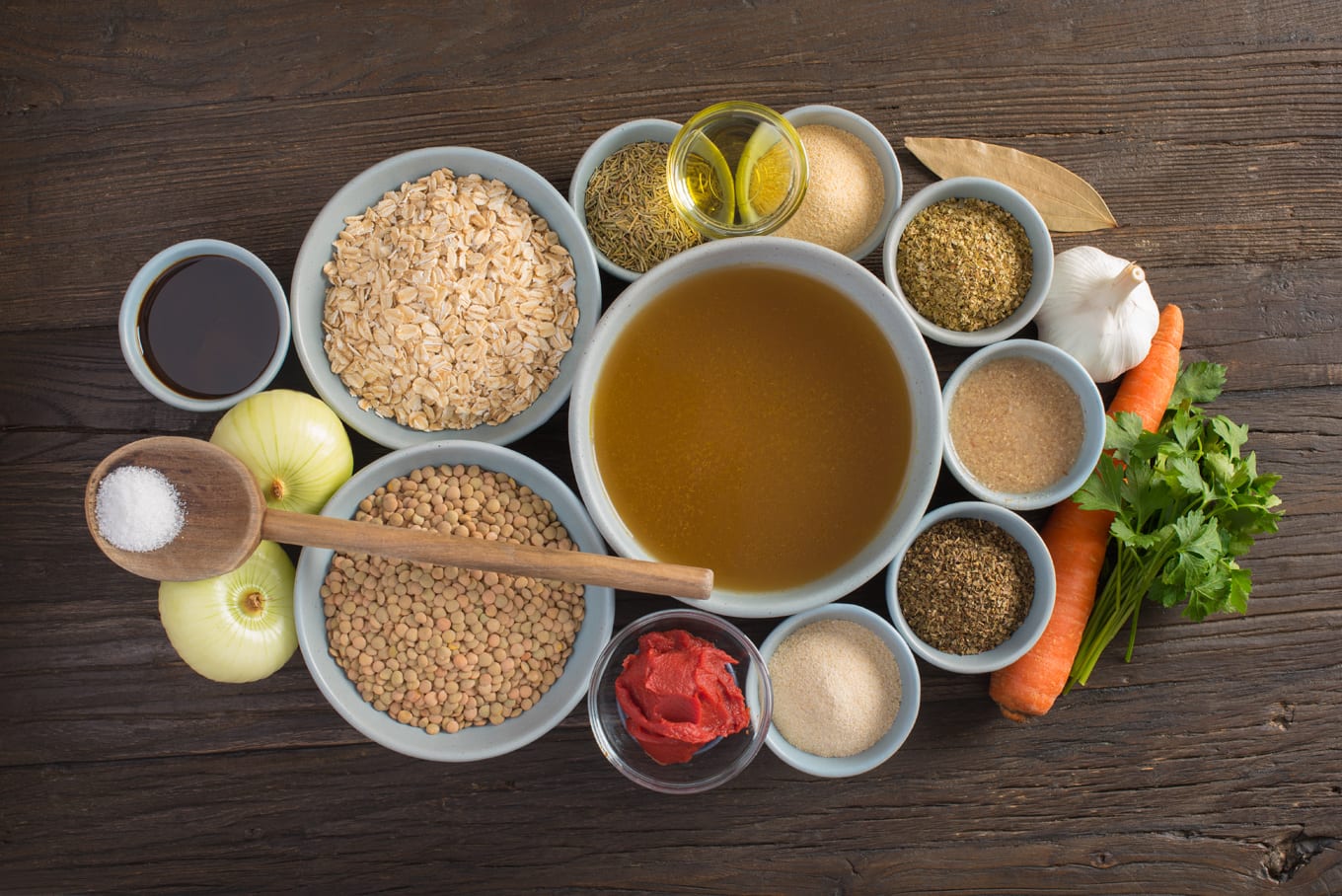 Even the Kids Like these Italian Style Lentil Meatballs
We enjoy these Italian style lentil meatballs with our Simple Weeknight Marinara Sauce over spaghetti or with our Vegan Mushroom Cream Sauce with Truffle Oil. They add protein for a balanced meal and the kids come to the table quickly for this traditional favourite prepared in a less traditional manner. We recommend that you don't heat the lentil balls in the sauce or they may break down. It is better to cook or heat them in the oven and then top them with sauce just before serving.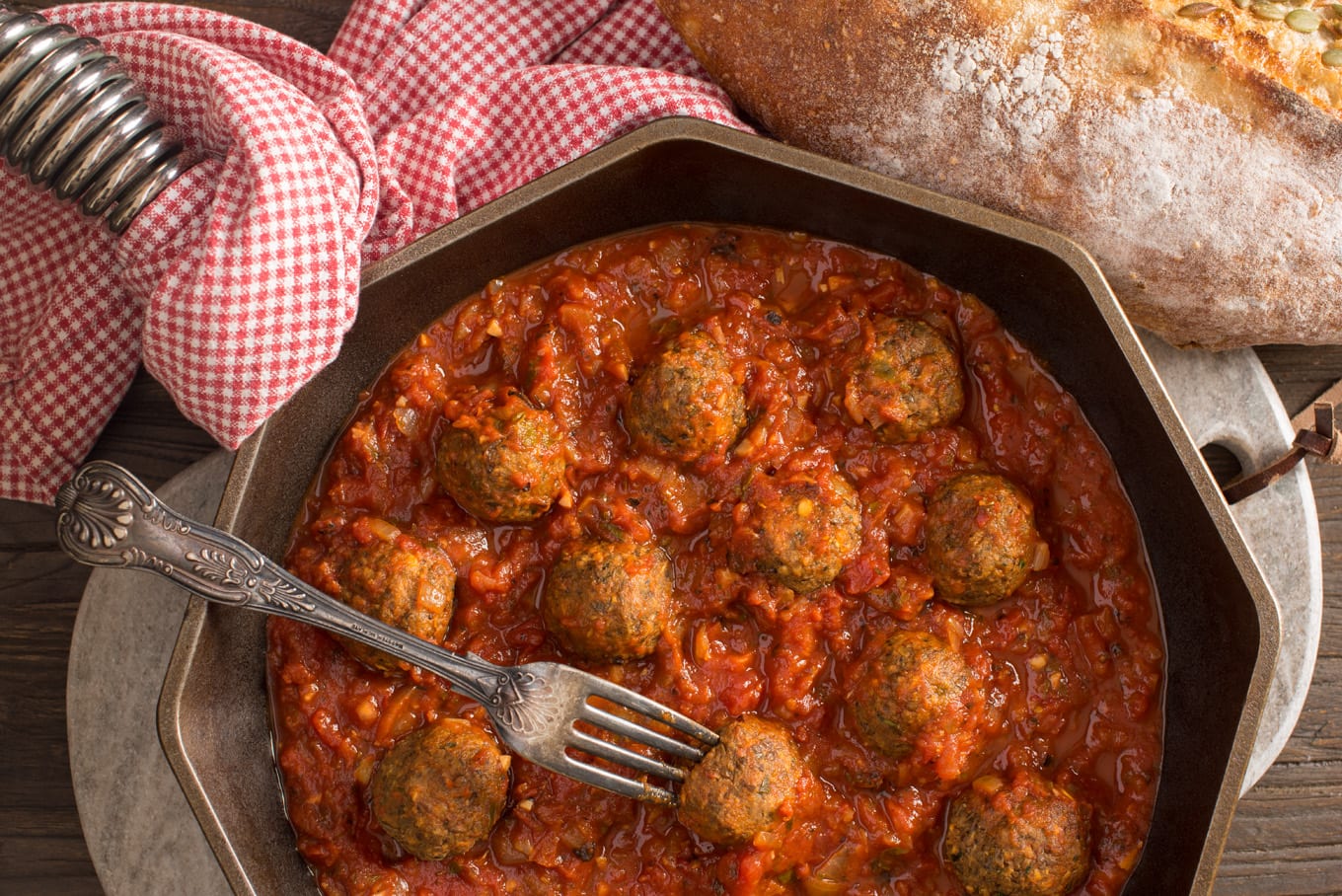 Let us know how these Italian style lentil meatballs turn out for you and how you served them! We'd love to hear your ideas. Leave a comment and a rating and don't forget to tag us @plantedandpicked on Instagram and hashtag it  #plantedandpicked. Make it delicious and take time to enjoy tonight!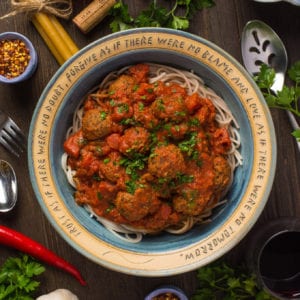 Ingredients
3/4

cup

green lentils

2

cups

vegetable broth

1

bay leaf

1/2

tsp

dried rosemary

1

tbsp

extra virgin olive oil

1/2

cup

yellow onion finely diced

1

tsp

sea salt

1/2

cup

carrot very finely diced

2

garlic cloves minced

2

tsp

dried oregano

1

tsp

dried basil

1/2

tsp

garlic powder

1/2

tsp

onion powder

1/2

cup

rolled oats (not quick cooking)

1/4

cup

parsley chopped

1.5

tbsp

tomato paste

1

tbsp

vegan Worcestershire sauce

1

flax egg
Instructions
Place lentils, bay leaf, rosemary and vegetable broth in a medium sauce pan and bring to a boil before reducing to a simmer and covering for approximately 40 minutes or until lentils are tender and broth is absorbed. Remove the bay leaf and discard and set lentils aside, uncovered.

Pre-heat oven to 375°F after lentils have been cooking for 20 to 30 minutes.

Meanwhile, prepare the flax egg using a mixture of 1 tbsp of ground flax and 3 tbsp of water for a single flax egg as per original recipe. Set aside.

Heat oil in a medium pan and sauté onion with salt on medium for 5 to 7 minutes until onion is translucent, and slightly browned.

Add carrots and garlic and continue to sauté for an additional 5 to 7 minutes until carrots are tender. If necessary, you may add a tablespoon of water at a time to prevent sticking, but we did not find this necessary in a well-seasoned cast iron pan.


Add oregano, basil, garlic powder and onion powder and continue to sauté for an additional 1 to 2 minutes until fragrant. Remove from heat.

Place the rolled oats in a food processor and pulse for about 30 seconds, being sure to maintain some texture to the oats. While a food processor is preferred, you can alternatively use a blender in the same manner.

Place the lentil and vegetable mixtures in the food processor with the oats, chopped parsley, Worcestershire sauce and tomato paste and pulse a few times until mixture is combined, but not mushy. 

Place the mixture into a large bowl and add the flax egg, mixing to combine.

Use a soup spoon, collect enough mixture to roll into balls approximately 1 inch in diameter or 30g each. This size should yield about 24 lentil balls.

Bake on a wire cooling rack set atop a baking sheet (for even heating) at 375°F for 20 minutes.