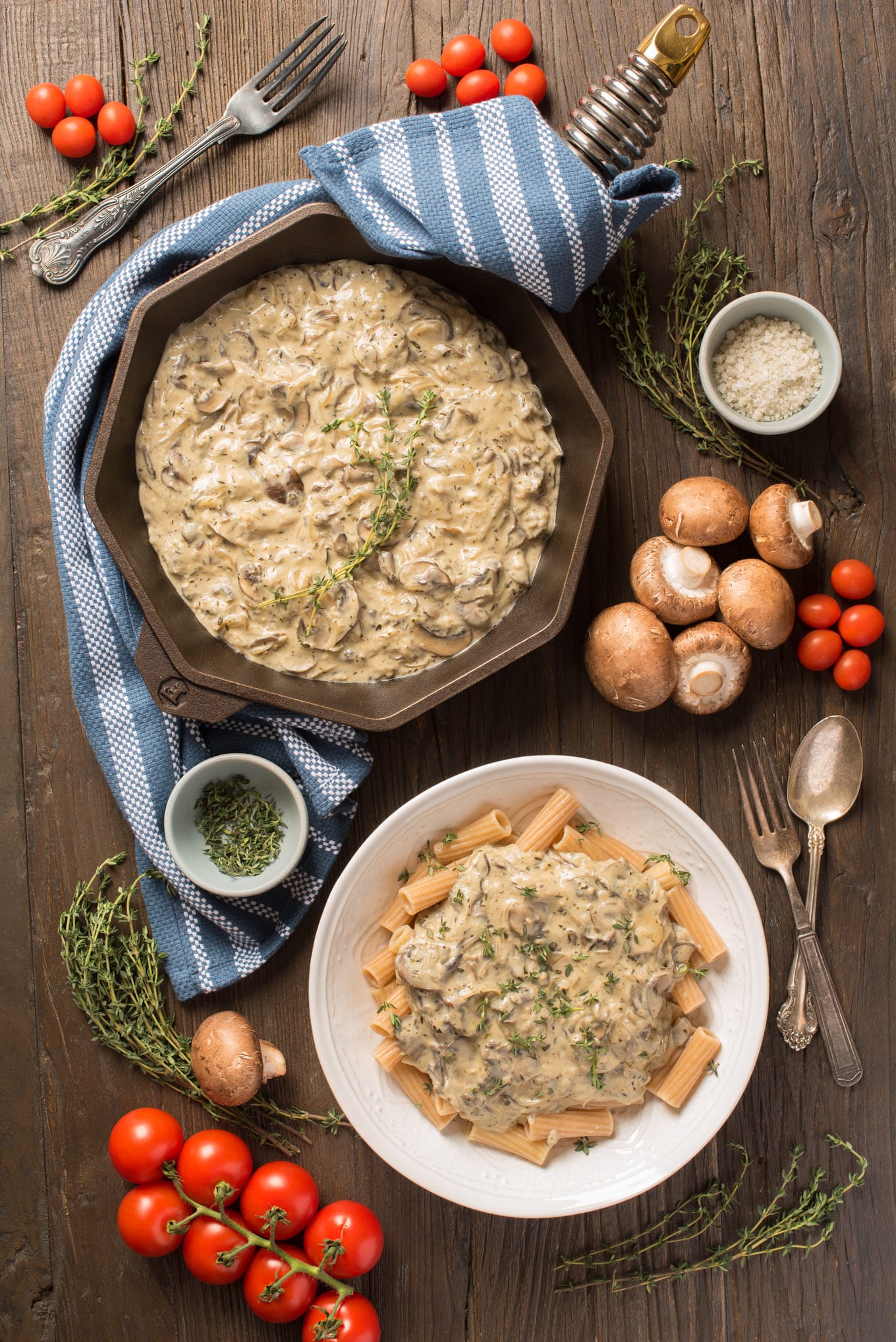 This vegan mushroom cream sauce recipe falls into our indulgent category. It's creamy and full of that deep earthy flavour that can only come from mushrooms. The mushrooms are the star of this dish and are one of Dr. Joel Fuhrman's top foods for fighting cancer.

Vegan Mushroom Cream Sauce: Versatility and Simplicity
This sauce is easy to put together and really hits the spot when you're looking for something creamy and versatile. You can enjoy the sauce over pasta, tofu or a baked potato loaded with beans. It is sure to become a favourite go-to in your kitchen. With just simple ingredients that you may even have on hand (truffle oil optional), you can prepare this vegan mushroom cream sauce in a single pot to make clean-up a breeze.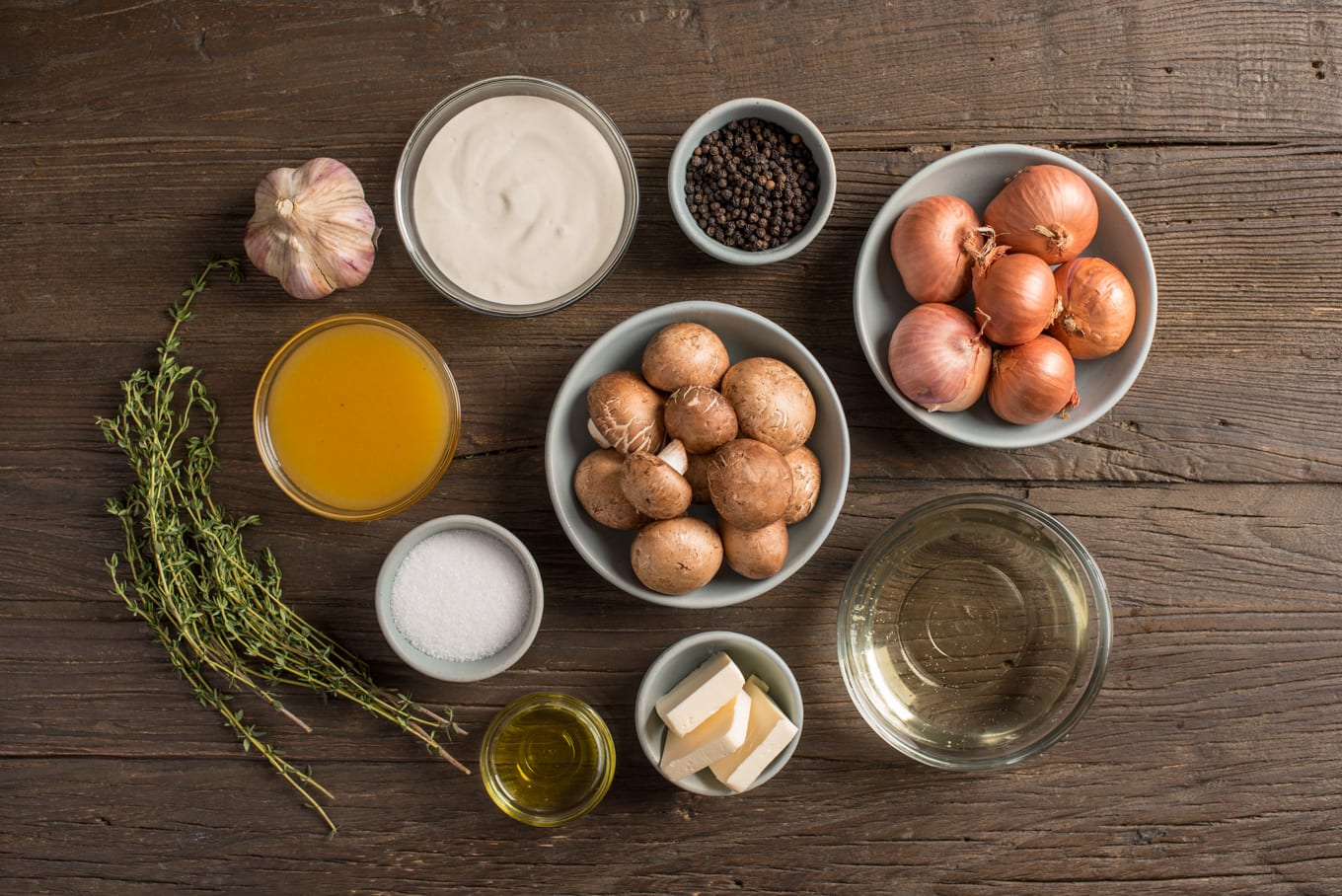 Regarding Preparation . . .
This dish replaces the traditional dairy ingredient with cashews but does use some non dairy 'butter'.  We use organic Earth Balance which is made of expeller pressed oils. We don't consider this a health food, but an indulgence and it adds more flavour to this dish. However, if you want to omit the butter, try sautéing your vegetables in a little water or vegetable broth instead.
While we prepared our vegan mushroom cream sauce in a well-seasoned cast iron pan, cooking acidic ingredients, such as tomatoes, wine or vinegar in a cast iron pan for extended periods of time can impart a metallic taste to your food if the pan is not well-seasoned. We made cranberry sauce in a less-seasoned cast iron sauce pot and discovered this the hard way!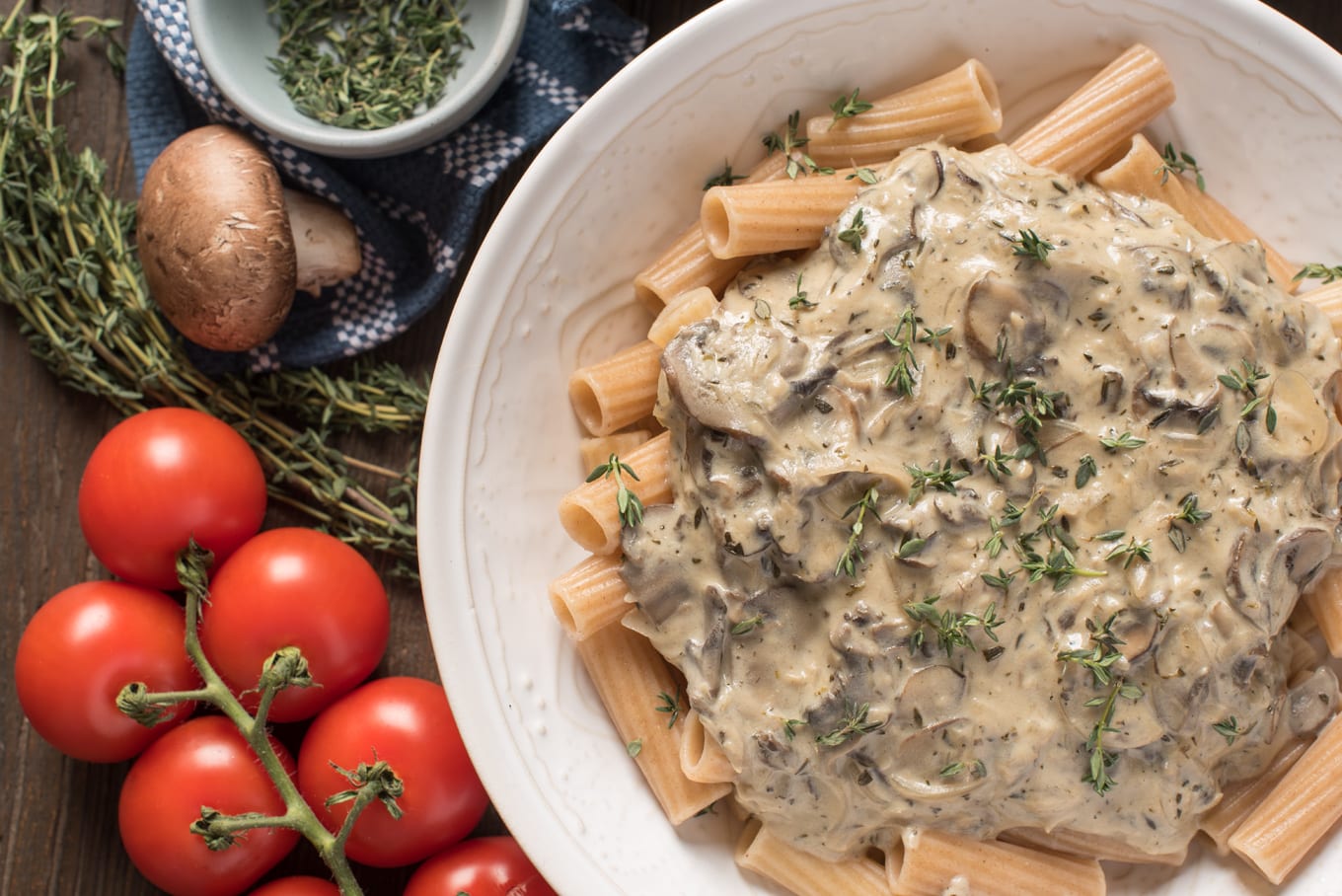 We use a dry riesling for this sauce, but you may opt for a drier white wine if prefer. While we have made the sauce with dried thyme in a pinch (using one third the amount stated for the fresh variety), using fresh definitely imparts a brighter flavour. We just love the smell of the mushrooms cooking and we hope you get to enjoy this tonight. On another night, try out our Simple Weeknight Marinara Sauce or our One Pot Lentil Bolognese on your favourite pasta.
Let us know if you do try out this vegan mushroom cream sauce recipe and if you think it will be a comfort food for you. Leave a comment and a rating and don't forget to tag us @plantedandpicked on Instagram and hashtag it  #plantedandpicked . Pull up a chair and share your ideas!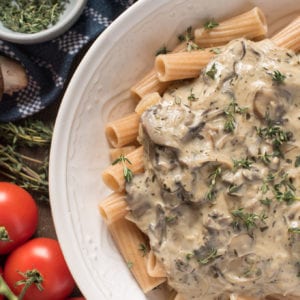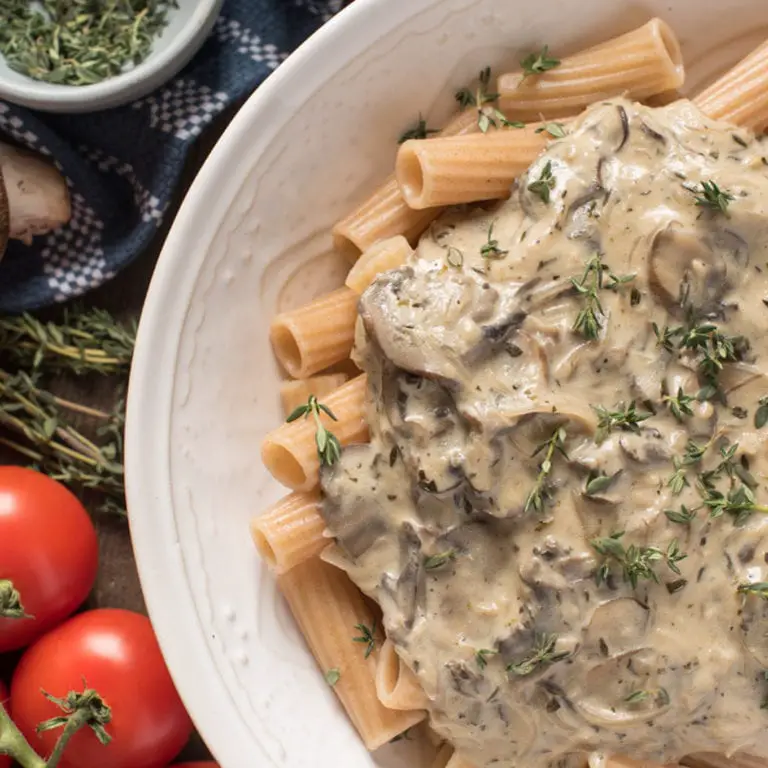 Ingredients
Mushroom Sauce
2

tbsp

non-dairy butter

1

cup

sliced shallots

4

large cloves garlic minced

1

tsp

sea salt

1/4

tsp

freshly ground black pepper

3

tbsp

fresh thyme leaves

1

lb

cremini mushrooms sliced thinly

2

cup

riesling wine

1

tbsp

truffle oil

3/4

cup

cashew cream

1/4

cup

vegetable broth
Cashew Cream
1

cup

raw cashews

2/3

cup

unsweetened almond milk
Instructions
Mushroom Sauce
Sauté shallots and garlic in vegan butter with salt and pepper over medium heat until translucent, about 10 minutes, stirring periodically to prevent sticking or burning.

Remove thyme leaves from stems and add to shallots. Continue to sauté for 5 minutes longer.

Add mushrooms to pan and stir to mix with onions. Sauté mushroom mixture over medium heat until browned, about 10 minutes.

Add wine to pan and bring to a boil over high heat before reducing to medium heat and reducing liquid to about one half, about 20 minutes.

Add truffle oil and cashew cream, stirring to combine.

Add vegetable stock only if necessary to achieve desired consistency.

Adjust seasoning to taste and fold into prepared pasta.
Cashew Cream
Soak cashews in filtered water for at least 30 minutes or up to 4 hours and drain. Note that if you have a high powered blender, 30 minutes is sufficient, but that longer periods may be required for less powerful blenders.

Add cashews and almond milk to blender and blend to produce a smooth creamy consistency. Store unused portion for later use.