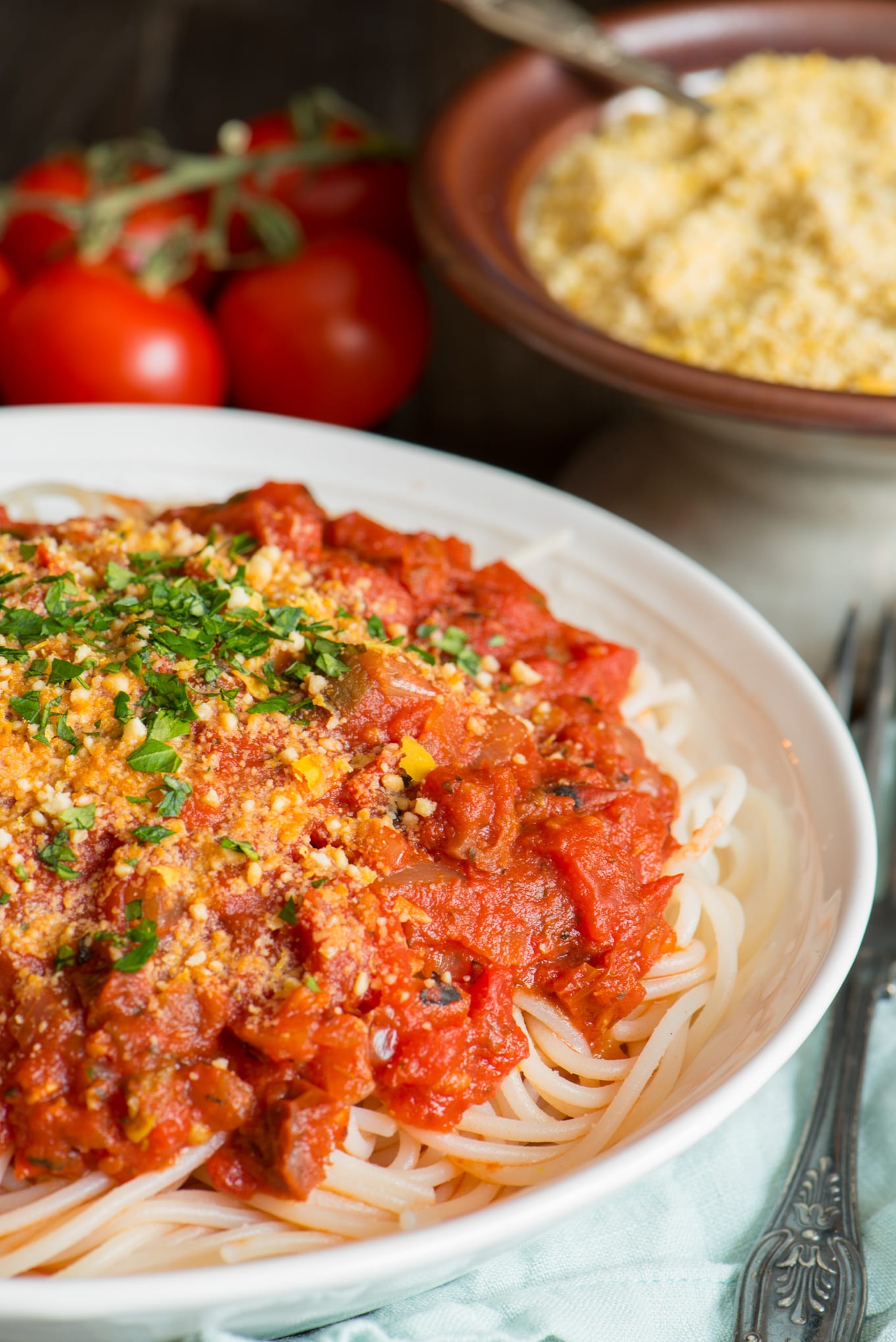 A simple great-tasting marinara sauce is perfect for a weeknight meal. You can easily make this ahead on the weekend and store it in the refrigerator. Just pull it out to have dinner on the table as quickly as you can boil water and prepare your pasta.
Why Marinara Sauce Is So Good For You
This recipe uses basic ingredients that most people typically have on hand and is antioxidant rich with tomatoes and herbs. Tomatoes are rich in lycopene which is an antioxidant in the carotenoid family. Lycopene is strongly linked to reducing cancer cells and is also heart healthy. Cooking tomatoes increases the concentration and absorption of lycopene as does the presence of a healthier fat such as olive oil. Some studies have shown that the lycopene in tomatoes is 75% more present in cooked tomatoes than raw. We add sun-dried tomatoes in addition to using canned tomato puree. The sun-dried tomatoes are a flavour booster and provide even more concentrated nutrients. This marinara sauce is a simple solution for a weeknight, but it doesn't lack nutrients.
We use gluten free spaghetti from GoGo Quinoa. GoGo Quinoa spaghetti a is a great alternative to regular pasta because it has the same texture. While there is a slightly nutty flavour, it is masked by the sauce that envelopes it.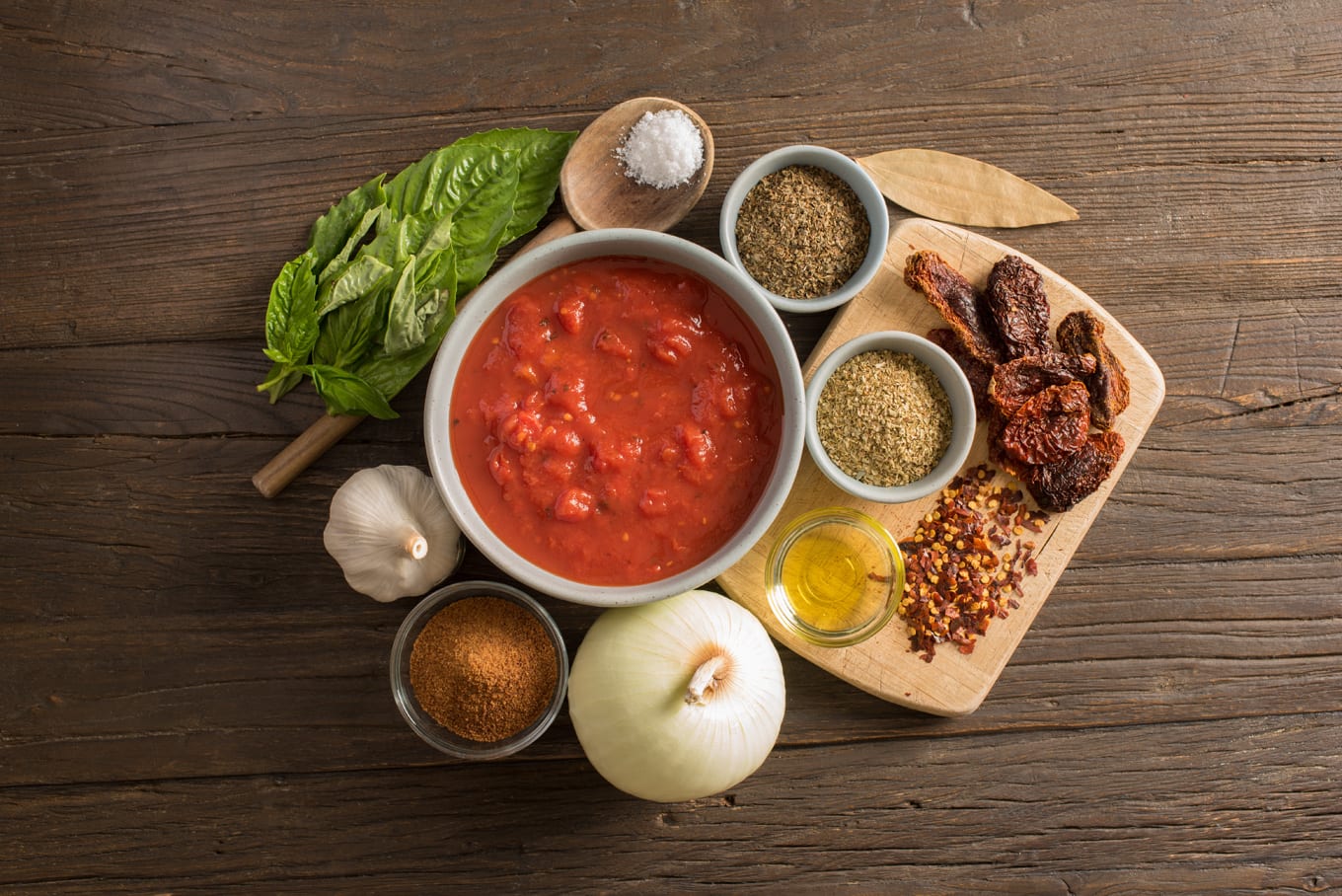 Bringing It All Together
We like to use fire roasted tomatoes because they have a richer flavour, but any tomato purée will do. You can also use diced or even plum tomatoes that you crush yourself if you like a chunkier texture. Our kids prefer a smoother marinara sauce and when we're pulling together a simple weeknight meal like this, we're happy to oblige. Adding some coconut sugar helps to balance the acidity of the tomatoes, but you can omit it if you do not want any added sugars.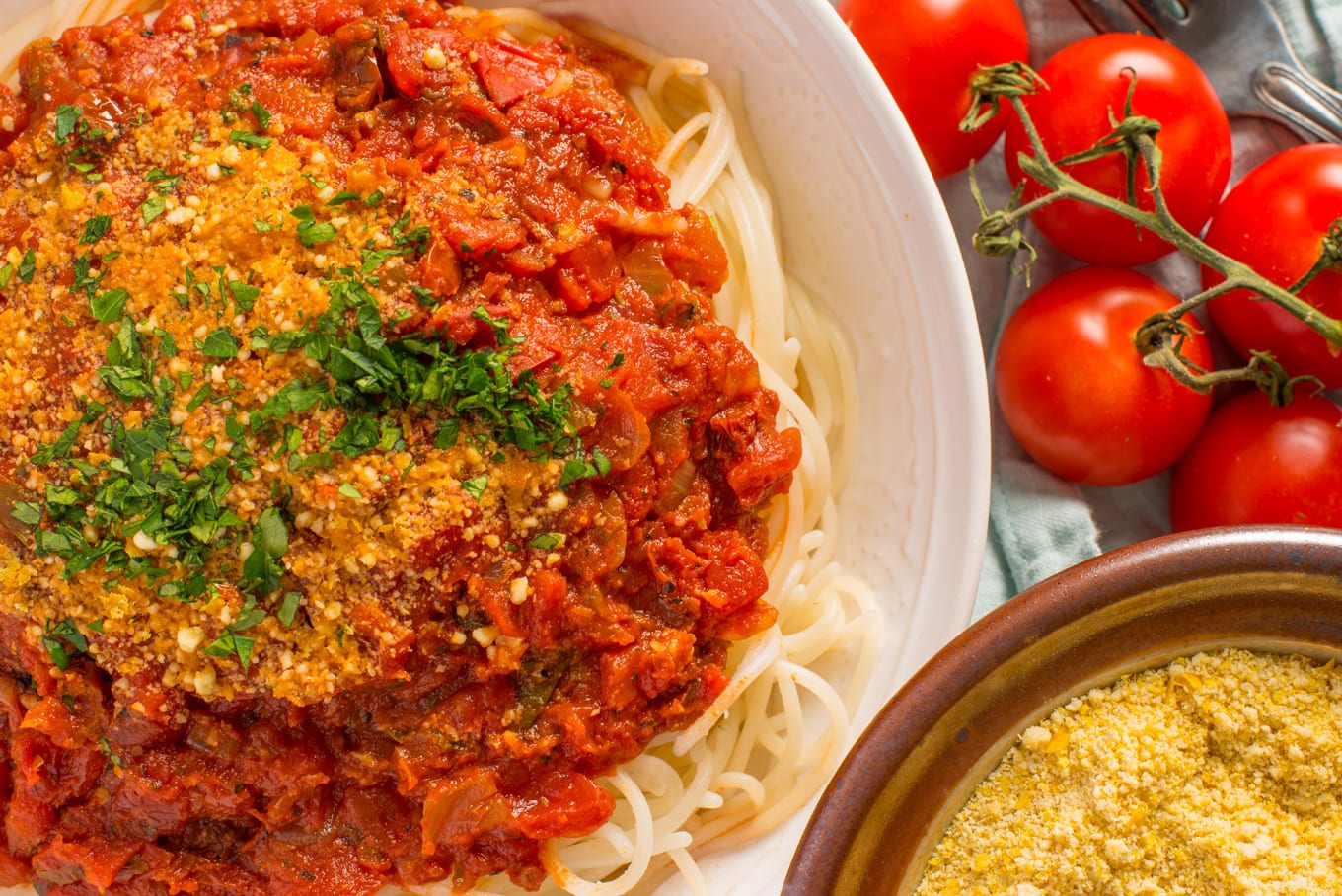 If you have more time, our meatless Italian Style Lentil Meatballs turn this simple weeknight marinara sauce into another traditional favourite for kids . . . and big kids too! Of course you can also serve this topped with our Nut-Free Vegan Parmesan Cheese. If you're looking for some more delicious pasta sauces, try our One Pot Lentil Bolognese or one of our favourites . . . Vegan Mushroom Cream Sauce with Truffle Oil.
If you try this Simple Weeknight Marinara Sauce, please share your thoughts. We love to have your feedback. Leave a comment and a rating and don't forget to tag us @plantedandpicked on Instagram and hashtag it  #plantedandpicked. Make it delicious and take time to enjoy!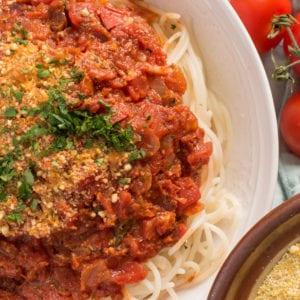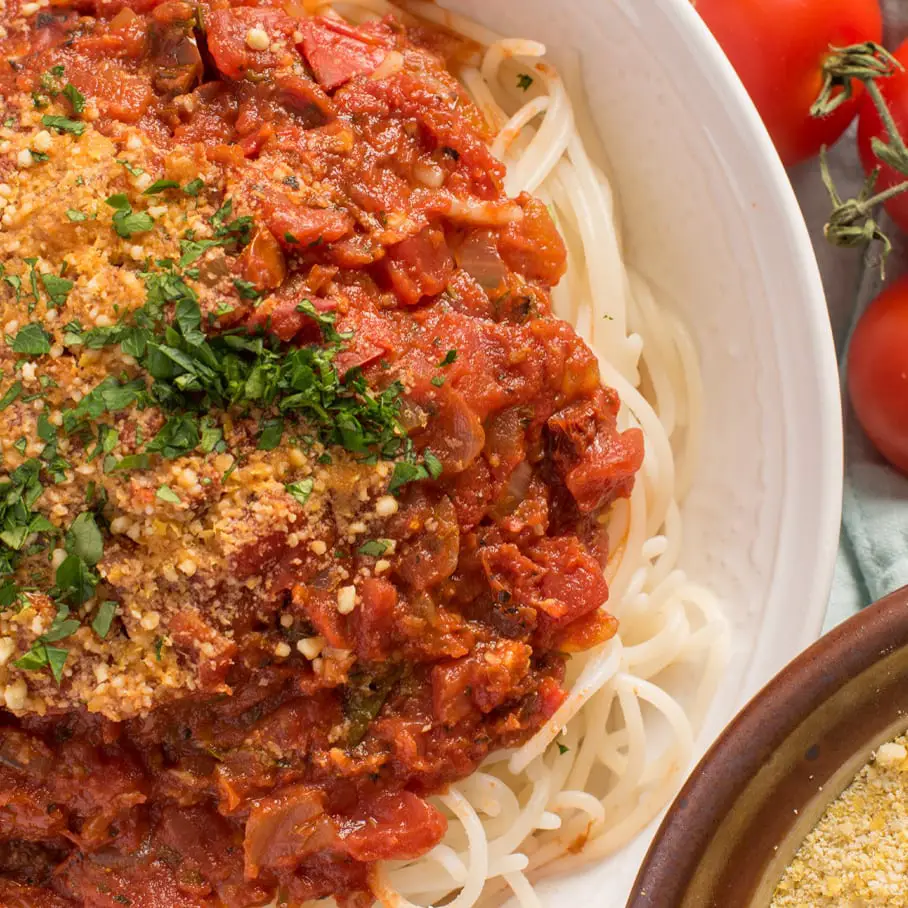 Ingredients
1

tbsp

good quality extra virgin olive oil

1

cup

spanish onion, diced

1

tsp

salt

1

pinch

red pepper flakes (optional)

2

cloves

garlic, minced

2

cans

crushed fire-roasted tomatoes (28oz cans)

1

bay leaf

2

tbsp

dried oregano

2

tsp

dried basil

5

whole sun-dried tomatoes, finely chopped

1

tbsp

coconut sugar

1/4

cup

fresh basil leaves, sliced
Instructions
Dice onion and crush garlic. Dice the sundried tomatoes. Set aside. 

Heat olive oil over medium heat.  Add onion, salt and red pepper flakes (if using) and sauté for about 5 minutes or until soft.

Add the garlic, stir and sauté for another 2 minutes. Add both the crushed and sundried tomatoes, bay leaf, dried oregano, dried basil and coconut sugar. Bring to a boil. Reduce heat, cover and simmer for 20 minutes, stirring occasionally. 

Turn off the heat, remove the bay leaf (don't forget!) and add the fresh basil to the sauce, stirring to combine.