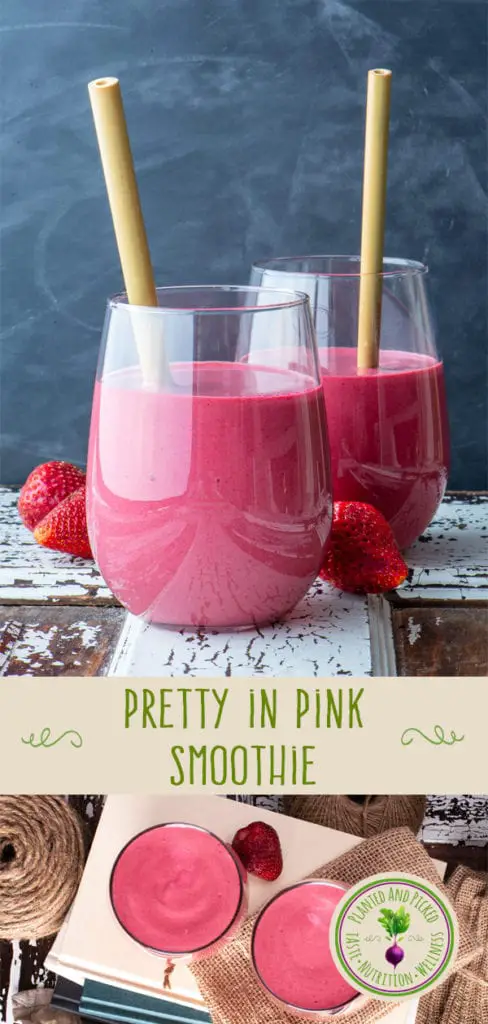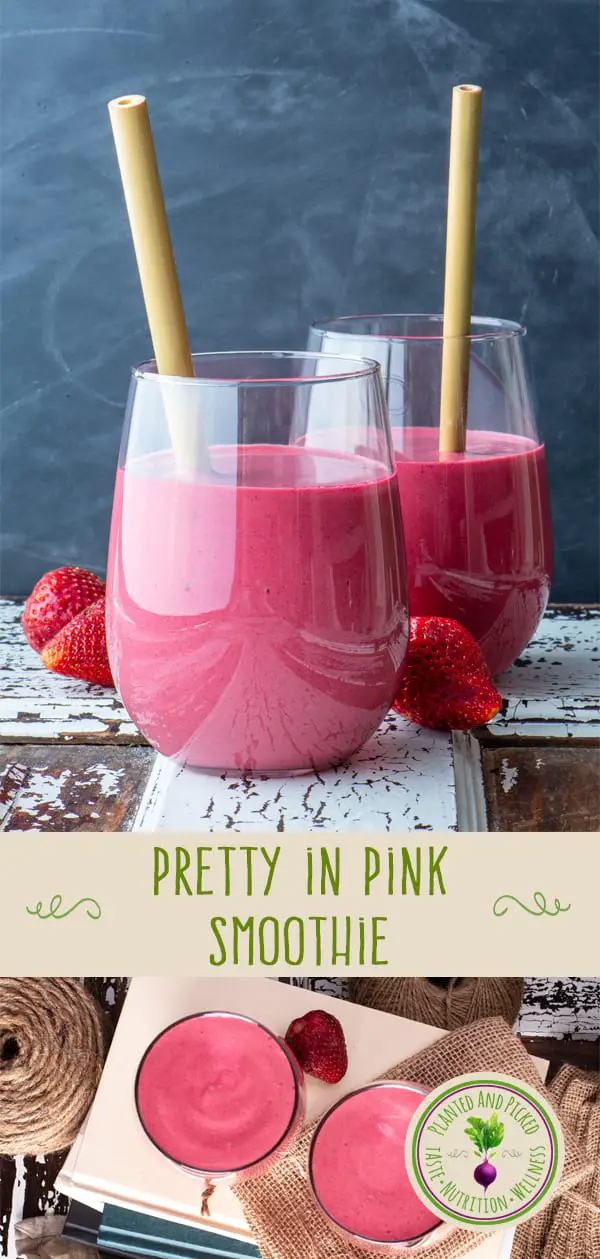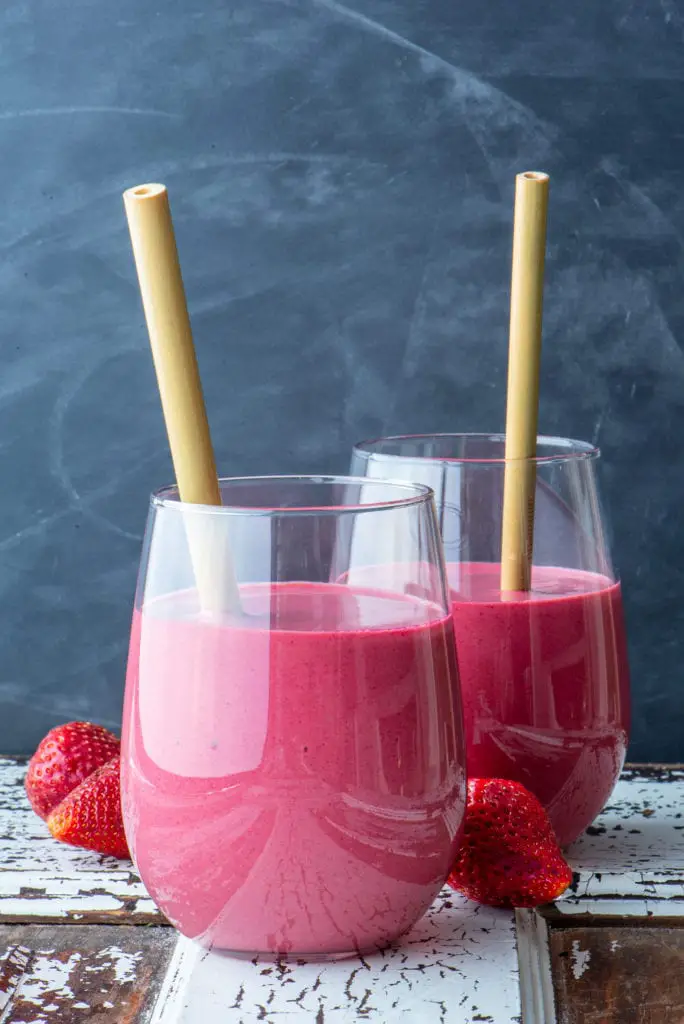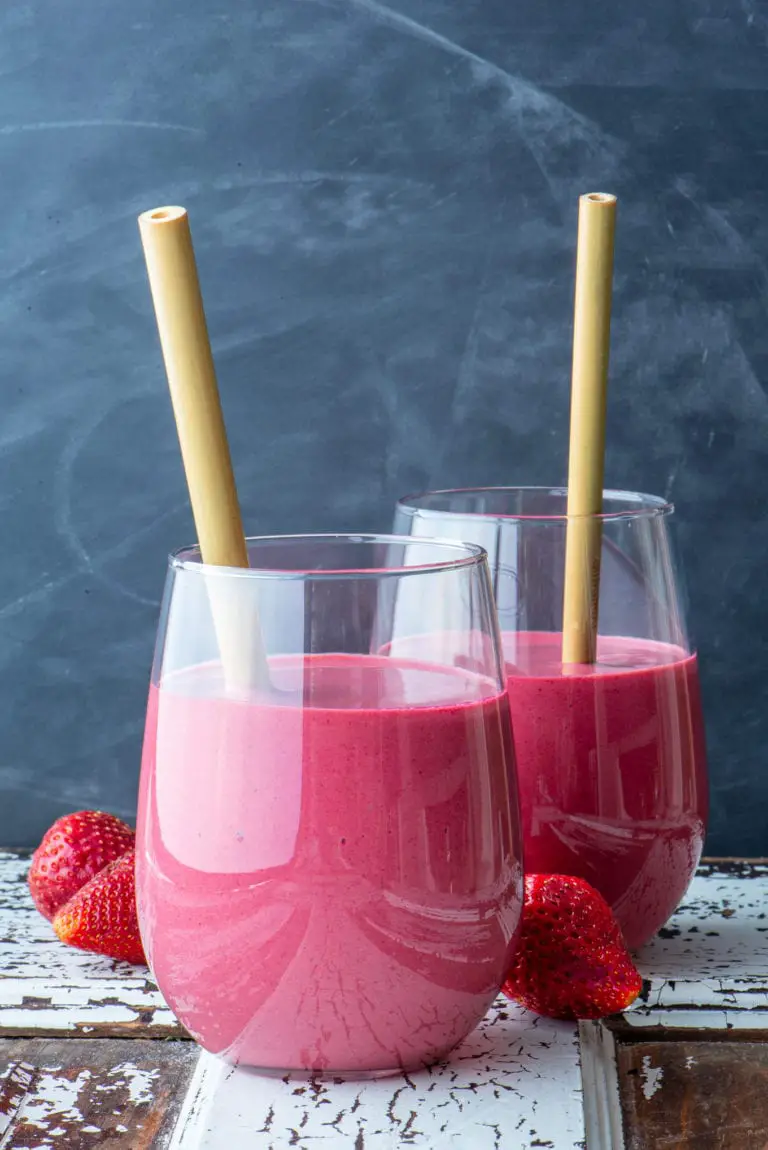 This Pretty in Pink Smoothie is a great smoothie to add to your recipe collection when you want to bump up your vitamin C and iron. We like to have this smoothie in the afternoon as a nice pick-me-up!
We have a variety of smoothies in our arsenal of plant based medicine that we use to bump up different nutrients, depending on what we need on a given day. This smoothie focuses on vitamin C and iron. We especially love this smoothie in the Fall and Winter when colds and flu's are at their peak.
This pink smoothie boasts over 100 mg of vitamin C and 5 mg of iron. To put that into perspective, the Recommended Daily Allowance (RDA) for Vitamin C is 75mg for women and 90mg for men. The RDA for iron ranges from 8 – 18 mg per day depending on gender and whether you are pre or post menopausal.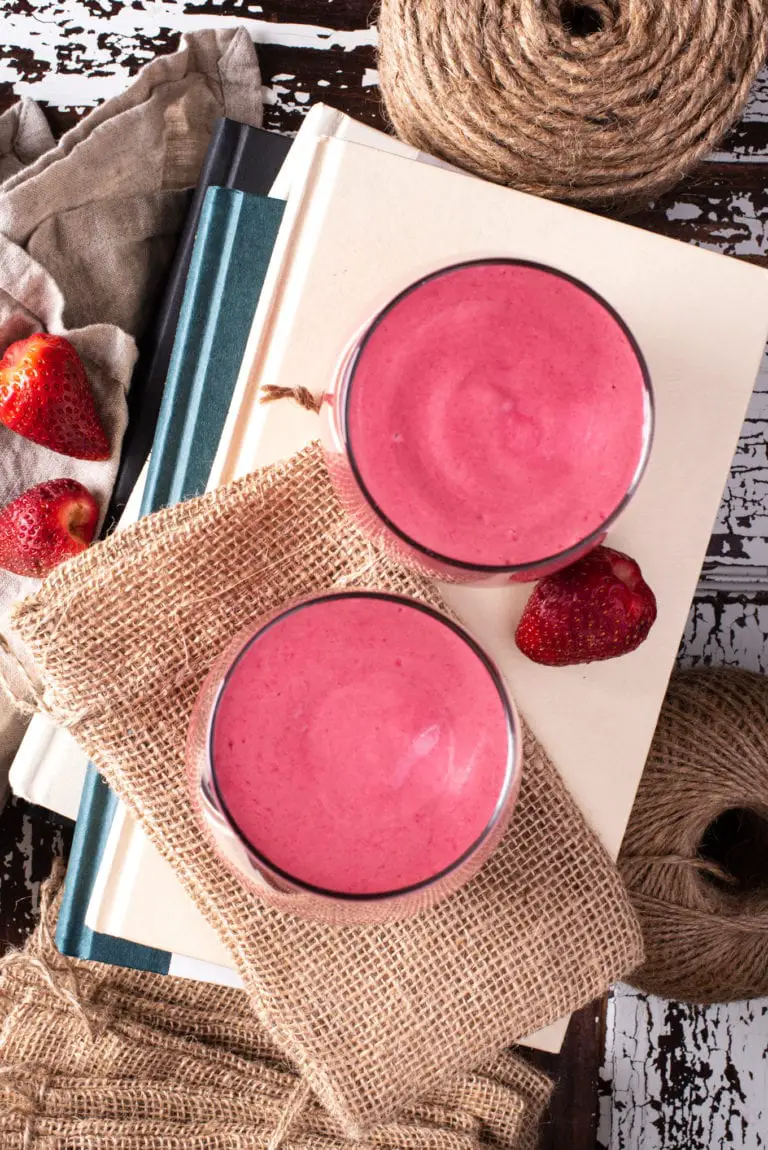 Believe it or not, oranges are not the best source of vitamin C (although it is still a good source). There are many fruits and vegetables that rank higher including bell peppers, strawberries, thyme, kale, broccoli and brussels sprouts!
The star of this Pretty in Pink Smoothie is the strawberries. Using strawberries that are local and in season are also the tastiest. Alternatively, you can use strawberries that you picked fresh and then froze. Many commercial strawberries sadly have little flavour and less nutritional benefits because they're picked before they are ripe. We try to visit a local organic strawberry farm in the summer and stock up on fresh strawberries. We freeze many of them and use them throughout the year. If that is not available to you, try to source a good fresh or frozen brand.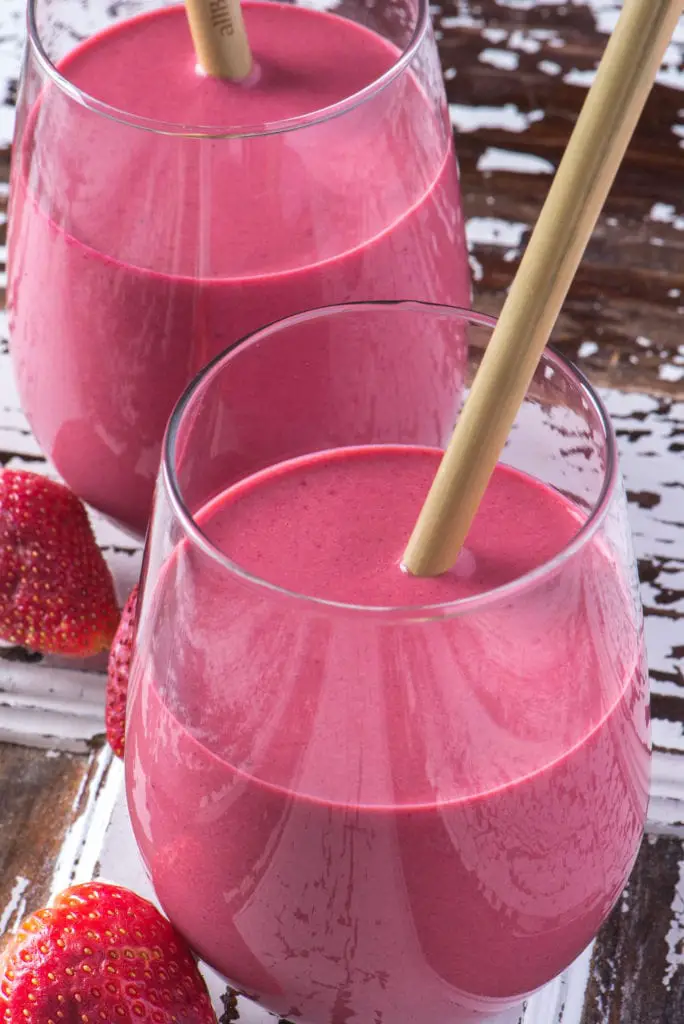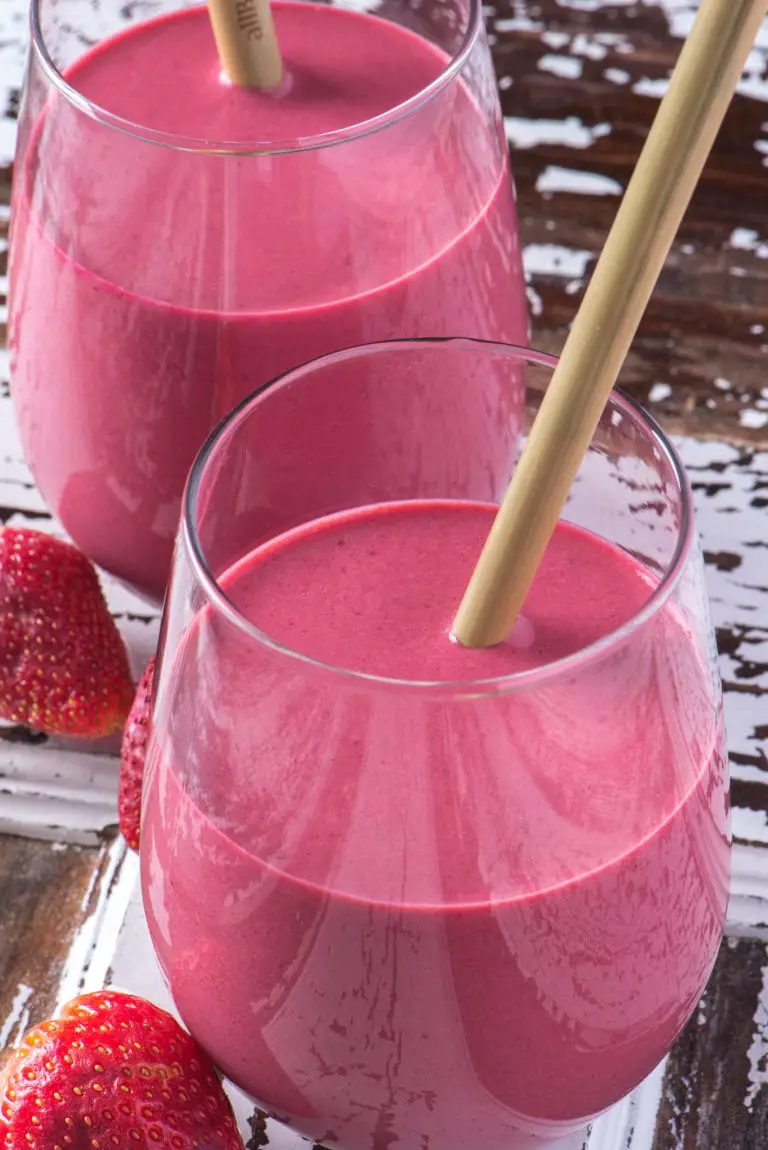 Adding herbs to your meals is a fantastic way to bump up healing properties and antioxidants. Thyme has also been used for a variety of symptoms related to colds and flu for thousands of years. Thyme has hot and drying properties which make it a great match for cold and stagnant conditions (think congestion). We add fresh thyme here for its' healing properties and additional vitamin C to boost the immune system.
This Pretty in Pink smoothie is a great-tasting vegan dose of goodness! Looking for more liquid nutrition? Try out our Post Workout Protein Smoothie, Apple Ginger Smoothie or this Vegan Super Greens Smoothie. If you're looking for a warming superfood drink, try out this Superfood Coffee.
We hope you really enjoy this Pretty in Pink Smoothie and look forward to your feedback. Leave a comment and a rating and don't forget to tag us @plantedandpicked on Instagram and hashtag it #plantedandpicked.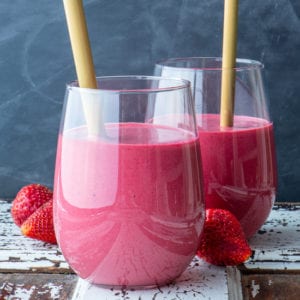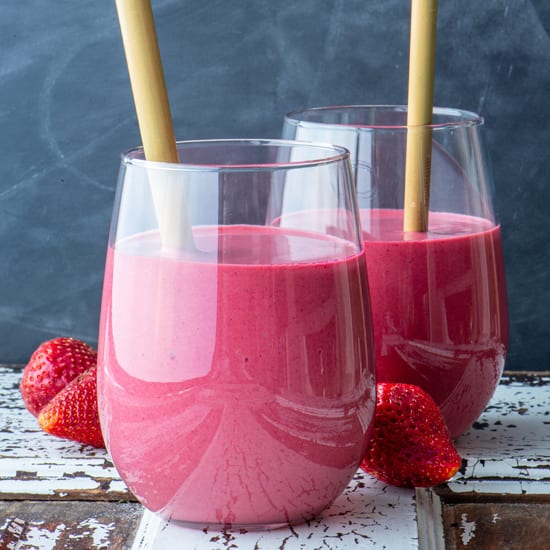 Ingredients
1¼

cups

plant based milk (we used Eden organic soy milk)

1

cup

frozen strawberries

½

fresh or frozen banana

¼

cup

chopped red pepper

¼

cup

fresh or frozen beets

2

tbsp

hazelnuts

1

tbsp

pureed coconut (such as coconut manna) or coconut oil

1

tsp

fresh thyme

1

tsp

vanilla

2

medjool dates, pitted (depending on level of sweetness desired)

1

tbsp

goji berries (optional)

1

tsp

maca powder (optional)
Instructions
Add all ingredients to a high speed blender.

Blend until smooth. You may have to stop and scrape down the sides or use a tamper, depending on what blender you are using. If you are using more frozen fruit and vegetables, you may have to add a little more liquid.

If you are using fresh fruit and/or vegetables, you can add a few ice cubes to desired consistency.

If you have goji berries on hand, they will add some additional antioxidants and vitamin C and contribute to the pretty pink colour.

If you have Maca on hand, it has been shown to be beneficial for energy, endurance and stamina. We try to include this more often when we are training for an endurance event.

Pour into large cup and enjoy!