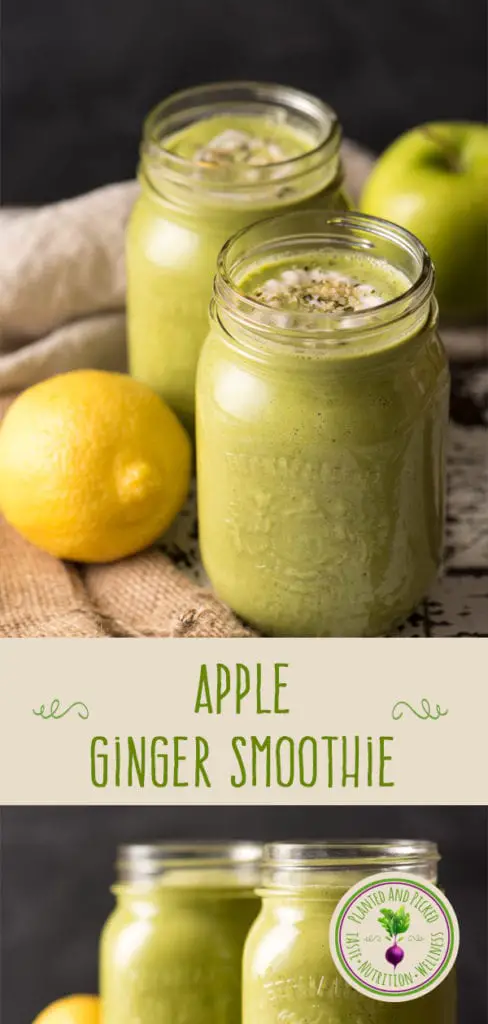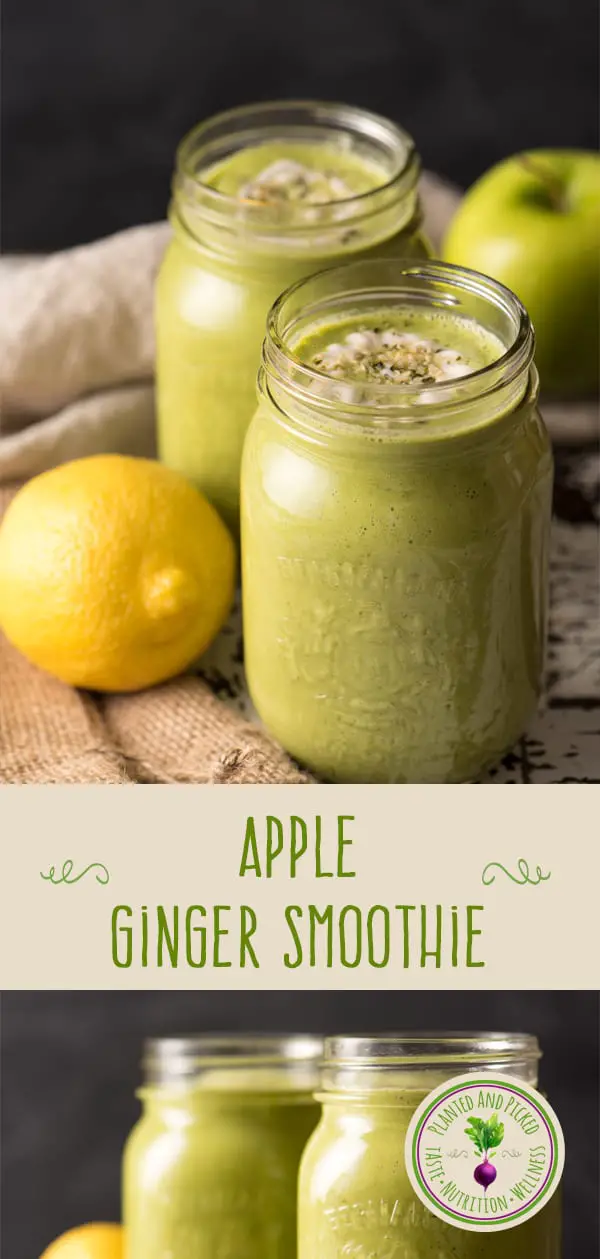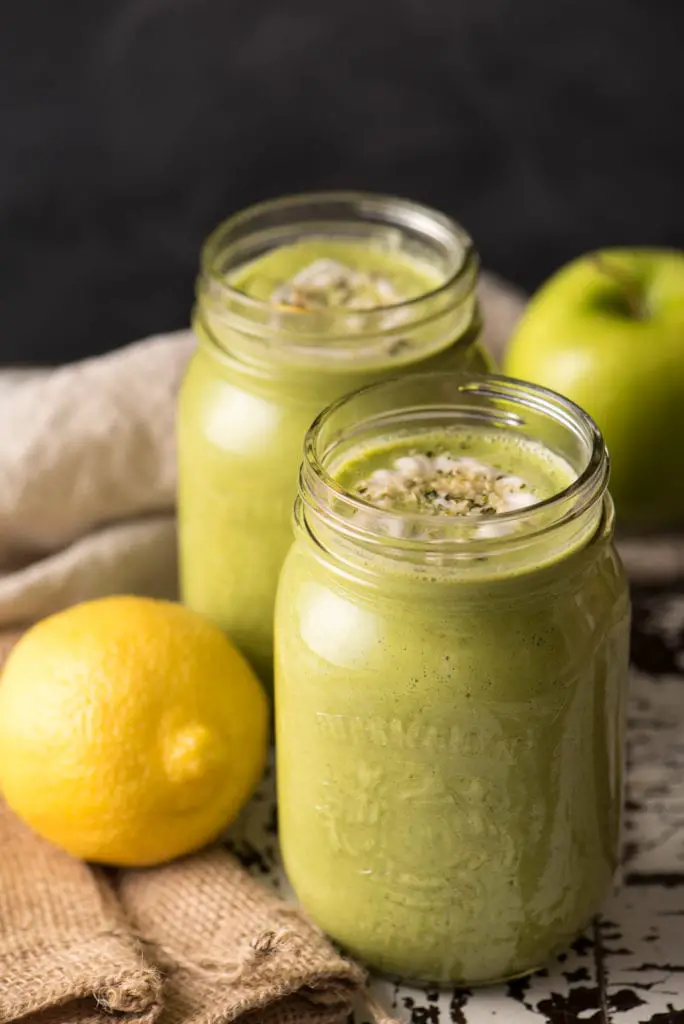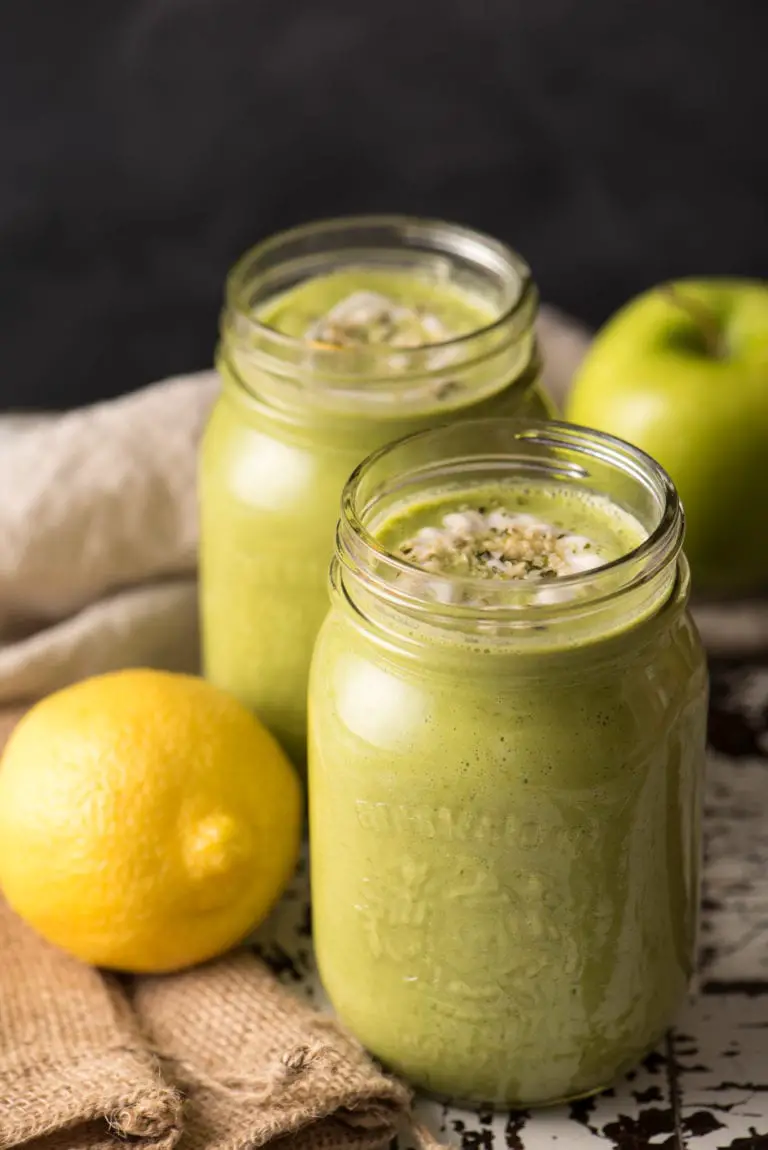 This creamy apple ginger smoothie will have your cells singing. It's perfect as a breakfast or afternoon pick me up. It's full of nutritious ingredients like apples, spinach and cauliflower – yes, we said cauliflower!
Protein and Healthy Fats in this Apple Ginger Smoothie!
The protein base in this apple ginger smoothie is the hemp seeds. Three tablespoons contain 10g of protein. The hemp seeds also contain a good balance of healthy fats. Three tablespoons contain 7.5 grams of Omega-6 fatty acids and 3 grams of Omega-3. These three tablespoons also contain 0.6 grams of Super Omega-6 Gamma Linolenic Acid (GLA), which aids in reducing inflammation in the body.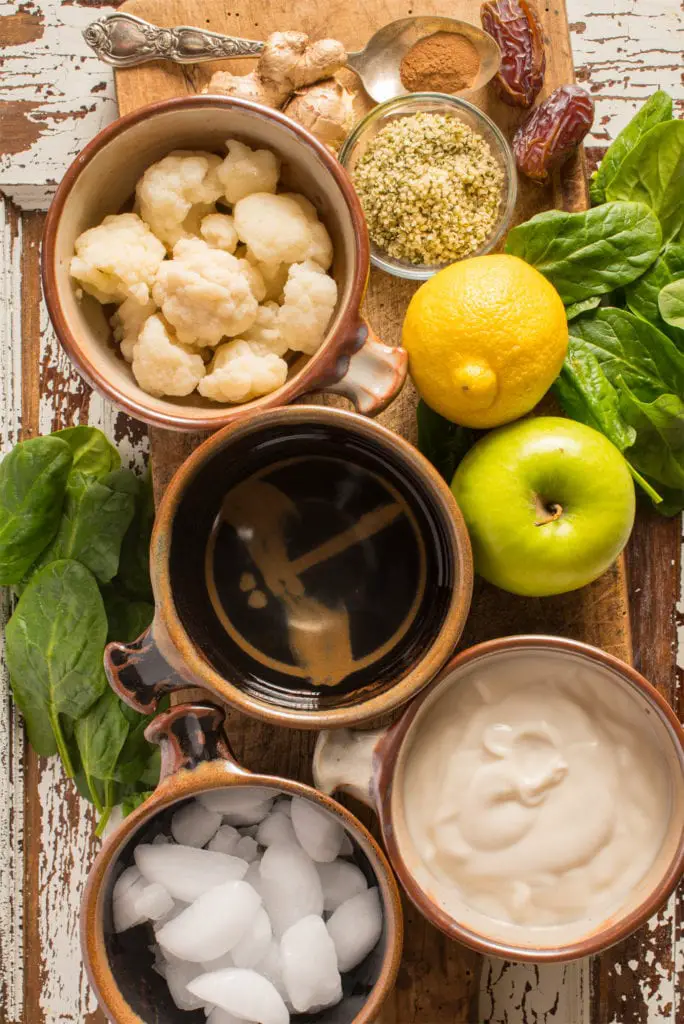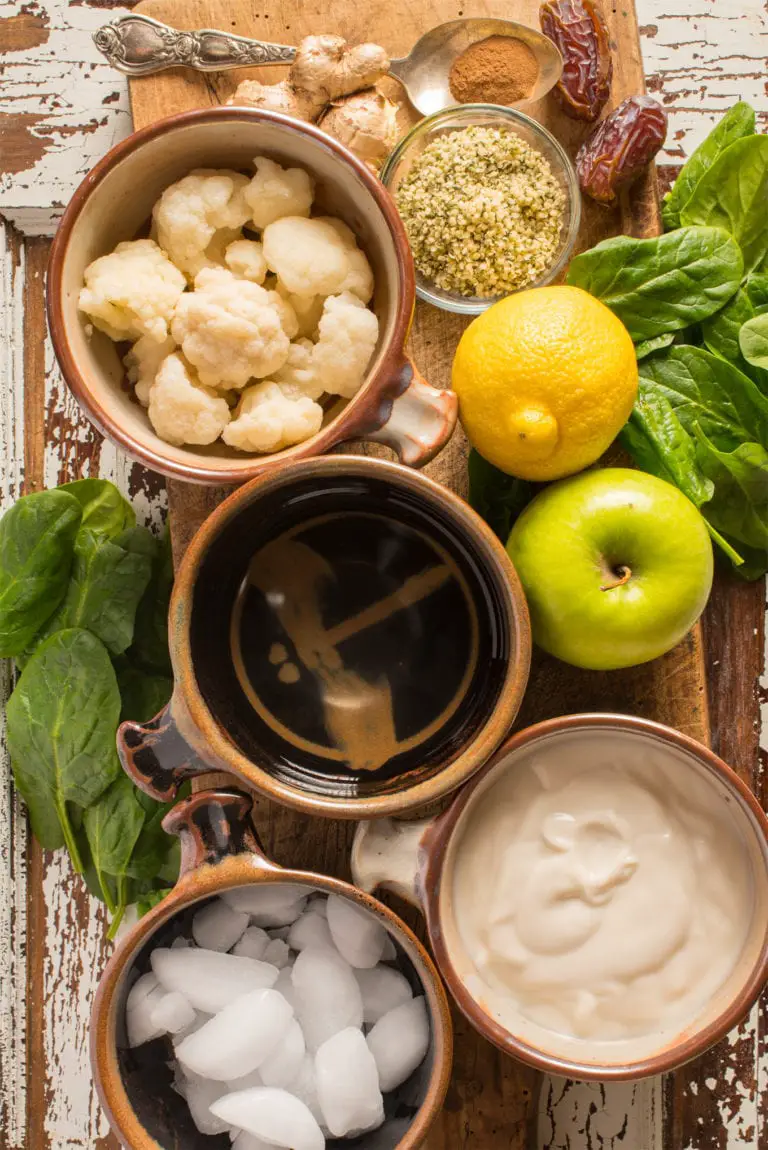 The ideal balance between omega 3 and omega 6 fats is a ration of between 1:1 and 1:3. In North America, with all the processed oils and food that we consume, many people consume omega 3 and omega 6 fats in a ration of 1:20! This is very inflammatory. Hemp seeds offer a balance of these fats in an easy to use package. In addition to using hemp seeds in smoothies, we add them to raw 'baked' goods and sprinkle them on top of oatmeal, salads, Buddha bowls and even pasta!
It's best to eat hemp seeds raw to maintain their health benefits. They are a good source of vitamins and minerals, including manganese, vitamin E, magnesium, zinc and iron.
We added some fresh ginger to this apple ginger smoothie to bump up the anti-inflammatory properties. We also added cinnamon, which helps to regulate blood sugar and can also help to burn fat.
Why the Cauliflower?
The cauliflower adds a creaminess to the smoothie, especially if it is frozen. Trust us because you will not even taste it! We buy bags of organic cauliflower and keep it in our smoothie section of the freezer. It sits alongside all of our frozen berries, mango, pineapple, bananas and frozen beets. Cauliflower is a cousin of broccoli and is classified as a cruciferous vegetable.
The cauliflower in this apple ginger smoothie has many health benefits. It contains indole-3-carbinol – a chemical that has been shown to help repair DNA and prevent or slow the growth of cancerous cells. It also contains thiocyanates and glucosinolates, along with enzymes, which can aid the liver in doing it's job of helping the body detoxify. Finally, cauliflower also contains a chemical called DIM, a compound that naturally binds to estrogen and removes it from the body.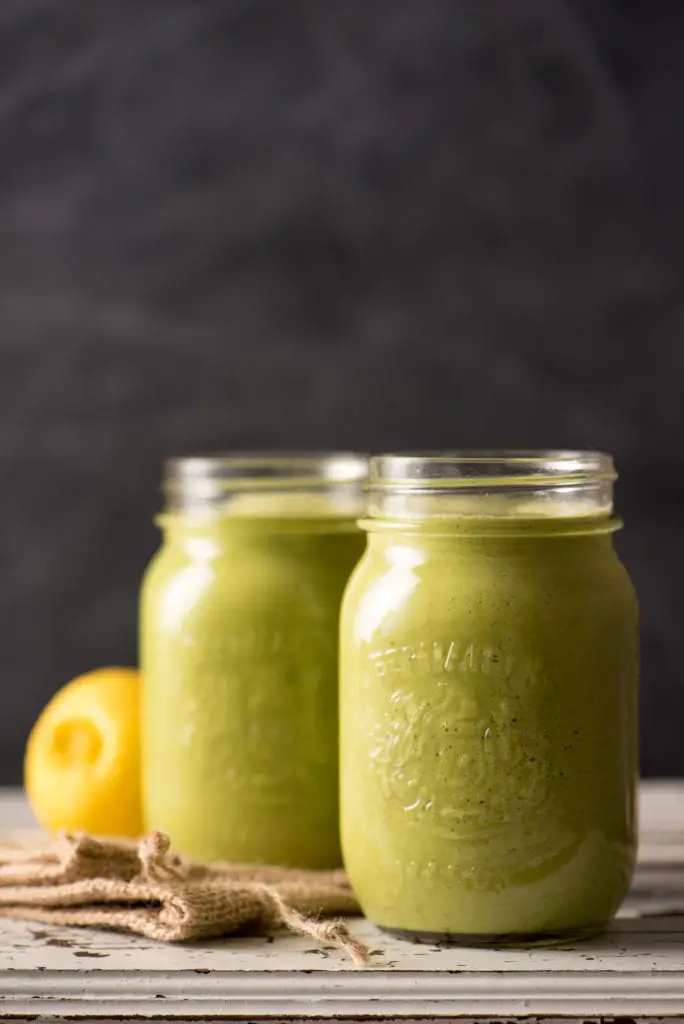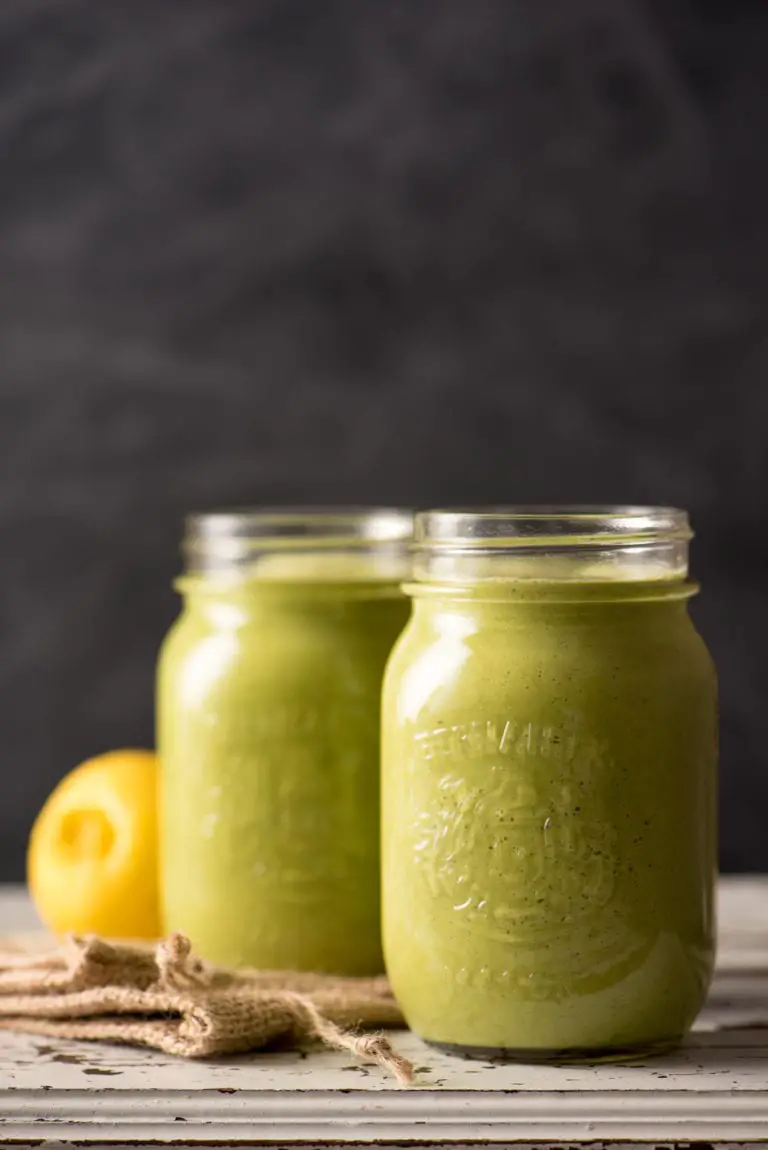 We enjoy making smoothies at different times of the day because we can pack so much nutrition into them and the combinations are endless. Keep a variety of tasty smoothie recipes in your arsenal to get a broad spectrum of healthy ingredients in your diet and satisfy your tastes. We try to include one smoothie into our daily routine because it's easy and nutritious.
This apple ginger smoothie is great-tasting, vegan and is so full of nutrition – you will feel amazing! Check out this Post Workout Protein Smoothie or this Vegan Super Greens Smoothie if you're looking for lots of nutrition that you can carry out the door when you're in a hurray.
We hope you really enjoy this apple ginger smoothie. We look forward to hearing what you think. Leave a comment and a rating and don't forget to tag us @plantedandpicked on Instagram and hashtag it  #plantedandpicked. Thanks for checking it out!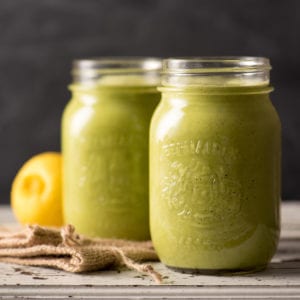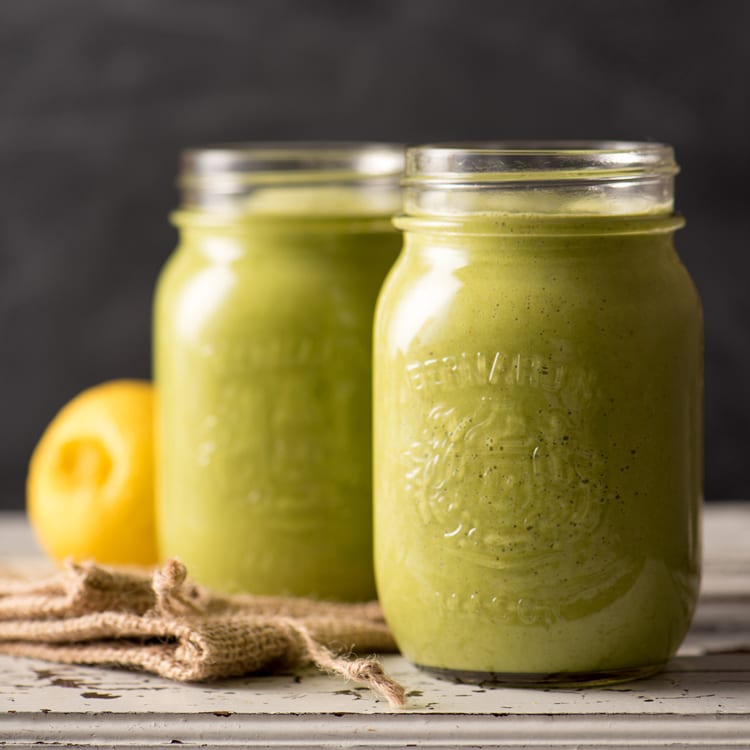 Ingredients
½

cup

coconut water

3

tbsp

hemp seeds

½

cup

plant based yogurt (like coconut)

1

organic green apple

1

tsp

grated ginger

½

cup

cauliflower pieces (frozen is best)

1

cup

spinach

1

tbsp

lemon juice

½

tsp

ceylon cinnamon

1

medjool date, pitted

Feel free to use 2 for more sweetness

½

cup

ice cubes (or to desired consistency)
Instructions
Remove the skin and core from the apple. Roughly chop and set aside.

In a blender, add the coconut water and hemp seeds. Blend on high for 30 seconds to 1 minute. This will create a hemp 'milk'.

Add the remainder of the ingredients to the blender. We use one date but feel free to add an extra one if you prefer more sweetness.

Blend on high for 30 seconds to a minutes. If you do not have a tamper, you may have to stop the blender and scrape down the sides a few times.

Start with a few ice cubes but if you prefer a frostier smoothie, feel free to add more. It will also depend on whether you have used frozen or fresh cauliflower.