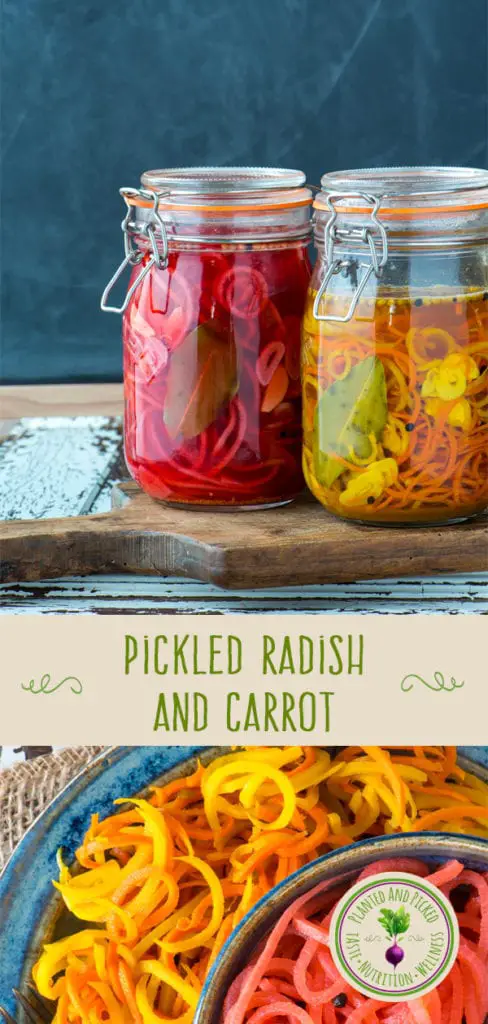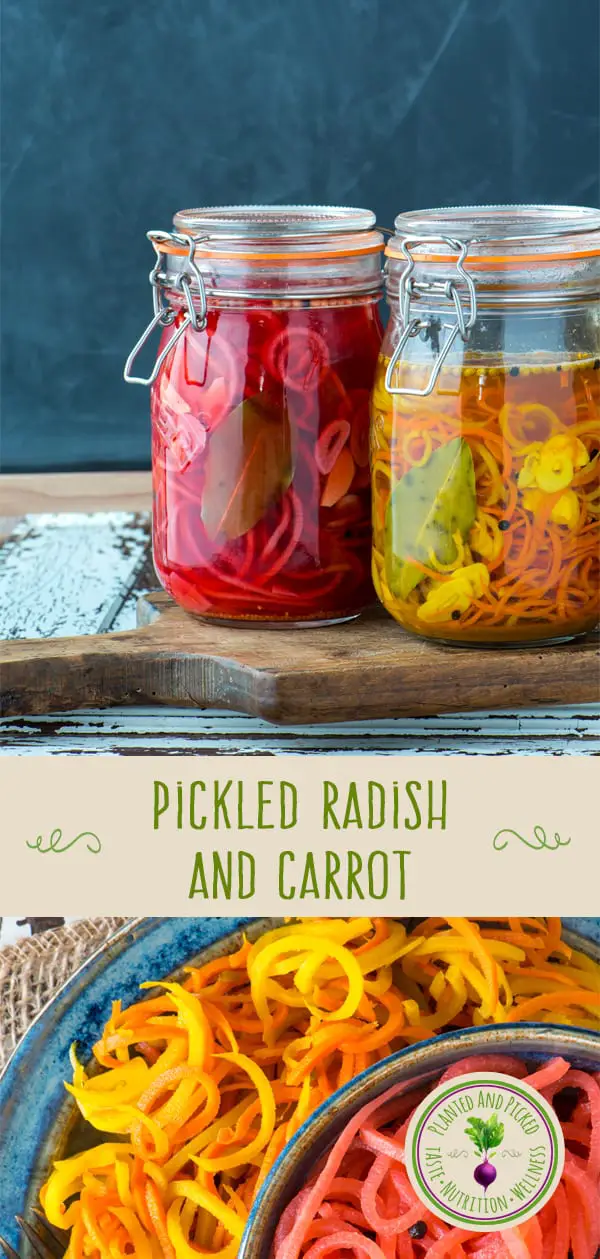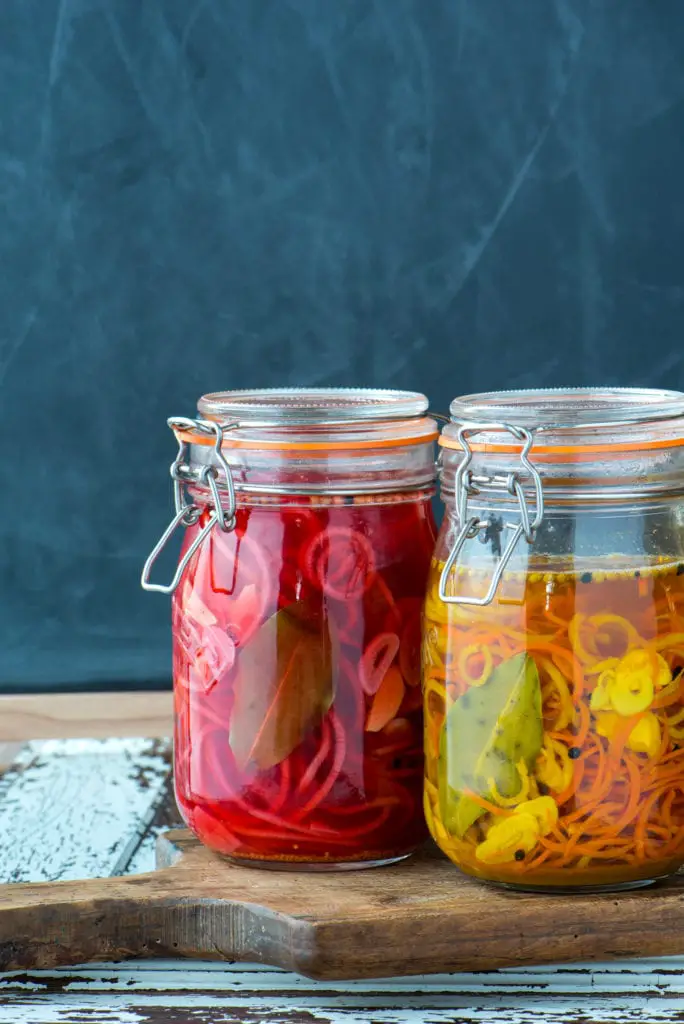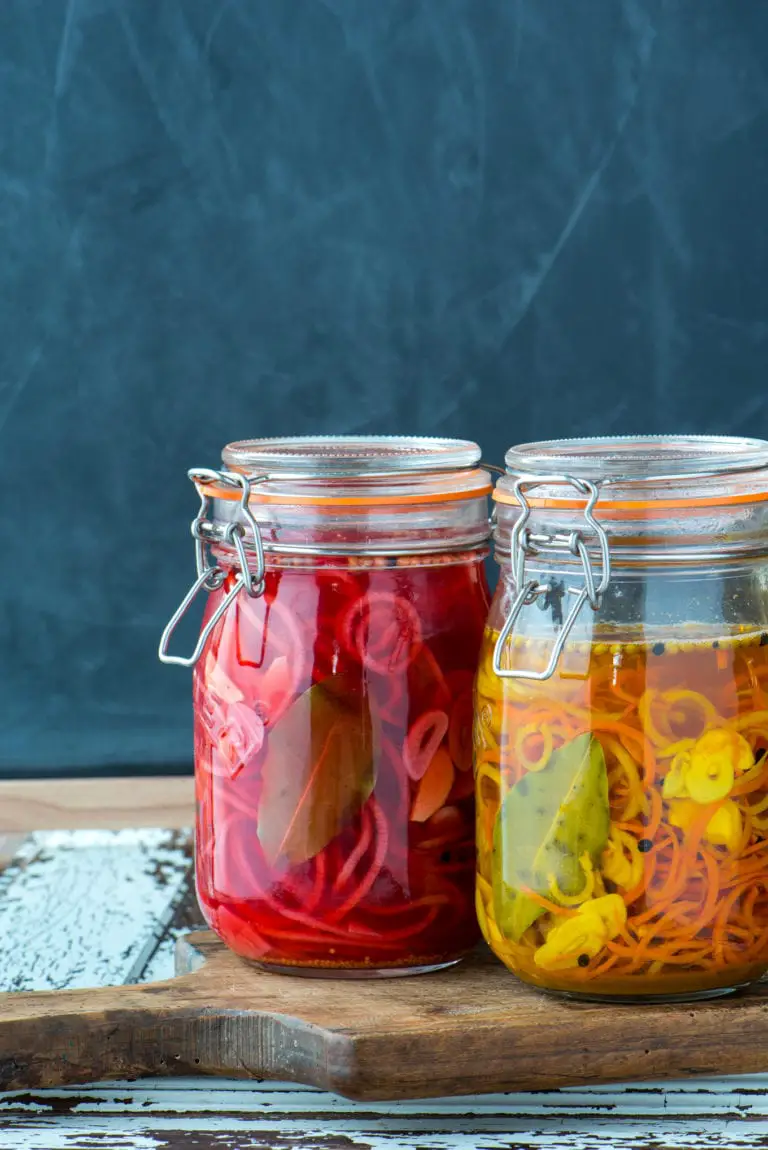 Pickled radish and carrot are the key components that give a traditional Bánh Mì sandwich its sweet and sour crunch. This taste bud dance party complements the savoury ingredients in this Vietnamese specialty.
A traditional Bánh Mì includes pork, paté, pickled veg, spicy mayonnaise, sliced cucumber and cilantro. It is all sandwiched between to halves of a light crispy baguette. We're taking inspiration from this and working on a vegan Bánh Mì bowl and this pickled veg will be part of it. This Spicy Cashew Avocado Mayo and an Asian style lentil ball we're working on will also be in the bowl. In the meantime, pickled radish and carrot is a great condiment for many of your favourite vegan bowls!
We've pickled the radish and carrot separately to incorporate different, but complementary flavours. We found some fantastic watermelon radishes that are as pleasing to the eye as the palate with their deep red interior. We also had both orange and white carrots on hand and mixed these up for fun as well! Don't fret if you don't have watermelon radish or white carrots though. Using common radish and carrot that can be found in any grocery shop will not affect the success of this great condiment.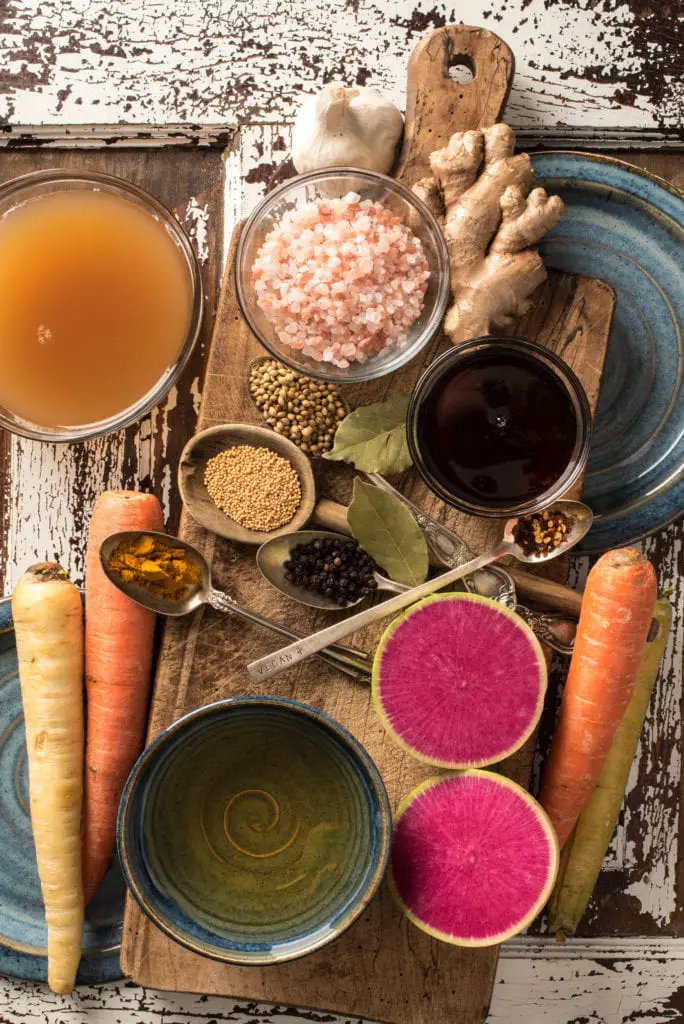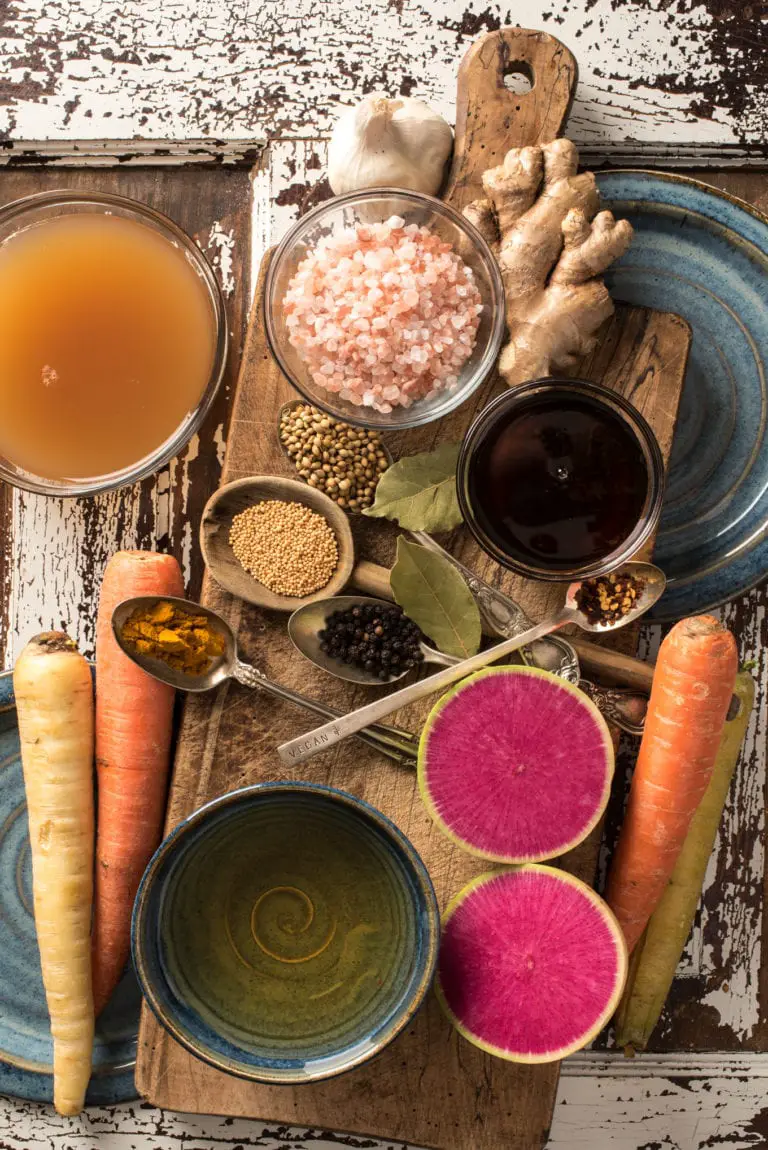 Spiralizing your veg makes for great presentation and its fast and just plain fun to do if you ask us. Alternatively, they can be julienned using a mandolin or even a sharp knife on a cutting board. You are only looking to have finely cut matchstick-style radish and carrot when it's all said and done.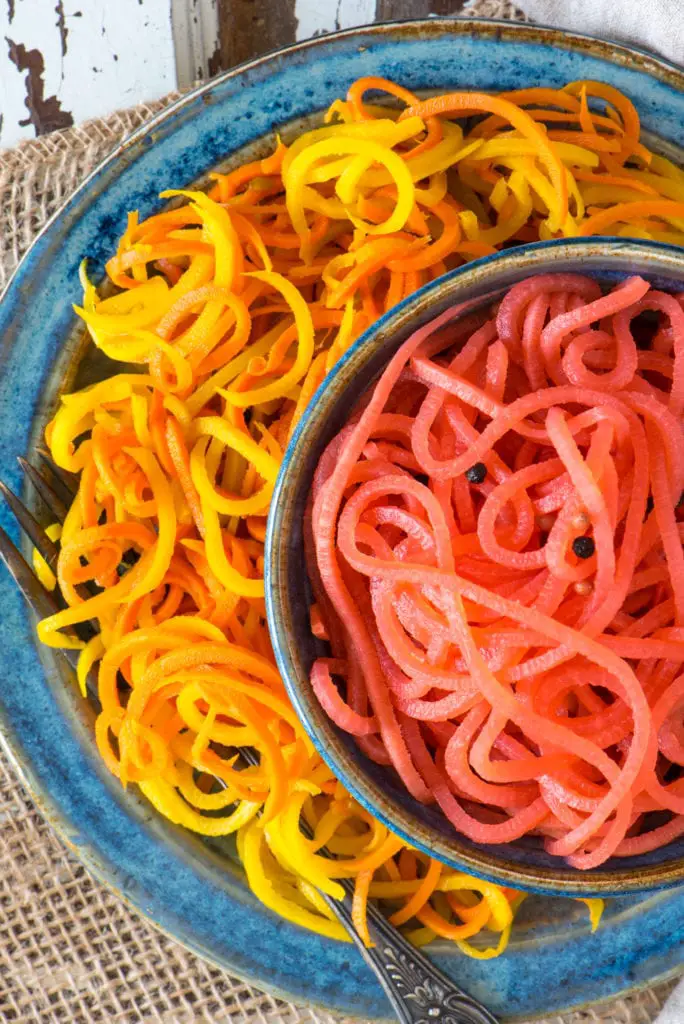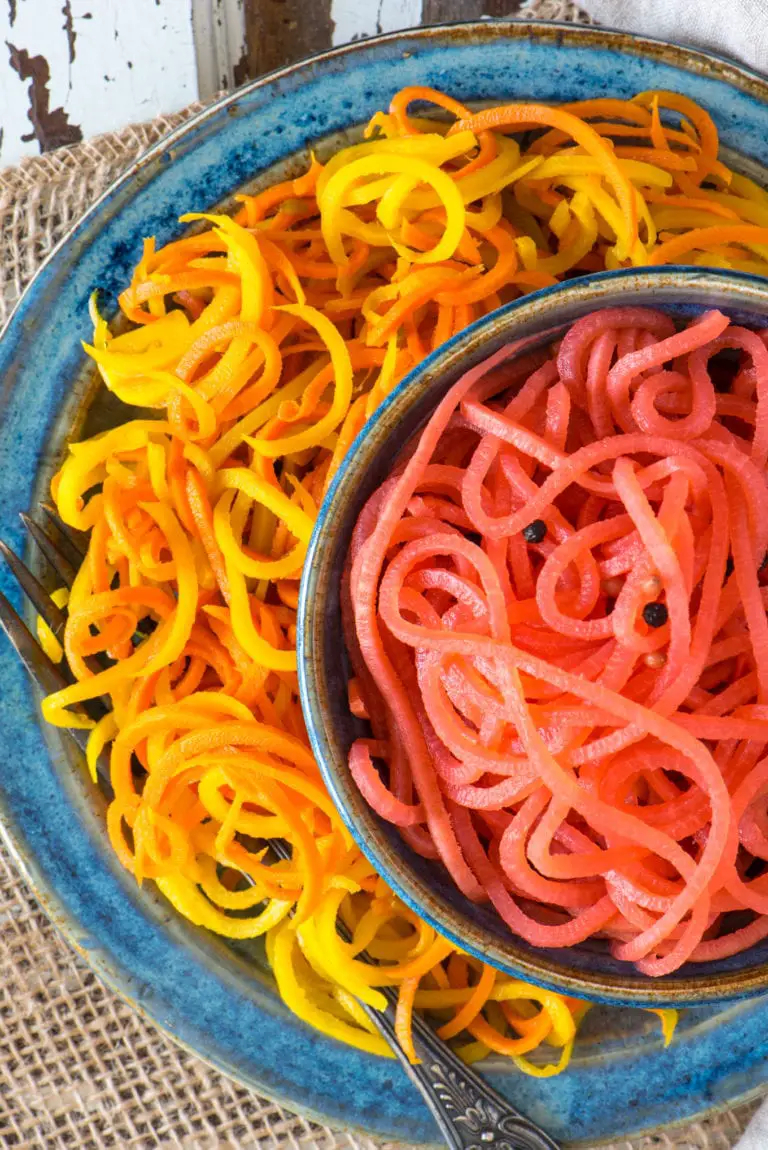 If you try out this Pickled Radish and Carrot combo on one of your favourite vegan bowls, don't forget to spread a little Spicy Cashew Avocado Mayo on top. You may also want to try out this Indian Spiced Tomato Chutney. It works well atop a bowl that includes this Coconut Lentil Curry or this Coconut Chickpea Curry Masala.
Let us know if you make this Pickled Radish and Carrot, or even just one of them. We love to hear what you think and are always open to your suggestions! Leave a comment and a rating and don't forget to show us yours by tagging us @plantedandpicked on Instagram and hashtagging it #plantedandpicked. Eat well friends.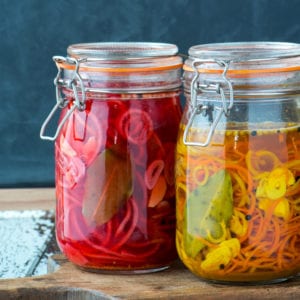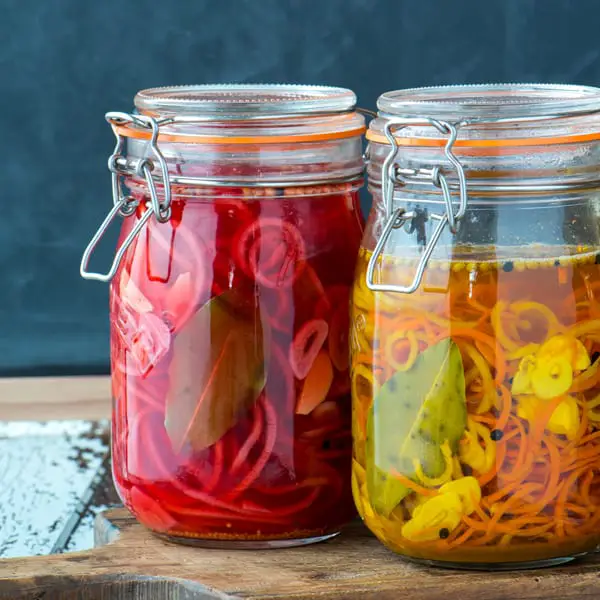 Ingredients
Pickled Radish
3

cups

watermelon radish spiralized and loosely packed

2

large

garlic cloves sliced thinly

1

1"

knob of fresh ginger sliced thinly

1

tsp

corriander seed

1

bay leaf

½

tsp

whole black peppercorns

1

tsp

mustard seed

1½

cups

cider vinegar

1½

cups

filtered water

3

tbsp

coarse pink Himalayan or regular sea salt

3

tbsp

maple syrup
Pickled Carrot
3

cups

carrot spiralized and loosely packed

2

large

garlic cloves sliced thinly

1

1"

knob of ginger sliced thinly

1

tsp

turmeric powder

1

bay leaf

1

tsp

corriander seed

½

tsp

whole black peppercorns

¼

tsp

red chili flakes

1½

cups

white wine vinegar

1½

cups

filtered water

1½

tbsp

coarse pink Himalayan or regular sea salt

3

tbsp

maple syrup
Instructions
Pickled Radish
Spiralize radish and place in a 1 L or 1 qt canning jar

Slice garlic and ginger and place in jar together with corriander seed, bay leaf, whole black peppercorns and mustard seed

To prepare the brine, bring the vinegar, filtered water, maple syrup and sea salt to a boil in a small saucepan and simmer until salt is dissolved

Pour brine into jar over prepared radish and seal before allowing jars to cool to room temperature before storing in fridge. Flavour is best if left overnight and the pickled radish can be stored for several weeks
Pickled Carrot
Spiralize carrot and place in a 1 L or 1 qt canning jar

Slice garlic and ginger and place in jar together with turmeric powder, corriander seed, bay leaf, whole black peppercorns and red chili flakes

To prepare the brine, bring the vinegar, filtered water, maple syrup and sea salt to a boil in a small saucepan and simmer until salt is dissolved

Pour brine into jar over prepared carrot and seal before allowing jars to cool to room temperature before storing in fridge. Flavour is best if left overnight and the pickled carrot can be stored for several weeks