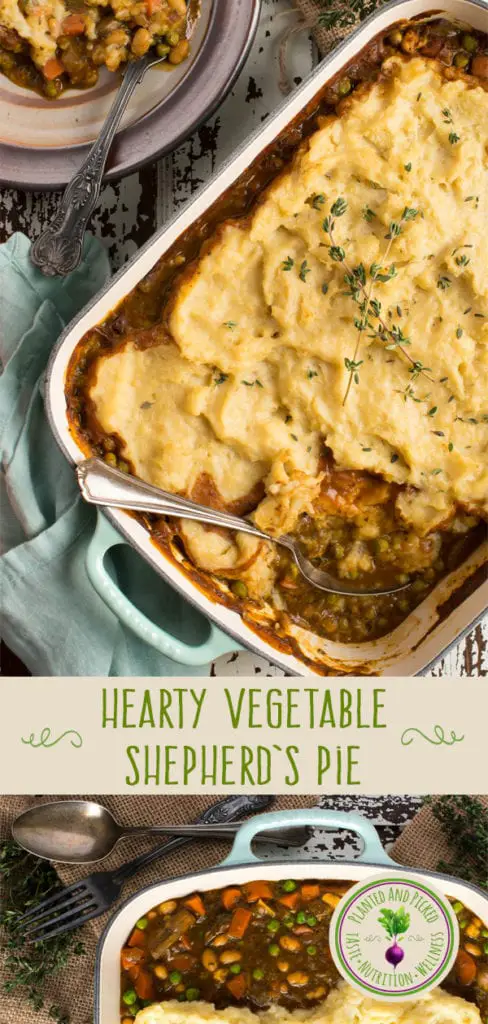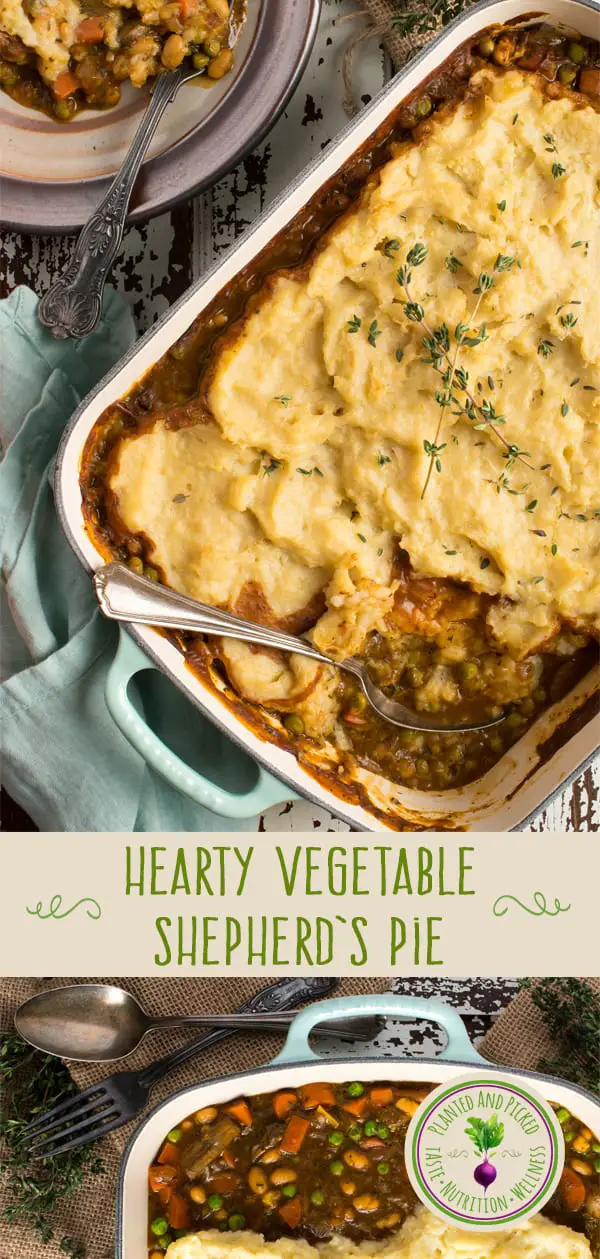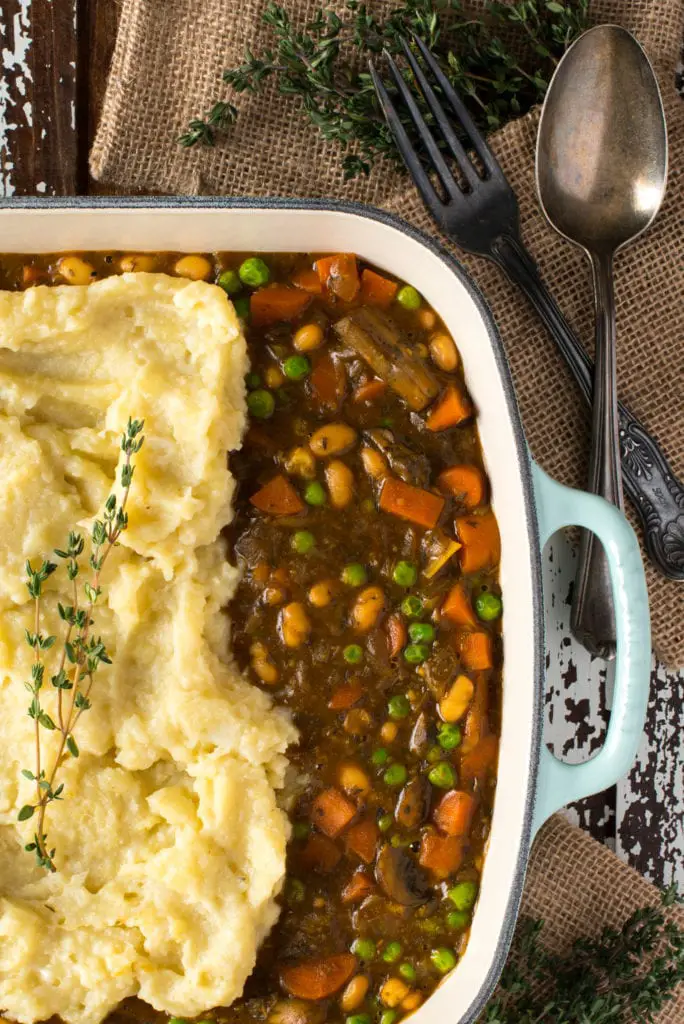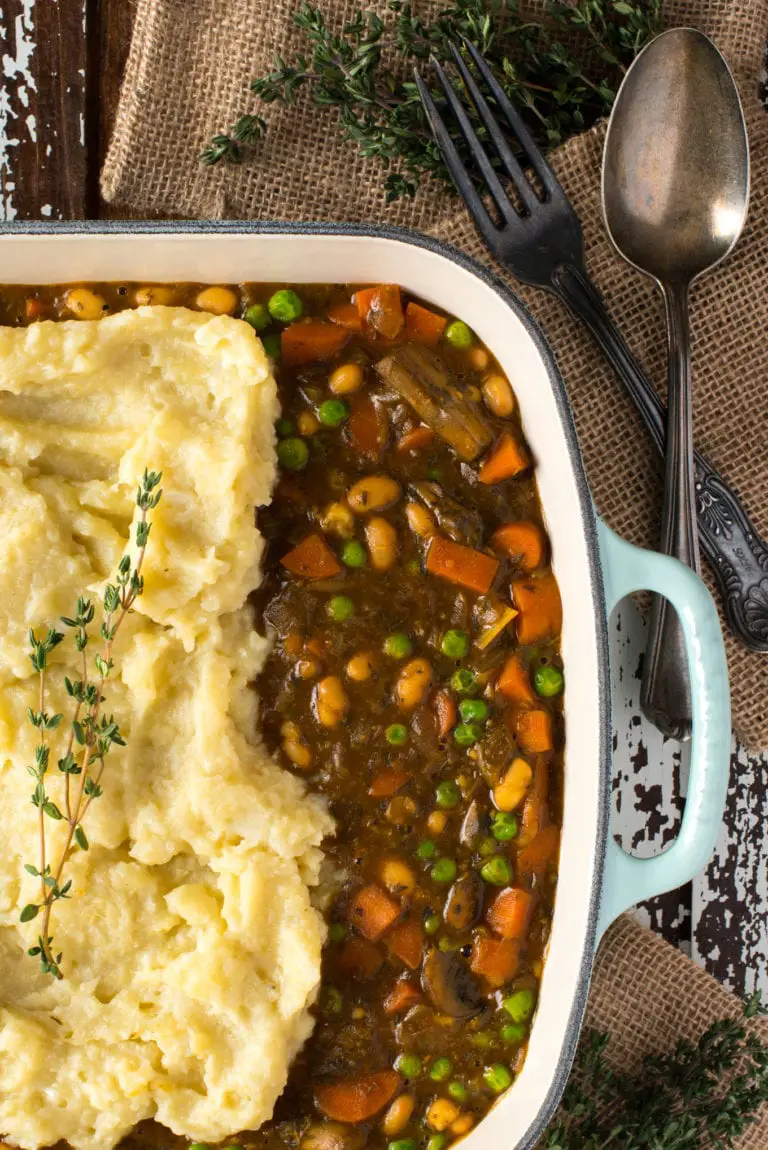 We pack this Hearty Vegetable Shepherd's Pie with seven different vegetables, beans and antioxidant rich herbs and spices! The perfect go-to when you are craving healthy comfort food.
At first glance, the ingredients list looks long. However, half of the ingredients are flavourings. It still takes a bit more love, so this is a dish that we typically save for a Sunday night. We have a little more time to prepare dinner on the weekend.
We'll sometimes serve this dish in ramekins so that each person can have their very own hearty vegetable shepherd's pie. We show it here cooked in one large dish if your.
We load up on vegetables in this dish. These are also staple vegetables that we always have on hand. We make sure to bump up the antioxidant benefits of herbs and spices with turmeric, oregano and thyme.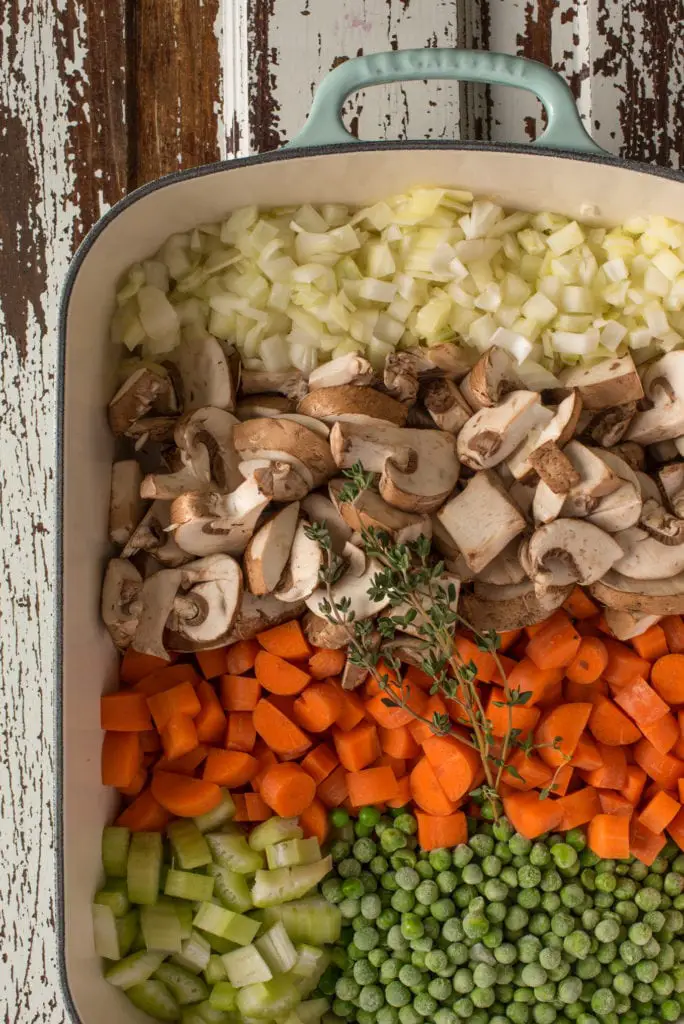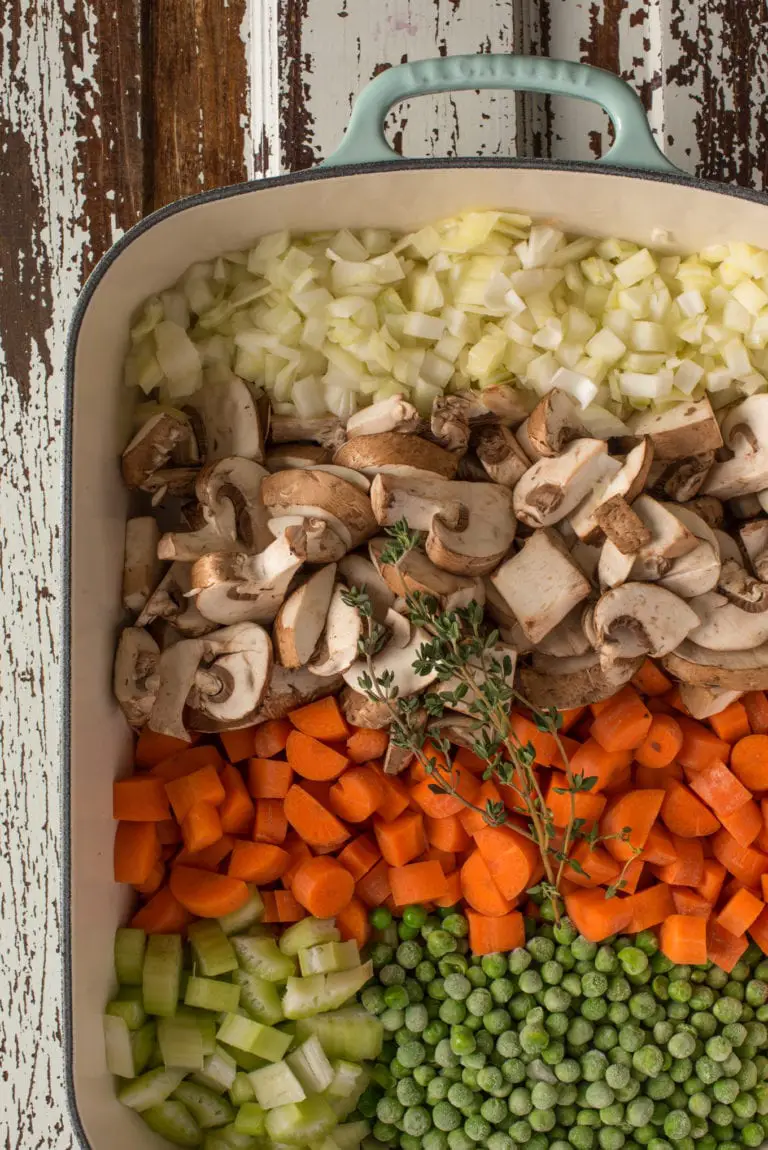 The nice thing about this recipe is that you have the flexibility to make variations. You can use different vegetables as long as the overall quantities are the same. You can also sub sweet potato for the potato-cauliflower mash or use all cauliflower instead. Any way you make it, it will be a hearty vegetable shepherd's pie!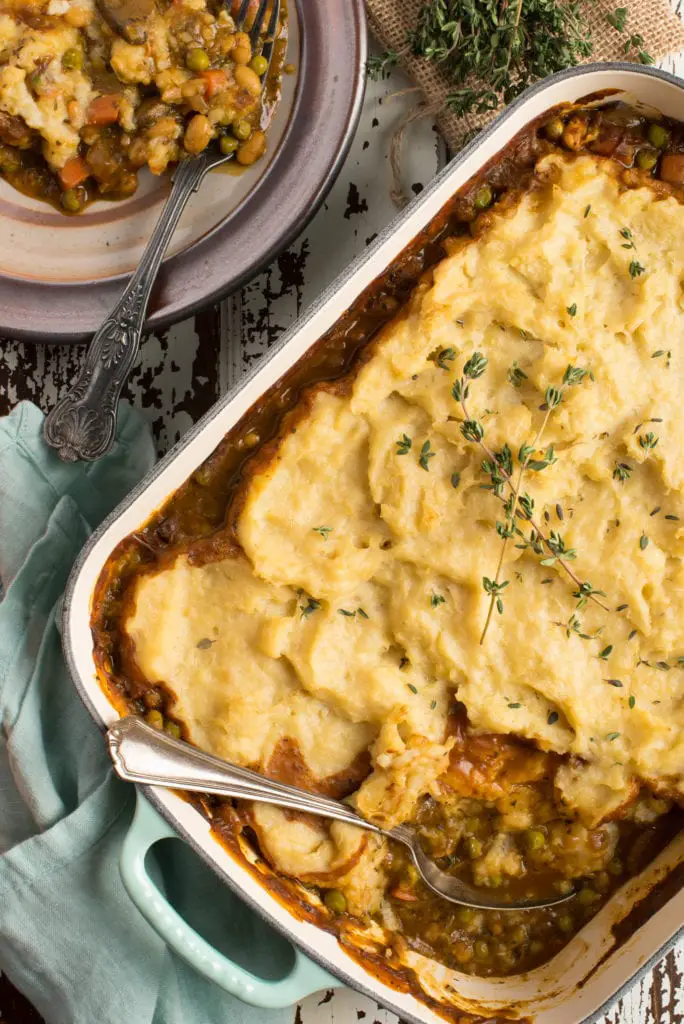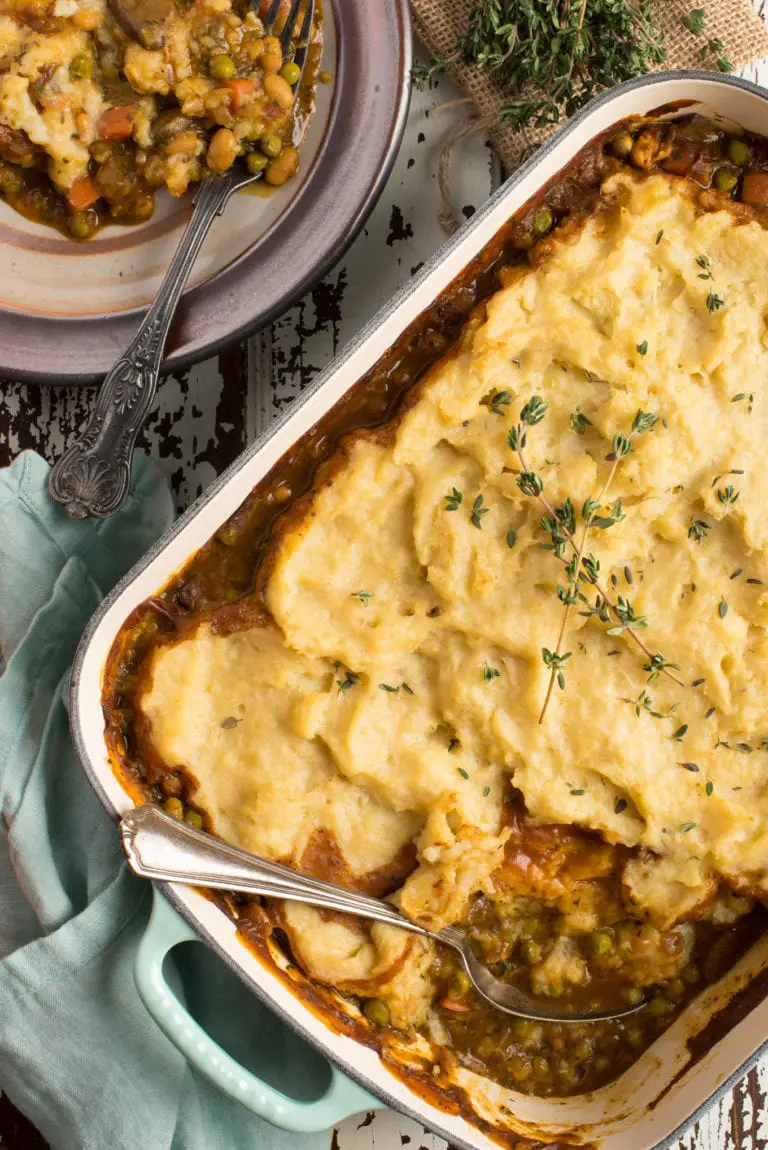 If you're looking for some more delicious comfort foods, try our One Pot Lentil Bolognese, Simple Weeknight Marinara Sauce, Vegan Mexican Chili with Real Chilis or another one of our favourites . . . Vegan Mushroom Cream Sauce with Truffle Oil.
If you try this Hearty Vegetable Shepherd's Pie, please let us know how you like it. We always look forward to feedback. Leave a comment and a rating and don't forget to tag us @plantedandpicked on Instagram and hashtag it  #plantedandpicked. Share great food with friends!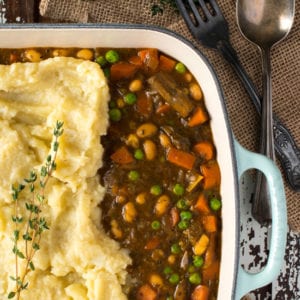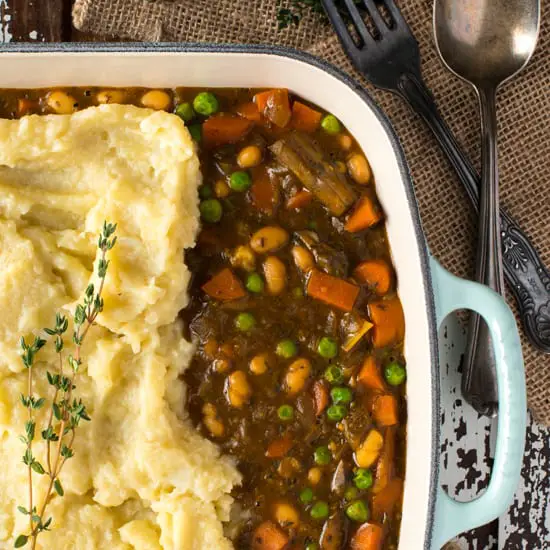 Ingredients
Filling
1½

cups

onions, diced

3

large

garlic cloves, minced

2½

cups

carrots, ½" diced

1

cup

celery, sliced

4

cups

mushrooms, sliced thick

2½

tbsp

dried thyme

1½

tbsp

dried oregano

¾

tsp

turmeric

2

bay leaf

1½

cups

frozen or fresh peas

1½

14 oz

can navy beans (or 2¼ cups cooked)

1½

tbsp

avocado oil (or other neutral oil)

3

tbsp

tamari

3

tbsp

vegan Worcestershire sauce

¼

cup

tomato paste

3

cups

vegetable broth (or 2 cups water with vegetable bouillon cube)

1½

tsp

salt

pepper to taste

4

tbsp

arrowroot starch
Mashed Potato and Cauliflower Topping
1

lb

cauliflower (1 small head)

1½

lbs

potatoes, diced 1 to 1½" (russet, yukon gold or sweet)

3

tbsp

olive oil

6

tbsp

vegetable stock

1½

tsp

sea salt

1½

tsp

garlic powder
Instructions
Dice all of the vegetables for the filling and set aside. Measure out the herbs and spices. Measure out the peas and place in a bowl.

Drain and rinse the navy beans and place in a bowl. Lightly mash about on third of the beans with the back of a fork or a potatoe masher and set aside.

Break up the cauliflower into florettes and place in steamer basket. Steam for about 10 minutes. If you do not have a steamer basket, gently simmer the cauliflower in enough water to cover for about 5 minutes, drain and set aside. The cauliflower should be fork tender.

Peel and dice potato and place in a steamer basket or in a large pot of water. Bring to a boil and steam or boil for about 15 to 20 minutes. Check doneness by piercing with a fork (should be very tender). Drain in a colander and set aside.

While the potatoes are cooking, start the filling by placing the avocado oil in a large pan or dutch oven and heat over medium heat.

Add onion, garlic, carrots, celery and mushrooms to the pan. Sauté for about 5 to 7 minutes, stirring occasionally.

Add tamari, Worchestershire sauce, tomato paste, turmeric, oregano, thyme, bay leaves, salt and pepper and vegetable broth.

Bring to a boil. Reduce heat, cover and simmer gently for 20 minutes, stirring occasionally.

Mix arrowroot starch with ½ cup of cold water. Add to pan. Bring back to a boil and boil 1 additional minute to thicken.

Turn down heat to medium low and add the peas and navy beans. Gently stir and heat mixture for about one minute. Turn off heat and set aside.

Place the cooked potatoes and cauliflower in a large bowl and add the olive oil, vegetable broth, salt and garlic powder. Mash together until fluffy.

Add the filling to a 9"x13" baking dish and top with potato-cauliflower mixture. Place on a baking tray if you feel that there is a chance the mixture may overflow. Alternatively, divide filling and topping amongst 8 ramekin dishes to make individual servings.

Place in oven and bake for 30 minutes. Sprinkle with fresh thyme or parsley if desired.

Let cool 15 to 20 minutes prior to serving.

Top off this meal by serving it with a side salad.